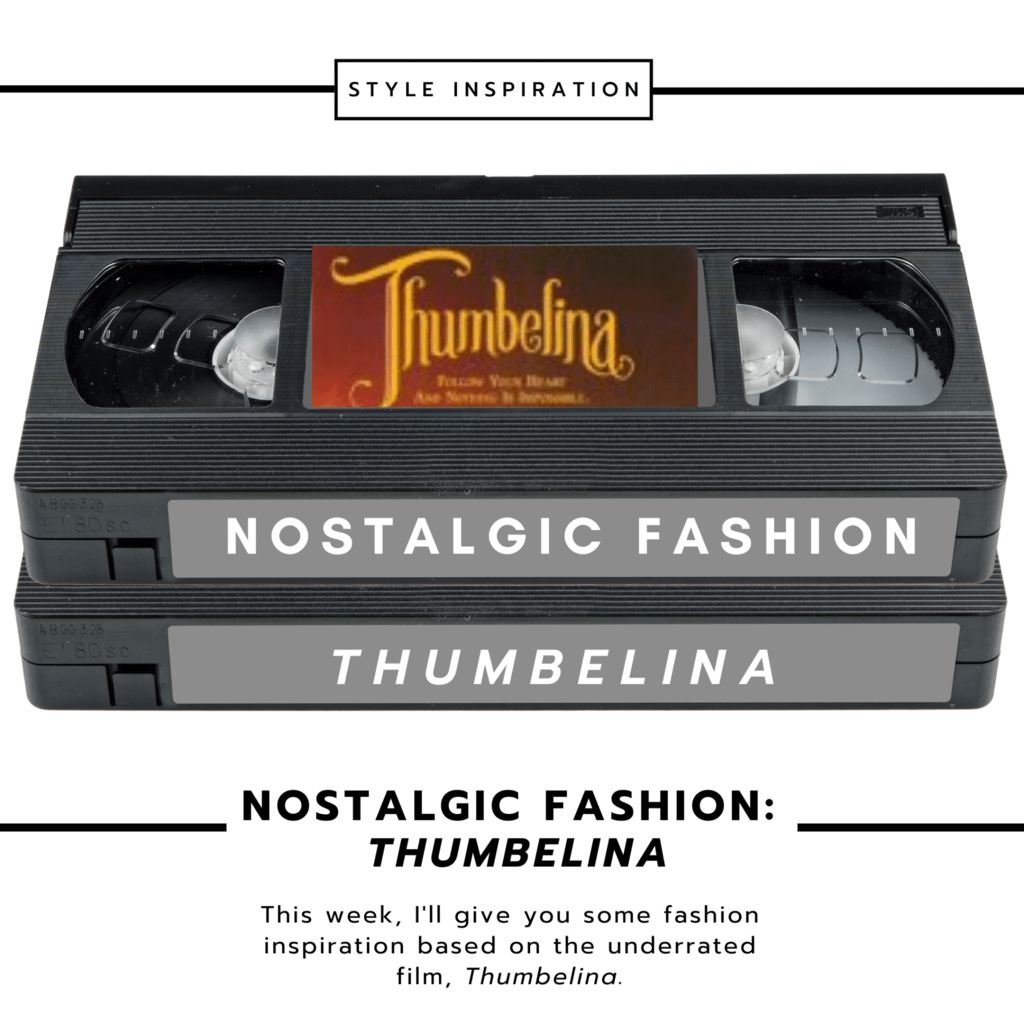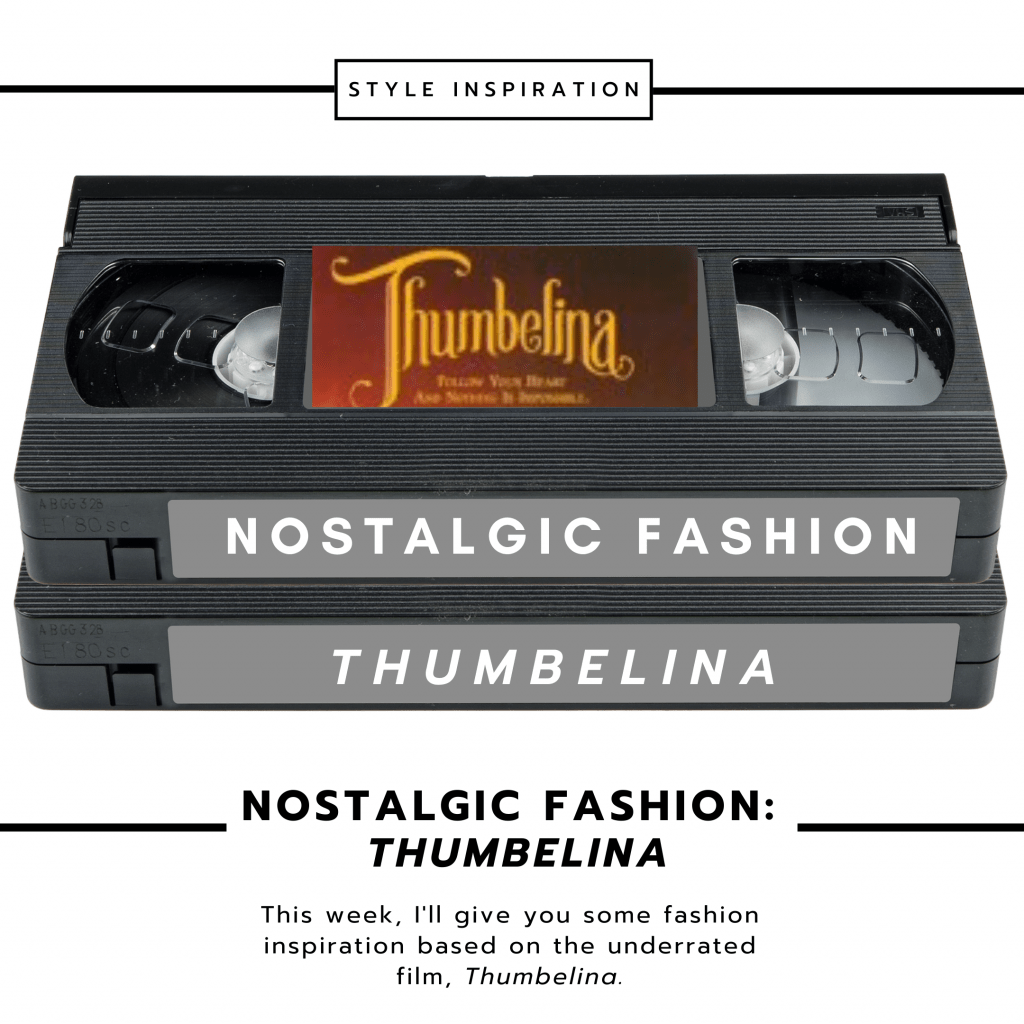 For the past few weeks, I've found myself watching my old VHS movies, especially movies that I watched when I was a little girl. While doing this, I have found some great underrated films that tend to get lost in between all the princesses, Pixar animated films, and the newest live-action remakes.
They are also a great source of fashion inspiration.
So for my next few posts, I'll choose one of these underrated movies each week and give you a quick recap of the film and its production, a rundown of each character's style, and my own real-life recreation of each look.
In case you've missed my past posts in this series, I've covered Disney films The Rescuers, Oliver & Company, 101 Dalmatians and Robin Hood. From other production companies, I've covered FernGully: The Last Rainforest.
This week, let's focus on a Warner Brothers production, Thumbelina.
About Thumbelina (1994)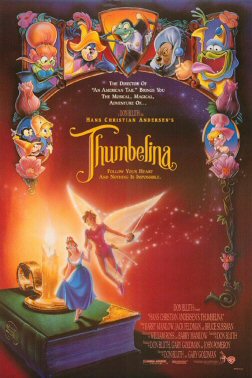 Thumbelina is an animated film released in 1994, based on Hans Christian Andersen's story of the same name.
Thumbelina is one of Don Bluth's attempts at a Disney-Renaissance-type of story. As such, it is the predecessor to one of his most beloved and popular movies, Anastasia.
The production of this film was troubled to say the least. The script was being re-written constantly and executives meddled with everything to make the final product resemble Disney's formula as closely as possible.
Although intended for children, the movie deals with very heavy themes: depression, death and harassment being just a couple of the most prominent examples.
While now it is a sort of cult-classic among '90s kids, when the film was released it was a box-office bomb and failed to live up to the studio's expectations.
A Quick Recap of Thumbelina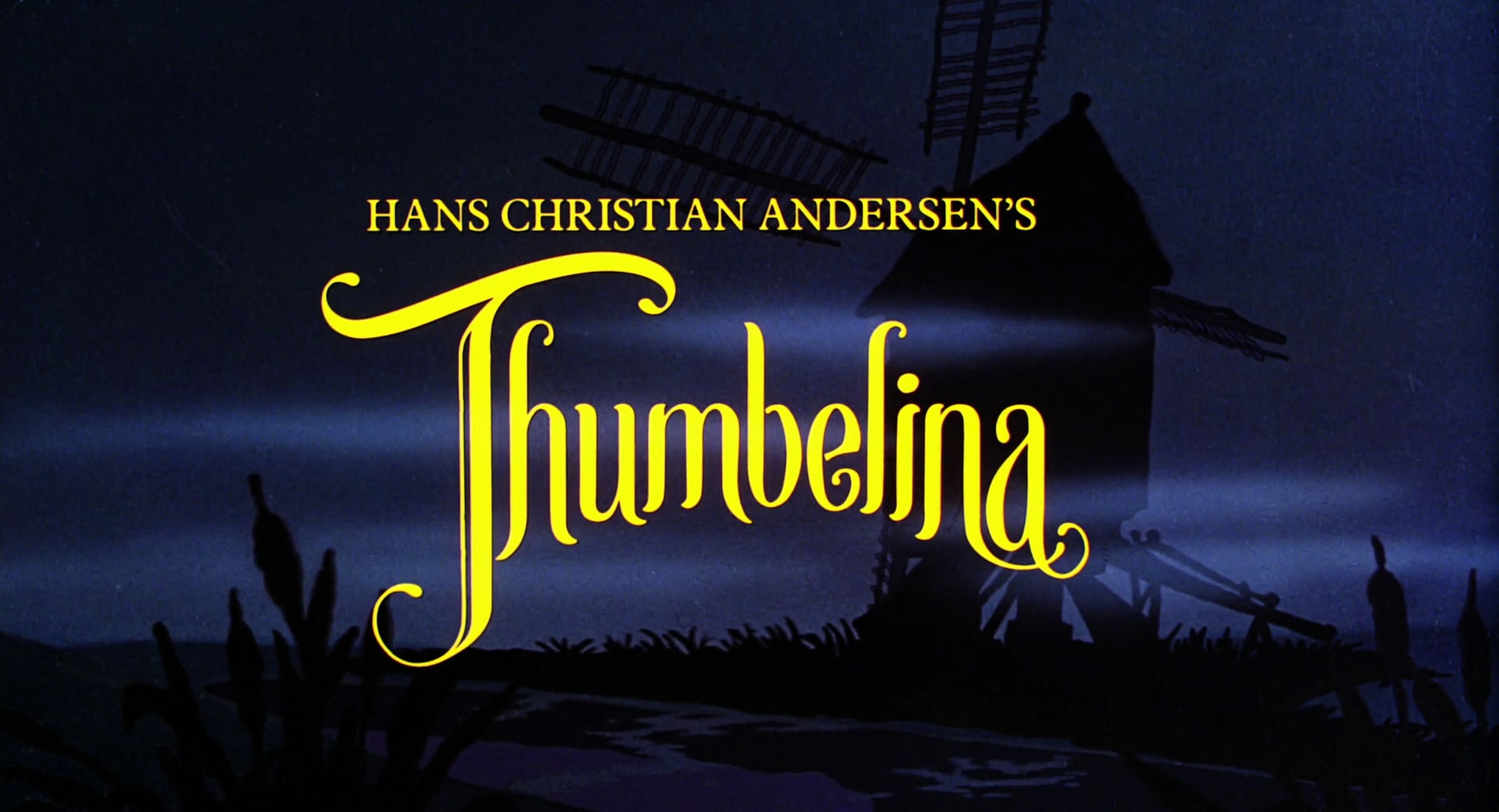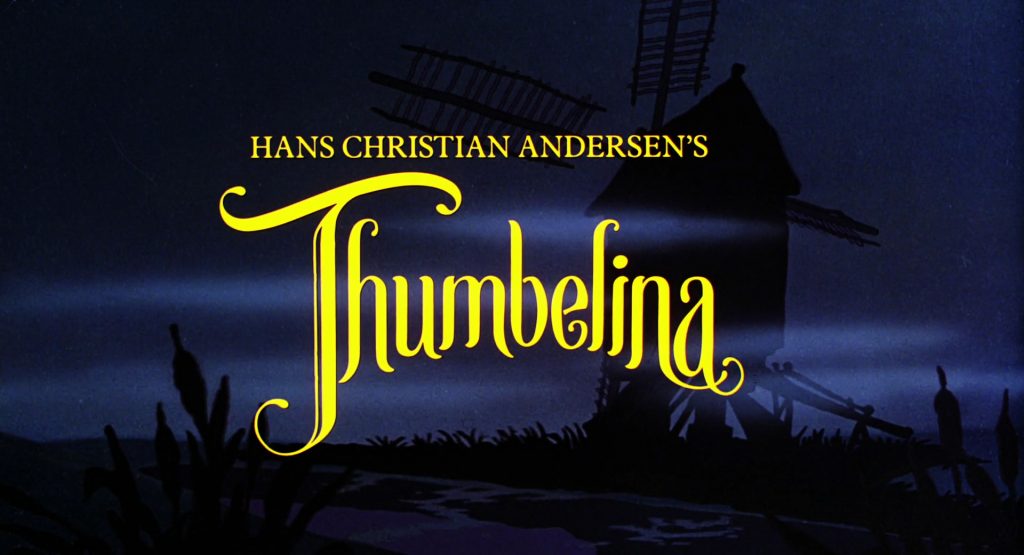 If you haven't seen this movie or need a quick reminder of the plot, here it is:
An older woman pines for a child and, magically, she is gifted with a daughter, not bigger than her thumb. Aptly named Thumbelina, she is a beautiful and happy girl who begins to wonder if she'll ever meet someone her size. That's when she meets the fairy prince, Cornelius, and they fall in love.
After Cornelius promises he'll come back and marry her, Thumbelina is kidnapped by a toad. She spends the rest of the movie trying to get back home and to Cornelius.
Thumbelina Outfits & Fashion Guide
Before I go on to the outfits and characters I chose, you need to understand that it was very hard to choose a character to emulate for outfit three.
This film has multiple antagonists (it has four!) and an impressive amount of supporting characters, all with distinct looks. So, I just chose the one I gravitated towards the most.
Now, on to the Thumbelina fashion!
1. Thumbelina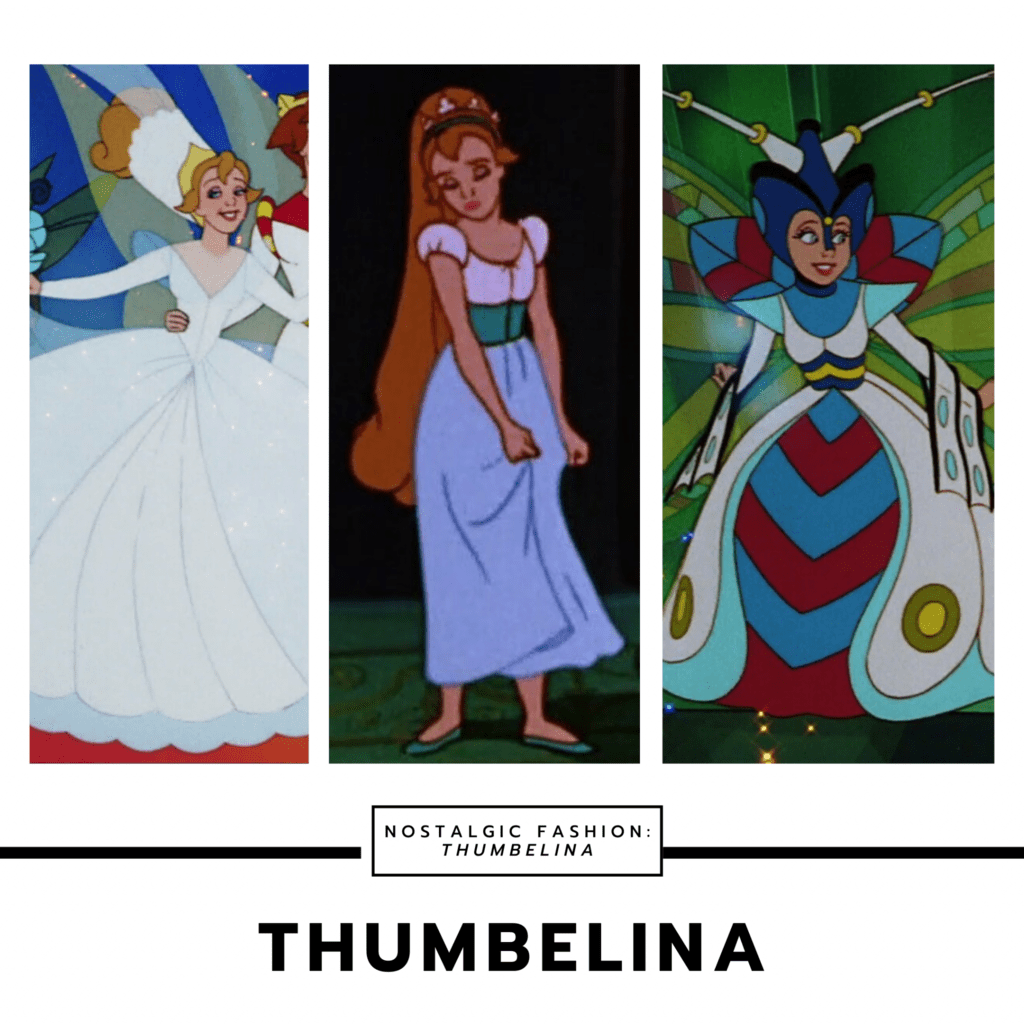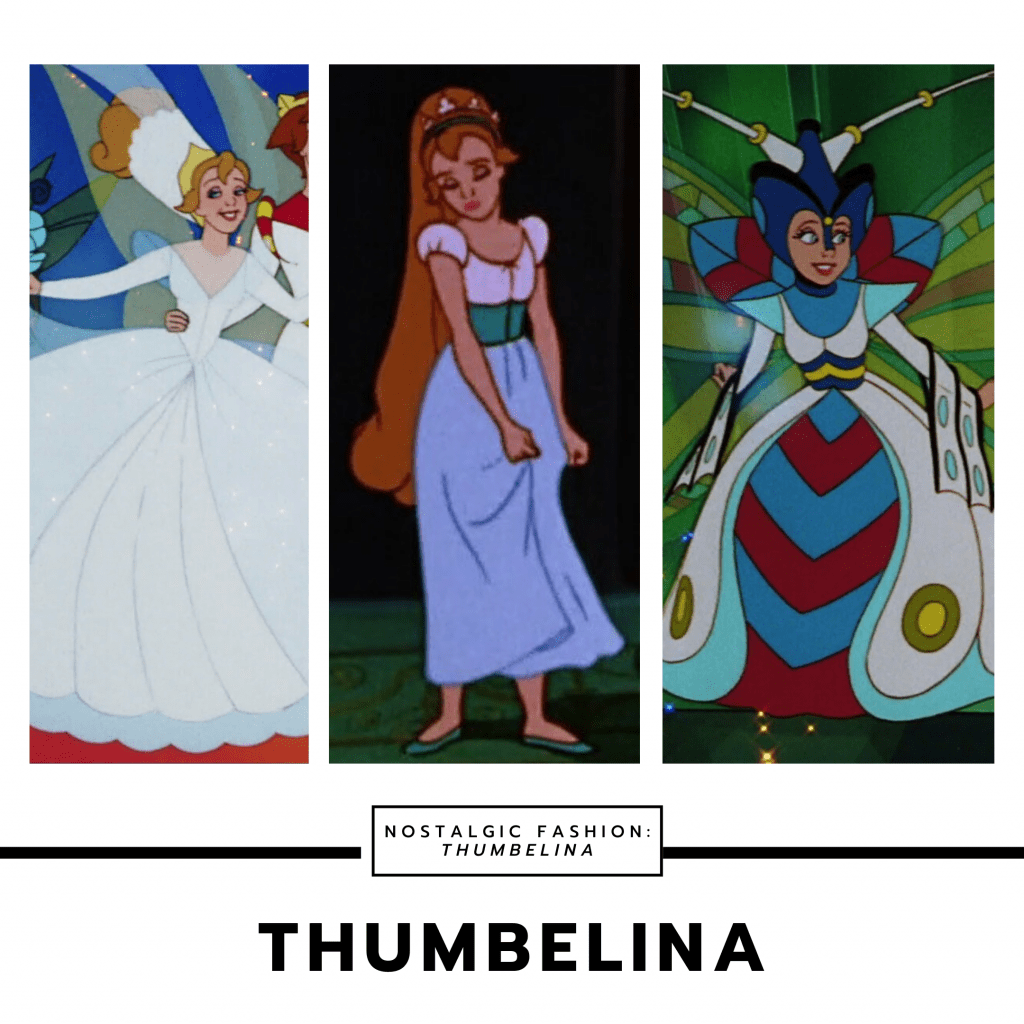 This wouldn't be a Thumbelina fashion guide without the title character.
The protagonist of the film, Thumbelina is a beautiful, kind-hearted young woman. Although she is naïve and that can get old pretty fast, she was literally born yesterday. So we are actually watching her learn everything, bad and good, for the very first time in her life.
She is also one of the few animated characters that I've seen that has five or six different outfits through the film, including two different wedding dresses.
But her color story and most iconic look revolve around light blue and white. This combo is to show her innocent (white) and dreamy persona, but also her pessimistic tendencies (blue).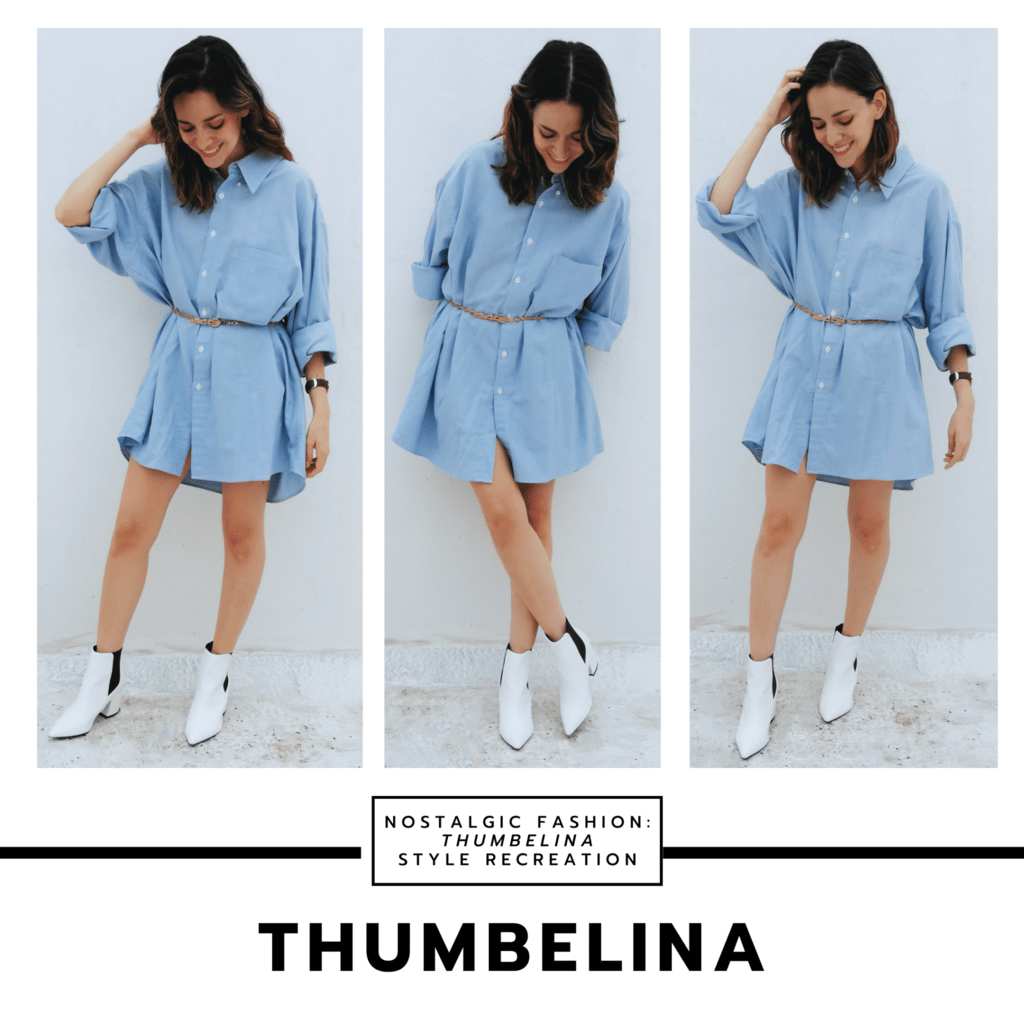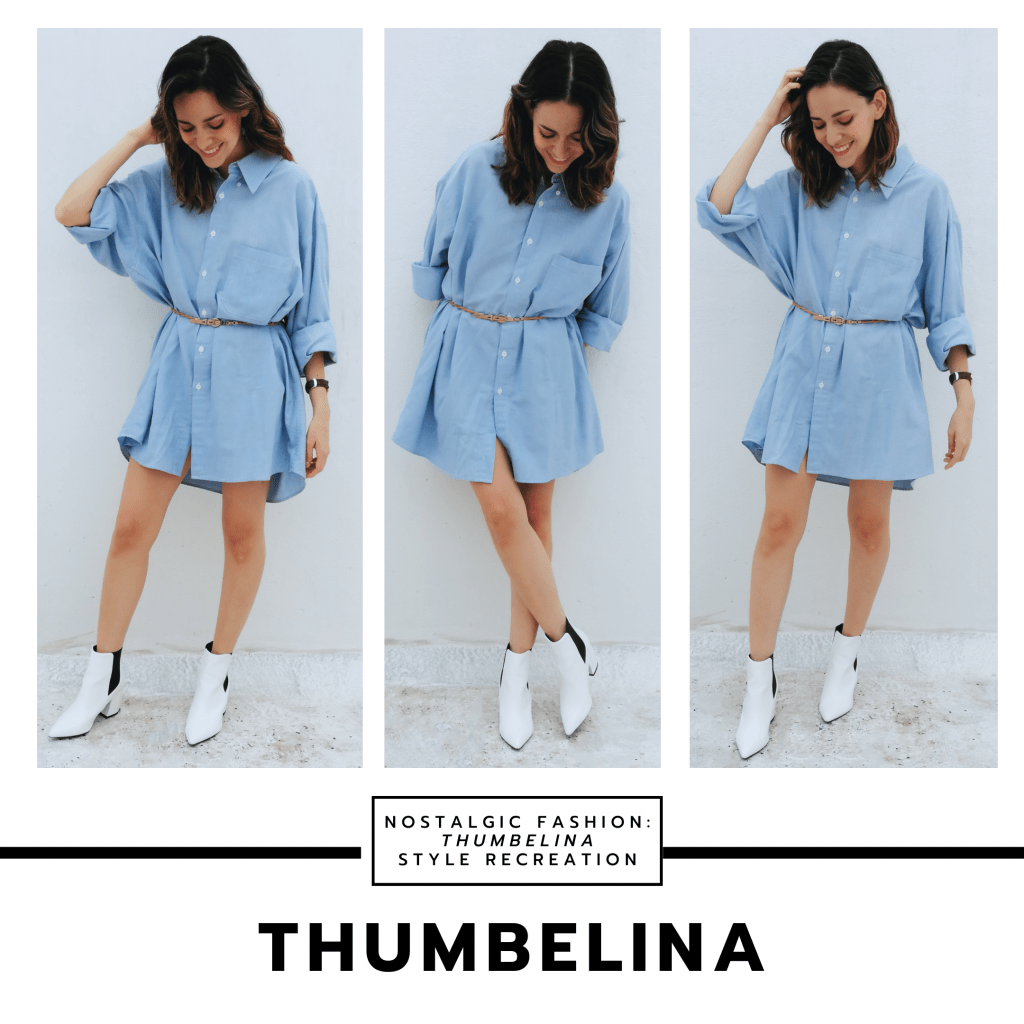 It was surprisingly challenging to create my Thumbelina outfit. I didn't have anything that resembled her dress in a light blue color, not even a skirt. So I had to seriously improvise.
For the base of the outfit, I wore a blue Oxford shirt (borrowed from my dad!) as a dress. It has the right shade of blue and as a dress it's feminine enough.
I belted the shirt/dress with a gold chain belt, as an homage to both Thumbelina's hair and her transformation into a fairy in the end.
Finally, for shoes, I wore a pair of white booties, to finish up the whole color palette.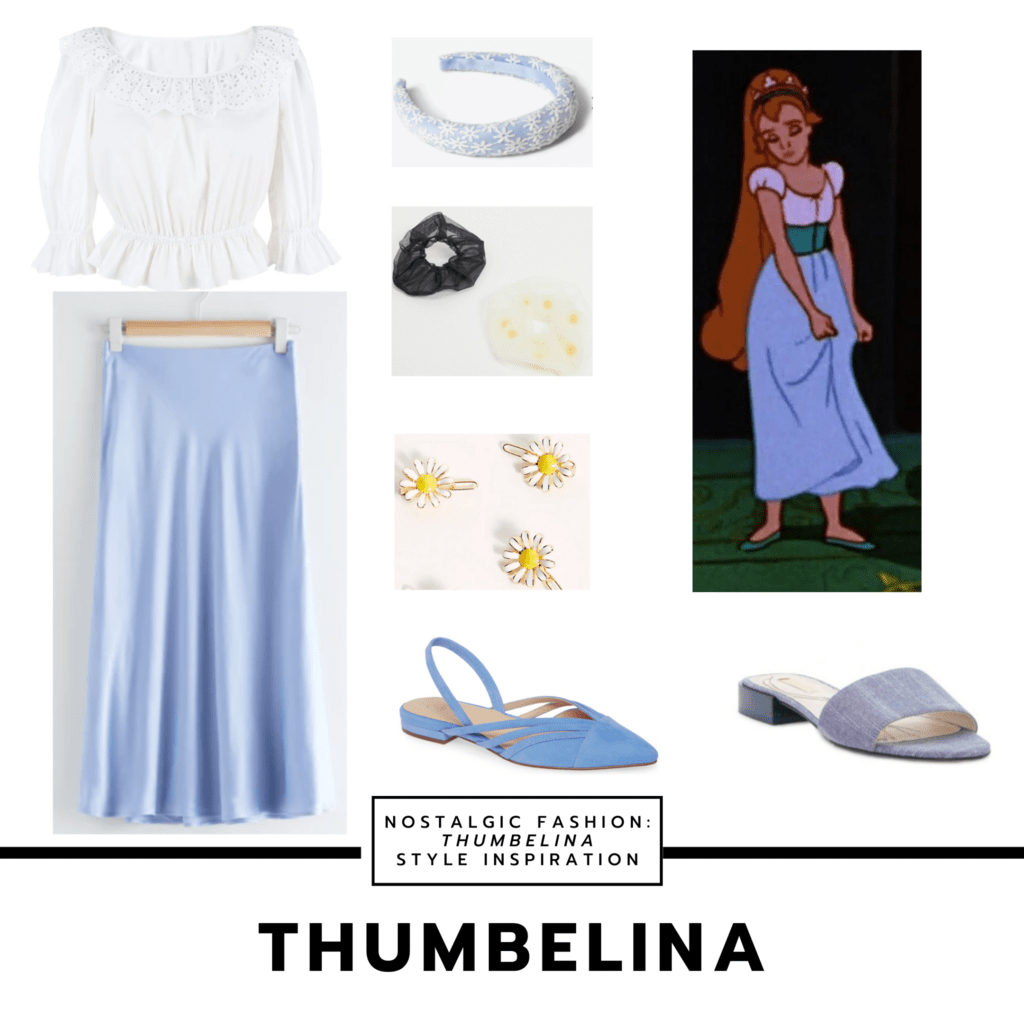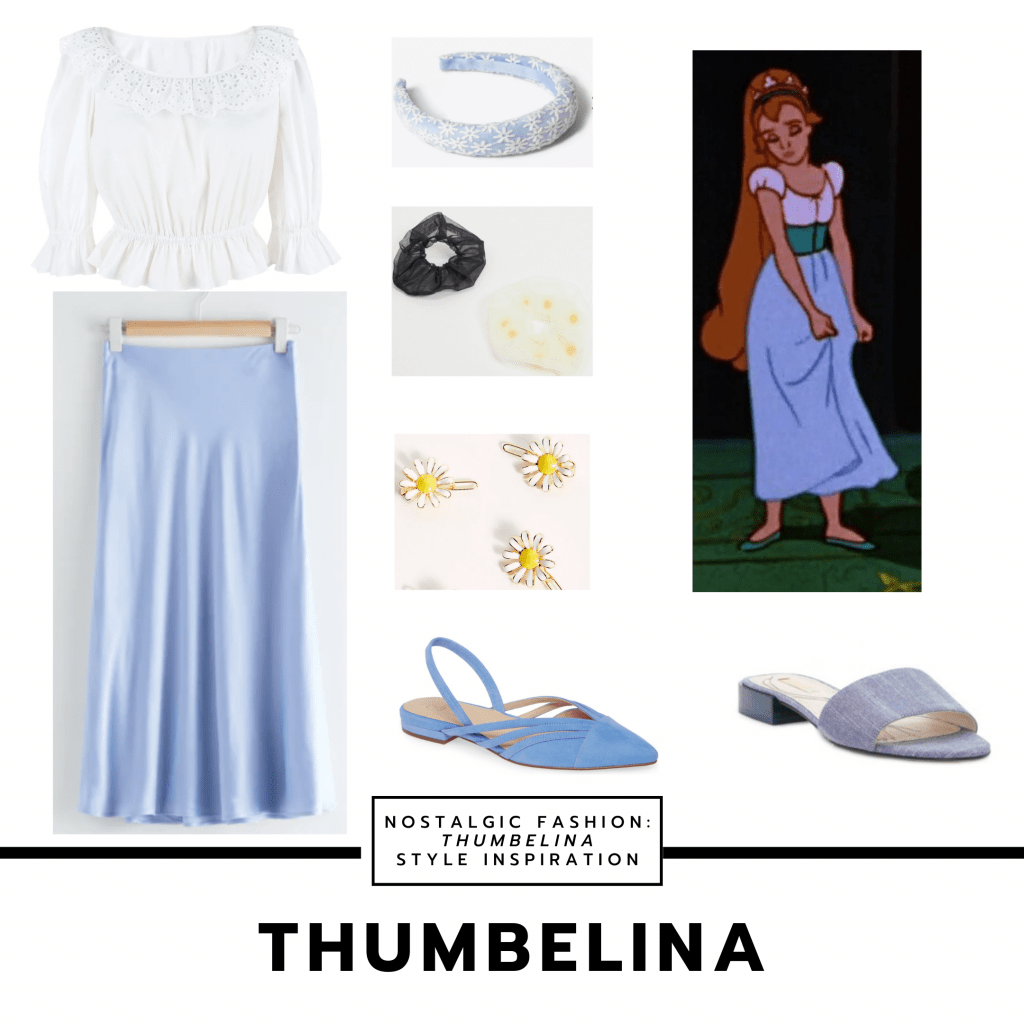 Products: Skirt, Blouse, Pointed Toe Flat, Open Mules, Headband, Scrunchies, Hair Clips
If you want some inspiration, Thumbelina has tons of outfits to choose from. But, since her main outfit is her most iconic one, I'm going to focus on it. To get it, lean towards light blue shades, white, floral accessories, and feminine items.
For this look, try pairing a white peasant blouse with a light blue midi skirt. For shoes, maybe wear pointed flats or open toe mules, also in a light blue shade.
Thumbelina always has flowers as hair accessories, so you can wear a floral headband, scrunchies with floral details or daisy hairclips, whatever you choose.
2. Prince Cornelius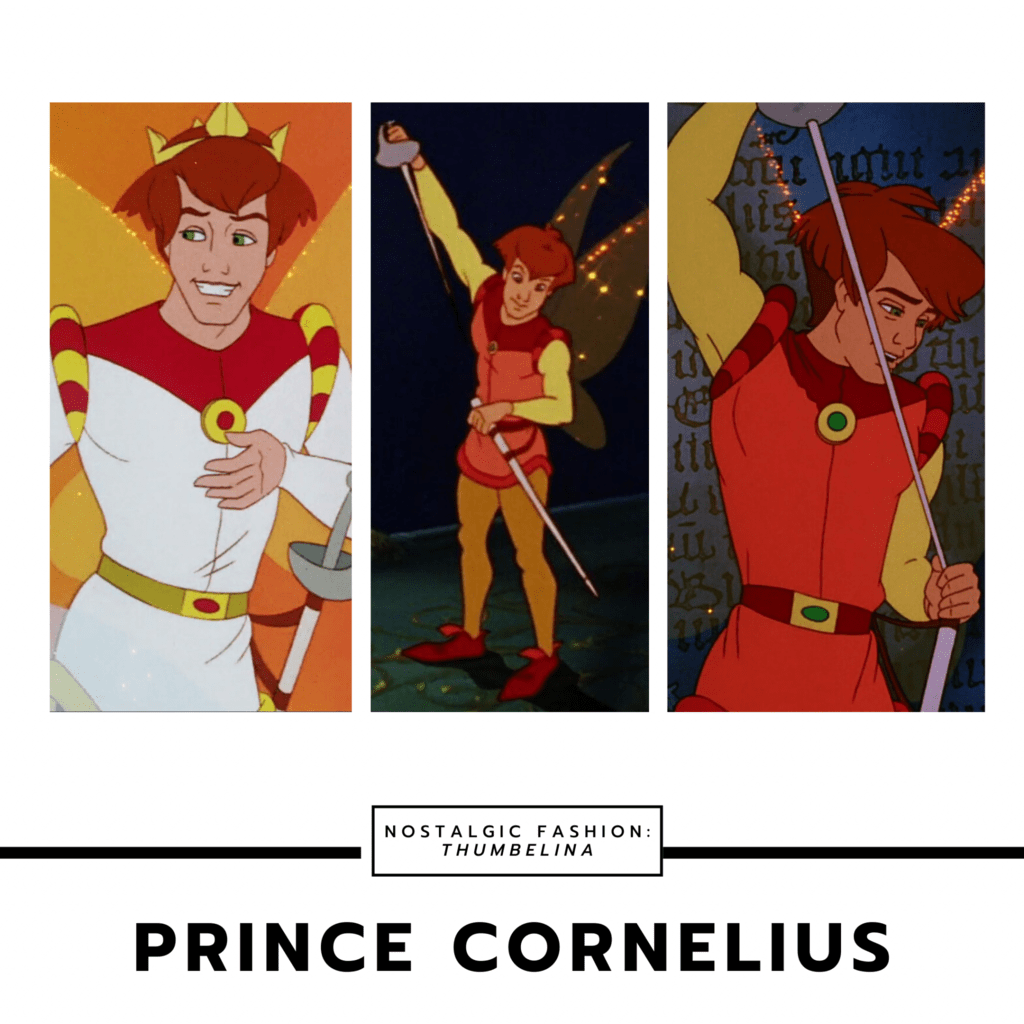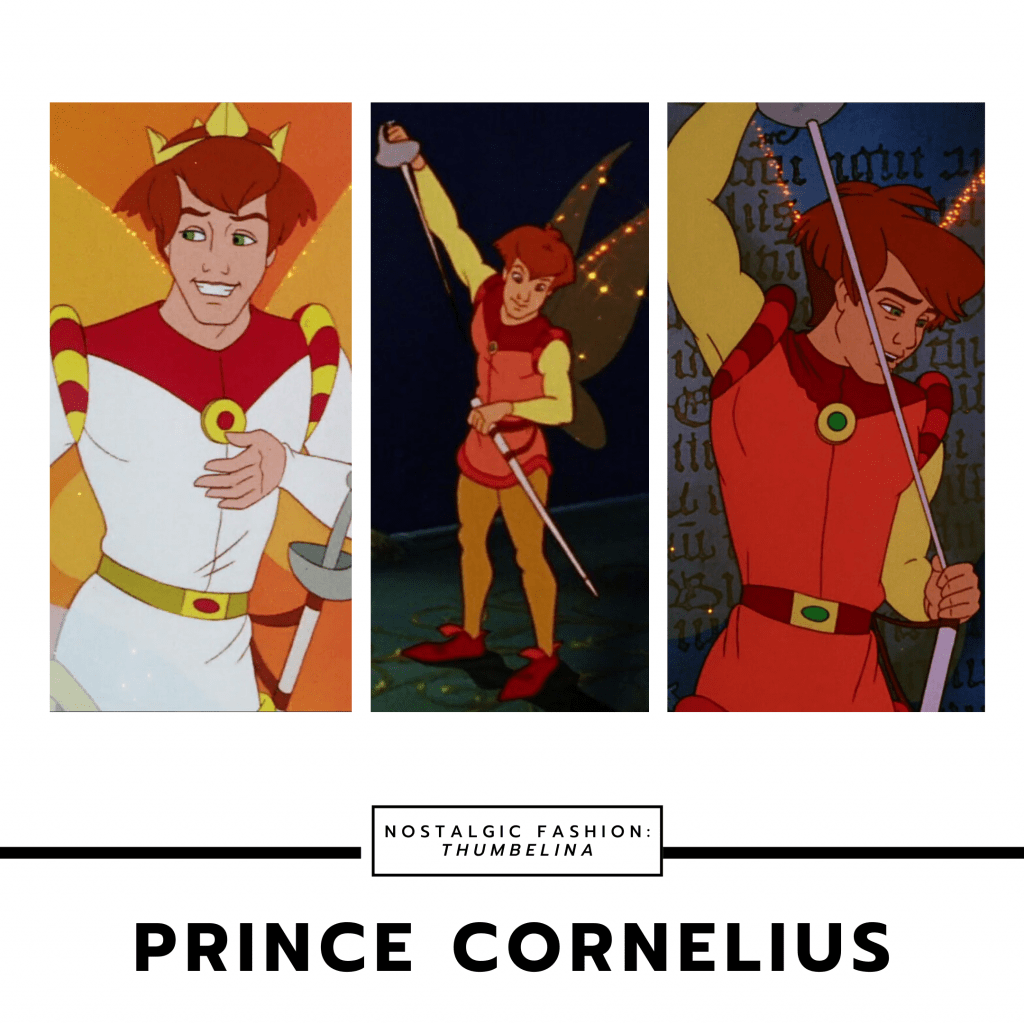 Cornelius is the main love interest and prince of the fairies. He is heroic, brave and relentless. I knew my Thumbelina fashion experiment had to continue with him.
Cornelius falls madly in love with Thumbelina at first sight and promises he'll marry her the same night they meet. He spends the entire film trying to find Thumbelina and bring her back home safe, even asking his parents to delay winter as long as possible.
Prince Cornelius doesn't change outfit through the movie until the very end, for his wedding. His color palette is mostly red, to show he is heroic and brave, with accents in yellow and gold, to emphasize his optimistic and happy-go-lucky side.
His look complements Thumbelina's blue color and pessimistic side, showing, visually, how they're meant to be together.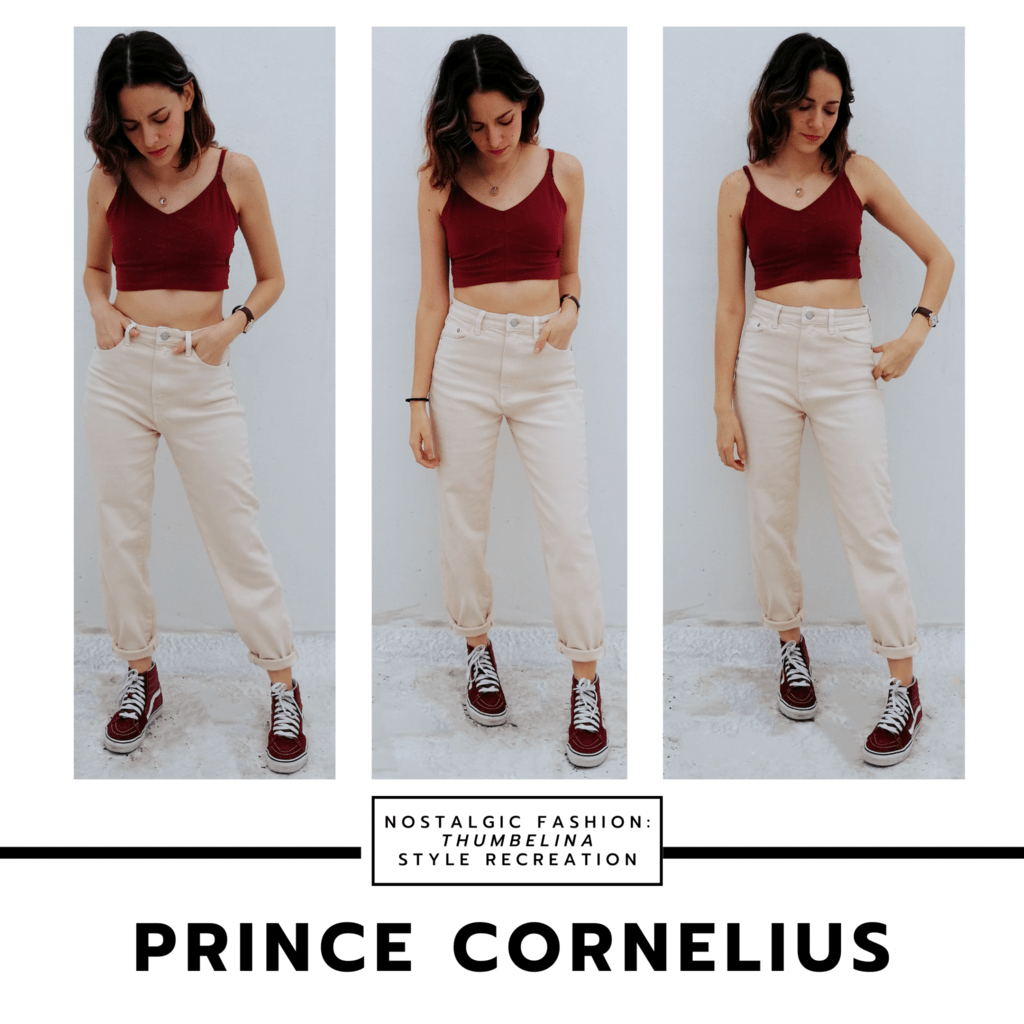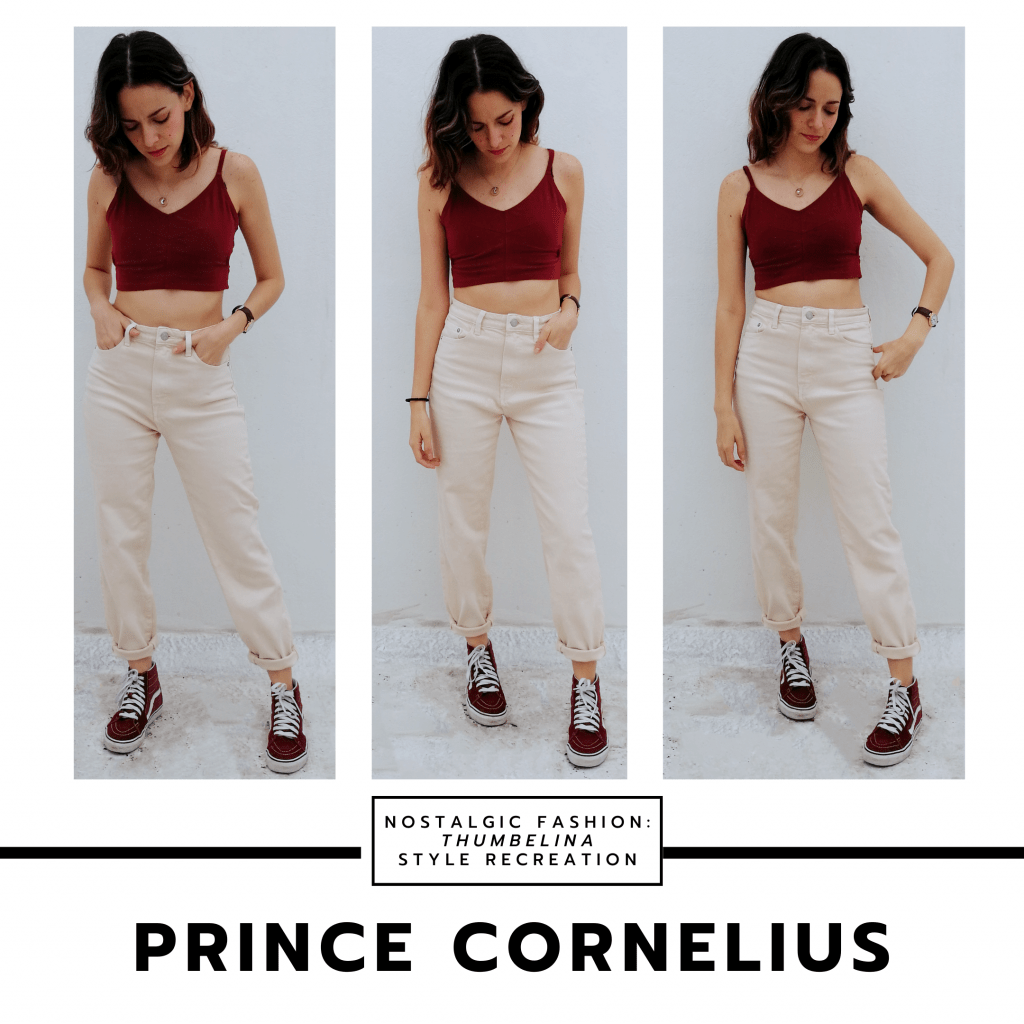 In order to create my outfit based on Cornelius, I decided to go for something comfortable and simple.
I wore a pair of cream colored mom jeans, since I don't have any yellow jeans or pants. For my top, I wore a red crop top that kind of resembles his vest.
Finally, for shoes, I wore my high top Vans. This sneakers are the same shade of red as the top and kind of resemble his boots.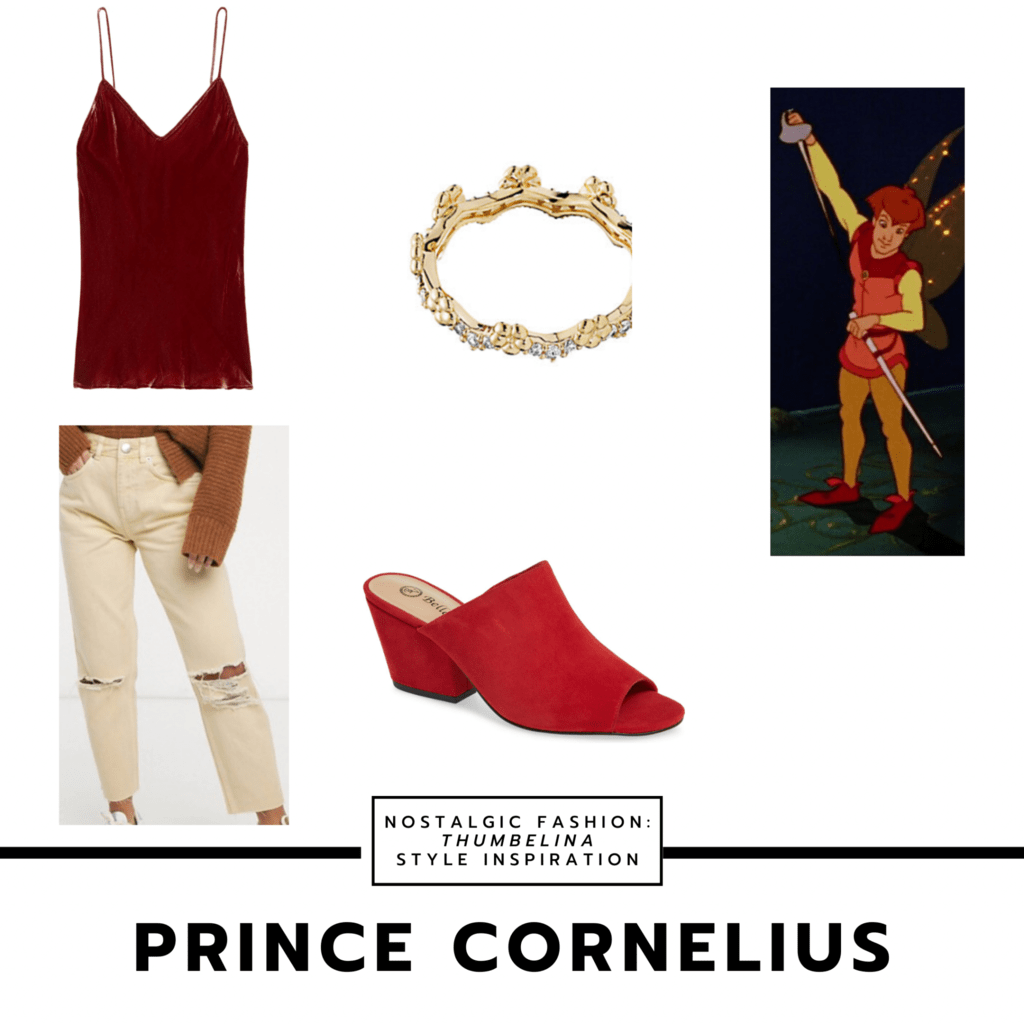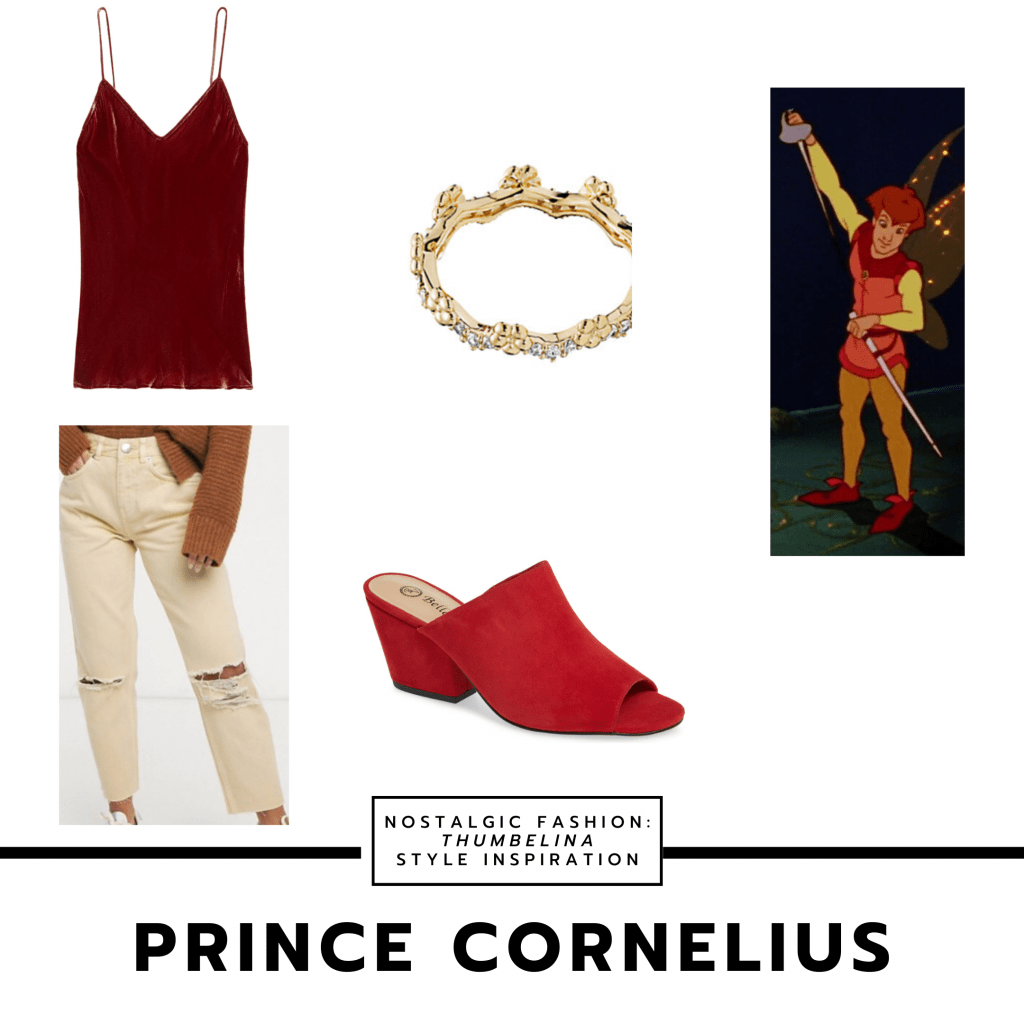 Products: Jeans, Camisole, Heels, Ring
If you want to create a look inspired by Cornelius, keep in mind that his overall color palette can look a bit like Winnie the Pooh's color story. To avoid that, dial down the bright yellow and go for pastel yellow instead. Also, play with textures to add dimension and make the whole look more interesting.
Try a pair of light yellow mom jeans with a red velvet camisole. This way you have both the comfort of the jeans and the regal vibe of the velvet. For shoes, you can wear sneakers like I did or maybe try a pair of short-heeled, dark red mules.
I added a ring that looks like a flower crown, to symbolize his regal status and his love for Thumbelina.
3. Fairies/Cornelius' Parents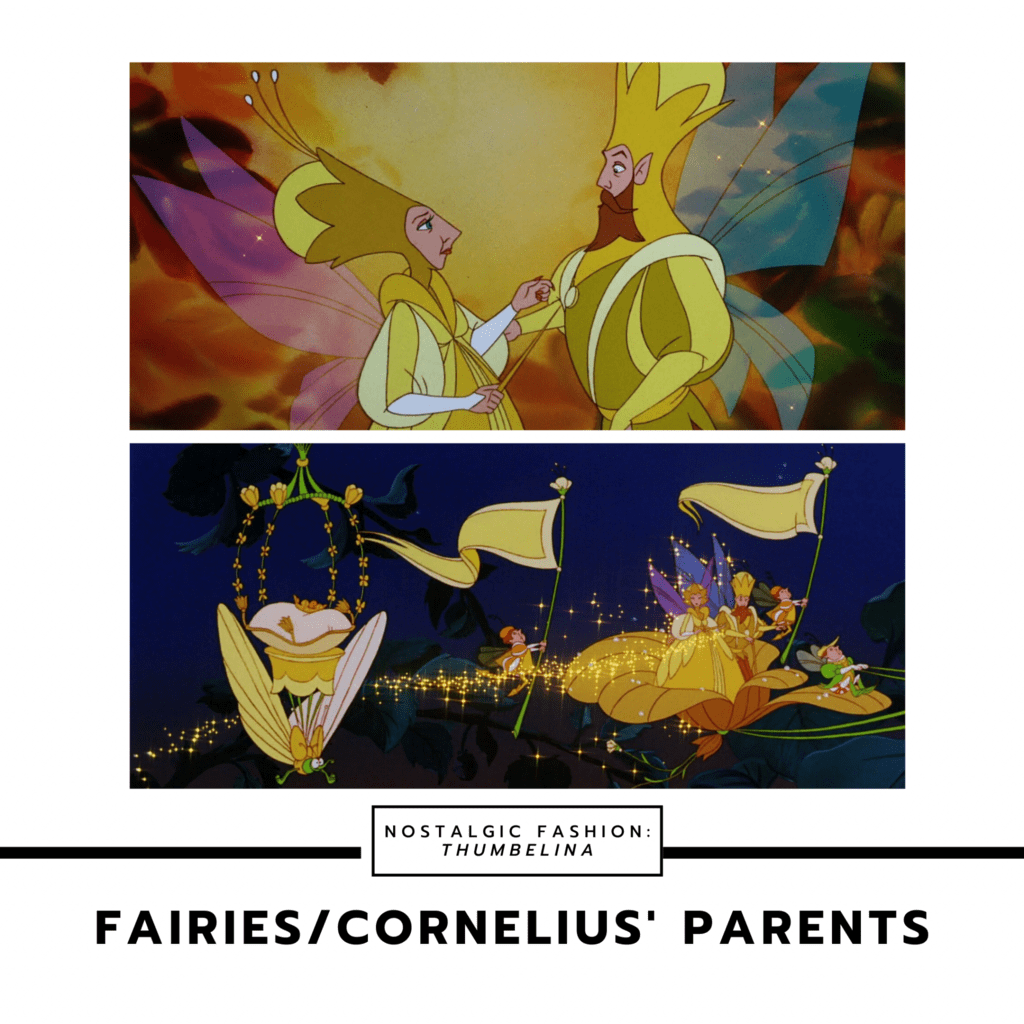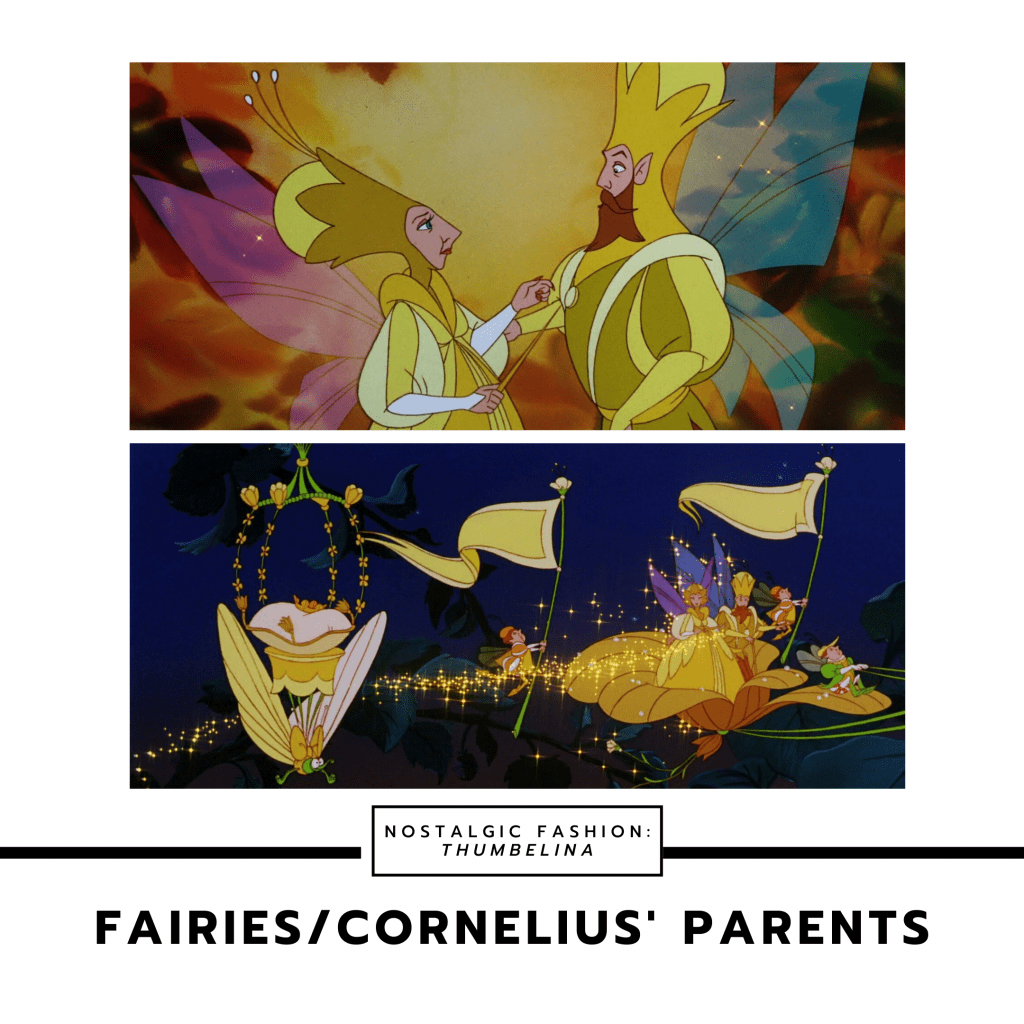 Finally, we have the most magical force in the story: the fairies. Most prominently Cornelius' parents, the King and Queen. While their role in the overall plot is minimal and scarce at best, they're literally the force of nature. They aid in every way they possibly can and they never antagonize Cornelius or his relationship with Thumbelina.
Their color story is always comprised of bright, golden toned yellows. They're always followed by sparkly specs of light, signaling their magic and their undeniable allegiance to the good guys.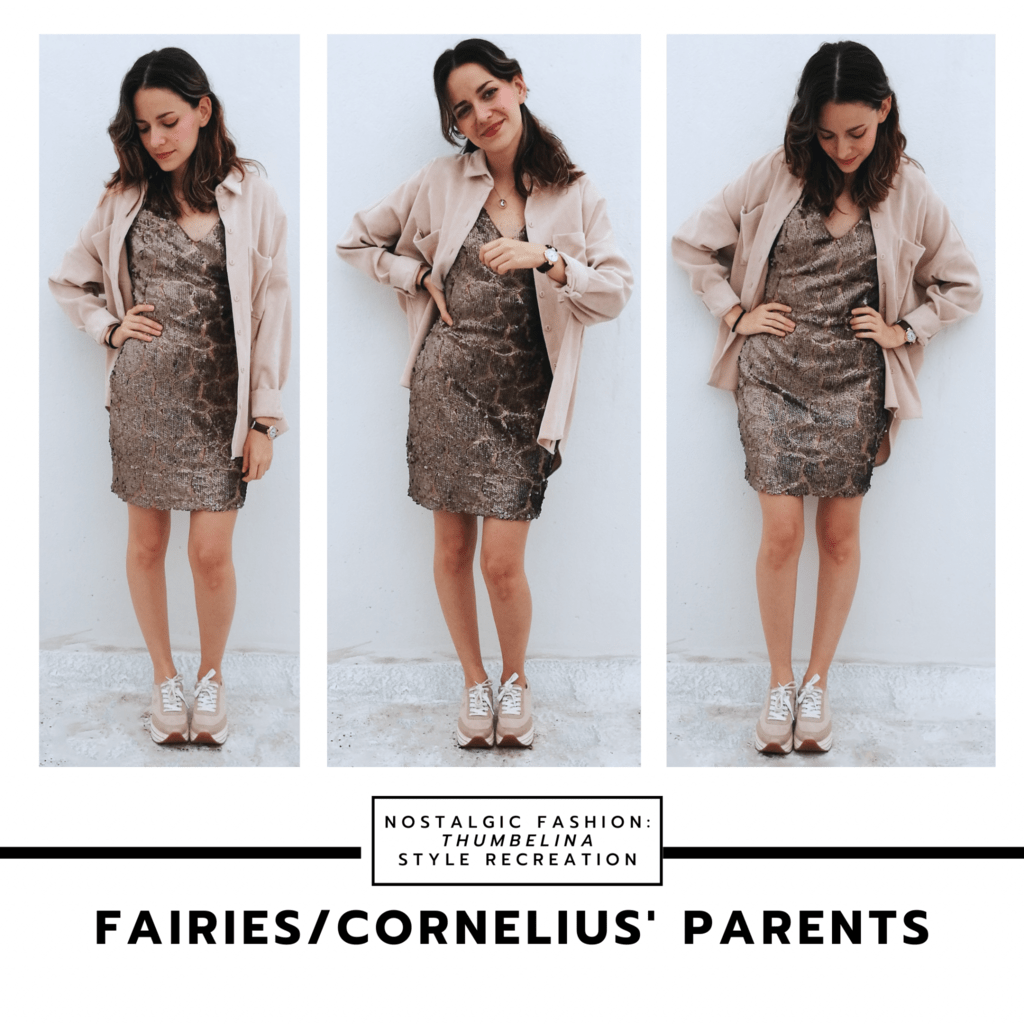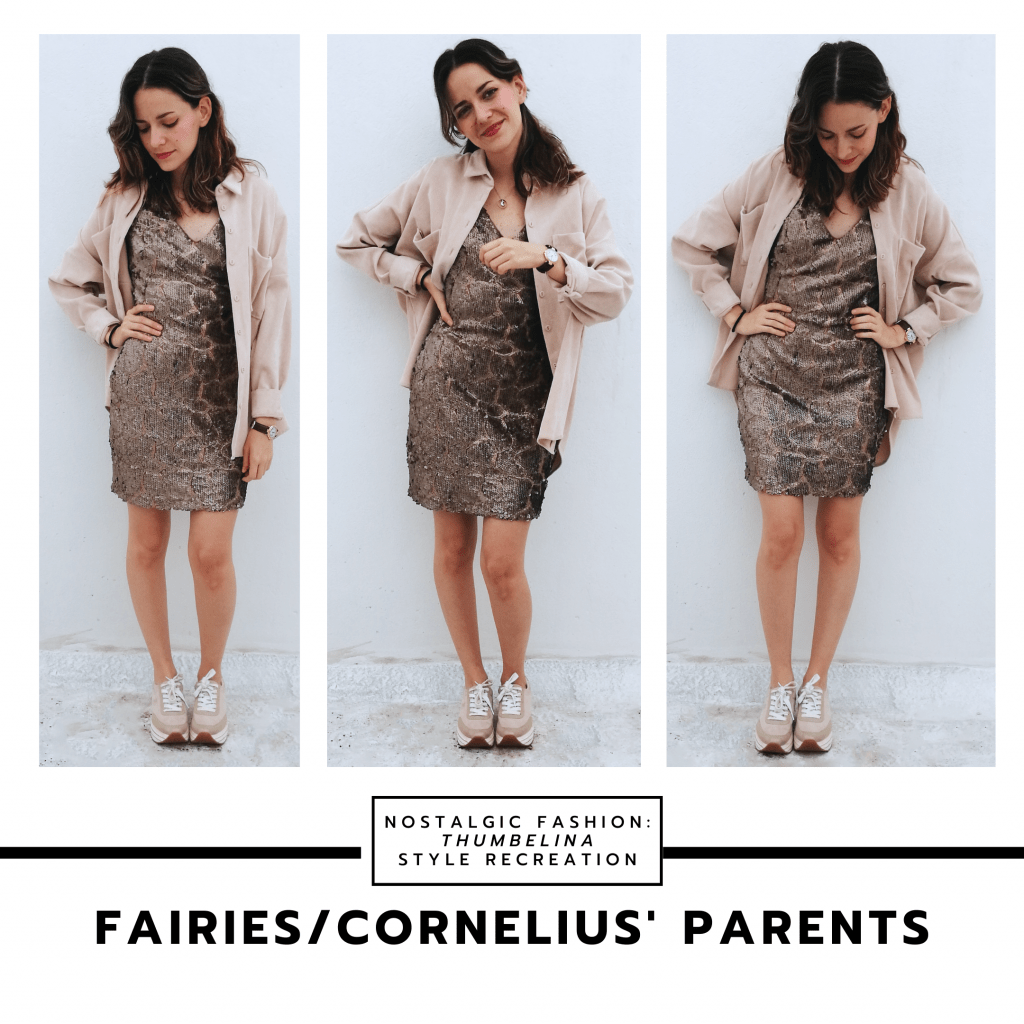 My fairy inspired look was both the most challenging and the most exciting overall.
I wore one of my favorite dresses, which is a gold sequin dress. To dial it down and to layer it, I added an oversized beige corduroy Oxford shirt.
To finish it up, I chose a pair of beige platform sneakers that have golden details.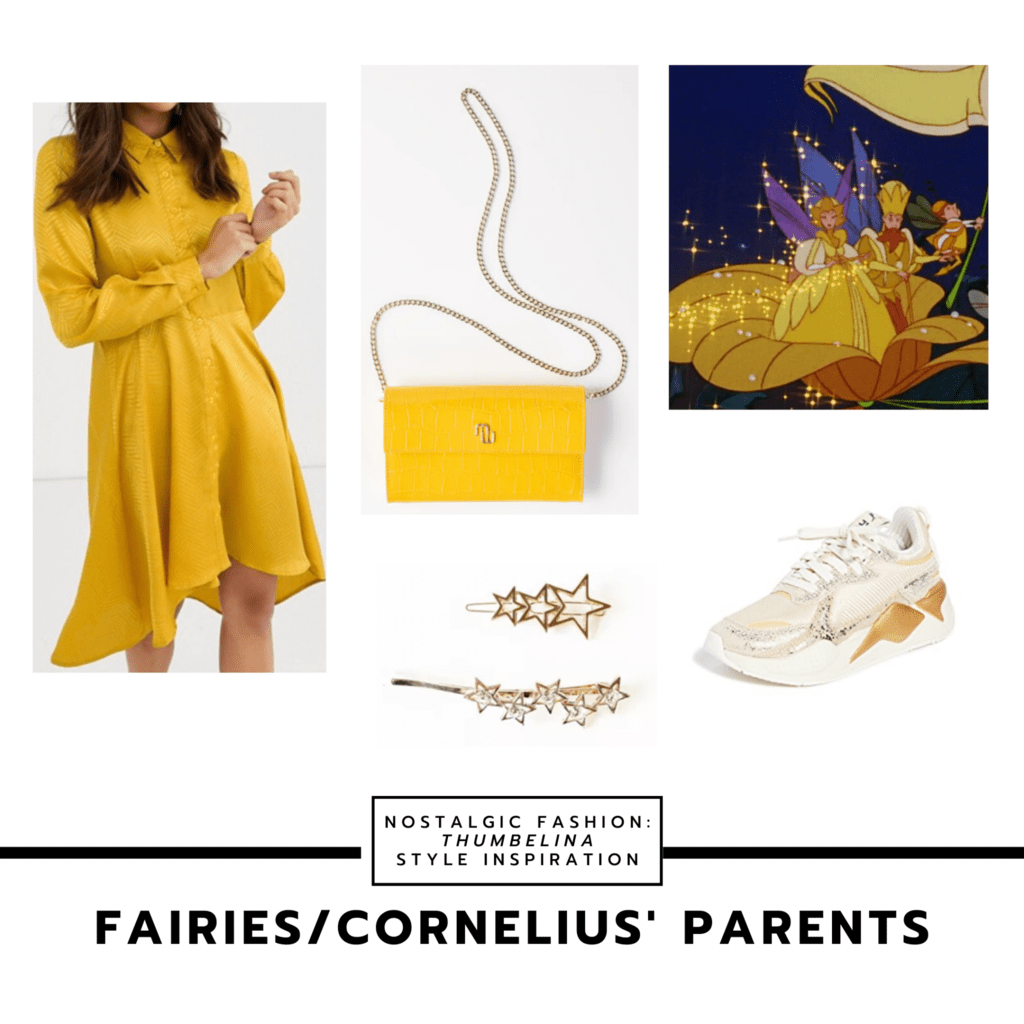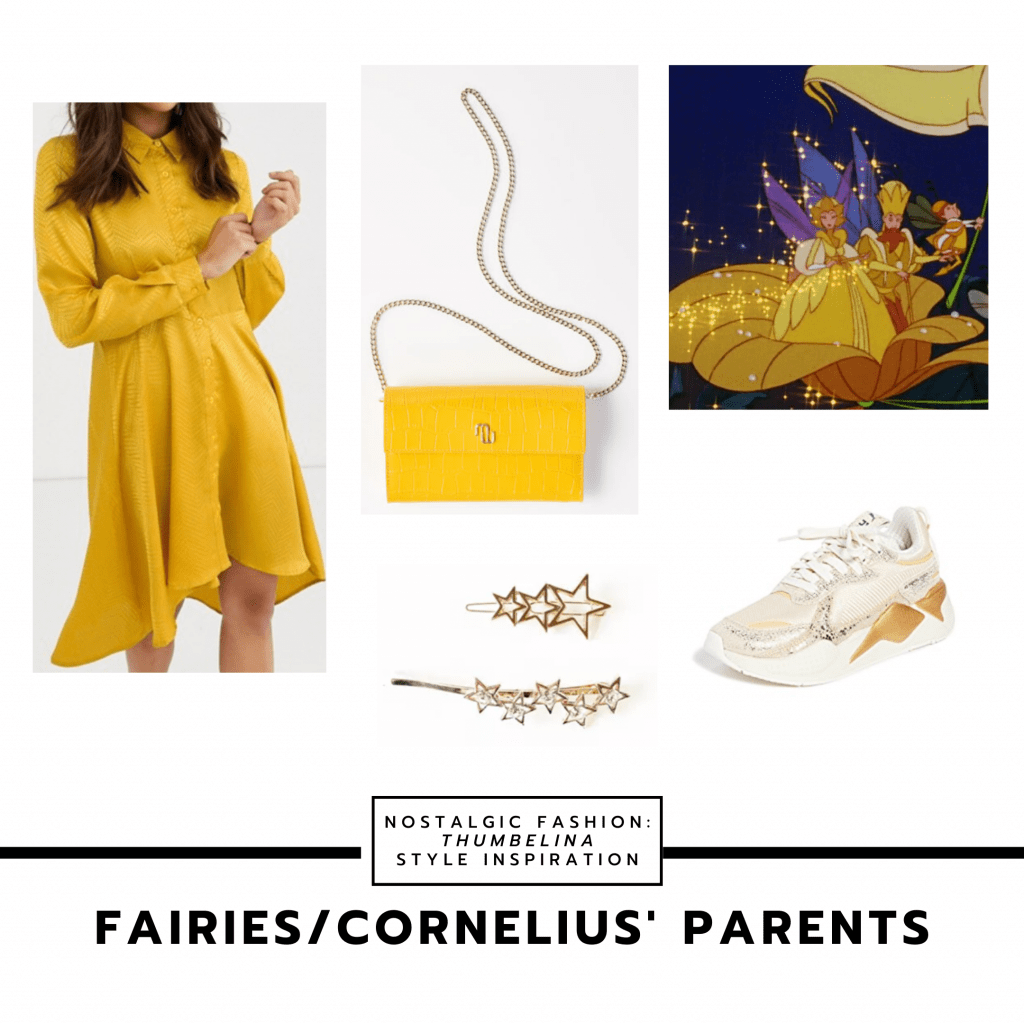 Products: Dress, Sneakers, Bag, Hair Pins
Getting inspired by these fairies is easy if you love interesting textures and shiny items. Their whole color palette revolves around gold, shiny hues.
Try wearing a flowy satin dress in a dark yellow or mustard hue that looks kind of golden. To make it more modern and comfortable, try adding a pair of white sneakers that have shiny details in the same yellow color on them.
For accessories, rock a cross-body yellow bag and a couple of star hair pins. This is to emulate the specs of light the fairies leave behind.
What do you think of our Thumbelina fashion guide?
Have you seen Thumbelina? Do you like this movie? Which of my Thumbelina fashion choices is your favorite? Which outfit would you wear? Do you have any movie you would like me to cover for the next post? let us know in the comments below!