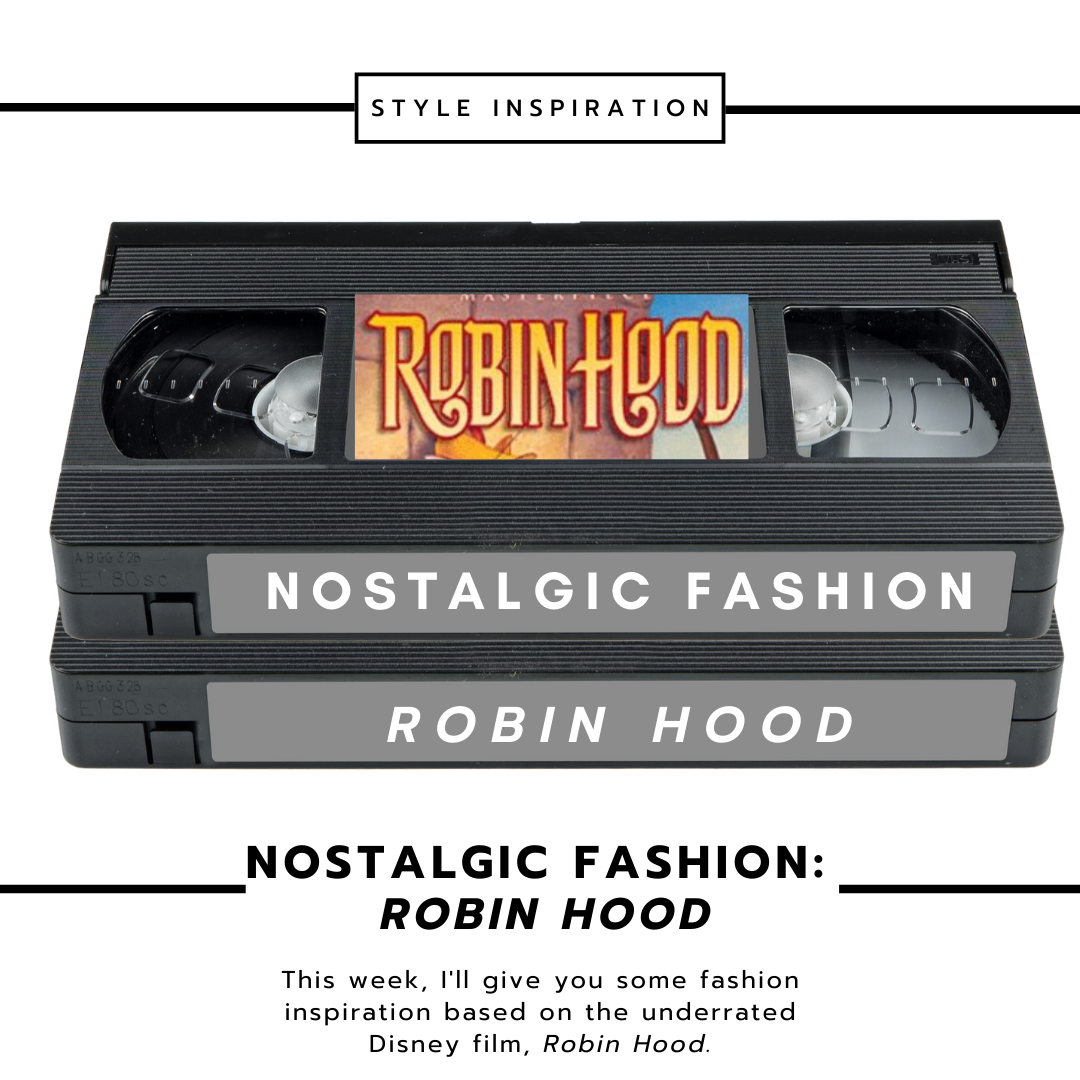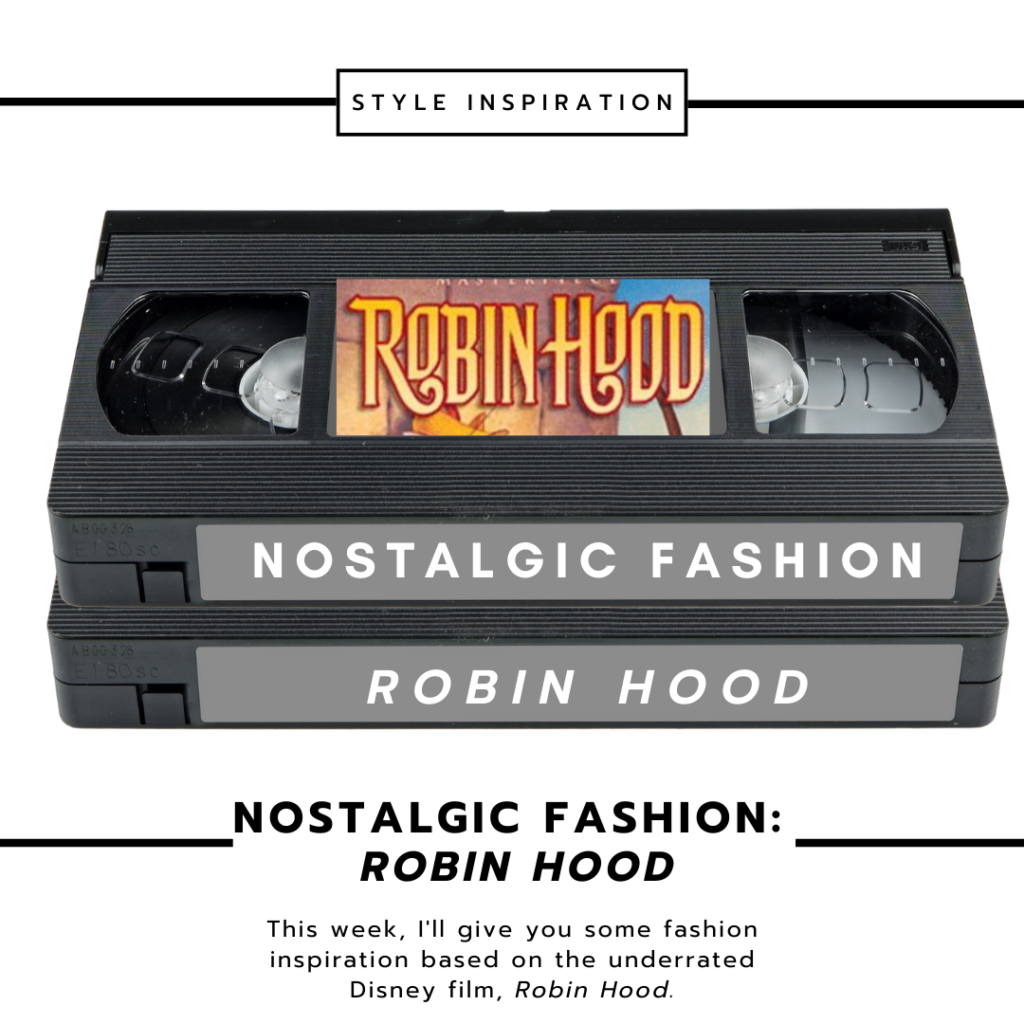 For the past few weeks, I've found myself watching my old VHS movies, especially movies that I watched when I was a little girl. While doing this, I have found some great underrated films that tend to get lost in between all the princesses, Pixar animated films, and the newest live-action remakes.
They are also a great source of fashion inspiration.
So for my next few posts, I'll choose one of these underrated movies each week and give you a quick recap of the film and its production, a rundown of each character's style, and my own real-life recreation of each look.
Over the past few months, I've covered The Rescuers, Oliver & Company, and 101 Dalmatians from Disney; last week, the focus was on the non-Disney animated favorite FernGully: The Last Rainforest.
This week, I'm covering one of my favorite classic Disney films, Robin Hood. Read on to check out my Robin Hood outfits!
About Robin Hood (1973)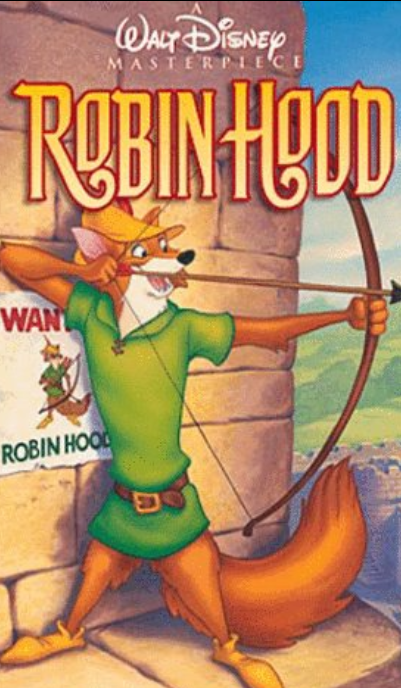 Based on the classic Robin Hood story, this version was released in 1973. It is the 21st entry in the Disney Animated Canon.
Since they replaced all the characters with animals, this makes Robin Hood the first Disney movie that is exclusively anthropomorphic.
This was the first movie the studio made completely independently from Walt Disney, who had died in 1966. The studio had a lot of financial troubles and it affected the production of this film. Throughout the film, you can actually see scenes being recycled from other movies and within the movie itself.
Nonetheless, it's a classic and a favorite of mine.
If you need a quick refresher of the story, here it is: The movie follows the adventures of Robin Hood, Little John, and the inhabitants of Nottingham as they fight against the tyrant Prince John and the Sheriff of Nottingham. It also covers the love story between Robin and Maid Marian, Prince John's niece.
Robin Hood Outfits Guide
1. Robin Hood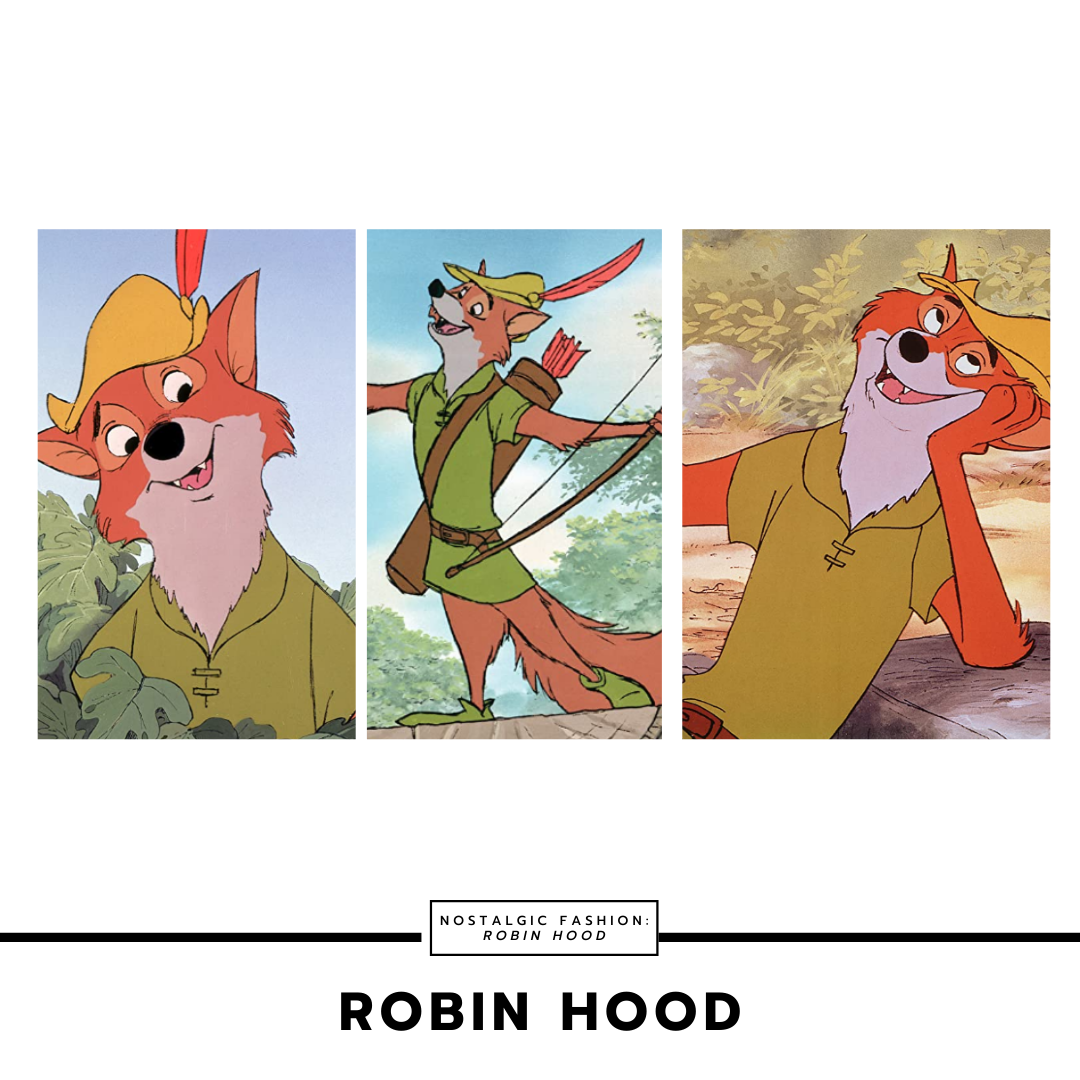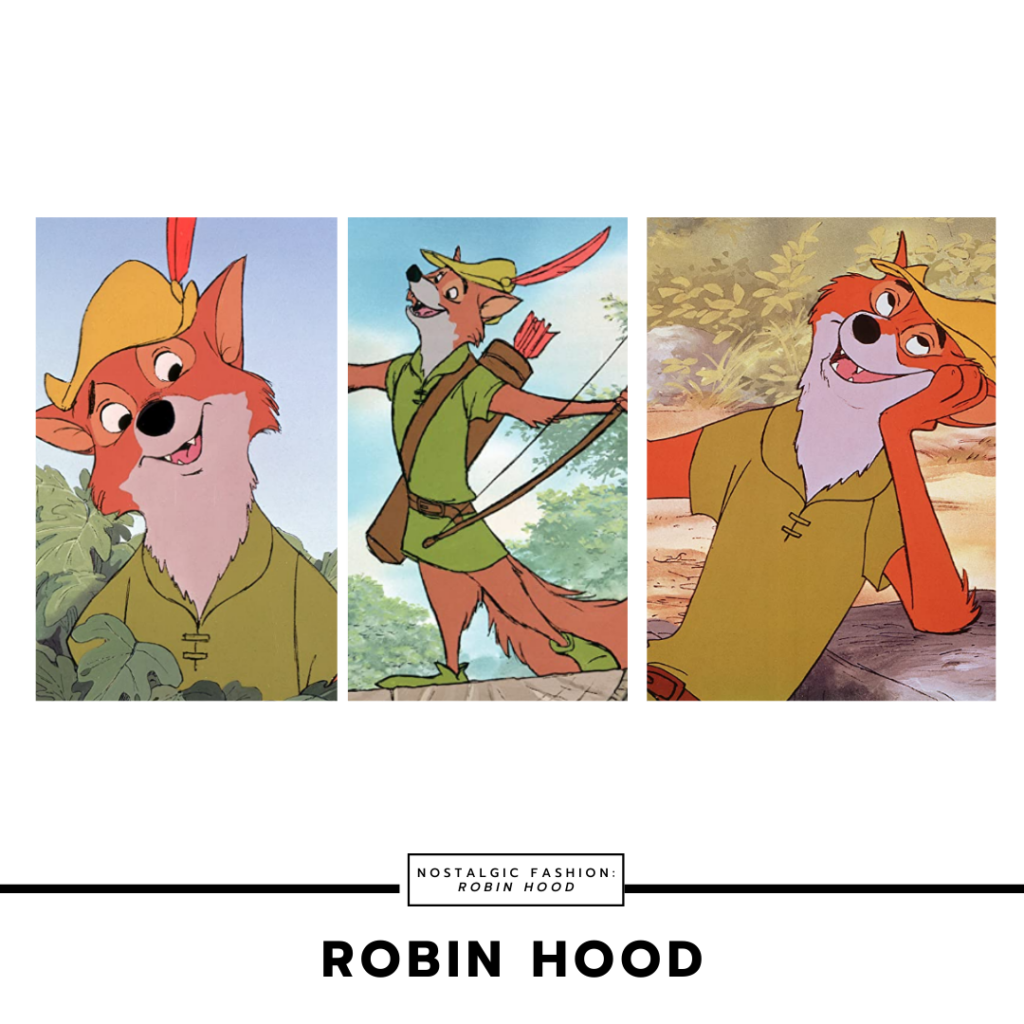 The titular protagonist, this version of Robin Hood is a fox.
In this take on the story, Robin mainly targets Prince John and his goons in order to help the impoverished people of Nottingham. Robin is resourceful, cunning, and warm-hearted.
His main color scheme consists of greens, the color usually associated with the original Robin Hood legend, and orange, because of his form as a fox in this version.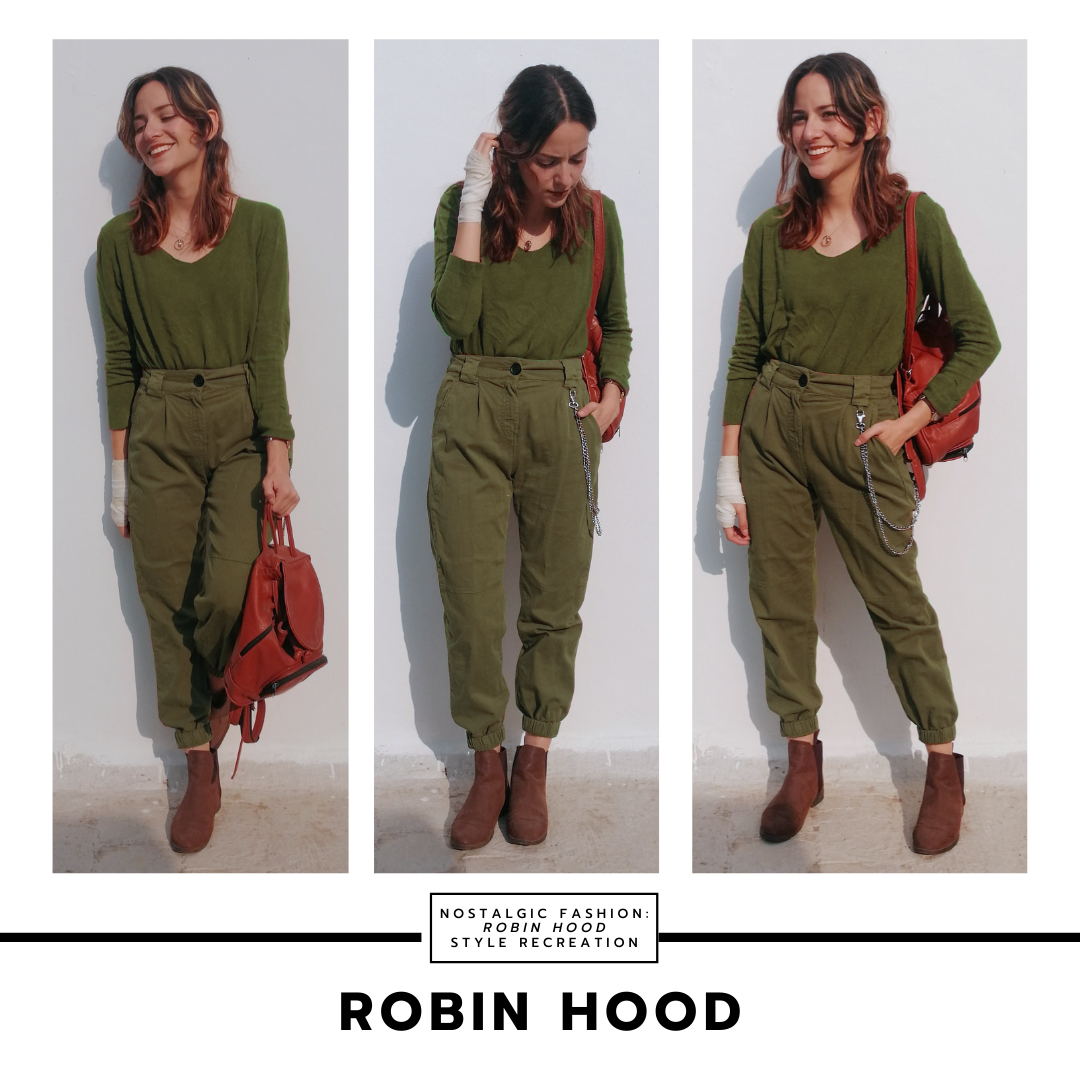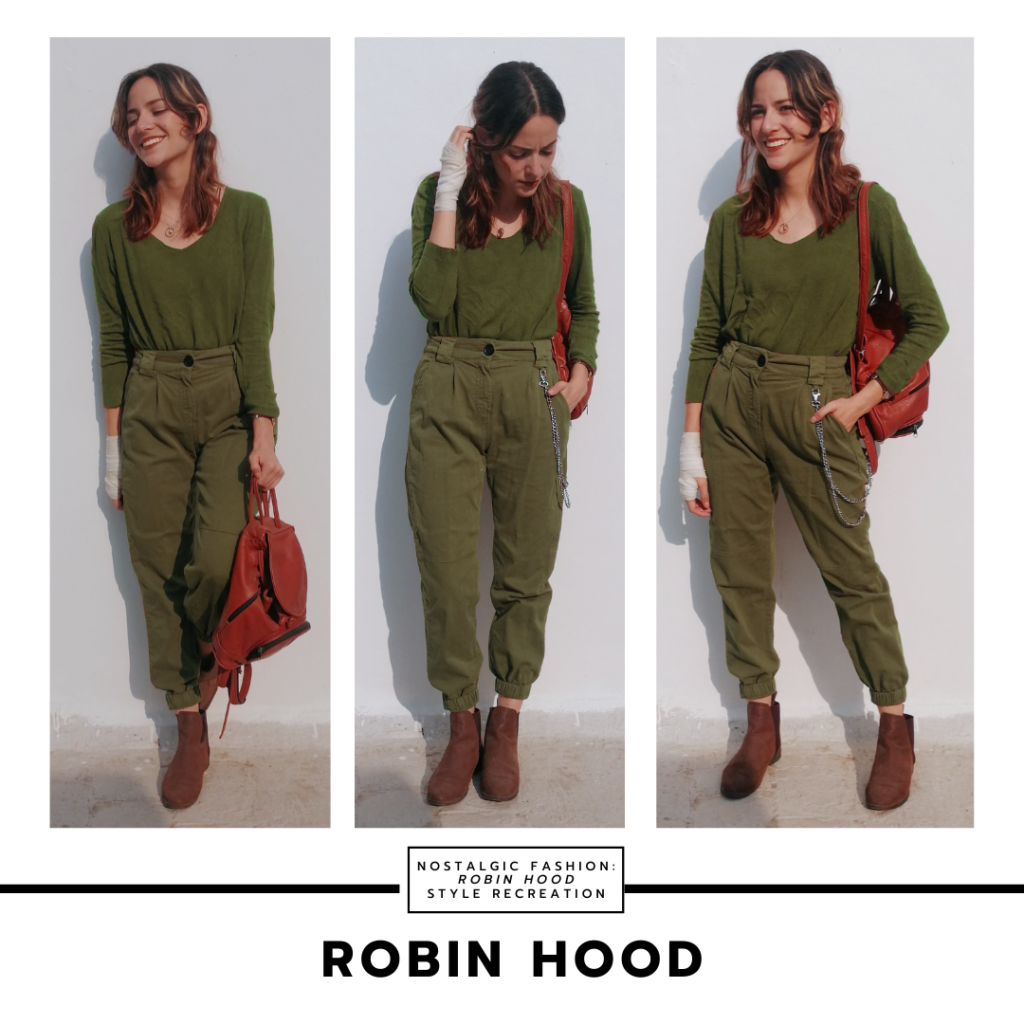 To create my look based on Robin, I decided to go the monochromatic route. I started with a pair of green pants and a green V-neck sweater.
My first option was to use an orange sweater, but it looked weird with the pants, so I swapped for this green one which has a similar neckline to mimic Robin's outfit.
For shoes, I wore a pair of brown booties.
Finally, as an accessory, I grabbed this backpack that has a very orangey shade of brown and it kind of emulates his fur.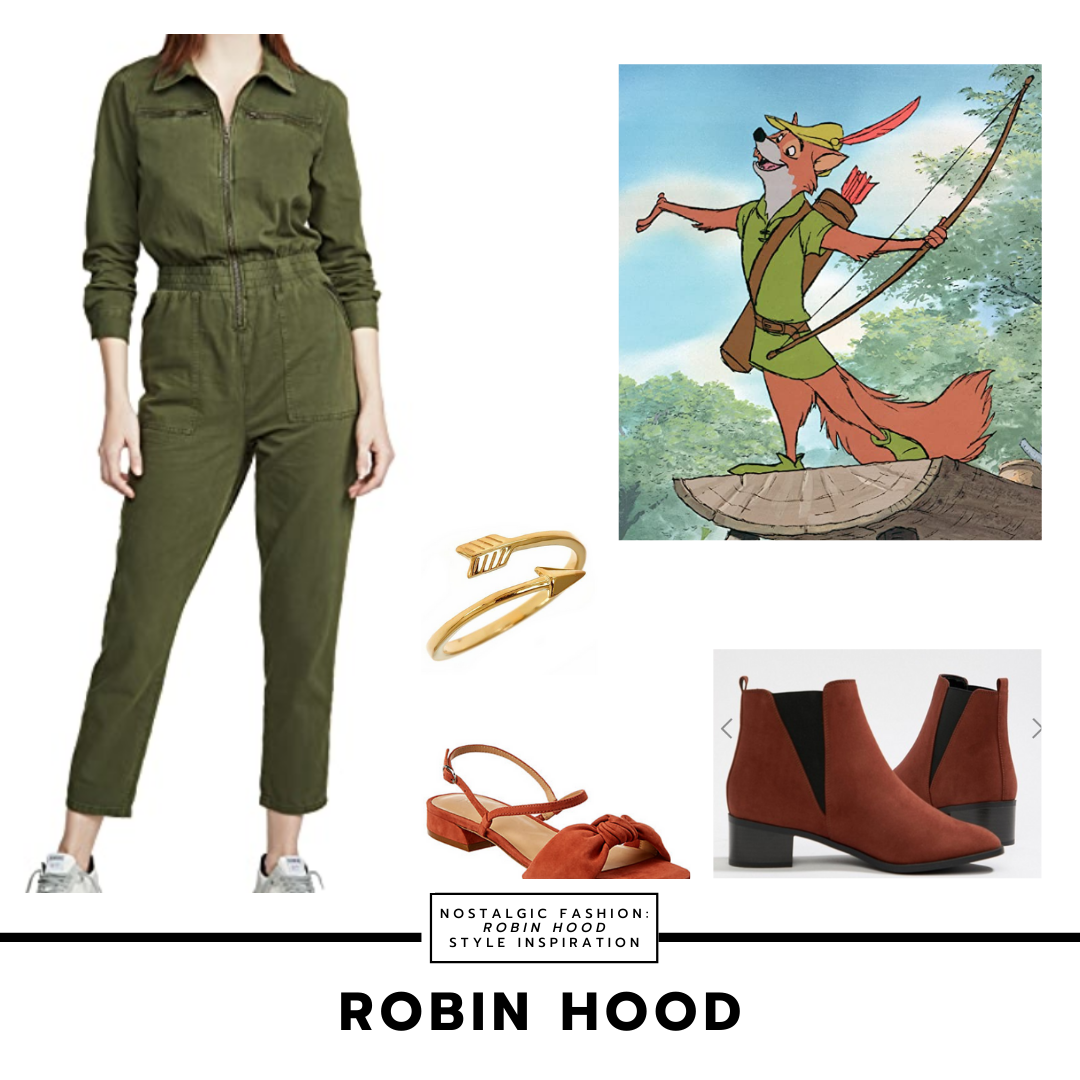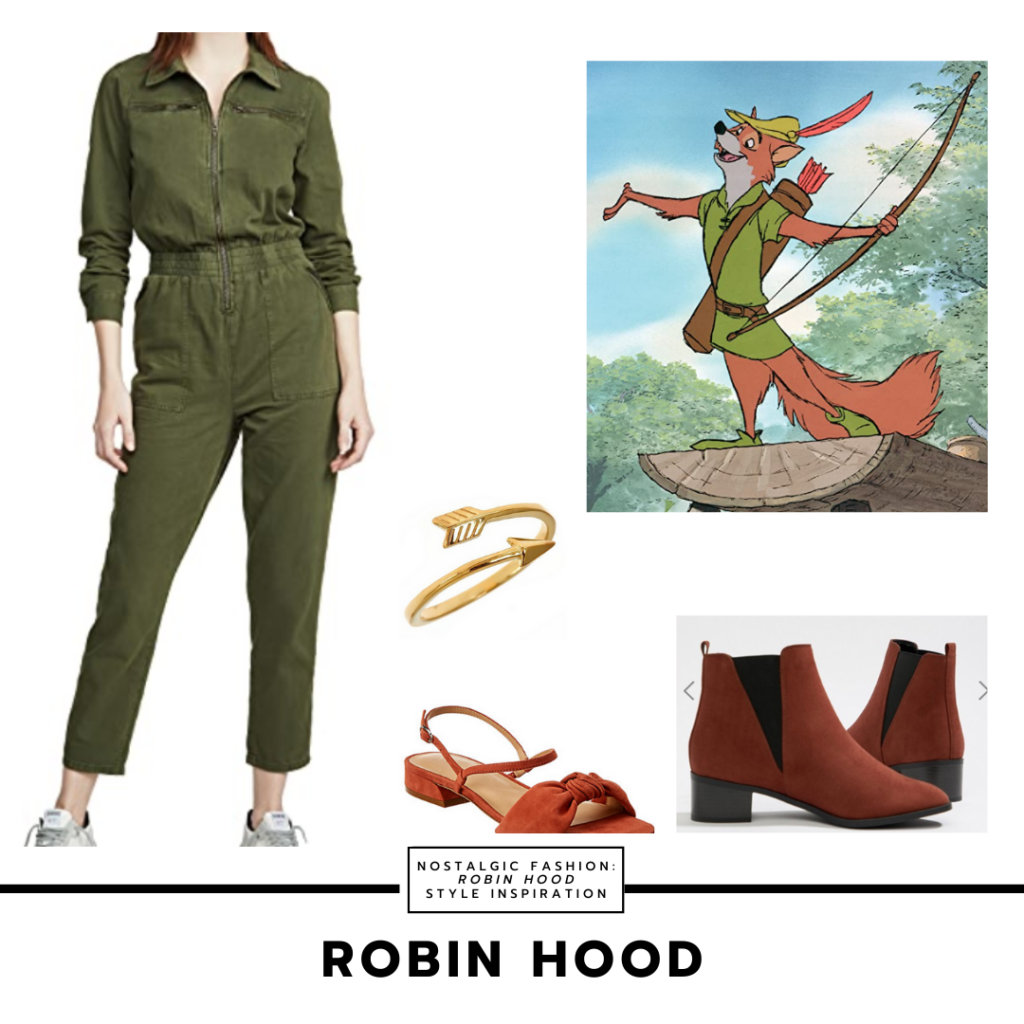 Products: Coveralls, Boots, Sandals, Ring
If you want to create an outfit based on Robin Hood, it is very simple. Just think: green, green, green.
Try wearing a pair of olive green coveralls that are both comfortable and similar to what Robin is wearing throughout the film.
For shoes, you can either wear a pair a burnt orange booties or dark orange sandals, depending on your style.
As a final touch, add an arrow ring as a call-back to Robin's weapon of choice.
2. Maid Marian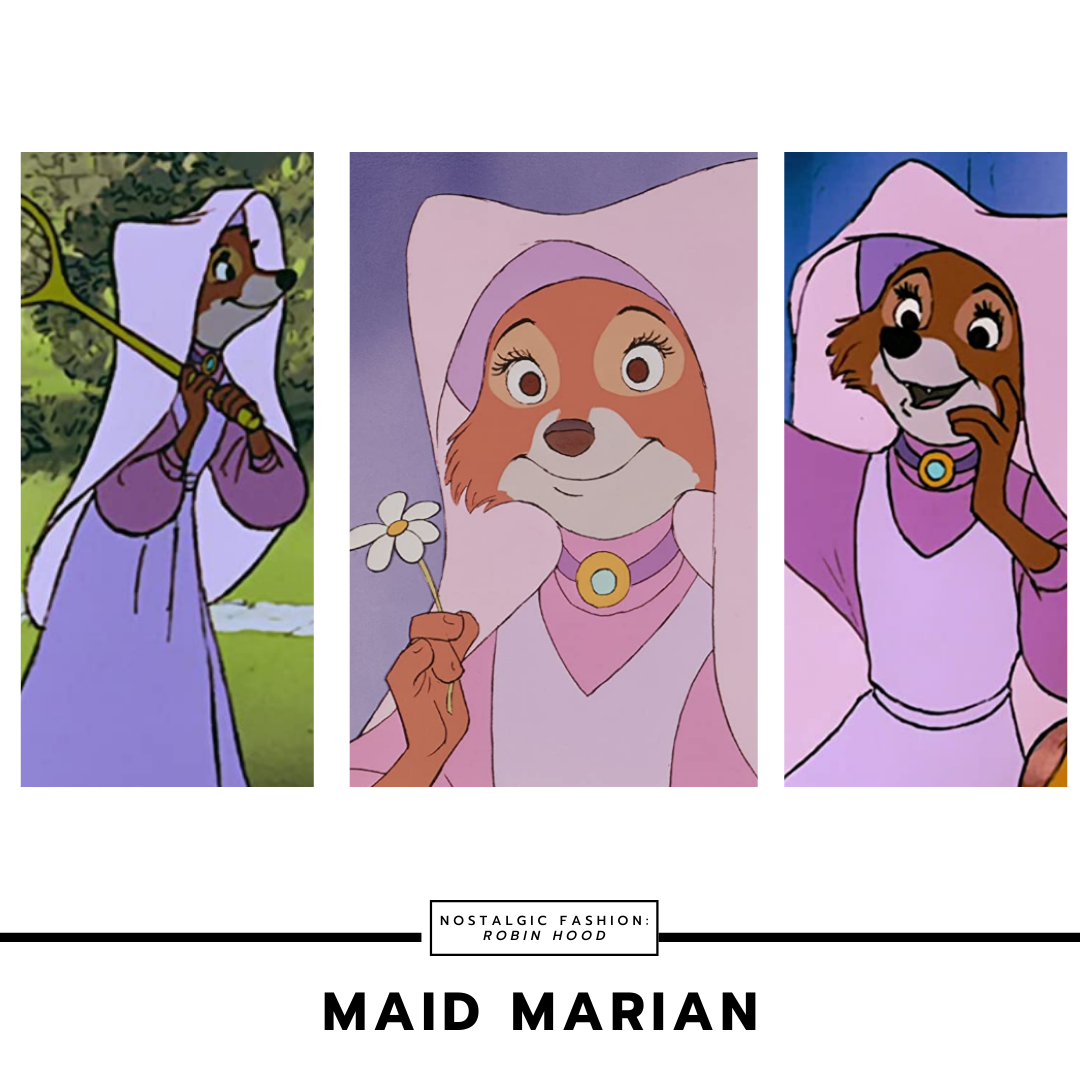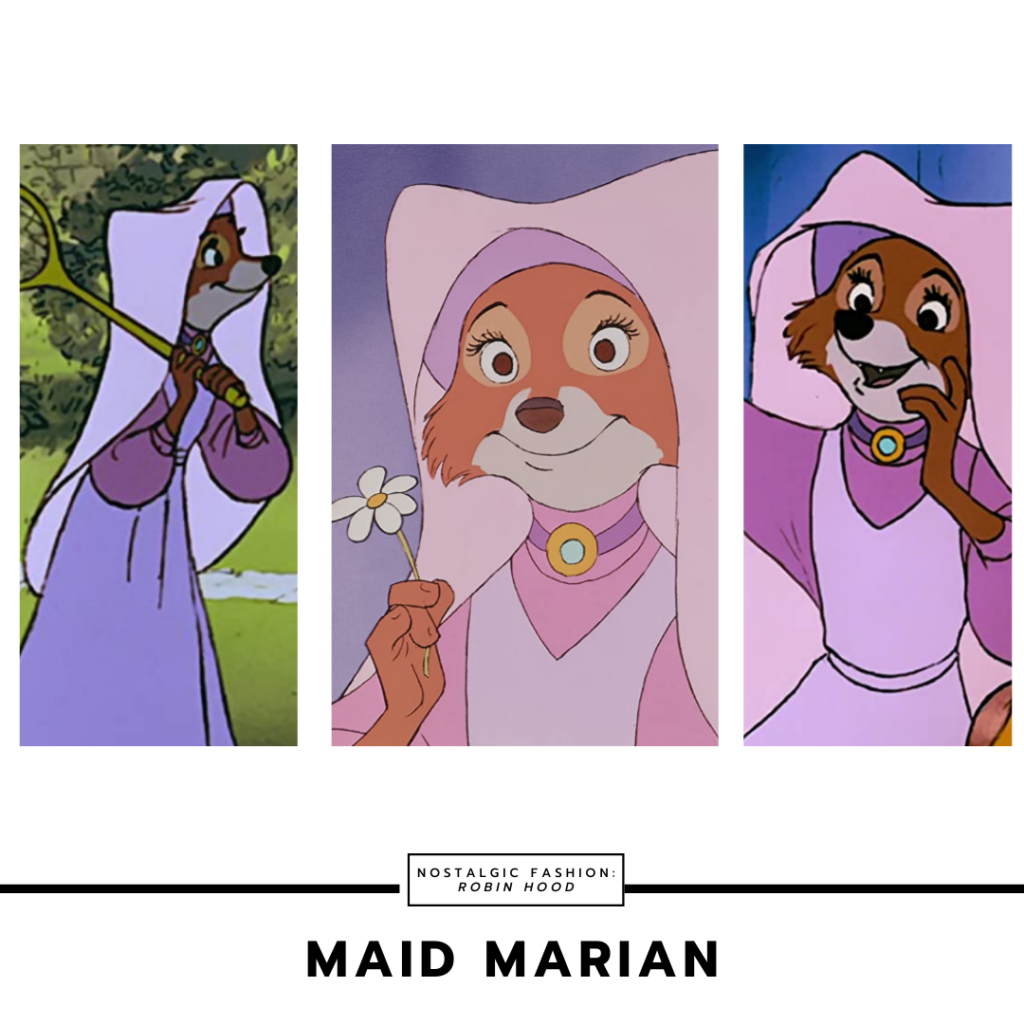 Maid Marian is the love of Robin's life and the niece of King Richard and Prince John. She is a kind-hearted, adventurous, and romantic vixen.
While Marian is a proper lady and doesn't get involved in most fights, she does have a couple of scenes assisting Robin and his band.
Her main colors are lilac and pastel pink. Unlike Robin's color story, Marian's color scheme doesn't include orange, since her fur is covered for most of the movie.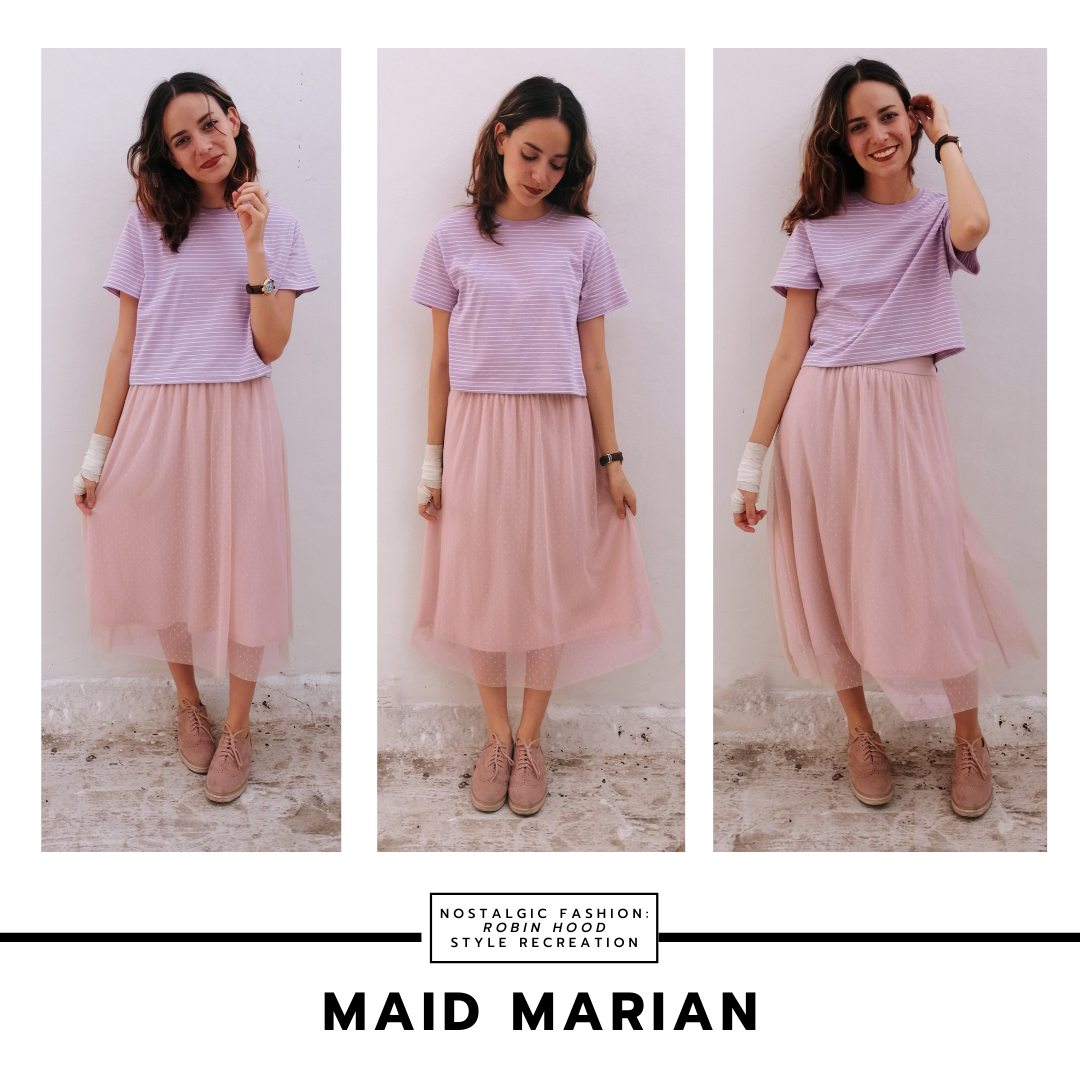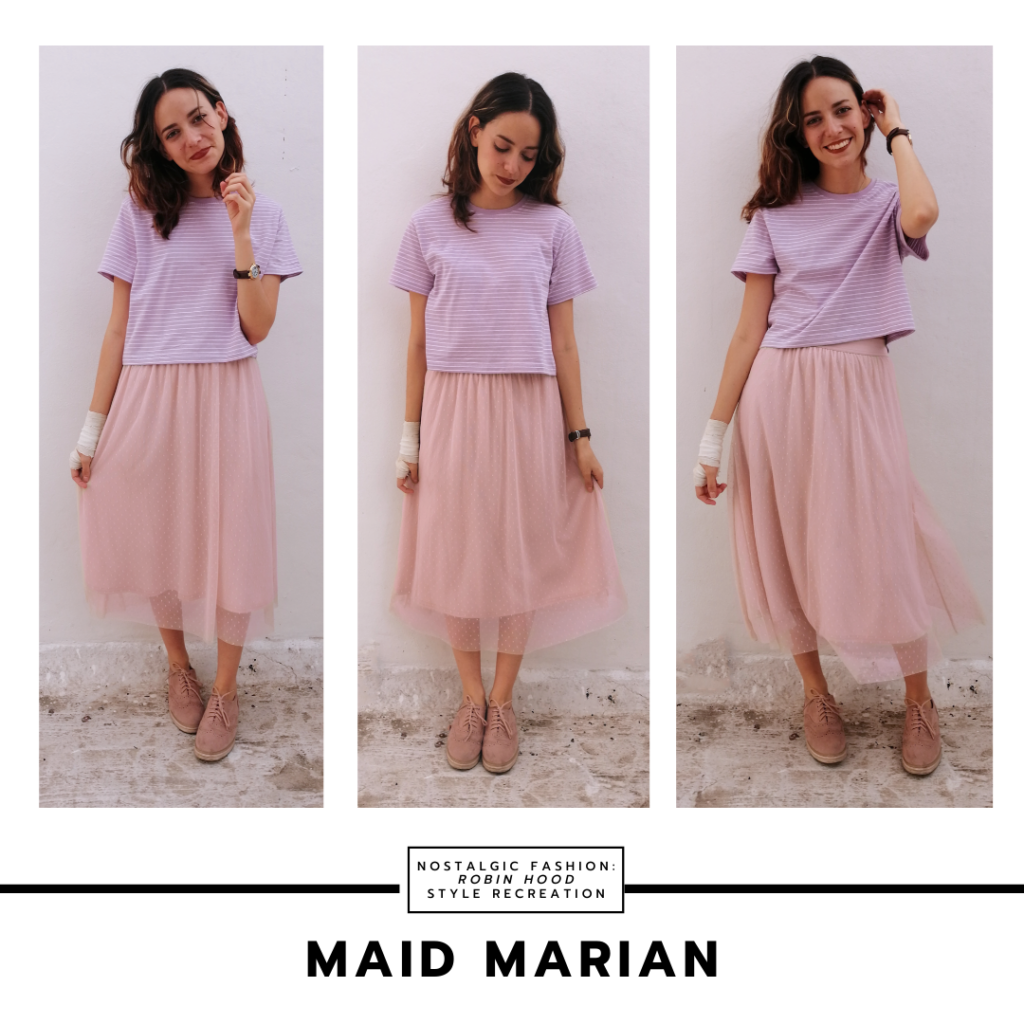 To create my outfit based on Maid Marian, I started with a pink midi skirt that's flowy and romantic — it kind of reminds me of her long dress.
For the top, I used this lilac t-shirt, since it would go well with both Marian's color story and her adventurous streak.
Finally, my shoes are a pair of light pink Oxfords.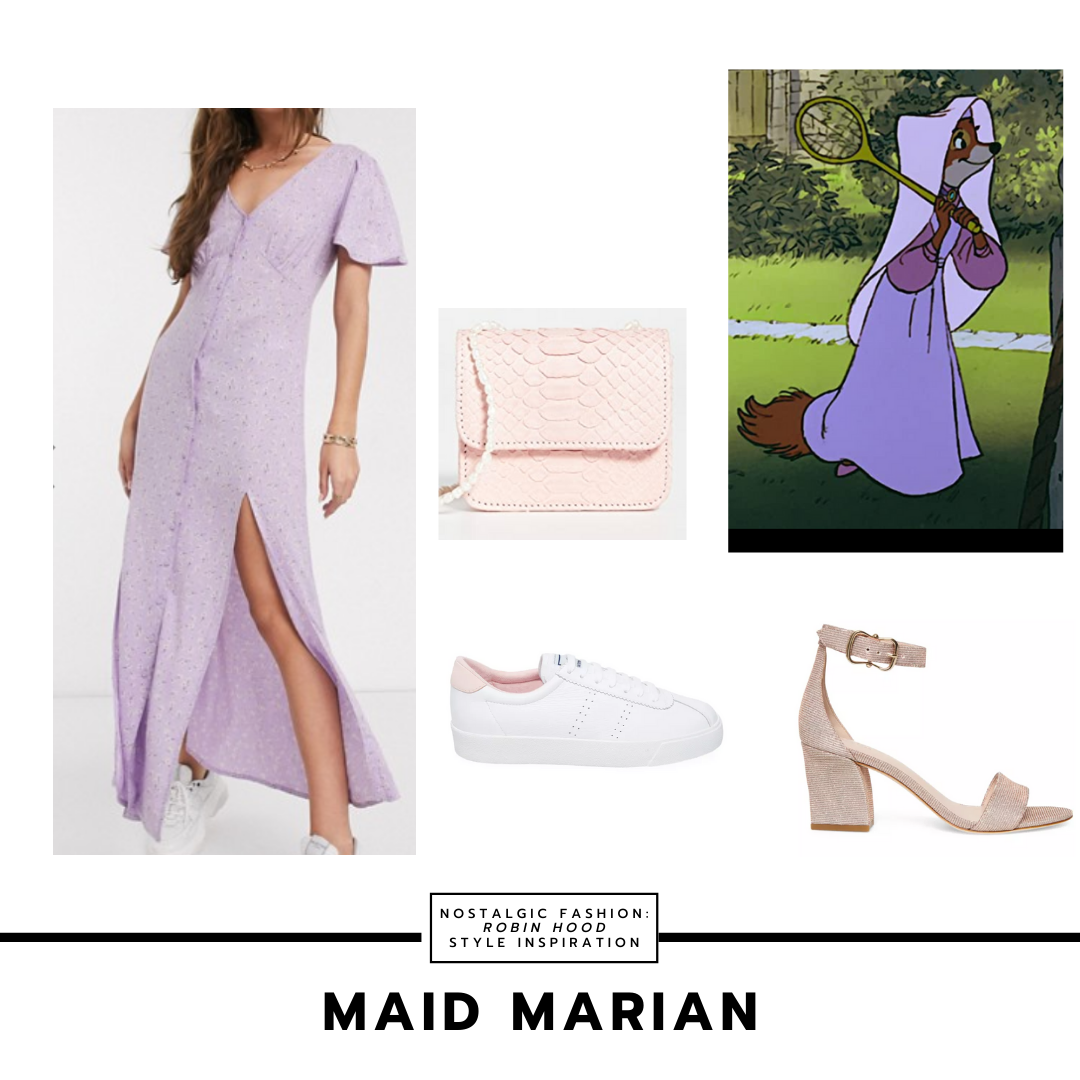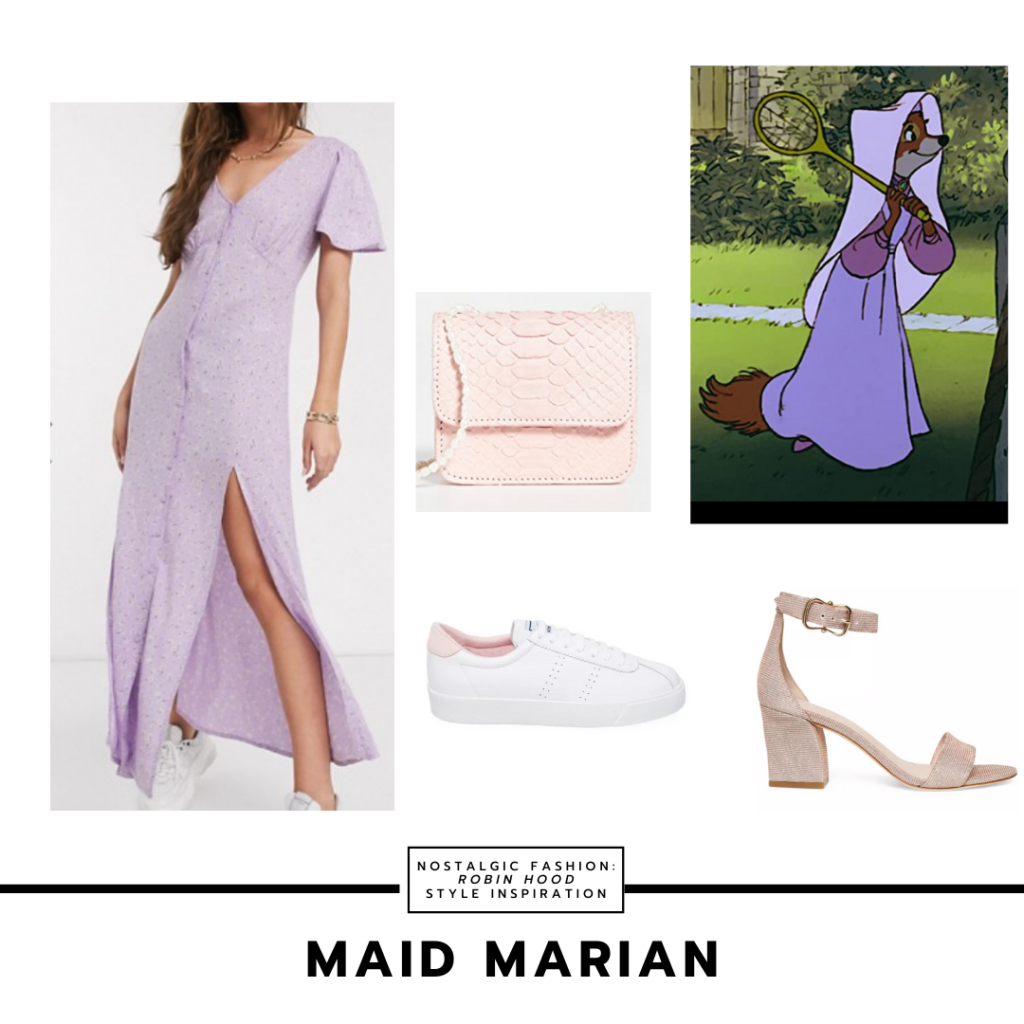 Products: Dress, Purse, Heels, Sneakers
To create a look inspired by Maid Marian, think about using feminine items, flowy fabrics and light shades of purple and pink.
For this inspired look, I opted for the simplicity of a lilac flowy dress. Accessorize with pink items, like a light pink cross-body bag.
For shoes, I chose a pair of pink heels or white sneakers with pink detailing. But any pink shoe will do here!
3. Prince John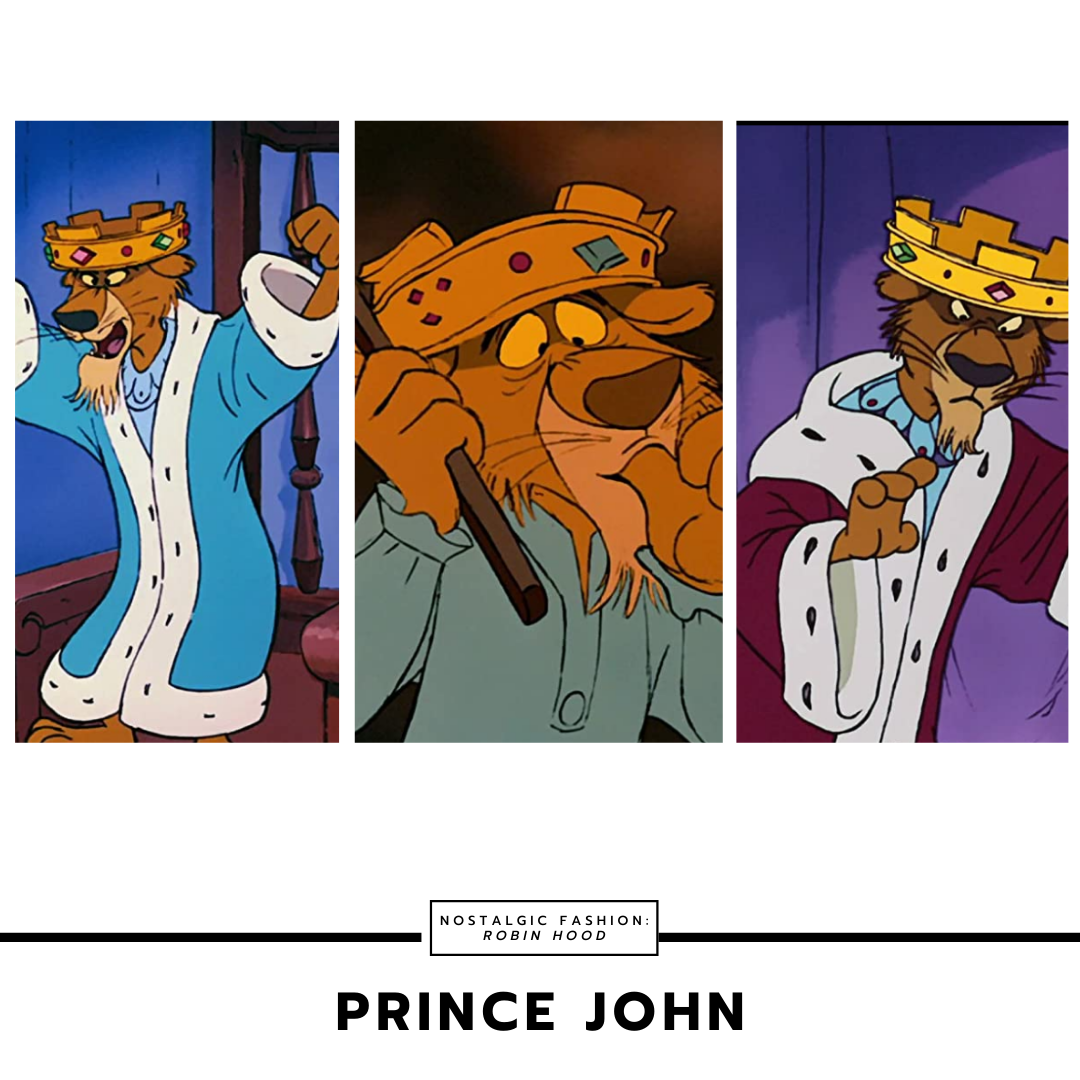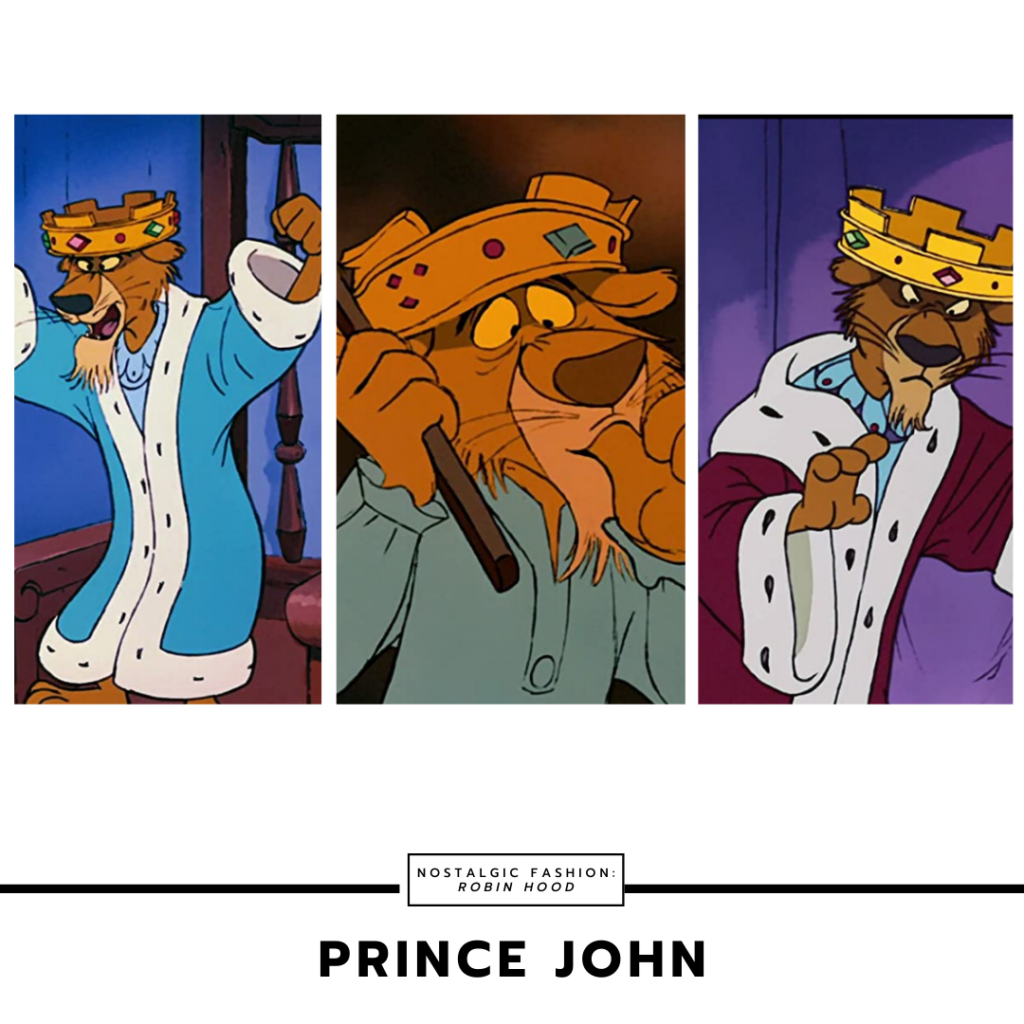 Unlike most versions of Robin Hood, where the main villain is the Sheriff of Nottingham, Prince John is the main antagonist of this story.
John is a cowardly lion, but he is also very manipulative and the mastermind behind the Sheriff's brute force.
Prince John's color scheme revolves mostly around a very light shade of blue. He has two different capes, one in red and the other one in a darker shade of blue. And, obviously, he loves gold, since it shows both his obsession with money and the crown.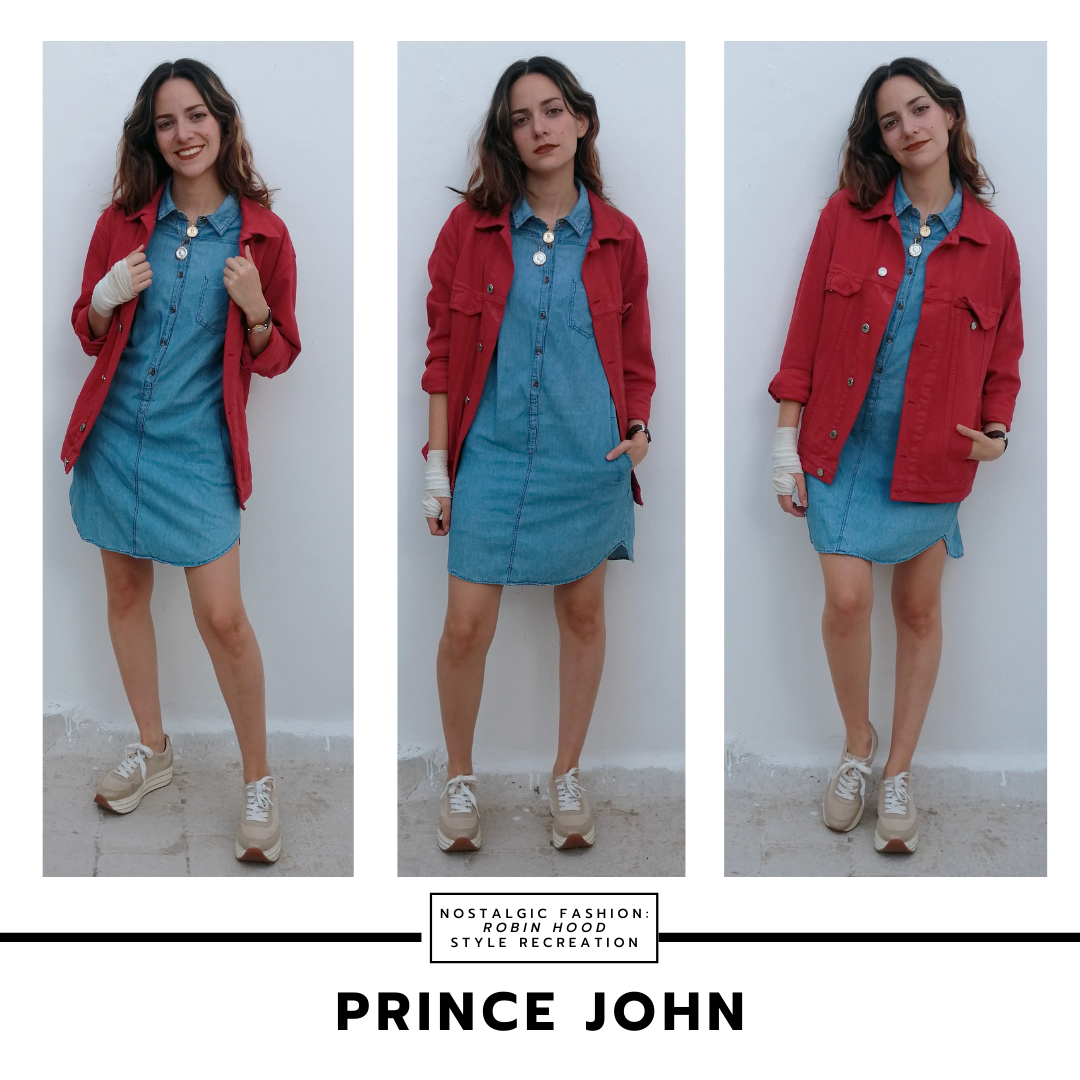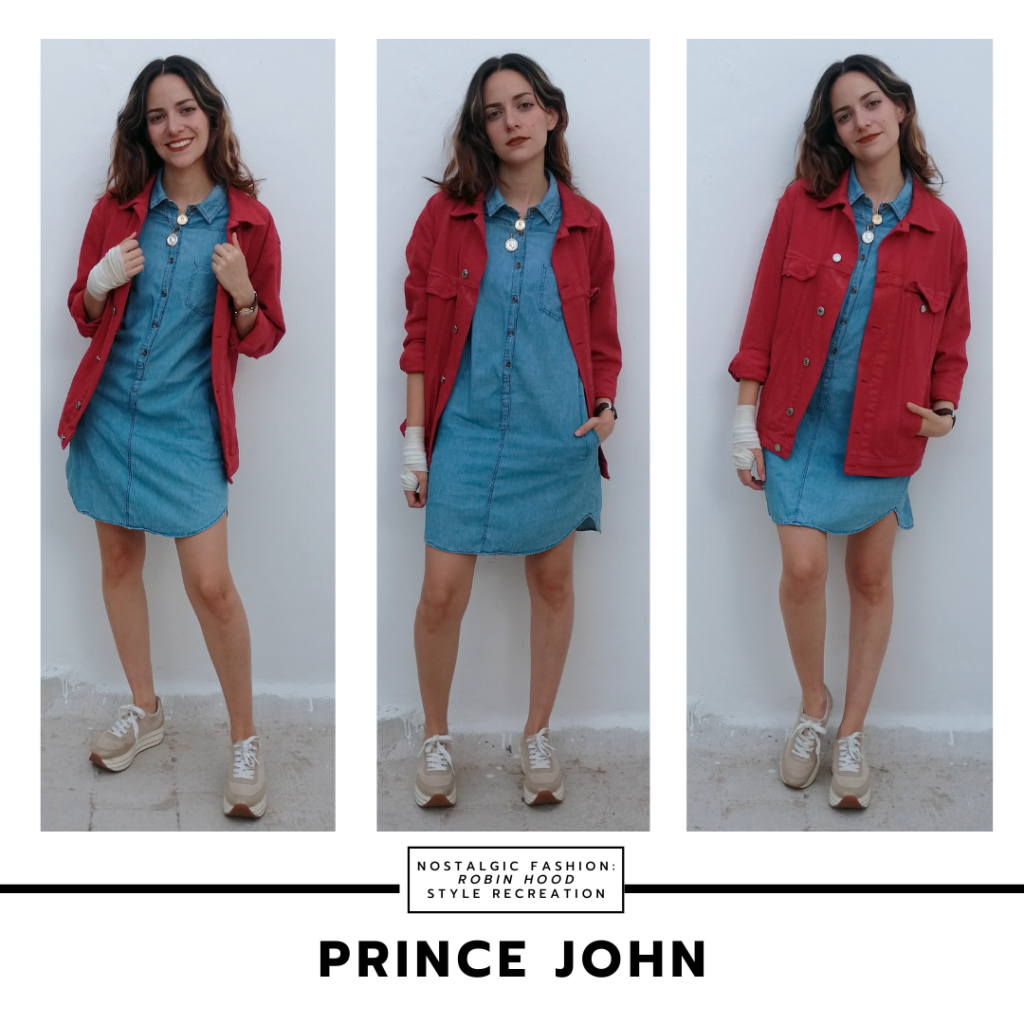 For my outfit based on Prince John, I opted to wear a blue denim dress as a base for the look. Then, I layered with a red denim jacket, to emulate one of his capes.
My shoes are a pair of platform sneakers, that happen to have golden details.
Finally, my necklace has coin pendants, to emulate his obsession with money.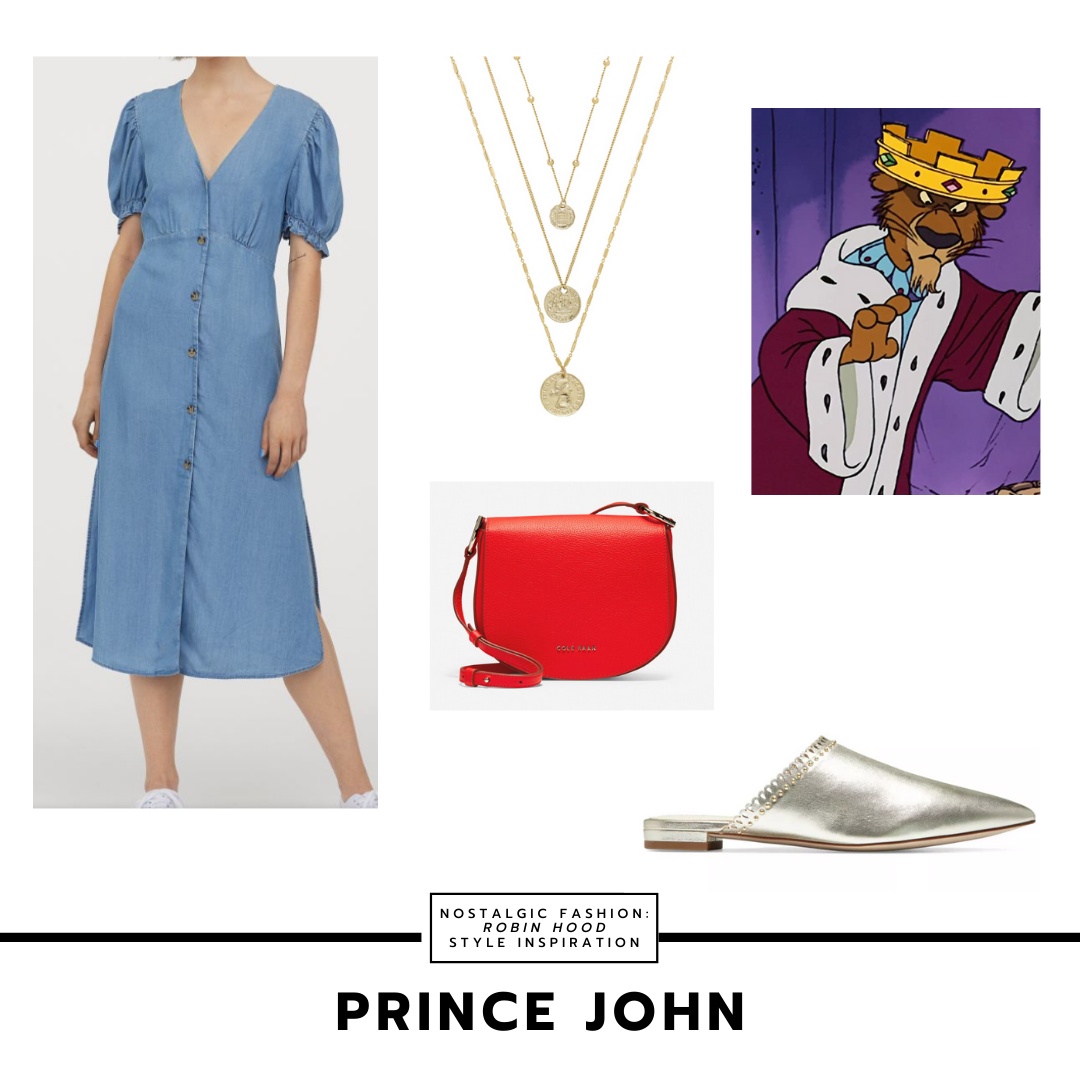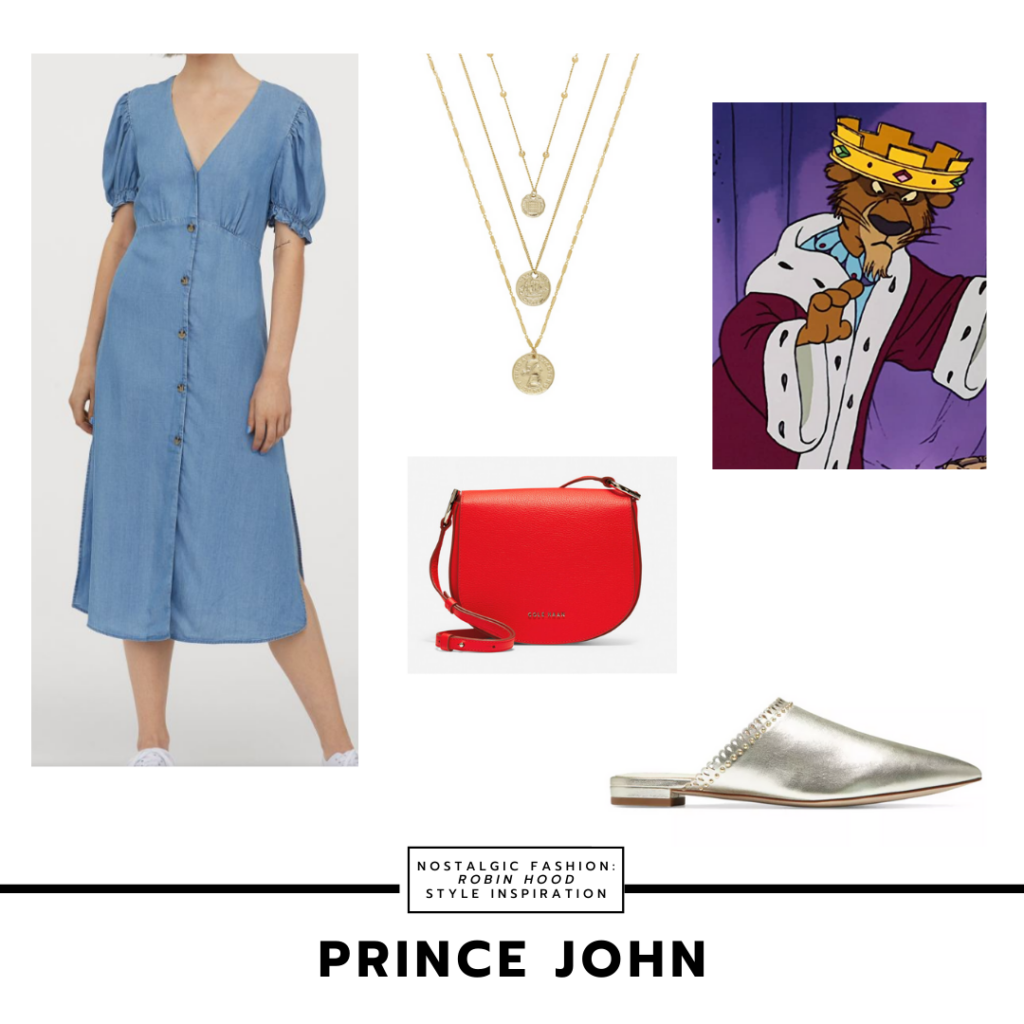 Products: Dress, Purse, Shoes, Necklace
To create a look based on Prince John, just remember: blue has to be the dominant color overall, and you should accessorize with golden items.
For this look, I chose a midi denim dress as a main piece. For the shoes, I added some golden spiked mules.
Finally, for accessories, I decided to emulate his red cape one more time to create contrast and chose a red cross-body bag.
The necklace is, again, golden with coin pendants.
What do you think of my Robin Hood outfits?
Have you seen this movie? Which look was your favorite? Do you have any movie request for the next post? Let us know in the comments below!