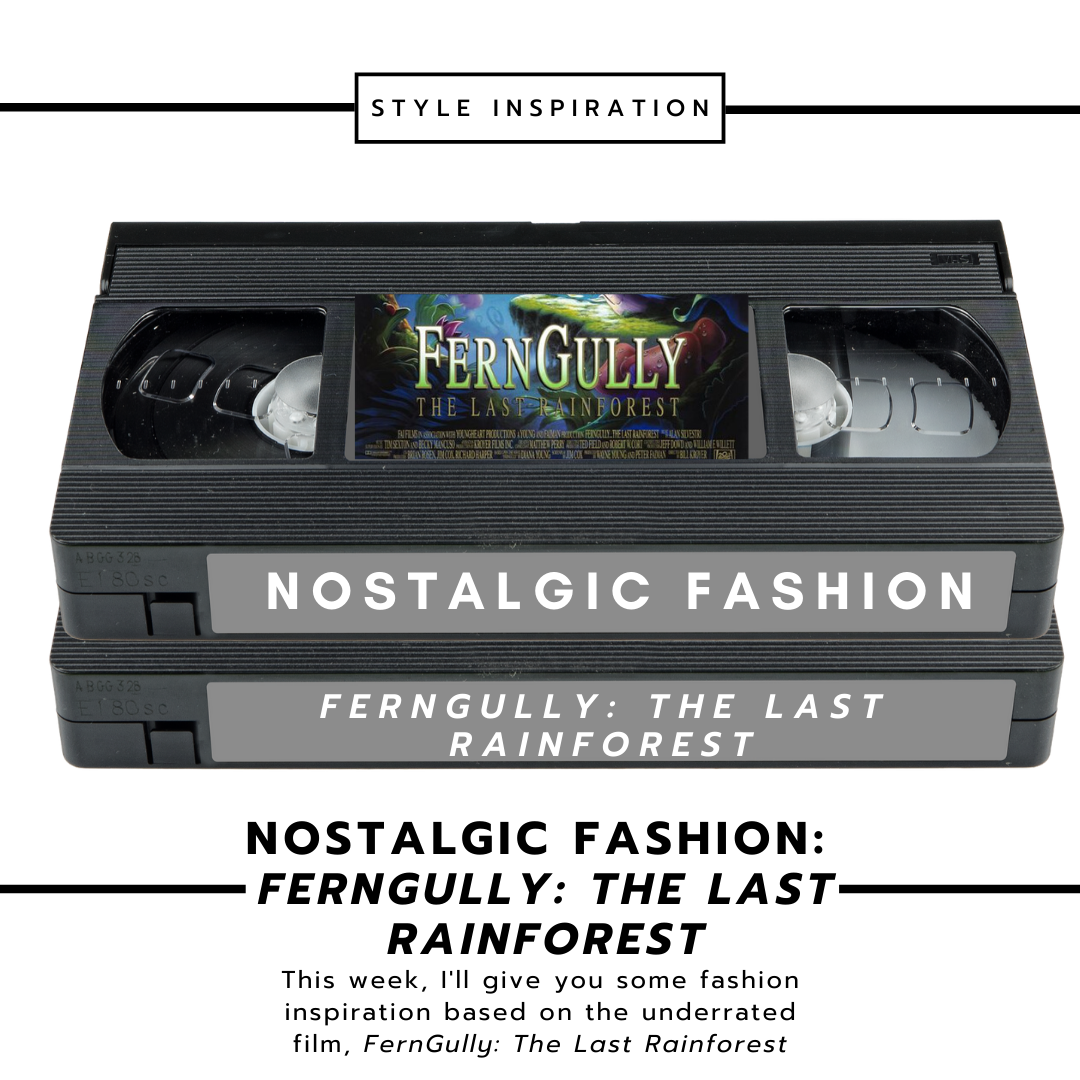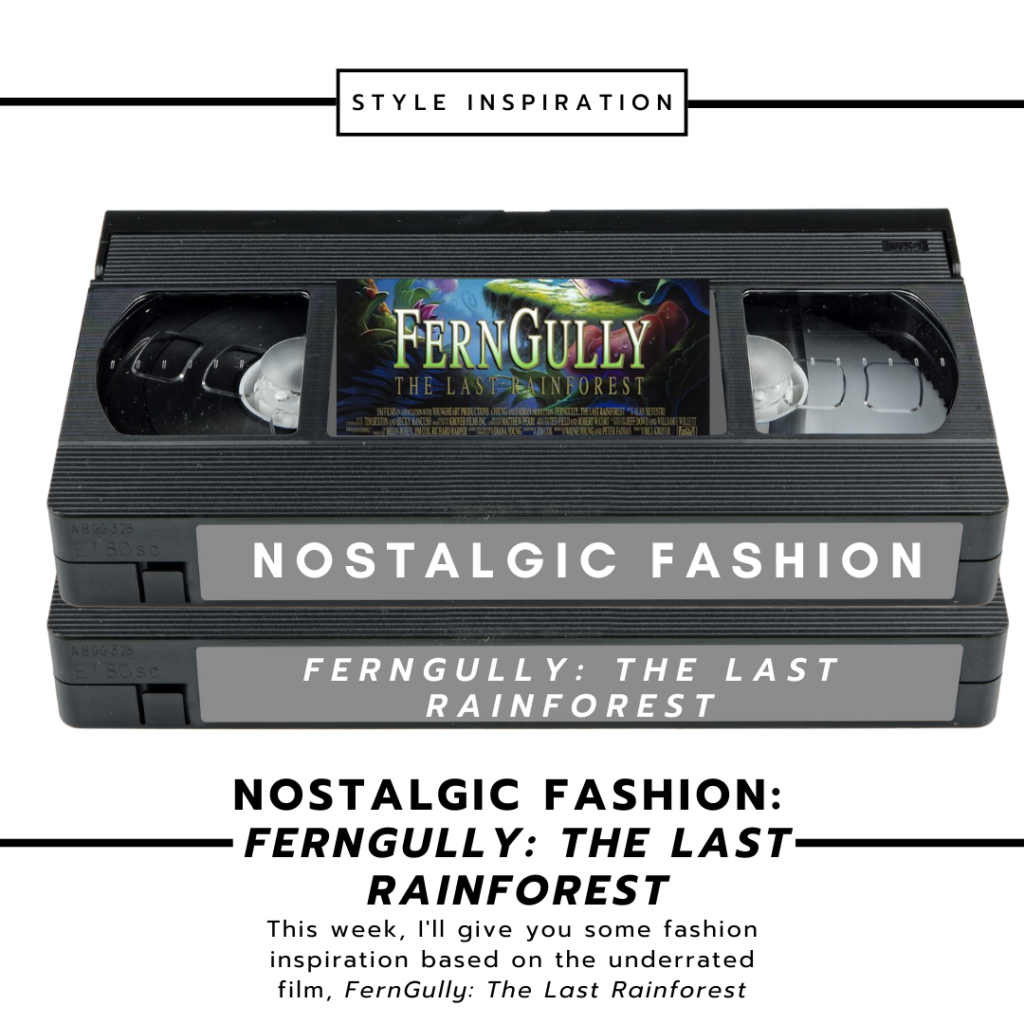 For the past few weeks, I've found myself watching my old VHS movies, especially movies that I watched when I was a little girl. While doing this, I have found some great underrated films that tend to get lost in between all the princesses, Pixar animated films, and the newest live-action remakes.
They are also a great source of fashion inspiration.
So for my next few posts, I'll choose one of these underrated movies each week and give you a quick recap of the film and its production, a rundown of each character's style, and my own real-life recreation of each look.
Over the past few weeks, I've covered Disney's The Rescuers, Oliver & Company and 101 Dalmatians. This week, let's give Disney a rest and focus on the Non-Disney animated film, FernGully: The Last Rainforest.
Read on for my FernGully fashion guide!
About FernGully: The Last Rainforest (1992)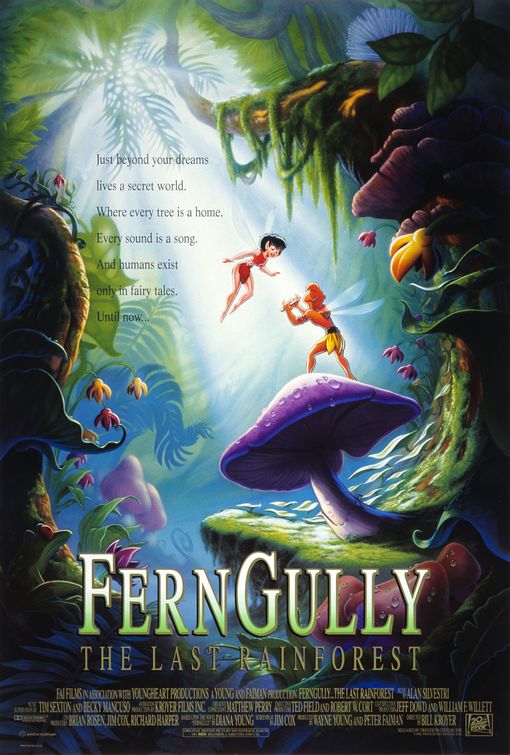 Released in 1992, FernGully: The Last Rainforest was created by Kroyer Studios and distributed by 20th Century Fox. Because Fox was its distributor, FernGully is often mistaken for a Don Bluth film (creator of Anastasia), which is false.
The film features quite a few stars, including Christian Slater as Pips, Tim Curry as Hexxus, and Robin Williams as Batty Koda.
FernGully has an interesting part to play in regards to Robin Williams and Disney. This was one of two animated films featuring Robin Williams released in 1992, the other one being the far more successful Aladdin. In spite of this, Williams had signed on FernGully before he signed on Aladdin and refused to leave FernGully, which caused Disney to try and sabotage the smaller film for months.
Also, a condition of Robin voicing the Genie was that his voice could not be used to sell toys or for marketing. This happened anyway with FernGully, leading to a very public feud between Williams and Disney that lasted until the end of the decade.
If you haven't seen it or don't remember it well, here's a quick recap of the film's plot:
Set in an Australian rainforest inhabited by fairies, the film follows Crysta, one of the young fairies, who accidentally shrinks a young human logger named Zak to the size of a fairy. Together, they rally the fairies and the animals of the rainforest to protect their home from the loggers and a malevolent pollution entity, Hexxus.
FernGully Fashion Guide
1. Zak Young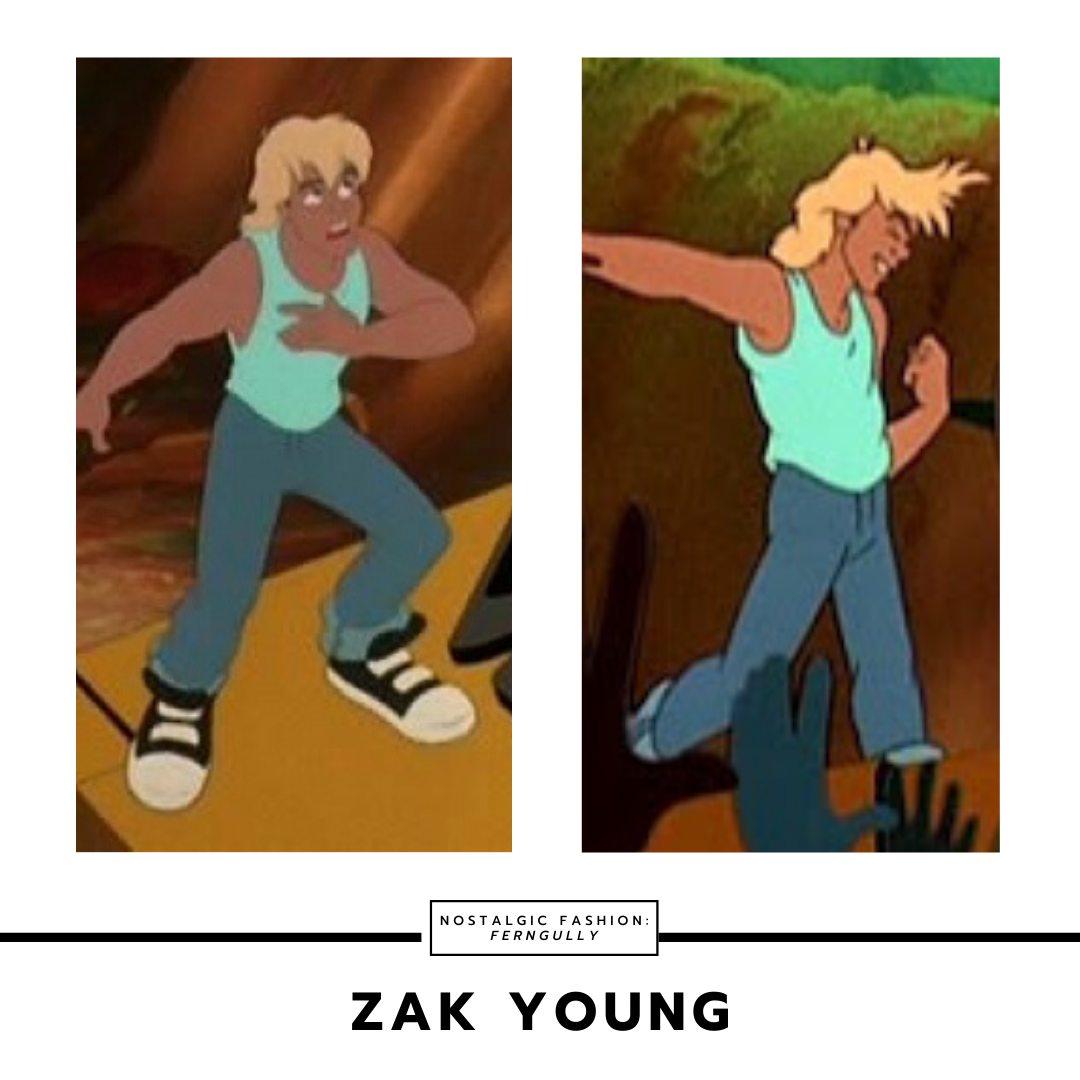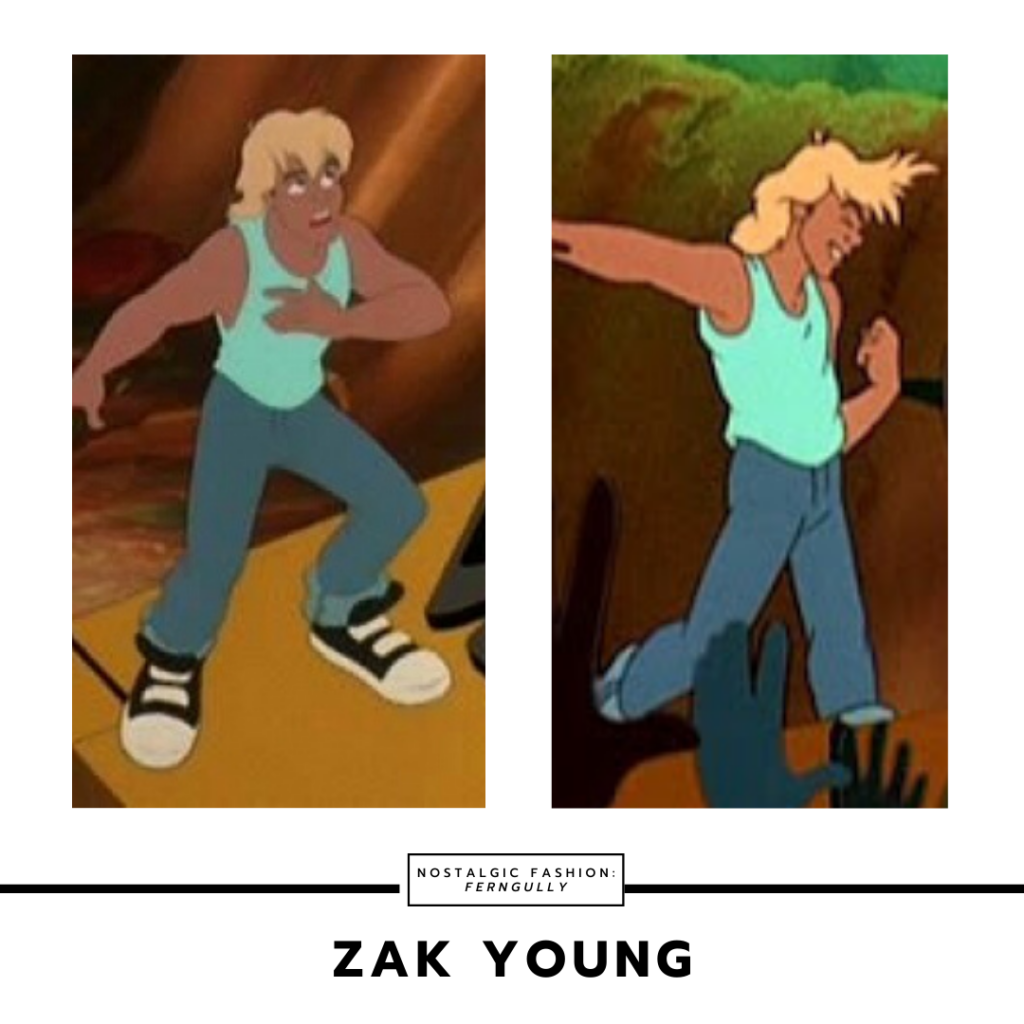 Zak is one of the three protagonists of the movie.
He starts out as a selfish human that works for the company that is destroying the forest. When Crysta accidentally shrinks him and he gets to see the life inside of the forest, he has a change of heart and dedicates his life to stopping pollution.
His look consists of a light blue tank top, blue jeans, and sneakers.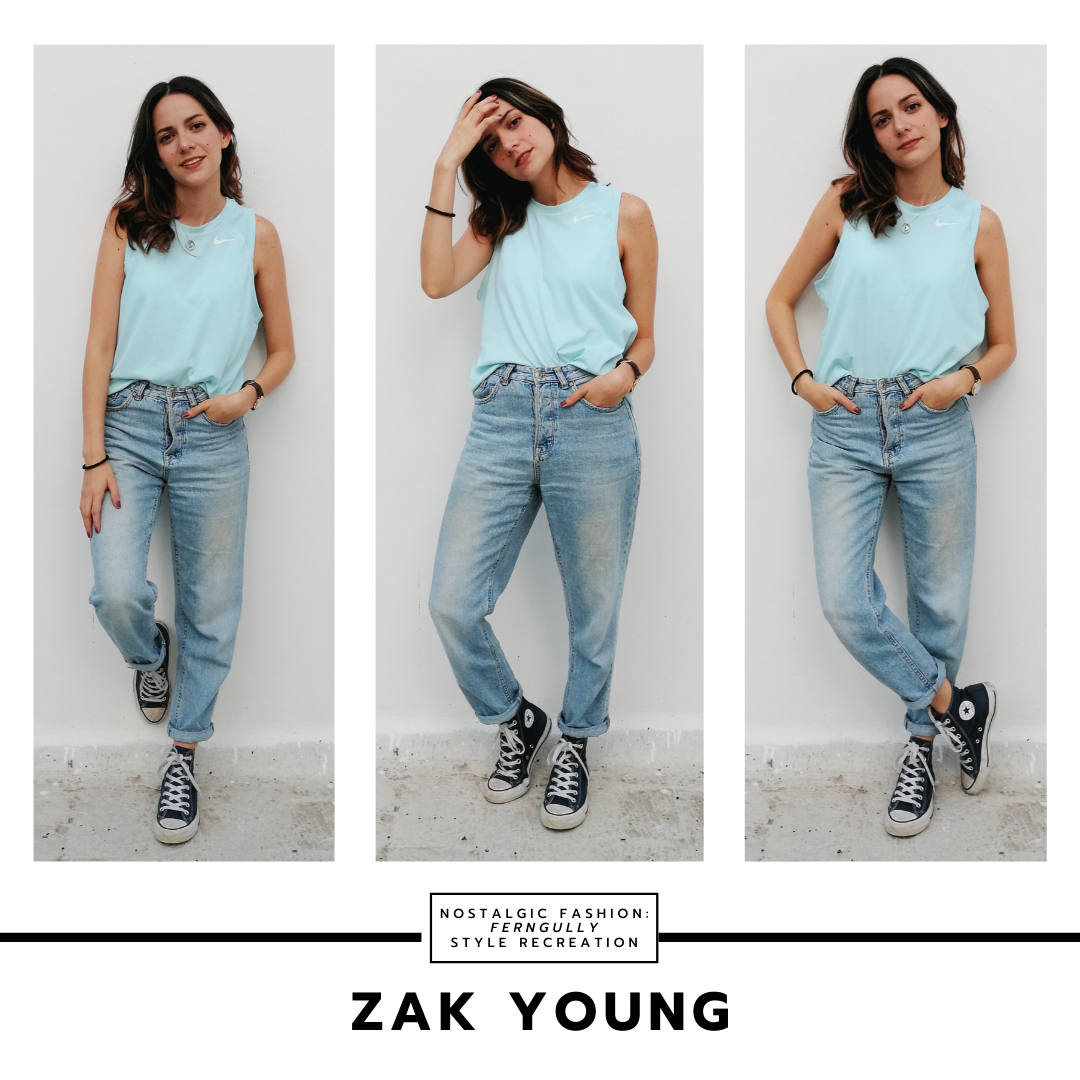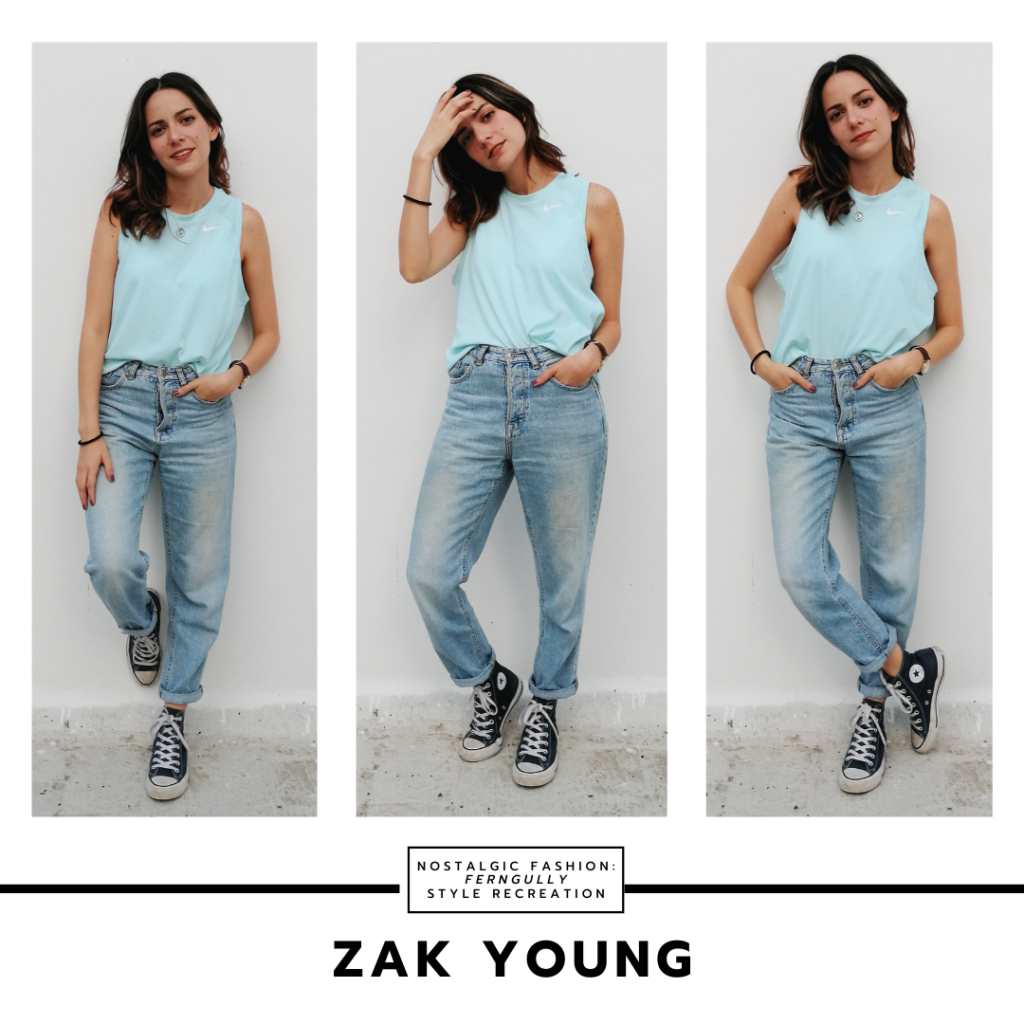 To create my look inspired by Zak, I used a pair of mom jeans and I borrowed a blue tank top from my sister. The shirt is actually meant for exercising, but it had the right shape and color.
Finally, I wore my pair of high top Converse, since Zac's sneakers emulate the Converse style the most.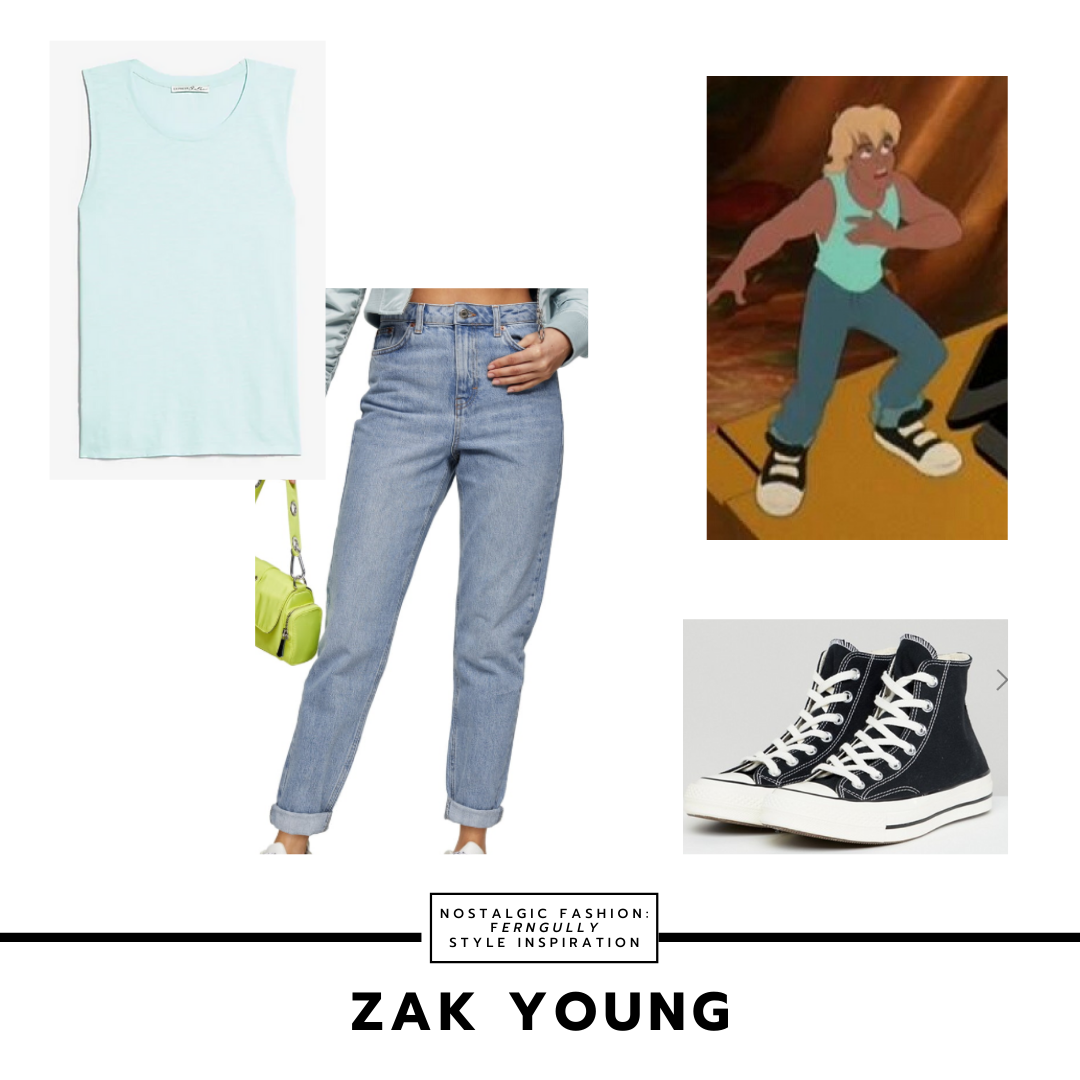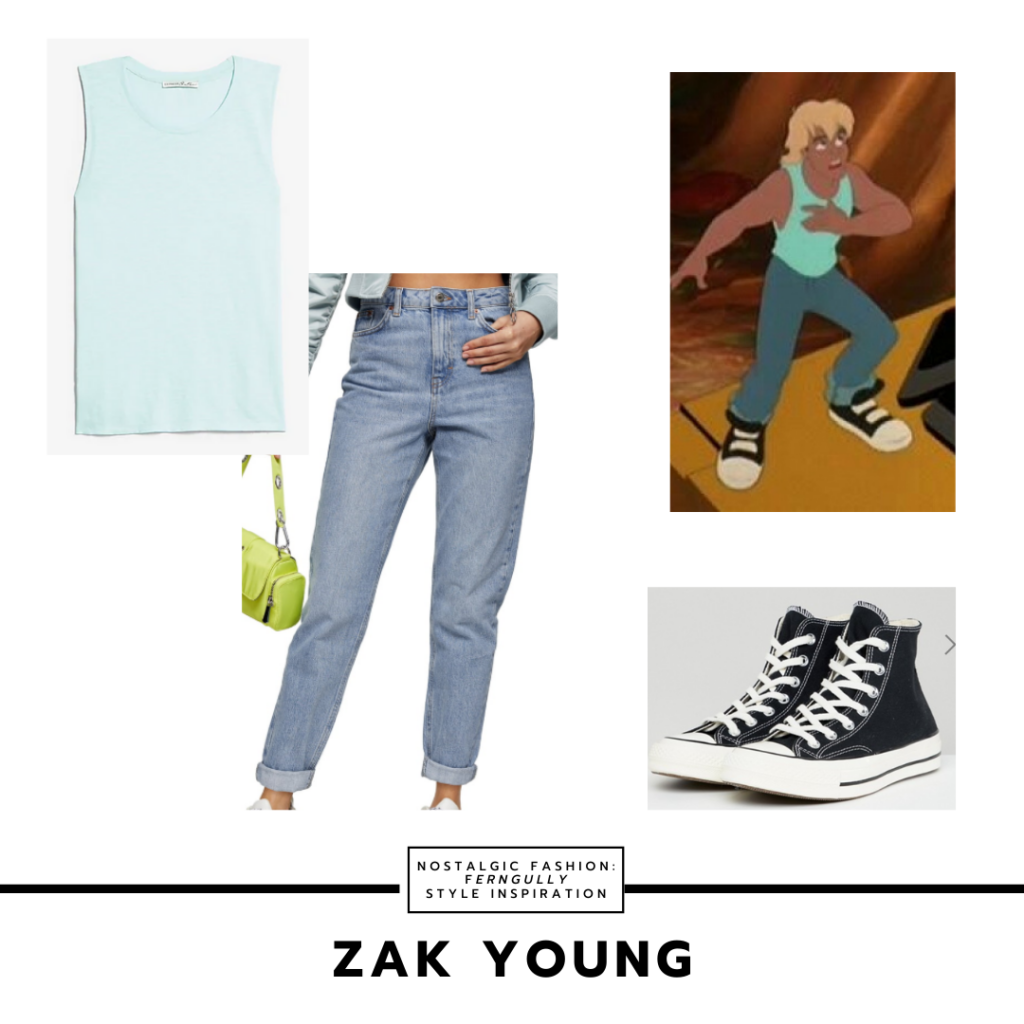 Products: Top, Jeans, Sneakers
To create a Zak-inspired look, you don't need much, just keep in mind he has very '90s-comfortable style.
Rock a pair of blue mom jeans with a tank top in a pastel or light turquoise color. Finish the look up with a pair of black sneakers — bonus points if they're black Converse.
2. Crysta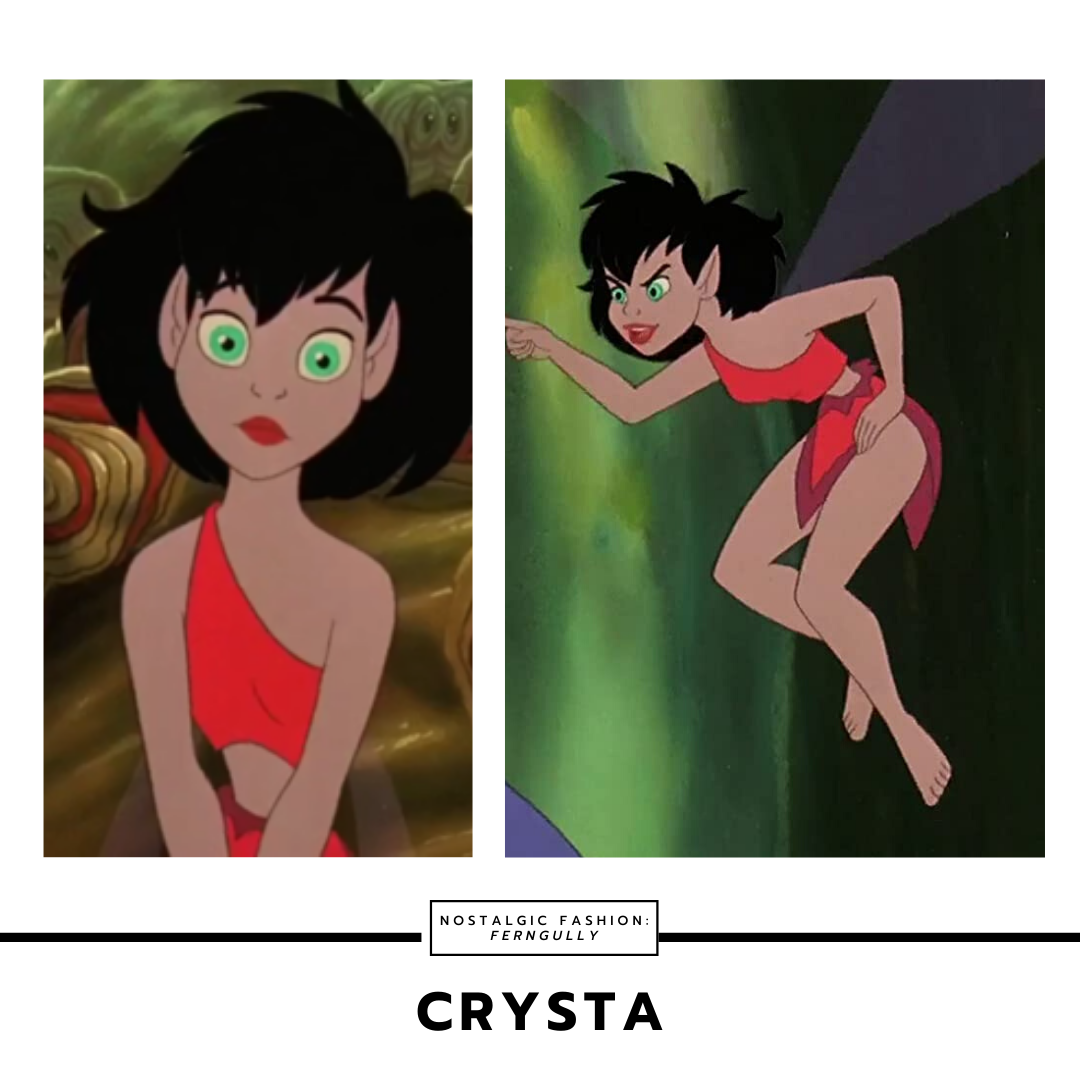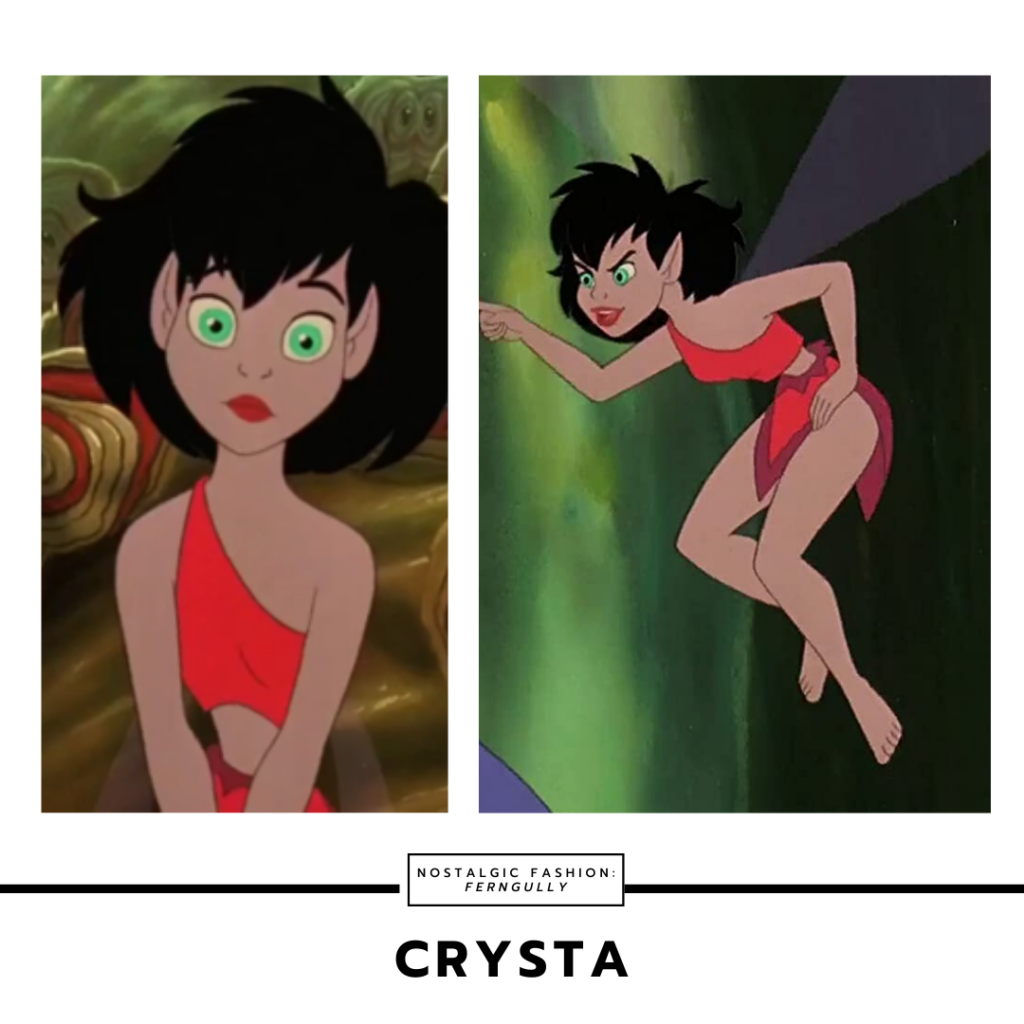 The second protagonist, Crysta is the main character and driving force of the movie.
She is a plucky young fairy and she is determined to save her home. At first, her impulsiveness and naïveté are something she most overcome, but overall she is the hero of the film.
Crysta's outfit is a red two-piece ensemble.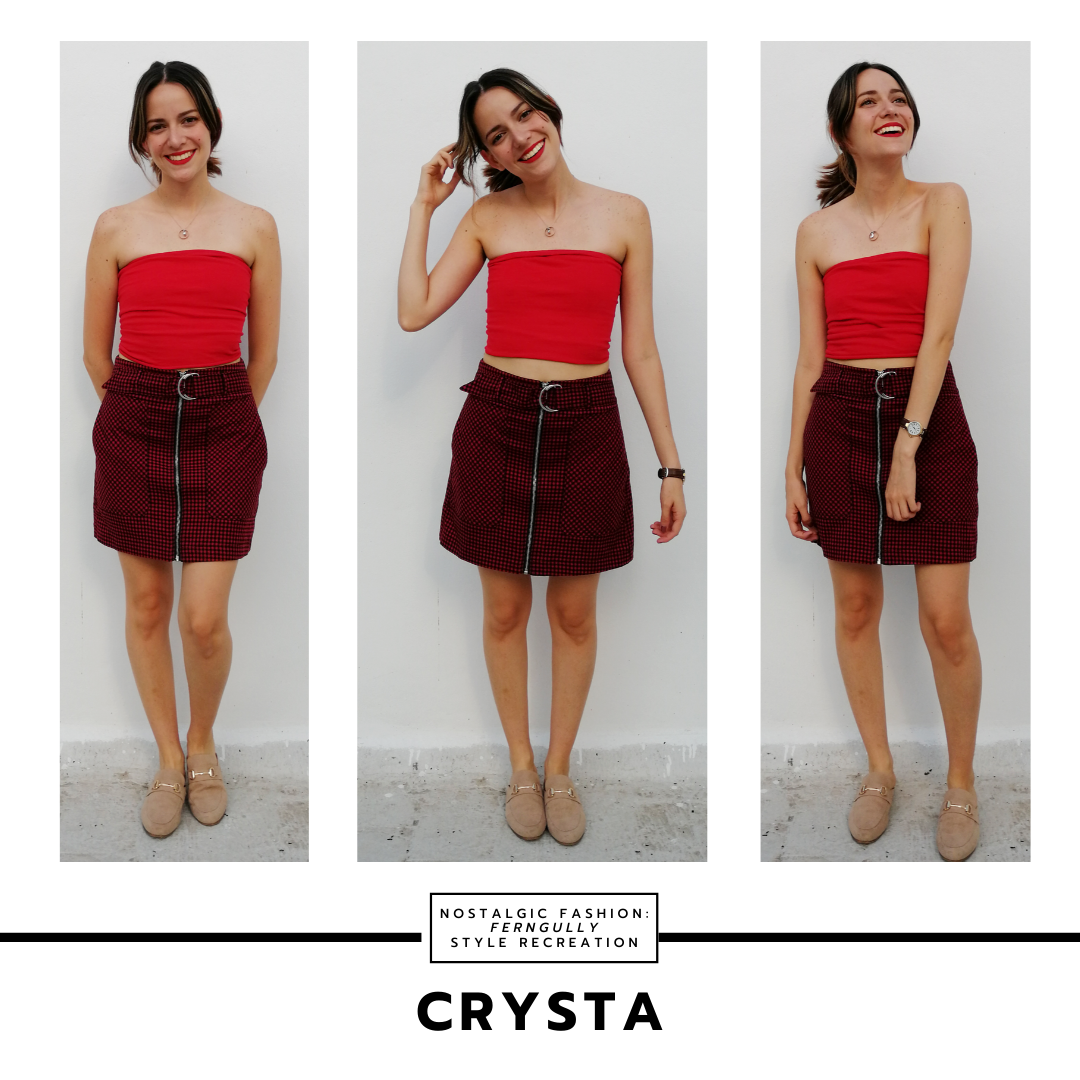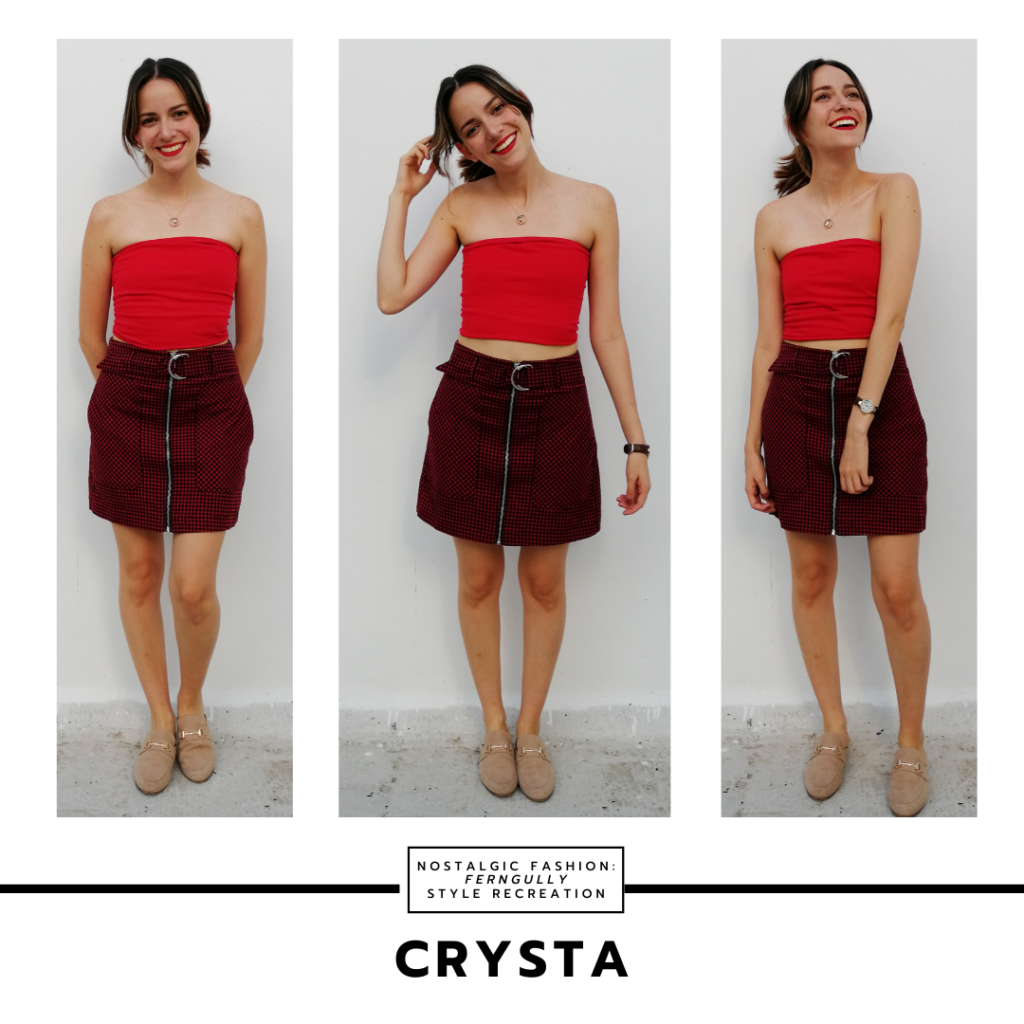 In order to create my Crysta inspired outfit, I wore a red tube top with a red plaid skirt. I didn't have a red skirt or shorts that would suit Crysta's style, so I thought this skirt would do just fine.
Since she is a fairy, she is barefoot for the entirety of the film, so I tried a couple of options, including white sneakers, until I landed on a pair of nude mules. In true FernGully fashion, this almost makes it look like I'm barefoot.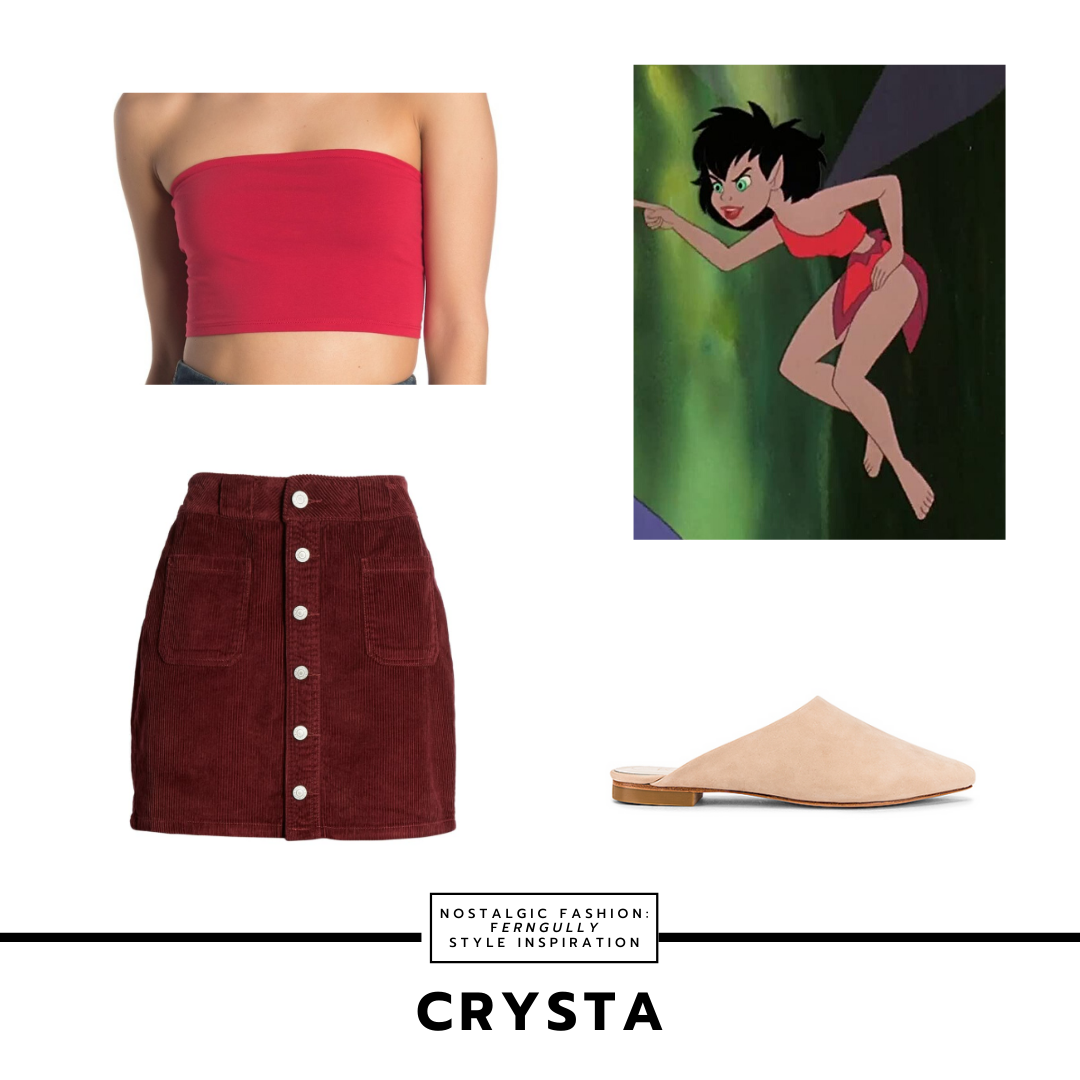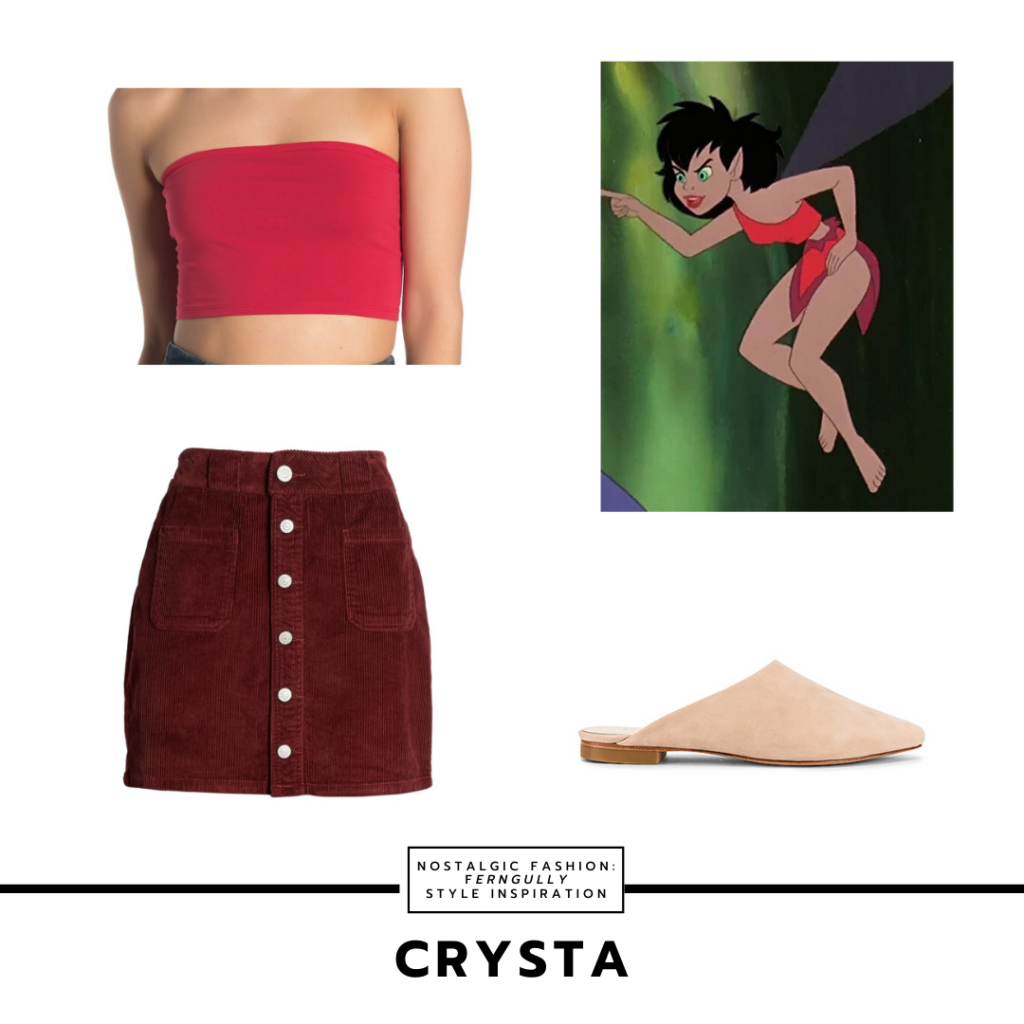 If you want to copy Crysta's style, remember it will be a monochromatic look. Try pairing a red tube top in a bright shade with a high waisted skirt in a darker shade of red and a different type of fabric, just to give the look more texture.
Finally, for shoes, get a pair of comfortable nude flats or sandals. I chose a pair of mules, but whatever you're comfortable in will work!
3. Batty Koda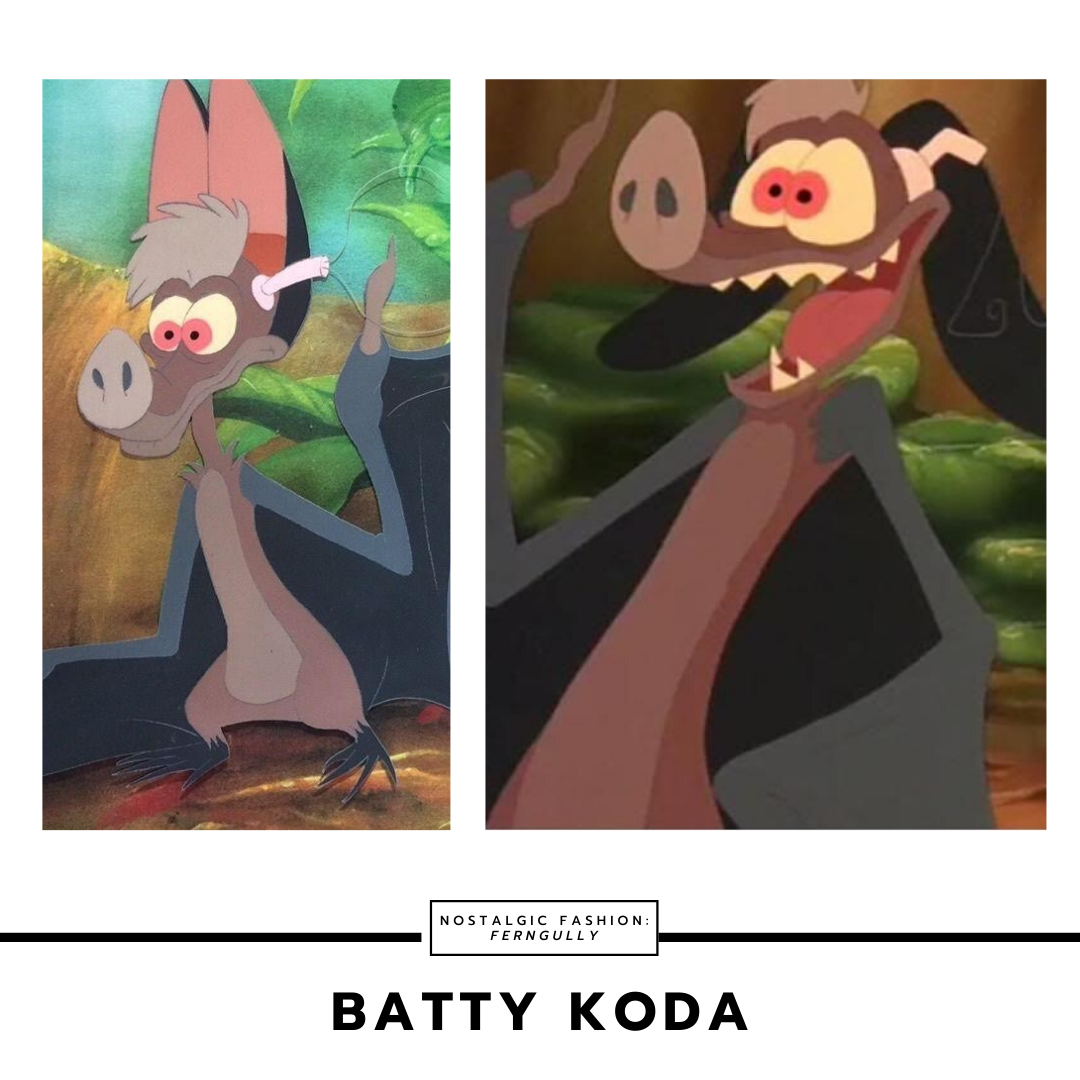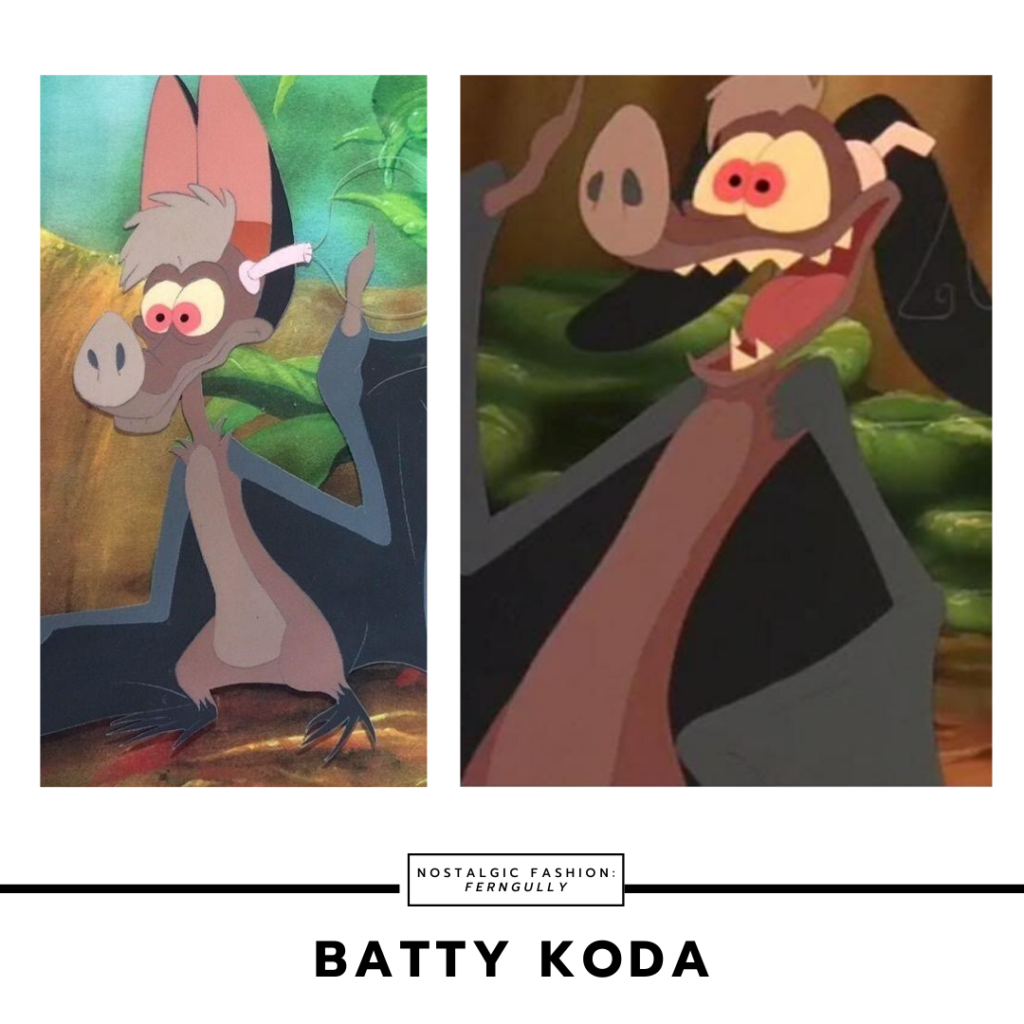 Batty Koda, played by the brilliant Robin Williams, is the third protagonist in the film.
He is a fruit bat and he was used as a scientific experiment by humans. This made him crazy and messed up his ability to fly or do anything normally.
As goofy and insane as he is, Batty is brave and rescues the other characters on more than one occasion.
His main color palette is comprised of black, brown and other earthly tones.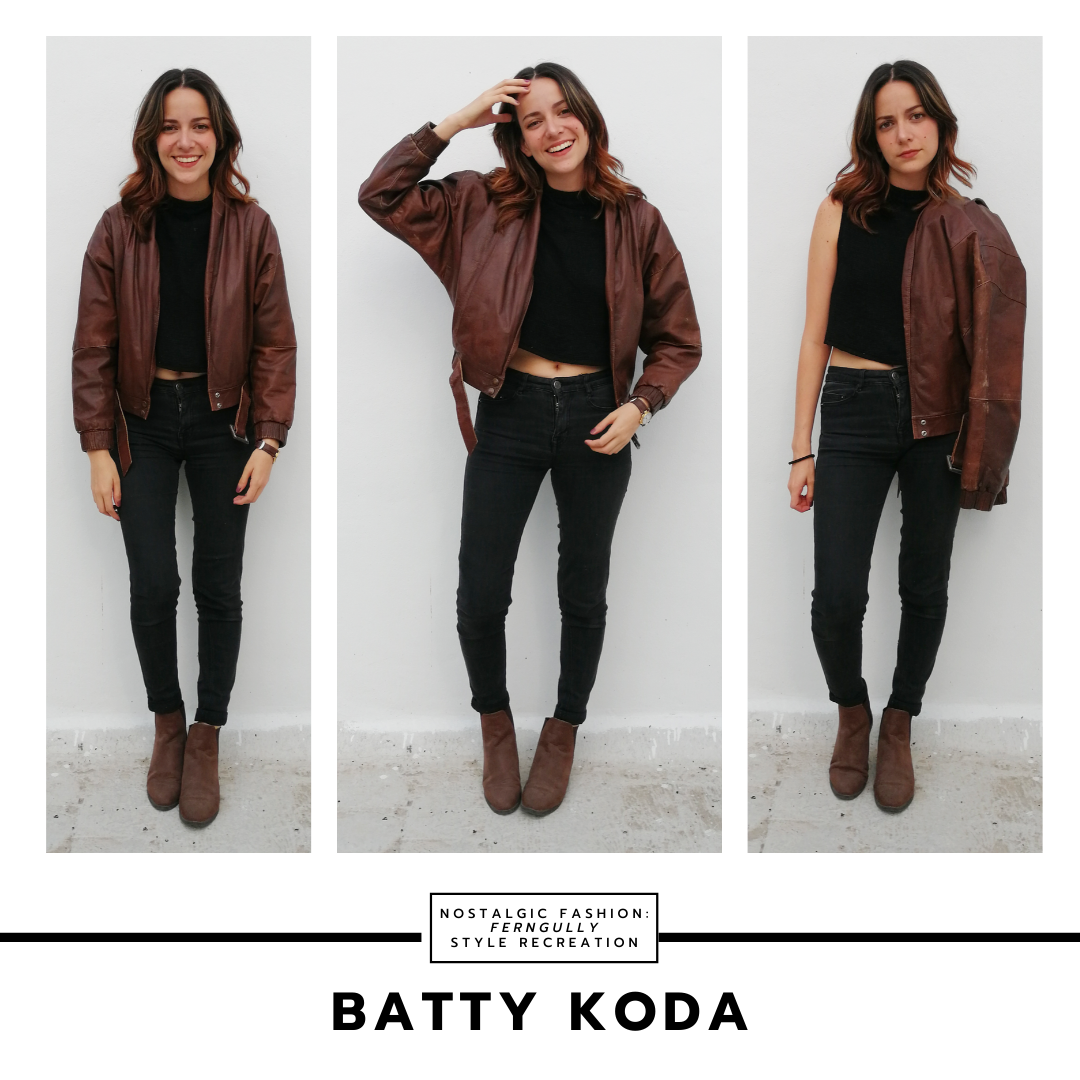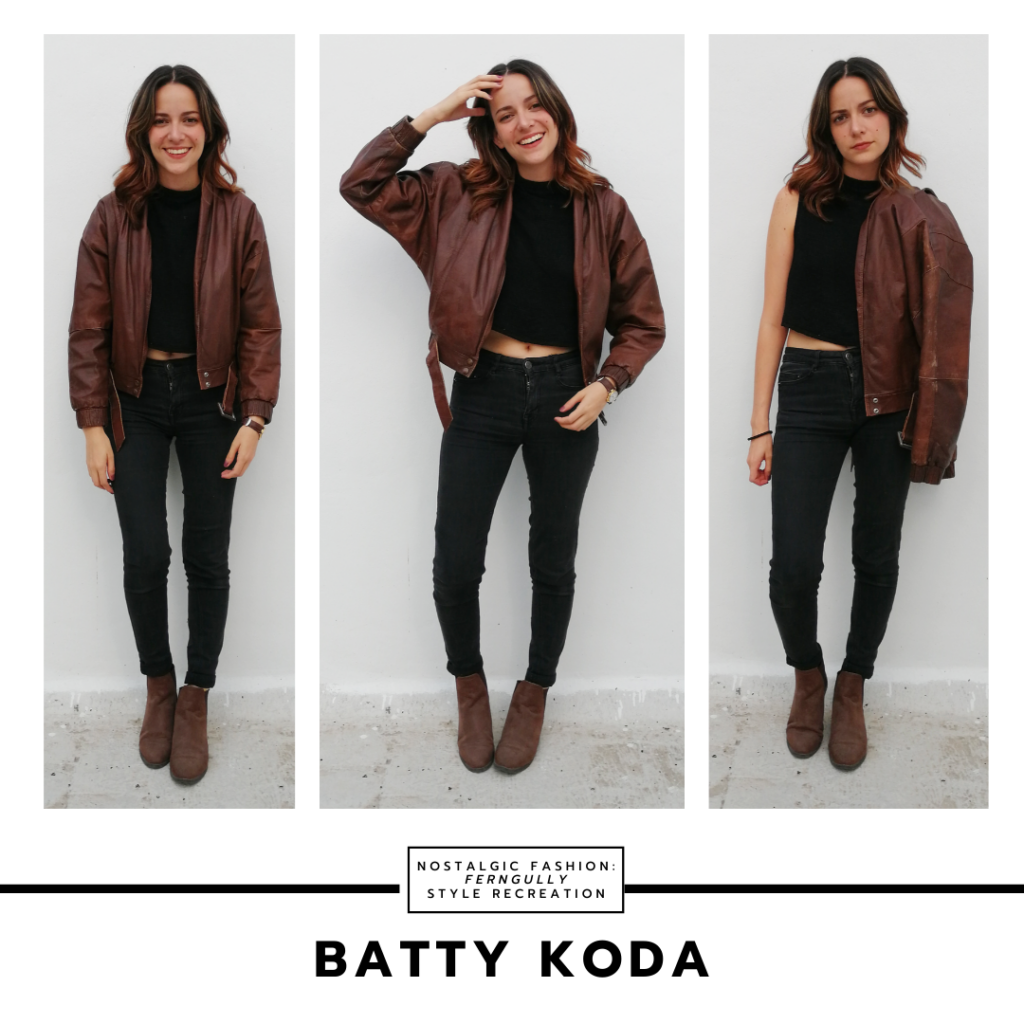 Batty Koda's look was, by far, my favorite recreation of the week.
I wore a black mock neck top and high waisted black jeans as a base. To kind of emulate his wings, I wore a brown leather jacket. For shoes, I chose a pair of brown Chelsea boots to tie in with the jacket.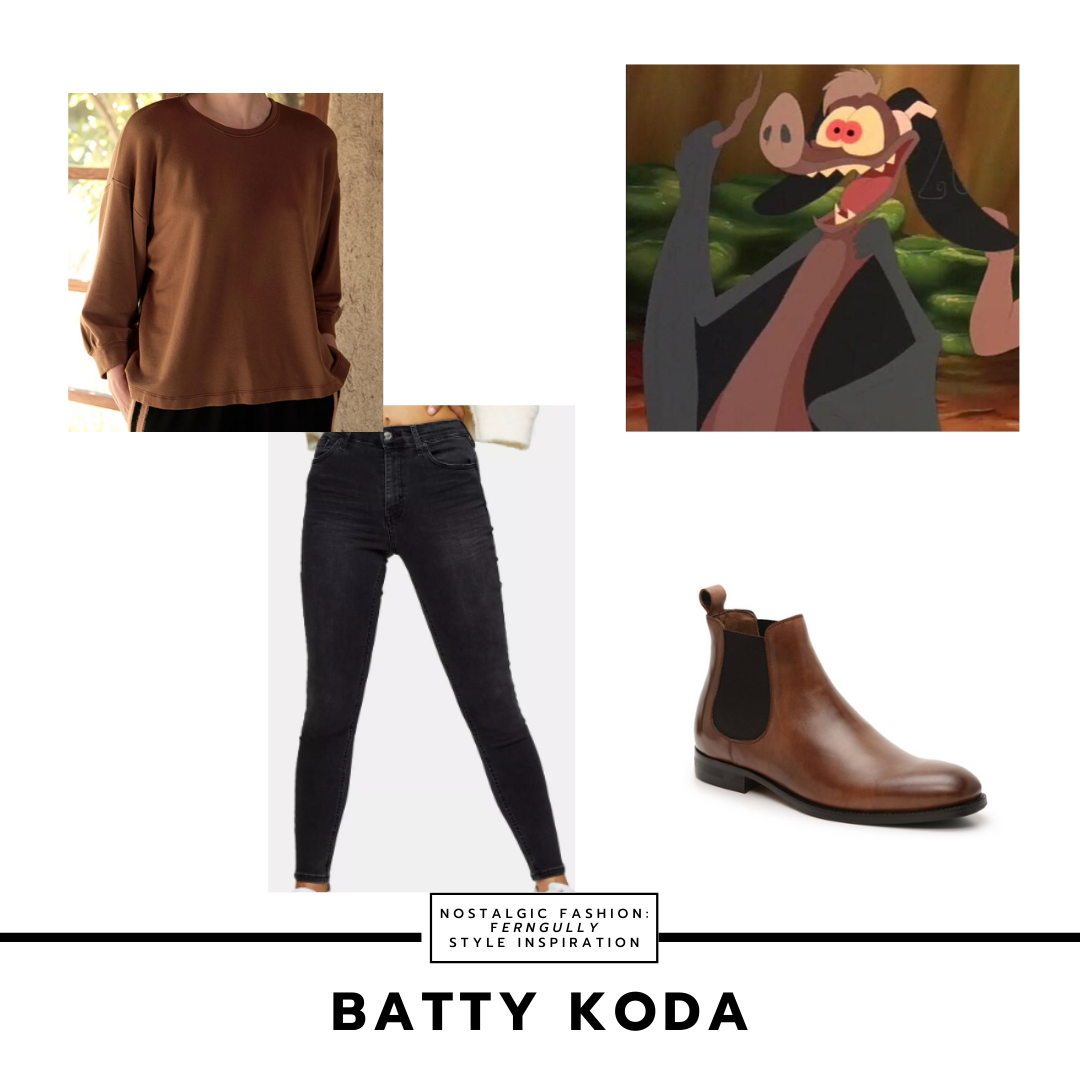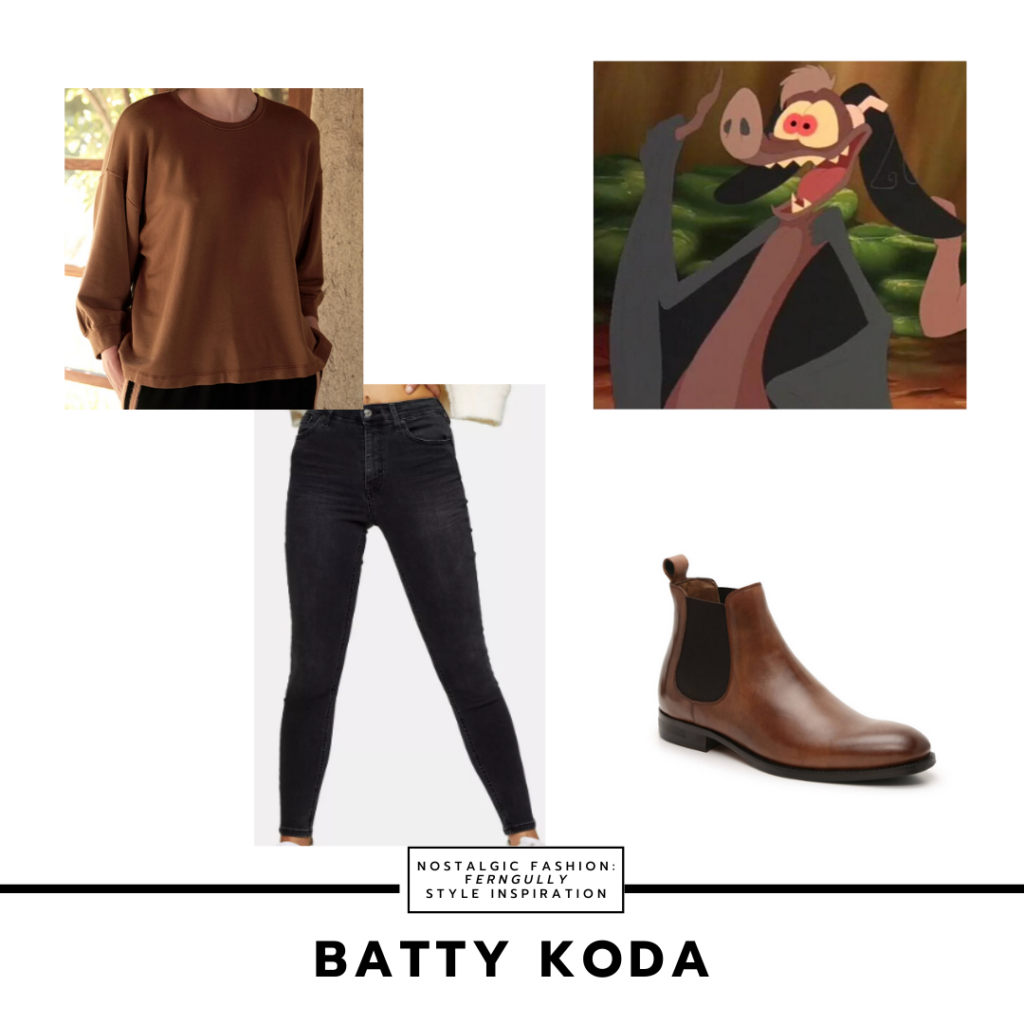 Creating a look inspired by Batty Koda is very easy. Though it's easy, it is, oddly, the one outfit that looks more elevated than the rest.
Start with a brown sweater or sweatshirt that has wide sleeves and then pair it with a pair of black jeans to form the base of the look.
Finally, I'd recommend you use a pair of brown ankle boots, to keep the color and comfort needed by this look.
What do you think of my FernGully fashion guide?
Have you seen FernGully? Which outfit was your favorite? What movie should I do next? Let us know in the comments below!