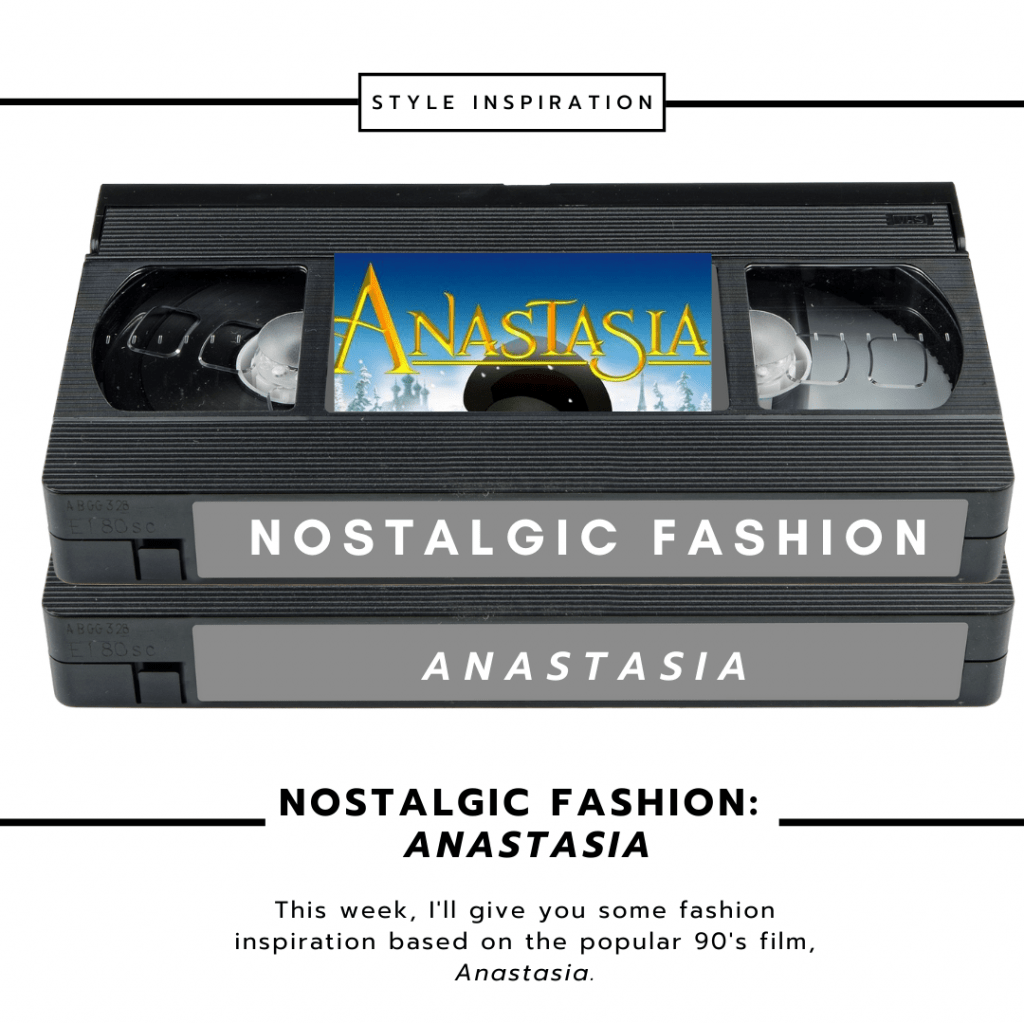 For the past few months, I've found myself watching my old VHS movies, especially movies that I watched when I was a little girl. While doing this, I have found some great underrated films that tend to get lost in between all the princesses, Pixar animated films, and the newest live-action remakes.
They are also a great source of fashion inspiration.
So for my next few posts, I'll choose one of these underrated movies each week and give you a quick recap of the film and its production, a rundown of each character's style, and my own real-life recreation of each look.
From Disney, I've covered The Rescuers, Oliver & Company, 101 Dalmatians and Robin Hood. From other production companies, I've covered FernGully: The Last Rainforest, Thumbelina and The Swan Princess.
This week, I'm stretching it with the "underrated" part and I'm covering one of the most popular Non-Disney movies of all time, Anastasia. Read on for my Anastasia fashion guide!
About Anastasia (1997)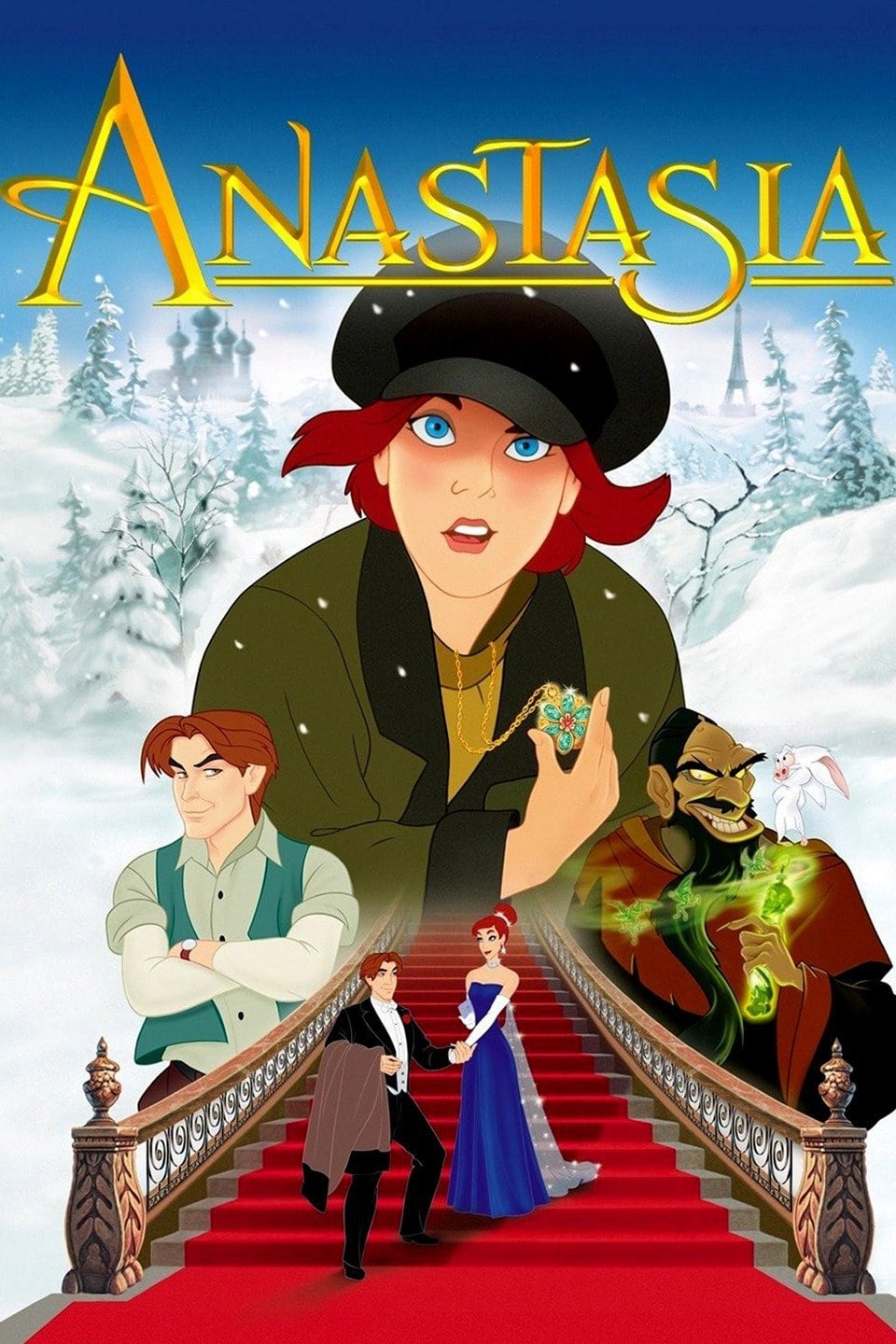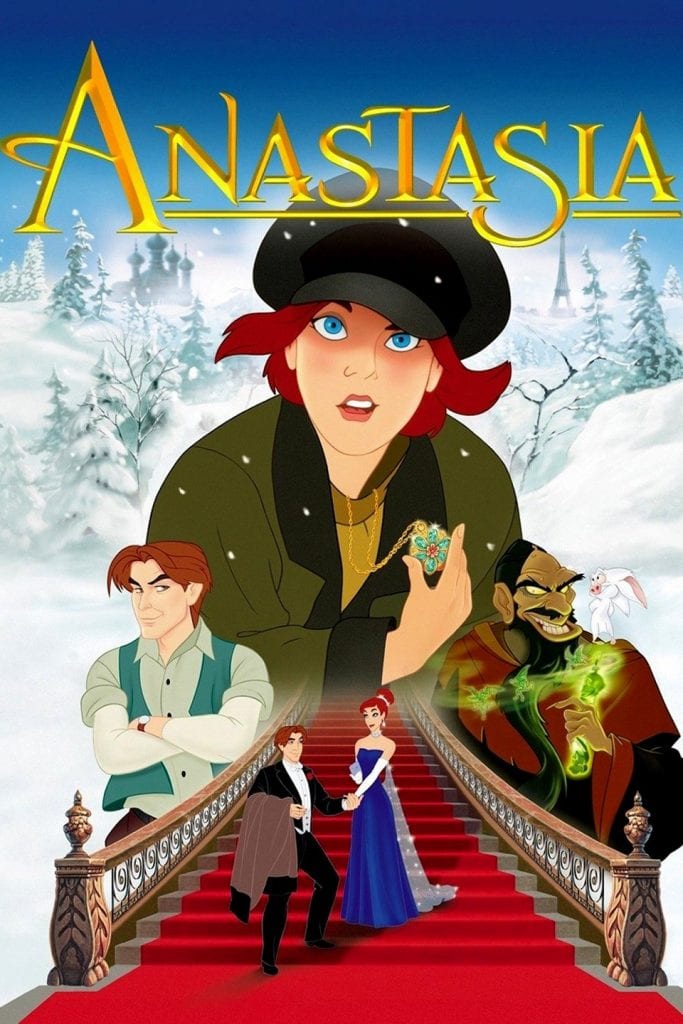 Anastasia premiered in 1997 and it quickly became Don Bluth's most popular film and, by far, his most successful. It is based on the 1957 film Anastasia starring Ingrid Bergman. Both films are very, very loosely based on the real life story of Anastasia Romanov.
While it is historically inaccurate, Anastasia was very carefully marketed as a fairytale based on historical events, and not the actual story of those events. This strategy meant that Anastasia was well received in Russia and a box office hit everywhere.
This was especially important because acceptance from the story's country and people of origin is something that Disney, the film's main box office rival, struggled with for Pocahontas, Hercules and later on, Mulan. Additionally, the Romanovs themselves were initially not too fond of the film, but over time they warmed up to it.
Not only it did do extremely well at the box office when it came out, Anastasia knocked Disney's Hercules out of the park completely. Disney tried to compete by re-releasing The Little Mermaid, but Anastasia had already become popular and beloved by then.
The film was produced by 20th Century Fox and the film is often mistaken for a Disney production. Ironically, with Disney's acquisition of Fox, Anastasia is now technically part of Disney's catalogue.
A Quick Recap of Anastasia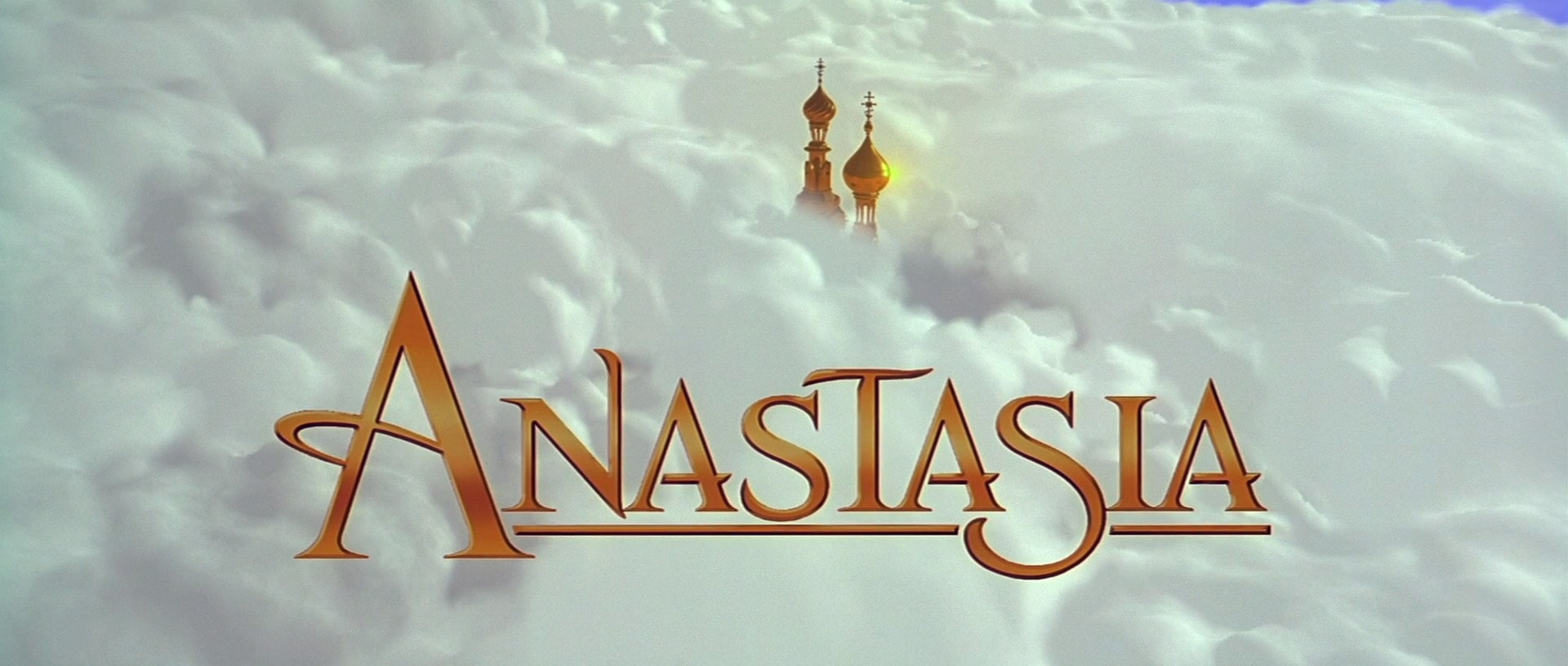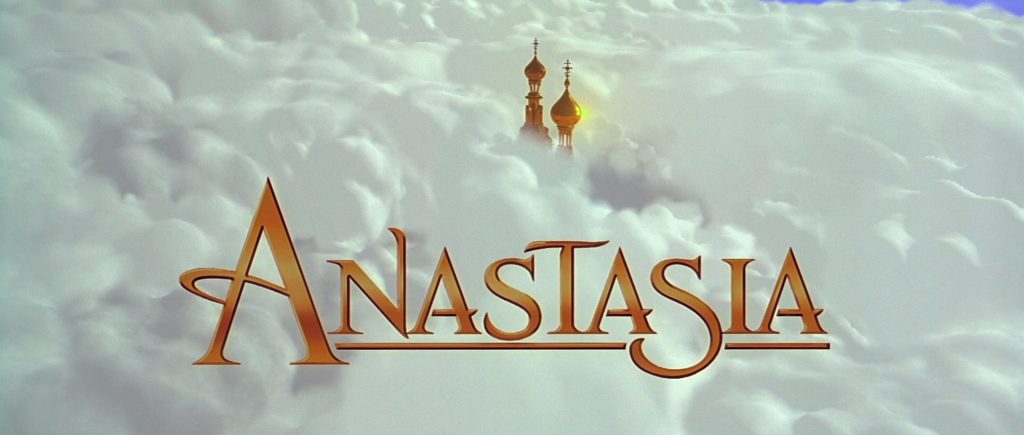 Anastasia Romanov is the youngest daughter of Czar Nicholas II. After a vindictive Rasputin curses the family, her family dies at the hands of the Bolsheviks. Anastasia survives, but is separated from her grandmother, Dowager Empress Marie, while they try to escape.
Ten years later, two con-men, Dimitri and Vladimir, are looking for an actress to pass as Anastasia to collect the reward offered by Dowager Empress Marie. When an orphan, Anya, asks them for help to travel to Paris, they can't help but notice she's identical to the lost Grand Duchess Anastasia. They promise to take her to Paris, if she'll help them collect the reward.
Meanwhile, Rasputin has been stuck in limbo for the past decade. When he finds out about Anya's existence, he realizes his curse is incomplete because the last Romanov is still alive and chases after her and her traveling companions.
Anastasia Fashion Guide
Before we continue, I have a disclaimer to make. Anastasia, the character, has more than seven outfits through the film. Two of them are looks that she imagined or dreamt about, one of which is as iconic as the rest of her dresses. Others are part of the musical number and you only see them for a couple of seconds.
Still, she has four iconic "real" looks. The first one is her 'Anya' outfit. Then, there's the teal dress Dimitri gifts her. Finally, there's the navy blue dress she wears to the ballet and the princess dress she wears during the climax and ending of the film.
For my Anastasia fashion recreations, I had a hard time choosing only one of these iconic looks, so I recreated two of them.
1. Anastasia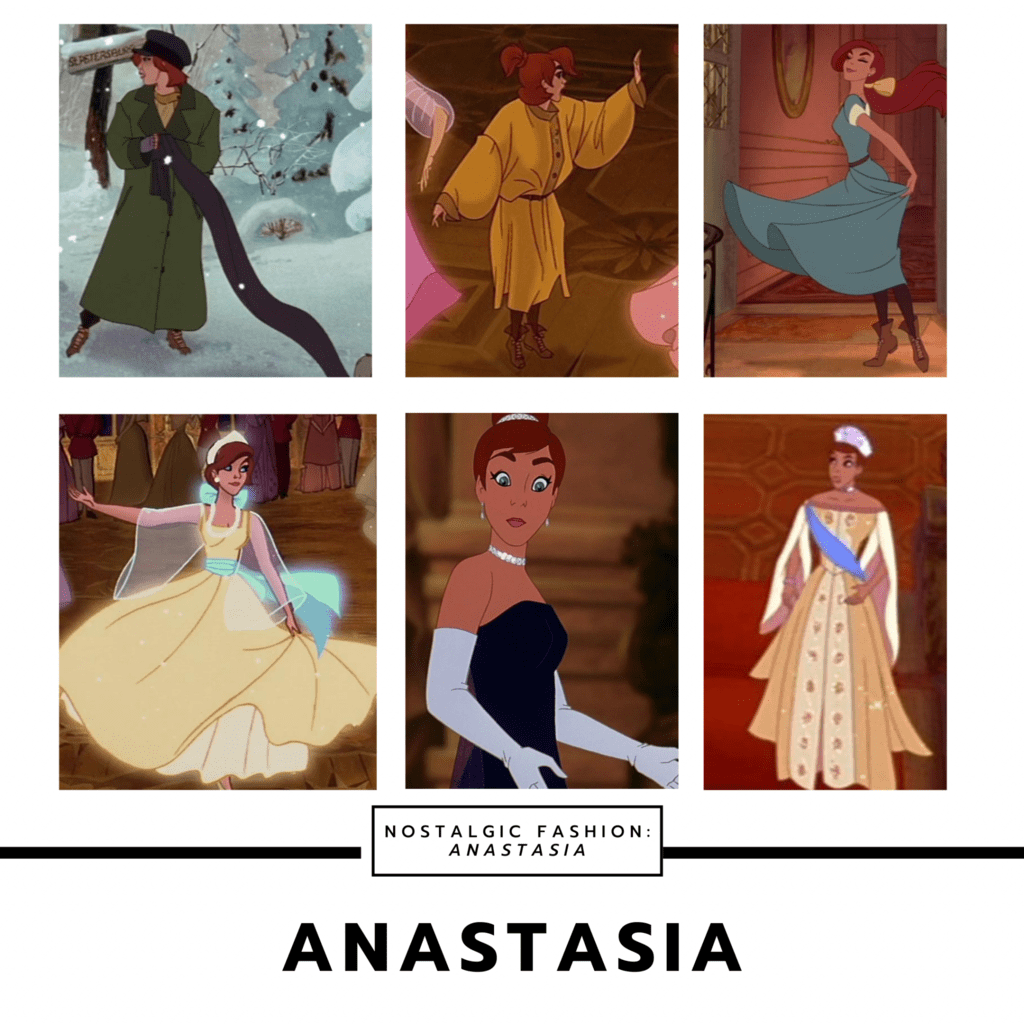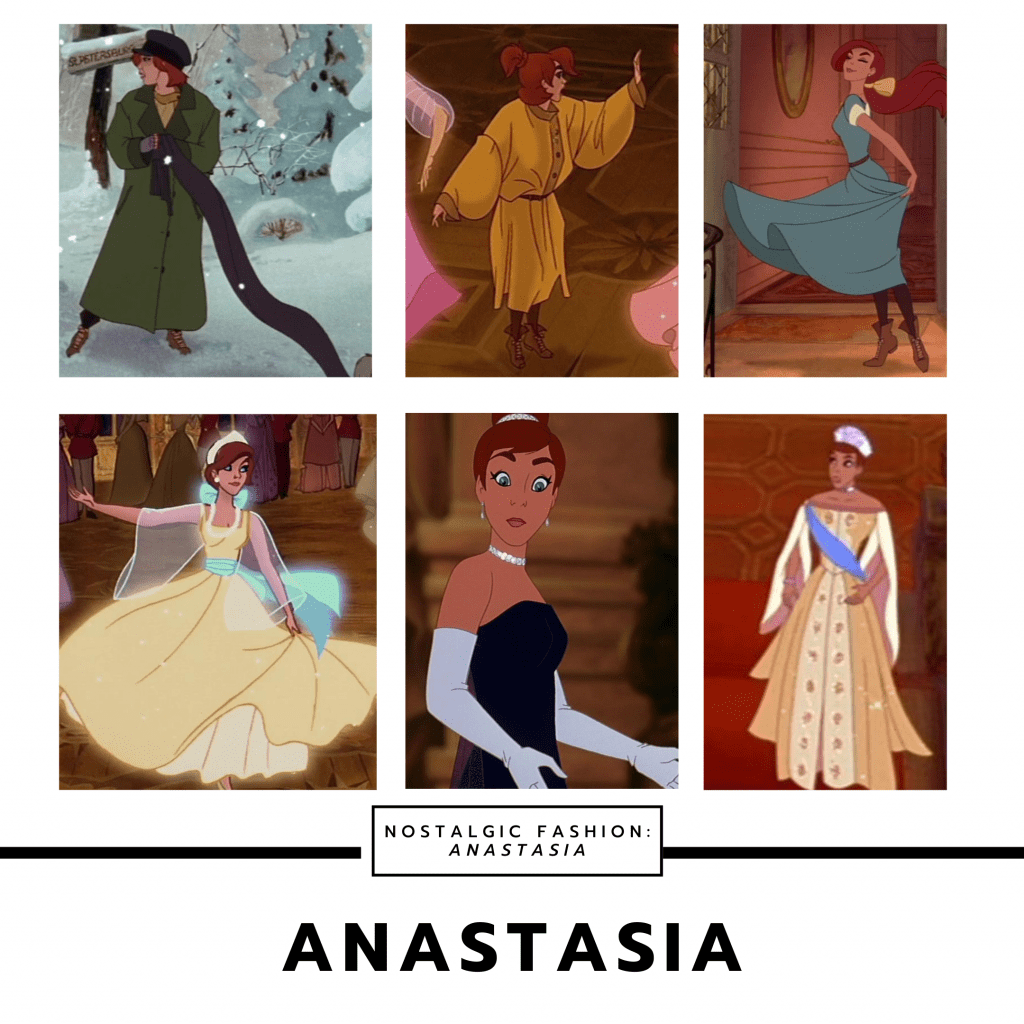 Anastasia, or Anya, is the protagonist of the film. She is the last surviving Romanov and one of the most beloved '90s animated princesses.
Anastasia doesn't shy away from a fight. She has her damsel in distress moments, but they're few and far in between. She is sarcastic, feisty and one of the few '90s animated female protagonists, especially in the princess category, that actually defeats the villain.
Anastasia's fashion color scheme is kind of all over the place. This is because it is a visual aid to signal her evolution as a character.
Through the first half of the film, she is mostly in neutral colors like beige, olive green, black and brown. As she moves away from her identity as an orphan, she is mostly wearing blues and purples. Finally, her palette changes one more time when she finds out she is the real Anastasia. During this time, she wears golden dresses with light pink and blue details.
Anastasia's Style Recreation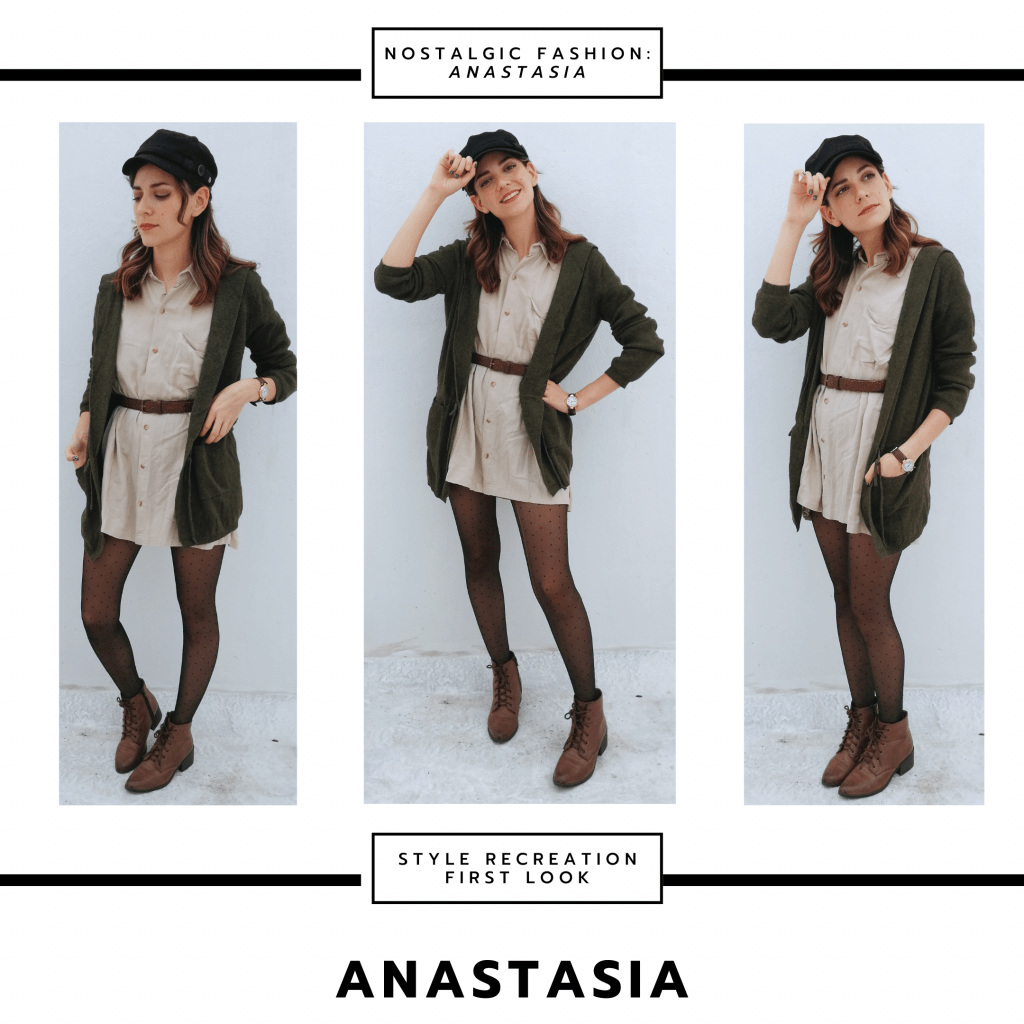 The first outfit I recreated was her 'Anya' look.
I borrowed a beige shirt from my dad. I used it as a dress and cinched it at the waist with a brown belt. Then, I layered it with an olive green cardigan.
For accessories, I wore a black fiddler cap. This was to emulate the one she wears through the first half of the film. Finally, I added black tights and brown booties.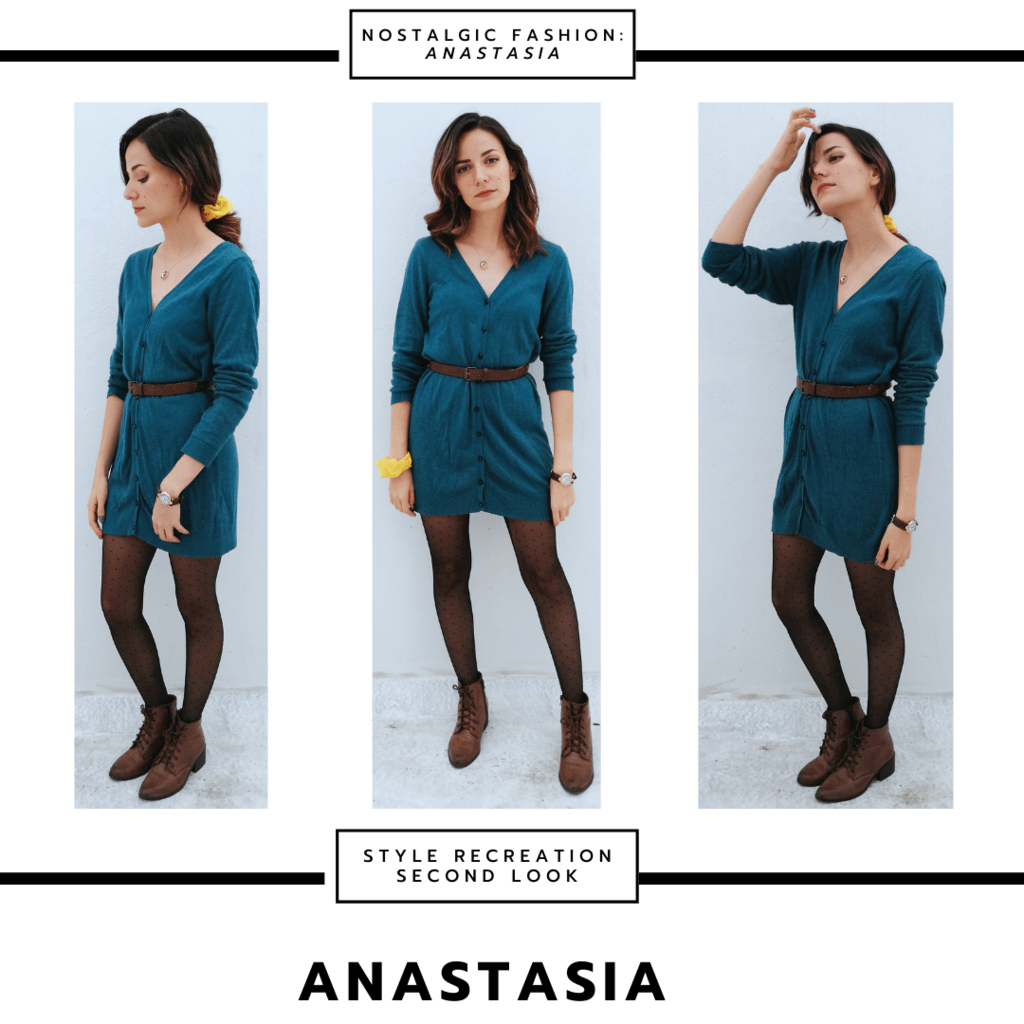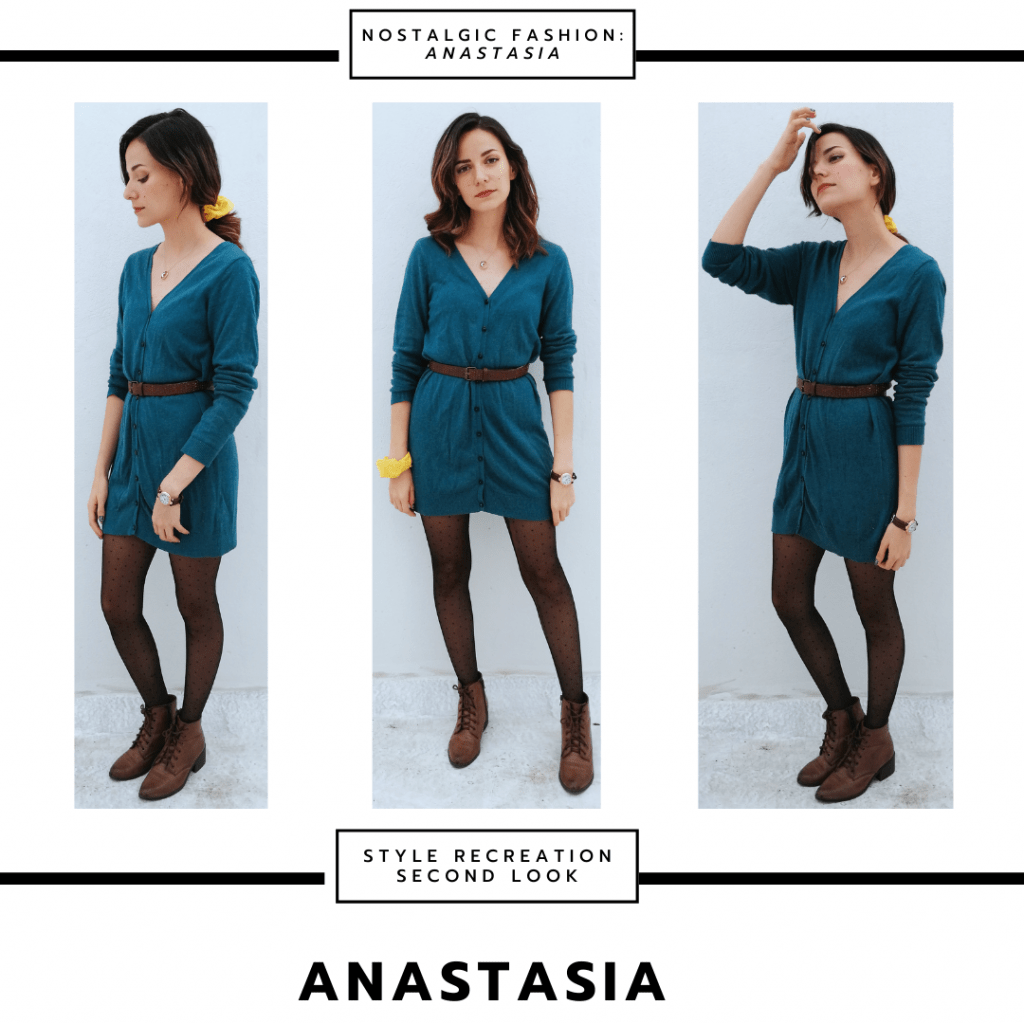 The second look I chose is the teal dress Dimitri gives her. This look signals her transitioning from orphan Anya into Anastasia.
For the base of the look, I kept the same black tights and brown booties from the first outfit. Then, I changed the shirt and green cardigan for a teal sweater dress.
Finally, I traded the hat for a yellow scrunchie, to emulate the yellow ribbon Anastasia wears with this dress.
Anastasia's Style Inspiration
If you want to create a look inspired by Anastasia, I would recommend that you adhere to one of her three color stories. To finish off the Anastasia fashion section, I'll leave you some inspiration for the looks I recreated.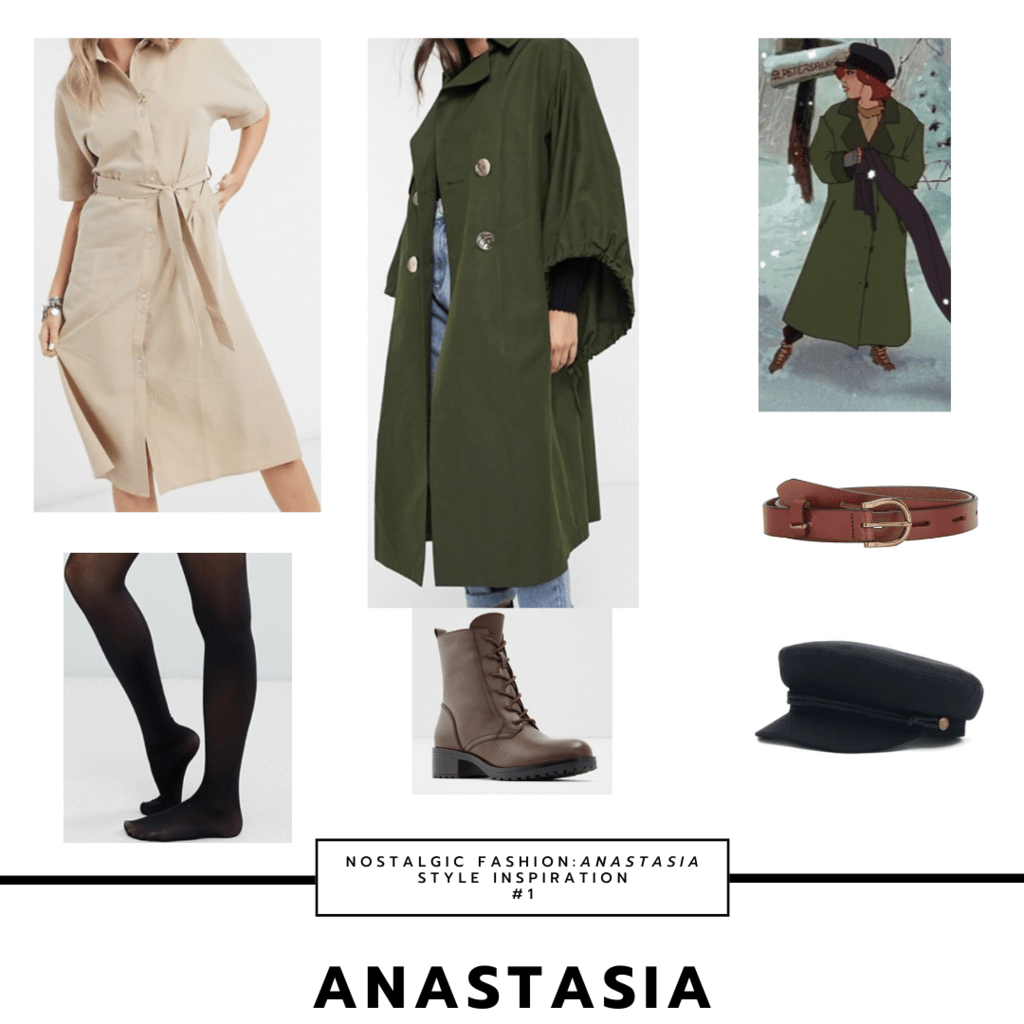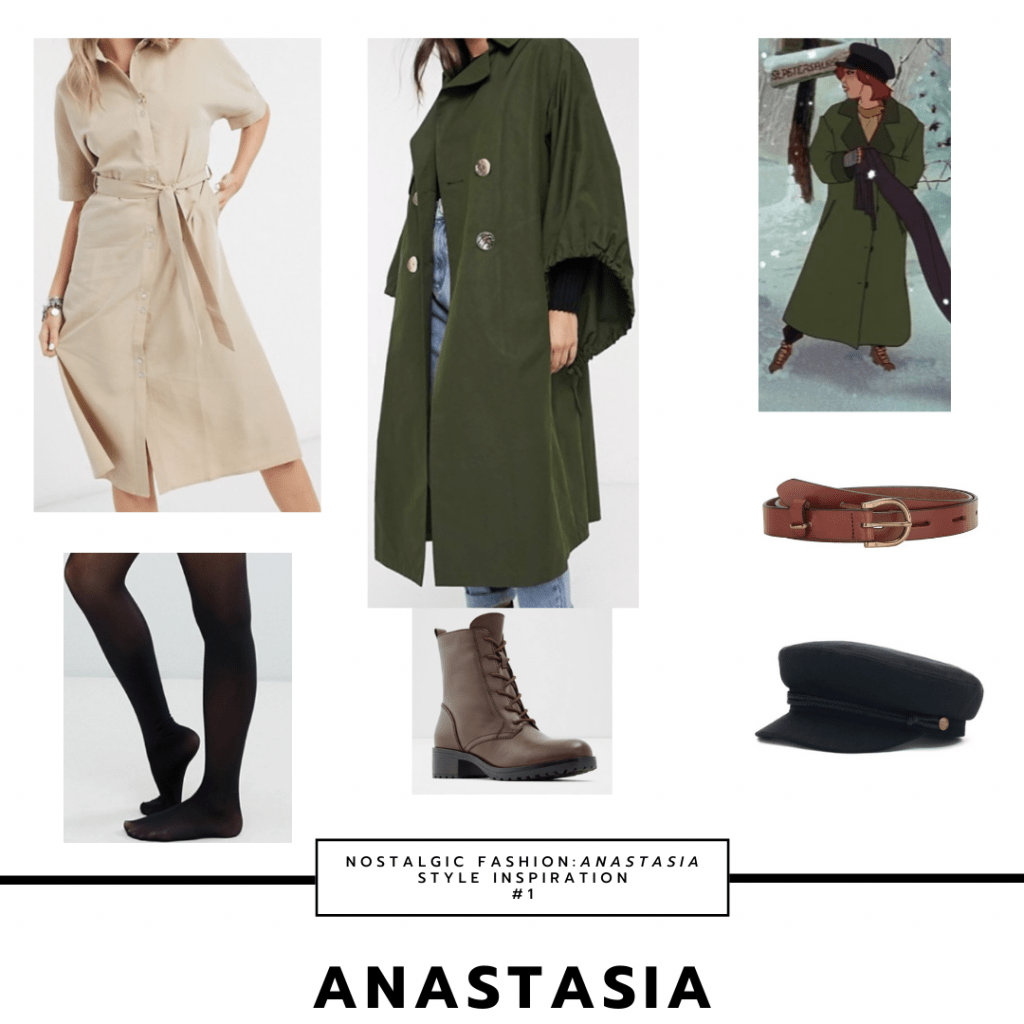 Items: Beige Dress, Coat, Hat, Boots, Tights, Belt
If you want to go with the 'Anya' outfit, start with a simple beige midi dress and layer it with an olive green coat. Then, wear a pair of black tights and brown booties. Accessorize with a black fiddler cap and a brown belt.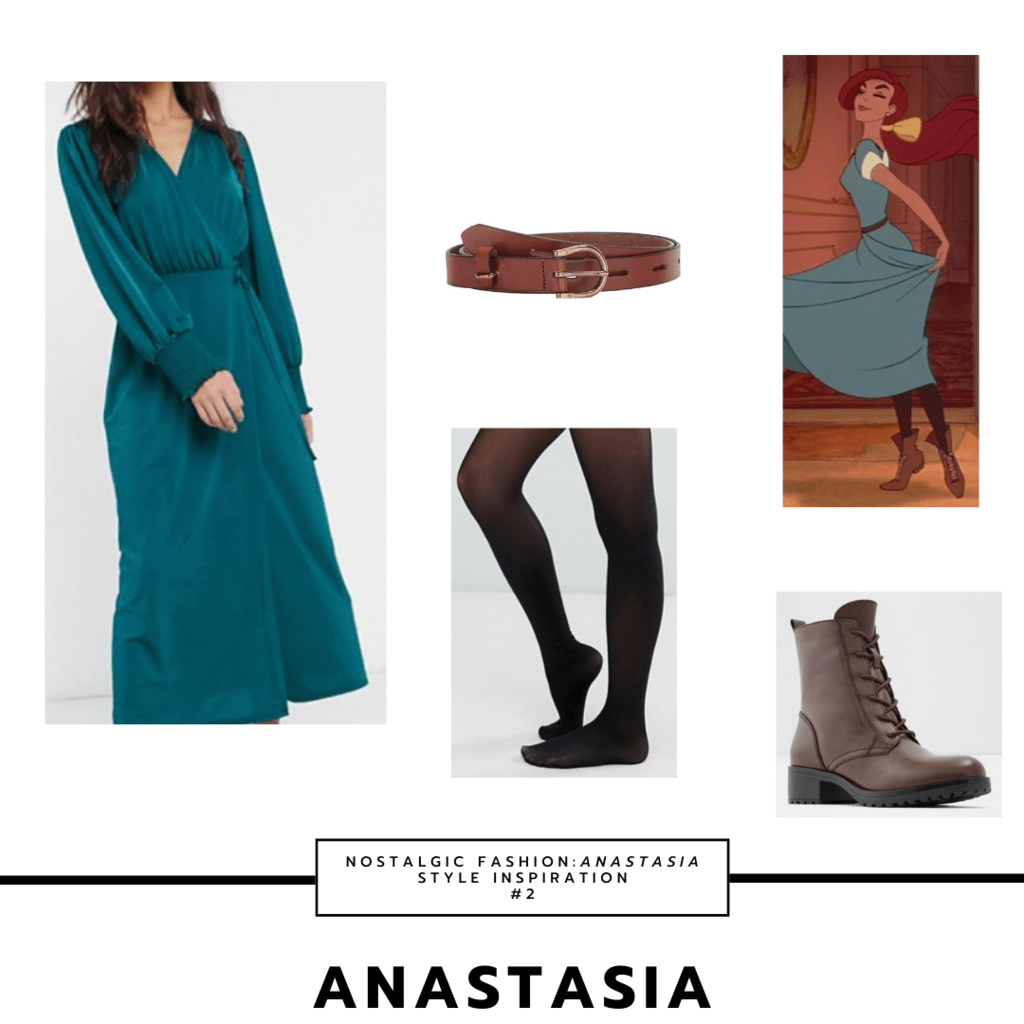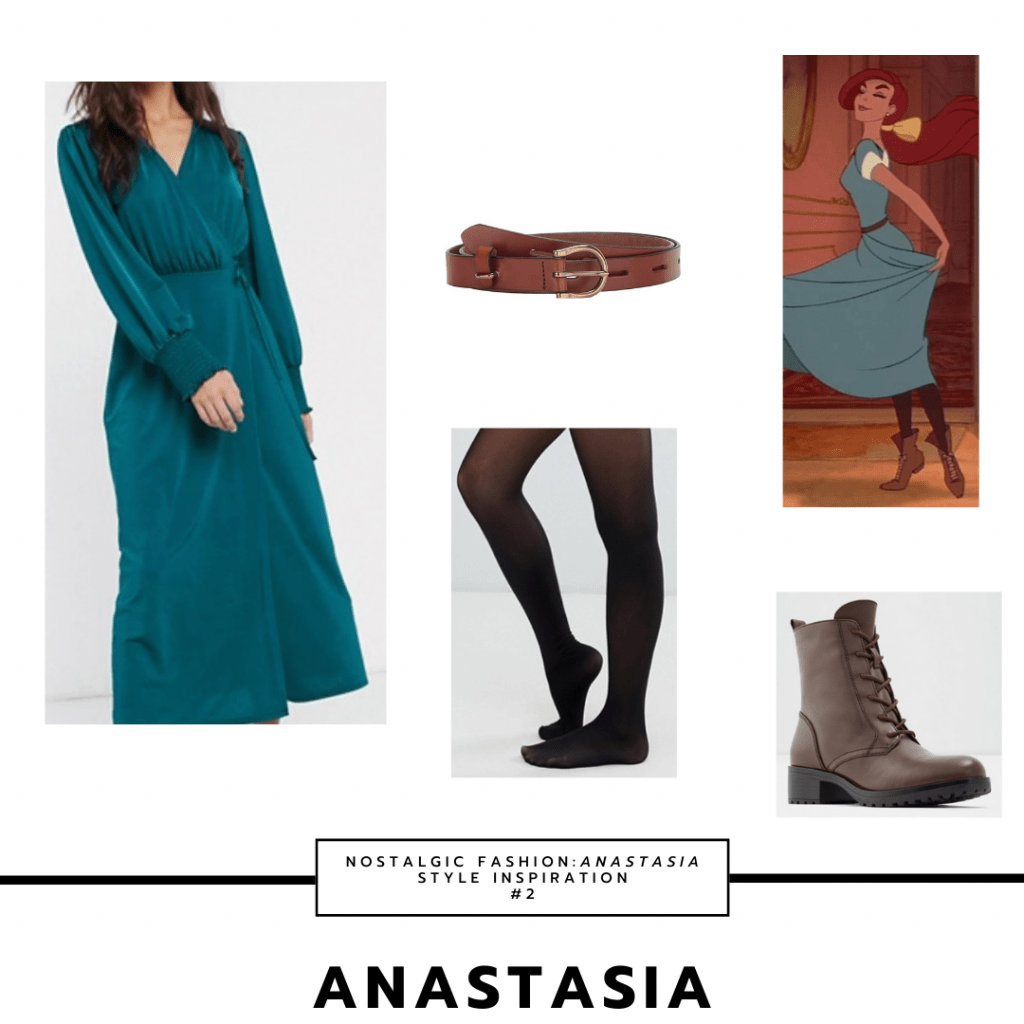 Items: Teal Dress, Boots, Tights, Belt
For the second look, rock a flowy midi dress in teal. If you want you can accessorize with a brown belt, but if you're using a wrap dress you already have the sort of vibe we're going for.
With this look, you can wear the same black tights and brown booties that I added to the first look.
2. Dimitri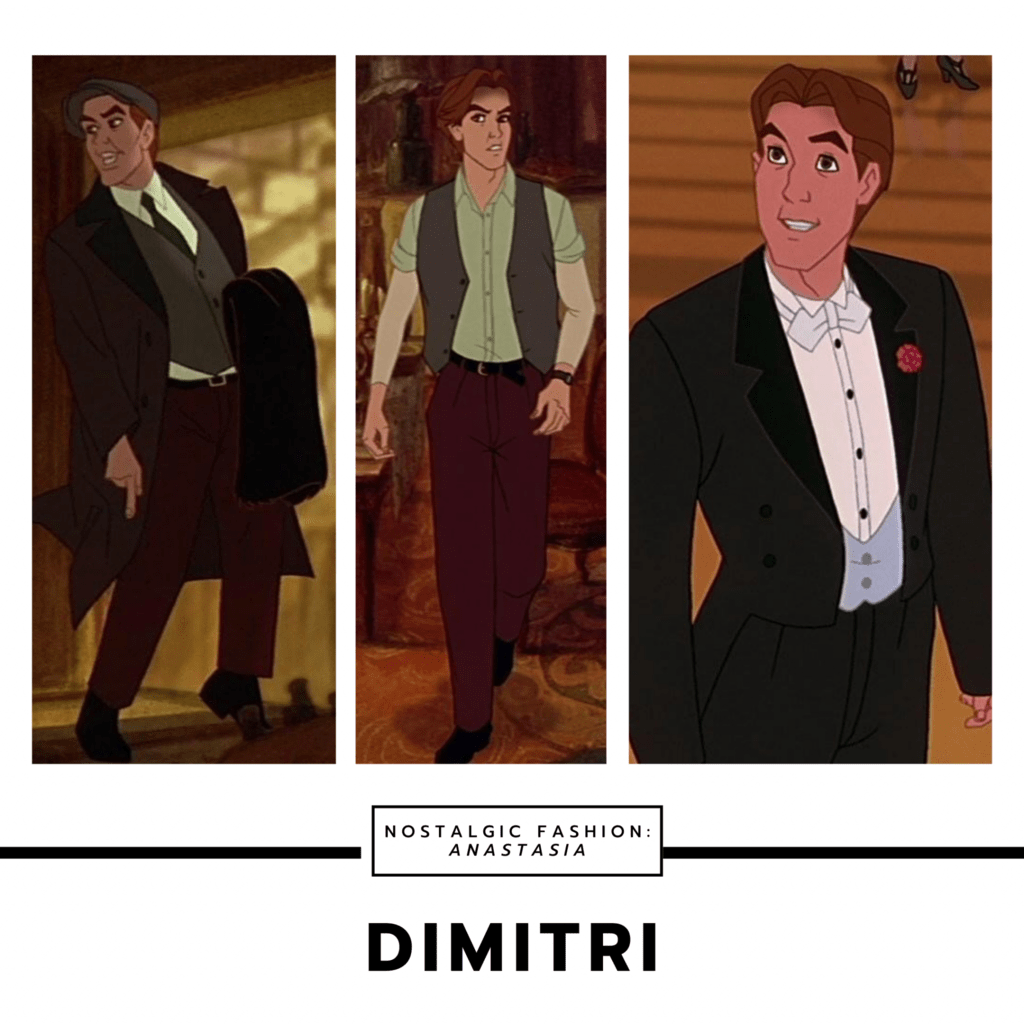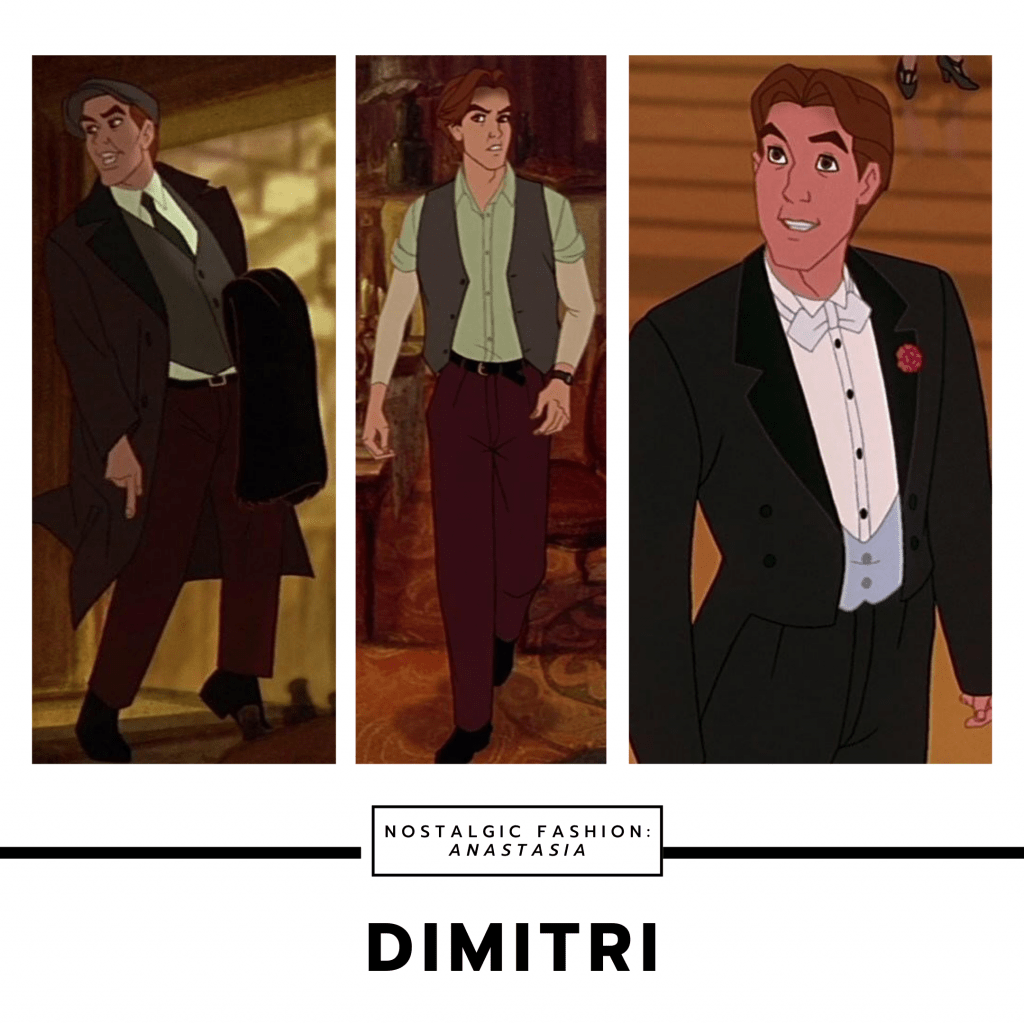 Dimitri is the male lead and love interest for Anastasia. Initially, he is a cynical and selfish conman. Through the film, he becomes selfless and puts Anastasia's happiness over his own. Proactive and brave, Dimitri, like Anya, is sarcastic, smart and self-reliant.
Dimitri's color scheme is mostly comprised of neutral colors. It has brown, green, white and black. His color story matches Anya's for most of the film to signal how similar they are and how their relationship is an equal partnership, until her color scheme changes and she becomes the Grand Duchess.
Dimitri's Style Recreation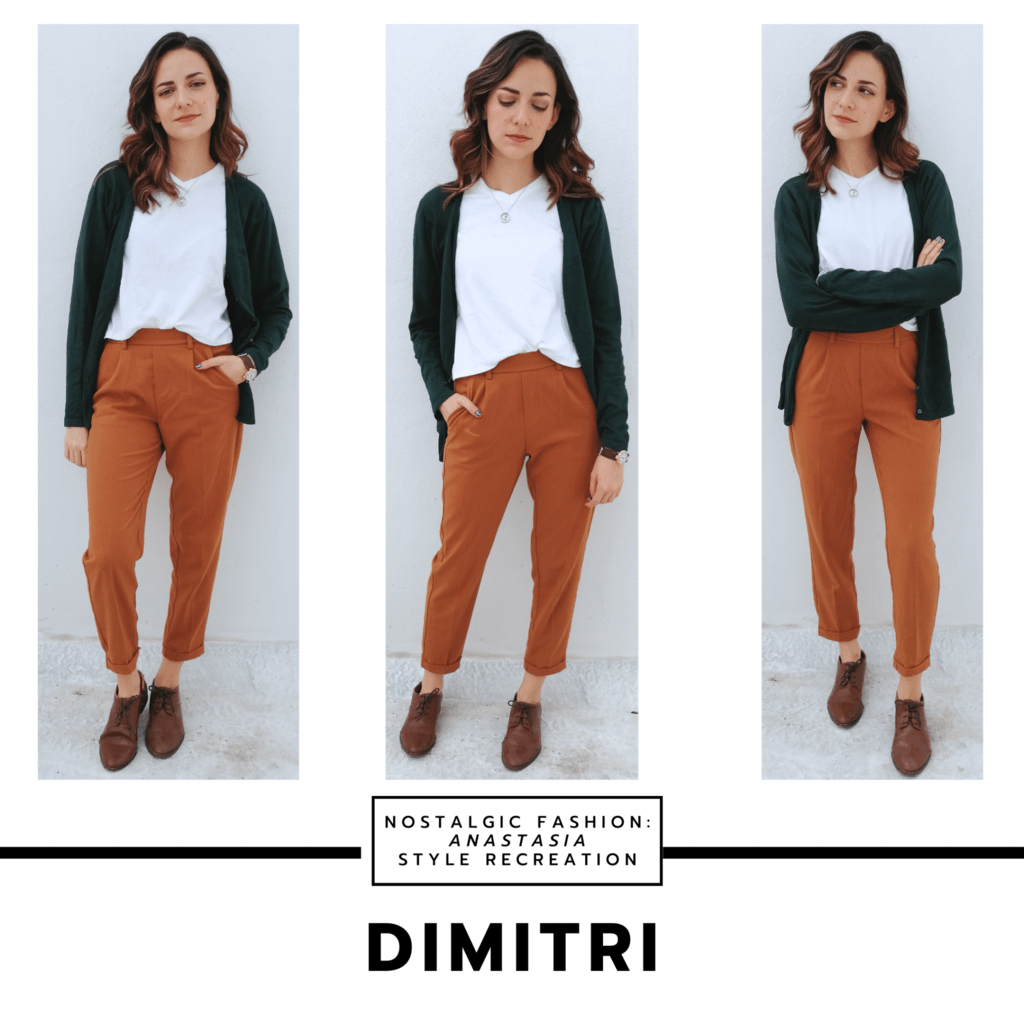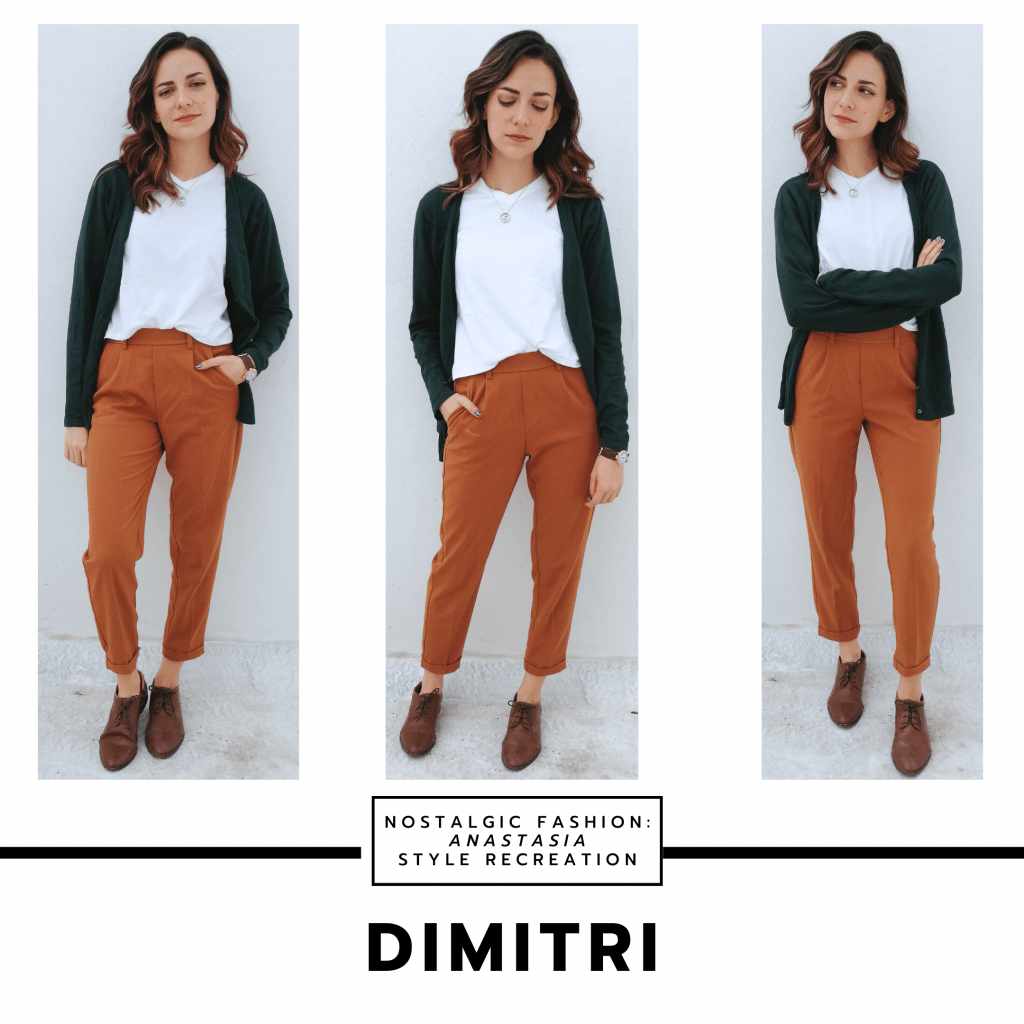 For my Dimitri outfit, I wore a simple white t-shirt with a pair of brown slacks. Since I didn't have a light green shirt or a brown vest, I layered the outfit with a green cardigan, to emulate both the shirt and the vest with one item.
Finally for my shoes, I used a pair of brown Oxford shoes.
Dimitri's Style Inspiration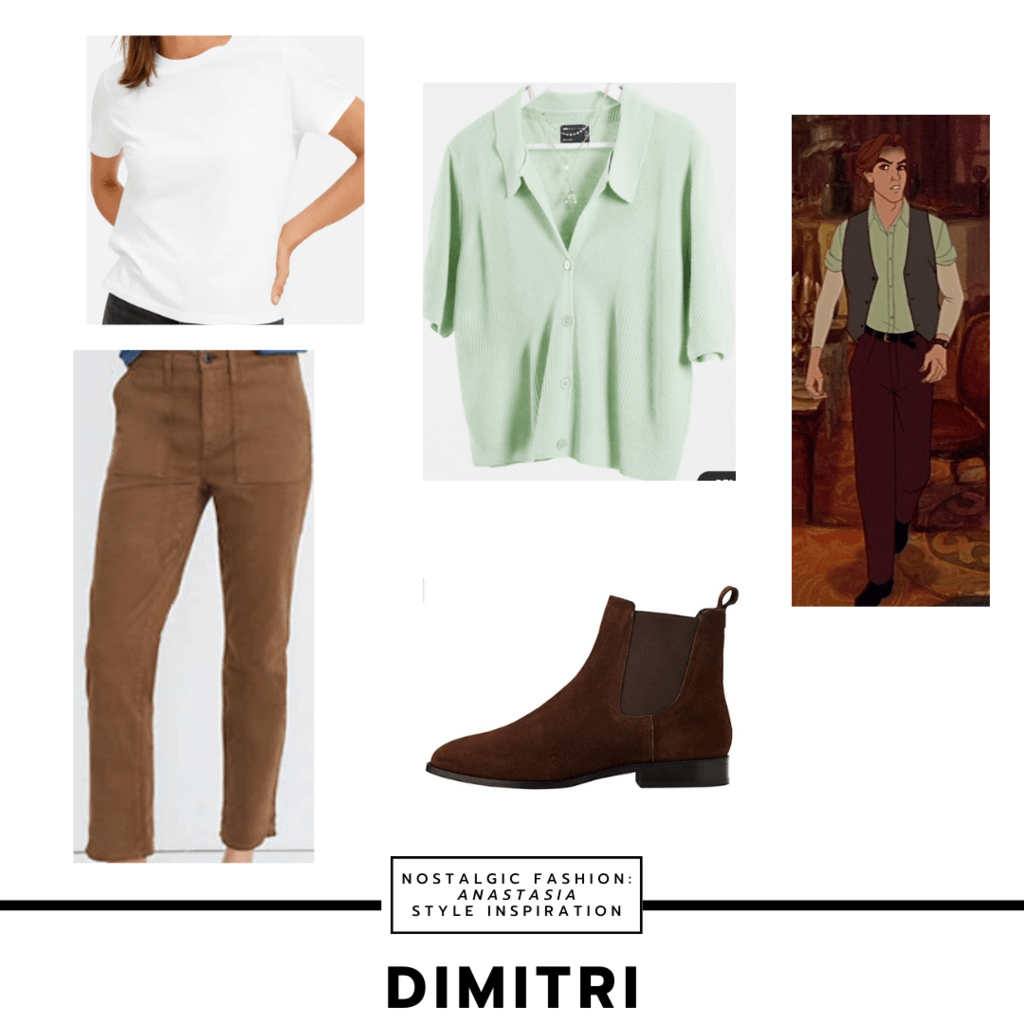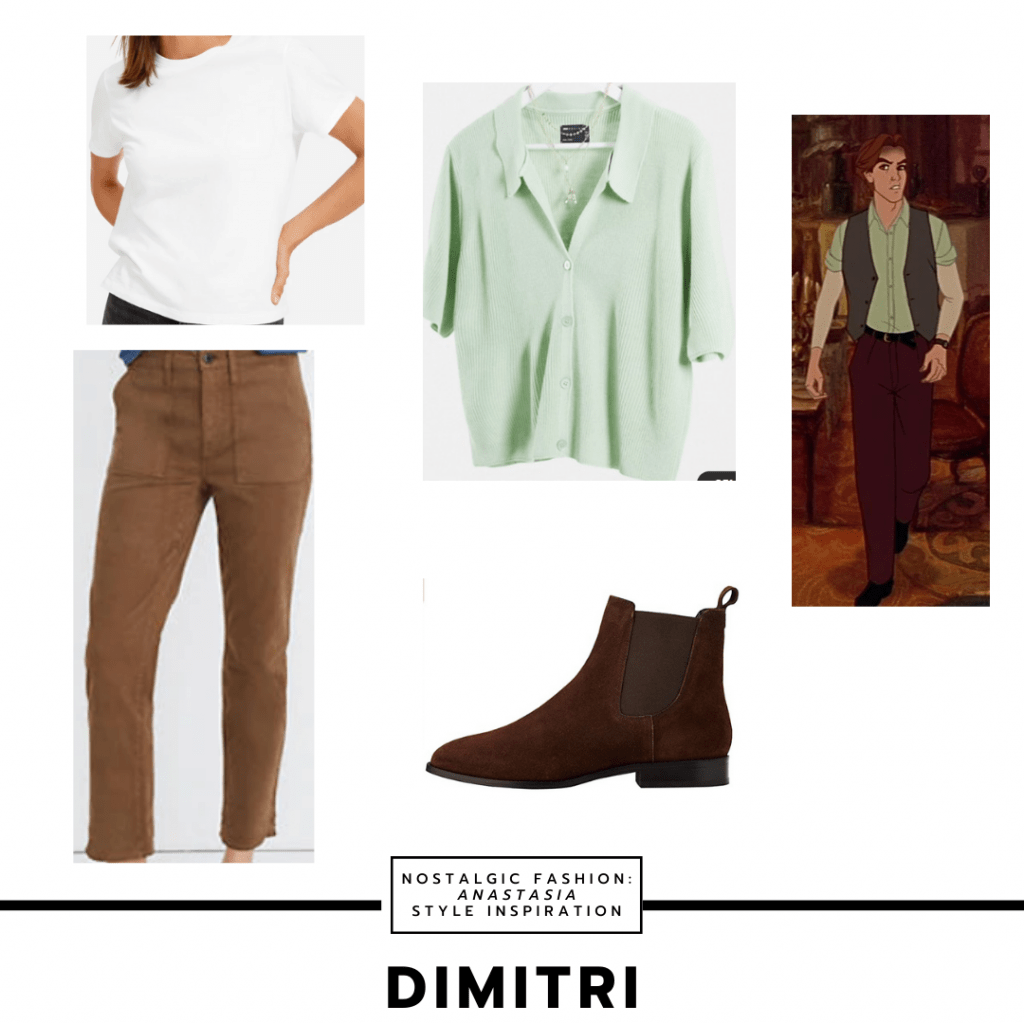 Items: Pants, T-Shirt, Shirt, Shoes
If you want to create a look inspired by Dimitri, keep in mind neutral colors and comfortable items.
Try wearing a white t-shirt under a light green shirt. For pants, try a pair of brown jeans or slacks, whichever you have or find. For shoes, you can wear a pair of brown Oxford shoes like I did or you can wear a pair of brown Chelsea boots.
3. Sophie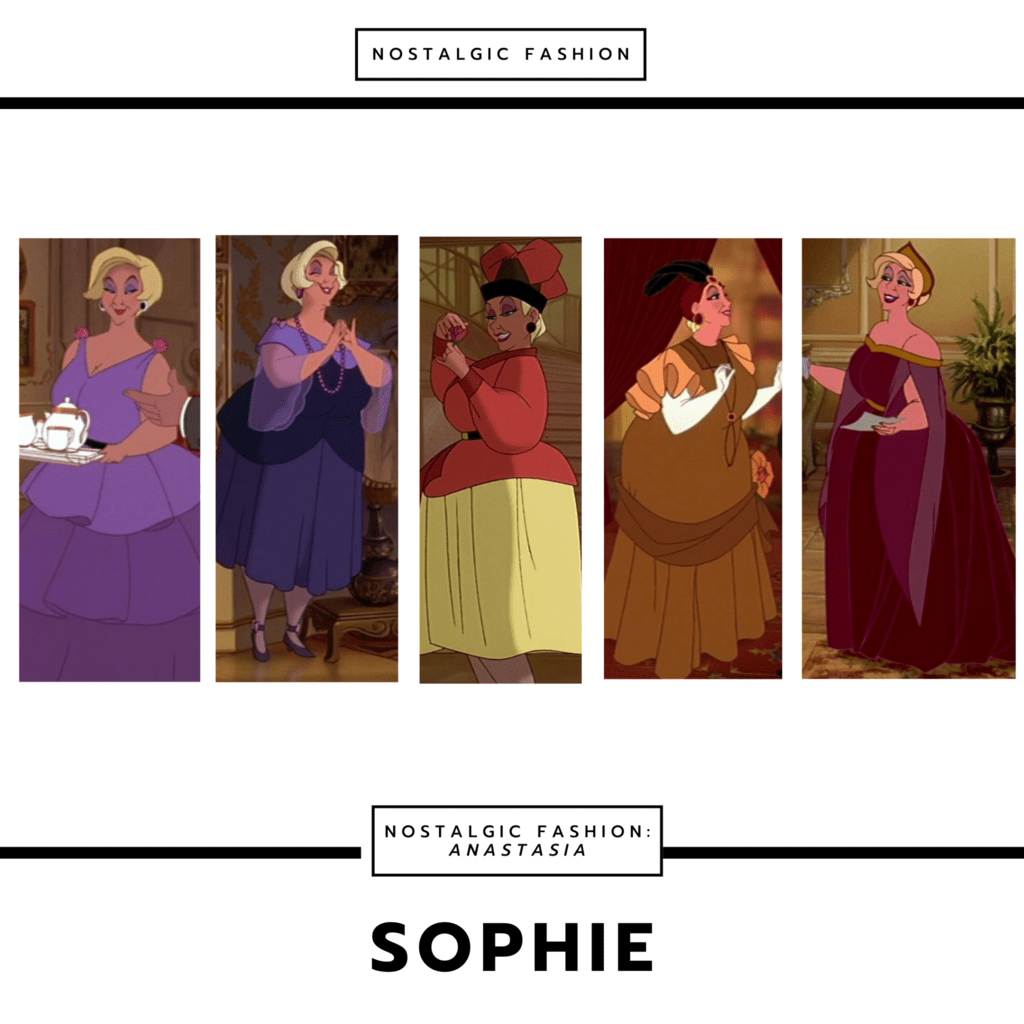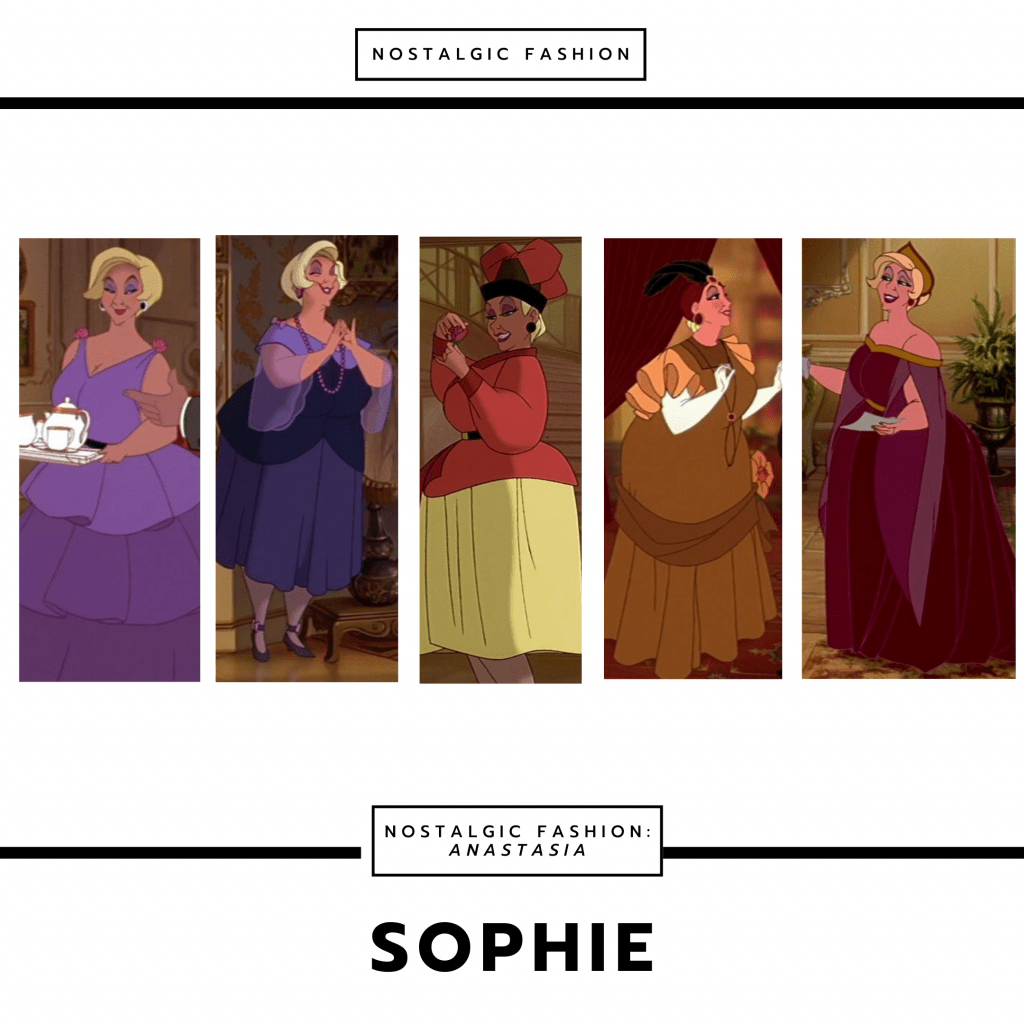 Sophie is Empress Dowager Marie's best friend and cousin. She is also the person Anya must convince that she is Anastasia before meeting the Empress and Vladimir's love interest.
You might be wondering what she's doing in my Anastasia fashion guide. While Sophie has less than 10 minutes of screen time, she is extremely popular for her extroverted personality and for being a positive portrayal of a plus-sized woman at a time in which this was not the norm in film.
Her style is very feminine and she is the trendiest of all the characters. She has a tendency to wear dresses with ruffles, ribbons and interesting shapes. She also accessorizes with over the top head pieces or big jewelry. Her color scheme is mostly comprised of lilac, deep purples and burgundy, to signal her royal status.
Sophie's Style Recreation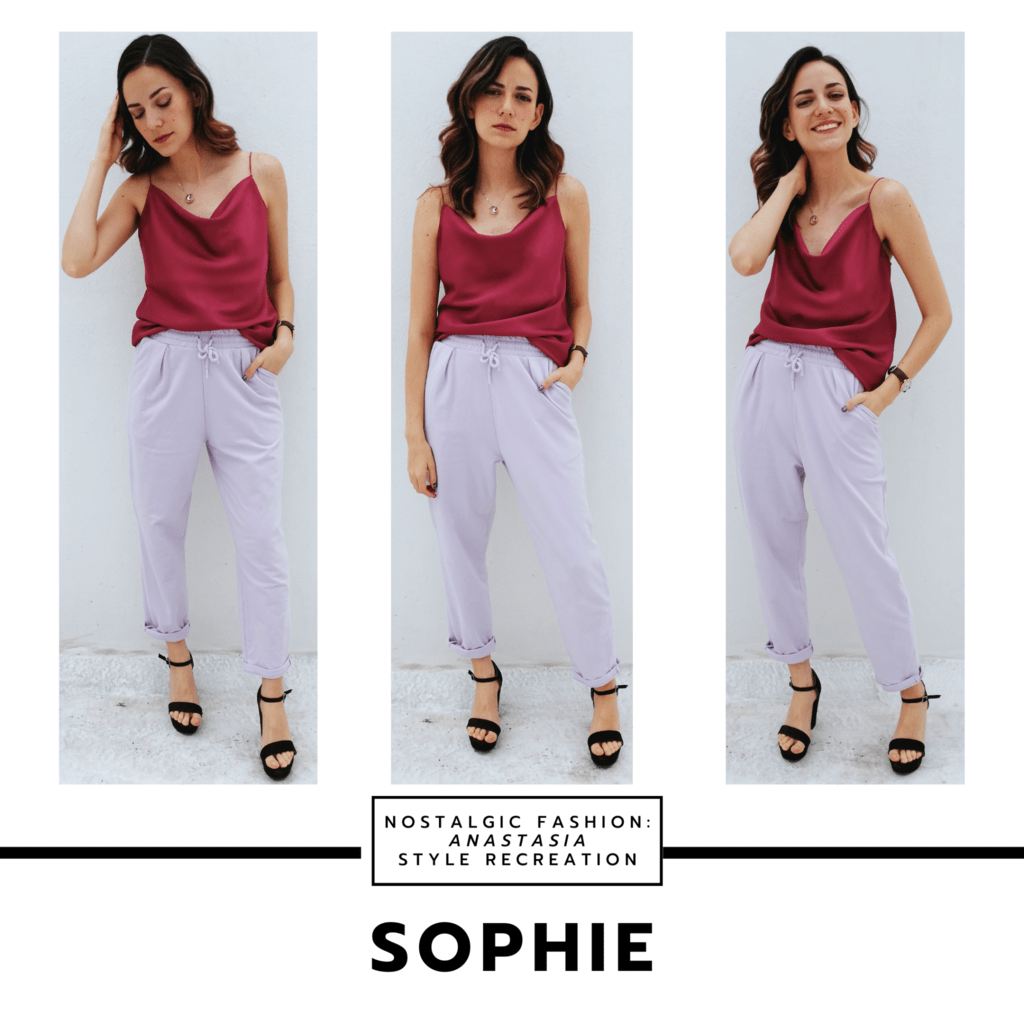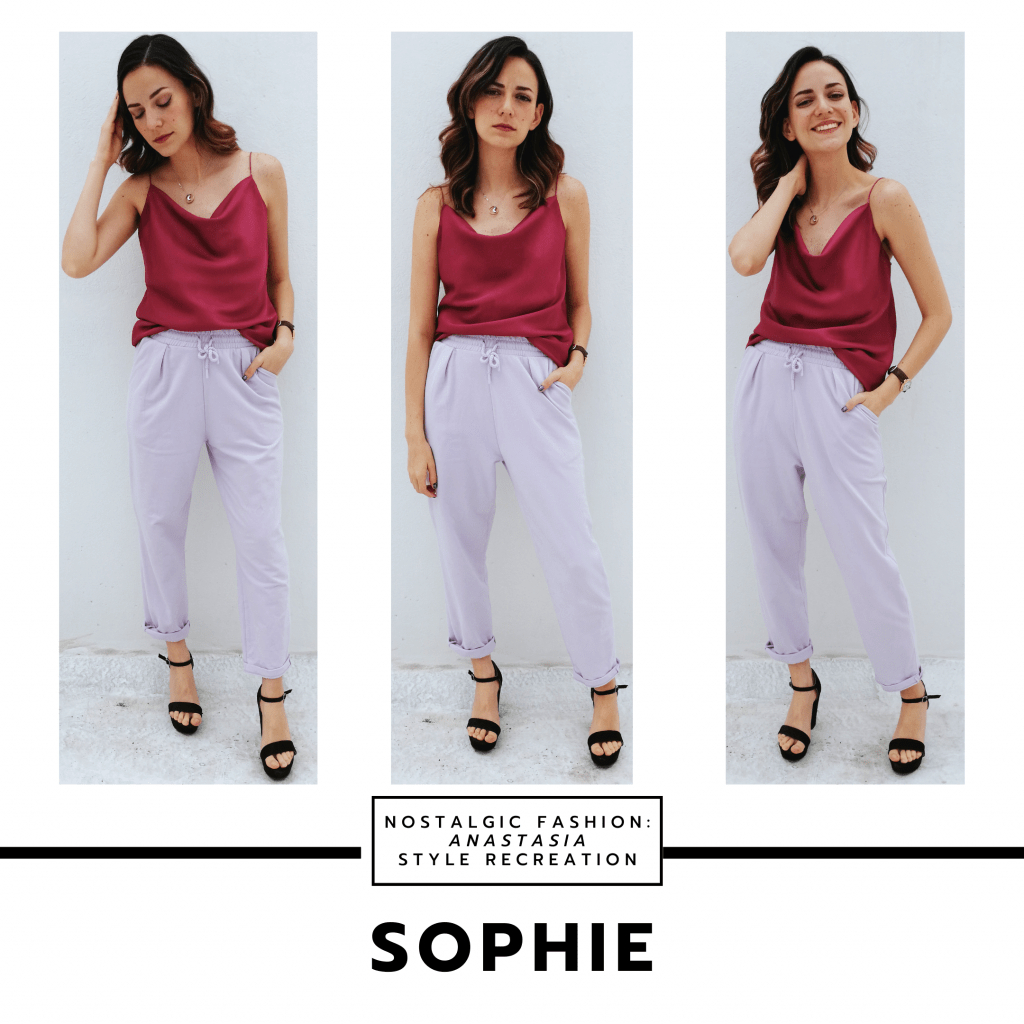 To recreate Sophie's look, I had to be very creative. I don't own a big or ruffled dress, let alone in the right color. So, I wore a pair of lilac joggers and a pink satin camisole, to create an interesting contrast with the texture and to emulate her color story.
Finally, I used a pair of black heels to keep the feminine and elegant vibe Sophie has.
Sophie's Style Inspiration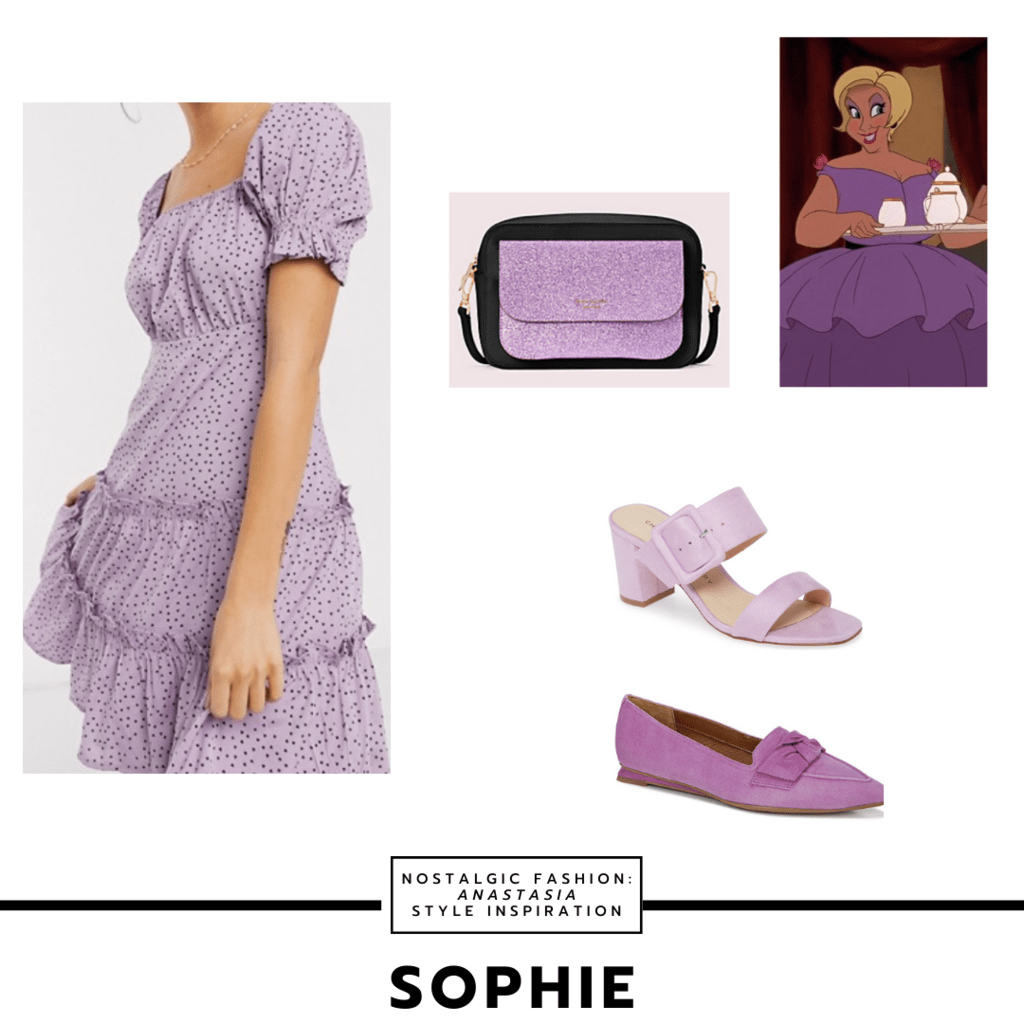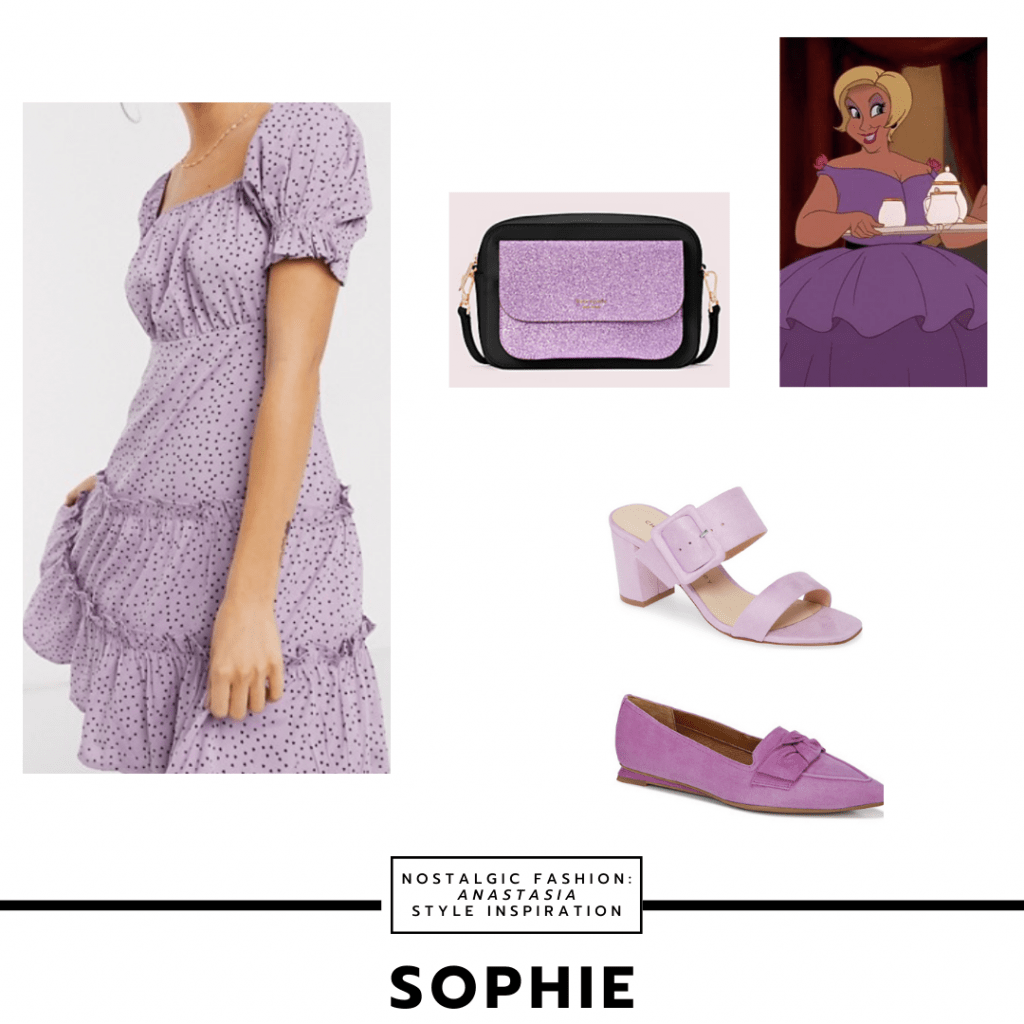 Items: Polka Dot Dress, Heels, Flats, Purse
If you want to create a look inspired by Sophie, remember she is a very feminine and over-the-top character. Lilac, purple and burgundy should be the main colors you use, but you can complement them with black, golden and navy blue.
Try wearing a lilac polka-dot dress, with ruffles and puff sleeves. For shoes, you can wear a pair of black heels similar to mine, or follow the monochromatic route with a pair of lilac slip-on heels or lilac flats. Accessorize with a black and lilac crossbody bag.
What do you think of my Anastasia fashion guide?
Have you seen Anastasia? Do you like the movie? Which outfit would you wear? Do you have any movie recommendation you'd want me to cover? Let us know in the comments below!