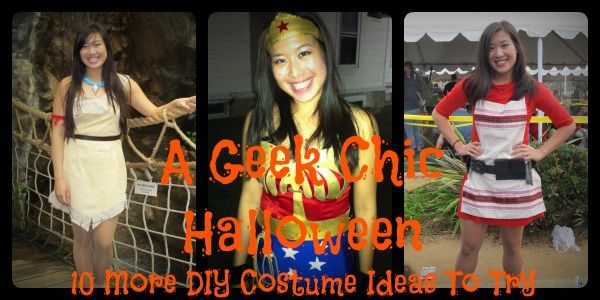 L-R: Disney's Pocahontas, Wonder Woman, Oswin from Doctor Who
It's that time of year again…when ghouls and goblins come out to play and pumpkins scream in the dead of night! You'd think that a scaredy cat like me would hate Halloween, but it's more treat than trick if only because of costumes.
If you read last year's post A Very Geek Chic Halloween: 10 Geeky DIY Costume Ideas, you know that I have an unhealthy obsession with making costumes. So, this year, I've come up with 15 more DIY costume ideas to help you embrace your inner geek!
5 Tips and Tricks for Making Your Own Costume
DIY! For me, the fun is in the making of the costume. You don't need to buy tons of fabric or materials: use what you have on hand!
Thrift! Stores like Goodwill and Salvation Army are a goldmine when it comes to finding Halloween costume components. For instance, I altered a $4 thrift store dress to make the Pocahontas costume in the header. The red bustier I used for Wonder Woman was another Goodwill find, and the gold accents are made from a pair of leather pants that I cut up and painted.
Repurpose! Scrounge around your room for household items that can be manipulated into costume pieces: for example, the apron in the Oswin costume was made from a $1 IKEA pillowcase. I've also used aluminum foil to make Starfleet badges.
Borrow! Most of the costumes listed below use a variety of "normal" clothing, which you may or may not have already. Try scavenging through a friend's closet – it may be that you each have an item that the other needs to complete a costume!
Be creative! A costume with a mash-up concept is always fun. Think Hipster Disney Princesses!
15 DIY Geek Costume Ideas
Don't have your costume lined up for Halloween yet? Try out of one these geeky getups!
1. Han Solo from Star Wars
You can never go wrong dressing up as a scruffy-looking nerfherder, especially if he's a sarcastic smuggler who happens to be one of the greatest film heroes of all time. (Also, he shot first.)
These tuxedo stripe trousers are remarkably similar to Han's. (Plain navy or black pants work as well; you can also DIY the stripe by stitching a ribbon along the pant leg.) Any long-sleeved white or cream blouse will do – just make sure to add an edgy black vest. And don't you just love a costume that lets you wear comfortable shoes?
2. The Fox from What Does The Fox Say?
Last year I included "Gangnam Style" singer Psy in the geeky costume lineup, so it's only fair that this costume lineup include 2013's viral video smash hit: Ylvis's "The Fox (What Does The Fox Say?)"
(Full disclosure: I sing this song in my room all the time. I'm one of those people who never gets sick of viral songs…I still love "Gangnam Style" and "Friday". No shame.)
Instead of shelling out for a fox costume that you'll only wear once, just pair an orange cardigan or jacket with a white cami and a pair of orange trousers (an orange skirt with black tights would work as well). You can buy costume fox ears and a tail, or try your hand at making your own by hot-gluing craft felt to a headband.
Finally, try this makeup tutorial to get that mysterious Fox look.
3. Kiki from Kiki's Delivery Service
If you're a Miyazaki fan, why not put together this simple costume inspired by the protagonist from Kiki's Delivery Service, a sweet film about a young witch coming to age? Plus, for those who don't understand the reference, it's still a witch costume!
Pair a navy dress with red flats and a cute hair bow (if you can't find a similar headband, try making your own with craft felt). If you don't have a broom lying around, pick up an inexpensive Halloween broom prop. A messenger bag holds your "deliveries" as well as any essentials you might need to carry around on your big night out.
4. Walter White from AMC's Breaking Bad
This drug kingpin's TV reign may have come to an end, but you can still pay tribute to your favorite meth mastermind with this rather dashing costume inspired by Walter in the pilot episode of Breaking Bad. Borrow or thrift an oversized men's green shirt, then add a pair of white workout shorts. (I mean, you could wear a pair of men's tightie-whities, but I'd personally go with the shorts.)
Argyle socks and moccasins round out the look, while a pair of crystal earrings reference Heisenberg's "Blue Sky" product. If possible, get a hold of a pair of old-school glasses, a fake mustache, and a gas mask (this one's less than $10 on Amazon) to complete the costume.
Alternatively, if you just want to buy something, you can always get a hazmat suit costume on Amazon.
5. Aang from Avatar: The Last Airbender
After taking a lot of heat from friends for not watching Avatar (the animated Nickelodeon one, not the one with giant Smurfs), I've finally gotten around to watching the show. I'm loving it so far!
Aang, the eponymous Avatar, is easily the most recognizable character from the show, with his flowing monk robes and arrow-emblazoned noggin. For an easy take on this flying-bison-riding hero, layer orange and yellow garments over a pair of brown leggings or yoga pants. If you have blue body paint, great! If not, try using eyeliner or eyeshadow to create the blue Airbender markings.
6. Buffy from Buffy the Vampire Slayer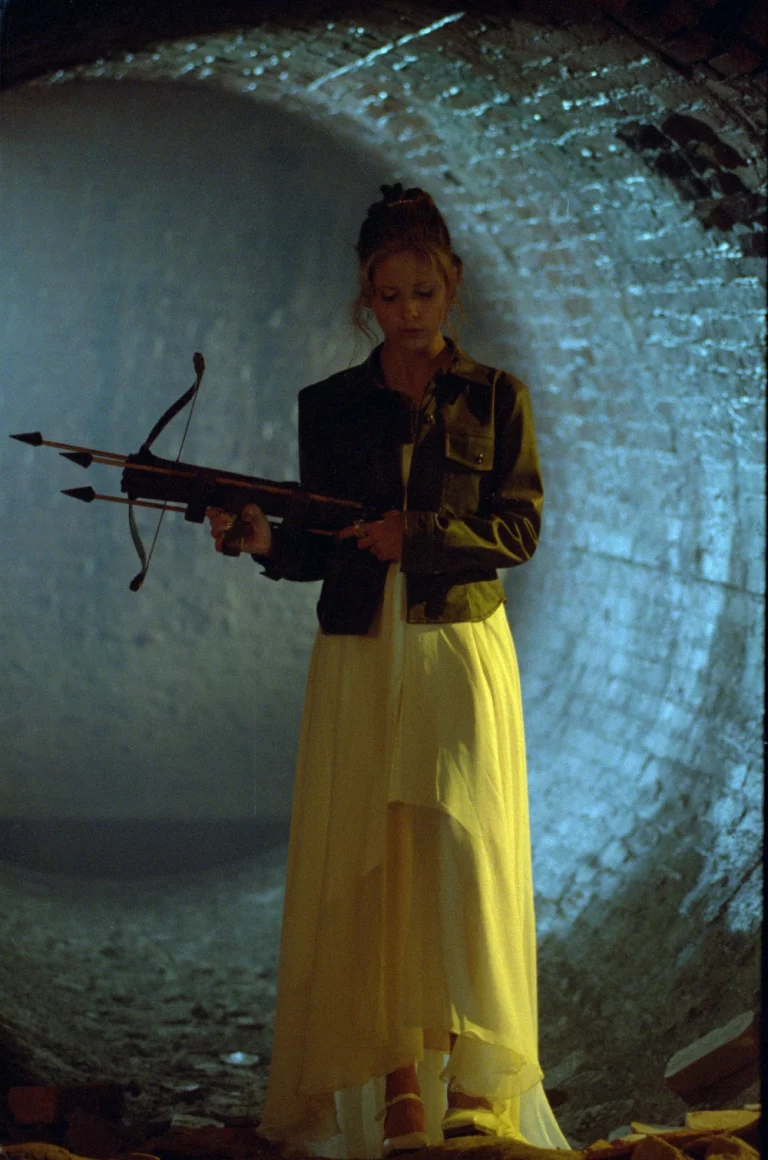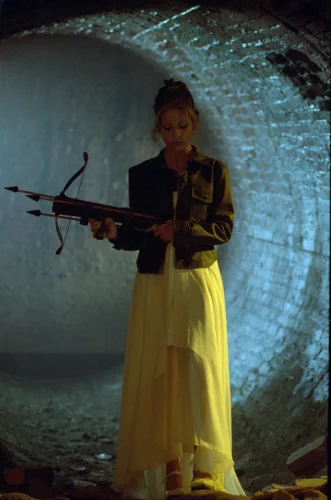 Vampires, monsters, and hell in suburbia (literally): what could get more Halloween-y than dressing up as everyone's favorite vampire slayer? Buffy's most iconic look is probably her prom outfit from the Season 1 finale, "Prophecy Girl". (Memorable zinger: "I may be dead, but at least I'm still pretty. Which is more than I can say for you.")
This is a fairly easy outfit to assemble with things you may already have in your closet, like a white maxi dress and leather jacket. While the crossbow is optional, a cross necklace and a stake would definitely add to the costume. If you have other Whedonite friends, why not try and get a Scooby gang (complete with Angel) costume group together?
7. Daphne and Velma from Scooby Doo
Speaking of Scoobies and Sarah Michelle Gellar (what a smooth transition!), Daphne and Velma from Scooby-Doo are two easy costumes to put together. Plus, the great thing about duo and group costumes is that more people are likely to recognize your character.
To get Velma's look, pair an oversized orange sweater with a red pleated skirt. Knee-highs and a pair of thick-framed glasses are essential! For Daphne, any purple dress will do. Accessorize with a neon green scarf and pink tights. Scooby-dooby-doo, where are you?
P.S. Don't do a Google Images search for "Daphne and Velma" on a school computer without turning on SafeSearch first… Rule 34 is very real!
8. Misty from Pokémon
Here's a costume that just about everyone will recognize: Misty the Water Trainer from Pokémon! The best part? You probably already have a pair of denim cutoffs and colorful sneakers in your closet. The suspenders might be somewhat tricky to find, but you can always just tie red ribbon to your belt loops.
There are a couple of options for Misty's yellow top: since crop tops have been trendy, you can probably find an inexpensive yellow one in stores. If you'd rather be a little more covered up or if you just like to be more hands-on with your costumes, try cutting the sleeves off of an inexpensive yellow Hanes tee or a thrift store find. This way, you can adjust the shirt length to your comfort level. Psyduck and orange hair optional.
9. Abby Sciuto from NCIS

If cutesy costumes aren't for you and you happen to be a fan of NCIS, why not dress up as Abby Sciuto, the awesome forensic specialist and "the happiest goth you'll ever meet"?
Any basic black outfit will do – ideally paired with a tough pair of boots – but you'll need a lab coat and goth jewelry to really pull off this look. Finally, pull your hair up into Abby's trademark pigtails and apply a coat of vampy lipstick.
10. Vanellope Von Schweetz from Wreck It Ralph
On the other hand, if you prefer a more saccharine look, it doesn't get much sweeter than Vanellope von Schweetz from Disney's Wreck-it Ralph! This aspiring Sugar Rush racer may be cute, but she's still one tough cookie.
Pile on the candy colors with a teal hoodie and a pleated brown skirt. There are replicas of Vanellope's tights available on sites like Etsy, but any pair of brightly-colored tights or leggings would get the look across. Use colorful hair ties to replicate her candy-studded hairdo. (If you're sure it won't rain where you are, you can also try hot gluing actual candy to hair clips and using those as well.)
11. Bulma
This iconic character from the Dragon Ball series is sure to get you noticed at any Halloween or cosplay event. Plus, she's easy to dress up as – all you need is a blue wig and some creativity — see the above video for tons of examples of her outfits. So why not give Bulma a try this year? You won't be disappointed!
12. Alien Abductee
One of the most popular geeky costume ideas is to dress up as an alien abductee. This costume is not only unique and eye-catching, but it also has a few different options for how you can wear it.
For example, you could go with the classic gray aliens that are often associated with abductions. Or, you could choose to dress up as a more friendly alien, like E.T. Either way, this is a great costume choice for geeks who want to stand out from the crowd.
The video above shows you how to DIY the costume, but you can also buy the famous Alien Abductee costume on Amazon if you're feeling lazy this year. (No shame!)
13. Gwen Stacy Spider-Gwen
Here are some tips on how to put together your own Gwen Stacy Spider-Gwen costume:
Start with a white hoodie and black leggings or tights. Use fabric paint or sharpie to create the hot pink accents on her hoodie.
To complete the look, add some bright blue shoes. And don't forget the gloves — Spider-Gwen's are white but black would work too!
14. Totoro
Totoro is a friendly and lovable forest spirit from the popular Studio Ghibli anime movie My Neighbor Totoro. He's also become a popular icon of Japanese pop culture.
Wearing a Totoro costume is a great way to show your love for anime and Japanese culture. It's also a cute and unique costume choice that is sure to get you noticed at any Halloween party. So if you're looking for a geeky costume idea, consider dressing up as Totoro this year! The video above will show you how.
15. Chun-Li
What did you think?
Are you a fan of DIY costumes? What are you planning to dress up as this Halloween? (I'm working on my Ping costume from the "I'll Make A Man Out of You" sequence in Mulan!) Do you have any DIY tips to share? What does the fox say? Let me know in the comments!
For more geeky chic halloween costumes, you might want to consider our related posts below —