This post may contain affiliate links, which means we may receive a commission if you purchase through our links. Please
read our full disclosure here
.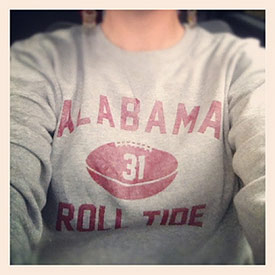 The classic college sweatshirt | Photo Credit
You asked — we answered! This week's Style Remix is the classic collegiate sweatshirt. Today, we'll show you how to wear a college sweatshirt without just resorting to the old jeans-and-sweatshirt uniform.
About the College Sweatshirt
Often, one of the first acts of a new collegiate is to buy their university's logo sweatshirt. While not typically the most fashionable item in the school store, it is one of the most spirited.
When choosing a college sweatshirt, keep in mind that a crewneck style is more versatile than a hoodie — it gives you room for scarves, big earrings, long hair, etc. Crewneck sweatshirts are also great for that little extra retro vibe. That said, all the styles below could easily be modified for a hoodie if it's your favorite! These looks also work for Greek letter organizations or other on-campus groups.
Here, we've put together three ways to wear the basic college sweatshirt (we opted for the crewneck style). Style Remix is all about showing you new potential in classics you already own, so style away!
1. Classic Collegiate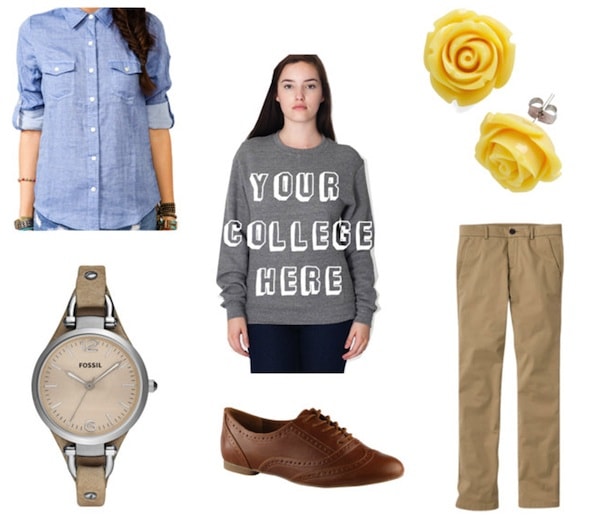 Product Details: Shirt, Sweatshirt, Earrings, Watch, Shoes, Pants
A little bit scholarly, a little bit preppy, and a little bit trendy, this look is great for looking polished in a sweatshirt. (We never thought we'd say that on a fashion blog!) Classic elements like the oxfords and watch take a trendy chambray shirt and college crewneck to a new level.
To get this look, wear the chambray shirt (or any collared shirt) under your crewneck sweater — fold the arms of your crewneck up, and roll the chambray sleeves once or twice. Put your collar over the crew, add accessories, and you're good to go!
2. On-Trend Jewel Tones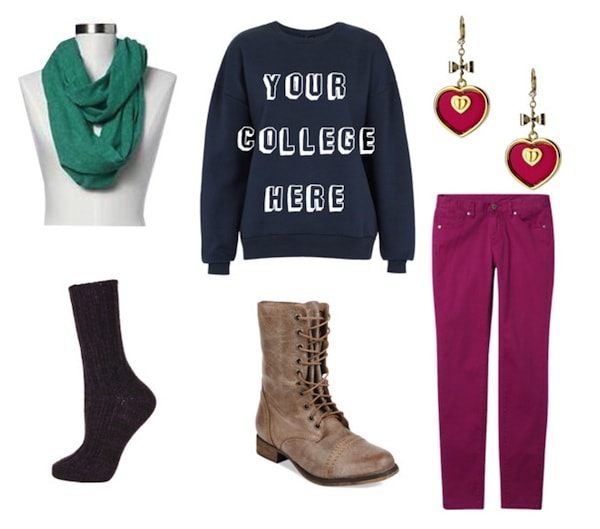 Product Details: Scarf, Sweatshirt, Earrings, Socks, Boots, Pants
Who says a sweatshirt has to be drab? This look, in fact, is all about color! Trendy jewel tones are a great way to brighten a winter ensemble: Here, we mixed rich magenta jeans with a teal scarf and navy sweatshirt. For a little flair, tan lace-up boots add some wonderful contrast. We've paired them with a deep purple knit sock, perfect to just peek over the top of the boot.
3. Pushing the Envelope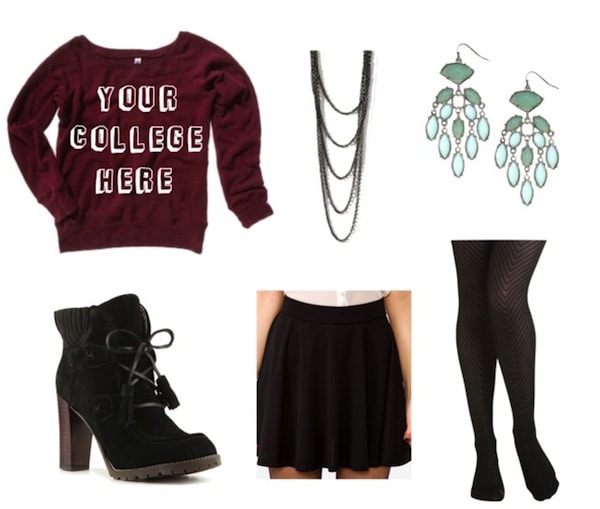 Product Details: Sweatshirt, Necklace, Earrings, Booties, Skirt, Tights
If we had told you that a sweatshirt and heels could, in fact, look awesome together, most of you probably would have given us the side-eye. But it's totally possible to pull them off! The key is to choose a cozy, casual ankle bootie for balance.
While a college sweatshirt itself will never be dressy, we've paired it with dressier elements for days you want to show school spirit while still feeling glam. Of course, there's still room for trendier pieces, like subtly patterned tights and a flirty skater skirt. By still using cozy knit fabrics, we don't depart too far from the crewneck's informality, but a little gleam and sparkle from contrasting earrings and a simple necklace go a long way!
What do you think?
It's your turn — tell us how you rock your college gear in the comments below! What's your favorite way to wear your crewnecks? What would you like to see next time in Style Remix?Would you wear any of these looks? We love hearing back from you!