This post will show you what to wear to a bar, with dressy and casual bar outfit ideas.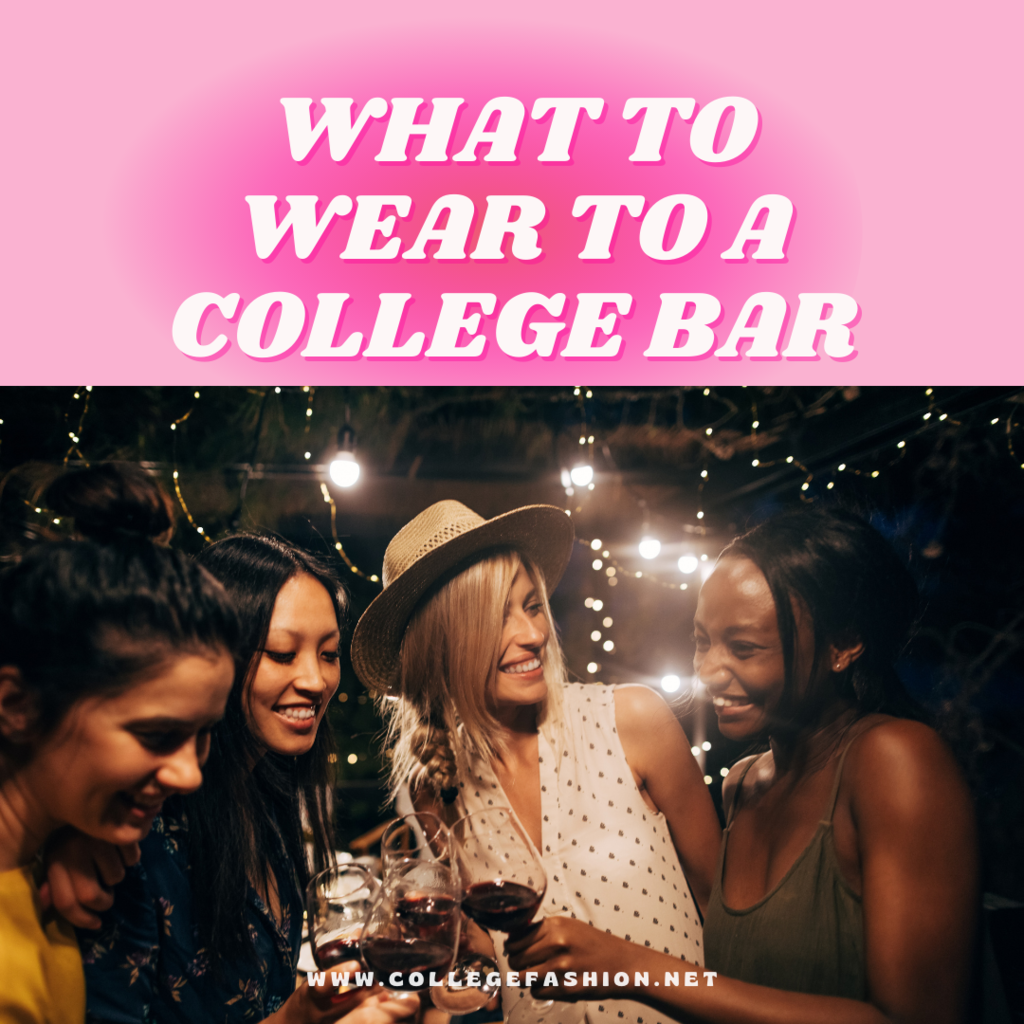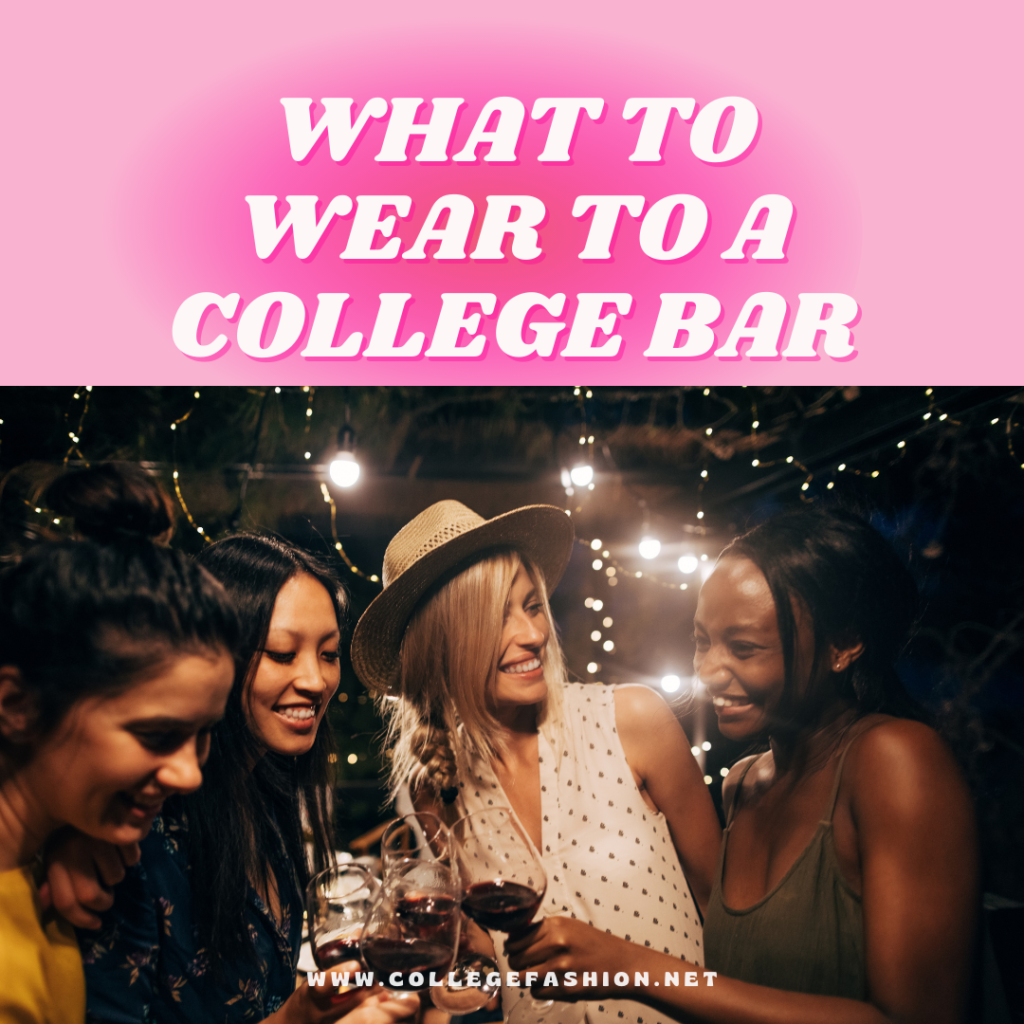 Whether you go to a school with a huge college bar scene or a "drink after class on a Thursday" kind of vibe, this article is for you. In a world of crop tops and jeans, it can be hard to put together a bar outfit that makes you feel like a model.
More than anything, when the dress code seems printed in bold and underlined, it can be nerve-racking to push the boundaries of fashion and wear something exciting. But look, odds are you're not a freshman, so you're well past caring about what anyone else thinks.
And I'm not saying you need to dress like you're about to hit the red carpet, but I want to help you gain the confidence to be fashion-forward even if you don't live in New York. To not feel like you must wear the same thing as everyone else and not stand out like a sore thumb.
(Fair warning, if you live in New York or any big city, these outfits will likely be on the casual side of dressing up to go out. Adjust accordingly.)
So how can you stand out in a way that makes everyone else want to wear what you're wearing and wish they had dressed up like you? As a European who was shocked to see people going to class in sweatpants, I've learned to adapt my outfits to a more relaxed setting, and this is how you can too:
What to Wear to a Bar – Tips on Choosing Your Outfit:
Mix fabrics
Satin and leather, for example, are fabrics that make us think of more dressed-up looks, so the trick to wearing your favorite leather skirt is to pair it with a casual fabric. Maybe that's cotton, linen, or your favorite denim. Denim is a model-off-duty staple that you can always use for your nights out around your small town.
Light colors
Wearing your fancier clothes in light shades, such as white, gives your outfit a more casual look at night. For example, a white silk camisole top, when paired with a dark denim skirt, looks cool but not too dressed up.
Wear The Right Sneakers:
If an outfit ever seems too fancy for the occasion, my favorite trick is to throw on a pair of white sneakers with it, and instantly you'll look more casual. Try it with the fanciest dress you have, maybe not your prom dress, but something nice, and you'll see.
Bright accent pieces:
We associate colors with summer months, which are more casual in nature, so breaking up a black outfit with some color will make you look less elegant. And you give up some elegance to gain a way more exciting look that will have everyone saying they love your fit.
Now that we've got the basics down, here are some examples of what to wear to a bar, with different degrees of casual.
1. Trendy Take on the Casual Bar Outfit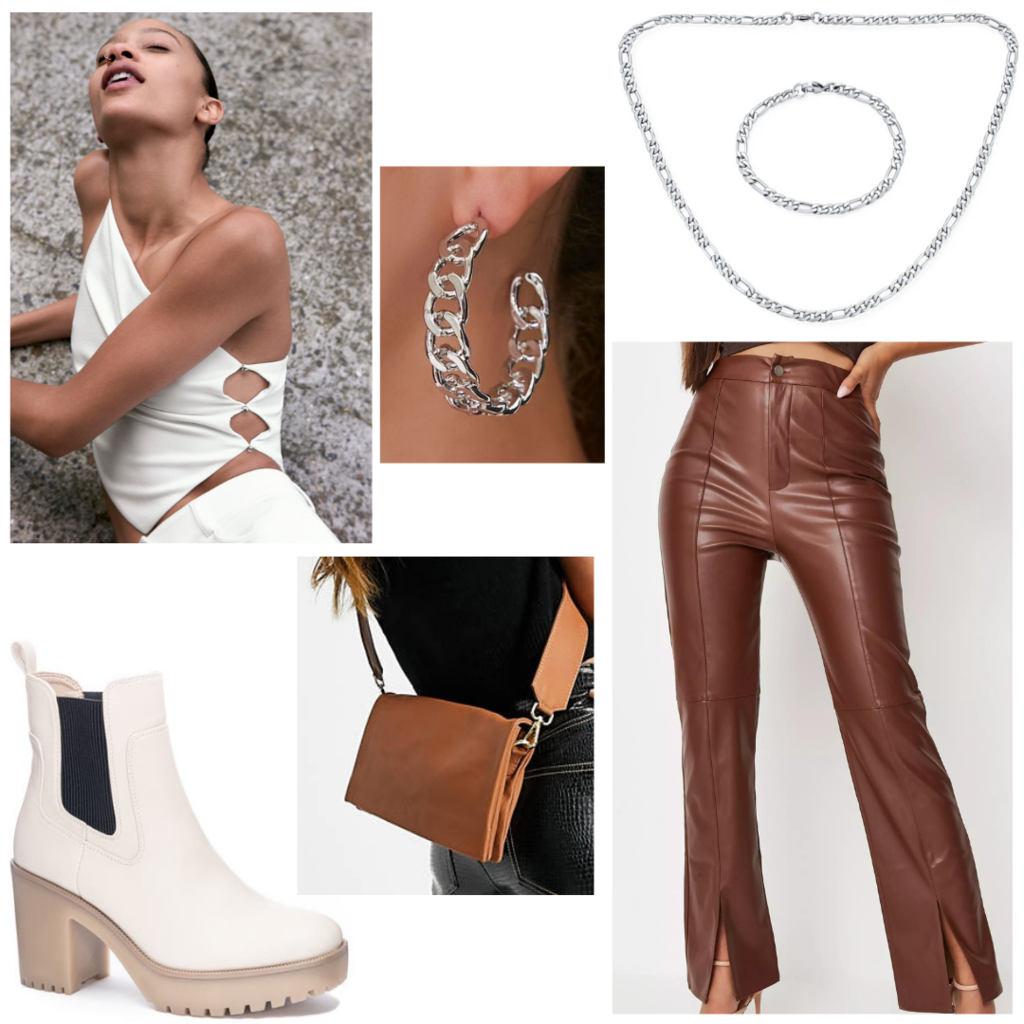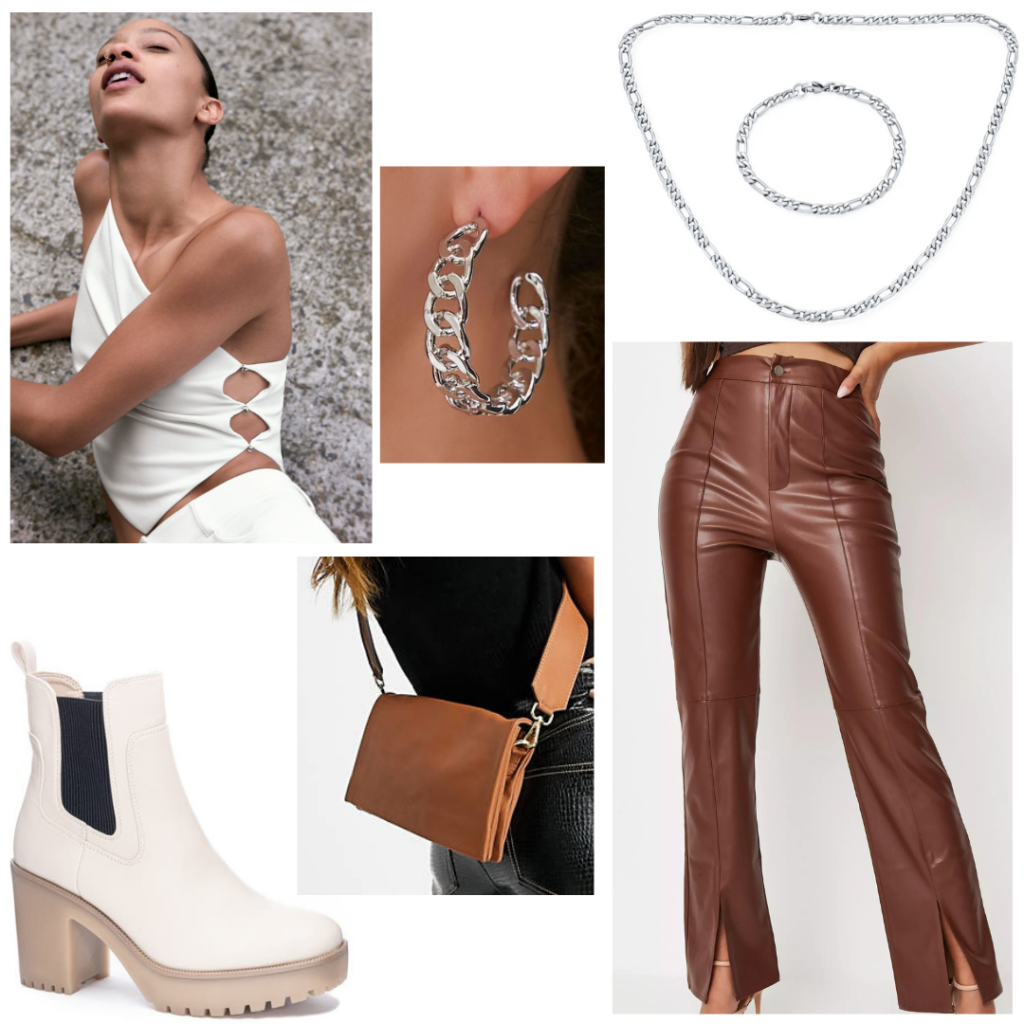 Products:
I love a monochrome look, and brown colors are not the most formal, so they are perfect for casual drinks at the bar. I especially love tan with white, and it really makes it look summery and fun. Black with tan instantly looks more elegant, so swap for black if you want to amp it up.
Pair some brown leather pants with some white boots and a white top, like this one that I can't stop wearing from Zara. Add a brown accessory to complete your monochrome look and of course, some go-to silver jewelry.
2. Cute Bar Outfit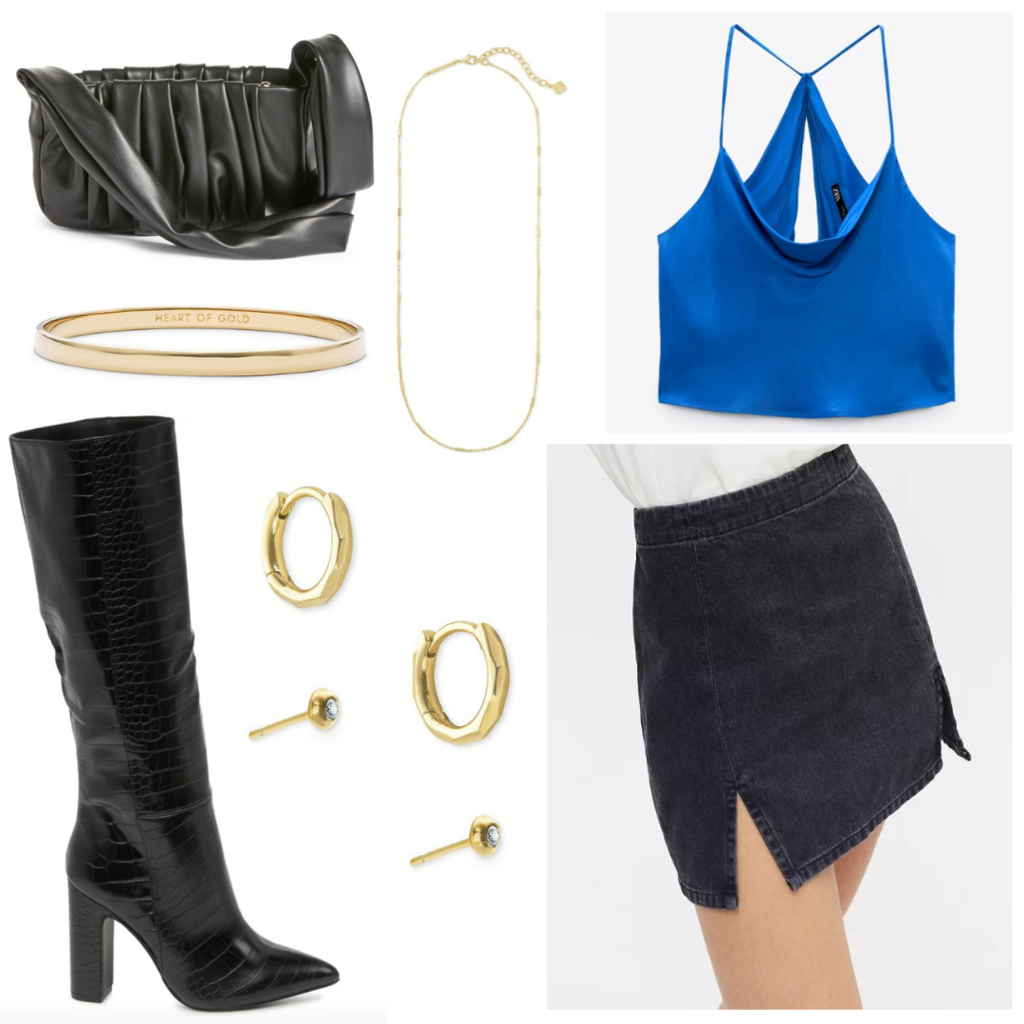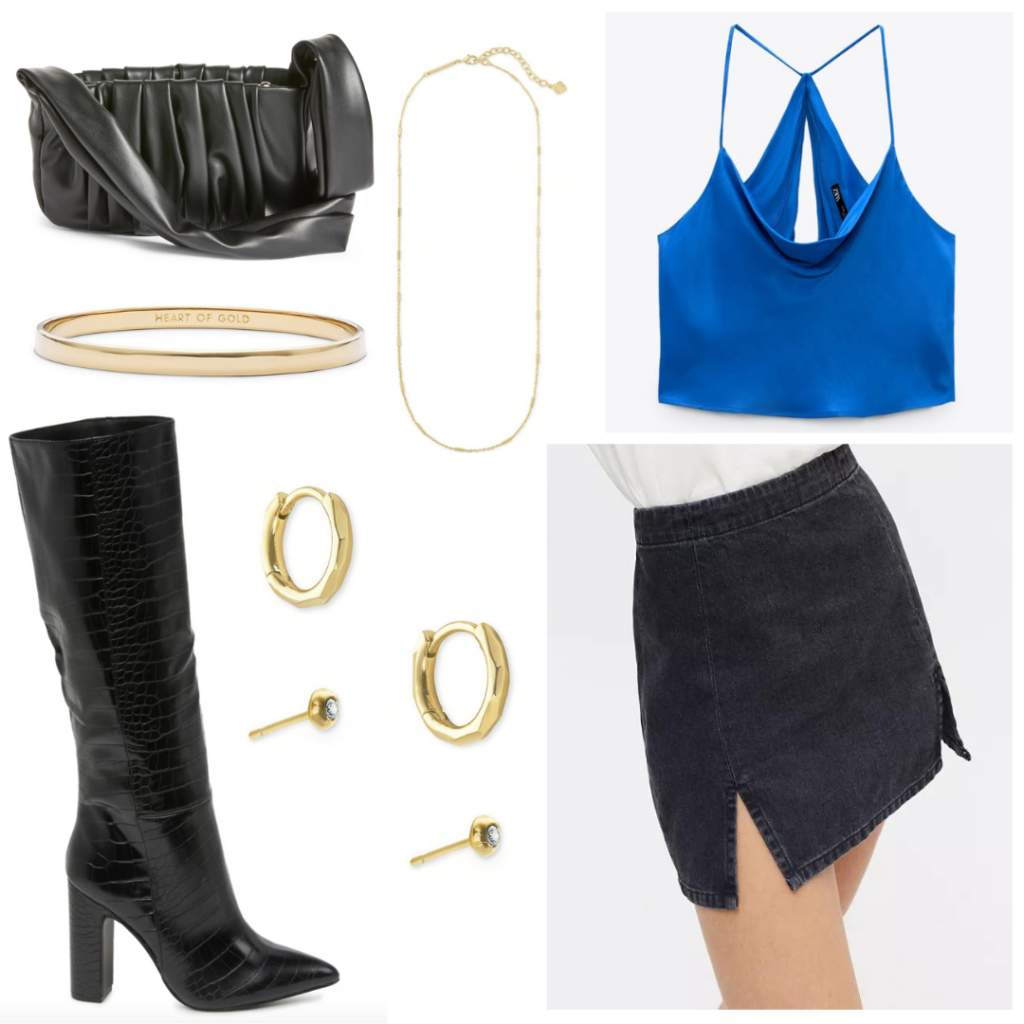 Products (similar):
Wondering what to wear to a bar when you want to be extra cute? Knee-high boots with a skirt are such a power move. But the combo can quickly feel a little too dressy, so make sure either the boots or the skirt is made of a more casual fabric, like this cotton skirt.
Keep up the black look with a bag and throw on a colorful top. This deep blue has both a nighttime feel and yet a very bright aesthetic. Finish off your look with some gold jewelry.
Oh, and a pro tip, make sure the boots you get are comfortable because you want to feel free to move around the bar and hop to another at a moment's notice.
3. Casual Bar Outfit with Jeans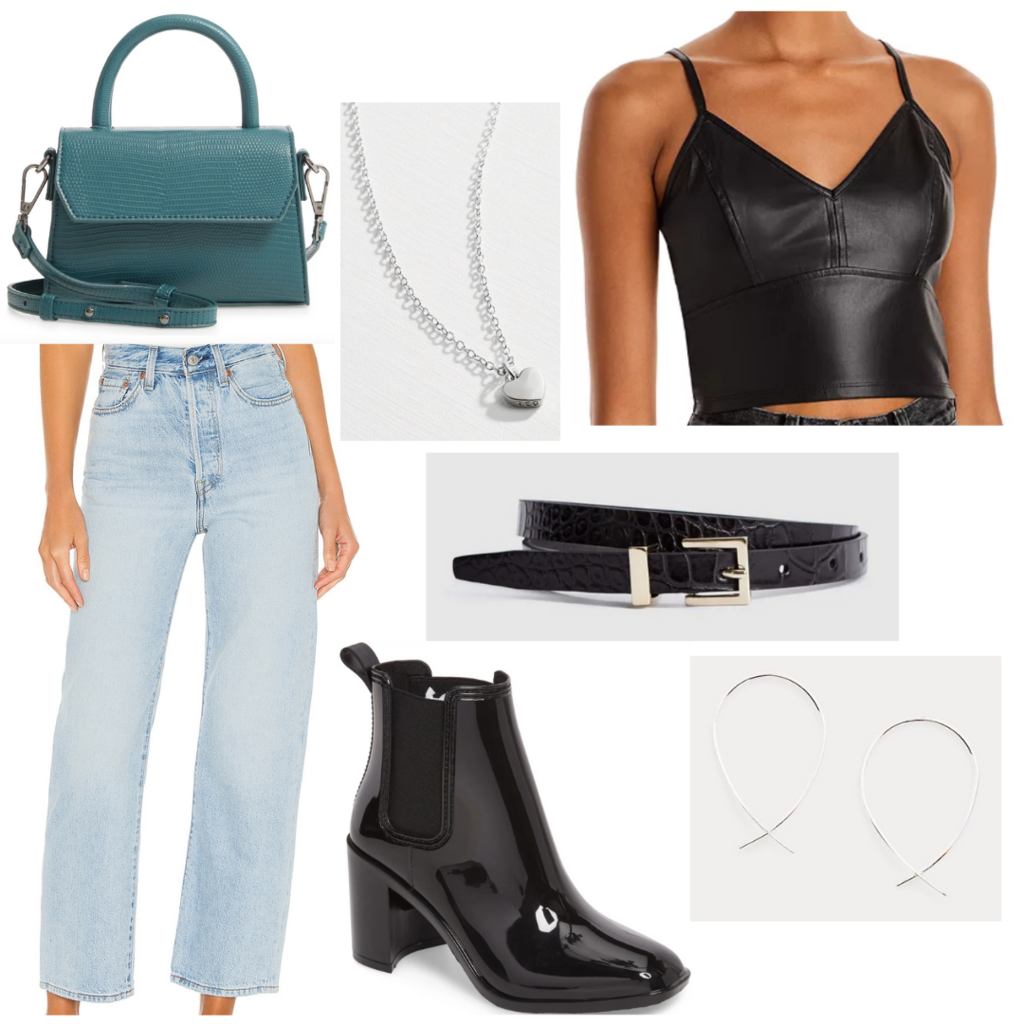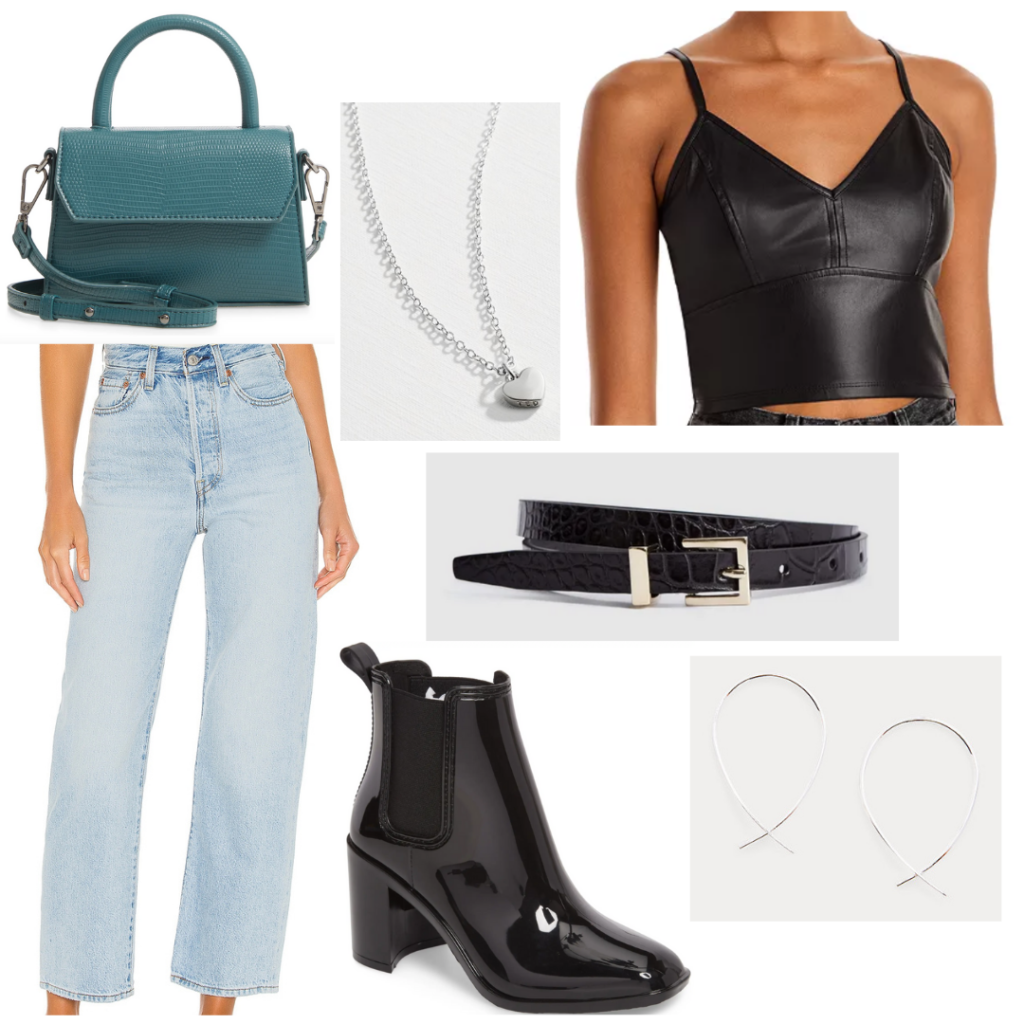 Products:
Jeans are always a great option for what to wear to a bar. But if you don't want to look basic, it really is all about styling. That doesn't mean going all out with feathers and layering like you're dressing like a Kardashian. A casual bar outfit with jeans can be very simple and yet unique.
For an of-the-moment look, style your jeans with a leather top. The bustier is a plus because they are so in style right now. Pair that combo with some go-to black boots and a black belt. The essential part is a colorful accessory, instantly, your outfit will look different. I love the way bags can totally make an outfit!
Add some glam jewelry for the finishing touch, and you have the perfect bar outfit.
4. Dressy Bar Outfit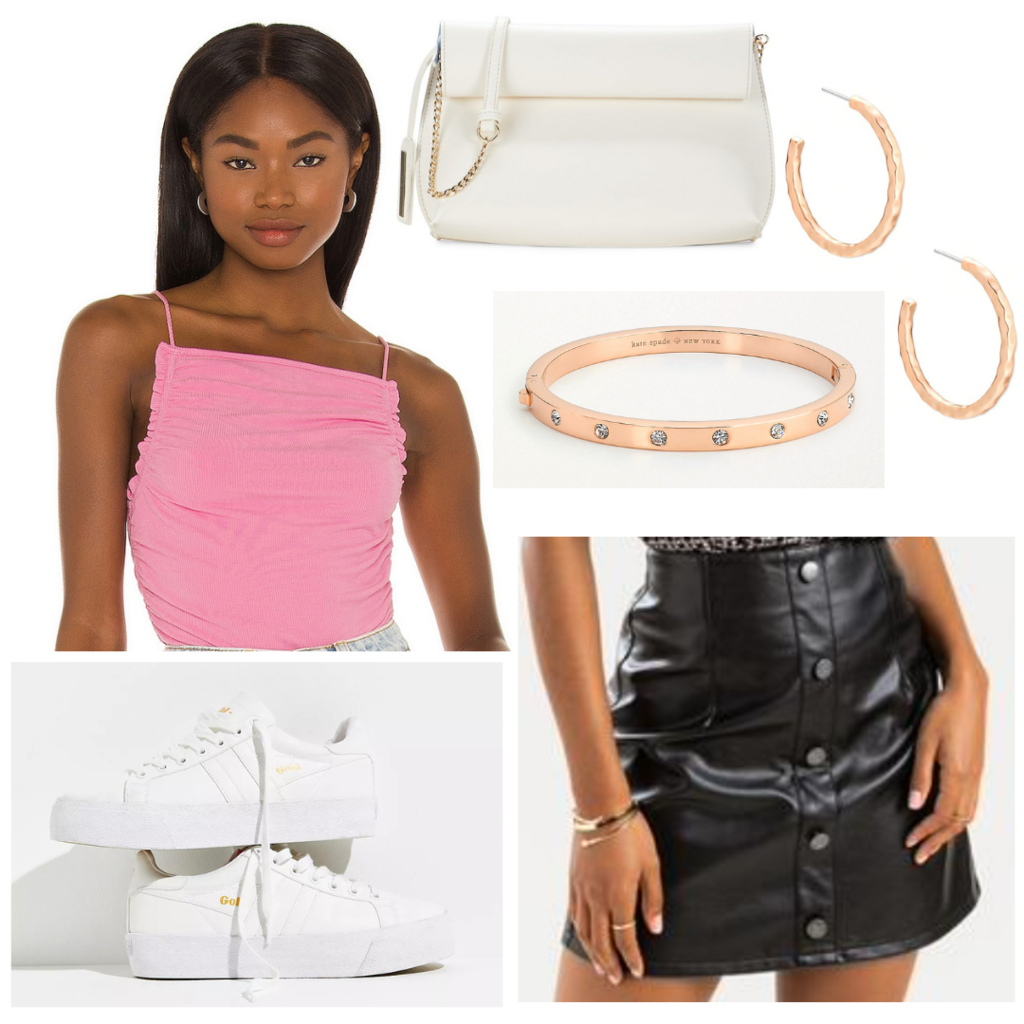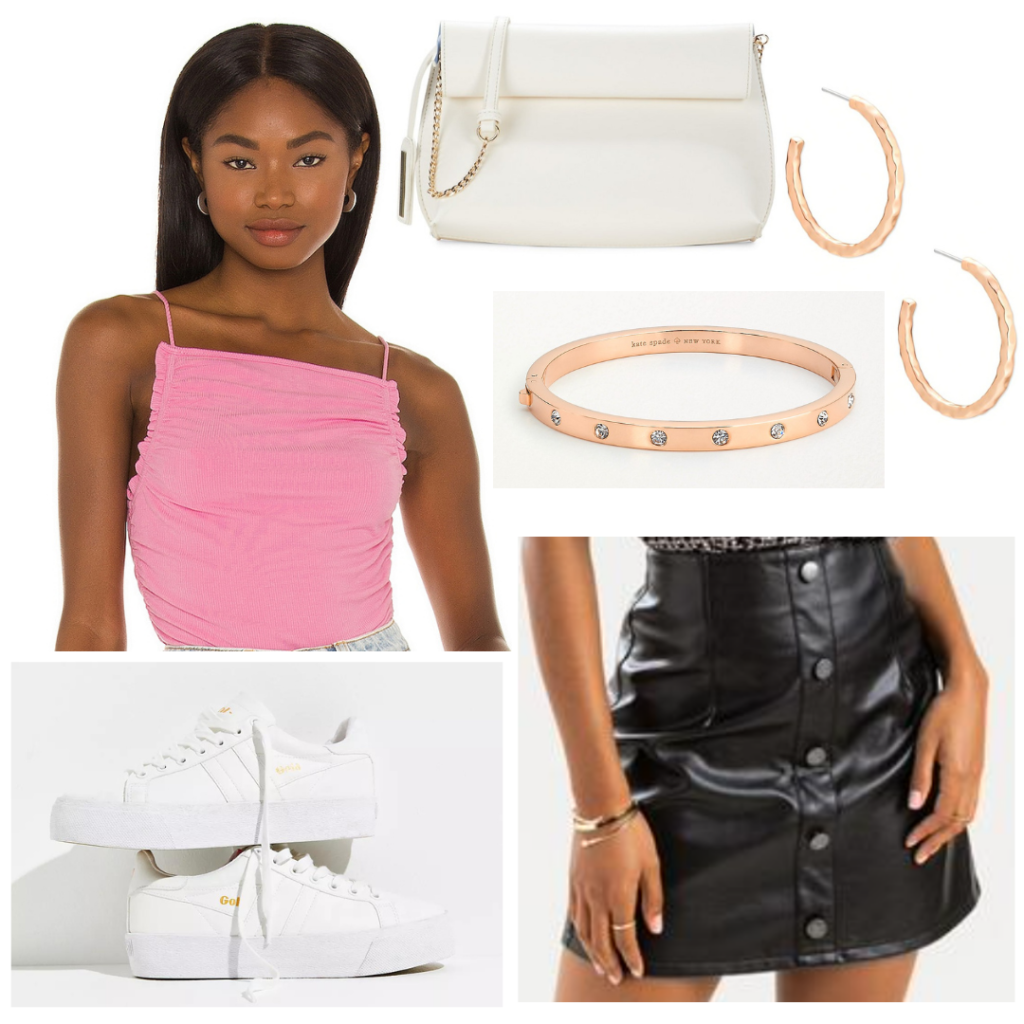 Products:
I'm a big leather girl, faux, of course, because there is nothing more powerful than a leather outfit. But when you're hitting up your local Joe's Bar for the weekend, an all-leather look can seem a little too Gigi Hadid for the occasion.
So style your fave leather skirt with some ruffled fabric like this cute pink top, which brings a playful, colorful tone to your outfit. Throw on a white bag and some white sneakers to really make your outfit stand out and yet blend into the dress code.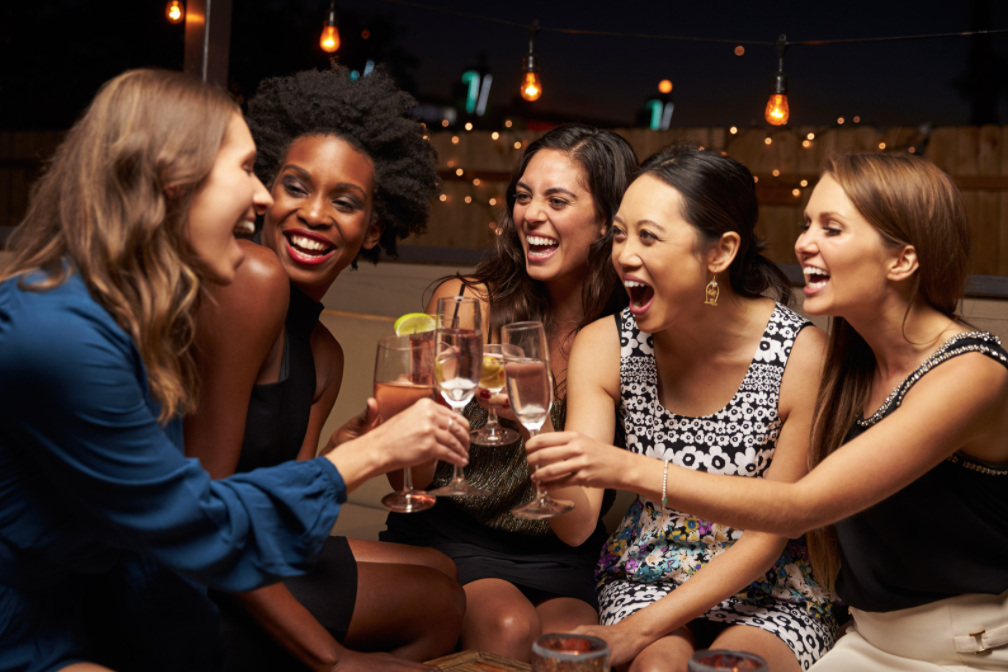 Additional Tips
Skip The Sports Attire
There are a few reasons why sporting attire is a no-no for night-out bar hopping. For one, it can be distracting and take away from the overall vibe of the night. Additionally, it can be seen as unprofessional by others in attendance. Finally, it simply isn't very stylish or fashionable. So if you're looking to make a good impression on your night out, leave the sports gear at home!
Don't Wear Streetwear Style Clothes
When you're going out to the bar, the last thing you want to do is wear clothes that make you look like you're still in school. That's why it's important to avoid wearing streetwear styles like baggy pants and oversized T-shirts. Instead, try dressing up your look with some nicer jeans or a stylish blazer. You'll look more confident and be better dressed for the occasion.
Be Sure to Wear Elevated Clothing
When you go out to the bar, it's important to dress to impress. You want to look your best so that you can make a good impression on potential dates or friends. One way to do that is to wear elevated clothing.
Elevated clothing is clothing that is a little bit dressier than what you would normally wear. It might be a nicer shirt or dress, or it might be clothing that is a little bit more formal. Wearing elevated clothing can help you stand out from the crowd and make you look like you're taking your night out seriously.
If there is one thing I missed about going out, it is getting dressed up. (I mean, to be honest, I usually want to go home after an hour of standing around.) But what's exciting about coming back after being stuck at home for so long is the longing to really dress up and try new outfit combinations.
So don't be scared to look out of place because it's not you that's overdressed. It's just everyone that's underdressed. Trust me, if you're confident in your outfit, soon you'll be the trendsetter at your school, with everyone wishing they had worn the outfit they actually wanted to wear.
What's your favorite casual bar outfit?
What's your go-to item when you go out? What are some of your tips for dressing down an outfit? Let us know!
If you love this night out bar outfits, you might also want our other fashion tips below —