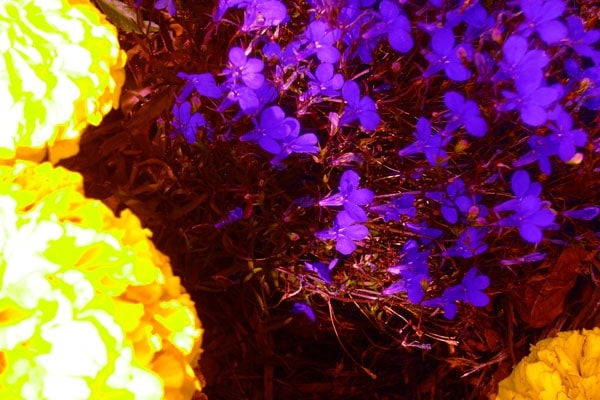 The very first style that I'm going to cover (from the comments section of the Announcing the Closet Makeovers Series post) is the feminine style.
For the first post on feminine style, I will go over the basics of the style and what you should have in your closet to achieve it. Also, even if your style is not exactly feminine, some of these things can certainly overlap into your own closet as well!
Closet Essentials for the Feminine Style
Neutral Dress Pants:
Dress pants were the first thing I thought of when compiling this list simply because I have had to wear them so much recently! They really are something worth paying a few extra dollars for if you can, because they will last a long time. However, I do have a less expensive gray pair from H&M and they are still in excellent shape.
I recommend looking for a trouser with a nice wide leg that hits the widest part of your body (usually the hip and thigh area) and goes straight down. Also, if you have any uncertainties about your stomach area, a wide band will do you well.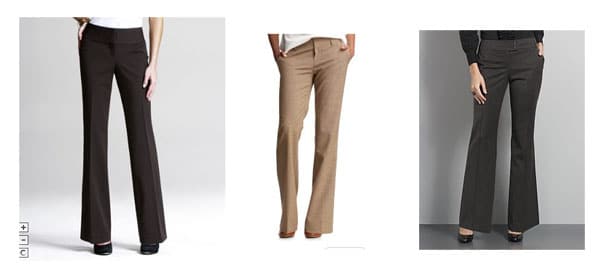 Product Information: The first pant I chose is the Editor with a wide waist band from Express. It comes in this charcoal, brown and black. I personally really love chocolate browns for a feminine style in general because they are a softer neutral.
Next, I chose a tan houndstooth pant from the Gap. I really love this pair because from far away, the pattern almost disappears. Finally, I chose a classic pinstripe in a black from New York and Company to lengthen the line of the leg.
Jeans:
Jeans are such a staple in college girls' wardrobes that is necessary that they reflect who you are even when you are just wearing them with a slouchy tee. I will be doing a lot of things with jeans in the upcoming blogs because many of you said you wear them almost every day! Here are some different denim styles to think about if your style is feminine (or even if it's not!).
A lot of you said you like the look of tight pants on the bottom with loose, feminine, and flowing fabric on the top. Naturally, I thought of skinny jeans! Also, skinny jeans are here to stay so I say spend the money on them! White jeans are really cute for a girly girl (especially with a candy colored top), but classic black and blue are great too.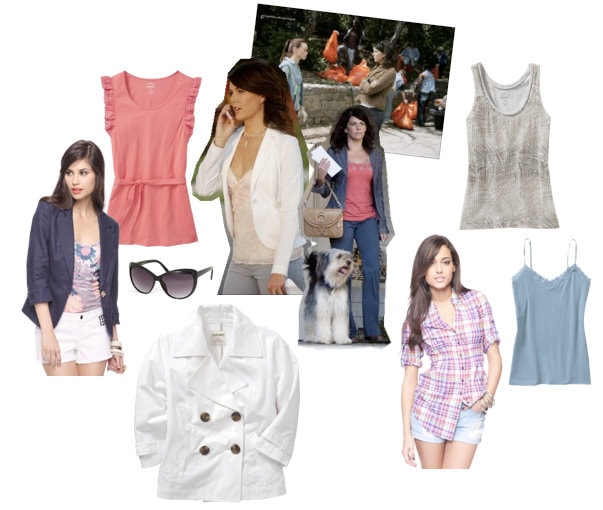 Product information: The first ones I chose were these black skinnies. All of these are from Urban Outfitters, but where is your favorite place to get skinny jeans?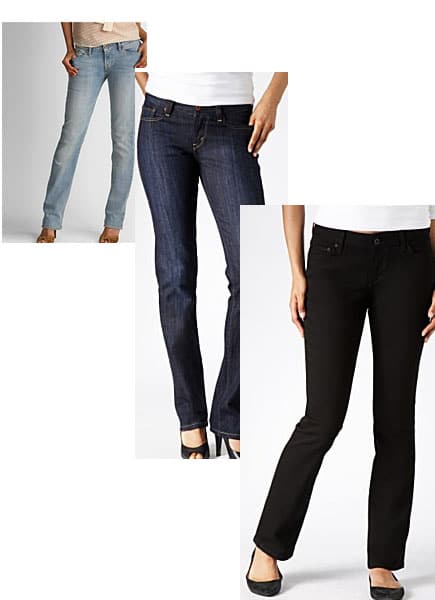 Next I had to throw these in here as an alternative to the skinny jean. These are a nice straight leg that is flattering on almost anyone. This is because it hits the widest part of you and goes straight down creating a continuous line of the leg. (Recall the Stacy and Clinton video from last week's Hautelinks!)
I like them with heels for night, and this dark denim dresses up really well. These particular ones are Levi's (you can get them at Nordstrom), who make a really great straight leg jean (not to mention the two in the forefront are eco-friendly!).
A Classic Dress:
Whether it is for a wedding, date, or a night out with the girls, a classic dress should be something you put on and just feel amazing in. Here are a few cute dresses for a girl who likes a feminine touch.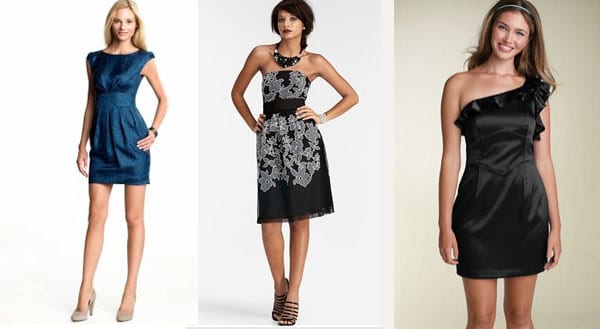 Product information: This first one from Banana Republic struck me because of the color and the way it is cut. Basics should be cute and classic and a sheath dress is just that. If you do not feel comfortable with the length, try it with some black tights and ankle booties!
Next is an interesting twist on the LBD from White House Black Market. I don't want you to be afraid of a little print and I think that this one really spices it up a little.
The final is an asymmetrical dress from Nordstrom for those of you who are looking for a trendier dress. This one has fun ruffles and a higher hem. It also comes in bright turquoise if you want to make a statement with color as well.
Cardigans:
Cardigans are great because of all the different temperature changes in class. I'm either freezing or really warm in class depending on the room, so a cardigan is a great thing to have on hand. Also, it's a less sloppy alternative to a hoodie. Zephyr actually wrote an article on why cardigans are so great that I recommend you check out!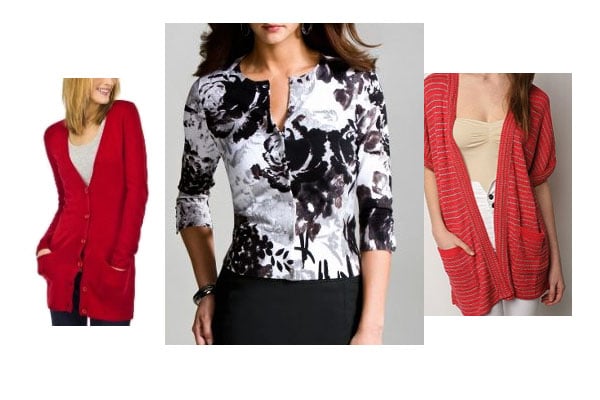 Product information: This boyfriend cardigan from Target is great if you have a feminine style because it is slouchy and cute, yet not overly boyish. I love to wear cardigans for studying and lounging around with my friends. For a more girly look, I recommend pairing your cardigan with floral printed top.
Next from the left is the floral cardigan in a classic shape from Express. A floral is a bit more bold, but I think it can be kind of fun! Finally, I chose a cardigan from Urban Outfitters with an open front. How perfect would it be to grab when you are running out the door to class?
Trench or any other 3 season coat: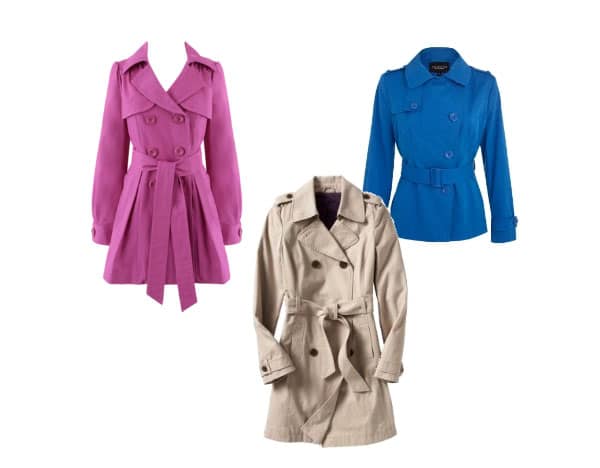 Product information: A classic trench is great for those of us who enjoy the seasons. A trench is perfect for fall, spring and maybe some of the winter. I guess sometimes it gets cold in the summer too (welcome to Wisconsin). A statement coat can be really fun like the one the far left from peacocks.co.uk or the blue one from debenhams, but the classic camel from Old Navy will work well too.
Floral Prints:
A girly floral print is a great way to show off your feminine style all year around. They can be as bold or as subtle as you want and be dressed up or down.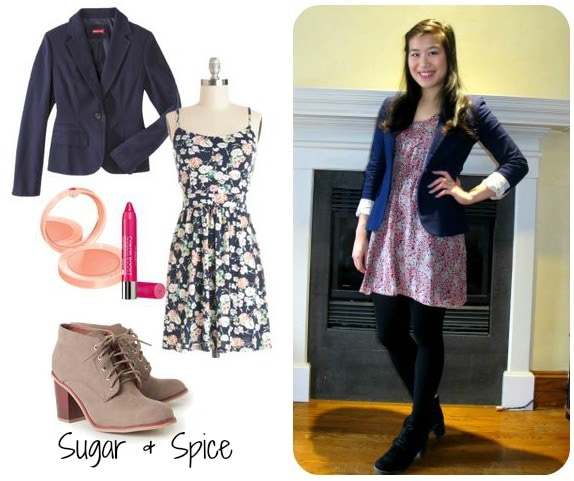 Product information: Starting at the top left and going clockwise is a top from Forever 21. I chose it because I like how it can go from day to night. Try wearing it underneath a jacket or cardi with your skinny jeans, and for night take of the jacket and add a smokey eye!
Next is a dress from Charlotte Russe that I chose because of the contrast between the top and bottom. It can emphasize a small waist and hide a midsection if you are worried about that sort of thing.
Next is a floral scarf from American Eagle. It is one of those quick fixes that I like because a scarf instantly updates an outfit. Many of you asked how to update basic T-shirt and jeans; adding a scarf with a cute floral print is a good way to do so!
The sneakers are from Topshop, and I chose them because sneakers are such a practical thing to have in college. These are also girly and floral, so it's win-win!
Tops with Volume:
Like I said earlier, many of you said that you showed your feminine style by wearing loose flowing tops with tighter bottoms. Here are some of my personal favorite tops with volume.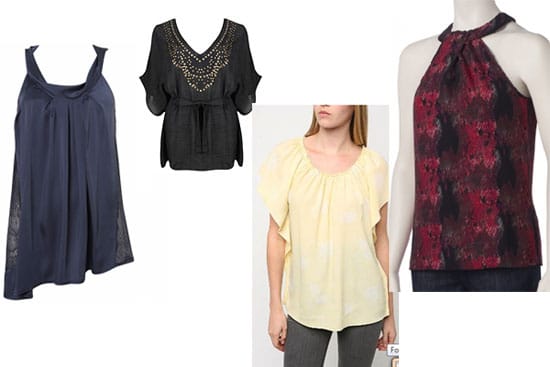 Product information: The far left one is from Top Shop, and I chose it because it's like a blank canvas. Pick and chose your favorite accessories to go with it!
The next top is a great way to achieve cute volume at a lower price! It is from Forever 21, and is one of the many trendy tops that they sell with a flouncy feel to them.
This next top from Urban Outfitters made me laugh to myself because she is wearing it as part of a cute, 'tight on bottom, loose on top' outfit. So if you have any concerns, take a look at this picture! Finally, I chose a top from The Limited for going out. Personally I think that showing some shoulder and collarbone is feminine and flirty!
Flat Shoes:
It really struck me when one girl requested to have more flats and fewer heels here. Therefore, I am going to focus on more day-to-day shoes (not that I don't love heels, but we are talking essentials here!).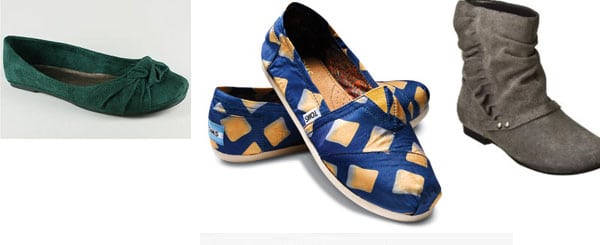 Product Information from left to right: The green flats from Gojane were chosen because I liked the way that they could be dressed up or down really easily. Also I think green is an underrated color in terms of night time. I want to see more of it! 🙂
Next are some shoes from Tom's that I highly recommend. If you haven't heard about Tom's Shoes, when you buy a pair, another pair is given away to a child in need. Talk about a good cause. Oh, not to mention they basically are as comfortable as slippers.
Finally I picked some flat boots from Target with a cute ruffle and little studs.(hello, can you say preview of next weeks blog??) I really love flat boots because we don't really have a fall in Wisconsin (it goes from summer to winter in, well, 2 weeks maybe) so boots are a must! These are cute and affordable too!
Some things to keep in mind:
All of these clothes can be mixed and matched into outfits, which is definitely something you want in a wardrobe. If you can remember me comparing style to a food pyramid, here is how you apply it! After all, you don't want to only eat apples with carrot sticks. You want to eat apples with peanut butter, yogurt, Triscuits AND carrot sticks.
Also, I did my best to do some multi-seasonal things. The weather is always changing here, so I feel like a wardrobe has to be able to change with the seasons.
Finally, I want to say you don't have to take these articles of clothing literally. These lists and ideas are meant to inspire you to build a wardrobe. Add your own pieces to make it yours!
Here's what you can expect next week:
In next week's blog, I'll continue to talk about the feminine style, but it will be in terms of mixing and matching it with other styles. There were many of you who said you incorporate a feminine look with edgy, boho, vintage and almost everything in between! Look for that a week from today.
Also, if you want me to add any more things to the shopping list of essentials, please let me know and I will do it for the beginning of the next post. Please do not hesitate to ask!
More feminine style basics:
For an updated version of this guide, see our guide to a feminine, preppy, and put-together style here.
What do you think?
How do you compile your shopping list? Who is your feminine style muse? What are your favorite booties in the fall? What is your favorite feminine print? Where is your favorite place to get skinny jeans?