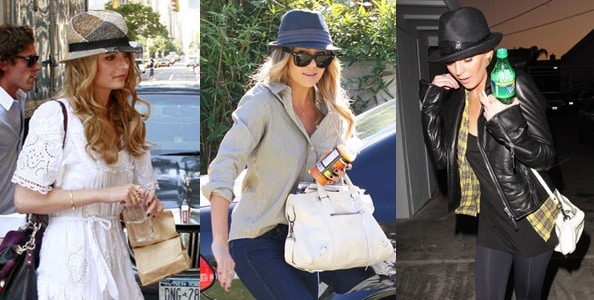 Mischa Barton, Lauren Conrad, and Lindsay Lohan wearing fedoras
Now I know the fedora trend is nothing new & has been around for quite a while now, but I realized I hadn't asked you guys about it and wanted to get your take on it before the trend fizzles out this fall.
Fedora hats have been huge over the past few seasons, especially on the west coast, with every celebrity from Lindsay Lohan to Lauren Conrad getting in on the trend. They're a great way to shield your face and scalp from the sun, and add a little bit of androgynous look to any outfit. As a bonus, bad hair days are no problem when you can just throw on a hat for instant coverage.
Personally, I'm not a hat person so haven't been rocking fedoras this summer, but I do know some people who love this trend! If it's your personal style, then more power to you. Fedoras will be on their way out this fall, so if you love the trend too, make sure to wear it now while it's still summer.
So what do you think? Have you been wearing fedoras this summer? If not, would you wear one? If so, what do you wear them with? Let me know your thoughts in the comments.