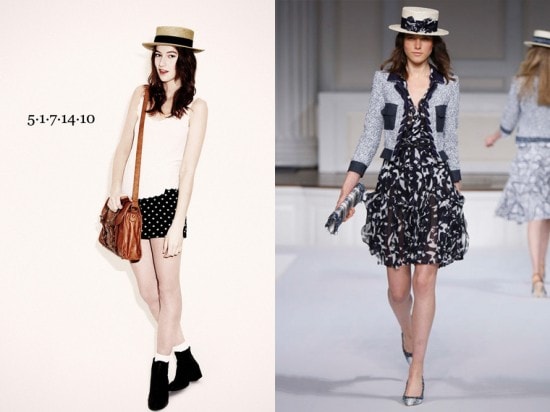 Topshop and Oscar de la Renta doing the boater hat trend. Credit: 1, 2
I'm going to tell you a secret: I love the boater hat trend. It may seem cheesy, costume-y, or too retro to others; but I cannot get enough of it. Whenever I see a boater hat walking around campus, I get an rush of excitement and want to invest in one myself.
While this trend may be ultra-hot right now, this hat has truly passed the test of time. Boaters have gone from being Gondolier's hats to Fred Astaire's signature piece in popular 1940s-50s films, to now being seen on hip kids all over the globe.
The boater is the perfect spring and summer accessory. Even if you're hundreds of miles from a beach, the boater can't help but remind one of a sailing adventure. Thrown on with a cute dress as seen in the street style looks below, how can anyone not dig this style?
What do you think about boater hats?
Leave a comment and let's talk about it! Do you have a boater? If so, how do you wear it? Is this a piece you see sticking around for a long time?