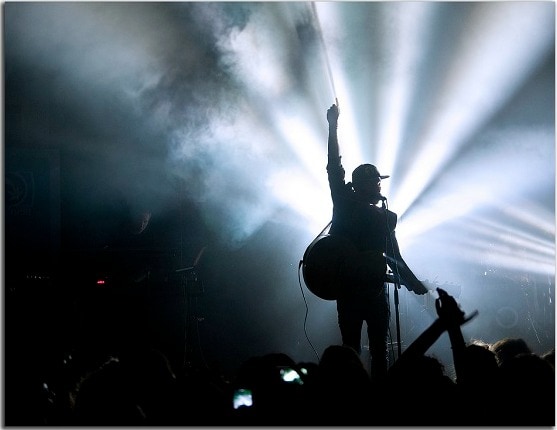 Songs of Summer always mean one thing: touring in the fall. It doesn't matter what your style is, whether it's Fancy arena shows or Dirt ground festivals, fall has an abundance of opportunities to see great music. So grab your Cool Kids and go Burnin' It Down all night with your favorite bands. Unless you get bitten by a Black Widow, it's time to get your Boom Clap on.
Going to shows should be All About That Bass, not all about over-thinking your outfit. Don't say dressing up for concerts is hard, just look below! We have put together five outfits for different kinds of concerts you may be attending this fall. Here at College Fashion, we aim to help you with all of your frugal fashion needs, so each outfit totals under $100 because we aren't Rude. This Is How We Do.
Country: Eric Church, Miranda Lambert, Luke Bryan – $98.00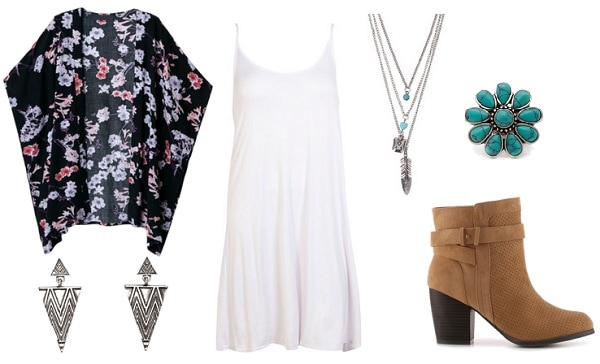 Product Information: Dress – Boohoo, Kimono – Black Five, Shoes – DSW, Necklace – PacSun, Ring – Forever 21, Earrings – H&M
If you're attending a boot-stompin' show, you can dress the part without foregoing your personal style. Start with a loose-fitted cami dress. You can throw a floral kimono on top to stay trendy – since it doesn't hug the body like a cardigan or jacket you'll be able to stay cool while honky-tonkin'. Of course, you will need boots or a variation on them, like these stacked-heel booties.
Accessorize as much as you please with triangle earrings, layered necklaces, and chunky rings. This entire outfit will earn you gold stars for resourcefulness, since you can incorporate each piece into your everyday wardrobe.
Pop: Katy Perry, Ariana Grande, One Direction – $83.39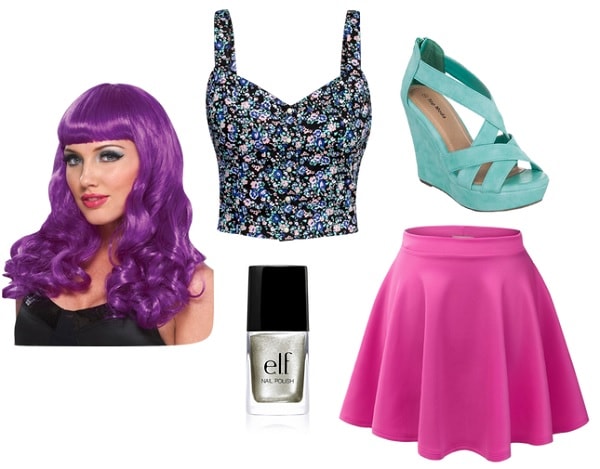 Product Information: Top – H&M, Skirt – Amazon, Shoes – Overstock, Wig – Amazon, Nail Polish – e.l.f.
If there was ever a time more appropriate to say YOLO, it would be when you are trying to choose an outfit for a pop concert. Where else can you go all-out with a floral print crop top and pink high-waisted skirt? Take it all the way with a colorful wig and metallic nail polish. If you want the extra height, wedges are a must because you'll be able to dance comfortably in them all night.
Rock: The Black Keys, Fitz and the Tantrums, Band of Horses – $99.89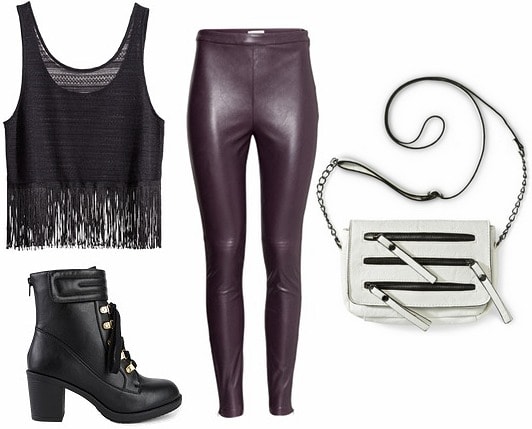 Product Information: Top – H&M, Leggings – H&M, Shoes – Deb, Purse – Target
Whatever you do, don't play it low-key at a rock concert. Rock shows are obviously about music, but also about style. Faux leather leggings in deep purple are exactly what this occasion calls for, especially when paired with a fringe crop top. How stellar will that shirt look when you're dancing to your favorite jams?
Cool shoes are a necessity. However, if you plan on being in the pit, we highly suggest you skip the stilettos… no matter how hot they are. You can wear a pair of cool boots with a chunky heel if they are easy to walk in. A fold-over crossbody bag will keep all of your essentials safe.
Local Coffee Shop Writer's Round – $97.76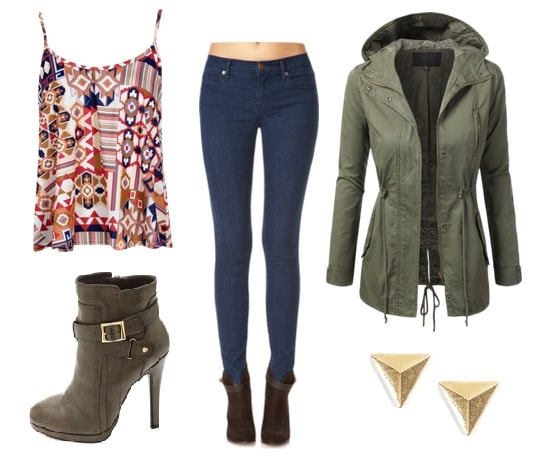 Product Information: Top – Boohoo, Jeans – Forever 21, Jacket – Amazon, Shoes – Charlotte Russe, Earrings – Body Central
Some of the best music you will ever witness will be by local songwriters in rounds at coffee shops or bars. At these shows, you can typically find seating, so you can wear the highest shoes you please. These brown buckled booties look stellar with skinny jeans and a printed camisole. Fall evenings can get chilly, so grab an on-trend anorak. The best part about this outfit? With a minor shoe change, it can go from day to evening.
R&B or Hip-Hop: Beyonce, Iggy Azalea, Nicki Minaj – $83.82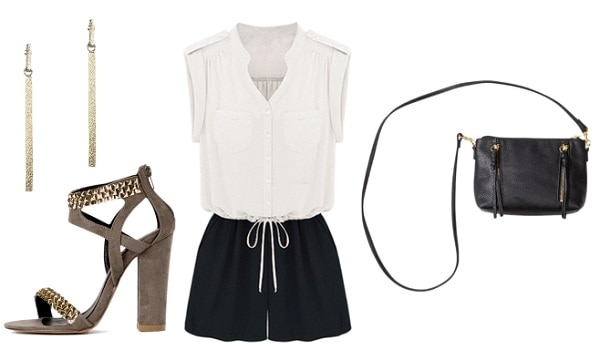 Product Information: Romper – Black Five, Shoes – Windsor, Purse – H&M, Earrings – Body Central
If you are one of the lucky ones getting to witness Beyoncé & Jay-Z's On The Run tour or are headed to another rap/R&B/hip-hop concert this fall, you should dress the part. Wear a cool romper with chunky heels. These studded, strappy heels add edginess to this look, while a pair of trendy matchstick earrings glam things up. The only other accessory needed is a simple black purse, and this crossbody one is perfect for concerts.
What concerts are you going to this fall?
And more importantly, what will you be wearing? Do you have any concert fashion do's and dont's? Which look is your favorite? Leave a comment below and let us know what you think!