This post may contain affiliate links, which means we may receive a commission if you purchase through our links. Please
read our full disclosure here
.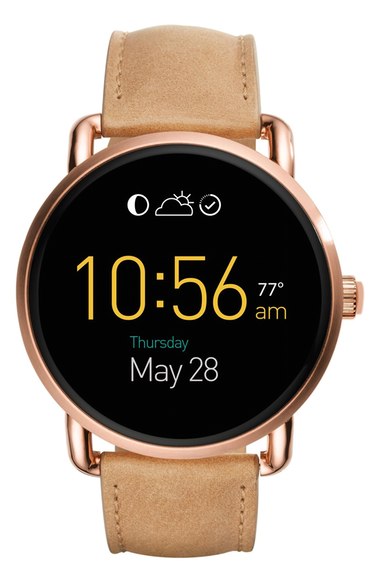 There is no wardrobe woe more ghastly than the last minute notice of an event you don't have an outfit for. From dinner dates to scoring backstage passes to your favorite band, I have selected complete outfits from six key stores. All of these looks are easy to pull together for one-stop shopping when you're rushed for time, all under $100.
First Dinner Date – $89.79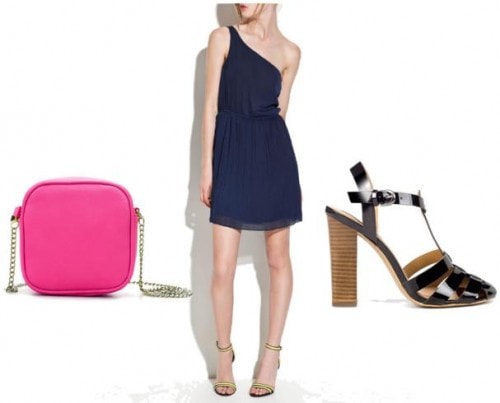 You can't escape the nerves that come along with a promising first date, but you can avoid the outfit anxiety. Zara is wonderful for date night attire at a reasonable price. They have a great selection of fashion-forward dresses and shoes that won't leave you with a serious hole in your savings. Go for a classic, simple dress that can be worn to work with a jacket, but is cute enough to make a great impression. Don't forget a small bag with a pop of color – you'll end up using it all summer!
Afternoon at the Beach – $96.26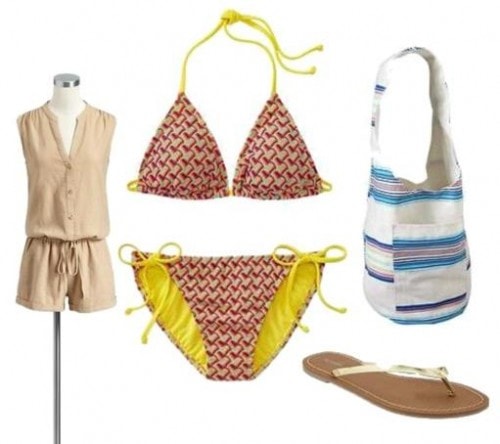 Old Navy: Romper, Swimsuit Top & Bottoms, Bag, Sandals
You just finished the last essay question of your very final final, and your friends beg you to join them at the beach for a lazy day in the sunshine. The problem is that you've been so wrapped up in school and work that you haven't even found a swimsuit for the summer yet! Often overlooked, Old Navy has tons of affordable mix and match options, complete with a huge selection of flip flops and beach bags. A cute cover-up is also in order; we love this linen romper.
Job Interview – $94.80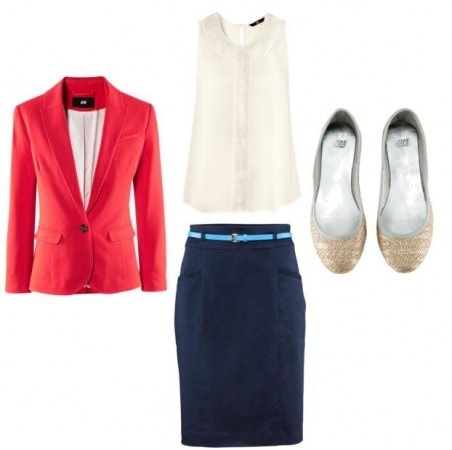 H&M: Blouse, Blazer, Skirt, Flats
No store is better than H&M at inexpensive workwear that looks expensive. If a future employer beckons you for an interview last minute, spend your time perfecting your portfolio, because H&M is the mecca of adorable-yet-affordable blazers, pencil skirts, and blouses. We love a punch of color for an interview; a bright blazer or trouser will set you apart in a sea of pantsuits.
Going Out – $88.70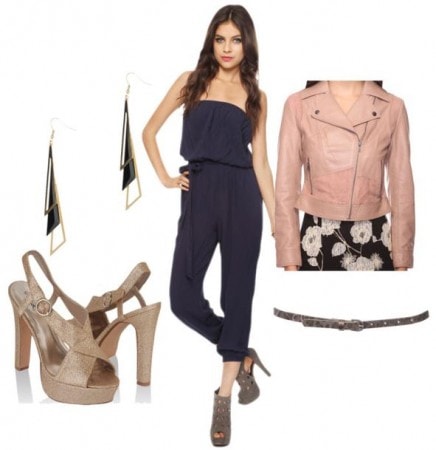 Forever 21: Jumpsuit, Jacket, Shoes, Earrings, Belt
Your head has been buried in Biology books for the past two months (it is finals time, after all!), and your friends beg you to come out with them. If you're feeling uninspired by what you have in your wardrobe, swing by Forever 21 before the big night out. Forever 21's shelves are almost always stocked with glittering pumps, fabulous jewelry, and motorcycle jackets. We recommend grabbing this chic (and surprisingly cheap!) jumpsuit with a salmon biker jacket. Both pieces will look great for a night out, but are versatile for wearing outside of the bar.
Wet Seal – $91.50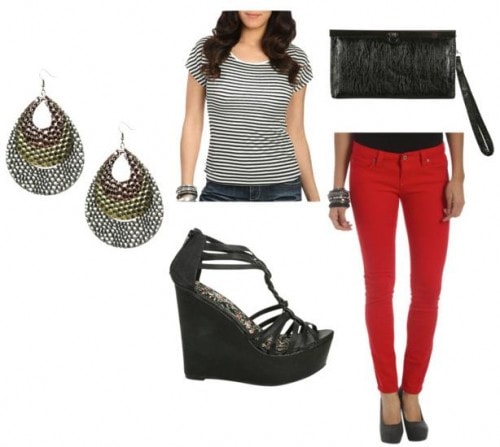 Wet Seal: Top, Jeans, Shoes, Bag, Earrings
One minute ago you were singing along to that Gotye song, and the next minute you dialed in and won tickets to see him backstage tonight. So.. what does one wear? If you need a great concert-ready outfit, stop by Wet Seal. A wristlet purse is a must (after all, you'll be dancing all night). Don't forget to grab some trendy colored denim and fun, chunky jewelry.
Backyard Barbeque – $99.99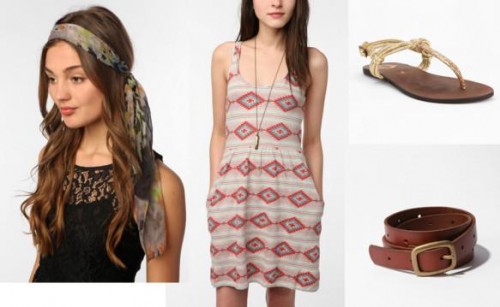 Urban Outfitters: Dress, Hair Wrap, Sandals, Belt
If there's one thing you can rely on Urban Outfitters to have, it's great summer dresses. UO's prices may be a bit more steep than some of the fast fashion brands mentioned above, but don't rule them out. Urban has a deep sale section at prices that could rival Forever 21. If you're invited to a barbeque or outdoor party for the evening, swing by Urban to find a great belted dress, stylish sandals, and a hair scarf.
What are your favorite stores to one-stop shop?
What events are you always rushing to find the perfect outfit for at the last minute? Do you ever do one-stop shopping? Which outfit/store above is your favorite? Leave a comment below and let us know!