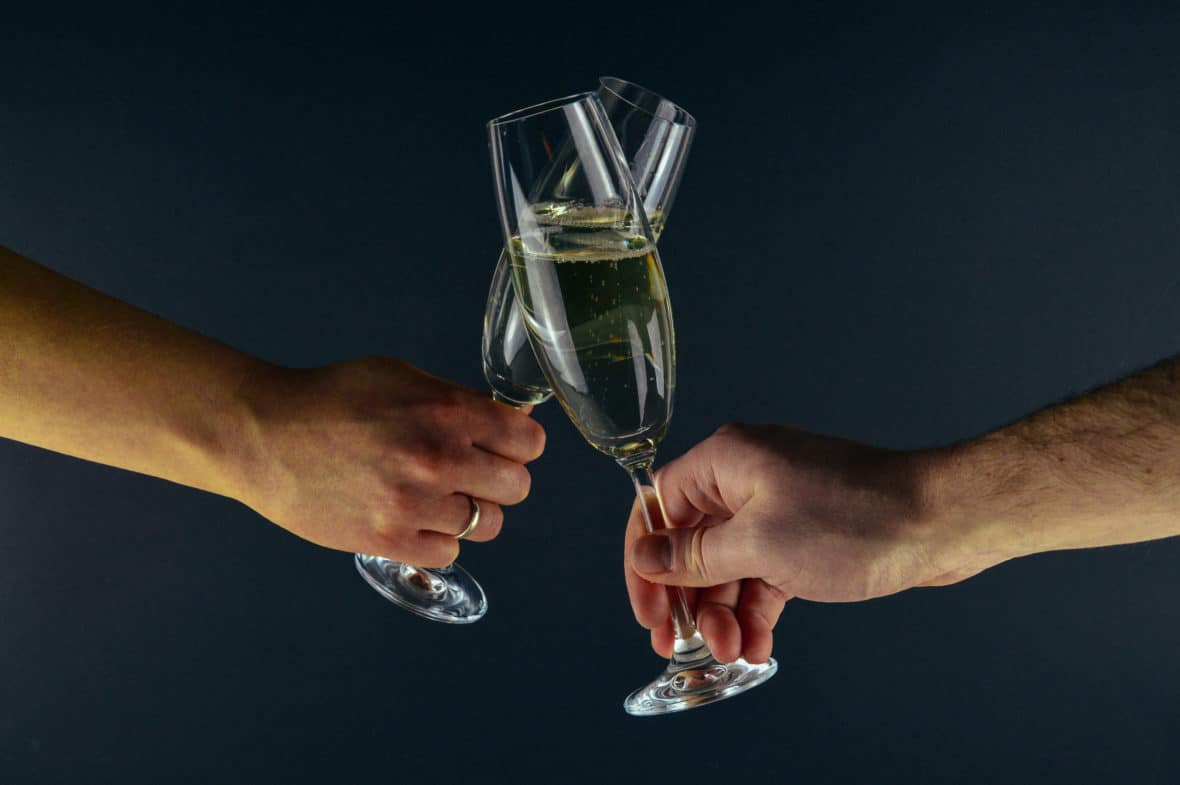 Usually during the holidays or towards the end or beginning of each season, your employer sends out an email for a work party.
You've read the email and if you're like me, all you're thinking is, "What do I wear to this winter work party?" or "What is deemed appropriate to wear to a work party?" No need to freak out as we have tips and outfits on how to look both appropriate and gorgeous at your winter work party.
Outfit #1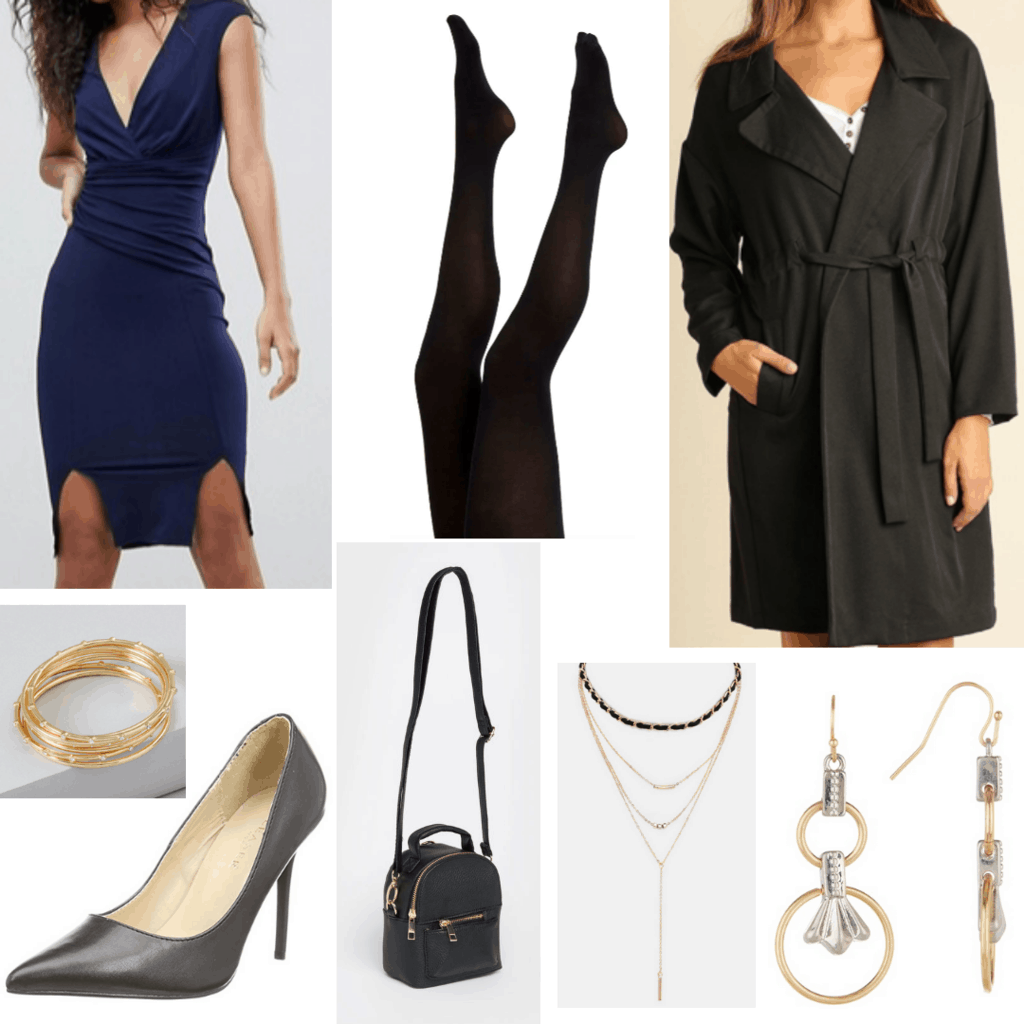 Products: Dress – ASOS, Pumps – Amazon, Layered Necklace – Ardene, Earrings – Nordstrom Rack, Bracelets – Lane Bryant, Winter Coat – Shoptiques, Crossbody Purse – Ardene, Tights – Forever 21.
Yes, it is totally appropriate to wear a dress to a work party! Obviously, since you're still in a professional environment, we don't recommend wearing anything too revealing. If you would wear it to the club or the bar, then you shouldn't wear it to a work party.
However, if you want to wear a dress with a semi-low v-neck, that is completely fine. (If it's too much cleavage, you can always wear a cami underneath.) It's fine if your dress is a couple inches above your knees just as long as it's not too short. A dress like this is perfectly acceptable to wear.
Accessorize your outfit with jewelry. The ones listed above are a gorgeous layered necklace, earrings, and bracelets, but you can pick and choose depending on your aesthetic.
Since it's winter, you'll probably want to go for tights. Simple black ones work great, or you could go bare legged if you know you won't be outdoors for long. As for your shoes, pumps are a great essential for any outfit, and they're great for work parties.
You'll most likely have a section at the location for you to put your winter coat and purse away. For when you are outside, say waiting for your ride or just needed a fresh of breath air, make sure your coat is thick enough to keep you warm. As for your purse, it is not recommended to bring a big purse with you so a small crossbody will suffice.
Outfit #2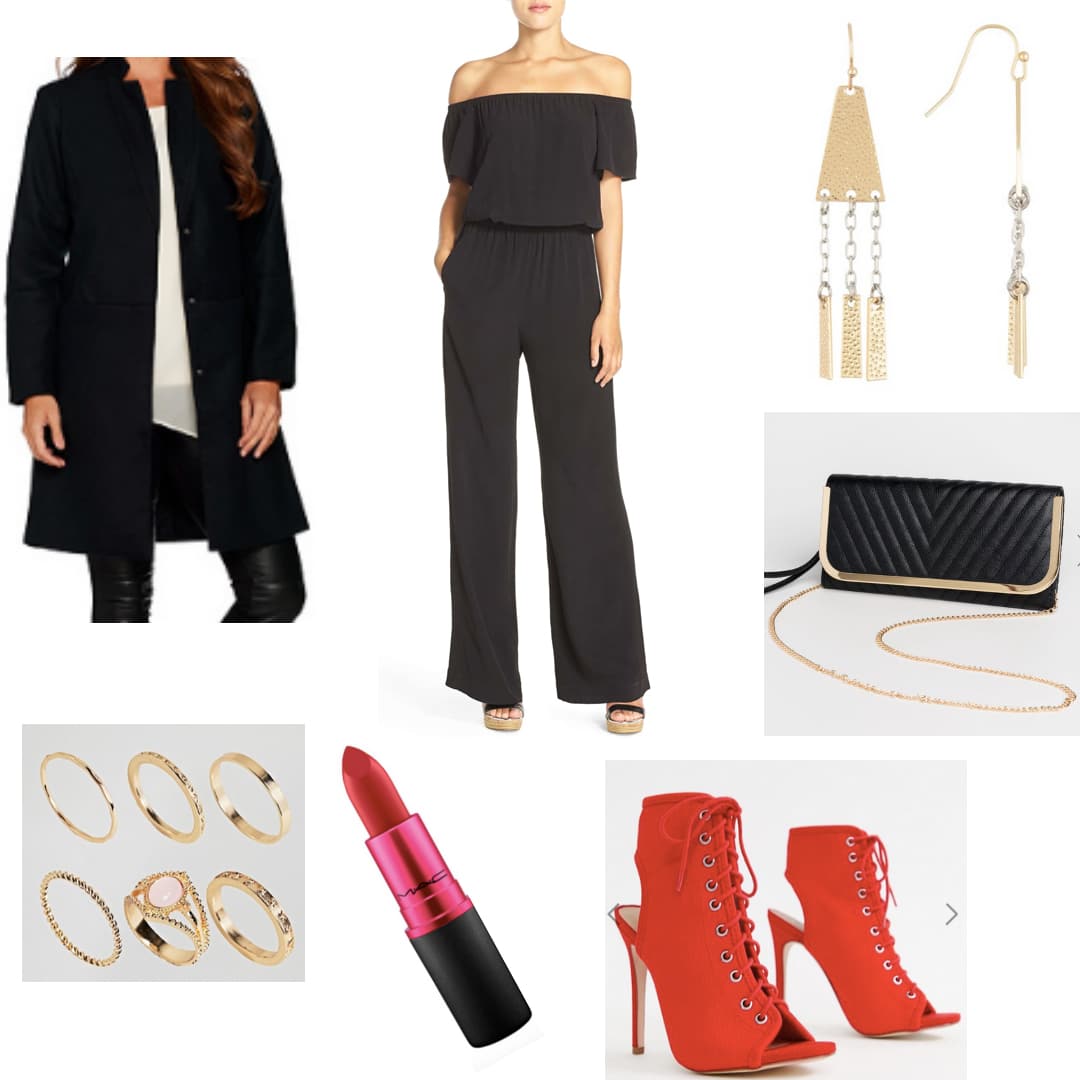 Products: Jumpsuit – Nordstrom, Belt – Nordstrom Rack, Dangling Earrings – Nordstrom Rack, Red Lipstick – Nordstrom, Peep-Toe Heels – ASOS, Winter Coat – QVC, Gloves – Macy's, Scarf – Walmart, Statement Ring – ASOS, Wristlet – Ardene.
One of the best ways to dress up for a work party is by wearing a jumpsuit. Jumpsuits can definitely be dressed down but the jumpsuit above is totally dressy and gorgeous for a work party. It's a perfect choice because you're able to move around and not have to worry about your dress or skirt riding up and having to pull it down every 5 minutes.
With this outfit, I recommend tying your hair up into a bun or even a sleek ponytail and accessorizing with statement earrings. And if you want to spice things up, bold makeup like a red bold lip is a fun, work-appropriate choice.
Personally, I think jumpsuits look amazing with peep-toe shoes, even in winter. You'll hopefully be outside for less than 5 minutes to go from car to the location. These peep-toe shoes stand out as they're bold and are a different color from the jumpsuit.
To complete this look, a statement ring and a small wristlet are perfect for this outfit. Don't forget to bring a winter coat with winter essentials such as gloves and a scarf.
Outfit #3
Products: Dress Pants – Last Call, Blouse – Amazon, Long Necklace – JC Penney, Bracelet – TJ Maxx, Watch – Macy's, Heels – Nordstrom, Purse – TJ Maxx, Winter Coat – Nordstrom Rack, Gloves – Kohl's, Scarf – Ardene, Beanie – ASOS, Statement Ring – ASOS.
If you still want to look somewhat business casual because of the "I'm still at work" mentality, that is perfectly fine! For this outfit, we'll delve into how you can dress business casual and still look amazing for a winter work party.
For starters, a nice blouse is perfect for a work party. It stands out, it's dressy, and you can play with the pattern to reflect your style. Pair this blouse with dress pants to ensure that you still have that business casual look. Then add a statement pump like these pretty pink suede ones.
To fully complete this outfit, a cute watch and a nice statement ring are perfect, and you can even add a layered necklace if you want more bling. The perfect purse to go with this outfit is a small one that won't be too heavy for you to carry and will still hold all of your essentials. The purse listed above is perfect for a winter work party. As always, bundle up with a winter coat, gloves, scarves and a beanie.
How do you dress for winter work parties?
Hopefully, these outfit ideas give you an idea on how to dress for a winter work party. It can be nerve-racking trying to find the right outfit especially if you want to look nice but still remain appropriate for work.
Let us know in the comments below how you style or dress yourself for a winter work party!