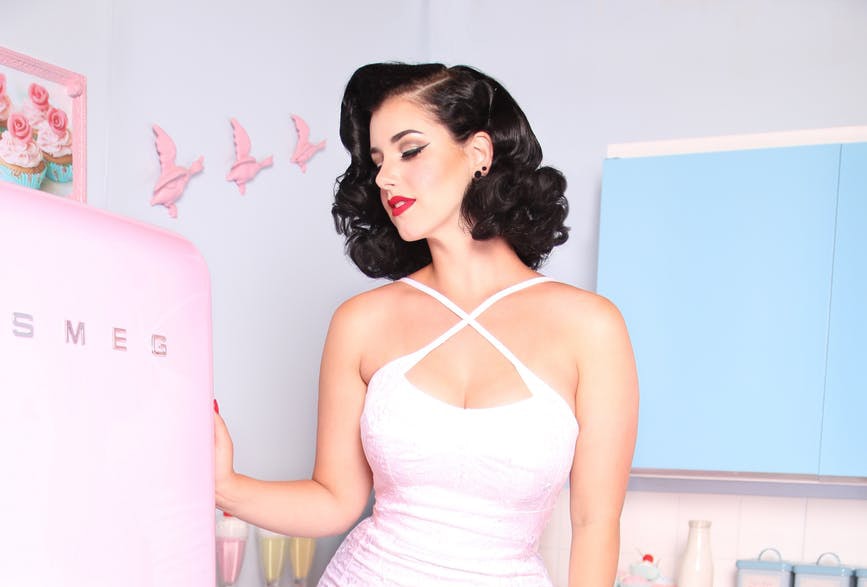 For some, a decades party is just another one of those college party themes that requires you to hit up Party City or Amazon to get a solid costume. For others, it's a night to pretend you live in another era and add your style to the retro look. Maybe you're a flapper from the '20s, a hippie in the '70s. The possibilities are endless!
If you want some ideas for what to wear to a decades party, look no further! I've got you covered with decades party outfits from the '20s to the 2000s.
1. 20s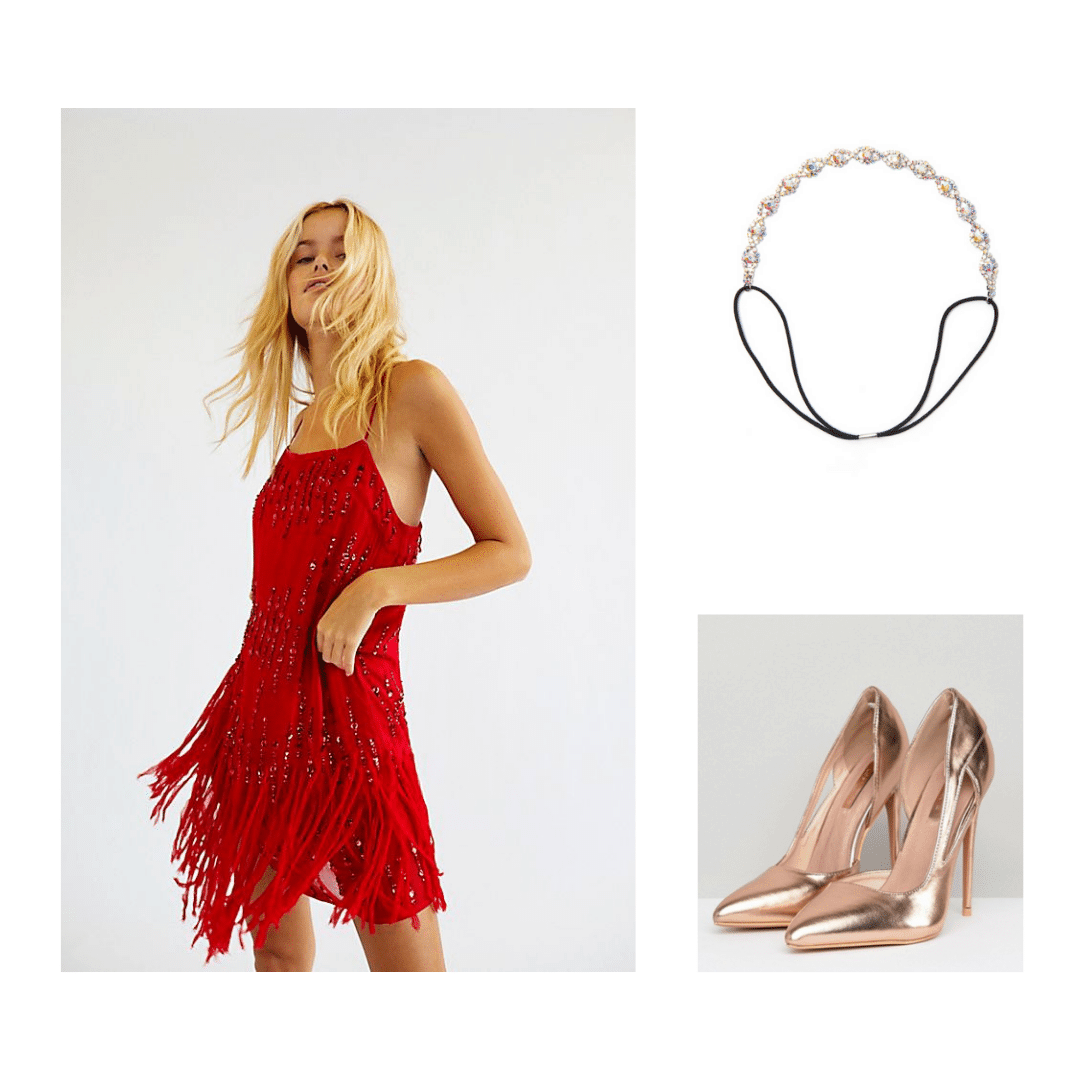 Products: Dress – Free People, Headband – Charming Charlie, Shoes – ASOS
The Roaring '20s were a time of glitz and glamour, when parties were lavish and everything was bigger and better than ever before. Think Great Gatsby vibes for your '20s attire. Flapper dresses were all the rage with fringe and glitter galore. For this look I chose a red fringe dress and paired it with some simple gold heels. Add a hair piece with feathers or crystals, and you're all set!
2. 40s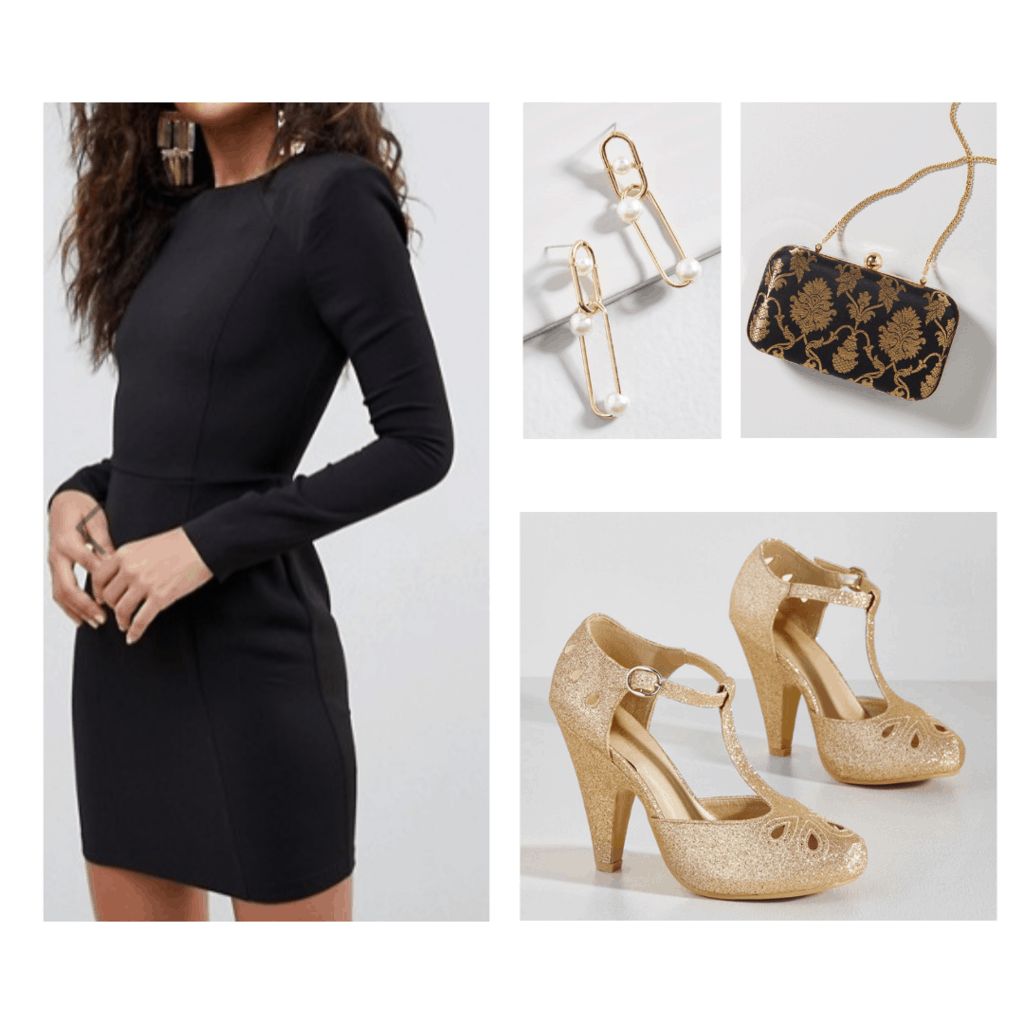 Products: Dress – ASOS, Shoes – Modcloth, Purse – Modcloth, Earrings – Modcloth
With the start of the war, women found that they needed to go simpler with their dresses to conserve fabric. As a result, the 1940s dresses took on a military look with shoulder pads and boxy angles. The dresses revealed minimal skin. For this look I chose a simple black dress with shoulder pads, then added gold heels, an embroidered purse, and paper clip earrings.
3. 60s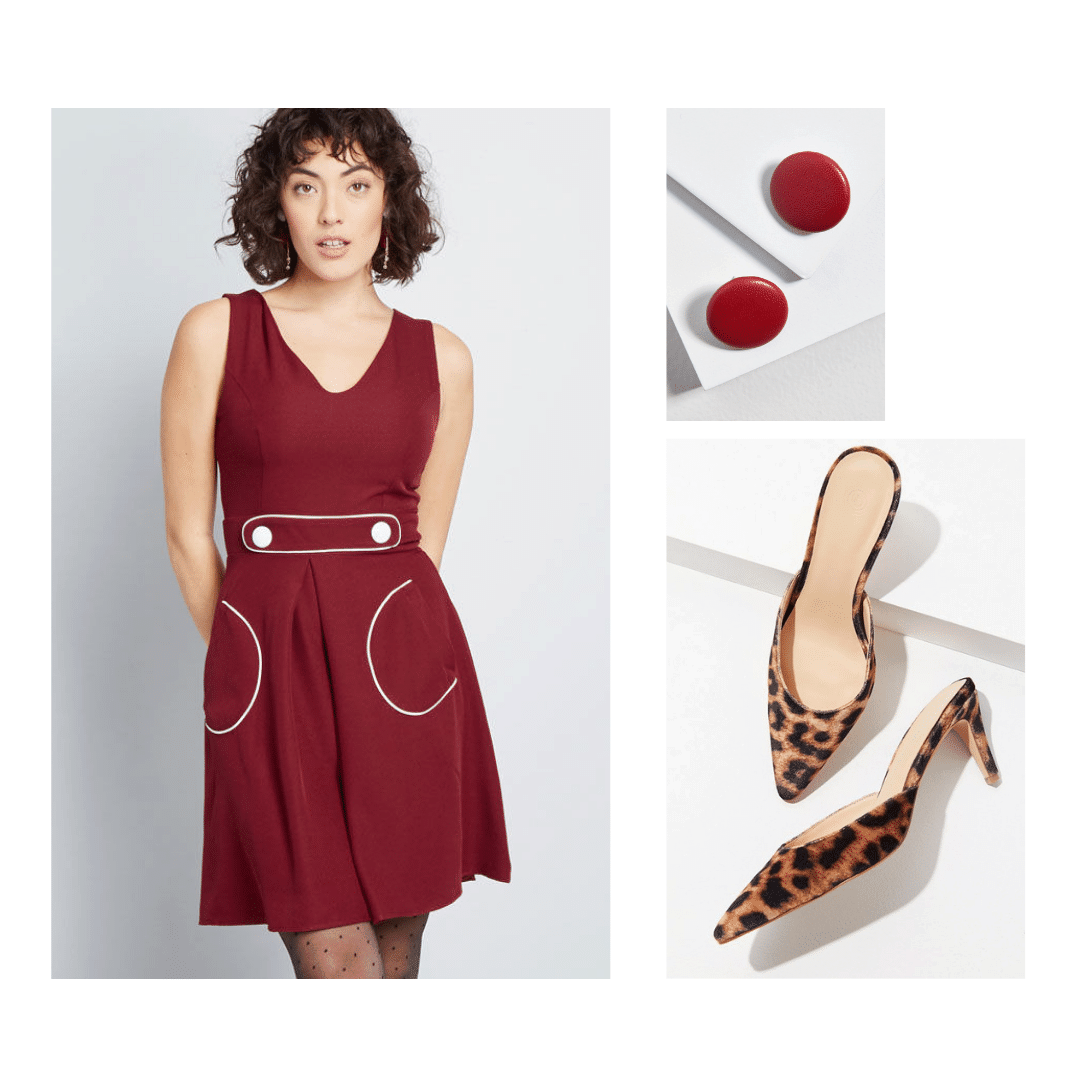 Products: Dress – Modcloth, Earrings – Modcloth, Shoes – Urban Outfitters
1960s fashion trends followed the iconic fashionista, Jackie Kennedy, with simple, clean outfits and matching accessories. Also, the "kitten heel" was an essential outfit piece. For a '60s-inspired outfit, I chose a basic red dress with retro elements and paired it with some cheetah kitten heels and classic button earrings.
4. 70s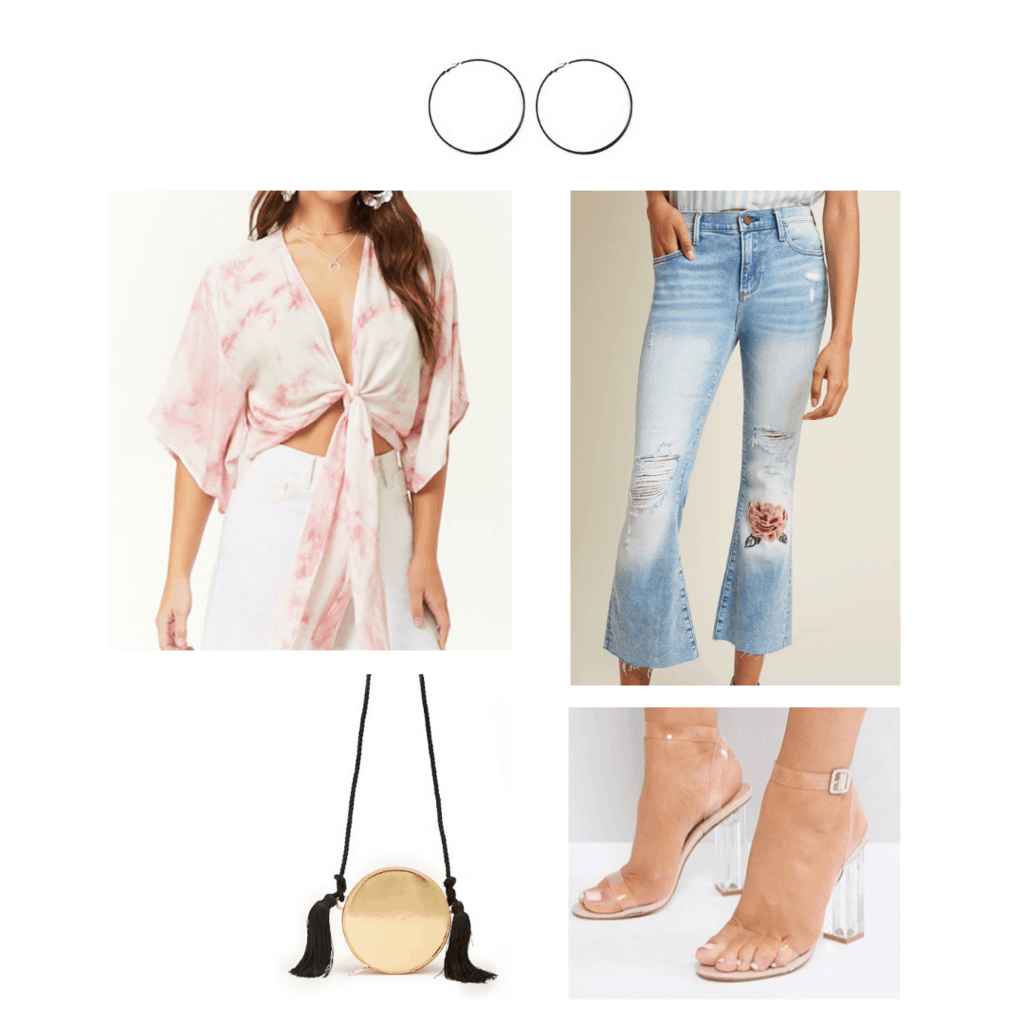 Products: Top – Forever 21, Jeans – Modcloth, Heels – ASOS, Earrings – Forever 21, Bag – Forever 21
The era of the bohemian, the 1970s fashion trends included tie-dye shirts, bell-bottom jeans, midi skirts and maxi dresses. Vibrant colors accompanied any fashion piece. For a '70s inspired outfit, mix a pink tie-dye crop top with bell-bottom jeans. Then add perspex heels, hoop earrings, and a circle purse for modern vibes.
5. 80s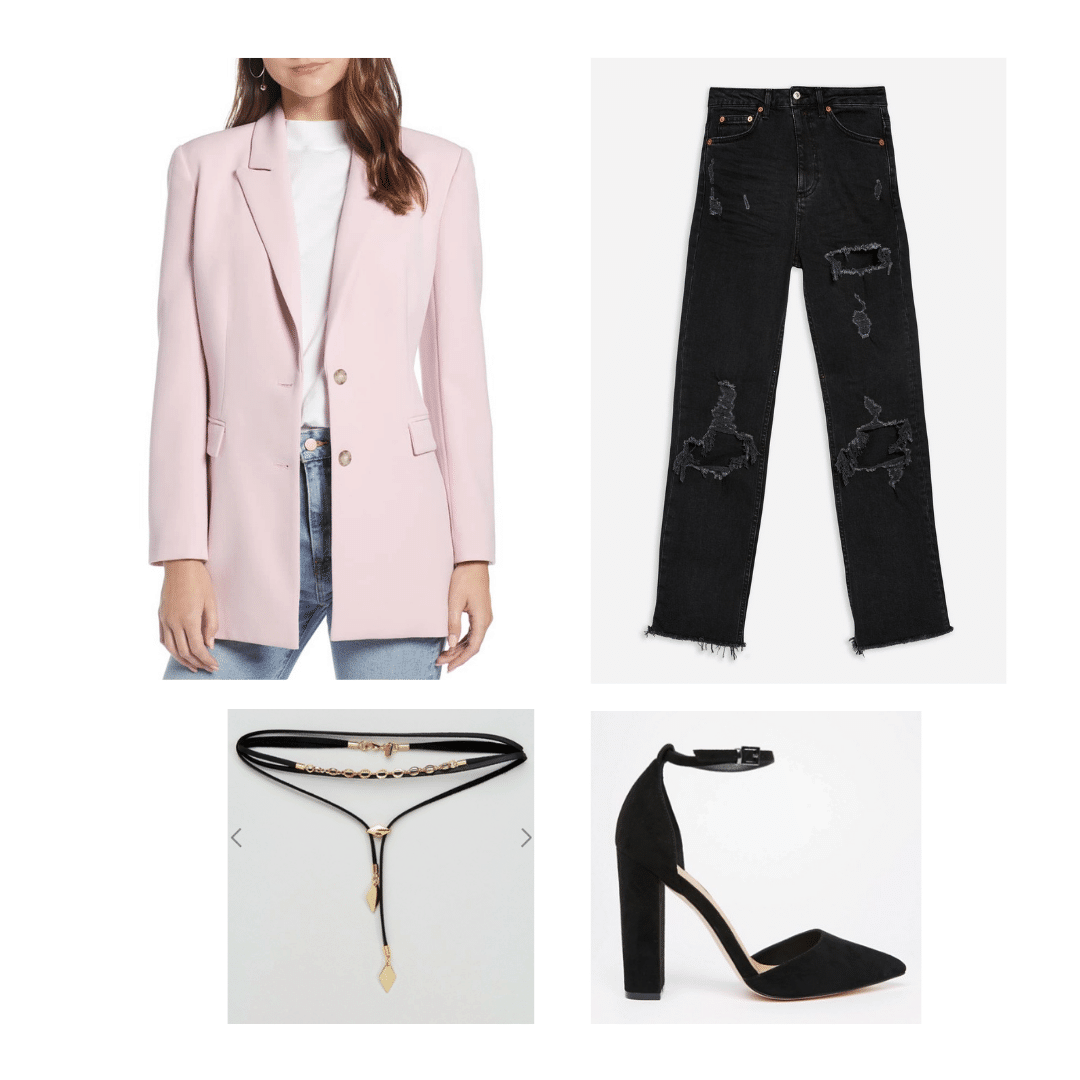 Products: Blazer – Something Navy, Jeans – Topshop, Heels – ASOS, Necklace – ASOS
The age of glam rock and extra everything, '80s fashion trends featured bold pieces and plenty of colors. From ripped tights to oversized blazers, the fashion trends of the '80s varied and met anyone's style needs. Here, I created an '80s-inspired look that has girly and edgy elements with a blush pink oversized blazer and black ripped jeans. To continue the '80s vibes, I paired a chunky heel and choker to finish the look.
6. 90s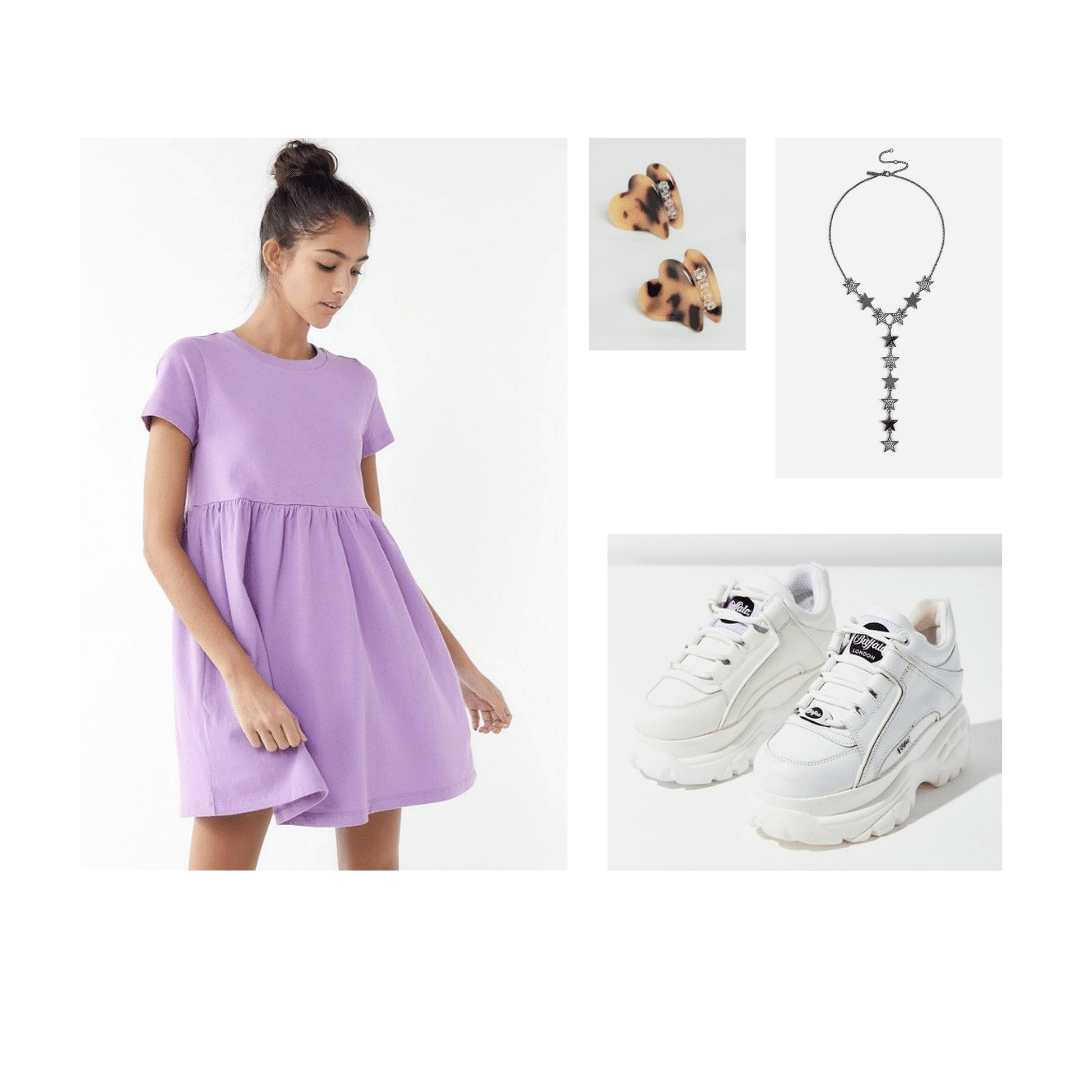 Products: Dress – Urban Outfitters, Shoes – Urban Outfitters, Necklace – Topshop, Hair Clip – ASOS
When I hear "the '90s," I think backless tops, buffalo platform shoes, hair clips, and babydoll dresses. The '90s were a decade of cute, sexy and avant-garde fashion. To get this look, pair a simple purple babydoll dress with white buffalo shoes and spice it up with a silver star necklace and iconic '90s cheetah print hair clips.
7. 2000s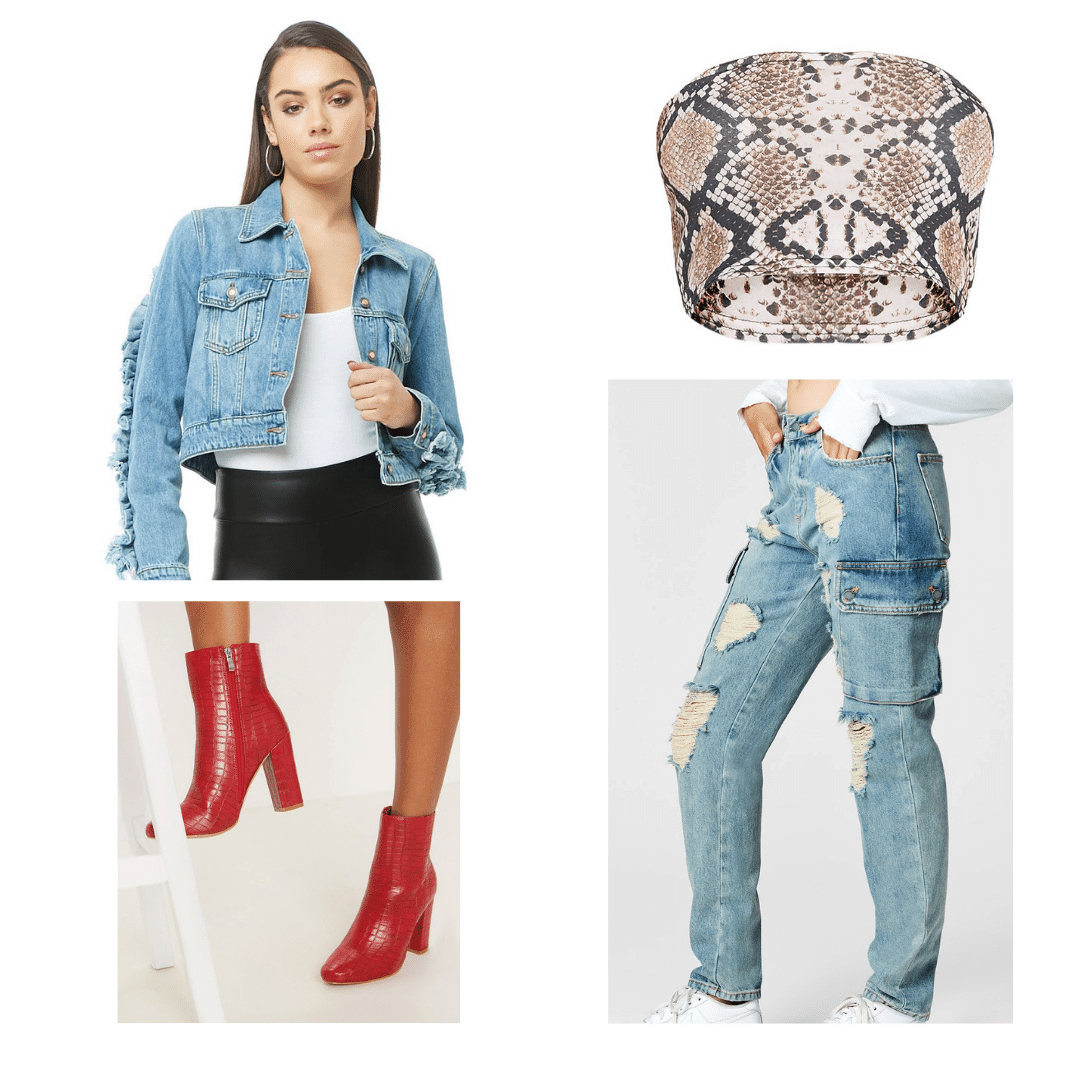 Products: Jacket – Forever 21, Top – Pretty Little Thing, Jeans – Carmar, Boots – Pretty Little Thing
2000s style is SO in right now. Take a stroll through the mall and you will see embroidered low-rise jeans, tube tops, and denim on denim on denim. By pairing a low-rise cargo jean with a snakeskin tube top and denim jacket, you've got a quintessential 2000s look. Complete the outfit with bold red crocodile ankle boots for a major pop of color.
What do you wear to decades parties?
Feeling inspired by our decades party outfits? What is your favorite decade to dress for? Comment your favorite below!