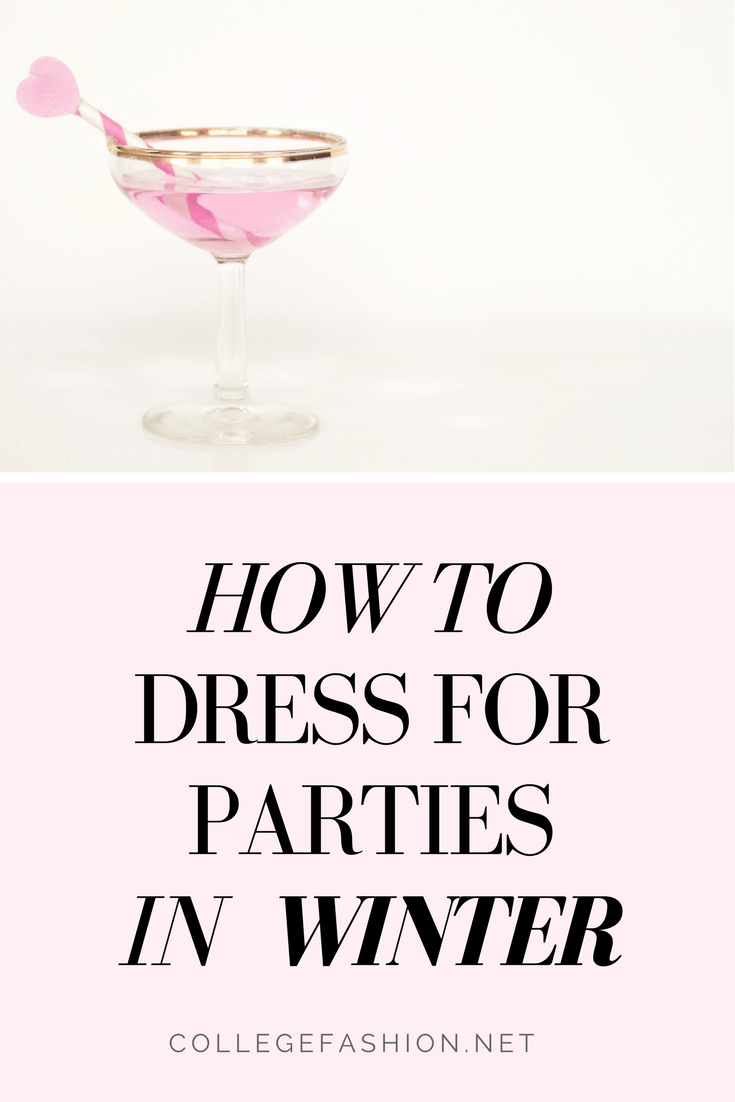 Going out when it's cold can be such a chore. Even worse? Trying to find something party-ready that doesn't require twenty layers of clothing.
Recently we shared some college party outfits that you can pair, in general, with coats. We also shared our go-to party outfit formulas. However, if you want something a bit more winter-specific, today we've got you covered.
For all you ladies heading across campus or into town on cold weekend nights, this is for you.
First, here are some lifesaving tips and tricks for creating winter party outfits so you can stay warm while looking your best.
1. Layering is your friend.
Wanna wear your cute new bralette or bodysuit, but it's too cold? Layer a sheer long-sleeve top over it! It's lightweight, but any layer helps. Same goes for heavier tops – layer a turtleneck under a jumpsuit, dress or sweater for optimum warmth in the winter chill.
Related reading: 30 Cute, Cozy Outfits You Must Try This Winter
2. Go for a long sleeve.
The easiest way to warm-up your winter attire? Wear a long sleeve top. If it's particularly cold in your state, then make a promise to yourself that you'll only purchase dresses/bodysuits/tops with full sleeve coverage. Your arms will thank you.
3. Invest in a trusty turtleneck.
As mentioned above, layering is your friend in the winter months. In my opinion, there's no better item to layer than a trusty turtleneck. They come in a variety of colors, fabrics and styles, and can be dressed up or down depending on the occasion. Seriously, invest.
4. Winter accessories provide warmth + style points.
Winter accessories like hat, gloves and scarves are some of my favorite winter items to shop for this time of year. In particular, I'm loving berets this season – they look so French-girl chic and I'm obsessed. Invest in some cheap and cheerful beanies, wooly gloves and scarves to keep yourself insulated on your way to that Christmas party.
And now for what you came here for – our winter party outfits! Scroll on down for some ideas for what to wear to parties this season.
Related reading: Snow Outfits for Women: What to Wear When It's Freezing Outside
What Outfit Should I Wear to a Party in Winter?
Winter Party Outfit #1: The Sequin Dress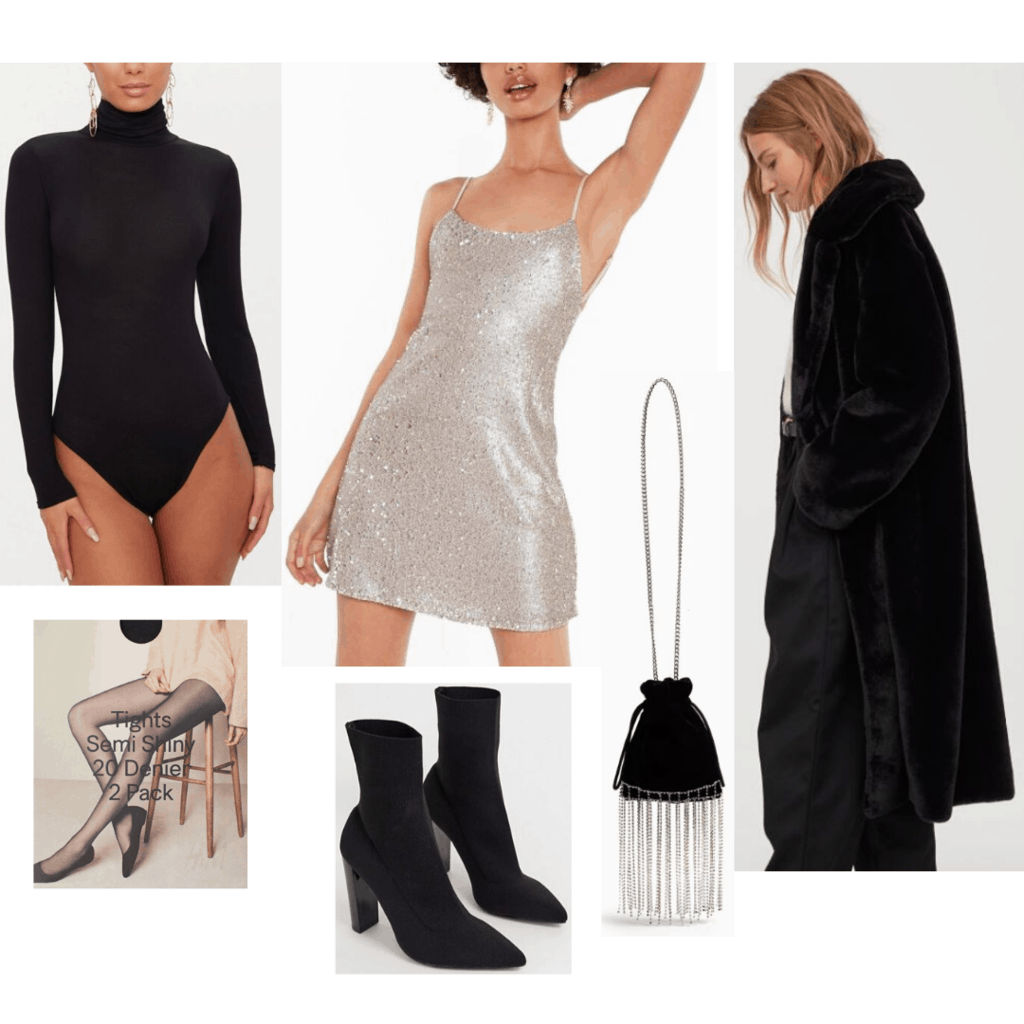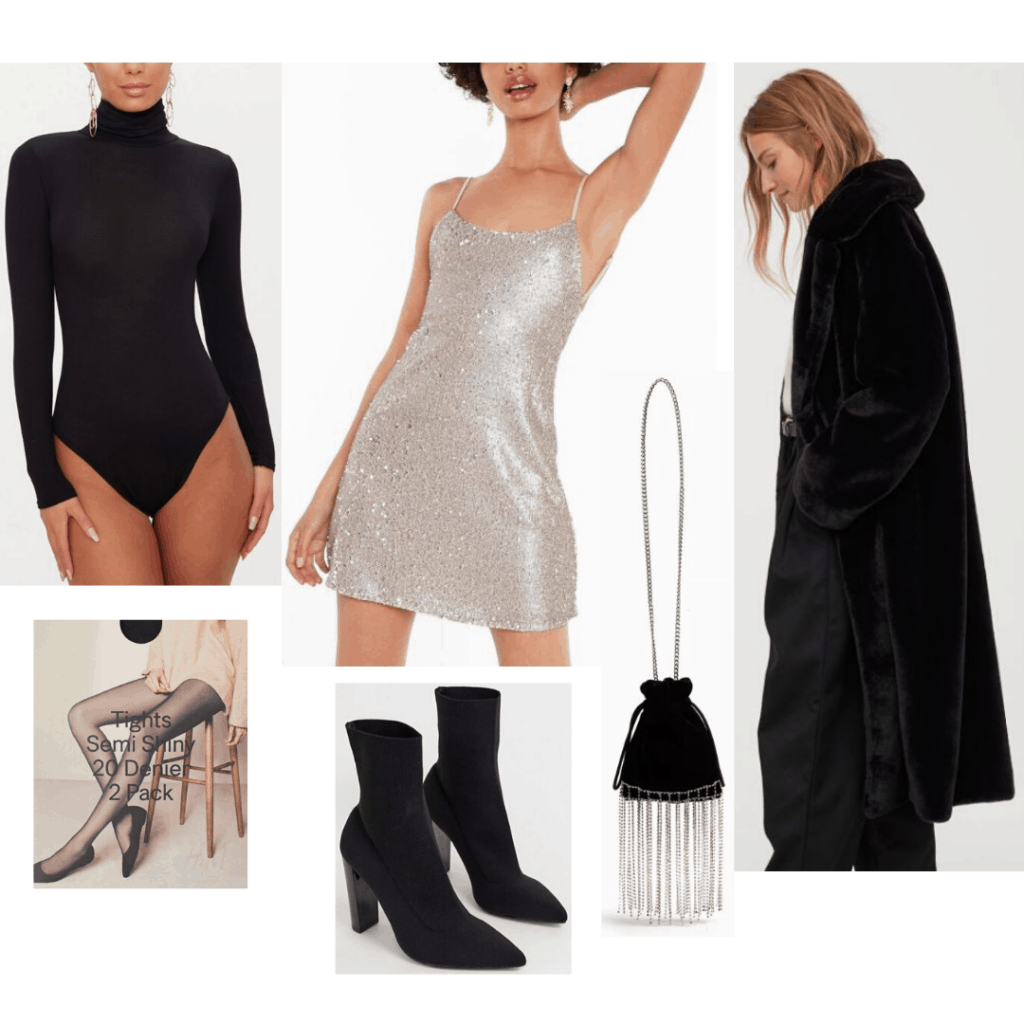 Products: Turtleneck – Pretty Little Thing, Dress – Nasty Gal, Coat – H&M, Bag – Topshop, Tights – H&M, Boots – ASOS Design.
You know that eye-catching glittery dress you can never find an occasion to wear? Slip it over a turtleneck top and you have a perfect going-out outfit.
A warm faux-fur coat is the perfect luxe layer to add to this outfit.
Add glam finishing touches with some sheer tights, sock boots and a silver pouch-bag.
Winter Party Outfit #2: The Suit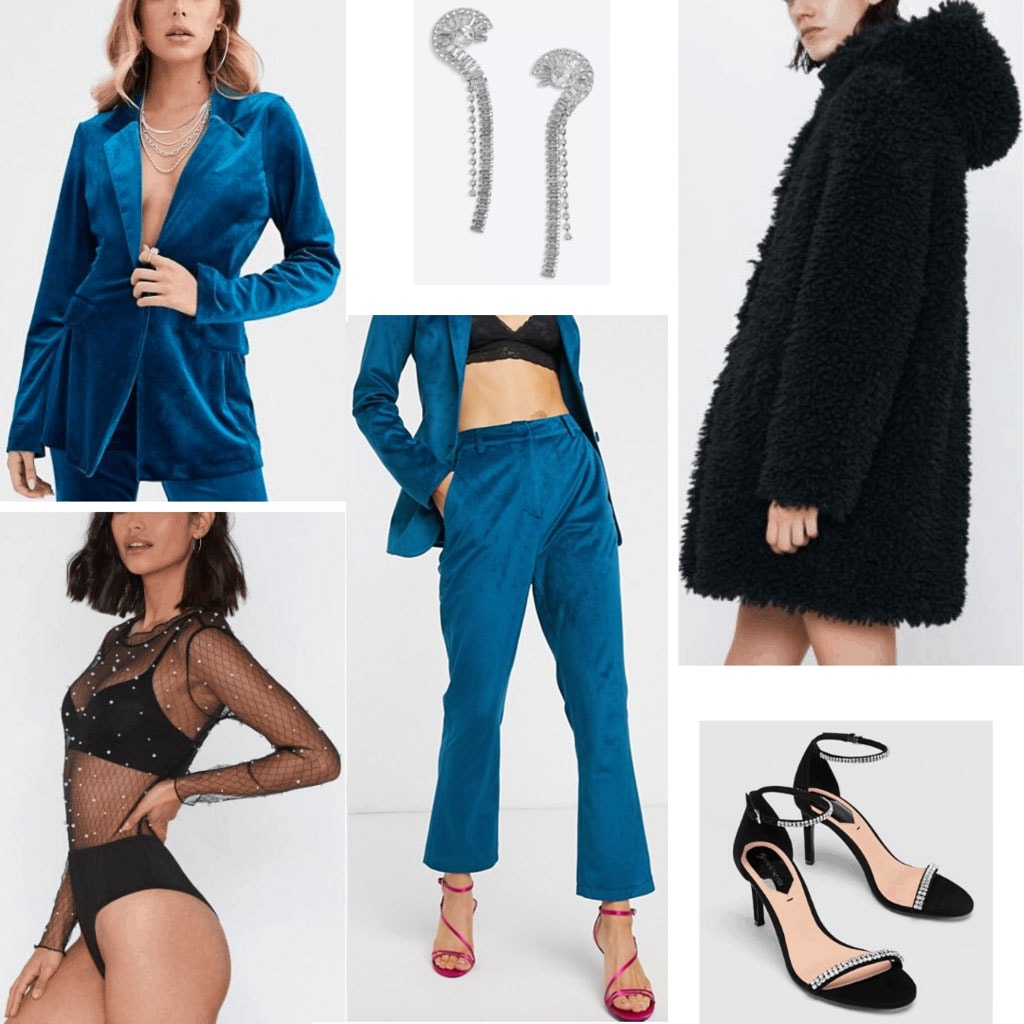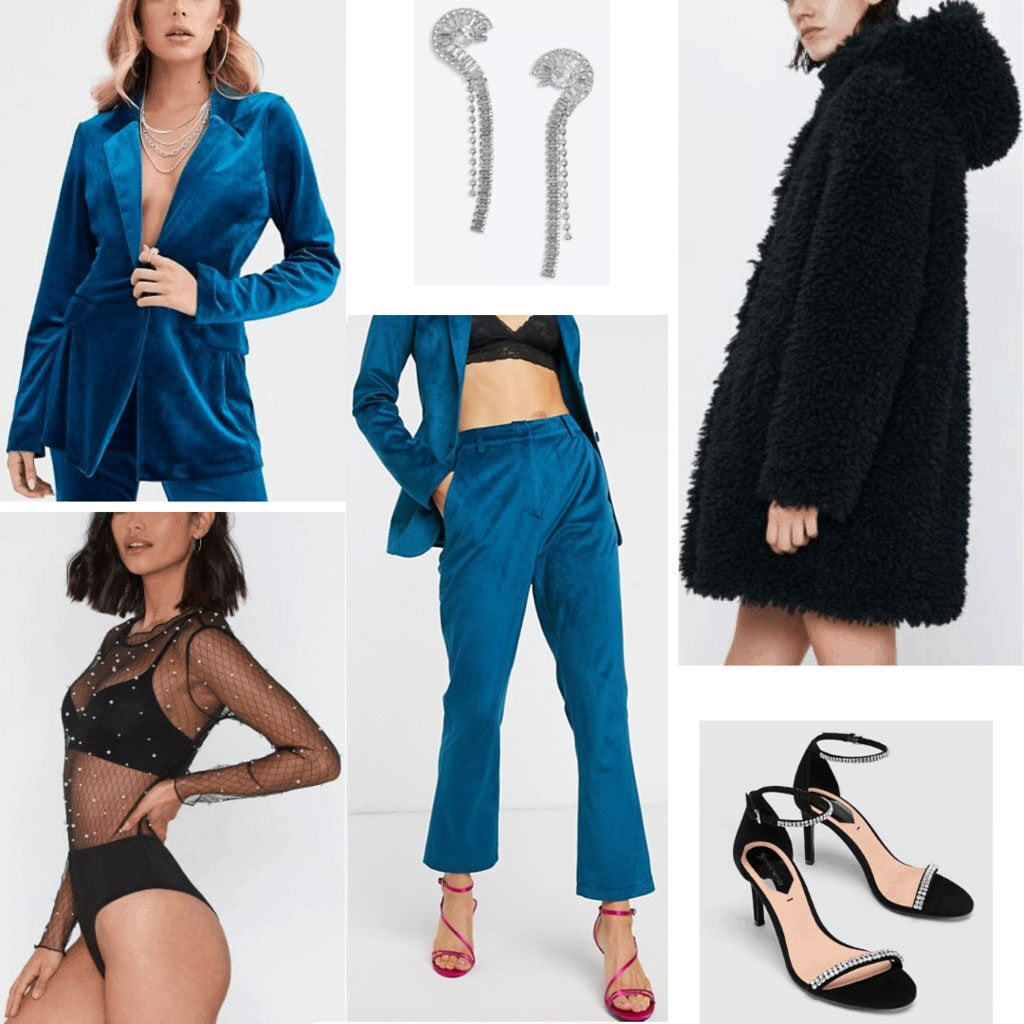 Products: Bodysuit – Nasty Gal, Suit Jacket – ASOS, Coat – Zara, Trousers – ASOS, Earrings – Topshop, Heels – Stradivarius.
Cute bralettes aren't just for warm weather; pair one with a sheer bodysuit for a night out! Another life-saving trick: adding a velvet blazer. Velvet will keep your arms warm, while still allowing you to show off your outfit.
A faux fur coat is the top layer – both comfy and fashion-forward. Next, add some glam earrings and stilettos to complement the velvet trousers.
Grab a cute clutch and swipe on some berry lipstick to complete the look.
Winter Party Outfit #3: The Leather Pants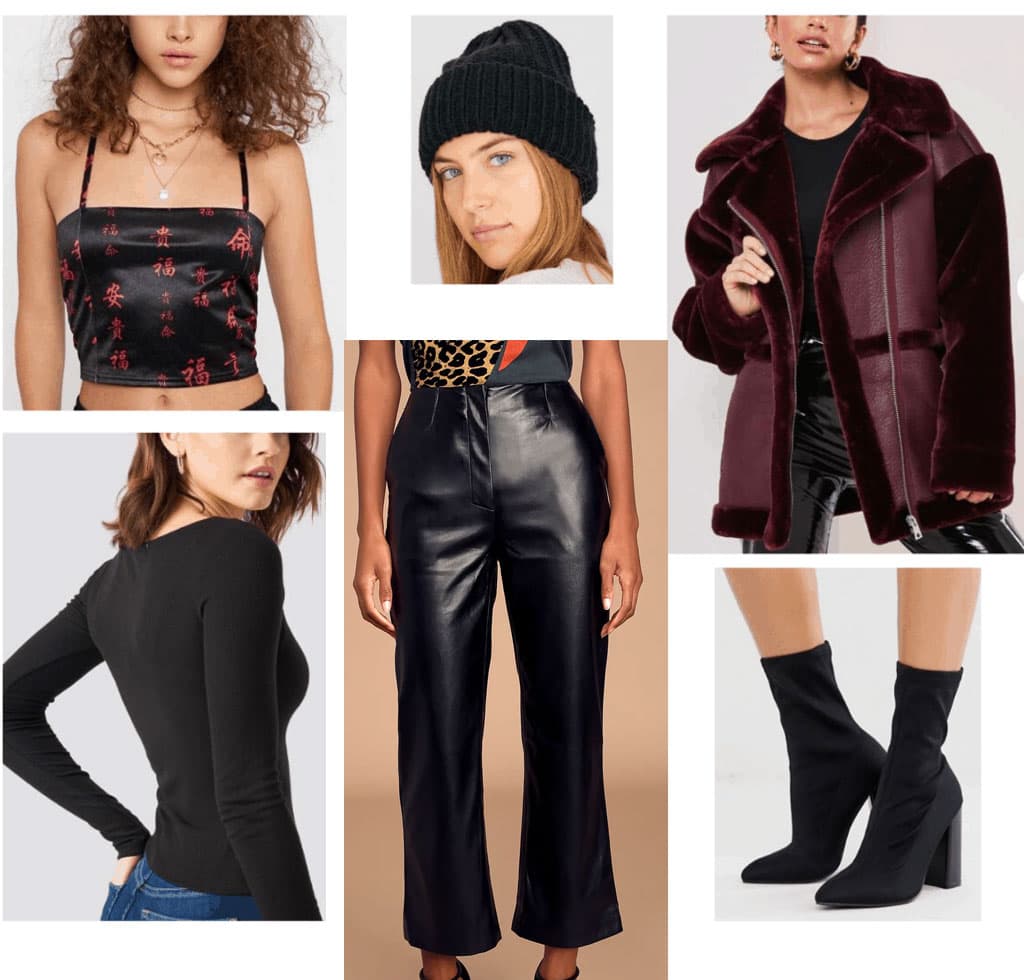 Products: Jacket – Missguided, Cami – Urban Outfitters, Top – NAKD, Trousers – Lulus, Hat – Stradivarius, Boots – Public Desire at ASOS.
For an edgier look, try leather pants. Perfect for going out (and showing off your legs!) without leaving you frozen, they're a staple for cold nights, especially when paired with a long-sleeved top!
Throw on a cute bralette over your long-sleeve and add a biker jacket to maximize your heating power. Don't you just love the shearling detail on this offering from Missguided?
Now it's time for extras! A black beanie is a staple accessory AND keeps your head warm. Swipe on eye-defining mascara and an eye-popping shade of your favorite lipstick for a bold look.
What Do You Think?
Do you have any tips for staying warm and looking cute? Would you wear any of these winter party outfits? Let us know in the comments below, I can't wait to hear from you!
Editor's note: This post was originally published in 2018; it was completely updated and revamped in 2019 with new outfits and information.
Related posts: