Welcome to the latest edition of Ask CF! Every two weeks, we select a reader fashion question and answer it here on the site. Do you have a specific fashion question for us? Scroll to the bottom of this post to learn how to send it our way!
Ask CF
Hi,
My name is Morgan. I know it's not typical, but many of us do graduate in the fall. A hard part of that is finding something cute and warm to wear to graduation. Help Please! Thanks!
Morgan
Our Response
Dear Morgan,
It must be so exciting to know that you are graduating so soon! I graduate in the spring and I'm already thinking about what I'll wear. I definitely can see how finding a cute outfit for the colder weather can be hard, and you still want to stay warm – and look cute – for pictures.
To help you out, I've created 3 fall graduation outfit ideas that will help you stay warm and look stunning when you receive that diploma of yours. Good luck!
Outfit #1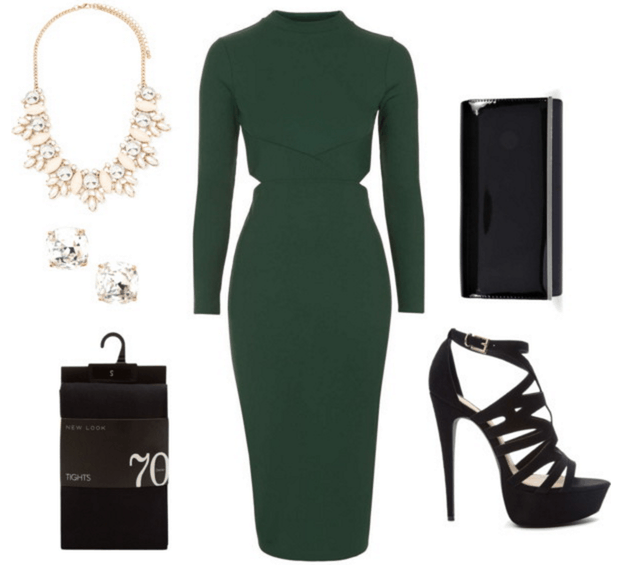 Products: Dress, Heels, Tights, Clutch, Necklace, Earrings
Long sleeved dresses are my favorite choice for cold weather formal events. A dress like this will flatter your figure and since it has long sleeves, it will help you stay cozy. For extra warmth, try to pick a dress, like this one, that's made of a thicker material.
Now for the extras. Wear tights underneath for an extra layer, and tote a simple black clutch to keep your phone so you can take post-grad selfies. To finish off your look, wear some statement jewelry and a cute pair of black heels!
Outfit #2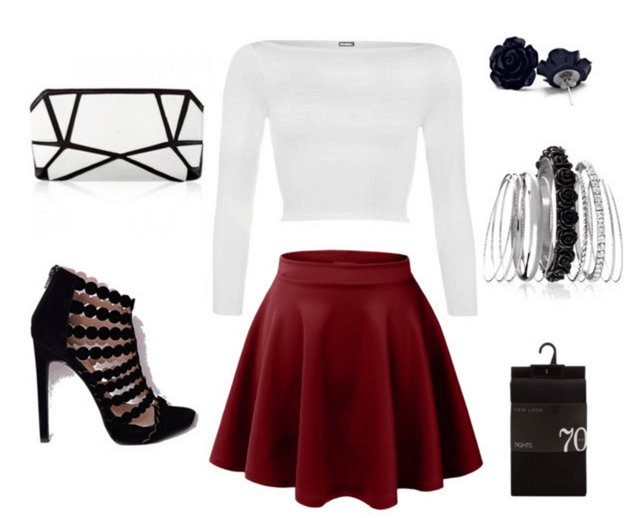 Products: Shirt, Skirt, Heels, Tights, Clutch, Bangles, Earrings
For this look, it is all about the accessories. I still recommend tights because they will keep your legs nice and toasty. Wear a simple blouse or long sleeve tee and a cute dressy skater skirt. (Don't worry; if you get the proportions right, you won't be showing skin – the crop top should either tuck in to or just overlap the skirt.)
Next, accessorize with some floral accented jewelry. Add on a statement clutch, and put on your detailed high heels for an effortless outfit. Making your accessories your focal points are the key to this look.
Outfit #3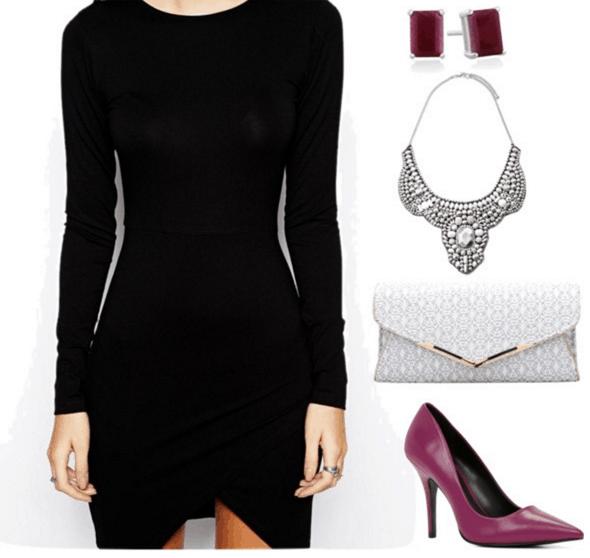 Products: Dress, Heels, Clutch, Earrings, Necklace
This look is also all about the accessories, but I've switched things up a bit. Wear a classic long sleeved Little Black Dress, and then pick a pop of color that you would like to add for your accessories. For a fall look, I've chosen a deep magenta.
The high heels and studded earrings add a pop of color to the outfit. You could pick a colored clutch/handbag, but I chose to stay neutral here. Add on a silver statement necklace and you will be all set.
I hope these ideas have helped, and congratulations on graduating this semester! Kudos to you!
Do you have a fashion question?
If you have a question you want to see answered in this column, just send it on over via email to askcf @ collegefashion.net and one day you might see your question answered right here on the site!
Please note: We get A LOT of email and unfortunately we will not be able to respond to every single question. However, we will read through each question and then decide which ones will be most helpful to the most readers. Thank you for understanding.
What do you think?
Are you graduating this fall? If so, what are you going to wear? Previous fall grads, help a reader out! What did you wear to your graduation? Let us know in the comments!