This post will show you the best products to help you achieve 16 popular new years goals for college women.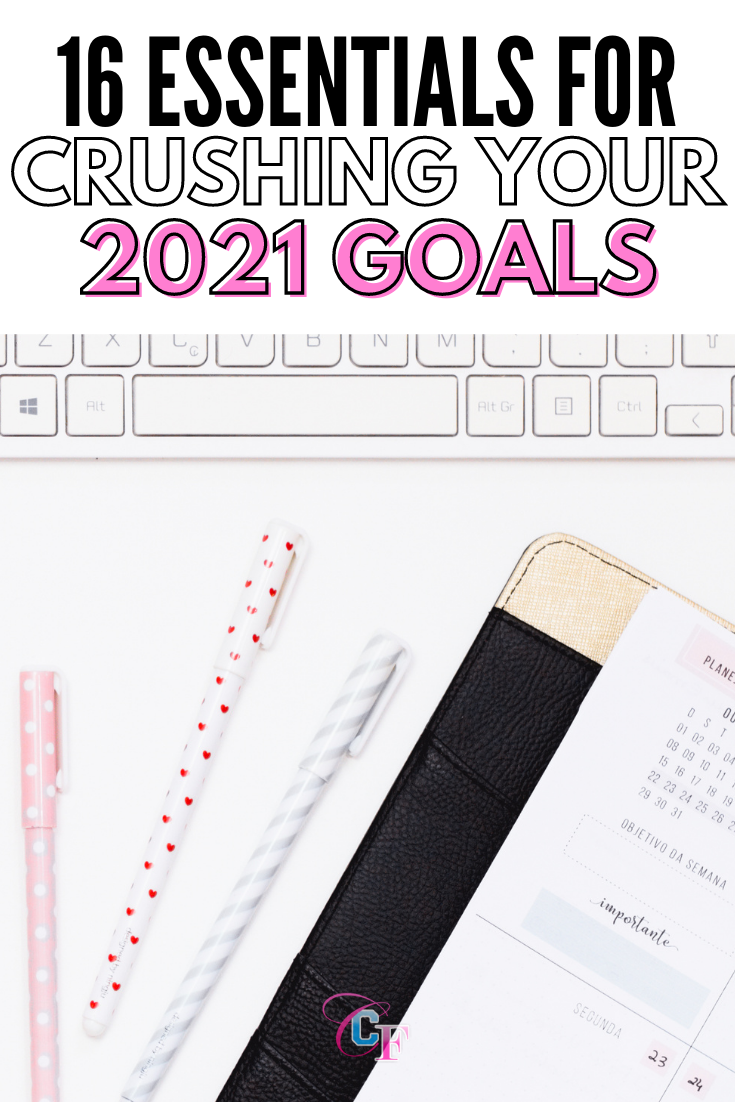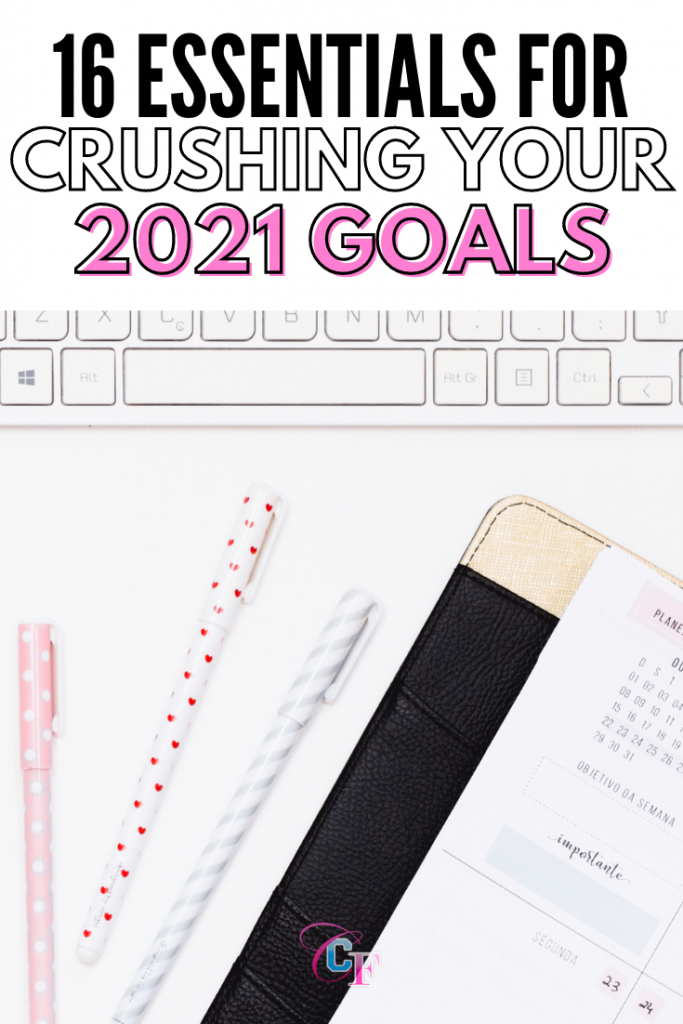 2021 is finally here! If you haven't started on your new years goals yet, now is officially the time: After all, now is the best time to get a positive start to the new year and set yourself up for success.
You may have tried resolutions in previous years, but life can get busy and you may have ended up losing track of what goals were important to you.
However, I've figured out some ways that you can make sure that you stay on track with your goals the entire year.
This post will show you 16 of the best items you can purchase to keep you on track with your 2021 goals, from college goals to personal goals!
1. Skincare Set
Skincare is so important and keeping up with a skincare routine may be one of the goals that you set for yourself for 2021.
Keeping up with skincare can be hard especially if you don't have a lot of time to get ready in the morning. (And while we love our simple skincare routines, some other routines can get crazy complicated!)
However, if you purchase a full skincare set, this Neutrogena skincare set, it will make your life so much easier because you will know exactly what you need to apply to your skin each morning or night.
If you have dry skin, this particular set comes top-rated for its magical skin-moisturizing properties. It's a must try!
Everyone knows how important a planner is, but I'm going to reiterate it here: To help you stay on track with your 2021 goals, it is essential that you get a good planner.
A planner like this 2021 weekly & monthly planner will do the trick because it allows you to plan out your months and your weeks, so you know exactly what you need to be doing to keep up with your goals.
The best part about this planner is that it's crazy affordable at less than $20!
A journal like this super cute heart lock journal is a great motivational item for your 2021 goals.
Instead of just thinking of the goals you want to set for yourself, you should write them down in this journal, so that you can remind yourself of what you want to achieve as the year goes on.
In case you didn't know, you're 42% more likely to achieve a goal if you physically write it down! So a journal is a must.
Also, you can write down your progress as you go throughout the year to see what you have already accomplished.
If one of your goals for the new year is related to fitness, you should definitely purchase this Fitbit smartwatch.
This watch is perfect for those of us who want to be more physically active because it can show you all the details about your activity each day so that you can make sure you are reaching those fitness goals.
This cute watch even has Alexa and apps built in to keep you on track!
5. Collage Frame
Manifestation has become a very popular topic recently because it has been said to work miracles to help people achieve whatever they want. (This Instagram account is great for learning more about the process.)
One of the ways people manifest their dreams is through a mood board, which we've talked about on CF before.
You can create your own mood board with pictures of all the things you want to achieve this year on this cute sequin collage frame that can even be used for home decor!
6. Art Set
Some of us may have set a goal for ourselves this year that involves starting new hobbies. A great option for those of us who want to start a new hobby is doing art.
This painting & drawing set will definitely motivate you to be creative because it includes everything you need to create awesome artwork.
Experiment with the different options and see what speaks to you!
Sleep is also so important, and if you are one of those people who wants to make sure they get enough sleep this year, I recommend you purchase a sound machine ASAP.
A sound machine like this ocean wave sound machine will make sure that you are able to relax at night and be able to get the rest that you need, so you can be energized the whole year!
8. Cooking Set
Another goal you might have set for yourself is cooking more food at home or learning how to cook. By preparing food at home, you will be making sure that you are getting healthy meals every day.
This pots & pans set will be perfect for you because it includes all the essential cooking items you will need to be able to make great meals for yourself!
Having a clean desk is essential to keeping your life together. By having a clean desk you will not feel overwhelmed with school work and you will be able to get your tasks done.
This can help you with your 2021 goals if they are related to your work or school life.
Therefore, I definitely recommend this desk organizer set that will keep all your papers and office supplies organized while also being a cute decor item for your room!
Staying healthy in the new year is also a popular new years goal. If you want to focus more on your health this year, you should think about getting enough water each day.
This gallon water bottle will make sure that you stay hydrated every day and that you are staying on track with your health goals for the new year.
Keeping your house clean and organized and keeping up with your chores can be tough for college students, especially when life gets hectic. But, don't worry because you can keep up with your goals of staying cleaner this year with this magnetic chore chart.
This chart is great because you can place it right on your fridge to remind you of what tasks you need to get done.
Also, if you live with roommates, everyone can have their own section — this will make it easier for everything to stay tidy around your house or apartment.
Relaxation is also a great goal to set for yourself for 2021 and a great way to do that is by taking baths.
To make taking a bath even more relaxing, you should get this bath caddy. With this item, you can bring everything you need to be able to relax while you are in the bath and it even has a place for you to put your phone.
13. Sticky Notes
Sticky notes are also a great motivational item to help you achieve your 2021 goals. By getting sticky notes, you will be able to write little notes to yourself about things that you need to achieve during the day.
You can make this even more fun by purchasing cute sticky notes like these heart-shaped sticky notes! They will look so cute on your (now totally organized) desk.
If one of your goals for 2021 is to be more clean and organized (has anyone else been binging The Home Edit on Netflix?), you should get these organizers asap.
These organizers come in all different kinds of sizes and you can place them anywhere and put just about anything in them to keep your home and life organized!
They're an affordable version of the popular Container Store organizers seen on The Home Edit's show and instagram.
Another great item you should purchase to help you stay on track with your 2021 goals is a whiteboard.
This whiteboard can be used to write down things you need to remind yourself of or even things like your favorite quotes to keep you motivated to achieve your goals!
16. Hair Care Kit
Repairing your hair or keeping your hair healthy may also be a goal you have set for yourself.
If you are unsure what products to use to achieve this goal, trust me on this one: This Olaplex hair repair kit has everything you need to have healthy hair in 2021! It actually builds bonds in damaged hair and makes your hair feel incredible.
What are your favorite new years goals for college students?
What items do you think will help you stay on track with your 2021 goals? What new years goals have you set for yourself this year?