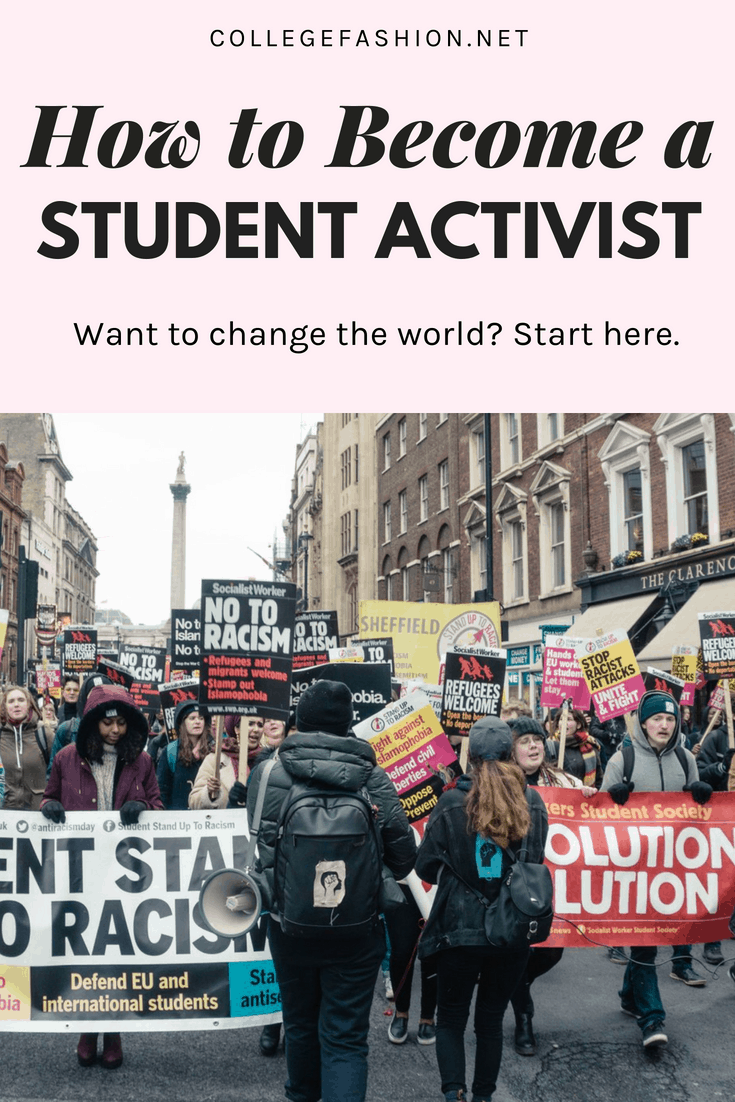 "I love America more than any other country in the world and, exactly for this reason, I insist on the right to criticize her perpetually." ― James Baldwin
Over the past couple of decades, universities have acknowledged the importance of student activism in higher education. Recently, when high schools were threatening to suspend students who participated in the National Student Walkout in honor of those who lose their lives in the mass shooting at Marjory Stoneman Douglas High School in Parkland, Florida, Universities publicly announced that they were going to grant 'amnesty' to applicants who were suspended for engaging in peaceful protests.
More so, educational institutions such as the University of Colorado Boulder have incorporated student activism into their campus life. On the university's Division of Student Affairs website, they explain:
CU Boulder holds that student activism plays an important role in students' personal, academic, and leadership development. Through activism, students learn to advocate for their values and beliefs, values that are sometimes newly discovered through their studies and co-curricular endeavours at the university.
Activism hasn't always been held to such a high regard in education systems but has been a tradition since the birth of these institutions. In our history classes, most of us have read about notable student protests against racism, war, inequality, sexual violence, injustices, and more. It's important to remember that these activists were just normal people who stood their ground despite being threatened with tear gas, pepper spray, high-pressure hoses, and arrests.
With universities now upholding activism as a means to lessen inequity gaps and provide a path to democracy, this is the best time to become a student activist for something you believe in!
Here's our guide to getting involved in student activism:
1. Find Your Passion(s)
Every day we see a new hashtag about the latest trending social issue or another episode of Last Week Tonight with John Oliver that makes us want to jump off our couch and change the world right here and now!
Although it's tempting to take part in every social movement that crosses our Twitter feeds, it's more efficient to focus your energy on one or two issues you're truly passionate about.
So start by thinking about what gets you going the most. What urgently needs your help? What do you want to work on the most? Pick one or two issues and commit yourself to those. You can always expand from there if you find yourself with additional time and energy.
2. Do Your Research
Social issues are constantly evolving and changing with plenty of grey areas to add to their complexity. To be an advocate for what you believe in, you need to be as informed as possible. Armed with knowledge, you can educate and ignite your passion in the hearts of other people.
At some point, you will face opposition and if you are uneducated about your cause, self-doubt can steep in. People will claim that your cause doesn't exist or that it's not a problem. People will say you're ignorant or "too young to understand". People will call you names and dismiss you. As an advocate, it is up to you to act as a public example and take the higher road. If you're fully educated on all aspects of your issue, this will be much easier for you to do.
3. Start by Committing to Small Acts
Activism isn't just about being a part of huge protests or becoming the next Malala Yousafzai, Gloria Steinem, or Rosa Parks. You can make an impact just by committing to small acts such as:
Volunteering your time
Donating to a cause
Sharing reliable sources about your cause on social media
Influencing change by speaking with the people around you and swaying opinions
Sharing your story
Speaking up for a cause at your job or internship
Finding out who represents you and calling your representatives
Supporting a friend's cause
Joining a community or group devoted to your cause
Becoming a student leader
The best thing is, your college most likely already has a developed community supporting your cause — so it should be easy for you to get involved with them. If not, your student government organization it there to provide you with everything you need to start your own activist community for your cause.
4. Understand That Change is a Slow Process
The Women's Suffrage movement began in 1848, but the 19th amendment that allowed women to vote wasn't passed until 1920! This means that it took the Suffrage movement 72 years to accomplish its goal. Furthermore, we are still fighting for gender equality to this day.
Don't get discouraged, though! Change is slow and incremental, but that doesn't make it impossible. This can be painful since we live in such fast times where news is delivered to our smartphones in a matter of seconds. Just acknowledge that pushing change isn't a matter of supporting a cause with just one act but a series of acts through a lifetime. When these acts compound over time, massive changes can happen.
What do you think?
Are you currently a student activist on your campus? If not, are you considering it? If you are, what is your cause and what are your means of supporting it? Leave your answers below!