This Amanda Gorman style guide will show you how to dress like poet Amanda Gorman, on a budget.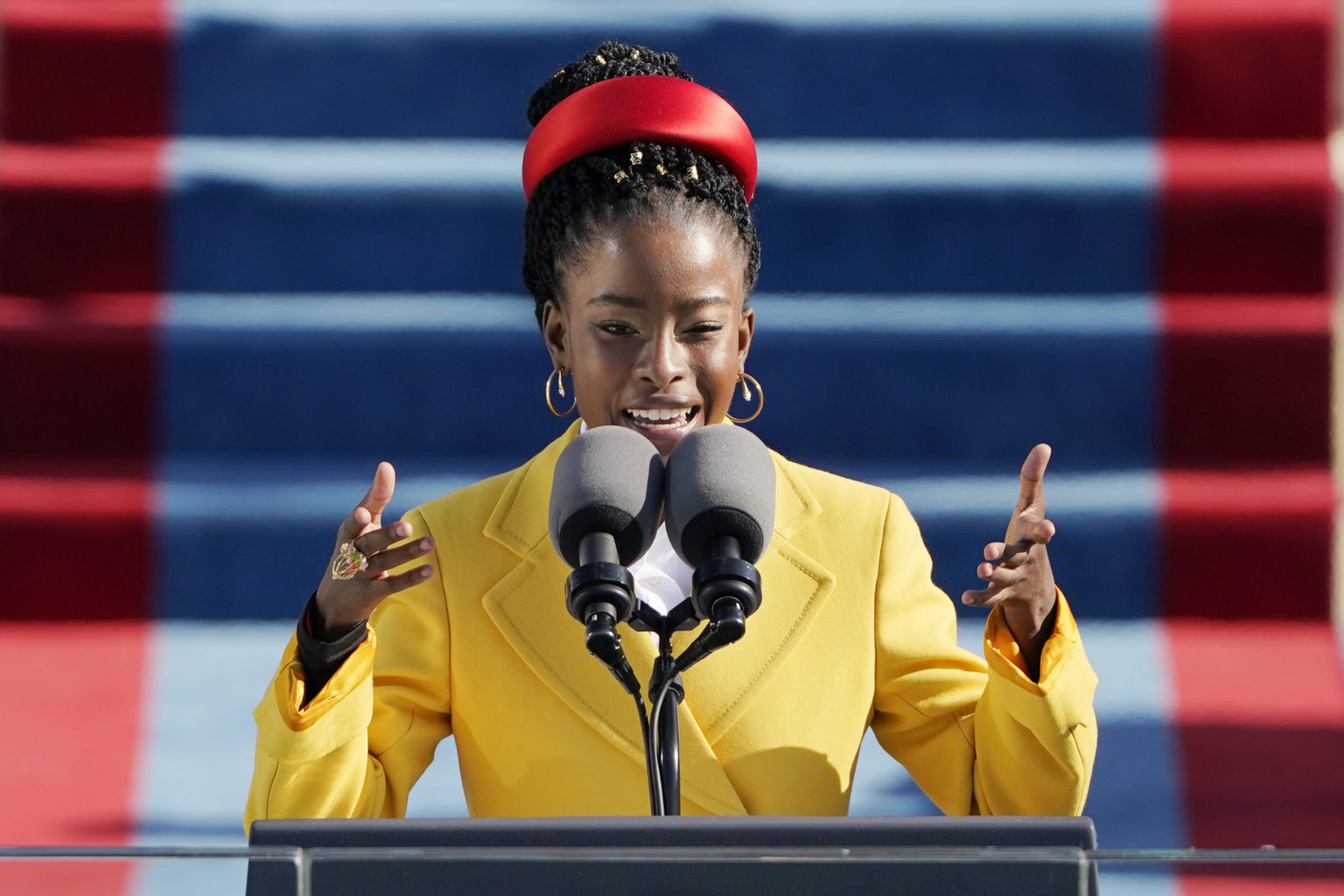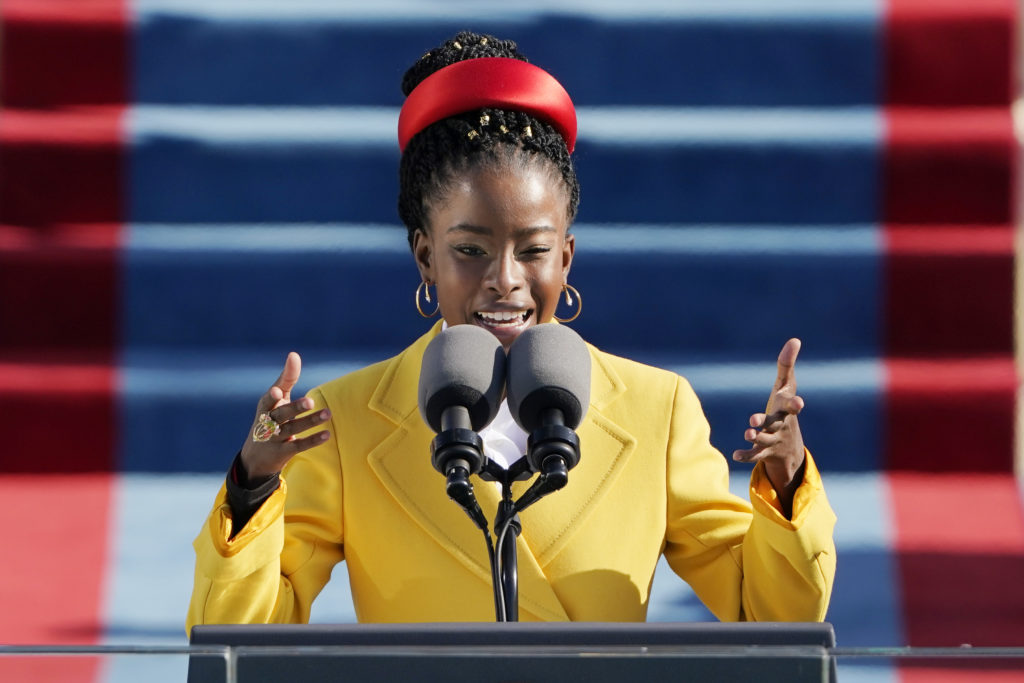 22-year-old poet and activist Amanda Gorman took the world by storm this past January, becoming the youngest inaugural poet in U.S. history.
Not only does she have a way with words, but she has a way with fashion, as well; her inauguration outfit made just as much of a statement as her powerful poem did. In fact, searches for "yellow coat" and "red headbands" jumped in search rankings after she took the stage in Washington, D.C., wearing both bold pieces.
This isn't too surprising, since Amanda already has a connection to fashion: she previously worked with Prada (no big deal) and has advocated for sustainability in fashion.
Whether she's performing at the Super Bowl, gracing the cover of Time magazine's "The Black Renaissance" issue, or just making history in general, Amanda does so with style, allowing her personality to shine through her clothing.
Amanda Gorman's Style 101
When it comes to Amanda's personal style, there are some defining elements that are signature to her look:
Bright colors: Amanda often opts for bright hues like yellow and pink, which give her outfits a cheerful, youthful vibe.
Monochrome: She has been known to wear one color head-to-toe for a monochromatic look.
Color-blocking: If she's not going for a monochrome look, Amanda is a master of color-blocking, meaning she wears multiple solid colors in one outfit.
Eye-catching accessories: Amanda rocks headbands and a colorful collection of beret hats like no other.
Read on to find out how to dress like Amanda Gorman, for less.
Amanda's Statement-Making Outerwear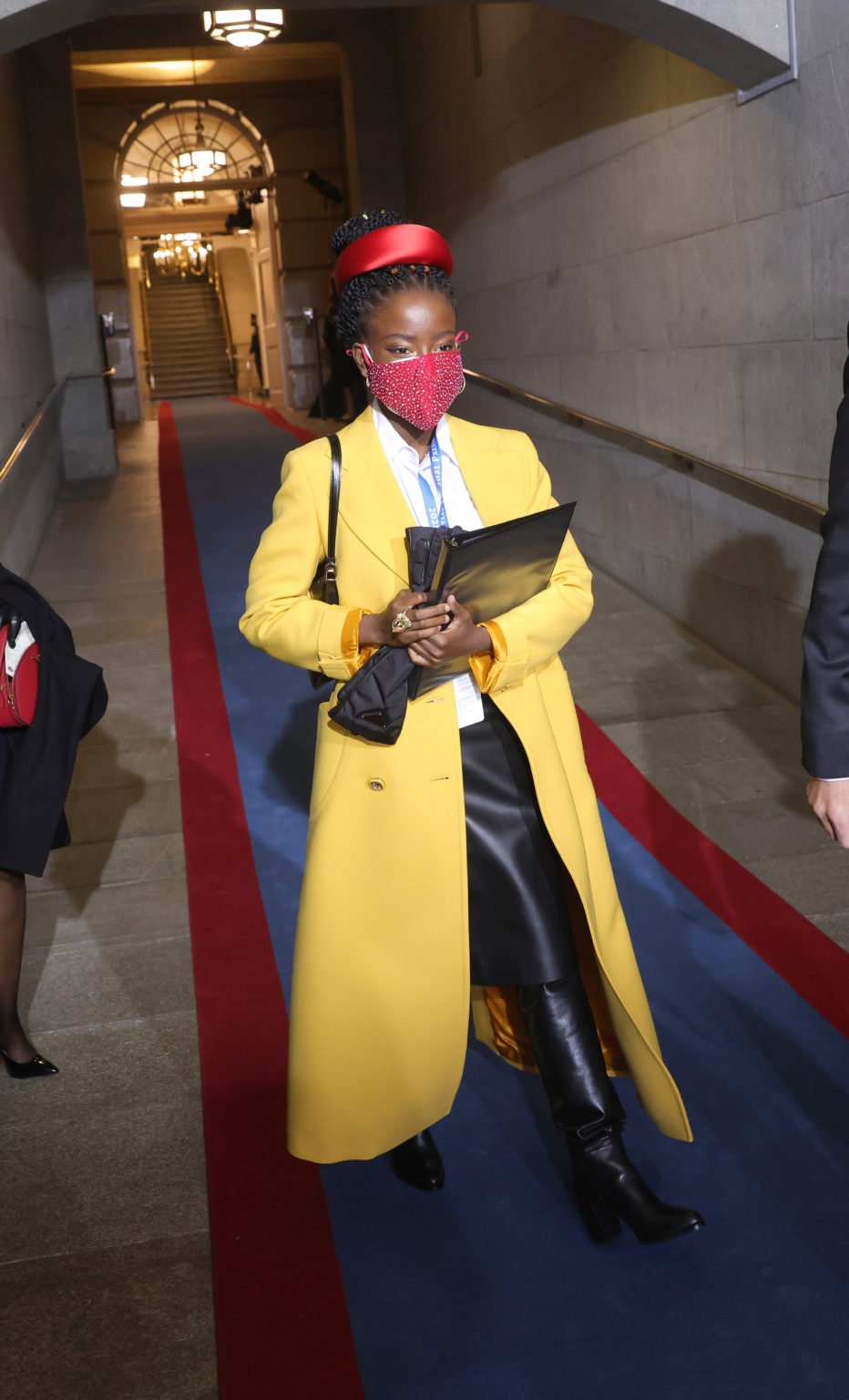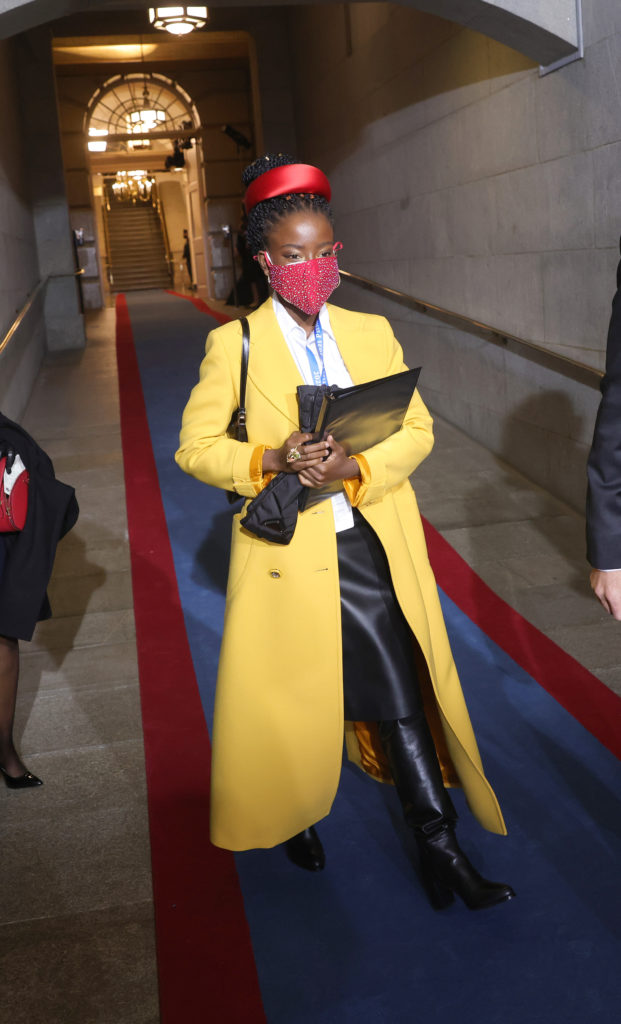 Amanda's performance of her original poem "The Hill We Climb" captivated inauguration audiences, as did her eye-catching outfit featuring a bright yellow Prada coat.
Amanda's look was polished while still being youthful thanks to pops of bold color and by mixing textures.
She wore a black faux leather knee-length skirt with a simple white button-down shirt, along with a pair of black leather knee-high boots.
The heavier leather materials mixed with her cheerful coat made a major fashion statement, especially with her red padded Prada headband. Her wide satin headband was the "cherry on top" of her fabulous ensemble, and the perfect color-blocking accessory to her vibrant coat.
Amanda Gorman Outfit #1
Products: Coat, Headband, Shirt, Skirt, Boots, Earrings
To achieve Amanda's inauguration style, think classic, with a youthful twist.
Most important is a statement-making yellow coat with a tailored fit. The sunny yellow shade has a cheerful feel to it, even in the dead of winter!
Wear a classic white button-down shirt underneath, but give it a touch of edge by pairing it with a faux leather midi skirt. The faux leather material makes for a cool contrast, along with a pair of black faux leather knee-high boots.
Accessories are key with this ensemble: a padded red headband takes this look to the next level, while a pair of pearl drop hoop earrings make for the perfect accent.
Amanda's Shades of Pink
Amanda is a fan of wearing bright color palettes and structured silhouettes to create chic, playful looks.
She shared an adorable snap on her Instagram account wearing an outfit featuring various shades of pink, along with one of her signature beret hats. (A quick scroll on her Instagram and you'll see she has quite the collection of berets in just about every color you can think of!).
Amanda matched her hot pink beret hat to her sweater, crossbody bag, and sunglasses, with a lighter pink tie-belt coat over top. She also wore skinny jeans and some flat over-the-knee boots in a burgundy hue for contrast.
Her look gives me total Emily in Paris vibes, and is the definition of casual chic.
Amanda Gorman Outfit #2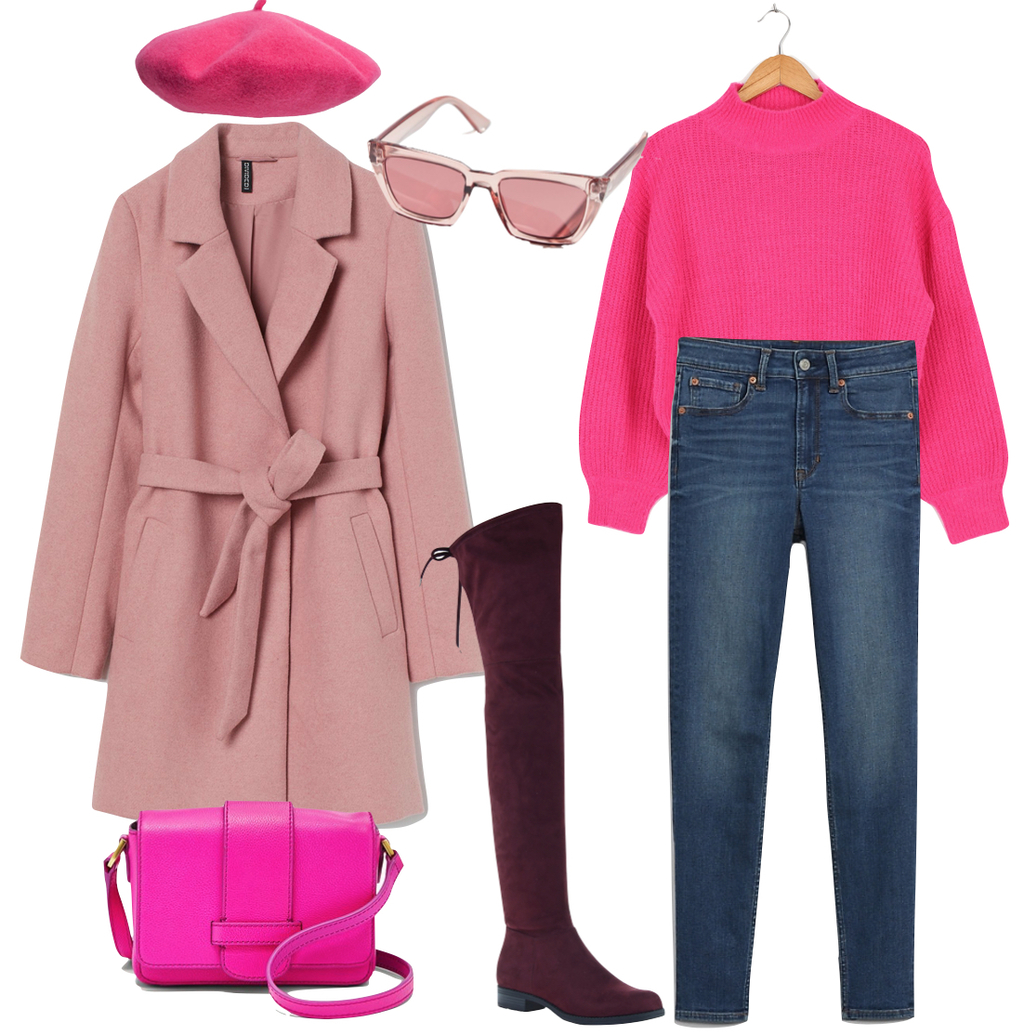 Products: Coat, Sweater, Jeans, Beret Hat, Sunglasses, Bag, Boots
This may be my favorite look of the bunch, because it can be worn for so many different occasions; that's the beauty of "casual chic."
Start with a pair of skinny jeans and a bright pink sweater – this hot pink knit mock neck sweater features stylish balloon sleeves, too.
Bundle up in a light pink coat with a tie-belt which helps to cinch your waist.
Continue with the pink theme by accessorizing with a hot pink beret hat (in true Amanda fashion), structured crossbody bag, and oversized sunglasses for a playful touch.
Since this look is all about having fun with color, add some contrast with a pair of raspberry-colored over-the-knee boots.
Amanda's Monochrome Red Ensemble
Amanda was all smiles as she celebrated her graduation from Harvard University in a red monochrome ensemble that was super cute and vibrant (and likely a nod to her school colors).
She rocked a red romper with a ruffled neckline and wore a matching red denim jacket over top.
For a trendy touch, Amanda dressed up her look with a pair of white heeled ankle booties.
Amanda Gorman Outfit #3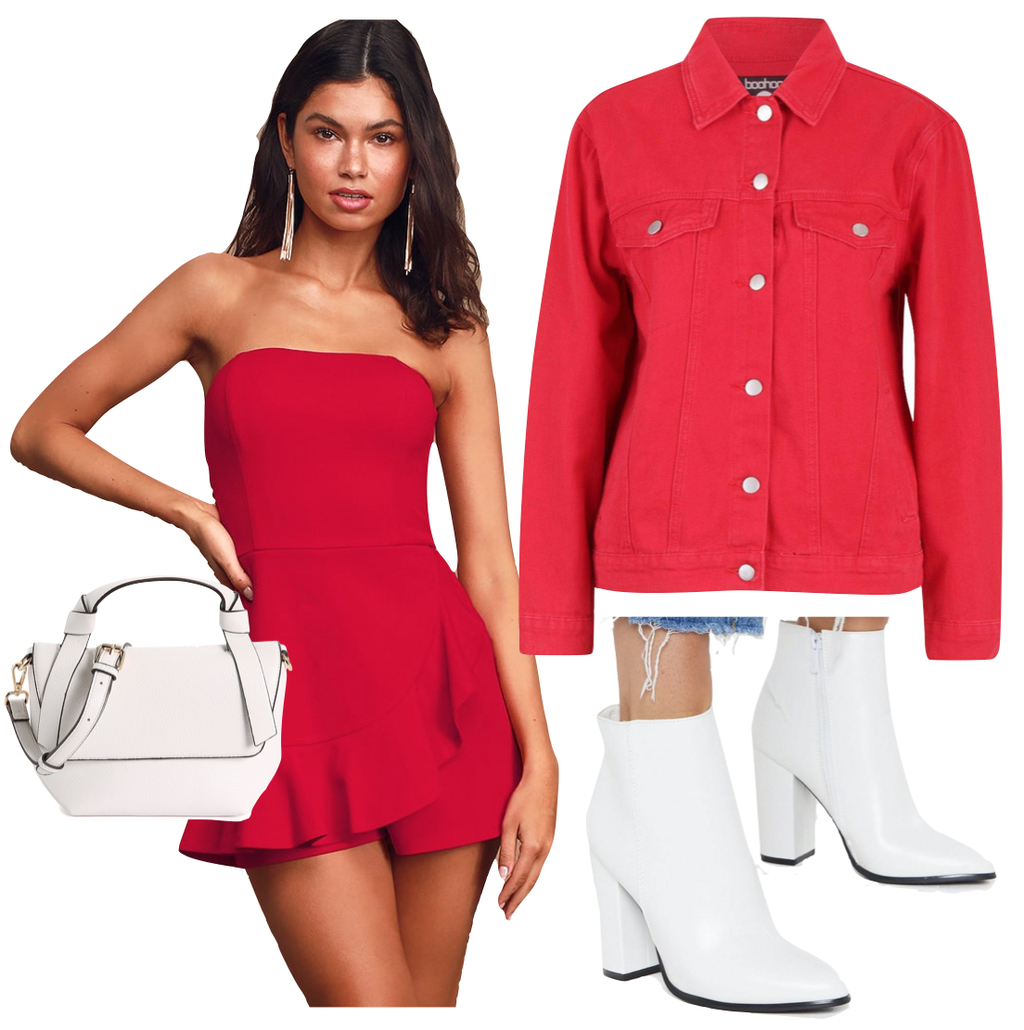 Products: Romper, Jacket, Booties, Bag
Take a cue from Amanda and opt for a bold monochrome look; wearing one color makes a very stylish statement!
The red strapless skort romper with a ruffled overlay has a flattering seamed bodice and can be dressed up or down.
For a monochromatic look, wear a red denim jacket over top. This one has an oversized fit and is a similar shade of red as the romper.
Dress the look up with some trendy white heeled ankle booties (P.S. – flat sandals will also look great with this outfit in the springtime!).
Consider accessorizing with a white handbag to match the booties and bring the outfit together.
What do you think of my Amanda Gorman style guide?
Amanda is a fantastic role model for college women because she proves it's possible to do it all. You can pursue your career, graduate from college with a high GPA, and have killer personal style, all at the same time and without letting anything slide. If that's not goals, I don't know what is!
Which outfit would you be most likely to wear? What other celebs would you like to see featured? Leave a comment and let us know!