Nowadays there are just about a million amazing food blogs to follow. As a passionate cook and eater, I'm aware of a lot of the ones that are out there, and I check my favorites just about every day.
Here are my top 10 food blogs that I think everyone should have on their radar.
1. Half Baked Harvest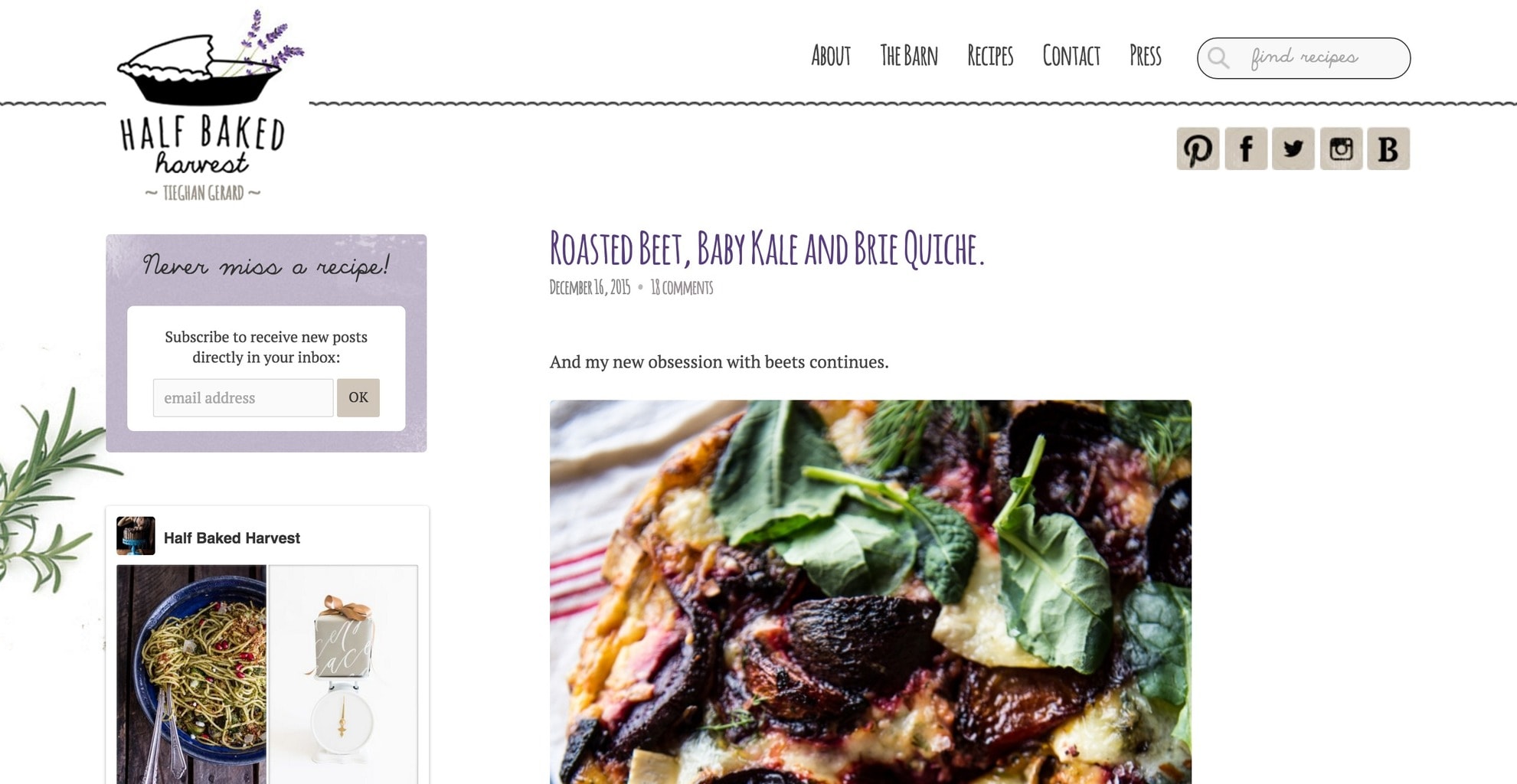 This website specializes in extravagant recipes, unexpected and luxurious food combinations, and food porn at its finest. If you want to get some serious gourmet inspiration and have a little drool along the way, this is the blog for you.
Some of my favorite recent recipes include baked gingerbread custard waffle French toast, chocolate hazelnut and caramel stuffed brownie cookies, and 30-minute chicken ramen with miso-roasted Brussel sprouts and ginger butter.
2. i am a food blog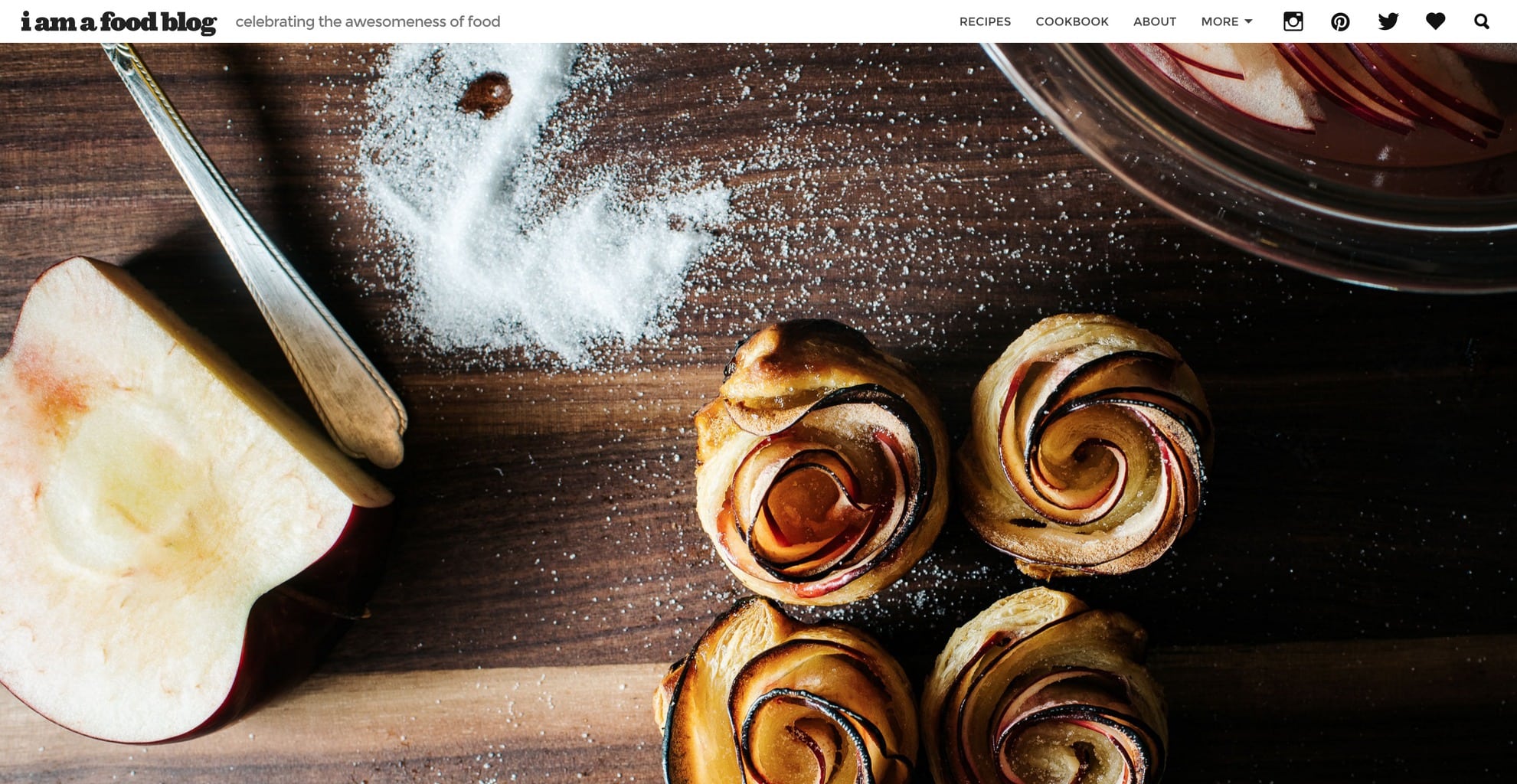 If you love your favorite foods in cute forms (think buttermilk Totoro pancakes and bacon or dim sum barbecue pork buns that look like pandas), i am a food blog is definitely a must-read for you.
This blog is full of twists on classic American favorites, and shares some Asian-inspired recipes that are as cute as they are delicious. Some recent highlights include roasted pumpkin and sage grilled cheese, BLT fried rice, and avocado bread.
3. Joy the Baker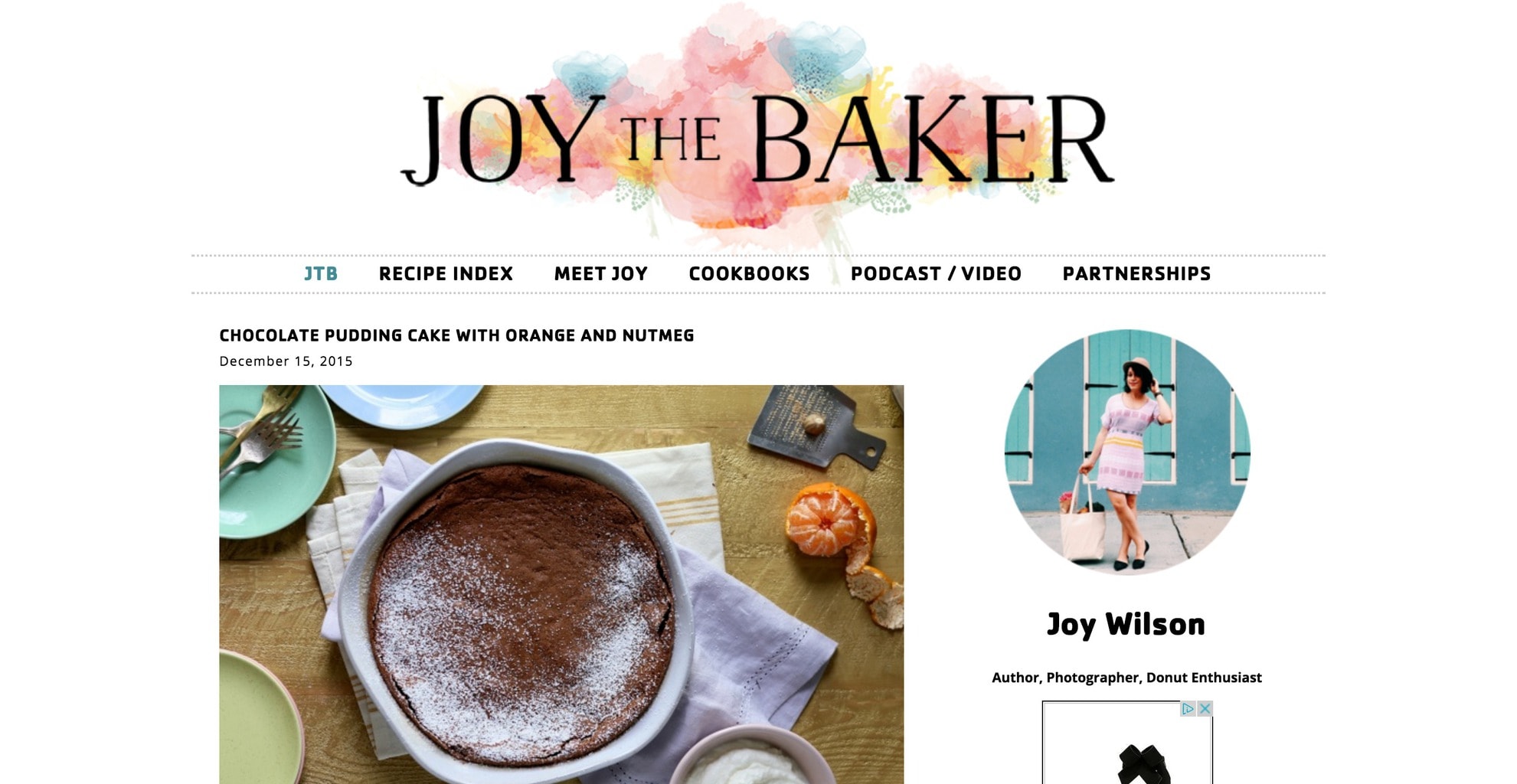 Joy Wilson's sass and vibrant personality shine through her each and every blog post.
Her decadent recipes never cease to make my mouth water. I mean, anybody in the mood for some chocolate almond ginger bark, sourdough everything pretzels, or flaky apple dumplings with salted maple caramel? I thought you might be.
4. Cookie + Kate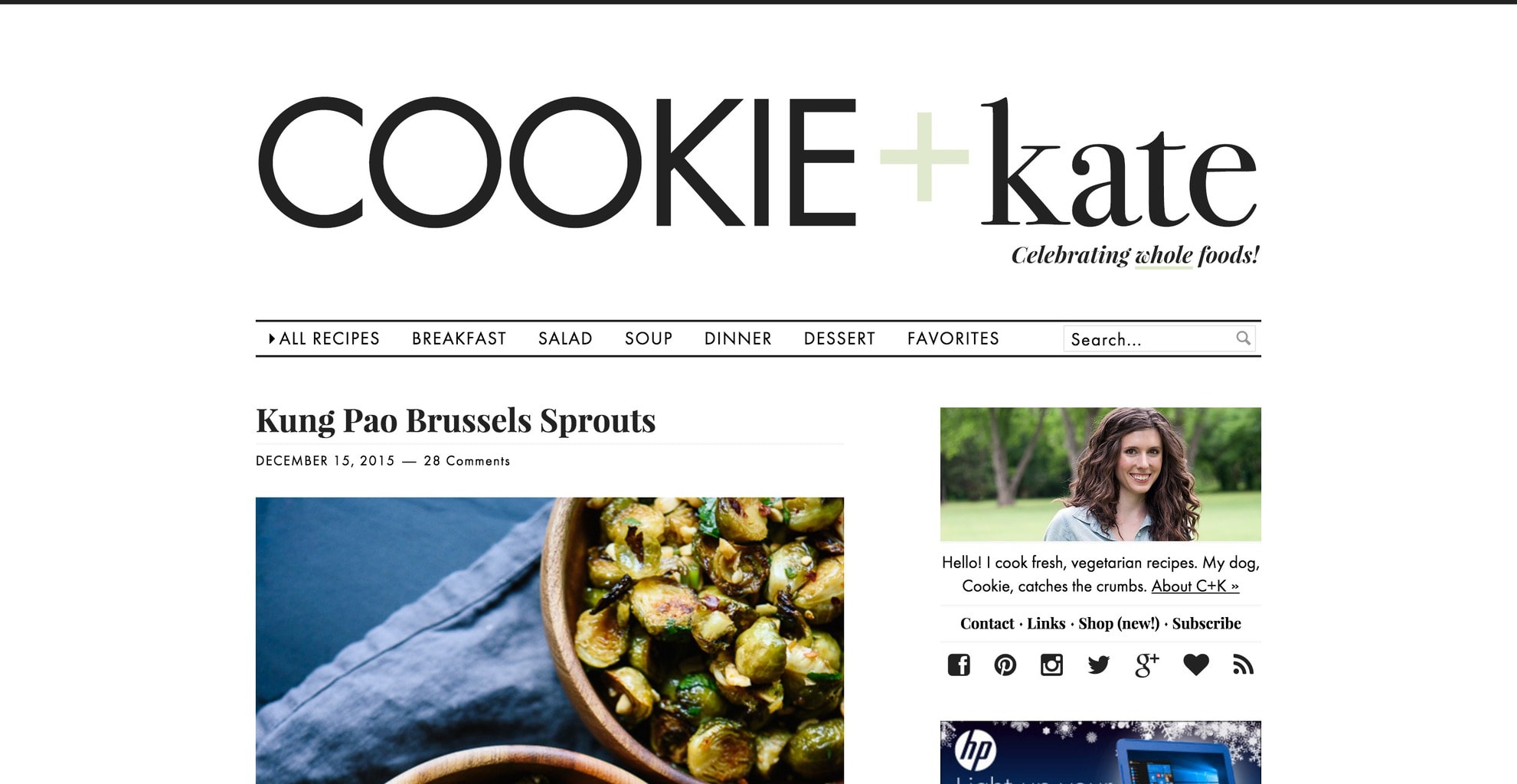 Cookie + Kate is a vegetarian's delight. Kate's recipes are always fresh, delicious, and vegetarian-friendly.
For pumpkin pecan polvorones (Mexican wedding cookies), apple cheddar quesadillas, homemade vegetarian chili, and healthy banana bread, you'll want to give this blog a shot.
5. Not Without Salt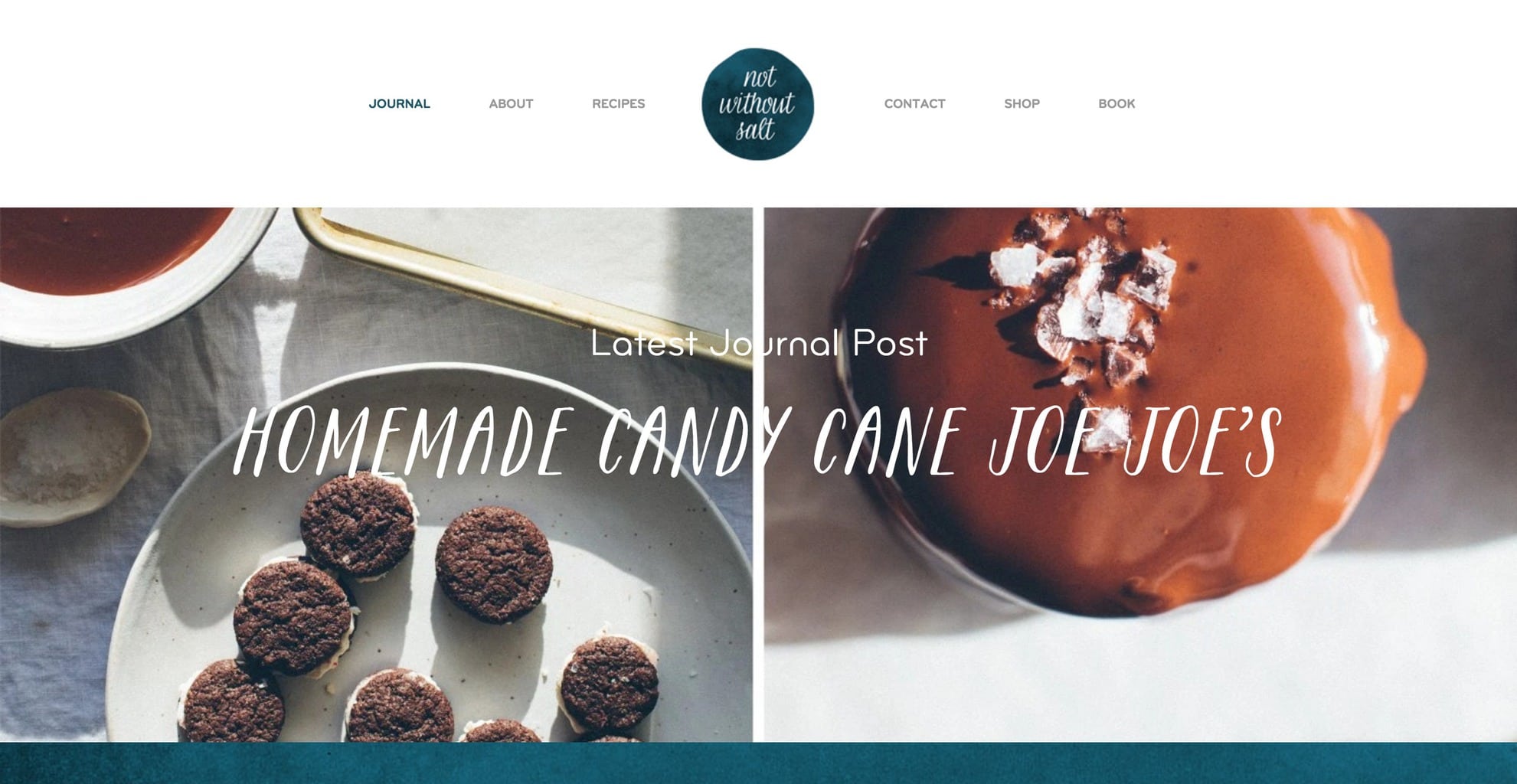 Think Alton Brown meets sophisticated, simple, delicious food and you've basically got the vibe of this gourmet food blog.
The food photos are of impressive quality and the simplicity yet richness of the recipes creates a winning combination. Check out the peppermint white chocolate chip cookie trifle, vanilla bean egg nog, and the grilled vegetables with mint yogurt sauce.
6. molly yeh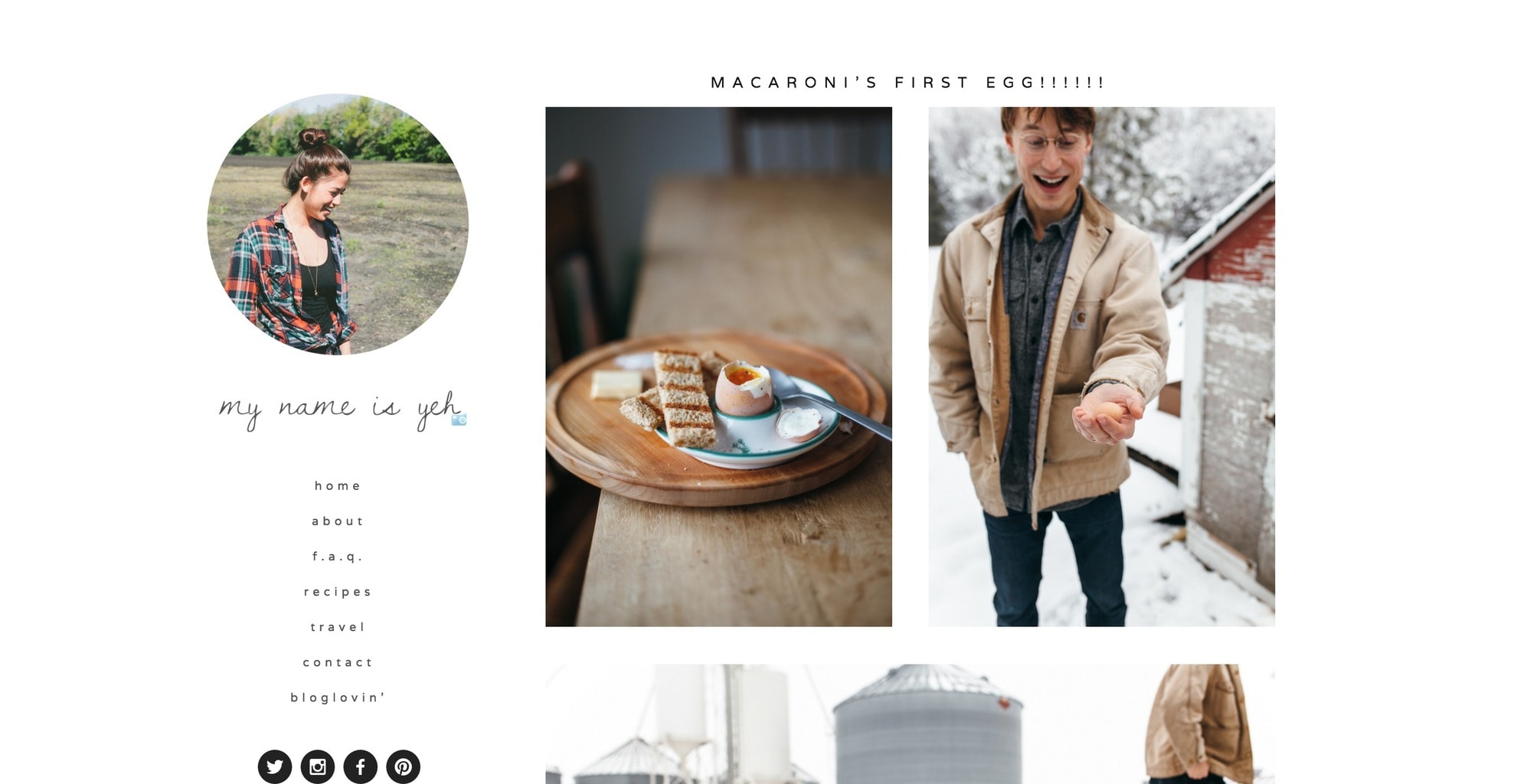 A Julliard graduate who's just as passionate about music as she is about food, Molly started her blog after moving to New York and hasn't looked back since. Her recipes present readers with truly unique and delicious food combinations.
I love that Molly is bold and isn't afraid to go where other food bloggers haven't gone before. I mean, have you ever heard of furikake latkes, blueberry cream cheese donuts, or rosemary farro with roasted grapes, shallots, and almonds? If you're intrigued, check her blog out for more.
7. Artful Desperado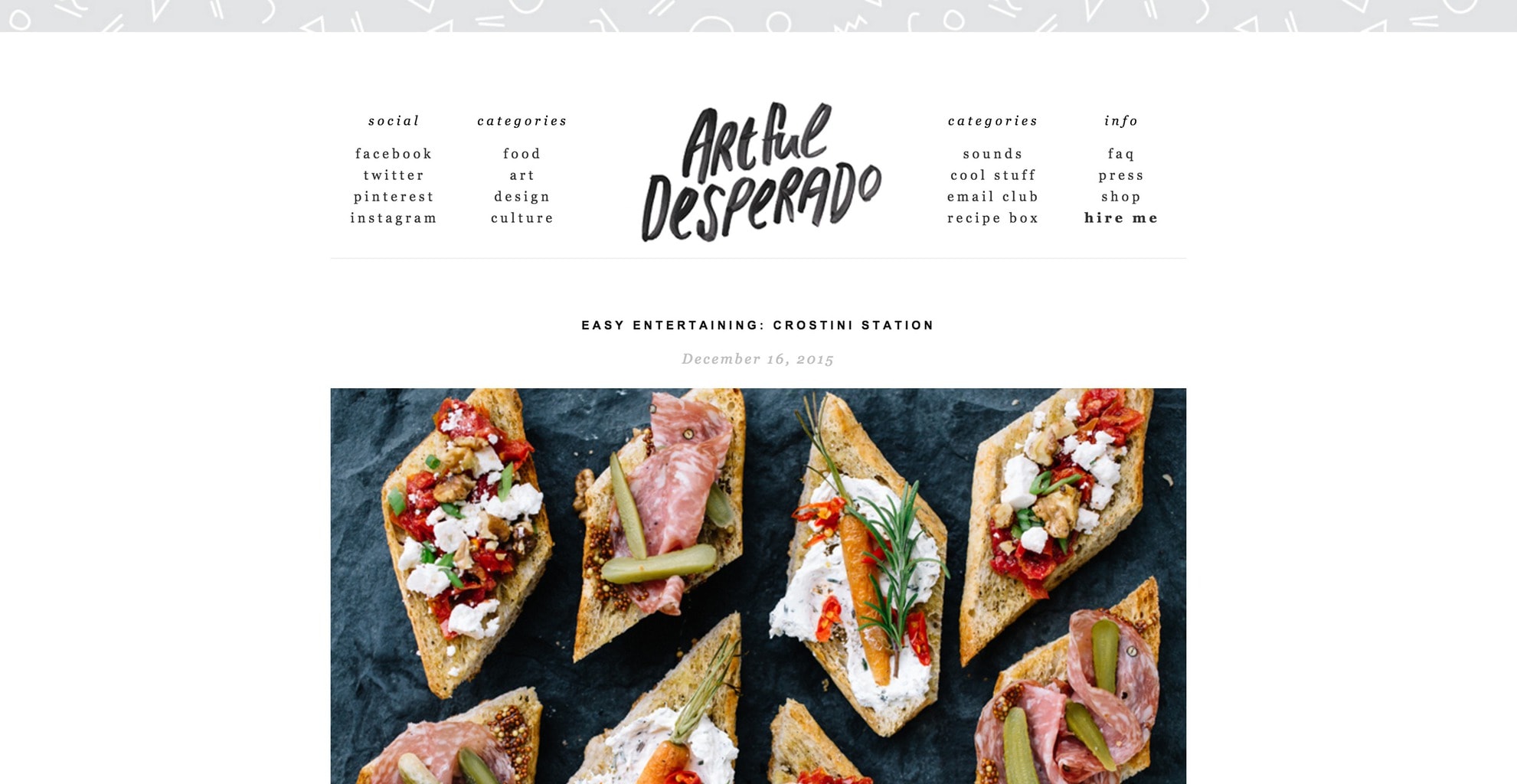 A blog focused on food, art, design, and culture, Artful Desperado provides readers with both aesthetically pleasing and delicious content.
With yummy nibbles such as homemade parmesan herb crisps, Nutella brownie tart topped with coffee salt, and vegan sriracha caramel bacon popcorn, you're bound to fall in love.
8. butter and brioche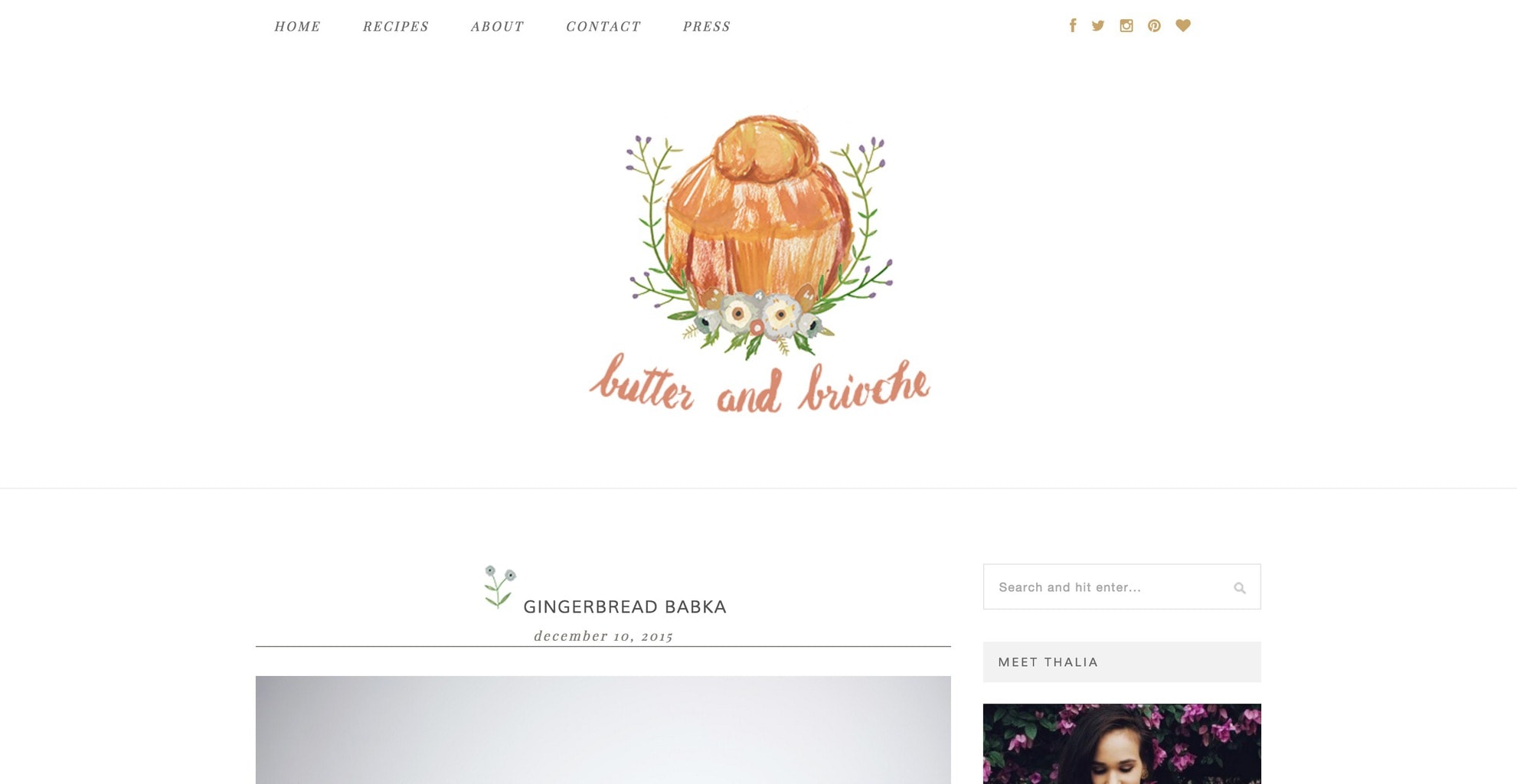 She may have her home-base in Australia, but her recipes are universally pleasing. Thalia Ho, law student and self-taught baker, shares her passion for food with others through her delicious baked goods.
For gingerbread babkas, chocolate coated espresso bean scones, and earl grey donuts with a pomegranate glaze, Thalia's your gal.
9. the first mess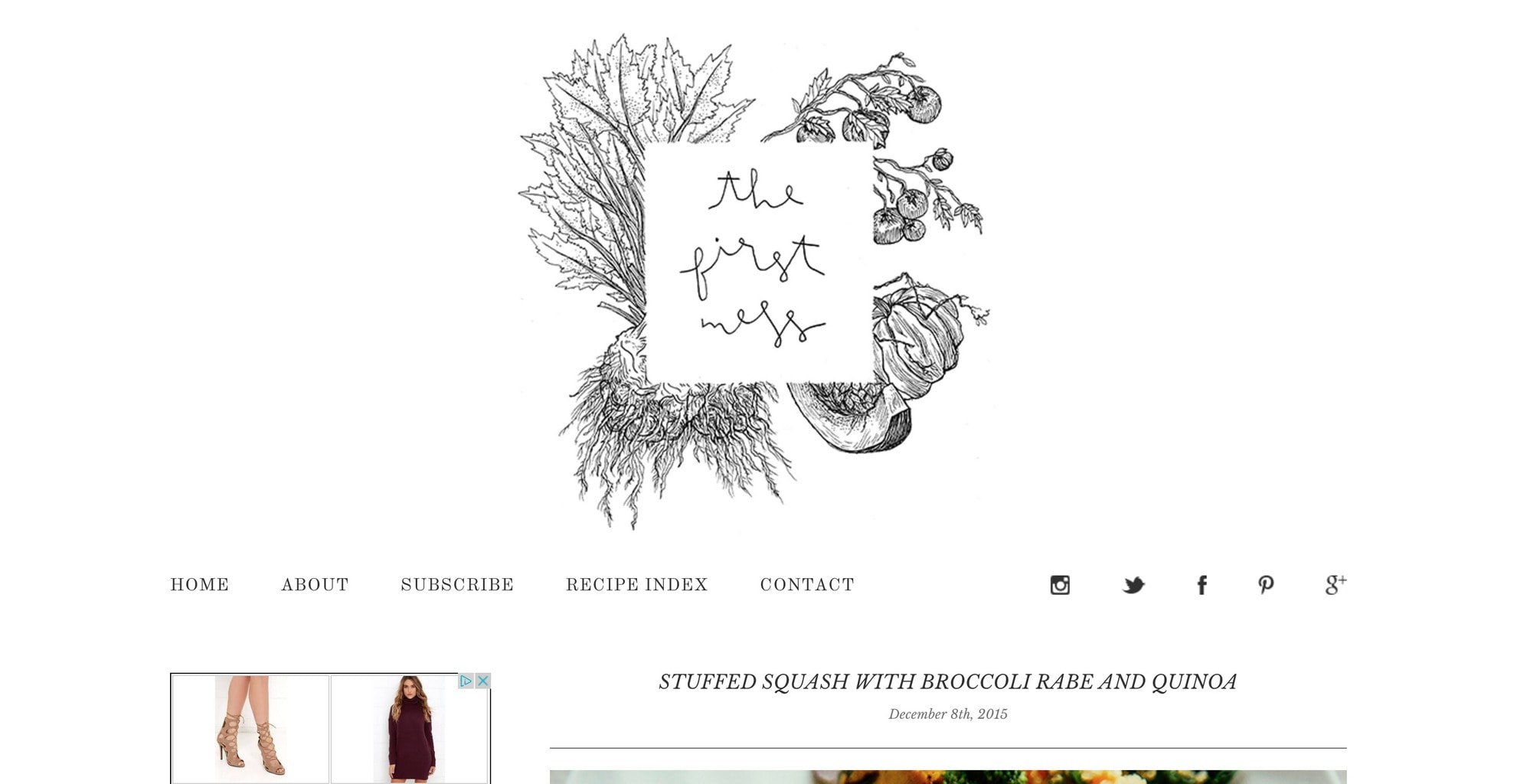 Laura loves cooking with natural foods and preparing seasonal recipes to share with others on her awesome blog. Her food is always down-to-earth – literally – and delicious, too.
Check out her papaya spring rolls, golden chana masala, and Moroccan-ish sweet potato sunshine salad, and see her entire blog for some healthy eating inspiration.
10. Buzzfeed Food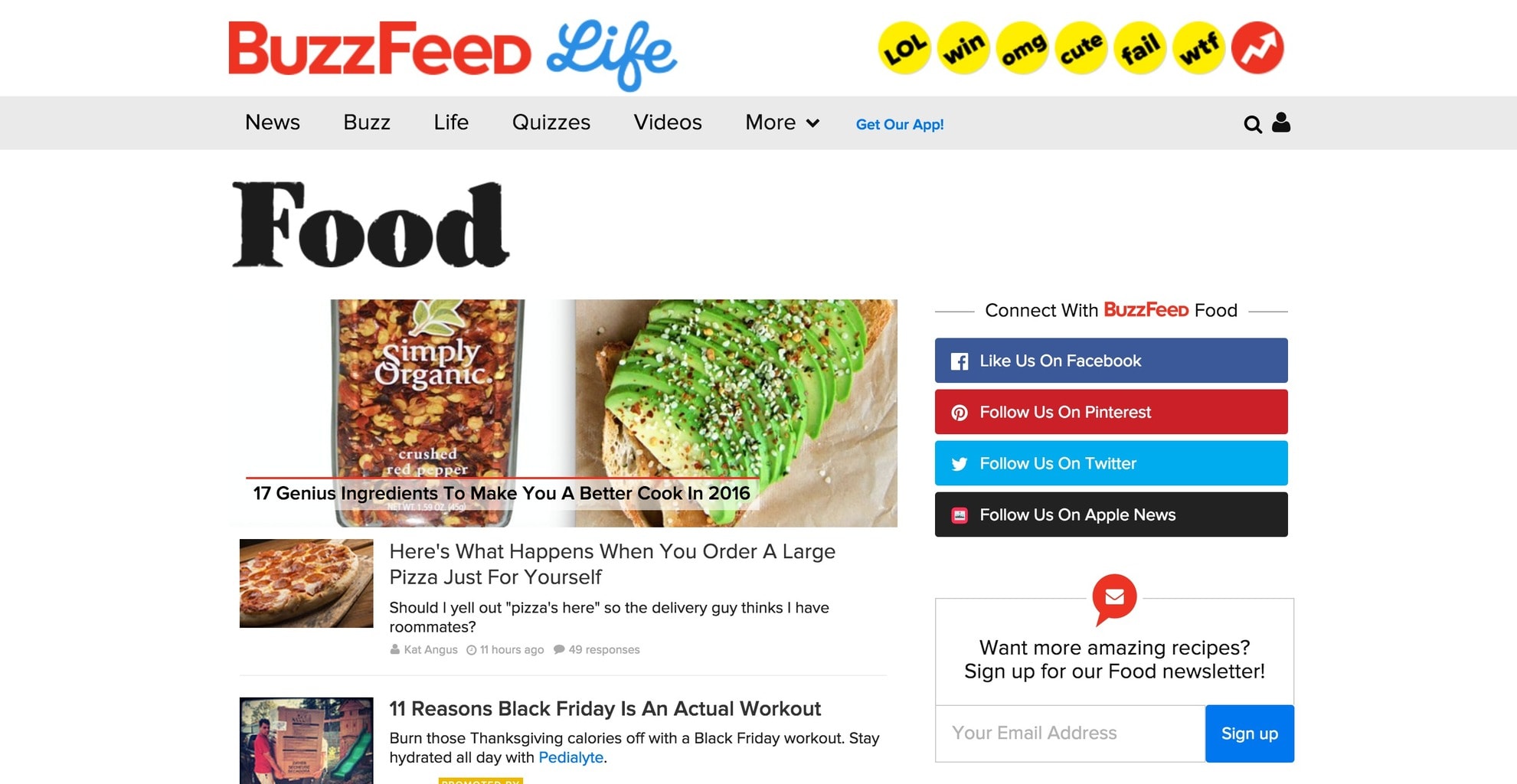 Save the best for last, right? Buzzfeed Food is every foodie's dream blog.
Whether you're looking for articles that will give you recipe ideas based on what's in season each month, articles that will make you drool, or articles that will give you food hacks you've probably never thought of before, this is the website for you. Like the rest of Buzzfeed, it's updated constantly and never ceases to provide each and every reader with an article he/she will be interested in.
Which One Will You Check Out First?
So many options! Which blogs will you check out first? Is your favorite food blog on this list? Let me know in the comments, and happy Internet exploring to all!