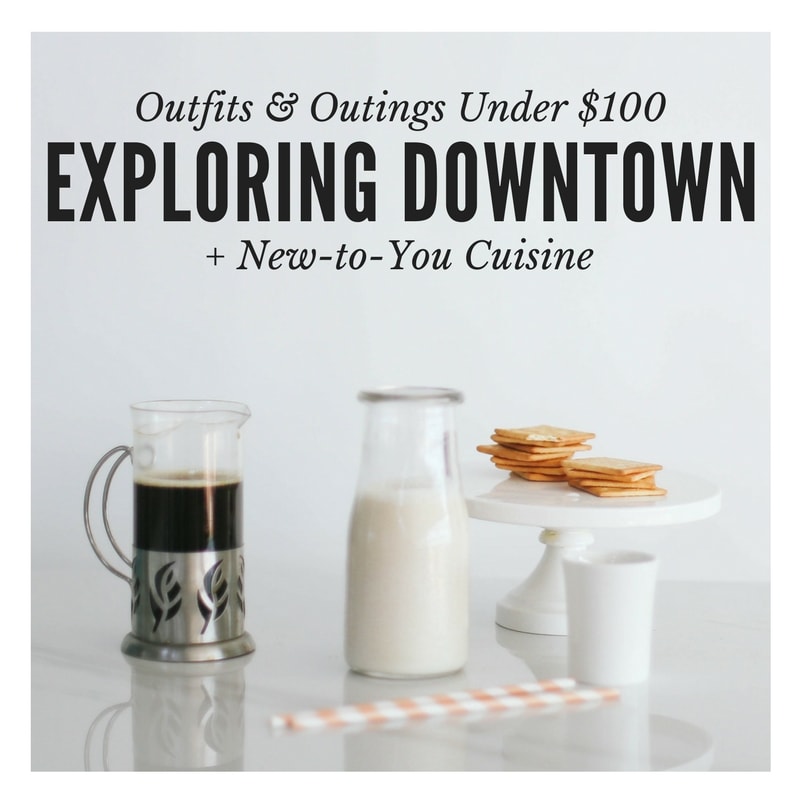 Malls. Beaches. Diners. These are quintessential summer activities. Fortunately, there's always room to add new favorites to your roster of go-to haunts. Extra credit if you pop into a restaurant that features new-to-you cuisine while you explore downtown.
Here is the rundown on O&O:
$30 max for each outing per person
$70 max for an outfit (pure clothes, rest is swappable)
Diverse sizing
Outfits for both dress/pant-lovers.
Cost Breakdown
Exploring is free! (Of course, it's always cool to bring money if you want to support local businesses.) Go find hidden nooks and hunt for pretty scenery — it's never too early to plot out your graduation photos. Note any interesting spots you stumble upon that you want to go back to. Look at the in-store bulletin boards for fun upcoming events. As a bonus, most advertised community events are free.
Eating new-to-you cuisine could be a snack and drink ($5-7) or a full-blown meal ($10-20) so plan accordingly. From Mexican popsicle stands to foreign candy shops to Ethiopian restaurants, there's plenty of food to try out!
If you have a picky palette, choose a new cuisine item that is in the family of something you already like. The family could be the food's type, texture, or flavor. Ask Google and friends for suggestions.
Beverages tend to be a pretty safe bet. For example, you'll probably like bubble tea if you like tea. If you like the smooth taste of chocolate, you'll probably like Mexican hot chocolate. If you like stronger flavors, you'll probably like stouts. Etc., etc.
Exploring Downtown Outfit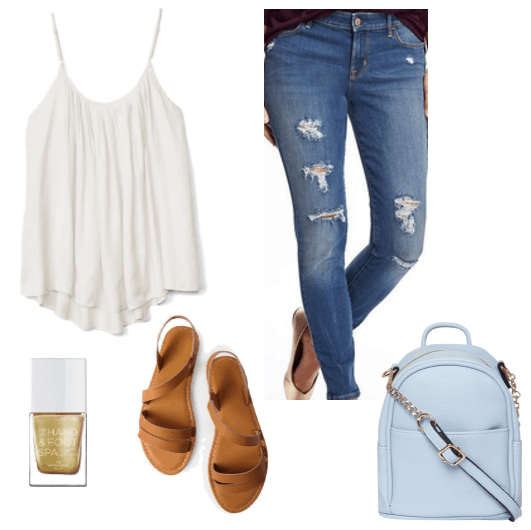 Products: Tank – Gap (S-XXL) | Jeans – Old Navy (0-16) | Sandals – Make Me Chic | Bag – Dorothy Perkins | Nail Polish – Hand & Foot Spa
Cost: $64 as of May 25, 2017
Downtown exploration requires light colors, sturdy shoes, and a hands-free bag. Distressed jeans add a nice touch of ventilation while guarding against freezing A/C.
This hybrid bag is both a backpack and cross-body bag! It's versatile for both fun and school. If you're not a fan of wearing jewelry in the heat, shimmer it up with gold nail polish.
New-to-You Cuisine Outfit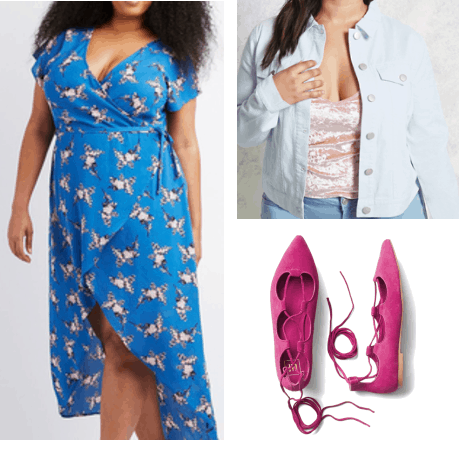 Products: Dress – Charlotte Russe (2X-3X) | Jacket – Forever 21 (0X-3X) | Shoes – Gap
Cost: $57 as of May 25, 2017
No matter the dining atmosphere, you'll look prepared in a floral wrap dress. Can't go wrong with an airy dress that cinches your waist perfectly. Psst, it's also a great wedding or graduation guest dress if you have a lot of those invites coming up!
A light-washed denim jacket is as much of a summer staple as ice cream. Snoh ice cream is also becoming a huge trend in the foodie world if you want to check that out.
Hot pink lace-up flats keep the hyphenated playful-youthful-but-still-elegant vibe going.
Your Thoughts?
Do you ever explore in your own city? What are your favorite things to do in your town? Let us know in the comments.