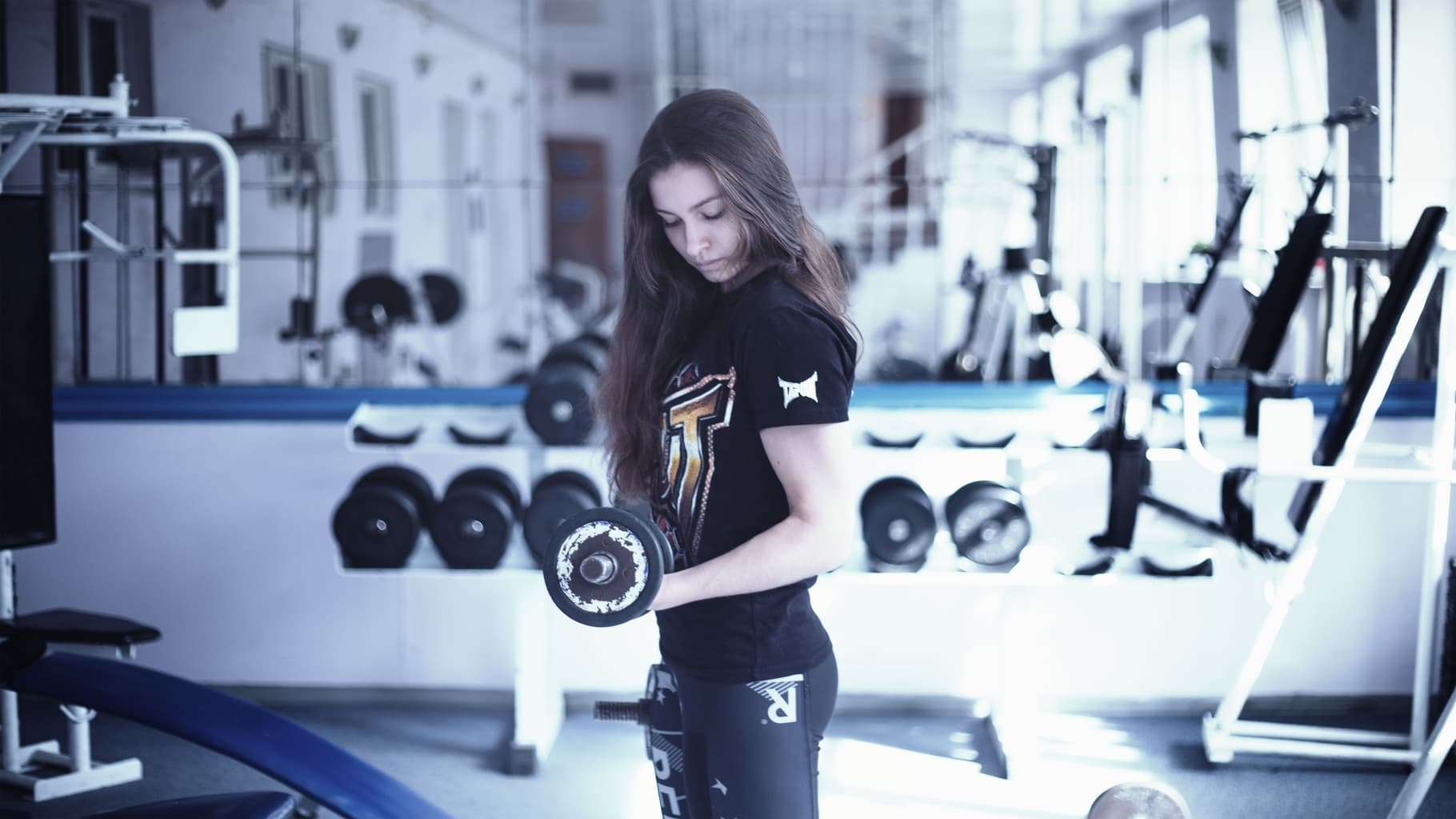 Maybe this is just a me thing (read: a non-planner thing) but more than once I've made a grand and noble new year's resolution only to be handicapped in the first month because I don't have the right equipment. Like, one year I resolved to start running again, but I didn't realize my old running shoes were too busted. Because I hadn't budgeted for new running shoes, I couldn't run in the first couple of weeks of the year or work towards my resolution. Oops.
If you're making a super specific resolution (see our guide to New Year's resolutions for students to learn why your resolutions should be specific), it can't hurt to do some research on what stuff you'll need to be successful and reach your goal. That being said, for some of the most common new year's resolutions, there are a couple of things that I've found helpful when trying to reach my goals.
Here's my list of 24 things that will help you reach your goals in 2018:
Be Healthier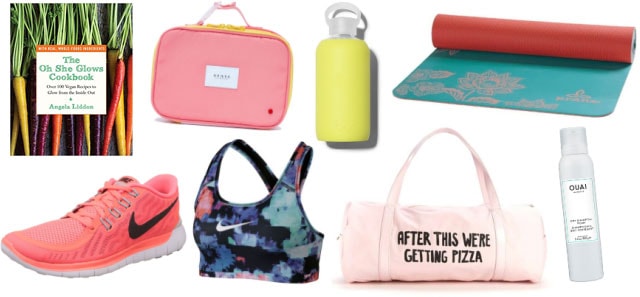 Oh She Glows Cookbook – Amazon | Lunchbox – STATE bags | Water bottle – Saks Fifth Avenue | Yoga mat – REI | Running shoes – Amazon | Sports bra – Macy's | Gym bag – Miss Selfridge | Dry Shampoo – Sephora
Whether your new year's resolution was to get fit, eat healthier, get your mind right, or just commit to drinking more water, you'll need just a little equipment to help you meet your goal.
Cookbooks: If you're trying to start eating clean, going vegan, or getting more comfortable in the kitchen, a few clutch cookbooks can do you a world of good. These days, there are tons of cookbooks by bloggers, like Love and Lemons or Thug Kitchen. You might even want to try a cookbook from a celebrated chef, like my girl Alex Guarnaschelli.
Lunchbox: If one of your goals is to pack a lunch more often, treat yo'self to a cute af lunchbox so you'll be more likely to brownbag it.
Water bottle: No explanation necessary. Designate one for your gym bag and keep it there so you're never sweating without it.
Yoga mat: Not just for yoga addicts. Yoga mats are perfect for floor work if you're looking to build strength, or stretching if your resolution involves running, lifting, or any workout that requires a little extra TLC.
Gym shoes: Unless your workout of choice is yoga (or barefoot running, I guess) invest in a quality pair of gym shoes. You won't regret it.
Supportive sports bra: For a few months I tried wearing some cheapo sports bras that squished and pinched to my hot yoga classes, and it was a pain in the @ss, so to speak. Splurge a little for something supportive that fits you right, and you won't dread going to the gym as much. Trust.
Gym bag: Get one that makes you smile. Like ones that promise you rewards of pizza.
Dry shampoo: A must-have for any girl who's going to be working out more in the new year. Sweaty hair just isn't cute.
Get Organized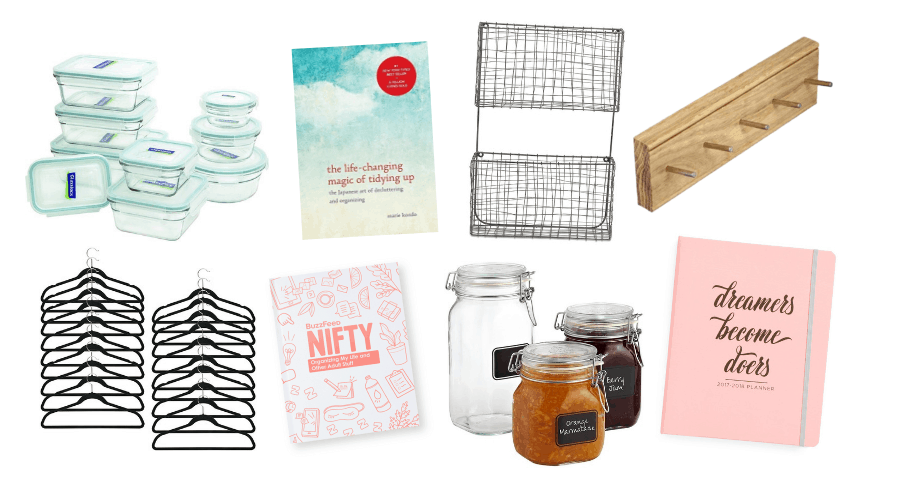 Tupperware – Amazon | The Life-Changing Magic of Tidying Up by Marie Kondo – Amazon | Letter organizer – Amara | Key hooks – Trouva | Hangers – PBteen | Nifty Journal – Shop Nifty | Sealed Jars – The Container Store | Planner – TJ Maxx
Getting organized is a major undertaking, whether you're organizing your home or your life. You don't need a bunch of fancy ish to get organized, but in my experience, a few strategic purchases can go a long way in getting you there.
Food storage set: Step 1: Throw out all of your current mismatched, old, abused tupperware. Step 2: Buy a matching set to replace them. Step 3: Never panic looking for a lid again. Step 4: Enlightenment.
The Life-Changing Magic of Tidying Up by Marie Kondo: Just buy it and read it. It truly will change your perspective on your material possessions.
Letter organizer: If the flat surface closest to your entryway quickly becomes buried in a sea of unopened mail, you need one of these. I like organizers with two boxes – one for mail you don't need to open or address right away, and another for mail that needs to be addressed. Hang as close to your front door as possible.
Key hooks: Never be 10 minutes late to work again because you couldn't find your keys. Just me? Ok, moving on..
Matching hangers: Always wanted your closet to look like it could maybe be on UO's Instagram? Start with matching hangers. Black velvet isn't necessary, but it's a plus.
Adulting journal: If you're a brand-new adult and you have no idea where to start with getting your life, something like this that's going to help guide you through the organizational aspects of adulting. Also recommended: Adulting by Kelly Williams Brown.
Sealed jars: I don't know about you, but my pantry is my white whale of organization. So many brands! Such odd-shaped packaging! Live your best life by storing your essentials (rice, flour, chia seeds, whatever) in these cute jars. You'll feel like a gd style blogger and you won't have a panic attack every time you open your pantry.
A planner: If you're trying to get your life right, a planner is a lifesaver. Find one that makes you happy and you won't mind carrying around everywhere.
Practice Self-Care
Socks – Nordstrom | Face Mask – Urban Outfitters | Coloring Book – Amazon | Sweater – H&M | Blanket – Wayfair | Candle – Madewell | Book – Amazon | Bath bomb – Lush
If I've learned anything from 2017, it's that making time for relaxation and self-care is absolutely essential for me to stay sane. We discuss self-care a lot here at CF, and I would have nothing but mad respect for anyone whose resolution in 2018 is to make more time for themselves. Here are some of the things that will make your self-care journey easier:
Warm socks: You know how getting socks for Xmas and your birthday used to be the worst? Now, I feel like there's nothing more comforting and relaxing that peeling of your shoes and socks from the day and putting on a fresh pair of warm, fuzzy socks. Feel free to invest a little extra in these puppies. You won't regret it.
Face mask: Sheet masks are my self-care go-to, but anything that floats your boat and makes your skin happy would be perf. Bonus points here for the luxe rose-gold finish for extra snapchat-ability.
Coloring books: When I'm in real need of a mindless but meditative activity, I'll pour myself a glass of wine and crack open a coloring book. There are tons of coloring books out there for adults now, from mandalas to fantasy scenes to this fashion coloring book, which I suspect might be right up your alley.
Oversize sweater: Like wearing a hug. Maximum hygge, maximum self-care.
Blanket: See above.
Fancy candle: As a certified candle pusher, I couldn't not include one here. Whether you're taking a bath, doing some reading, or just catching up on your Netflix queue, lighting a candle immediately takes you to relaxation mode.
A book: One of the self-care things I try to do every day is to read a little bit before bed after I power down. Try to pick something you wouldn't normally reach for, like poetry or non-fiction. Self-care for the brain!
A bath bomb: It wouldn't be a self-care list without a bath bomb, right?
What do you think?
What are your resolutions or goals for 2018? How are you prepping you meet your resolutions? Let me know in the comments below!