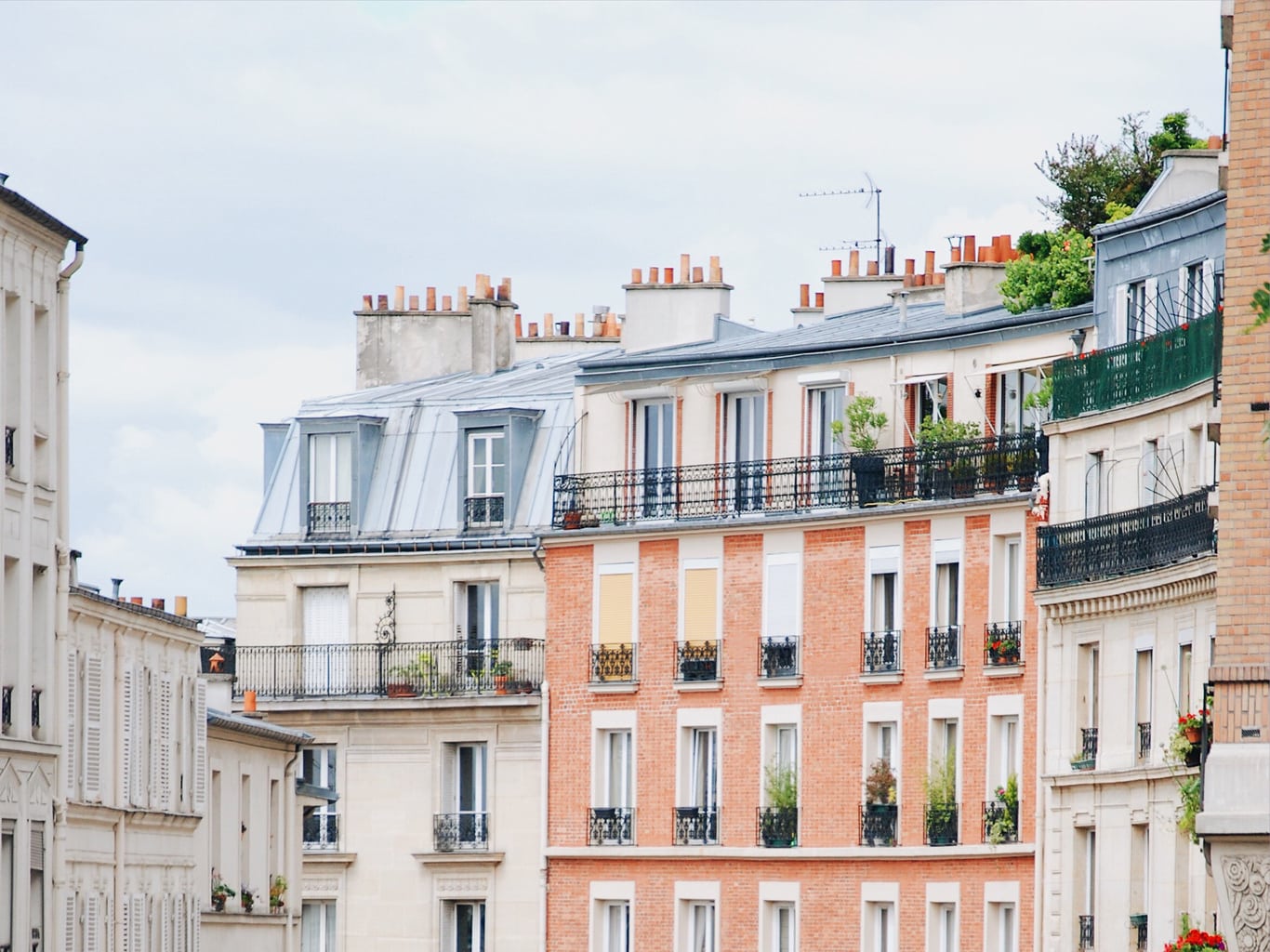 What girl doesn't dream of Paris in springtime? (The lucky ones who live there year-round, I suppose.) If you read the previous post in this series, you know that I'm spending the semester studying abroad in Madrid. The great thing about studying in Europe is the proximity to other countries: it seems like the rest of Europe is just a stone's throw away! For spring break, or "Semana Santa", as they call it in Spain, my friend Nicole and I spent eight days exploring Paris.
Fond as I am of my new home in the city of Madrid, I'll admit that I fell head over heels in love with the City of Light. I'm still a little sad I had to leave, but I can relive my memories by sharing these looks inspired by some of the famous monuments of Paris!
P.S. All the photos in this post are from my trip, so apologies for gratuitous pictures of myself! Although I do have to say that I think I did a good job blending in– I got asked several times for directions from both tourists and locals. It's safe to say that trench coats and leather jackets are a good choice. Also, scarves are the holy grail of Parisian accessories.

Joie de Vivre: About Paris
Paris is the capital and the largest city in France. The city is divided into 20 districts, called "arrondissements." The 1st arrondissement is in the center of the city and the rest are named in clockwise order spiraling outwards towards the city limits. (We stayed in the 12th arrondissement, which led to many dumb jokes about being in District 12 and volunteering as tribute.)
What to Do in The City of Lights
Apart from the sights listed below, we also visited Notre Dame Cathedral, Victor Hugo´s house, and Pere Lachaise Cemetery (where Jim Morrison is buried), all of which are free. We also ventured down into the Catacombs (they house over 6 million skeletons–so creepy but so fascinating). The Seine river cruises are super touristy, but still really fun.
If you want to soak in all the history, I'd recommend getting the Paris Museum Pass. It comes in two, four, or six day passes and grants admission to over 60 museums and monuments, including Versailles, the Louvre, Centre de Pompidou, and Napoleon's Tomb.
Housing & Food
Since we were there for a week, Nicole and I did a short-term apartment rental instead of staying at a hostel or hotel. We rented from a Ph.D student, and it actually came out to be less than a hotel would have cost. The apartment had a kitchen, so we also saved money by cooking our own food.
Three words: Freshly baked baguettes. At 90 cents a pop, there's no guilt in eating an entire loaf every day! (Caloric guilt, maybe.) Cheese and wine are also incredibly affordable in the supermarkets.
The crêpe stands on the street are totally irresistible, but make sure to insist that the vendors make the pancake part fresh, as there's nothing worse than paying for a soggy, limp crêpe!
There's a reason the line is out the door at Ladurée: their macarons and other pastries aren't just beautiful, they're also beyond scrumptious.
Shopping & Fashion
The ubiquitous supermarket Monoprix is sort of like a Parisian Target. They sell regular groceries as well as makeup, clothing, and accessories. Other popular (but pricey) brands are Petit Bateau — which started as a kids store but has branched into women's wear — Comptoir des Cotonniers, Maje, Kookai, and shoe stores Andre and Jonak.
If you're looking for a bargain, many of these brands have stock stores, which are like individual outlet shops for last-season merchandise. Just Google "stock store Paris" for comprehensive lists.
There are tons of flea markets and vintage shops around Paris as well, if you're looking to score that one-of-a-kind piece. I had lots of luck with the thrift store chain Guerrisol.
Make sure to take a walk down Champs D´Elysees. All the high end designer goods were way out of my price range, but it was nice to daydream. Fun fact: the French term for window shopping is "faire du lèche-vitrine," which literally translates to "licking the windows."
Outfits Inspired by Paris
Musée d'Orsay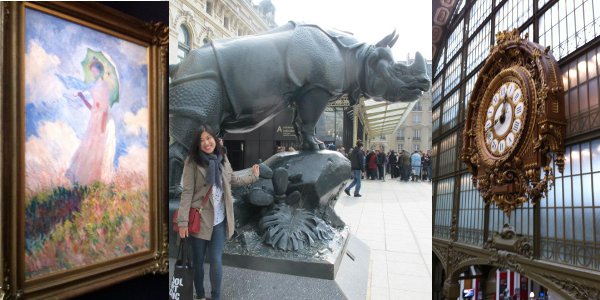 L-R: Monet's Woman With a Parasol, Rhinoceros, Musée du Orsay Clock
When it comes to Parisian museums, everyone knows about the Musée du Louvre, the stately home of the Mona Lisa and possibly the Holy Grail, but my personal favorite has to be the Orsay, which houses the world's largest collection of Impressionist and post-Impressionist paintings.
The building, constructed in 1900, was once the Gare d'Orsay, a major train station, but was closed in 1939. In 1986, the Musée d'Orsay opened its doors to patrons eager to see works by artists such as Degas, Monet, Manet, Van Gogh, Renoir, Cezanne, and Seurat.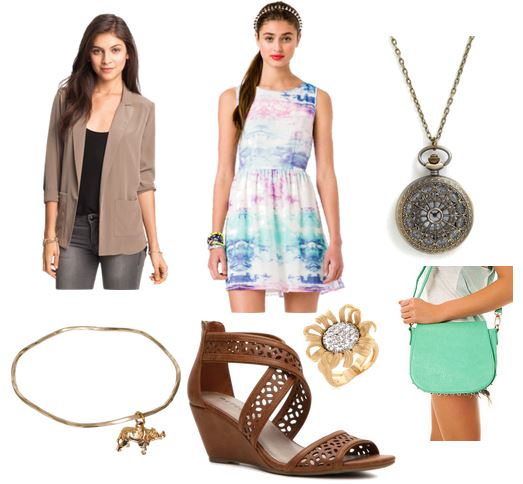 Product Information: Blazer, Dress, Shoes, Bag, Necklace, Ring, Bangle
Take inspiration from this masterpiece of a museum with an artistically-inclined outfit that would be suitable for exploring any museum!
A watercolor-print dress is reminiscent of the Impressionist works in the Orsay, while a taupe blazer adds a touch of formality. Comfy wedge sandals are cute, but won't kill your feet as you wander the exhibits. Add an ornate pocket watch-style necklace as a reference to the huge Beaux Arts clock in the Main Hall (it was, after all, a train station!) Keep using accessories as homage: a sunflower ring pays tribute to Van Gogh, while a gold bangle is a cute miniature of the rhinoceros statue outside the museum.
Tour Eiffel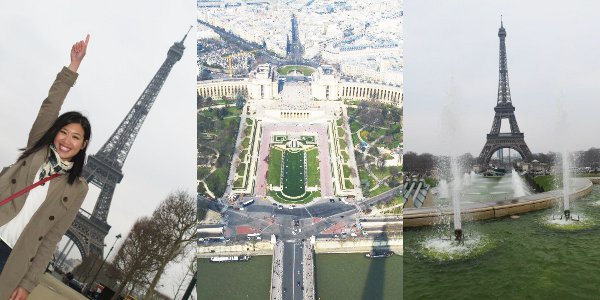 Visiting the tower, the view from the top
There's no Parisian monument as iconic as this one! The Eiffel Tower, named for designer Gustav Eiffel, was erected in 1889 as part of the World Fair.
Since most of us can't imagine Paris without the iron structure, it's interesting to note that many Parisian artists absolutely despised the building when it was first constructed, calling it a monstrosity. The Tower was initially scheduled to be dismantled in 1909, but was allowed to stay due to its additional function as a radio tower. Today, the Eiffel tower is the most-visited paid monument in the world.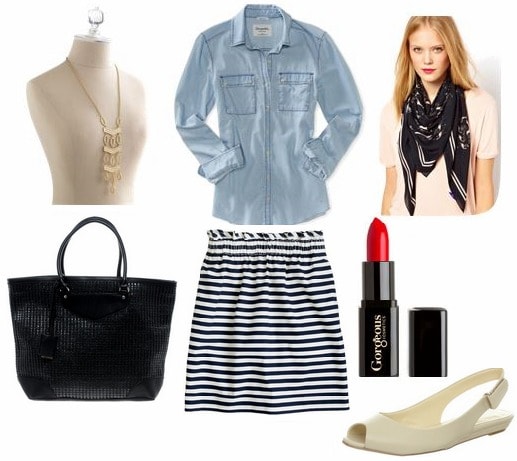 Product Information: Top, Skirt, Shoes, Bag, Scarf, Necklace, Lipstick 
I tried hard to figure out a flattering outfit that resembles a 320 meter tall iron tower, but eventually decided to just go with a more relaxed interpretation. This classic and oh-so-French ensemble would be perfect for strolling the gardens that surround the Eiffel Tower.
You can't go wrong with classics like a perfectly worn-in chambray shirt, slingback nude flats, and a black leather tote. Statement pieces like a striped skirt and metal lattice necklace keep the look fresh, while a black and white scarf with an Eiffel tower print provides a subtle tribute to the famous tower. Complete the look with a perfect red lip!
Montmartre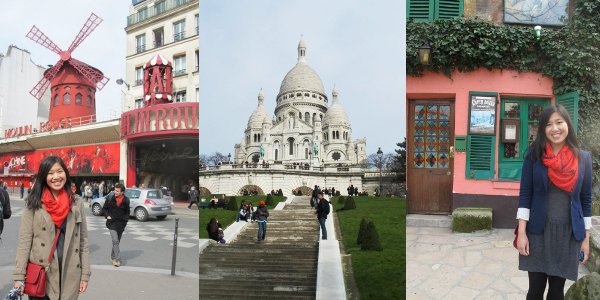 L-R: Moulin Rouge, Basilique du Sacré-Cœur, Cabaret au Lapin Agile 
Montmartre, located in the 18th arrondissement, is home to the white-domed Sacre Coeur Basilica. Although less active today, the area was also known, historically, for its community of bohemian artists and a lively red-light district. During the early 20th century, artists such as Picasso and Modigliani frequented Montmartre cabarets such as Le Chat Noir and Lapin Agile. Montmartre also serves as the backdrop for many well-known movies such as Amelie, Moulin Rouge!, and La Vie En Rose.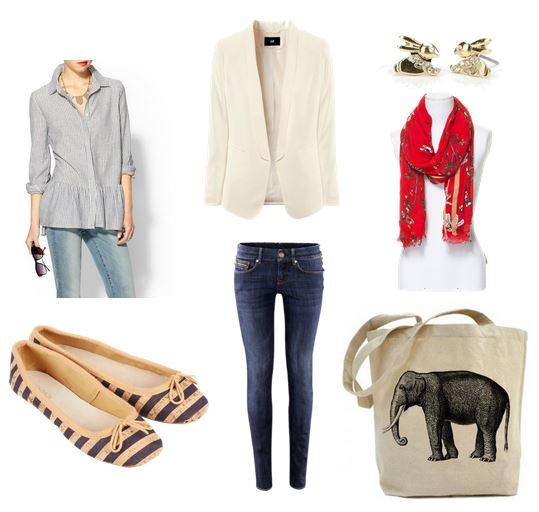 Product Information: Blazer, Top, Jeans, Flats, Bag, Scarf, Earrings
Follow in the footsteps of generations of aspiring artists and get inspired by this colorful district!
A white blazer is super on-trend for spring and is the perfect complement to a simple gray button-down and jeans. Don't forget to add a pop of color with the Frenchwoman's favorite accessory, the scarf! Rabbit earrings allude to the Cabaret au Lapin Agile (which translates to "nimble rabbit") while chic striped ballet flats will guarantee you a certain je ne sais quoi. Stash your sketchbook and pencils in a casual tote bag emblazoned with an elephant (a subtle reference to the Moulin Rouge! film).
Château de Versailles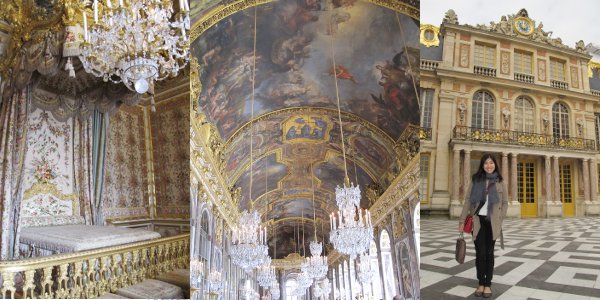 L-R: The Queen's Bedroom, The Hall of Mirrors, Courtyard 
The Château de Versailles, located outside of Paris, began as a humble hunting lodge and eventually became the grand epicenter of French political power, housing the court of Louis XIV, the Sun-King. It was also the home of doomed monarchs Louix XVI and Marie Antoinette.
Today, the splendid royal apartments and gardens are open to the public. While you'll literally have to fight your way through the swarms of tourists, the incredible chambers and gilded decorations are well worth the trouble.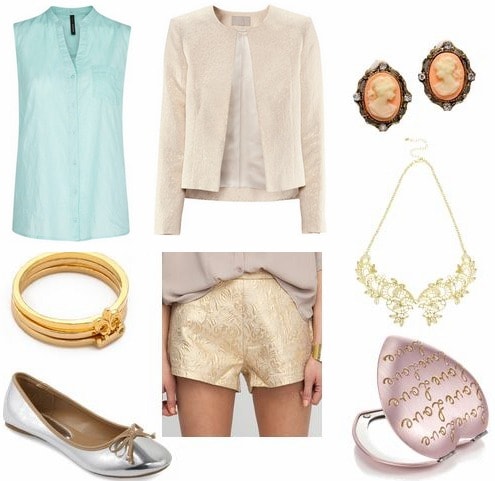 Product Information: Jacket, Top, Shorts,Shoes, Earrings, Necklace, Ring, Mirror
While no one envies Marie Antoinette's eventual fate, there's no harm in taking inspiration from the lavish court life she once enjoyed.
Pair a metallic tweed jacket with brocade shorts for a take on the shorts suit. A mint blouse complements the cream and gold colors. Versailles is well-known for being absolutely slathered in gold, so bring on the bling with a gilded lace necklace, a fleur de lis ring, and cute cameo earrings. Finally, pay homage to the famous Hall of Mirrors with a pair of gleaming flats and a cute pocket mirror to stash in your purse.
Shakespeare and Company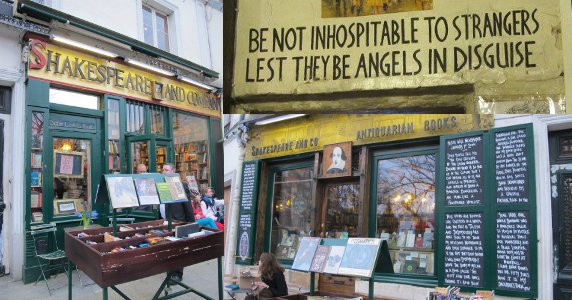 Shakespeare and Company 
The Left Bank of the Seine is peppered with stores and stalls hawking antique books and prints. One of the most famous is Shakespeare and Company, which was opened by George Whitman in 1951. Whitman, an American GI, allowed young writers, travelers, artists, and poets to stay in the apartment above the bookstore so long as they read a book every day and contributed to running the shop.
Shakespeare and Co. was one of the first English-language bookstores in Paris, and remains a popular spot to this day – it was recently featured in the Woody Allen movie Midnight in Paris. (I had never heard of it until last year, when I did a scavenger hunt that included taking a picture in the shop as a hunt item.) It's a delightful, dusty little place full of books and dreamers.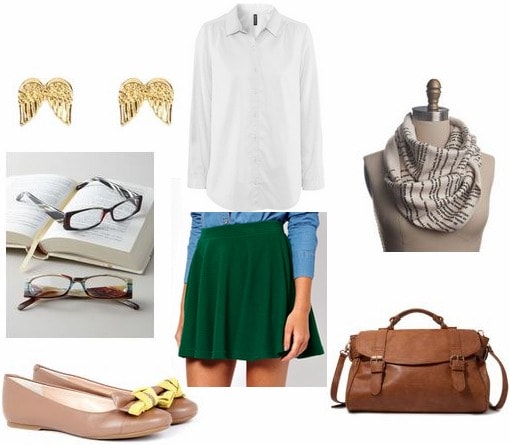 Product Information: Top, Skirt, Shoes, Scarf, Earrings, Bag, Glasses 
Whether you're searching for rare books or just poring over your notes for your upcoming finals, make sure you look chic while doing it!
A classic white button-down is the perfect foil for a skater skirt in the same hue as the bookstore's facade. Nude flats with mustard bows will make your legs look fantastic. A literary-inspired infinity scarf (this one's Les Miserables) and chic reading glasses will have you prepared to tackle even the most daunting of tomes. Angel earrings allude to the motto painted inside the bookstore, while a cognac satchel is perfect for hauling around a stack of books!
Disneyland Paris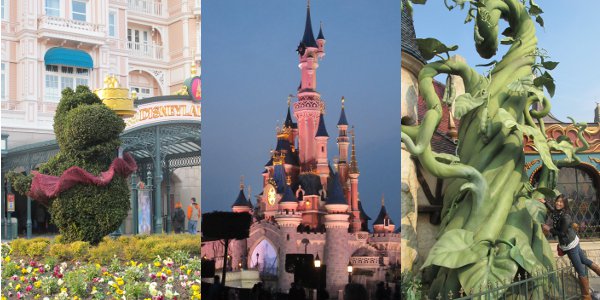 L-R: Magical Hippo, Magical Castle, Magical Beanstalk 
Disneyland, you scoff? Really? I thought this post was supposed to about culture. Well, I'm the one writing this article, and I happen to be a firm believer in the eternal magic that is Disney. Faith, trust, and pixie dust, folks!
Disneyland Paris (once called Euro Disney) is located about 40 minutes outside of the city and contains the Disneyland Park (akin to Disneyland Resort or the Magic Kingdom at Walt Disney World) and the Walt Disney Studios Park, which is similar to California Adventure and Disney Hollywood Studios in Orlando. Disneyland Paris is currently celebrating its 20th anniversary year.
As an OC native, I'll always love the Anaheim park best, but I had to admit that Disneyland Paris was pretty magical! Their version of Sleeping Beauty's Castle is absolutely beautiful. (And, I have to admit, out of all the castles in Europe, this is the one I was most excited to see.)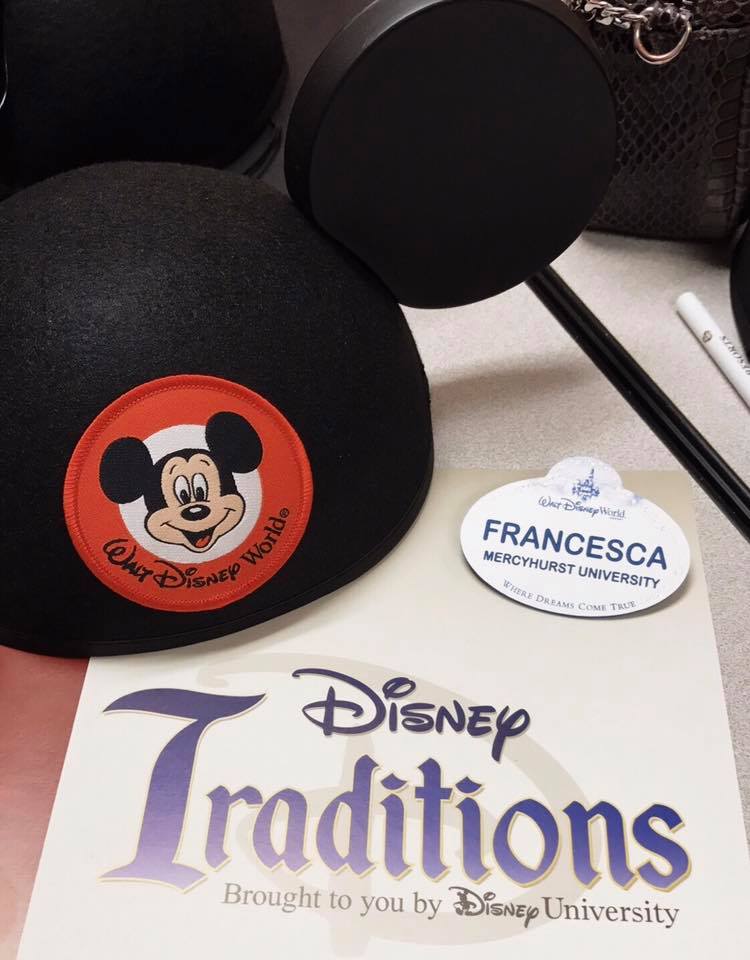 Product Information: Jacket, Top, Pants, Shoes, Scarf, Earrings
Sprinkle some pixie dust into your wardrobe with a cheerful ensemble inspired by one of the happiest places on Earth!
A peplum lace shell is princess-worthy (no need for a ballgown) and pairs perfectly with bright pink trousers. Add a teal blazer for an easy take on colorblocking. Next, slip on a trusty scarf — this one's emblazoned with a map print. Finally, bring on the magic with sparkling Mickey earrings and a pair of glitzy oxfords that would be perfect for a day of running around a theme park.
What do you think?
Would you wear these outfits? Have you ever visited Paris? If so, what were some of your favorite sites? Would you like to see more posts inspired by cities? (I'm thinking about writing an article about Spanish cities other than Madrid.) Let me know in the comments!