This post may contain affiliate links, which means we may receive a commission if you purchase through our links. Please
read our full disclosure here
.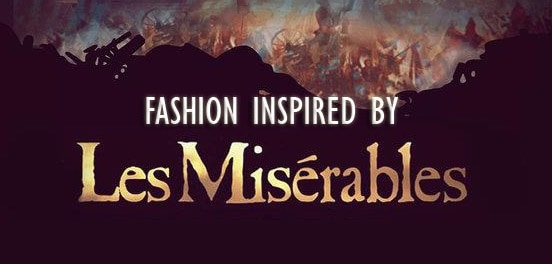 Every obsession must begin somewhere. With my love for musicals, that moment came at the tender age of 6, when a visiting relative accidentally left a cast recording of Les Misérablesat my house. Though the sweeping themes of redemption, love, justice, freedom, and morality went right over my little head, I was smitten.
Sixteen years later, my adoration of the play has only grown. When the film adaptation of the Broadway musical was first announced, I couldn't decide whether I was thrilled or scandalized by the notion. However, the adaptation – in theaters now – definitely didn't disappoint! (Although I have to say that, compared to the stage version, it's a much more sobering experience to see scenes of horrific poverty, desperation, and violence played out in graphic realism.)
Note: we've previously covered fashion inspired by the stage version of Les Misérables in the Stage Inspiration series, but this post will focus on the 2012 movie adaptation.
Will You Join In our Crusade? : About Les Misérables
Les Misérables is based on Victor Hugo's 1862 novel by the same name. The story begins in 1815 and culminates with the June Rebellion of 1832.
Our protagonist, Jean Valjean, is a convict who once stole a loaf of bread and has since labored in prison for 19 years.When he is finally granted parole, he finds himself lost in a society that rejects him. After a life-altering encounter with a saintly bishop, Valjean decides to break parole and reform himself as an honest man.
Despite pursuit from the justice-obsessed Inspector Javert, Valjean becomes a successful businessman, factory owner, and eventually the philanthropic mayor of a small town. His past catches up to him, though, and he is again forced to go on the run.
Eight years later, a group of young, idealistic students led by Enjolras seek to rebel against the monarchy and relieve the oppression of the poor.
The musicalLes Misérables(often called Les Mis or Les Miz), was written by Claude-Michel Schonberg, Alain Boublil, Jean-Marc Natel, and Herbert Kretzmer and opened in 1985 in the West End. Despite initial negative reviews, the musical has gone on to become a global sensation: Les Mis is the fourth-longest running Broadway musical ever and has won 8 Tony Awards.
The new film adaptation is directed by Tom Hooper (The King's Speech) and stars Hugh Jackman as Jean Valjean, Russell Crowe as Inspector Javert, Anne Hathaway as Fantine, Eddie Redmayne as Marius, Samantha Barks as Éponine, Helena Bonham Carter as Madame Thénardier, and Sacha Baron Cohen as Thénardier.
Outfits Inspired by Les Misérables: The Movie
Tomorrow is another day..tomorrow is the judgment day, so you'd better make sure you look your best! (But hey, if you're reading this, you survived the Mayan Apocalypse. Well done, you!) Read on for four outfits inspired by the Les Misérables film.
Who Am I/The Confrontation/Stars
Jean Valjean is an ex-convict who has turned his life around and made a successful and honest career for himself. However, he had to break parole and change identities in order to escape the stigma of his prison past. Inspector Javert, the antagonist of Les Misérables, isn't really a villain — he has a rigid sense of justice and a belief that evil is an inherent, immutable trait, but his intent is noble. To him, Jean Valjean will always be Prisoner 24601.
The two men play a constant game of cat-and-mouse throughout the story, with Valjean trying to convince Javert of his reformed nature and Javert unable to accept this change.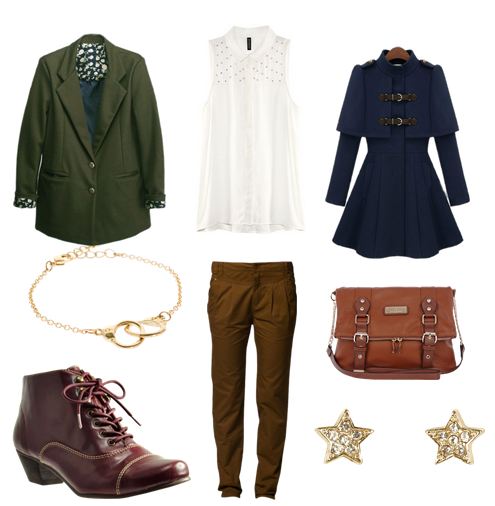 Product Information: Coat, Blazer, Top, Pants, Boots, Bracelet, Earrings, Bag
Take inspiration from the two main characters of Les Mis with this updated menswear look. A cape-trench hybrid is trendy but still totally wearable. Wear it over a schoolboy blazer and slouchy chinos, and make sure to add feminine details like an embellished blouse.
Delicate jewelry complements the boyish ensemble: a pair of pavéstar earrings references Javert's song (and my personal favorite) "Stars", while a handcuff bracelet recalls Valjean's past. Sling a messenger bag over your shoulder as you travel onwards on that never-ending road to Calvary.
At The End of The Day/I Dreamed a Dream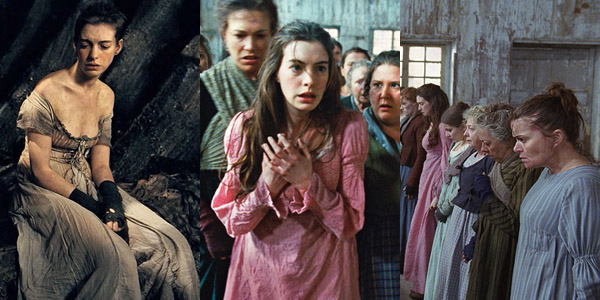 Fantine, played by Anne Hathaway, is a young woman whose life has been met with tragedy at every turn. She fell in love with a man who promised her a future together, but her dreams were shattered when he abandoned her after a summer. Though she was left pregnant and alone, Fantine manages to find a job in Valjean's factory so she can provide for her young daughter, Cosette, whom she had entrusted to an innkeeper and his wife while she worked.
Unfortunately for Fantine, the innkeeper Thénardier is a manipulative extortionist who neglects Cosette and swindles Fantine out of her meager savings. In another stroke of misfortune, the other factory girls turn on Fantine and she loses her job. Completely destitute, Fantine turns to a life of prostitution, desperate for a source of income she can continue sending to ensure her daughter's well-being. When Valjean discovers her situation, he promises the dying woman that he will retrieve Cosette and raise her as his own child.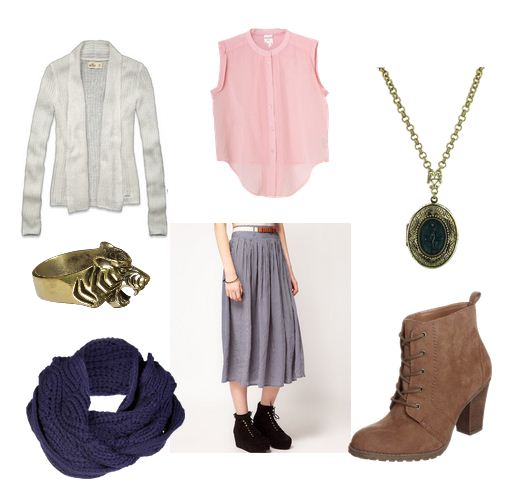 Product Information: Cardigan, Blouse, Skirt, Boots, Locket, Scarf, Ring
This look is based on Fantine's attire during better times: the color scheme echoes that of her factory uniform. A simple pink blouse complements a dusty blue midi skirt, while a a cozy shawl cardigan and navy knit scarf will keep you warm. Sturdy desert boots are comfy but chic.
Accessorize with a pretty teal locket that alludes to the last material possession Fantine sells. Finally, a tiger ring references a line in her famous "I Dreamed A Dream" solo.
In My Life/A Heart Full of Love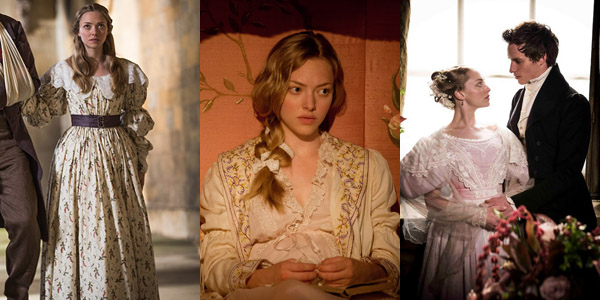 When Valjean first adopts Cosette, she is a raggedy, starving waif forced to work as a slave in Thénardier's inn. Despite her difficult childhood, she grows up to become a happy, hopeful young woman in the convent where Valjean finds work as a gardener. It's a comfortable, peaceful life, but Cosette sometimes yearns for more: to experience the outside world, to know more about her mysterious past.
When Marius Pontmercy, a young student, catches a glimpse of Cosette, he instantly falls in love with her. Ever-protective of his daughter , Valjean becomes anxious at this development and initially wishes to leave Paris. However, he recognizes the bond between the two lovers and soon becomes Marius's quiet protector.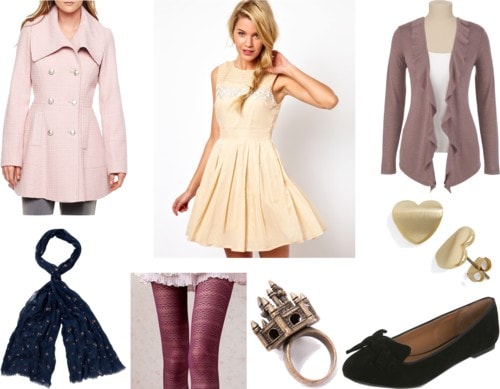 In My Life/A Heart Full of Love by collegefashion featuring fat face
Product Information: Coat, Cardigan, Dress, Tights, Shoes, Scarf, Ring, Earrings
Get Cosette's pretty look with feminine pieces like this embroidered, baby pink frock and ruffled cardigan. Next, slip on a girly pink coat that's a little reminiscent of Cosette's voluminous gowns. Keep the outfit from being too frou-frou by adding some darker-colored accessories, like dusty purple tights and jet-black slippers.
Now on to accessories: a floral scarf in a navy hue serves as a nice contrast to all that pink, while a castle-shaped ring alludes to young Cosette's song, "Castle On A Cloud."
Red and Black/Do You Hear the People Sing?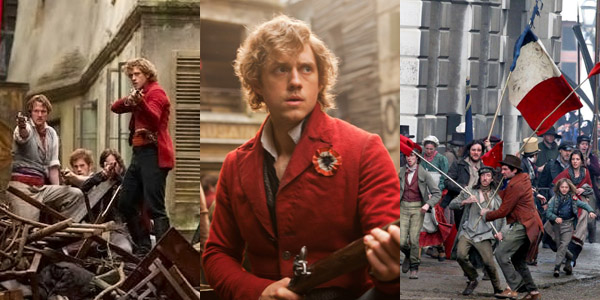 The Friends of the ABC are led by Enjolras, a charismatic student who is utterly devoted to his cause. Despite a lack of military experience, the revolutionaries build a barricade in an effort to stop the National Guard.
In the stirring, iconic song, "Do You Hear the People Sing?", Enjolras compels the other students and the Parisian populace to take up arms and to fight for their freedom. Idealism alone cannot stop an army, though, and the majority of the revolutionaries and their poverty-stricken allies become martyrs.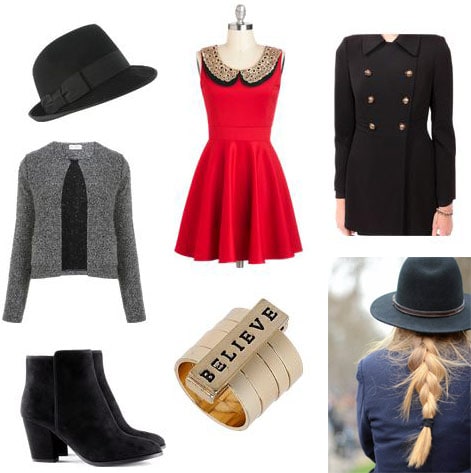 Product Information: Coat, Jacket, Dress, Boots, Hat, Ring | Hair photo: ELLE
As the song "Red and Black" implies, the Friends of the ABC have taken these on as their cause's representative colors. Luckily for you, the two hues happen to be a totally classic pairing perfect for winter. Let an eye-catching crimson dress like this embellished, fit-and flare frock take center stage. Other red accessories would detract from its impact, so add black and gray pieces like a tweedy charcoal cardigan and military-inspired black coat.
Start accessorizing with a jaunty fedora and comfortable ankle boots. A ring with an inspirational message adds some metallic gleam and echoes the dress's embellishment, while paying tribute to the revolutionaries' devotion to their cause. If you're worried about hat hair, French braid your locks (get it? A French braid for a French story? Such a nuanced sense of humor…): even if the hat musses the braid a little, it'll look intentional.
A Little Fall of Rain/Empty Chairs At Empty Tables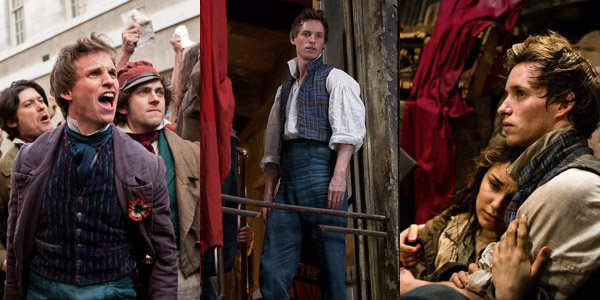 Marius Pontmercy is a young student and revolutionary who falls in love with Valjean's daughter. He is good friends with Éponine, who happens to be the elder daughter of the Thénardiers. Although Éponine is herself in love with Marius, she agrees to serve as a messenger between him and Cosette, who is not permitted to leave the convent.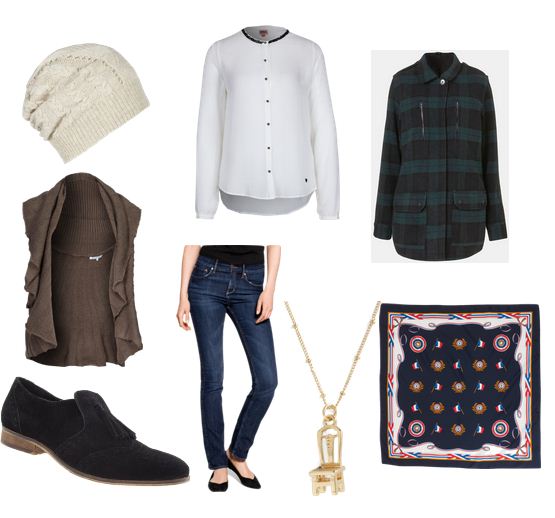 Product Information: Coat, Blouse, Vest, Jeans, Shoes,Scarf, Necklace, Hat
Marius wears a simple but striking ensemble of a white shirt, patterned vest, and navy trousers, though he also frequently dons a necktie and the red, white, and blue rosette of the revolutionaries. Éponine, whose family lives in utter poverty, wears a ragged green dress and trench coat.
Take inspiration from both characters with a casual outfit that would be great for a stroll along the Seine (or campus). Start with the ever-trusty white-blouse-and-dark-wash-jeans combination, then amp up the look with a taupe knit vest and tasseled loafers. A chic navy and emerald plaid coat will keep you warm, even if you get caught in a little fall of rain while outdoors. Finally, top off the look with a knit cap, chair-shaped charm necklace, and a patriotic scarf.
What do you think?
Would you wear these outfits? Have you guys seen the film yet? If so, what did you think? Somewhere beyond the barricade, is there a world you long to see? (Yep, Gallifrey.) Are there any other musicals or movies that you'd like to see featured here on CF? Let us know in the comments!