Welcome to our second-ever Fashion Philosophy post, where we explore the many factors that impact a person's fashion choices, from cultural influences to life circumstances and even personality types. We will also show you how to apply those attitudes to your modern wardrobe and lifestyle.
This week's post, by popular demand, will be devoted to one of the most famous European queens of all time, Marie Antoinette. (And if you like this post, be sure to check out our past post on fashion inspired by Marie Antoinette.)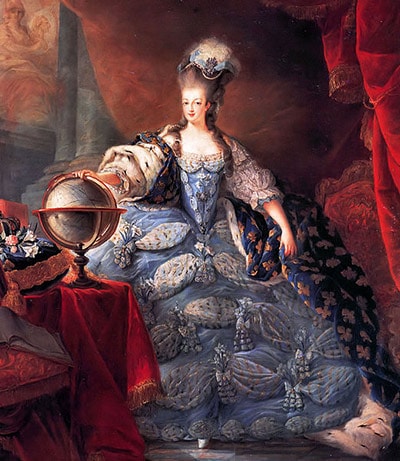 Source: Wikimedia Commons
History 101: About Marie Antoinette
Maria Antonia of Austria was born in 1755. Her father was the Holy Roman Emperor Francis I and her mother was Empress Maria Theresa. She was the fifteenth of sixteen children and the youngest daughter of the couple.
In 1767, at the age of twelve, Antonia was officially betrothed to the Dauphin of France. Her official title then became Marie Antoinette, Dauphine of France.
As the Dauphine, Marie Antoinette quickly became known for her controversial behaviour. She was trendsetter, fighting the traditional french styles, and developed close friendships with, er, less than reputable members of the aristocracy.
Marie Antoinette's marriage to Louis XVI of France was tumultuous, to say the least. The queen of France's main duty was to produce an heir, and yet the couple remained childless for several years. It was assumed that Marie Antoinette's daring fashion may have been her way of distracting herself from this.
Luckily, Marie did eventually have two children, Marie-Thérèse Charlotte, Madame Royale, and later Louis Joseph, Dauphin of France.
Despite popular belief, Marie Antoinette was not considered a great beauty in her time. She had the notoriously unattractive Habsburg jaw and even underwent surgery at a young age to straighten her crooked teeth. (Without anaesthesia, I might add.) It was her poise, her charisma, and her charm that made her attractive to those around her.
Elements of Marie Antoinette's Style
Voluminous Hair
Big hair was already a trend when Marie Antoinette arrived at the french court, but she took it to even greater heights. Literally. She enjoyed having her hair piled up to three feet above her head and frequently adorned it with feathers and other elaborate ornaments.
To achieve and maintain her hairstyles, a wire mesh packed with wool would be placed on her head and her hair would be arranged around it.
To channel Marie Antoinette's love of volume, try teasing your hair at the crown and putting it up into a ponytail. If you're feeling adventurous, wear a top knot or braid your hair into a wreath! And don't forget to add pretty hair accessories.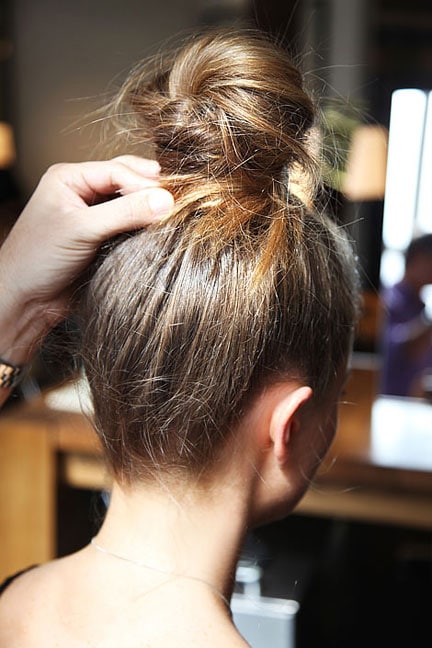 Source: Elle
Exaggerated Curves
The ladies of the french court had already adopted tight corsets and wide skirts before the Dauphine's arrival, but once again, Marie Antoinette took it one step further. She favored dresses that emphasized her breasts and wore wider and wider dresses as she spent more time in court.
At the most extreme, women in the aristocracy would have to enter and exit rooms sideways because their skirts were too wide for doorways!
This style was made possible by elaborate framework known as paniers(french for "baskets") worn under billowing skirts. The skirts were also made to look even wider with the help of tight corsets.
A contemporary alternative to Marie's extreme look is to celebrate your natural feminine curves, no matter your body type, and to wear feminine clothing that shows off your shape, whether it be flowy tops and skinny jeans or dresses and tights.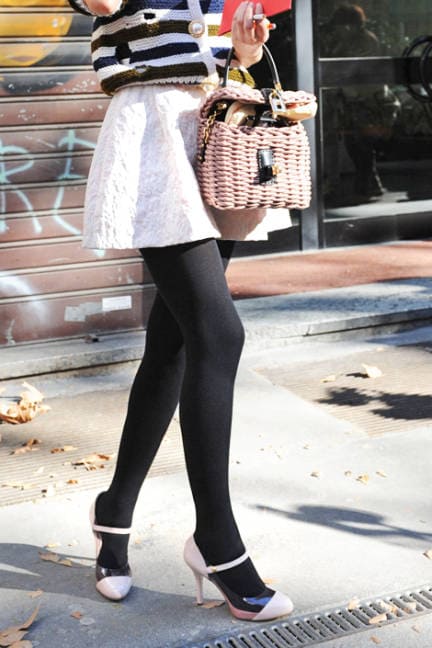 Source: Elle
Whimsical Overindulgence
It's no big secret that Marie Antoinette was a shopaholic. She was notorious for her extravagant spending (on clothes, accessories, and otherwise), and it was rumored that she never wore anything twice. In the end, her excessive love of luxury became her downfall as the country turned her into a symbol for the overindulgent aristocracy.
College girls on budgets can easily embrace Marie Antoinette's whimsical tastes with more moderation. Do this by incorporating fun accessories into your outfits (or wearing pieces with interesting details), and not being afraid to pile on the jewelry every now and then.
Putting It All Together
Below, I've compiled some accessories that are inspired by Marie Antoinette's style. To the left are pieces that are more directly inspired by her style; to the right are pieces inspired by her fashion philosophy.
Accessorize Like a Queen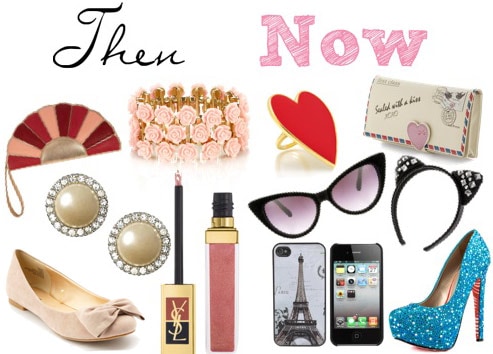 Product Information: Fan Clutch – Dorothy Perkins, Floral Bracelet – Accessorize, Stud Earrings – Banana Republic, Beige Flats – Charlotte Russe, YLS Lipgloss – Yves Saint Laurent, Heart Ring – Go Jane, Letter Wallet – ModCloth, Sunglasses – ASOS, Headband – Dorothy Perkins, iPhone Cover – Storenvy, Blue Heels – Heels.com
Modern Marie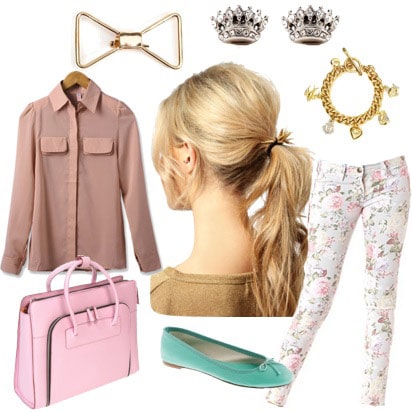 Product Information: Hair pin – Nasty Gal, Blouse – Banggood.com, Bag – Macy's, Earrings – Juicy Couture, Bracelet – Bloomingdale's, Jeans – Charlotte Russe, Shoes – J. Crew
This look is what I imagine Marie Antoinette would wear if she was a college girl today. Tease the hair at the crown of your head to add some volume to a simple ponytail, then decorate it with a pretty bow hairpin. Wear an endlessly girly pair of curve-hugging floral jeans, then add shoes and a book bag in fun, corresponding colours. Wear a well-fitting shirt in a neutral colour to keep the look balanced, tucking it into the jeans to show off your shape. Finally, complete the look with girly jewellery.
What do you think?
What do you think of Fashion Philosophy? Are you inspired by Marie Antoinette's style? Who would you like me to cover next? Leave a comment below!