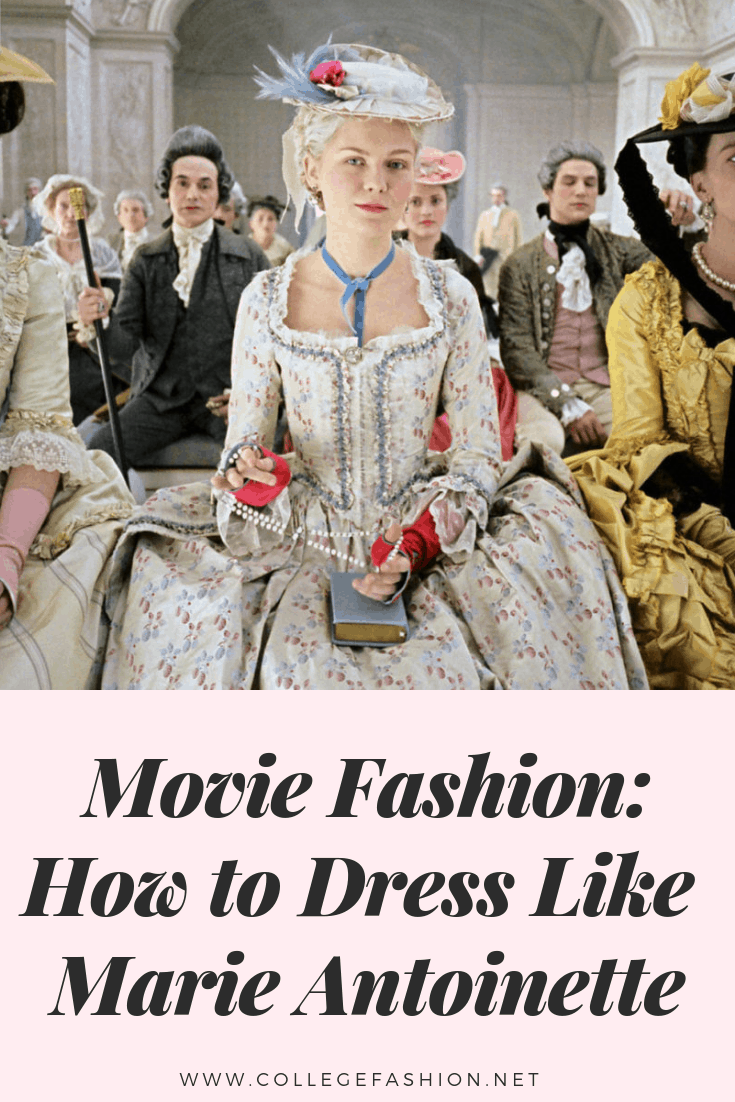 Sofia Coppola's 2006 film Marie Antoinette portrays the rich life of one of France's most famous queens. If you haven't seen this movie, do so immediately! You'll be captivated by the lavishness of Marie Antoinette's royal lifestyle, including everything from eloquent banquets to breathtaking gowns with tiers and tiers of pastel fabrics.
There are many fashion motifs in Marie Antoinette, all of which trigger inspiration and awe. Below, we'll review some of the most prominent elements of fashion within the movie, along with our modern interpretations.
The Marie Antoinette Color Palette
The color palette of this movie is definitely in the pastel range. For neutrals, ivory is the most prominent, whereas other popular colors include baby blue, light pink, and mint green.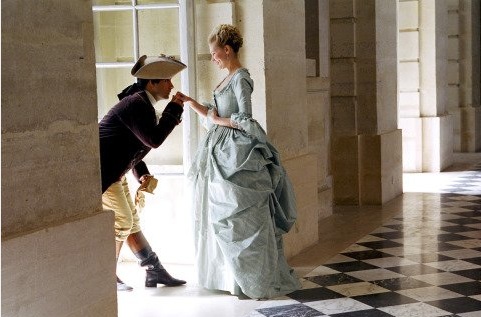 Our Interpretation
Pastels are usually spring colors; however, for our interpretation, we incorporated a pastel piece with fall/winter staples, like boots, a scarf, and a beret, for a look you could wear right now. (Just add your favorite coat!)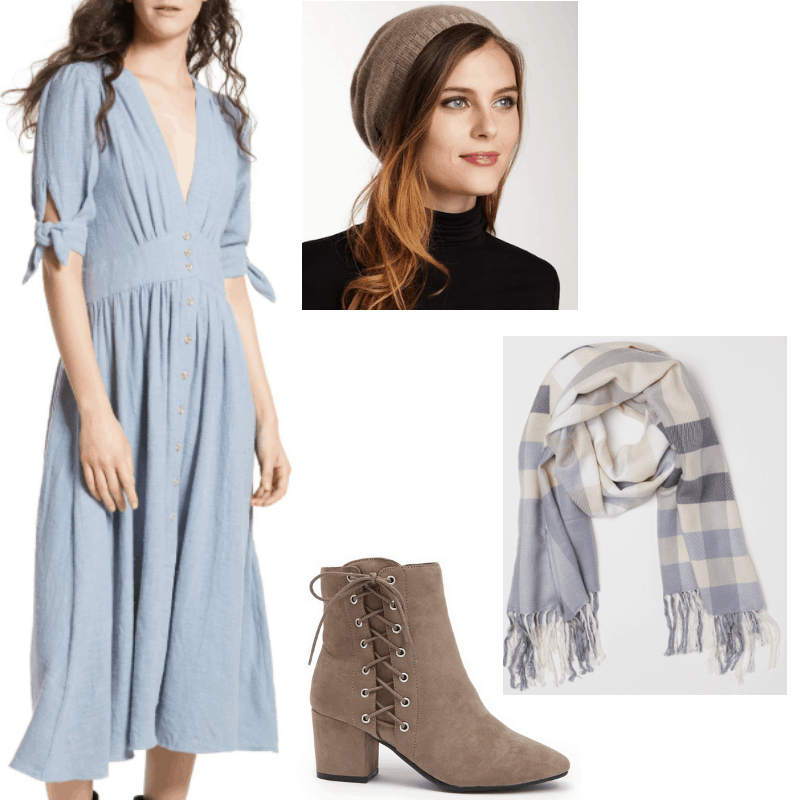 Products: Dress – Free People, Hat – Nordstrom Rack, Scarf- H&M, Shoes- Forever 21
Volume and Proportion
The garments in this movie have a lot of volume. From men's puffy sleeves to hoop-style skirts, bigger was definitely better during that era. Even their hair styles were full!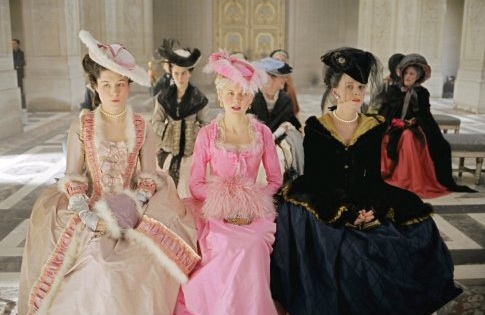 Our Interpretation
We think the best way to pull off this look is to have one piece that has a lot of volume, like this ruffled midi skirt. Other options could include a blouse or jacket with voluminous sleeves or a fuller hairstyle for a change!
The rest of this outfit plays with proportion too. The bodysuit, kitten heel mules, and smaller handbag (which can be worn either as a crossbody or belt bag) help balance out the skirt.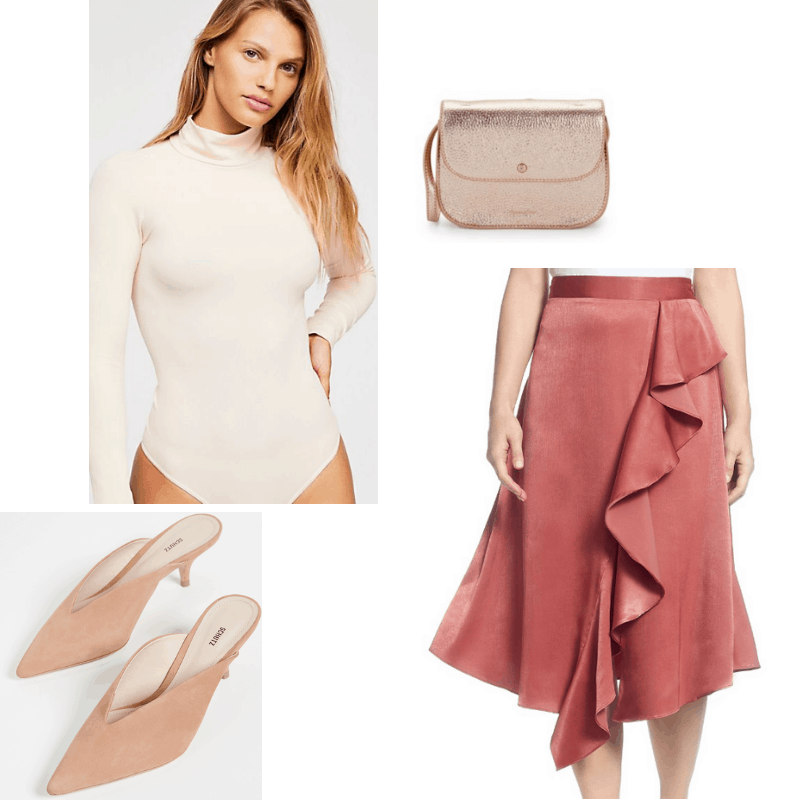 Products: Skirt – Bloomingdale's, Bodysuit – Free People, Shoes – Shopbop, Bag – Saks Off 5th
Embellishments and Details
Every outfit in the movie has such fine detail – the artistry and craftsmanship are very inspiring. One of the most noticeable elements in the movie is the use of embellishments, including lace and beading. It's all very over-the-top and fabulous!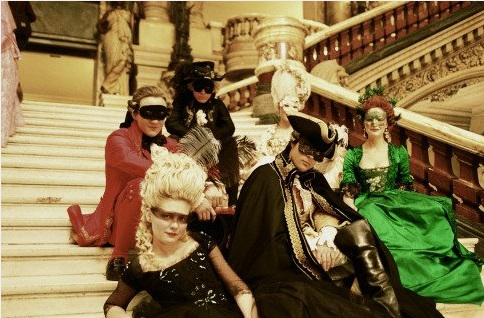 Our Interpretation
Just like the last look, keep the embellishment focused to one garment; in this case, a showstopping lace dress that was made for a night out. Accompany it with more understated pieces, like sleek heels, tassel earrings and a smokey eye.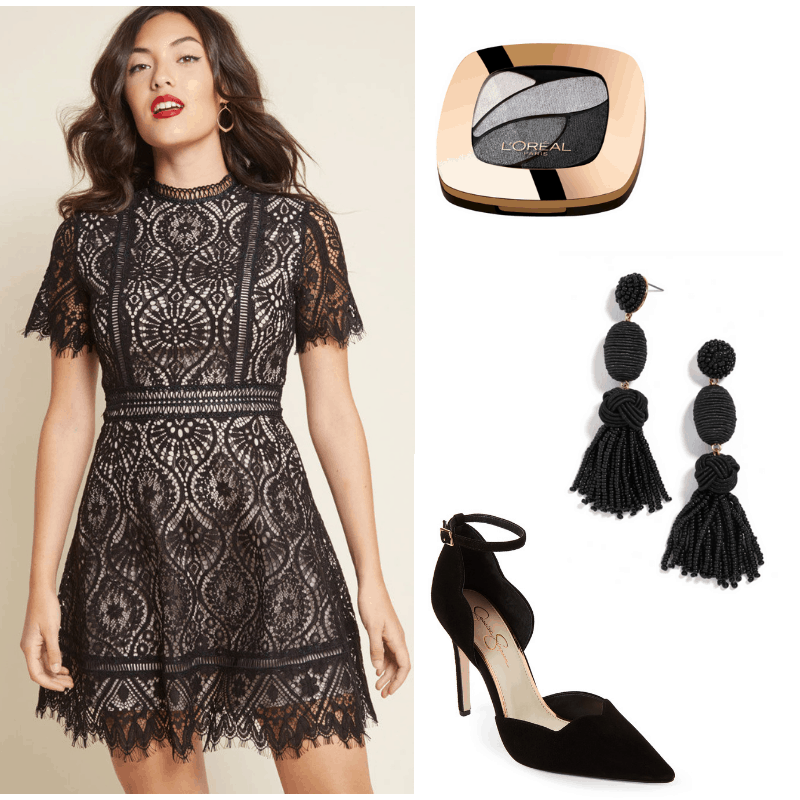 Products: Dress – ModCloth, Shoes – Jessica Simpson, Earrings – Baublebar, Eyeshadow – L'Oreal
Floral Motifs
Florals are used everywhere in the movie and are reminiscent of the famous French royal gardens.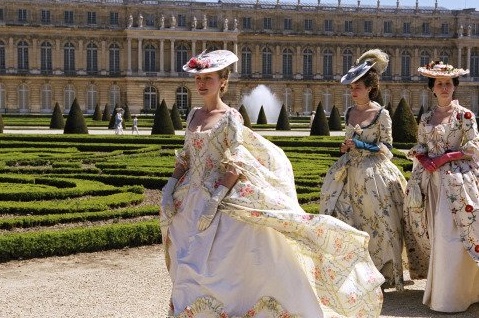 Our Interpretation
For our version of the Marie Antoinette floral look, we juxtaposed the print with something more edgy for a contemporary twist.
We chose to pair a floral dress with booties and a white moto jacket. To keep the outfit fresh and modern, go with floral prints that have a larger, more abstract look. Smaller floral prints can sometimes look too much like something from a baby nursery.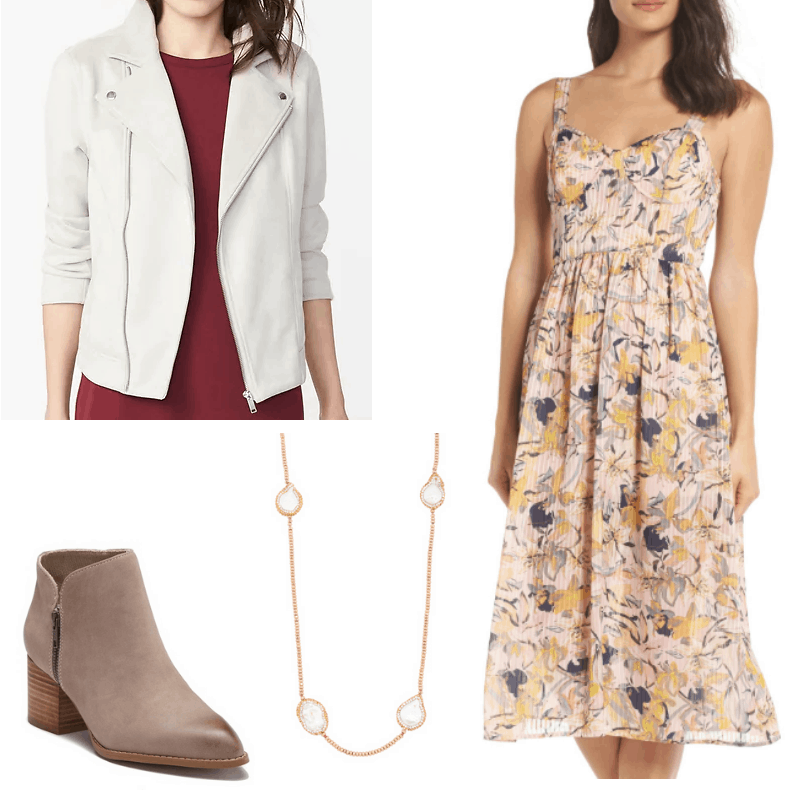 Products: Dress – Nordstrom, Jacket – Old Navy, Shoes – Nordstrom Rack, Necklace – TJMaxx
Your Thoughts?
Are you inspired by Marie Antoinette? Which of these elements do you like best? How would you interpret a traditional style like this one into a contemporary version for your everyday life? Tell us by leaving a comment!
Editor's note: This post was originally published in 2009; it was completely updated and revamped in 2018 with new photos, outfit sets, and information.