This post may contain affiliate links, which means we may receive a commission if you purchase through our links. Please
read our full disclosure here
.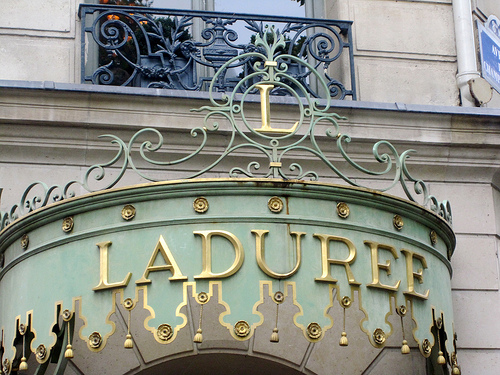 Ladurée is a French pastry store known around the world for their macarons. These little pastries have been featured in films like Sofia Coppola's MarieAntoinette and TV shows like Gossip Girl. (Fans will know that Ladurée macarons are Blair Waldorf's favorite treat.) Therefore, it's no surprise that they're also known for having very long lines at their stores – one of which just opened here in the states on Madison Avenue in New York City.
For those of us who've yet to visit one of their shops, Laduree has released this video showcasing "The Ladurée Dream" that takes you for a short but magical experience within one of their stores. Fair warning – you might just have a sudden craving for French desserts after viewing.
Even if you haven't been able to try their pastries, Ladurée can actually be used to inspire your everyday outfits! Their dreamy pastel stores and signature mint green color provide the perfect color palette for a sugary sweet, almost Marie Antoinette-esque look.
Below, I've created two outfits inspired by Ladurée's stores and pastries that you can use for ideas to create your own looks.Scroll down to view them all!
Confectionery Cute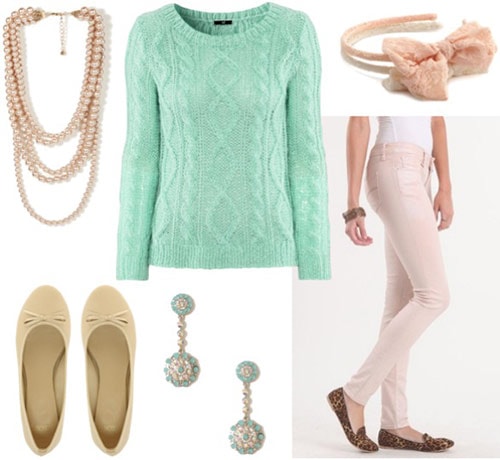 Product Information: Sweater – H&M, Jeans – PacSun, Flats – ASOS, Headband – Charlotte Russe, Necklace – Forever21, Earrings – Forever21
For a look that's simple and sweet, wear a sweater in Ladurée's signature mint color with a pair of blush colored jeans. Slip on a pair of neutral ballet flats, wear a layered pearl necklace, and add jeweled drop earrings as pretty accents. A lace bow headband completes the delicate ensemble!
Pretty As A Pastry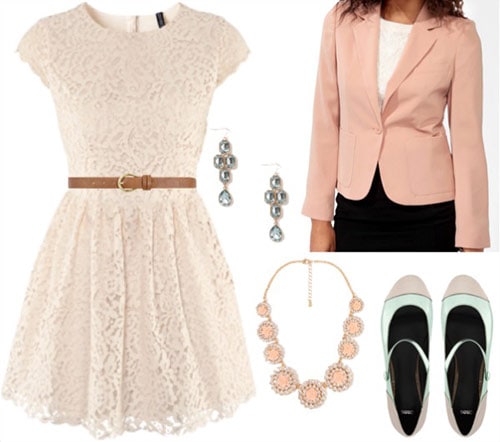 Product Information: Dress – H&M, Blazer – Forever21, Shoes – ASOS, Belt – Dorothy Perkins, Necklace – Forever21, Earrings – Forever21
Take notes from Ladurée's pretty pastries by wearing a cream lace dress and a pale pink blazer. Pair with metallic flats and a classic faux leather belt. Feminine accessories like a rosette statement necklace and jeweled tier earrings finish off this delectable look!
What do you think?
Have you ever visited Ladurée or sampled their French desserts? Are you inspired by their pastel-colored pastries? Would you wear any of the looks above? Which one is your favorite? Would you like to see more post like these in the future? Let me know in the comments!