This post may contain affiliate links, which means we may receive a commission if you purchase through our links. Please
read our full disclosure here
.
This week in Fashion Inspired by Art, we'll be discussing Vincent van Gogh's Irises. This painting is sure to put you in the mood for spring (which starts today!) with its bright, natural colors and use of organic subjects. I hope you all enjoy!
Spring Impressions: About Vincent van Gogh's Irises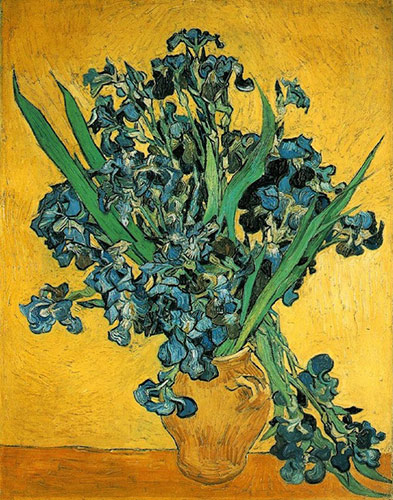 Vincent van Gogh's Irises (1890) via Wikimedia Commons | Click image to enlarge.
Vincent van Gogh (1853- 1890) is perhaps the most well-known painter of all time, most famously known for his painting Starry Night. His paintings are examples of Impressionistic style, like Edgar Degas' Ballet Rehearsal on Stage. Irises, shown above, counts among the artist's most famous still lifes.
Irises was painted during van Gogh's stay at the asylum in Saint-Rémy. He placed a vase with a lush bouquet of irises against a bright yellow background to explore the relationship between the contrasting colors of citron yellow and violet blue. Each iris that van Gogh painted is unique, showing his extraordinary attention to detail. Many of van Gogh's most famous works were painted while in the mental hospital, including Starry Night and The Sower.
Outfits Inspired by Irises
Floral Flirt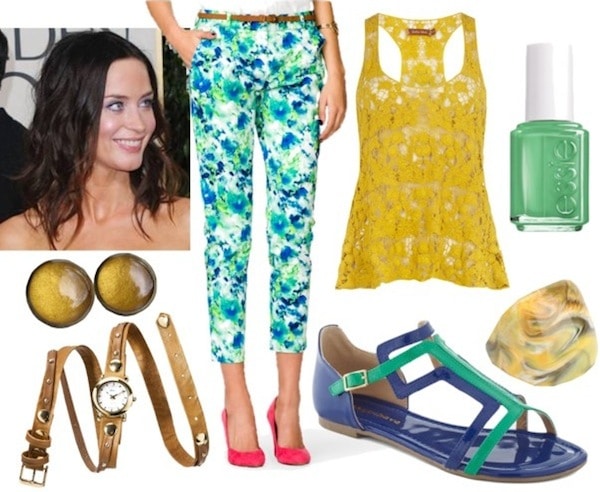 Earrings, Watch, Pants, Tank, Sandals, Nail Polish, Ring | Hair photo via ELLE
This outfit is based on the texture of Irises, which can be seen in both the vase and the citron background.
Warm spring temperatures mean fewer layers are required, so utilize overlapping prints and light, textured pieces (like a double-layer lace top) to add more visual interest to your look. Focus on mixing patterns and textures by pairing floral pants, a lace top, and marbled ring, and keep the rest of your outfit simple to avoid looking too mix-and-match. Finish off this springtime ensemble with a textured, wavy hairstyle and you're ready for a day out and about!
Classy Citron Chic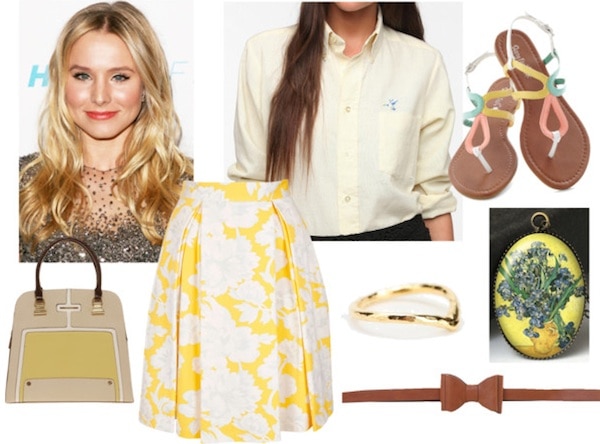 Purse, Skirt, Shirt, Ring, Belt, Sandals, Necklace | Hair and makeup photo via ELLE
Blooming yellow flowers are such a quintessential spring visual; tap into the painting's beautiful yellow background for an easy warm-weather style perfect for the season.
Start by pairing a classic A-line skirt with a button-up shirt, but choose pieces with fun details so the outfit won't feel too dated – this pale yellow top has a keyhole back, while the skirt has a unique yellow and white floral print. Complement these feminine clothes with basic, stylish accessories like a bow belt and pendant necklace. Top it all off with loose curls and Old Hollywood-style makeup for a look that's both modern and classic!
Sporty Femme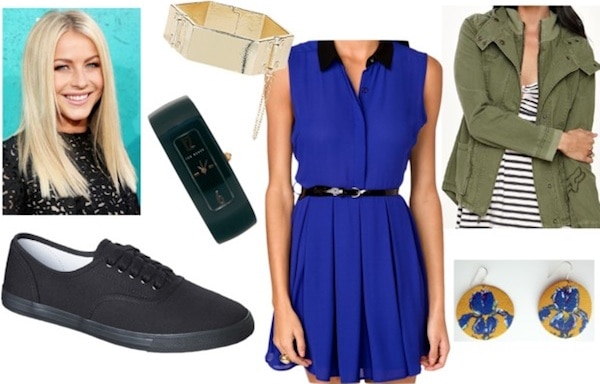 Sneakers, Cuff, Watch, Dress, Jacket, Earrings | Hair photo via ELLE
Contrasting styles don't always have to clash. In Irises, van Gogh chose to place the blue-violet flowers in front of a yellow-orange background. Although these two colors are opposites, they also bring each other out. (Remember our guide to matching colors in your outfits? These are an example of contrasting colors.)
For this outfit, focus on versatile, contrasting pieces that play off of one another in style and color. Dressy, feminine pieces – like the blue dress, iris earrings, and gold cuff – contrast with the masculine, sporty vibe of the black sneakers, watch, and military jacket. By focusing the outfit on one versatile piece (the collared blue dress), you can achieve coherence in an otherwise arbitrary look. Straighten your hair for a sleek, classic vibe and you're ready to go just about anywhere.
What do you think?
Have you seen or studied van Gogh before? Do you like Irises? What do you think about the inspired outfits? Which one is your favorite? Let me know in the comments below, I'd love to hear your opinions!