This post may contain affiliate links, which means we may receive a commission if you purchase through our links. Please
read our full disclosure here
.
For this week in Fashion Inspired by Art, we'll be discussing Georges-Pierre Seurat's A Sunday Afternoon on the Island of La Grande Jatte. I hope you all enjoy!
To the Point: About Georges-Pierre Seurat's "A Sunday Afternoon on the Island of La Grande Jatte"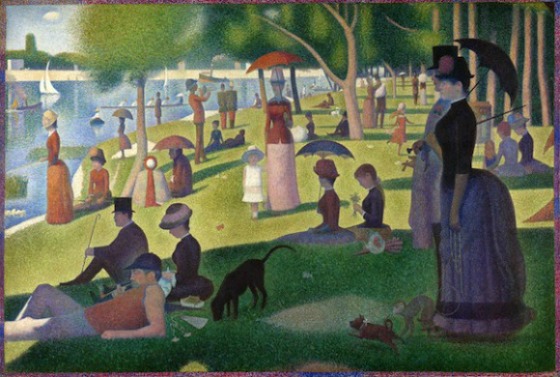 Georges-Pierre Seurat's A Sunday Afternoon on the Island of La Grande Jatte (1884 – 1886) via Wikimedia Commons | Click image to enlarge.
Georges-Pierre Seurat (1859 – 1891) is well-known for pioneering the art of pointillism, a painting technique that uses small, pure-colored dots to create an image. Although its aesthetics are very similar to impressionism, pointillism is much more planned and precise, rather than spontaneous. La Grande Jatte was created over the course of two years, and many early drawings and sketches were made in preparation for the final painting.
Seurat was also fascinated with color theory, especially with the ways in which one color could affect the perception of surrounding colors. For example, the green of the grass is made using multiple colored dots in close proximity to another; for example, he uses dots of yellow and blue to create the impression of dark green. His style portrays a mix of science (color theory) and art (painting style).
Although his techniques were very advanced for the time, Seurat painted La Grande Jatte at just twenty-five years old. He made the figures very stiff to represent what he believed to be the mechanization of modern life. While the calm setting and bright colors appear to represent a utopia, the picture actually represents what Seurat believed to be a dystopia, where people began to rely less on one another as a community.
Outfits Inspired by "A Sunday Afternoon on the Island of La Grande Jatte"
Structured Sweetheart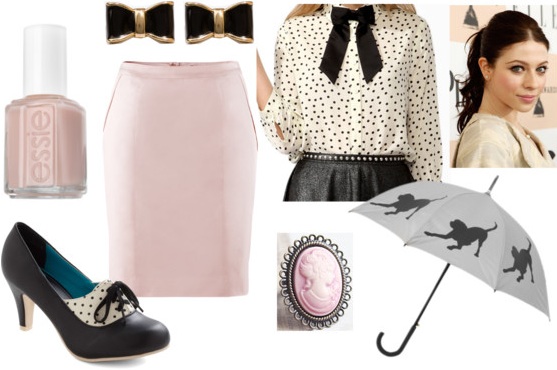 Nail Polish, Heels, Earrings, Skirt, Blouse, Ring, Umbrella | Hair and makeup photo via ELLE
This look is inspired by the structured, high-class ladies of La Grande Jatte, most notably the one in the forefront of the picture. Start with a structured, pink pencil skirt to create an orderly, clean silhouette. Next, add vintage details, like a quirky dog-print umbrella in place of a parasol and a pale pink cameo ring. To keep it girly, go for a collared polka dot blouse, pink lipstick, and bow accessories. This look is perfect for a rainy spring day, or even an interview at a fashion-forward business!
Color Theory Cutie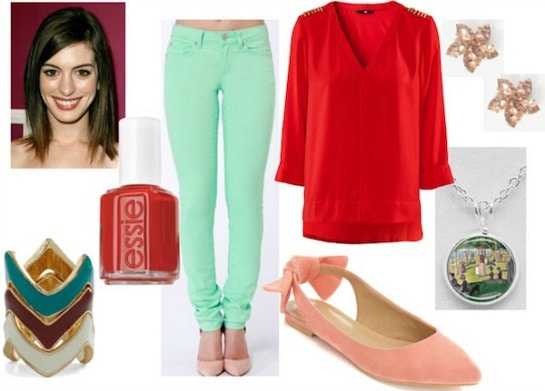 Nail Polish, Rings, Pants, Blouse, Flats, Earrings, Necklace | Hair and makeup photo via ELLE
Follow in Seurat's footsteps by creating an outfit based on color theory. Placing two opposite hues beside one another — for example, green pants and a red top — makes both colors appear to be more vivid and bright. Add complementing accessories, like pink slingback flats and multi-colored chevron rings, to enhance the brightening effect. Keep it feminine with some classic red nail polish and a pair of floral earrings. Finish the look off with shiny, sleek hair and a La Grande Jatte necklace for an opposites attract look!
Industrial Diva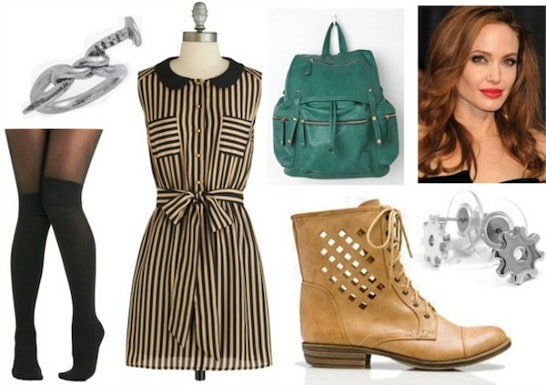 Ring, Tights, Dress, Backpack, Boots, Earrings | Hair and makeup photo via ELLE
Try out an industrial style with this "new world" look. The beginning of the twentieth century brought on a mechanical revolution full of new inventions (including the zipper!). Pay homage to the age of industrialization with a silver screw-shaped ring, laser-cut boots, and gear stud earrings. Keep up the appearance with a steampunk-inspired dress and whimsical tights. Add a pop of color with a fashionable and functional backpack and a bright red lip. The twentieth century never looked so good!
What do you think?
Have you seen or studied Seurat or this painting before? Do you like A Sunday Afternoon on the Island of La Grande Jatte? What do you think about pointillism? What do you think about the inspired outfits? Which one is your favorite? Let me know in the comments below, I'd love to hear your opinions!