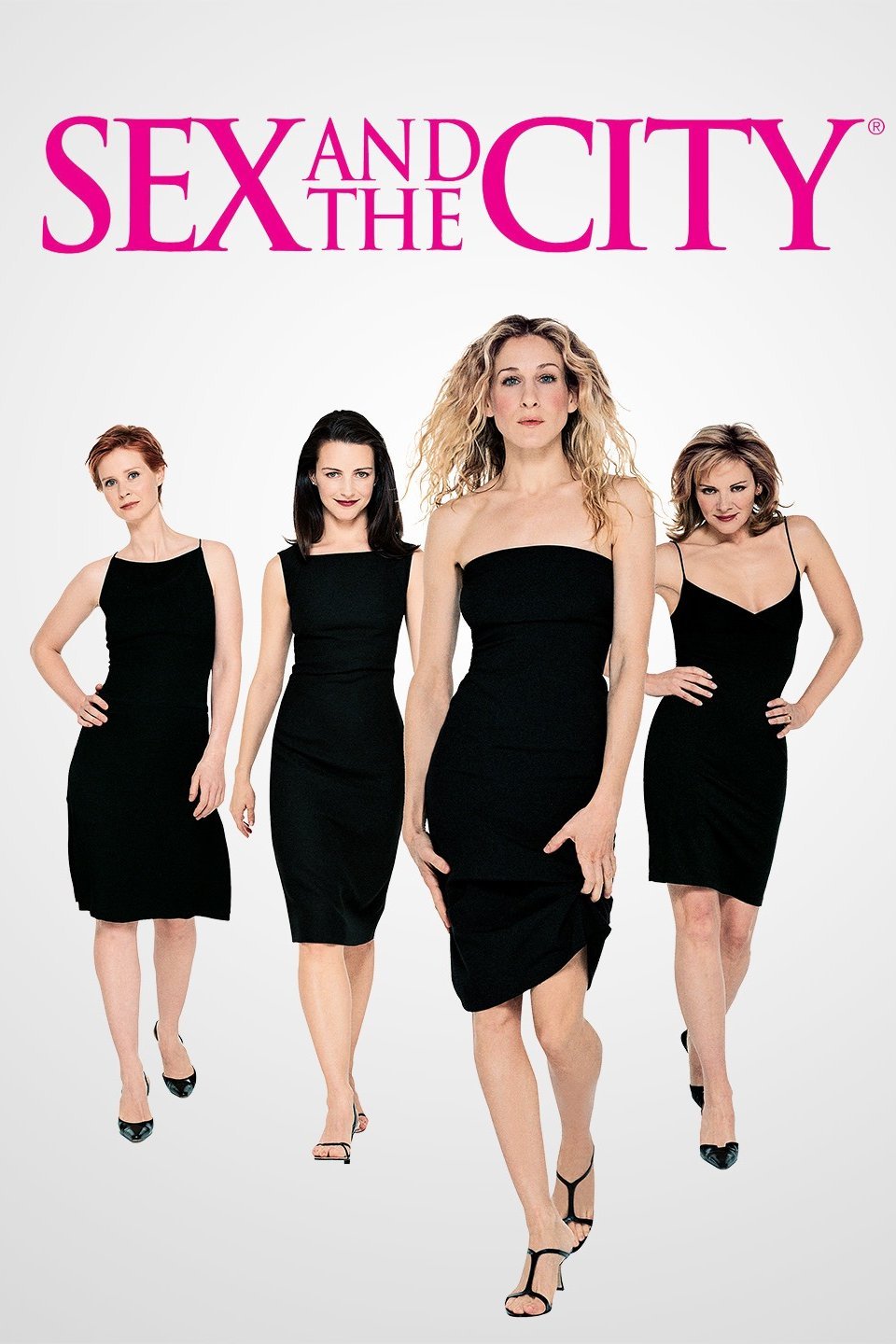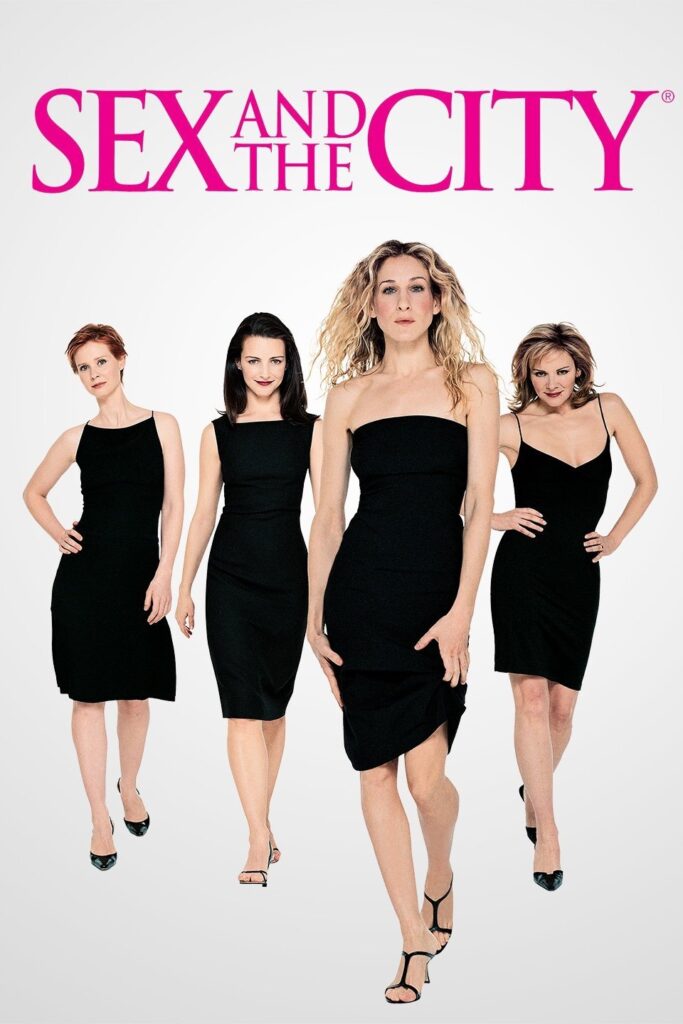 Though we have entered the year 2020, fashion has made a full-scale return to the 1990s. Check out this sex and the city inspired outfits.
Fanny packs, mom jeans, slip dresses, power suiting, and many more '90s fashion favorites have been making a comeback in recent seasons, and the trend shows no sign of slowing down.
When thinking about how to incorporate '90s trends into your everyday look, what better inspiration is there than the hit show Sex and the City?
Sex and the City was one of the leading fashion influences in the 1990s and for good reason. Each of the women on the show had an iconic style inspired by the trends of the time. Charlotte's look was preppy and girly, while Samantha was all about the power suits. Miranda had her menswear-inspired fashion. And the icon herself, Carrie Bradshaw, was the embodiment of all the best trends of the '90s, including crop tops, small bags, and Manolo Blahniks.
Continue reading for our full Sex and the City fashion guide, with modern takes on the outfits worn by the women of Sex and the City.
4-Inspired Outfits by Sex and the City Women:
Sex and the City Fashion: Carrie Bradshaw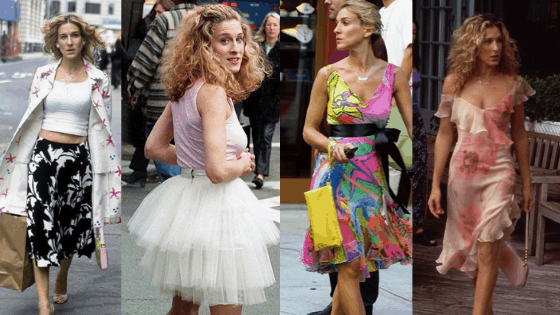 '90s Trends: Tulle, mixing prints, crop tops, and slip dresses
I'm sure everyone is aware of Carrie Bradshaw and her impact on the fashion world. Her style in Sex and the City was something no one had ever seen before. It was a mishmash of different styles that all combined into the eclectic "Carrie" look we can all recognize in an instant.
Carrie's look was surely iconic in the late '90s and remains iconic today. The way she wore the '90s trends was unbelievable, and she brought styling up to a whole new level.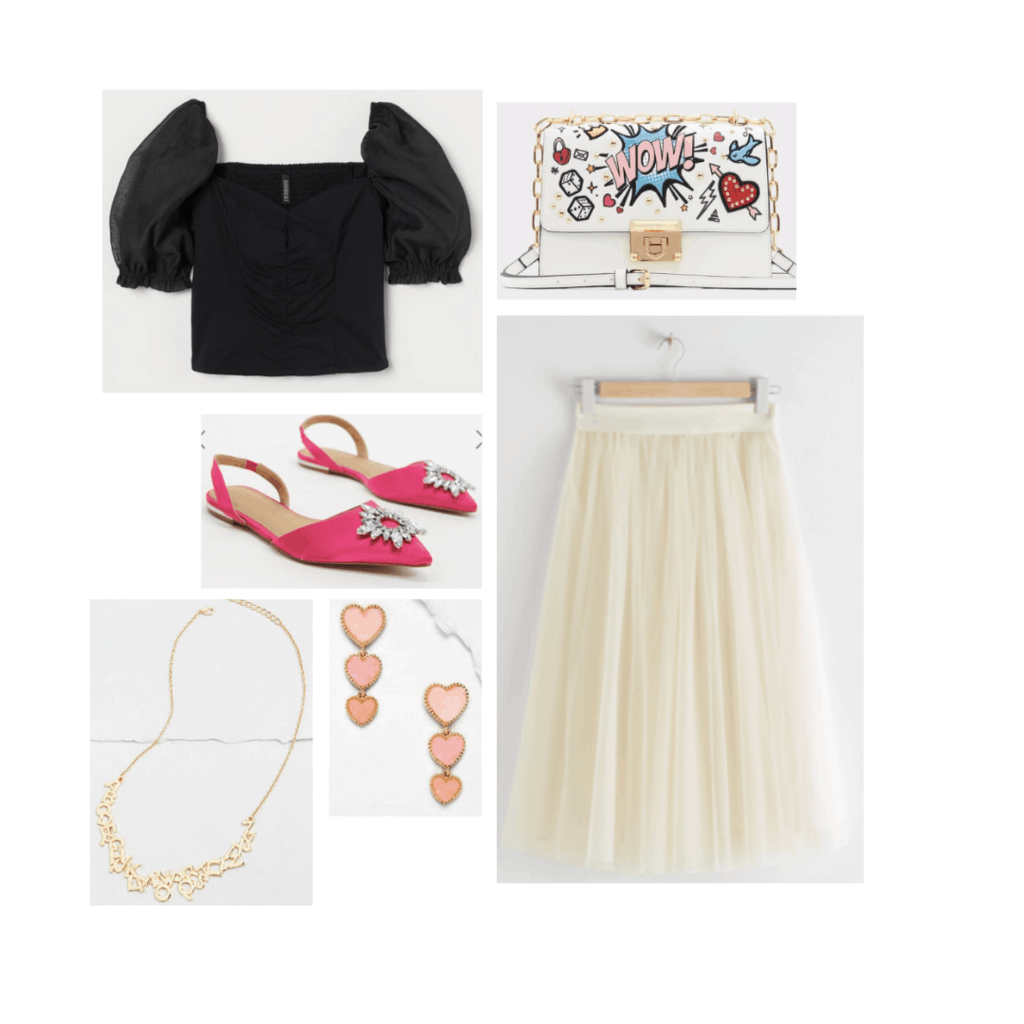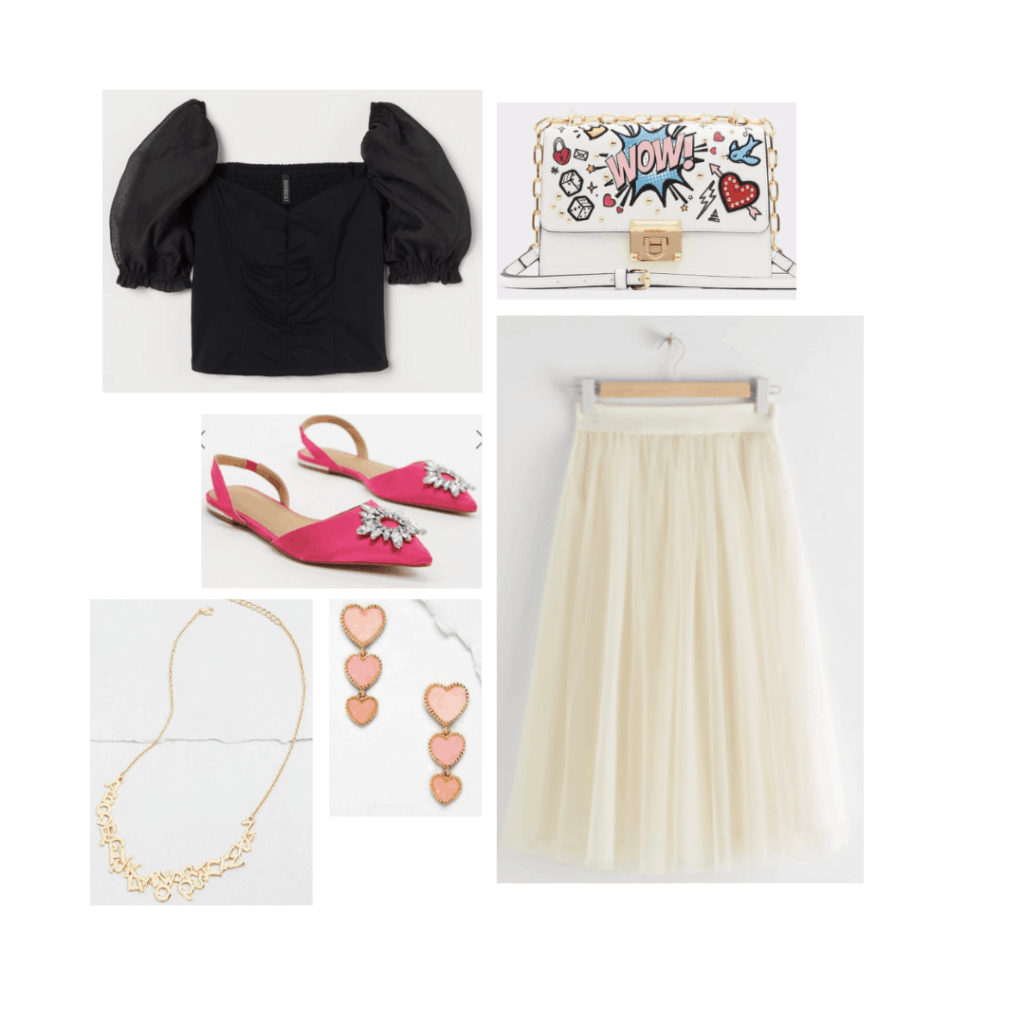 Products:
To get Carrie's look today, take a fashion risk and rock various trends together, even if they don't seem like they should go with one another. By styling them the Carrie way, you will certainly turn them into an eye-catching look.
For this look, I paired a crop top and tulle skirt, two Carrie staples you can still wear today. Then I accessorized the look with some bright colored and quirky extras.
Charlotte York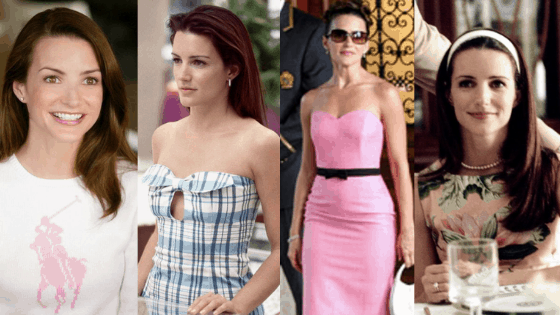 '90s Trends: Polka dots, feminine dresses, and statement pink
Personally, Charlotte York has always been my favorite SATC character, especially when it comes to fashion. I am a girly girl, and since Charlotte is considered a Park Avenue princess, I couldn't help but fall in love with her '90s feminine look.
Charlotte is no doubt the girliest dresser of the group. She is often wearing pink and polka dots, and she couldn't live without a Kate Spade purse. Her fashion choices are a great representation of the preppy look that grew in popularity during the time.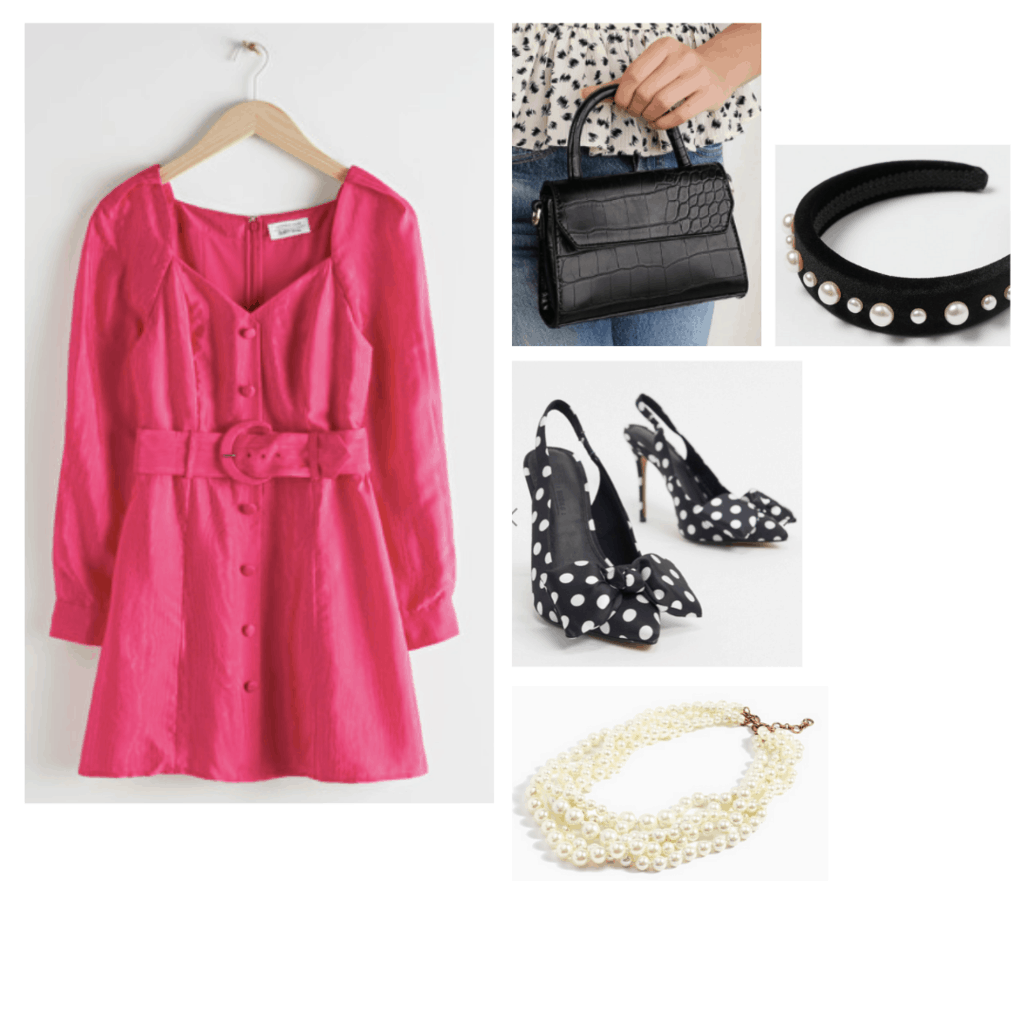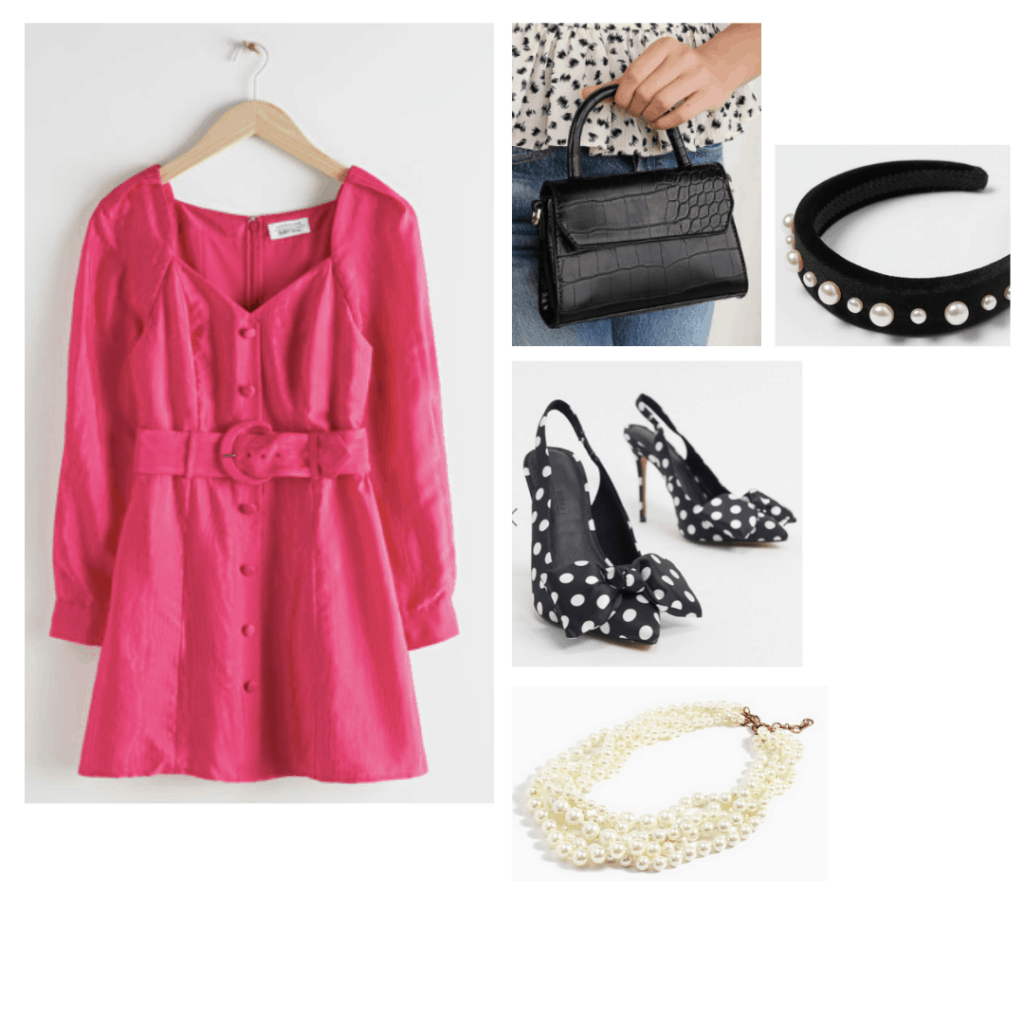 Products:
To get the '90s girly look based on Charlotte's style, certainly go for something ultra-feminine. Pick out a little pink dress and a few statement accessories. I love a pair of patterned heels and a '90s style statement headband.
Samantha Jones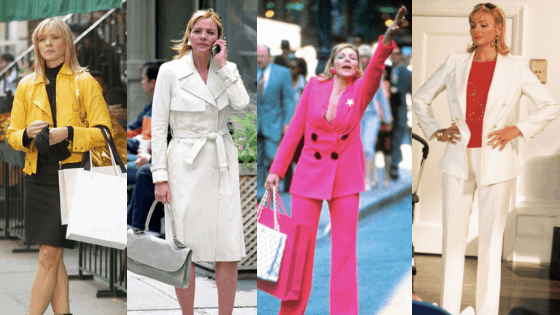 '90s Trends: Power suits, power suits, and power suits!
Anytime I think of a Boss Lady, I think of Samantha Jones in her power suits. She was the ultimate businesswoman who loved her life. She didn't care what anyone thought of her, and she dressed to show it.
As a businesswoman ahead of her time, Samantha was a master at the sexy yet powerful boss look. To me, Samantha is the queen of power suiting, which is part of why she remains so iconic. And guess what? This look is totally back in 2020.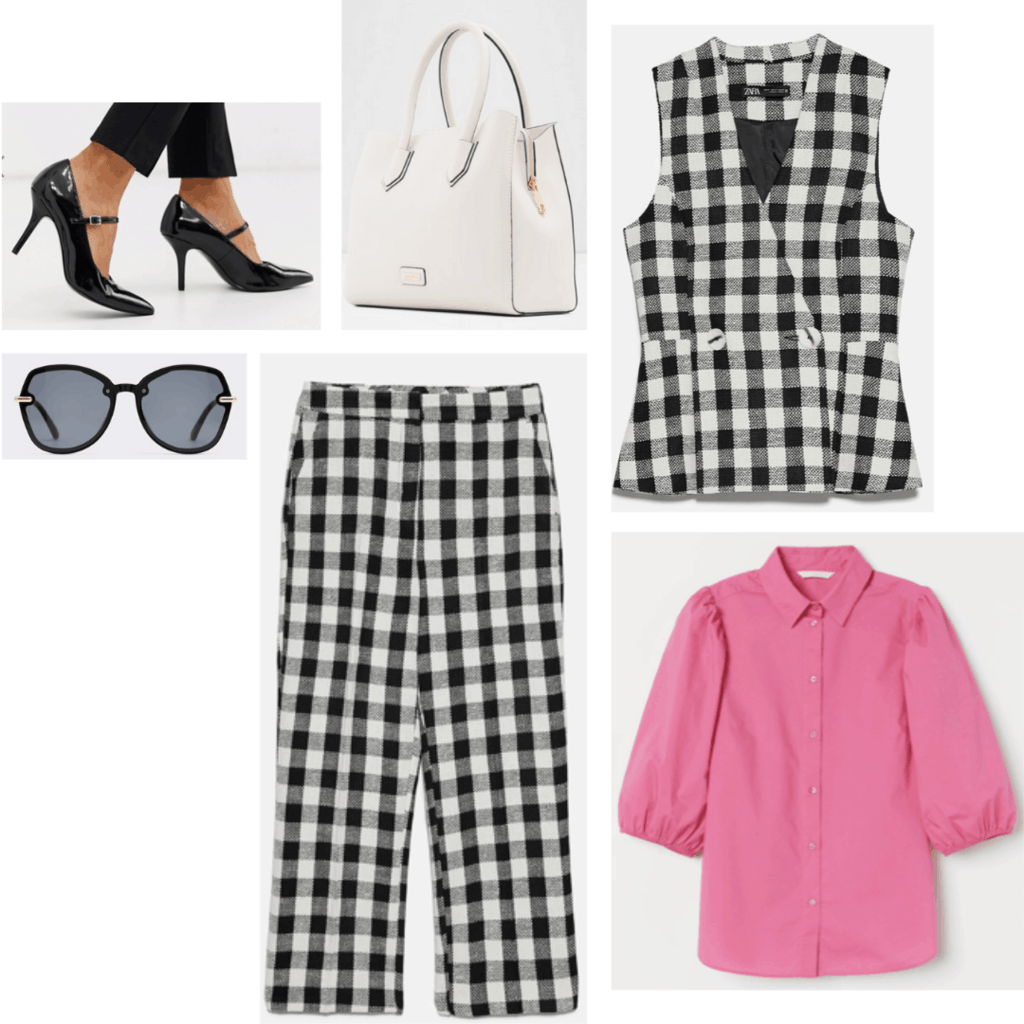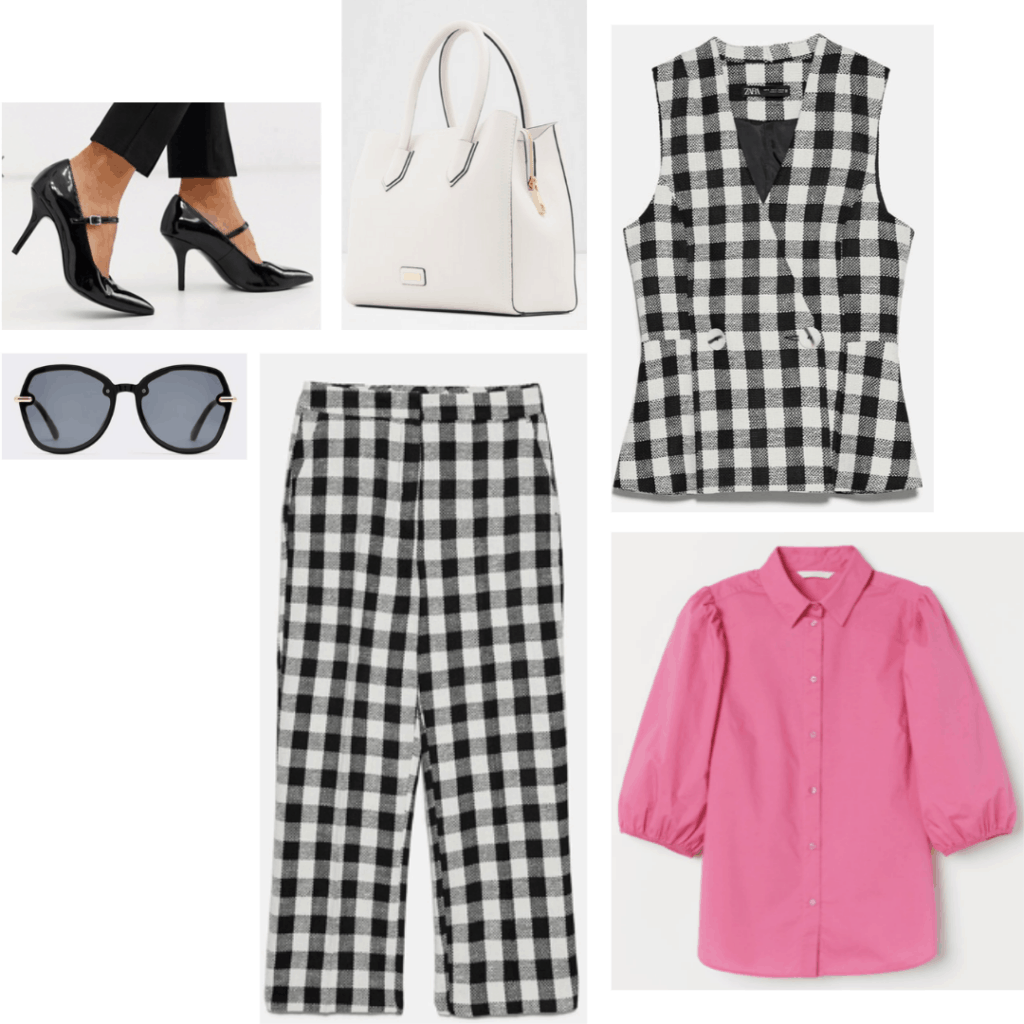 Products:
When it comes to recreating Samantha's '90s style, go for, you guessed it, a power suit. This is something you can have a lot of fun with, as there are many colorful and printed options available today.
For Samantha's look, I went for a gingham printed suit and a pink button-up. This color and pattern combination is a statement, yet still feels professional. I then finished the look with a few essential accessories.
For a different look, you could totally go for a colorful suit à la Samantha's pink option above — those are back in stores right now and they're so much fun!
Miranda Hobbes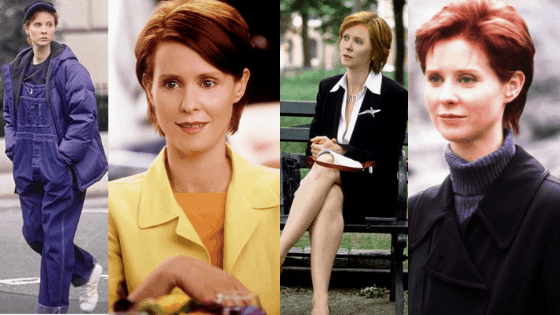 '90s Trends: Oversized clothes, menswear, and loungewear.
No Sex and the City fashion guide would be complete without Miranda!
In the '90s, Miranda was not the most fashionable character on Sex and the City, yet in recent years she has become a style icon. Today, many women would rather be considered the Miranda of their friend group than the Carrie, all because of her minimalist style and witty personality.
Miranda's look was serious but laid-back, and back in the '90s, her look was uninspiring and not considered sexy. But with menswear and athleisure being major trends of 2020, Miranda is now recognized as a killer fashionista.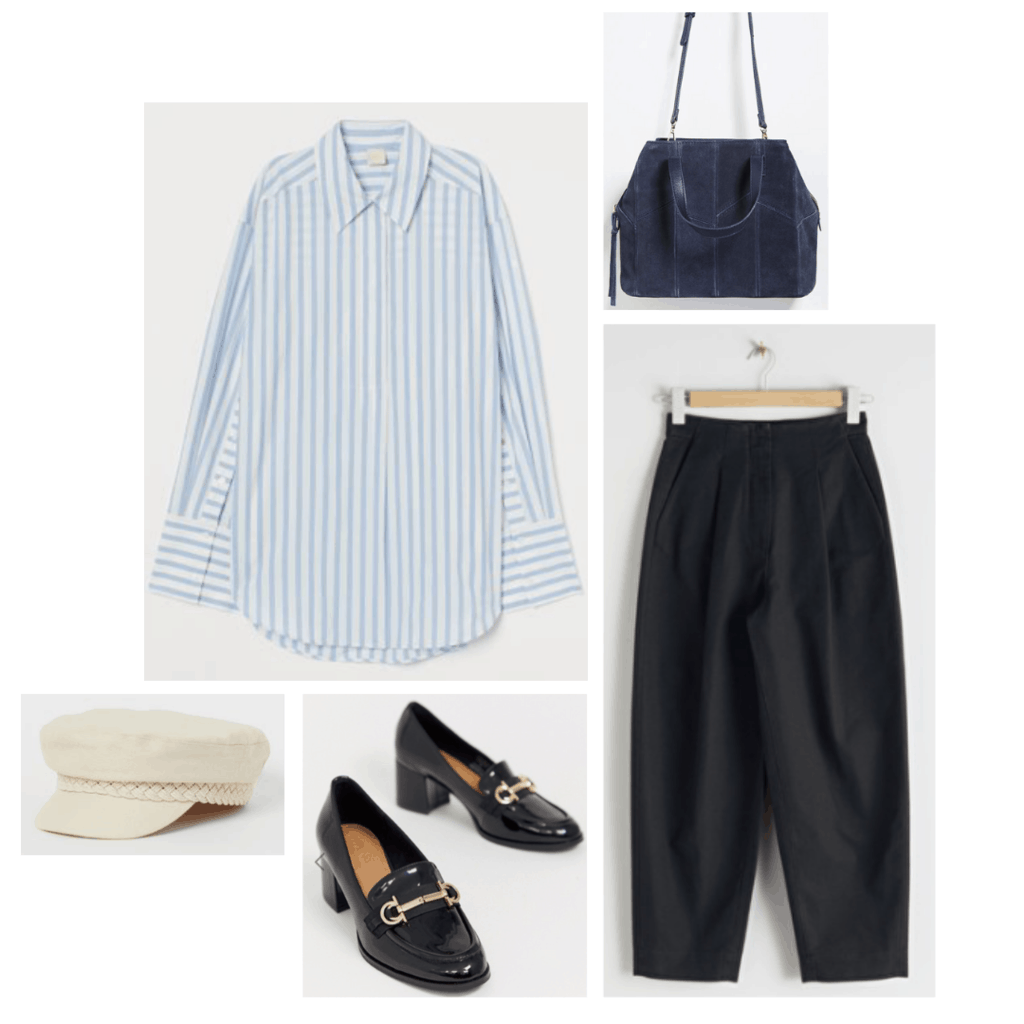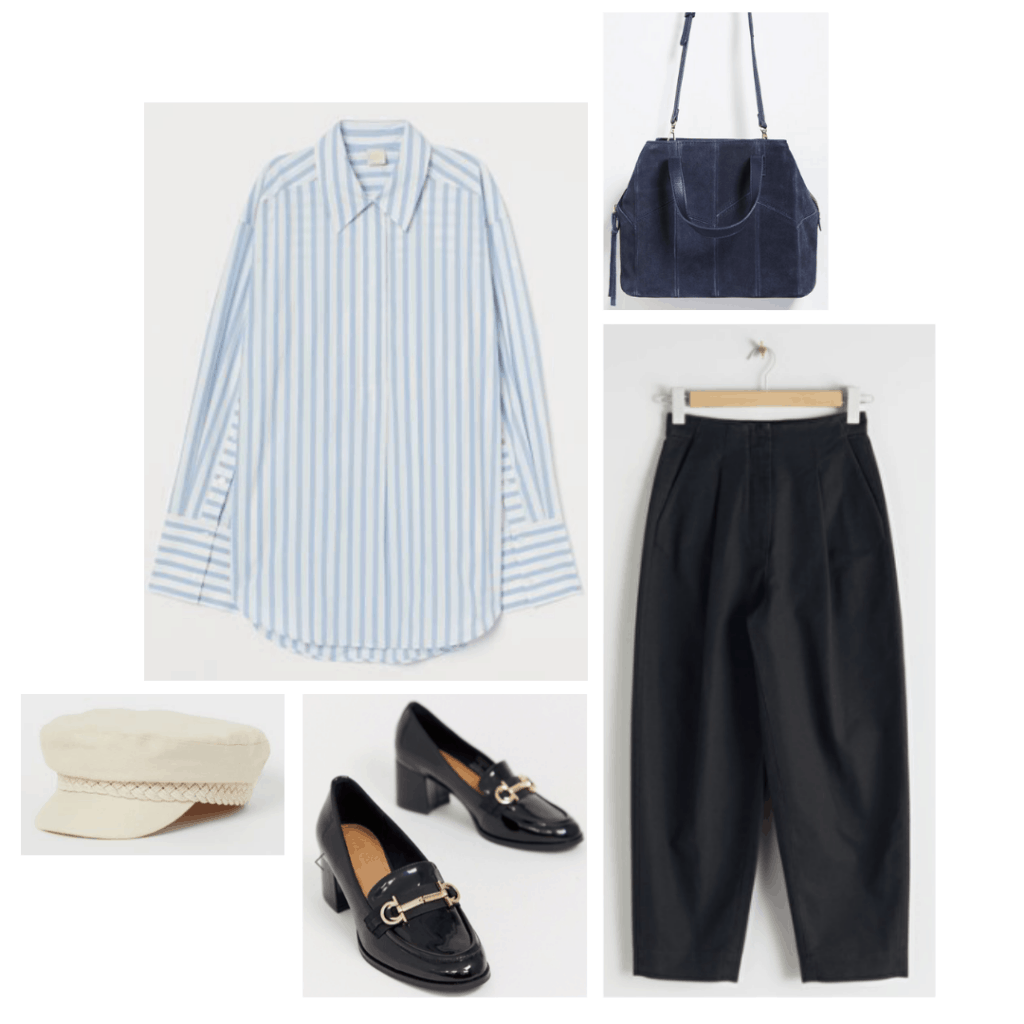 Products:
To translate Miranda's look for the 2020s, go for a blend of loungewear and workwear. An oversized shirt and a loose pair of trousers will give you a relaxed, but put-together look.
For accessories, go for business casual, with a pair of loafers and a tote bag. Then give the look a stylish twist with a unique hat.
What do you think of the '90s fashion from Sex and the City?
Who had the best style for the time? Do you have a favorite '90s trend? Let us know down in the comments.
For more fashion inspiration like this sex and the city inspired outfits, check out our favorite related posts below –