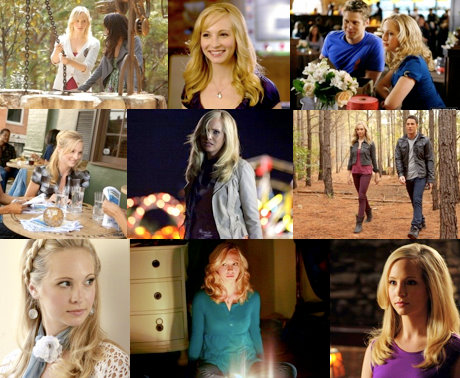 After last week's post on Vampire Diaries Fashion – Elena, many of you guys commented requesting another post on Caroline Forbes' style.
Caroline is very different from Elena and her style and beauty choices definitely reflect this. Although she is bright and cheerful, she also has a streak of attitude and competitiveness. She has a tendency to be a little bit rebellious and always knows what she wants. Read on to learn about Caroline's good girl-with-attitude sense of style.
Caroline's Style Essentials
It's pretty obvious that the costume designers at Vampire Dairies keep the majority of the show's characters in dark, 'moody' colors. But for Caroline's wardrobe, the clothing is more colorful, there are more patterned fabrics, and more of a focus on simple, basic looks.
As the quintessential blonde high-school cheerleader, Caroline's style is one of the ways that she gets attention and expresses herself. Classic feminine pieces like cardigans, blouses and button-ups have all made their way into Caroline's looks over the seasons.
Below, I've detailed some simple pieces that look like they could have come from Caroline's closet – just add jeans, and a fun accessory like a scarf or simple CZ necklace for a Caroline-esque look.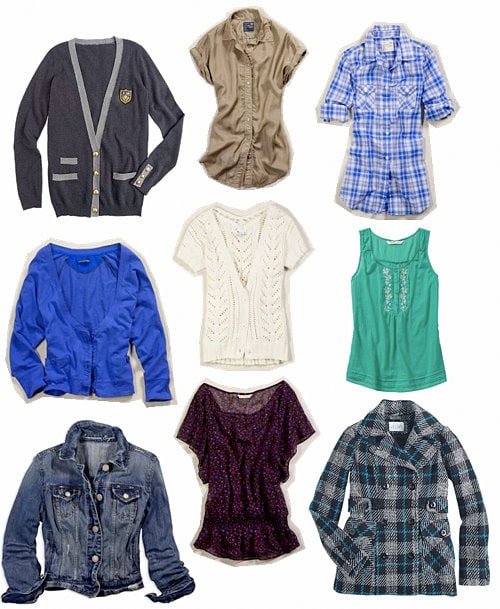 Product Information: Collegiate Sweater – dElias; Silk Blouse, Plaid Top, Cardigan, Knit Shrug, Floral Tunic, Denim Jacket – all American Eagle; Embroidered Tank – Old Navy; Plaid Peacoat – dElias
Caroline's Beauty Routine

Caroline's makeup is always pretty and girly, but never over-the-top. From Season 1 to Season 2, her look has become much more dramatic to mirror her darker life. Not a makeup pro? Here are a few YouTube videos that make it super easy to recreate Caroline's makeup routine.
After you've got her beauty look down pat, it's time to tackle some of her hairstyles. Caroline's hair is always perfectly styled, whether it's in intricate braids, in curls. or worn straight after an amazing blowout. For snapshots of all of Caroline's chic hair styles over the past two seasons, check out this page at Candice Accola Web. And here are a few easy how-to guides for getting her hairstyles!
Perfect curls – Using a curling iron, rollers, or your hair straightener (whichever you prefer), curl your hair up to the top of your ears. Make sure to use a decent amount of heat and don't touch the curls until they're cool – this will help create tight curls. Work your way around the crown of your head until all of your hair is curled. Run your fingers through your hair to separate the ringlets and give your them more volume. Spray with a little bit of hairspray to keep those curls perfect all day! Meredith has a great step-by-step video as well – see the Caroline Forbes Hair Inspired Tutorial
The Braided Headband – Jenny has an amazing video tutorial inspired by Lauren Conrad's famous braid, but it is pretty perfect for emulating Caroline's style as well!
Tying it All Together
What do you think of Caroline's look? Do you identify with her style more than Elena's? They both have their own unique personalities and fashion preferences, but do you have a favorite? I love hearing your feedback every week, be sure to leave a comment!