A guide to Carrie Bradshaw outfits and how you can dress like her today. Includes: Outfit ideas to get the Carrie Bradshaw look and style.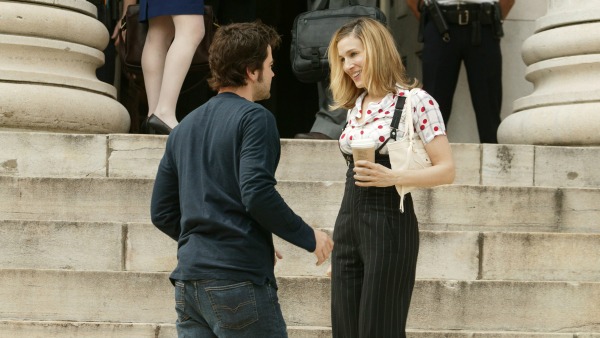 I couldn't help but wonder…is dressing like the most iconic character of the '90s/early '00s still relevant?
Yes.
Carrie Bradshaw of "Sex and the City," played by Sarah Jessica Parker, was known on the show and IRL for being the ultimate trendsetter. Her outfits were sometimes wacky, sometimes even ridiculous, but most often, they were fabulous, and they were always bold. After all, fashion genius Patricia Field was the costume designer, and SJP has such great style savvy herself.
Thus, even though the show just celebrated its 18th anniversary, dressing like Carrie is still stylish in 2023.
Maybe "still" is the wrong word. While I don't think Bradshaw-inspired looks were ever out, something about style in 2023 really hearkens back to Carrie's vibe. Maybe it's the fact that the slip dresses of the show's first season in 1998 are back in style in a big way this year.
Maybe it's because Field totally changed the game when it came to styling TV fashionistas, and now everyone from "Gossip Girl" costumer Eric Daman (Field's former assistant on SATC) to Mandi Line of "Pretty Little Liars" aims for the unexpected, bold fashion we have come to love. Maybe it's because the recent lines from labels like Gucci have made Carrie-esque eccentricity, with eclectic mixed prints and quirky motifs, the it-vibe of the mid-2010s. Or maybe it's because millennials can now stream SATC on Amazon Prime.
Related readings: 3 Carrie Bradshaw-Inspired Outfits to Kick Off Spring
Carrie Bradshaw Inspired Outfits
Regardless of the reason or the season, the biggest lesson we can take from Carrie is to just go for it. Be big, be bold, and dress in a way that is unapologetically you.
Outfit #1: Tulle Skirt and Graphic Tee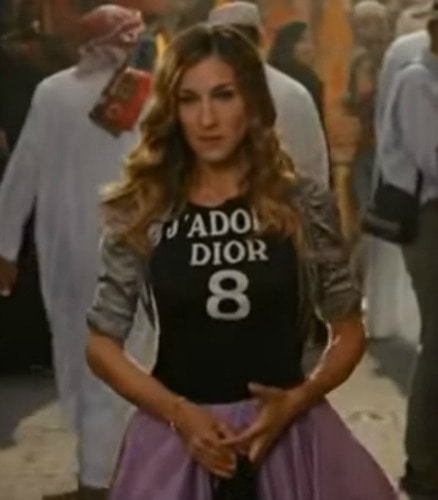 Carrie's full skirt and graphic tee from the second "Sex and the City" movie (above) is arguably one of her most iconic outfits. But she's rocked tutus and full tulle skirts on several occasions, and the look is one of my faves. Go full girly with a tutu and a simple tank and heels, or edge it up with a tee or structured jacket.
I dare you actually to wear the look below to brunch because Carrie would. More realistically, I love this for a party or a fun dinner out with the girls, or even a date. You will stand out from the crowd in the best of ways.
Even if you don't opt for these exact pieces, here's the key: Either the skirt or the tee should be neutral. One major pop of color is all you need here. I also wouldn't say no to an all-black ensemble featuring a tutu paired with a swipe of red lipstick.
Go for heels to balance out the skirt, and choose one or two great accessories. They can certainly be statement-makers but keep the skirt the focus (for example, the clutch and earrings below are big but neutral).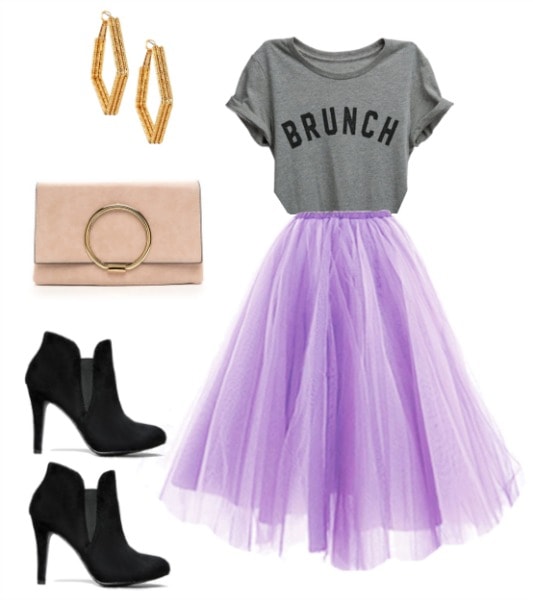 Products:
Outfit #2: Slip dress and statement coat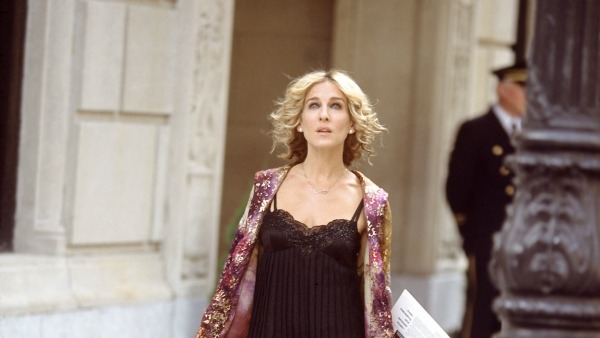 For the record, I do not recommend wearing a "naked dress" on your first date, as Carrie did with Mr. Big. A slip dress needs to be balanced with more coverage (and a strapless bra or pasties). My favorite way to do that is with a statement jacket or coat that contrasts in some way–like Carrie's floral with black above or the glam leopard with the sweet lace below.
Then, do what Carrie would do and add a piece of personal jewelry (she loves her nameplate necklace, but one with an inspirational phrase works just as well) and statement heels.
Carrie adds heels to everything, even if they don't seem to go. While that's not really a practical choice for college girls, everyone loves statement shoes.
You can still take a page out of Carrie's playbook by opting for a shoe in an unexpected color or style — while some may finish this look with a nude sandal, teal heels are obviously more fun. Similarly, try a heeled bootie with shorts, wedge sneakers with dresses, and dressier shoes with jeans.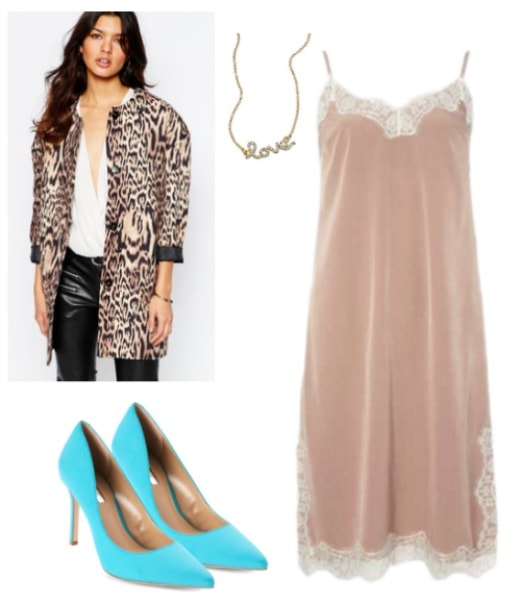 Products:
Outfit #3: Crop top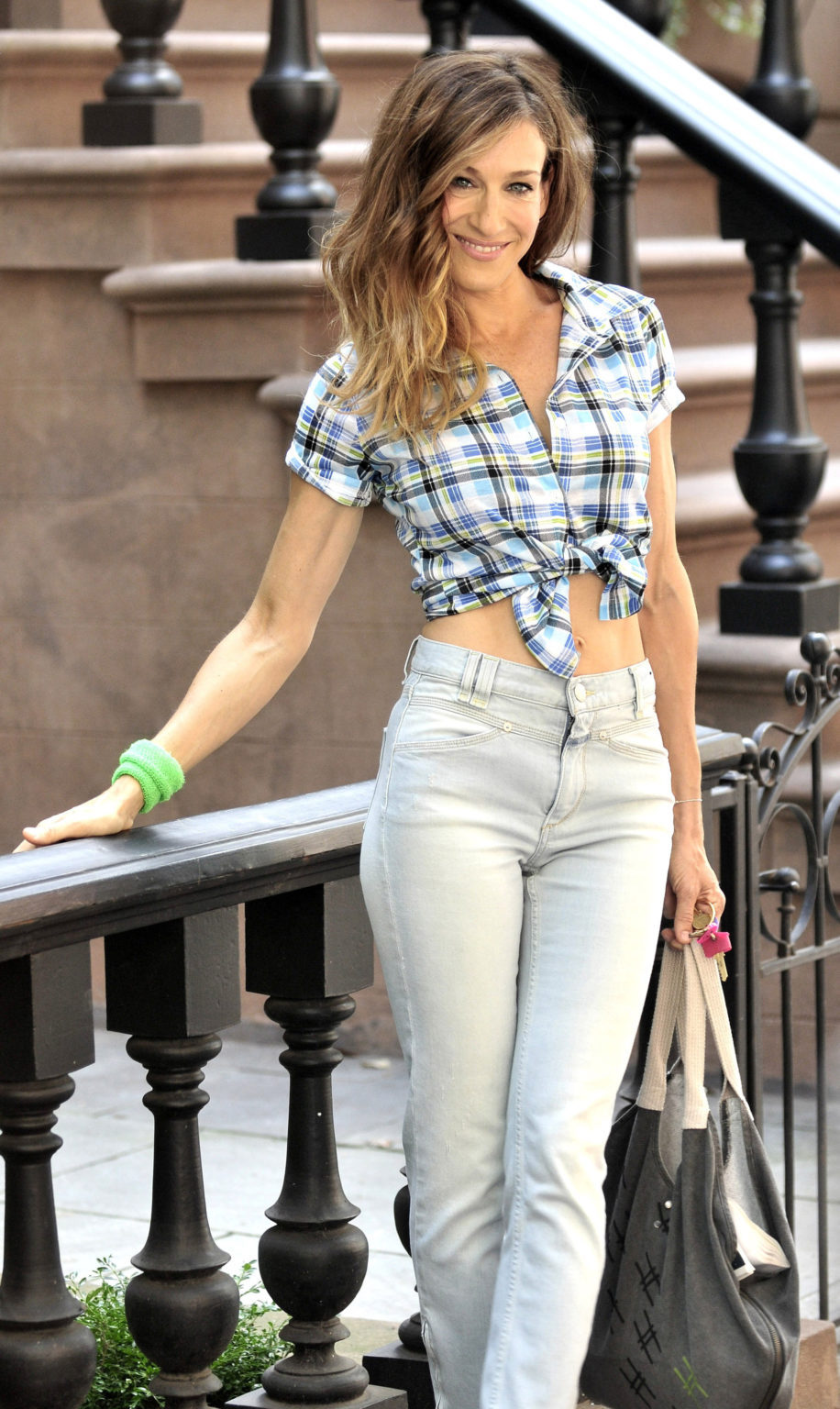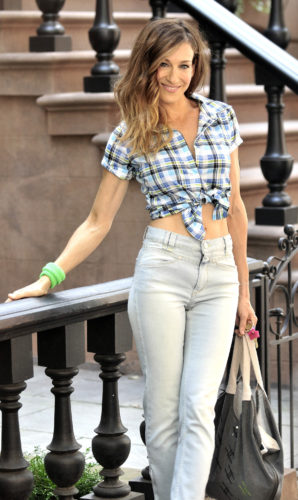 For this last look, I combine two things Carrie loves: crop tops and menswear-inspired pieces. I think she'd be a big fan of 2016's culottes trend, and these pinstripe denim ones are right up her alley.
Carrie will wear a great-fitting, neutral crop top with a wide variety of statement pieces. While I wouldn't recommend showing too much skin for class, I love this look with a sliver of skin showing for a dinner out or, yes, brunch.
Once again, this outfit features heels that you'd think would be out of place, but somehow work. It's all about being playful and having confidence. 
When getting dressed, challenge yourself to forgo the obvious choice (with this look, flat sandals and silver jewelry) in favor of something else great in your closet that has the potential to take the outfit to the next level.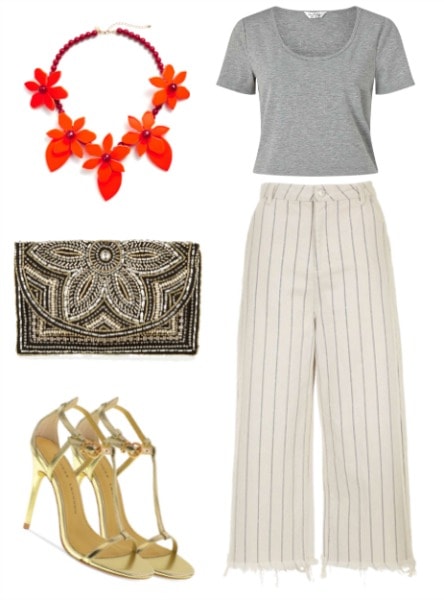 Products:
What do you think?
Are you a Sex and the City fan? What's your all-time favorite Carrie Bradshaw look? Would you wear any of these bold ensembles? Let me know in the comments!
For more inspired outfit ideas, check out our related posts below –