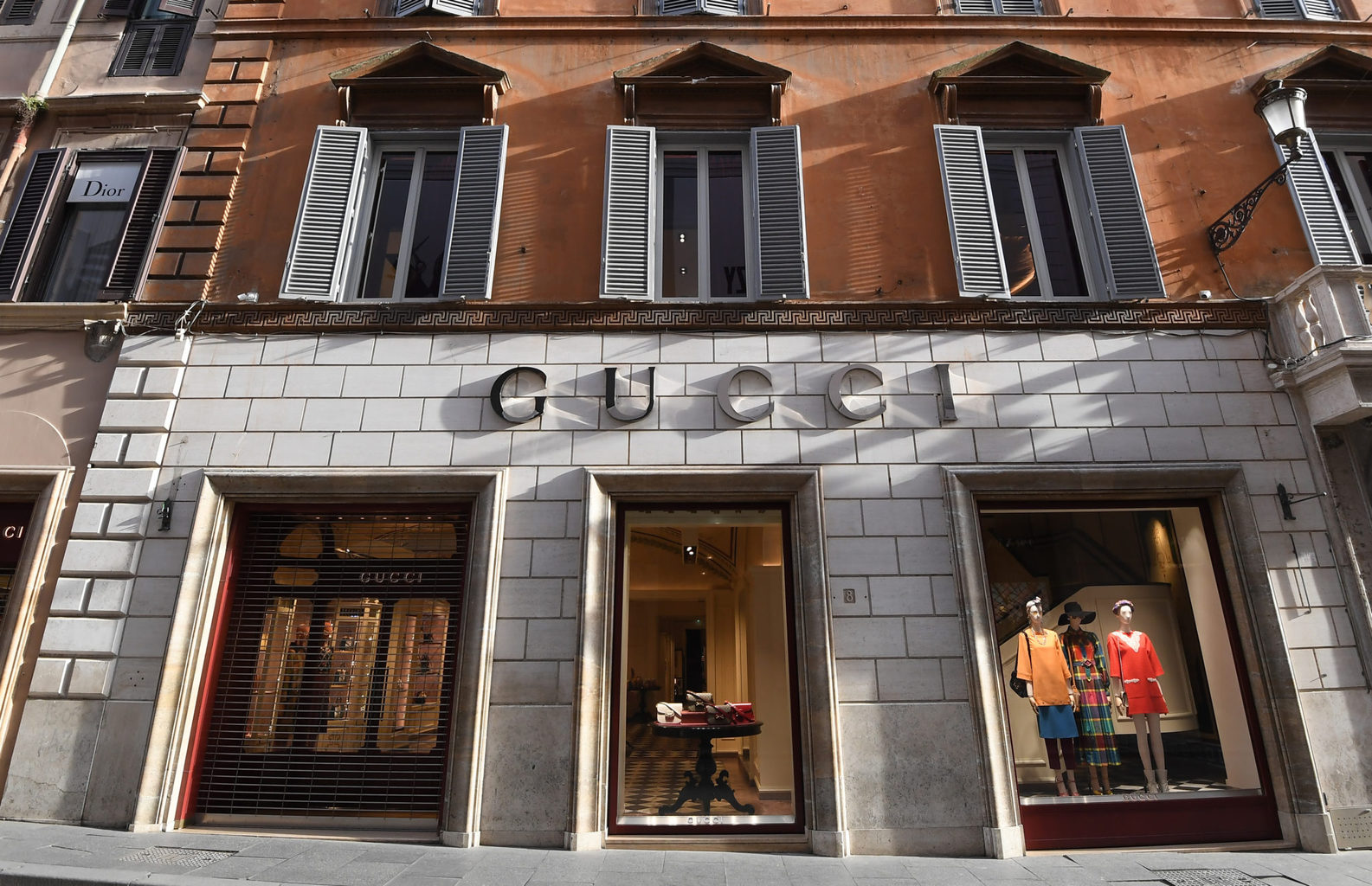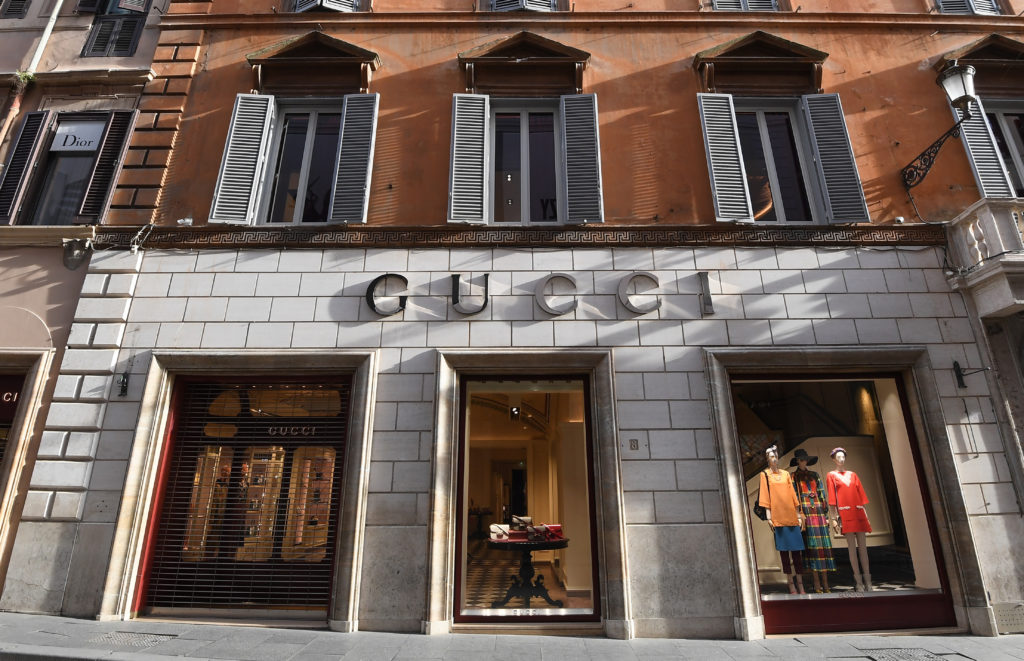 The humble beginnings of Gucci are well known throughout the fashion community, but many people who own Gucci products aren't familiar with the man in the background – or his catchy first name!
Gucci might even be the first fashion-oriented word you heard when you were young, but do you know the real story behind the G's?
Continuing our Know Your Designers series, (check out our posts on Coco Chanel and Miuccia Prada if you missed them), here's another quick biography on a legend in the fashion industry, plus recommendations for a few books that will make a lovely addition to your growing library on style. Enjoy!
10 Facts about Guccio Gucci & His Company:
Guccio Gucci was born in 1881, in Florence, Italy.
In 1921, Gucci opened his first shop in Florence, specializing in leather goods, and quickly built a reputation for quality, hiring skilled craftsmen to work in his shop. This is how the House of Gucci was founded.
During the 1930s, Gucci became inspired by horse racing, a popular pastime, and started designing the hardware for his leather goods to resemble horse bits and stirrups.
In 1932, Gucci created the loafer shoe with a gilded snaffle. To date, these shoes are the only footwear on display in New York's Museum of Modern Art.
In 1947, Gucci introduced the brand's first iconic bag, the "Bamboo bag", a saddlebag featuring bamboo handles, which is still a company mainstay.
Guccio and his wife Aida Calvelli had a large family, six children in all, though only his sons – Aldo, Ugo, Vasco, and Rodolfo – would later take roles in leading the company toward popularity – and a LOT of drama! (Want the dirt? Read the books listed below to learn more about it!)
After Guccio's death in 1953, Aldo, along with his brothers, took over and helped promote the company internationally, as it opened boutiques in London, Paris and New York.
In the early '90s, Gucci's image was tarnished when copies of its wares began popping up everywhere. To restore the company's luxury image, the company appointed American designer Tom Ford as Artistic Director in 1994, a position he kept until 2005. Ford is largely credited with turning the Gucci brand around.
The Gucci brand involves more than just their eponymous fashion house. Kering, Gucci's parent company, is a collection of designers who specialize in high fashion luxury retail. The members include Gucci, Bottega Veneta, and Yves Saint Laurent, as well as Sergio Rossi, Stella McCartney and Alexander McQueen – what a club!
Today, Gucci is run by Marco Bizzarri, CEO of Gucci, and designs are by Alessandro Michele, the Creative Director.
Outfit Inspired by Gucci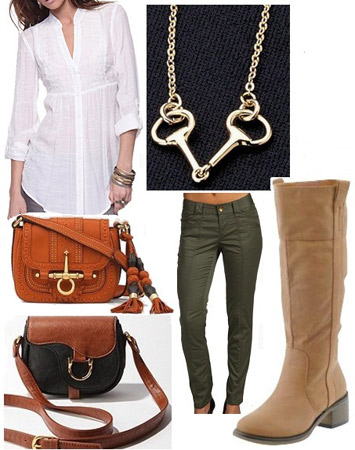 While it would be easy to do a menswear outfit for Gucci, I instead arranged this look based on some of the outfits from Gucci's iconic Spring 2011 Resort collection, as well as Guccio's past as a humble leather bag maker.
While I channeled the 2011 Resort collection's vibe – think lots of neutrals and effortless style – I also mixed in riding boots and a snaffle necklace that were inspired by Guccio's use of gilded snaffles on loafers, as well as his love of everything equestrian.
Finally, I included two purses with this look – one is an authentic Gucci purse with the snaffle latch, while the other is a more affordable bag with a similar aesthetic. Either one will add an element of equestrian style to the ensemble.
Extra for Experts:
The history of the Gucci business reads like a soap opera script – it's absolutely filled with family drama! Want the details? Here are two fantastic reads to amp up your knowledge on the Gucci family history:
House of Gucci by Sara G. Forden – The cover reads "a sensational story of murder, madness, glamour, and greed." Yikes!
Gucci Wars by Jenny Gucci – Jenny is an ex-wife of Paolo Gucci, who is the grandson of Guccio. This is her story of what it was like to be a member of the Gucci family.
Thoughts About Gucci?
Do you have any facts about Gucci you think are worth sharing? Do you know any juicy secrets behind the Gucci family drama? Please share them! Also, if you have any suggestions for designers you'd like me to spotlight next, let me know!