When you think of fanny packs, current fashion may not be the first thing that comes to mind. Lately, however, I've been spotting this once passed-over accessory on some of Hollywood's biggest fashion influencers, such as Rihanna, Beyoncé, and Kendall Jenner.
While this '90s-throwback trend may seem hard to pull off for everyday wear, it's actually not as hard as you think. What's more, this time around, fanny packs aren't just for wearing around your hips or waist; plenty of fashionistas carry them as you would a shoulder or cross-body bag, making taking the plunge a little less intimidating.
Due to their compact size and ease of wear, fanny packs are also great for wearing with other larger bags or backpacks, making them the perfect thing to wear to class, and also for traveling.
Need inspiration on how to pull off this versatile trend? Keep scrolling to see three looks that show you how to wear fanny packs in a modern and fashion-forward way.
Fanny Pack Outfit #1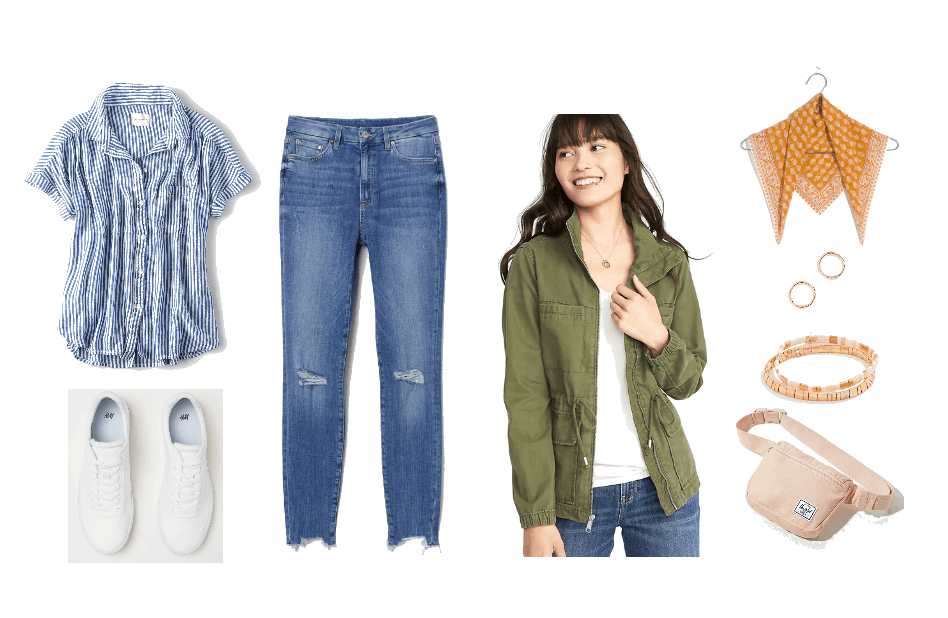 Products: Shirt – American Eagle Outfitters, Sneakers – H&M, Jeans – H&M, Jacket – Old Navy, Bandana – Madewell, Earrings – Shopbop, Bracelet Set – Shopbop, Fanny Pack – Urban Outfitters
For the first look, I decided to keep things simple by going for a pale pink fanny pack with a utilitarian vibe that fits right in with this cute and casual ensemble.
Style it with a short-sleeved striped shirt, ripped skinny jeans, and basic white sneakers for an outfit that's perfect for wearing to class, or out and about on the weekend.
Accessorize with a pretty golden-yellow bandana for some contrast, as well as a fun beaded bracelet set and subtle open circle stud earrings to jazz things up just a touch.
Finally, add a lightweight olive green jacket to complete the look and keep you warm on chilly spring days.
(Style tip: If you wear the jacket open, it's fine to wear the fanny pack around your hips as you normally would. However, if you wear the jacket done up, wear the fanny pack cross-body style; this way, things will look more proportional, as the jacket cinches the waist when fully zipped, and wearing the fanny pack around your hips will just add visual clutter and look bulky.)
Fanny Pack Outfit #2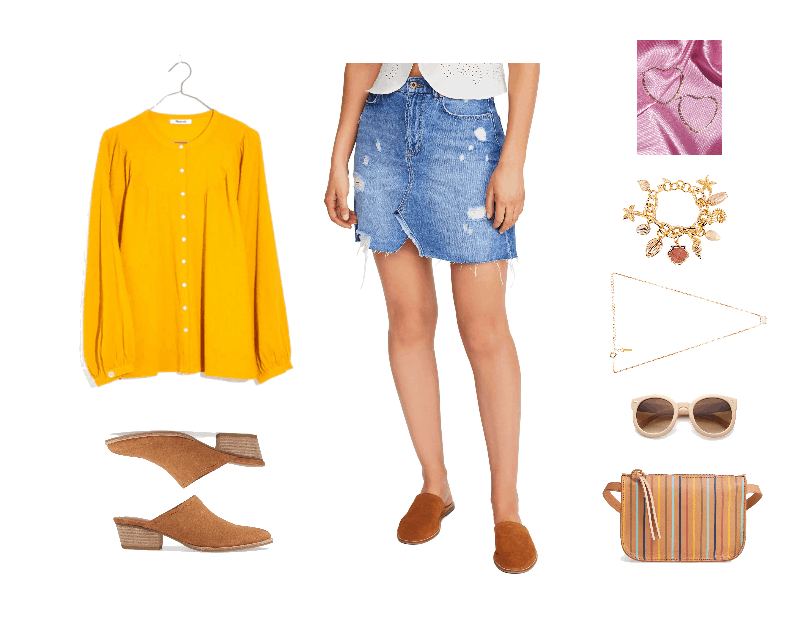 Products: Blouse – Madewell, Mules – Nordstrom, Skirt – Nordstrom, Earrings – Frasier Sterling, Bracelet – Revolve, Necklace – Revolve, Sunglasses – ShopZeroUV, Fanny Pack – Nordstrom
This bright and cheerful look was built around Madewell's adorable striped fanny pack, which puts a fun twist on a classic leather style.
To get it, all you need to do is half-tuck a sunny yellow blouse into a denim mini skirt, so that you can fully see the fanny pack's colorful pattern.
Next, add a pair of trendy, pointed-toe chestnut brown suede mules with low, chunky heels that are easy to walk in.
For the finishing touches, add a pair of oversized heart-shaped hoop earrings, an of-the-moment shell charm bracelet, and a beautiful opal necklace.
Top it all off with a pair of pale pink oversized round sunglasses, and you're good to go!
Fanny Pack Outfit #3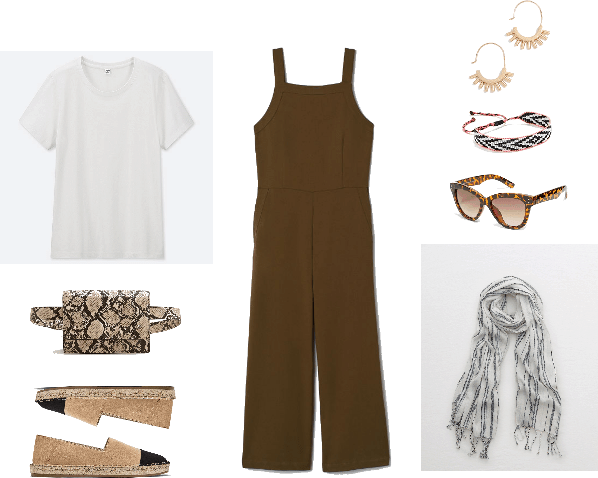 Products: T-Shirt – Uniqlo, Fanny Pack – Mango, Espadrilles – Zara, Jumpsuit – H&M, Earrings – Shopbop, Bracelet – Shopbop, Sunglasses – Old Navy, Scarf – American Eagle Outfitters
I decided to go with something a little different for the final outfit, which features a fanny pack with a snakeskin print–a winter 2018/2019 trend that is still going strong for Spring 2019.
If you want to nab this cool look for yourself, begin by layering a plain white crewneck t-shirt underneath a stylish sleeveless jumpsuit in a dark khaki green shade, and adjusting the fanny pack so that it aligns with the seam at the waist of the jumpsuit.
Next, slip on a pair of Chanel-esque flat-soled espadrilles, and wrap a minimal striped scarf loosely around your neck for some added flair.
You can't go wrong with classic, tortoise-printed cat-eye sunnies (especially when they're currently on sale for under $10.00!) and quirky jewelry — like these artsy earrings and black-and-white beaded friendship-style bracelet with a pop of hot pink string–to complete this fashion-forward ensemble.
What do you think?
What do you think about the continuing popularity of fanny packs? Would you wear one? Which of these looks suits your style best?
Let me know in the comments!