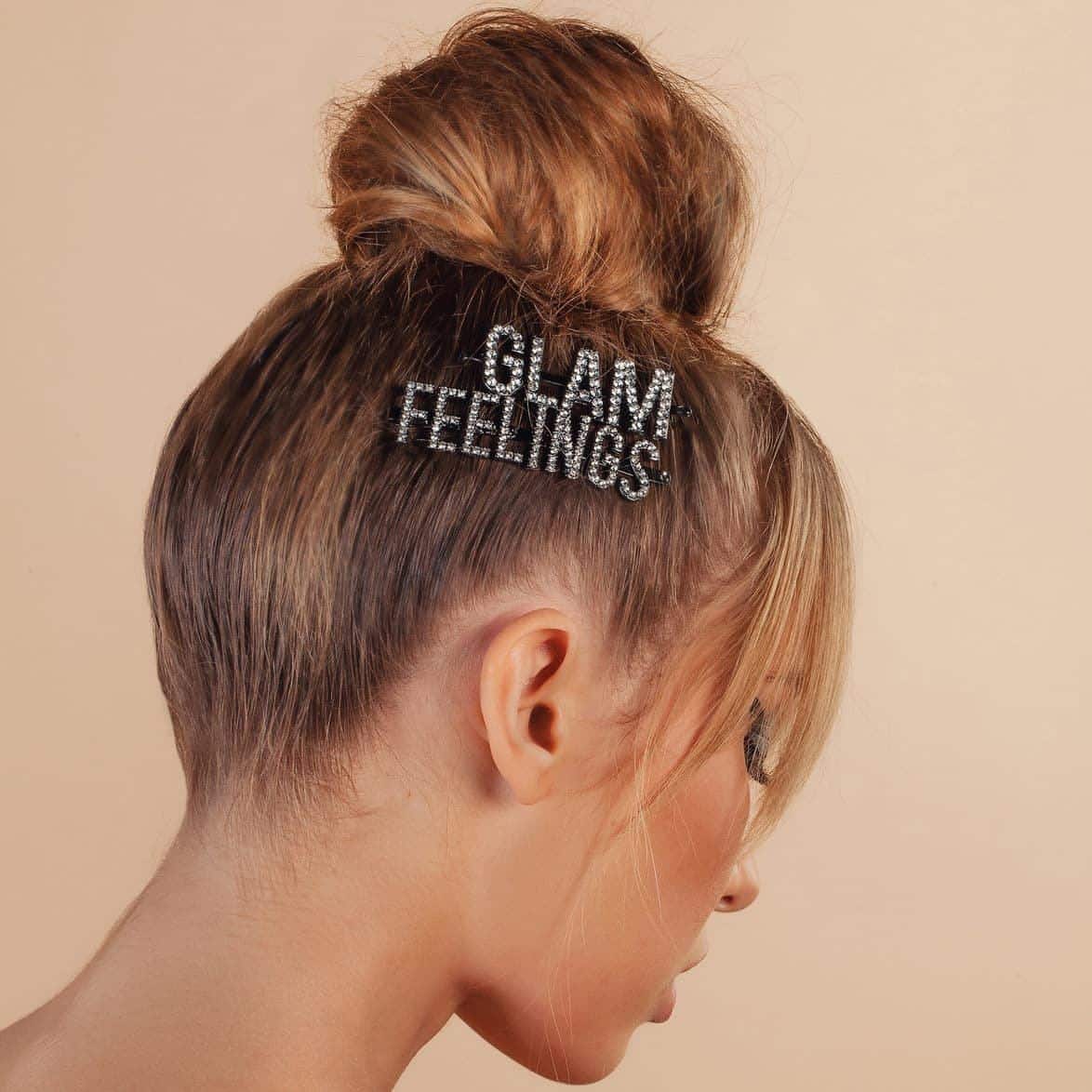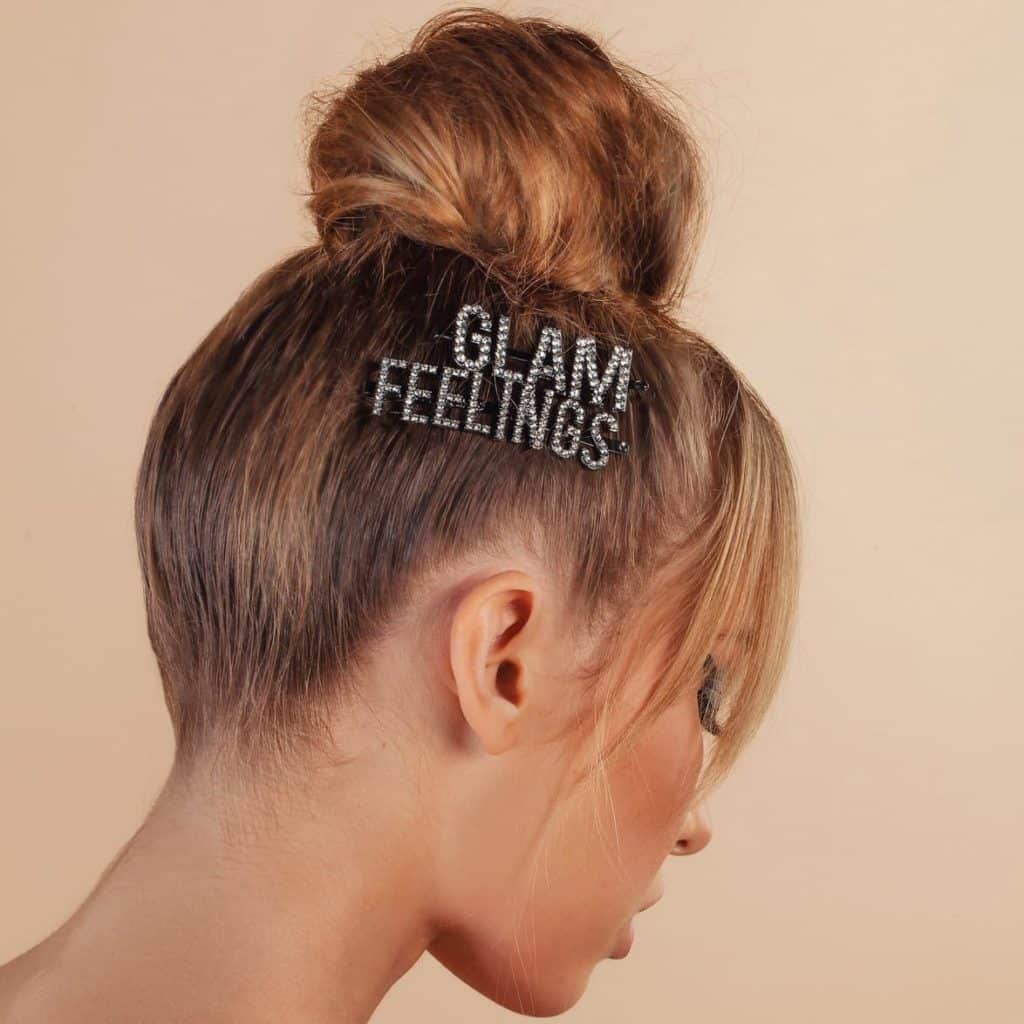 With Spring 2019 just around the corner, there's a fresh new crop of trends just waiting to be taken for a test run! And, while there are many Spring 2019 clothing trends I can't wait to try, there are also a ton of accessory trends to love; after all, no outfit is complete without a good accessory or two!
Below, I've rounded up the top six Spring 2019 accessory trends to keep on your radar, as well as some suggestions on how to wear them!
Keep reading to see them all!
1. Embellished Hair Clips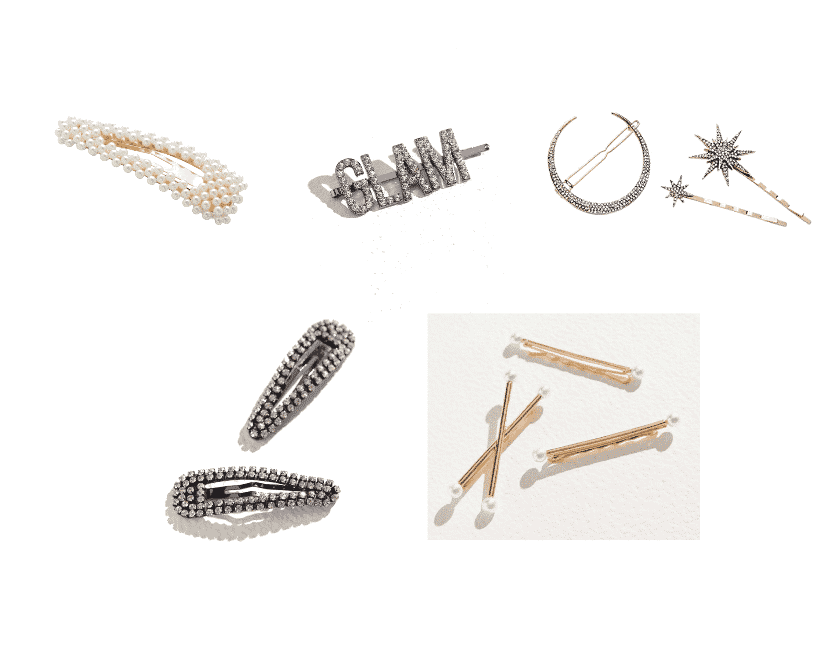 Products: (Top Row, L-R) Pearl Flip Clip – The Outlier Standard, "GLAM" Rhinestone Bobby Pin – Urban Outfitters, Moon-and-Star Hair Clip Set – Amazon (Bottom Row, L-R) Rhinestone Flip Clip Set – Urban Outfitters, Pearl Bobby Pin Set – Urban Outfitters
One new trend that has exploded this season is embellished hair clips–especially those with pearl and rhinestone accents!
While bows and hairbands of seasons past had a demure, sweet vibe, the '90s-inspired clips of Spring 2019 are meant to add a feminine, glam touch to your look. (Sometimes literally, if you go with the "GLAM" option featured above!)
Since this trend is new, finding budget-friendly versions can be a little difficult. However, Urban Outfitters, Amazon, and Etsy are great places to start — they all have cheaper hair accessories available.
How to wear embellished hair clips:
You can wear embellished hair clips with just about anything (although I am partial to wearing them with more minimal ensembles), so long as you keep the rest of your accessories to a minimum. The hair clips I've been seeing lately are quite bold and large in size. Let them be the statement-makers in your outfit!
Personally, I think that these clips look best when worn with your hair down rather than up, as up-dos can overcomplicate the look.
I also like the idea of "layering" two matching or similar-looking embellished hair clips. If you choose to wear more than one clip, rock them all on the same side of your head. This will keep things looking cool and fashion-forward, rather than dated and child-like.
2. Clear Shoes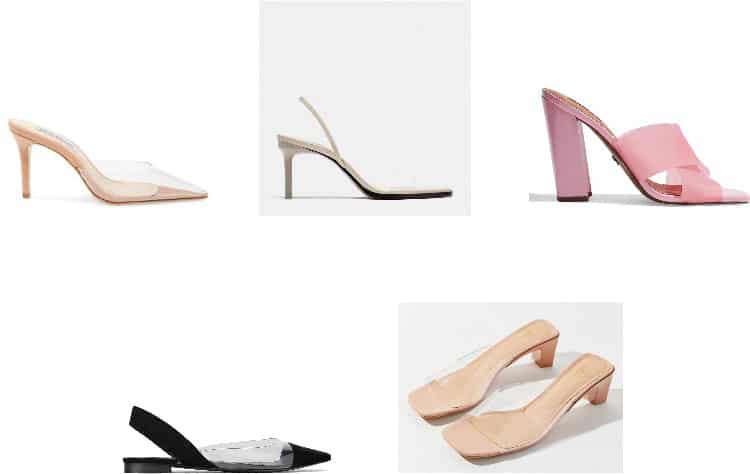 Products: (Top Row, L-R) Heeled Mules – Steve Madden, Heeled Slingback Sandals – Zara, Pink Heeled Slides – Topshop (Bottom Row, L-R) Slingback Flats – Zara, Kitten Heel Sandals – Urban Outfitters
The clear shoe trend popped up a few seasons ago, but it's going to be huge for Spring 2019.
While clear shoes might bring to mind images of the 1990s, they can, in fact, look modern and chic. This is particularly true if you go for a minimal shoe, like the pairs above.
Since plastic is not a breathable material, it's best to go for a style that isn't completely closed off. That's why I featured open-toed and/or open-heeled styles here.
In addition, plastic can be hard on your feet as it doesn't really "break in." Therefore, I recommend only wearing these when you know you won't be doing a lot of standing/walking, perhaps for a night out at a trendy restaurant.
How to wear clear shoes:
Since these shoes are bold regardless of which style you choose, it's best to style them with something minimal. Think a midi-length slip dress and an oversized blazer, or a classic pair of black slim-fitting pants and a silky camisole.
As far as other accessories go, you can afford to play around with different materials for a contrasting, textural look.
I like the idea of pairing clear shoes with a basket bag (a trend that was big last year and is still going strong), a simple gold chain, and perhaps even a baroque pearl jewelry piece (another big Spring 2019 trend which I will be talking about next!) for a refined look that isn't too serious.
3. Baroque Pearl Jewelry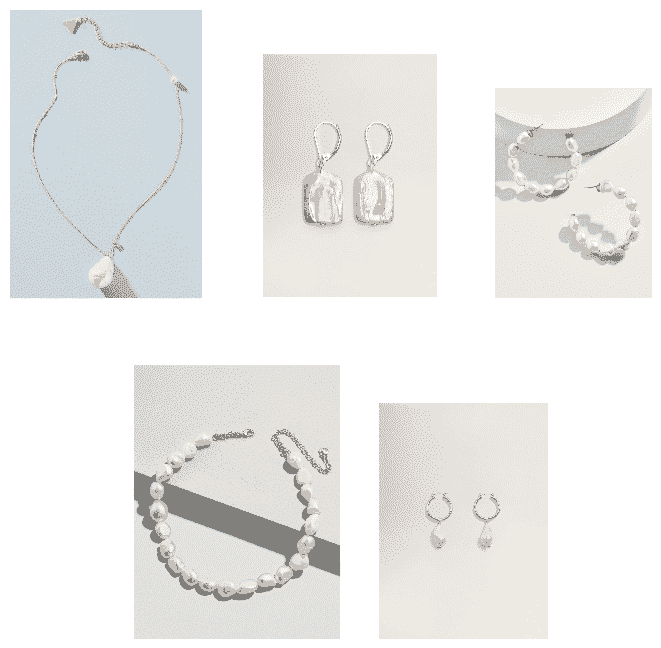 Products: (Top Row, L-R) Baroque Pearl Pendant Necklace – Anthropologie, Rectangular Baroque Pearl Earrings – Mango, Baroque Pearl Hoops – BaubleBar (Bottom Row, L-R) Pink Baroque Pearl Statement Necklace – BaubleBar, Baroque Pearl Drop Hoops – Mango
In case you need a refresher, baroque pearls are pearls that are non-spherical and irregularly shaped. And, aside from embellished hair clips, I have to say that the baroque pearl jewelry trend is the one that I am most excited for this upcoming Spring!
Far from stuffy, these pretty pieces (whether real or faux) lend a feminine-yet-quirky vibe to literally any look. They're the easiest spring 2019 accessory trend to wear.
Furthermore, while baroque pearl jewelry is considered a trend right now, I can't think of a time when they'd ever not be in style. So if you're looking to invest a little more money in a special baroque pearl piece this Spring but aren't sure whether to pull the trigger, I'd say go for it!
How to wear baroque pearl jewelry:
As mentioned above, baroque pearls can be worn with anything. However, if you're looking for a way to make them look current for Spring 2019, try them with a cute, midi-length breezy linen dress in either white or tan, as well as a wide-brim straw hat, a smaller structured bag, and flat sandals that tie at the ankle.
If you want something more formal, try them with a sleek ponytail, a printed jumpsuit, and heeled ankle-strap sandals for a chic evening look.
Due to their irregularities, baroque pearls are all a little bit different. To avoid looking like you're trying too hard to make everything "go," stick to one baroque pearl piece per look. Then, keep the rest of your jewelry on the delicate side for a modern and sophisticated vibe.
4. Mini/Micro Bags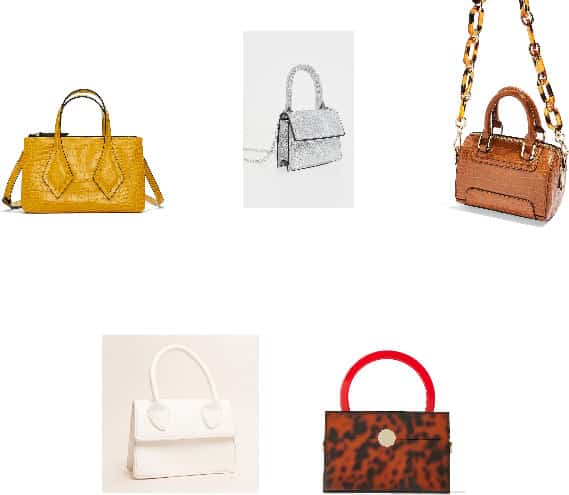 Products: (Top Row, L-R) Yellow Mini Bag – Zara, Silver Glitter Micro Bag – PrettyLittleThing, Mini Bowler Bag with Chain Strap – Topshop (Bottom Row, L-R) White Mini Bag – PrettyLittleThing, Animal-Print Mini Box Bag – Zara
For such a physically small trend, mini/micro bags have been stirring up quite the buzz in the fashion world!
From petite styles that are perfect for holding your phone and keys during a night out to shockingly tiny options that can barely fit AirPods (the latter of which were technically part of Jacquemus's Fall 2019 collection, but which will no doubt be seen on trendsetters come Spring), there are plenty of mini/micro bag options to choose from!
What's more, although small bags have traditionally been reserved for evening, most styles I've seen are casual and daytime appropriate.
So, whether you go for a bag in a trendy "hard" material such as plastic or wood, or just a shrunken version of your favorite "normal-sized" bag, you're sure to find lots of ways to wear this funstyle!
How to wear mini/micro bags:
As I mentioned, the mini/micro bag trend isn't one that is meant to be taken super-seriously. So go ahead and have a good time putting together a quirky look to go with it!
One great way to wear the mini/micro bag trend is to play with the proportions of the rest of your look. You could do this by wearing a printed midi skirt or wide-leg cropped pants with an oversized t-shirt tucked in and a pair of chunky sneakers or sandals and small sunglasses. You could also try wearing a mini/micro bag with a floaty floral mini dress, wedges, oversized sunglasses, and an oversized denim jacket. The possibilities are endless, really!
If you want your mini/micro bag to really stand out, choose a colorful or metallic one, style it with an all-black or all-white ensemble, and prepare for all the double-takes people are going to do when they realize that yes, that actually is a real bag!
5. Animal-Print Shoes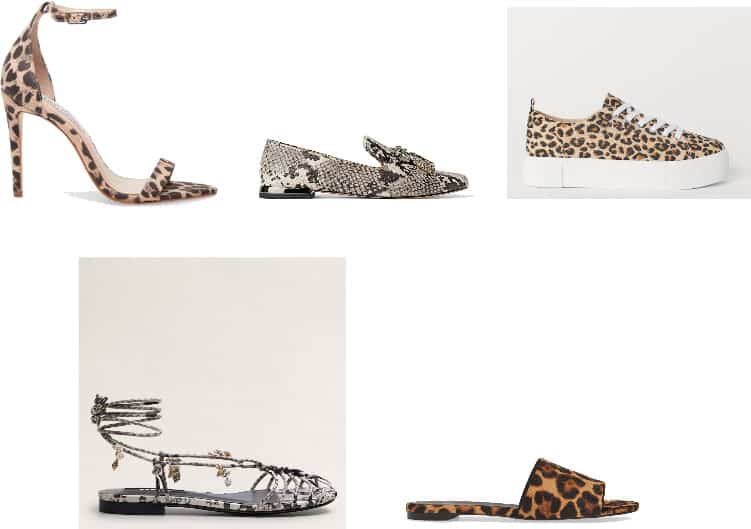 Products: (Top Row, L-R) Leopard-Print Heeled Sandals – Steve Madden, Snake-Print Loafers – Zara, Leopard-Print Platform Sneakers – H&M (Bottom Row, L-R) Snake-Print Sandals with Shells – Mango, Leopard-Print Slides – Nordstrom
Animal prints — especially snake and leopard prints — have become super popular within the last year. This spring 2019 accessory trend has a focus primarily on animal-print shoes rather than clothing.
I've seen animal print covering all sorts of shoe styles, from heels to flats, so you're guaranteed to find an animal-print shoe that works for your style!
Choose a simple slide style for a laid-back spring look, or, if you're in the mood for something flashier, pick out a pair that features shell embellishments (another big trend for Spring 2019, which I will get into momentarily); either way, you're sure to look fierce!
How to wear animal-print shoes:
Because they're almost like a neutral, animal-print can be worn with anything from head-to-toe black to other prints for a mix-and-match look.
However, one thing to avoid wearing with animal-print shoes is other animal prints, as this can very easily take your look into over-the-top territory.
Personally, I like the idea of wearing animal-print shoes with a solid-colored pleated midi skirt, a plain t-shirt, and a fanny pack for day, and then switching out the plain t-shirt and fanny pack for a silky camisole or tank top and a cute mini/micro bag for evening.
Regardless of the time of day, layer on some gold jewelry — including, of course, a still-very-much-in-style pair of oversized hoops — and you're done!
6. Cowrie Shell Jewelry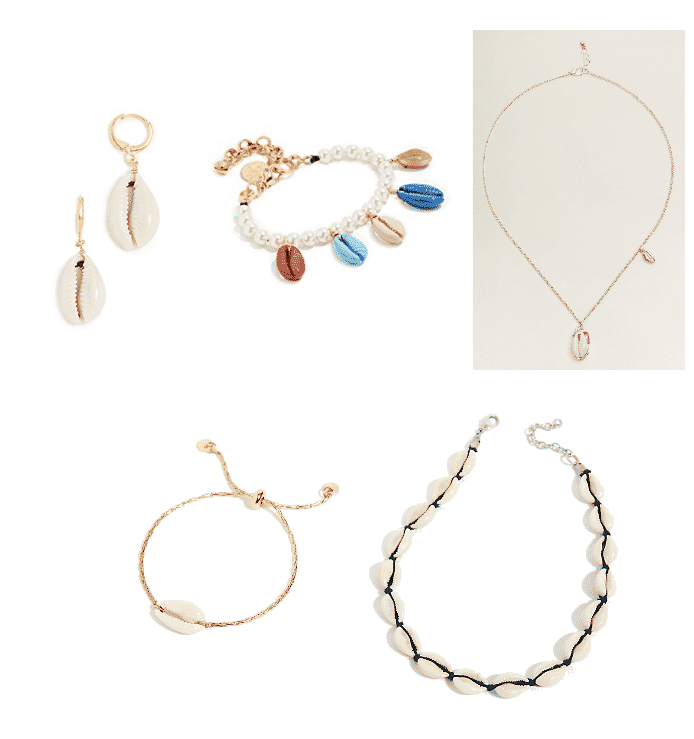 Products: (Top Row, L-R) Cowrie Shell Drop Hoops – Shopbop, Pearl Bracelet with Multi-Colored Cowrie Shells – Shopbop, Cowrie Shell Pendant Necklace – Mango (Bottom Row, L-R) Gold Adjustable Bracelet with Cowrie Shell – Free People, Cowrie Shell Necklace – Free People
Beachy and boho, the shell jewelry trend has taken the fashion world by storm. However, one version of this trend that has been popping up more often than the rest is cowrie shell jewelry.
Although this surfer-girl trend might remind you of those shell necklaces you begged your parents for in the early 2000s, the Spring 2019 version is definitely much chicer. It can be mixed and matched with other jewelry trends for an eclectic-yet-tasteful look.
What's more, if simple shells aren't your style, you can always go for colored or metallic versions for a unique take on the trend.
How to wear cowrie shell jewelry:
I love the idea of going full-on beachy-bohemian with this spring 2019 accessory trend trend. I'd recommend wearing it with a tie-dye maxi dress, strappy flat sandals that tie at the ankle, and a fringed bag.
Since cowrie shell jewelry is (mostly) pretty simple, feel free to layer it with other jewelry styles, such as woven friendship bracelets, gold chain bracelets or necklaces, beaded pieces, or even equally trendy baroque pearls!
Other than that, you're free to experiment with this cute, summery trend to your heart's content! Also, unlike the other spring 2019 accessory trends, it's fun to wear more than one cowrie shell piece at a time, as long as you're bringing other types of jewelry into the mix.
What do you think?
Which Spring 2019 accessory trend(s) are you looking forward to trying the most? How would you style any of the spring 2019 accessory trends featured above? Are there any other Spring 2019 accessory trends that you think should be added to the list?
Let me know in the comments!