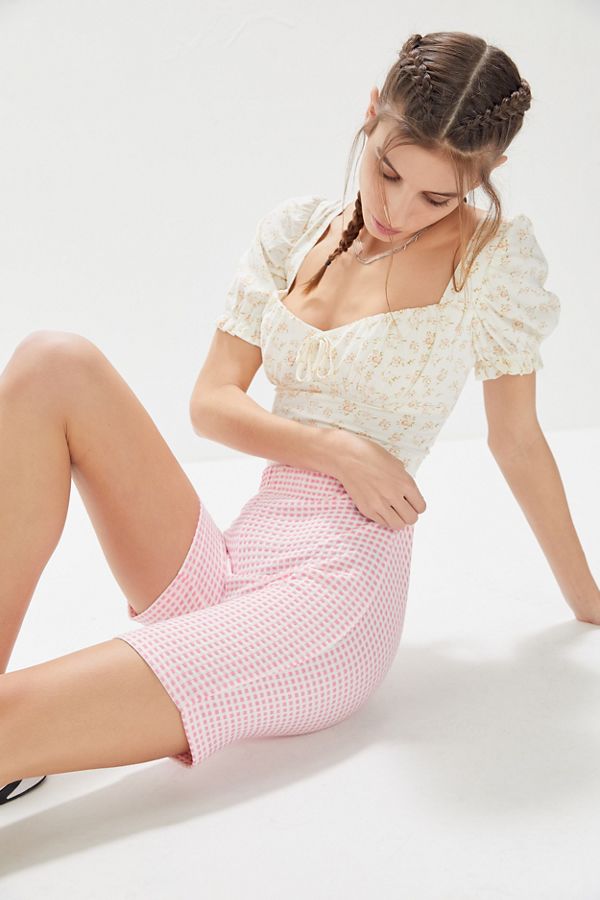 Although Spring still seems like a long way away, the fashion world has already introduced tons of new fashion trends for Spring 2019. With all of the options out there, though, you might be wondering which ones to pay extra attention to, and also how to wear them.
So, with that in mind, I've rounded up the top four spring 2019 trends that I think will be some of the hottest of the season. I have also put together an outfit for each one to help you think ahead about how to rock them with confidence!
Let's get to it, shall we?
Outfit #1: Puff Sleeves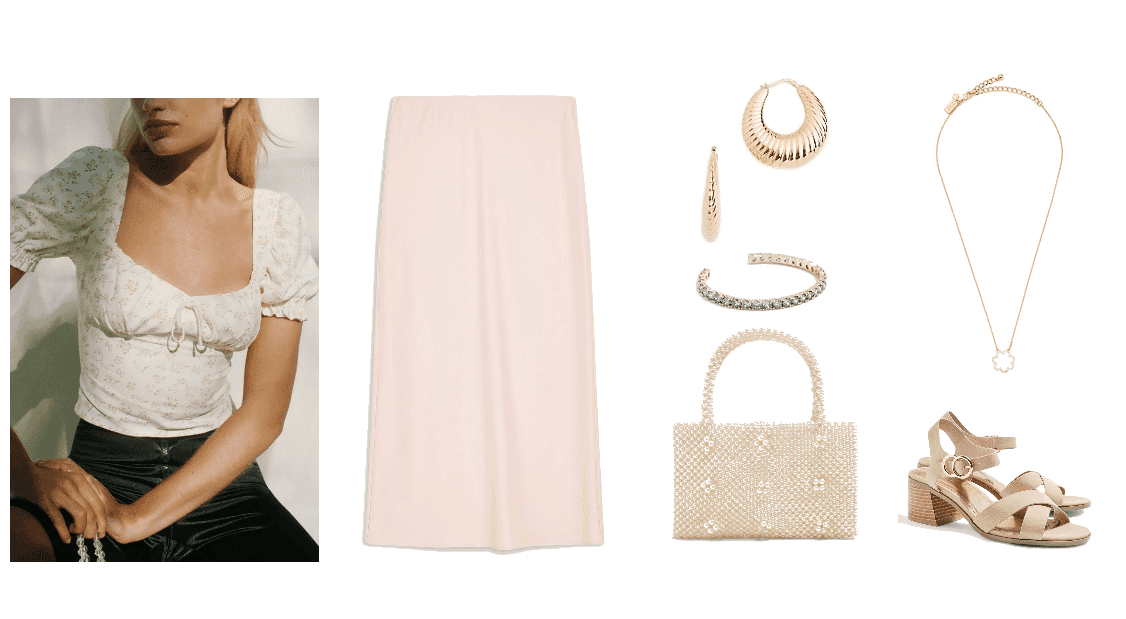 Products: Top – Urban Outfitters, Skirt – Topshop, Earrings – Shopbop, Bracelet – Shopbop, Bag – Mango, Necklace – Kate Spade, Sandals – Topshop
It's all about puff sleeves this season: The trend was spotted on the runways of Brock, Rodarte, Saint Laurent, and more, and I have personally noticed the proliferation of puff-sleeved pieces in more affordable retailers as well.
This prairie-girl-esque style is perfect for anyone who wants to add some boldness to their look without doing anything too crazy.
Here, I styled an outfit around a pretty floral-print puff-sleeved top. (This one boasts a universally-flattering sweetheart neckline, although square necklines, though a little harder to pull off, are popular as well.) I added a satin bias-cut midi skirt in pale pink for an '80s/'90s-inspired look that is soft and feminine.
Next, I added a faux-pearl beaded bag (a trend that started last year but that is still going strong for Spring 2019), along with some block-heeled sandals.
Finally, for jewelry, I picked out a pair of statement hoops to add some contrast, in addition to a cuff bracelet with stones in a still-trendy lavender shade and a fun flower-shaped necklace.
Outfit #2: Feathers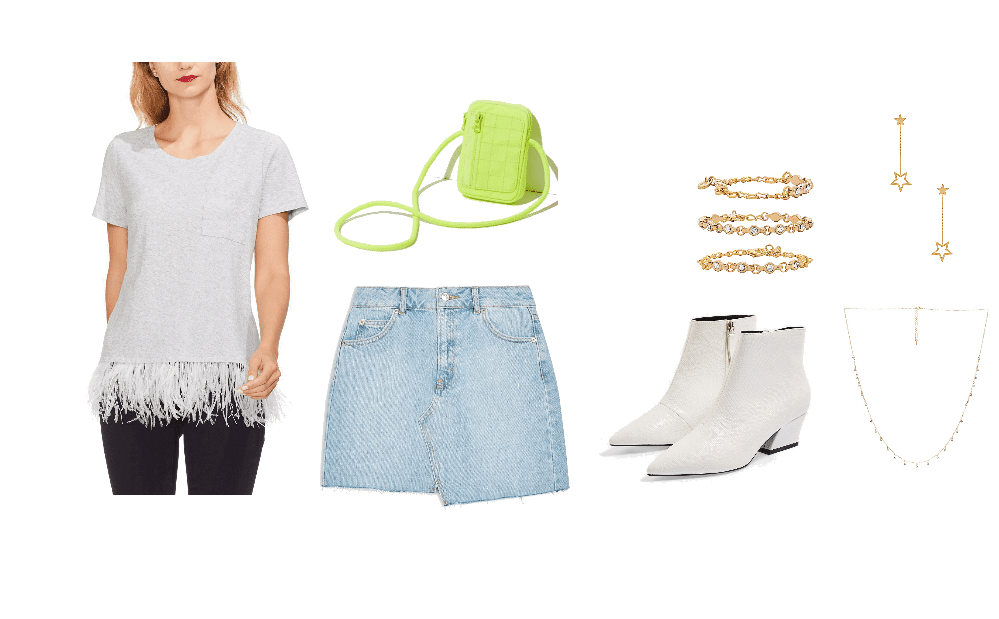 Products: T-Shirt – Macy's, Bag – Urban Outfitters, Skirt – Topshop, Bracelet Set – Revolve, Ankle Boots – Topshop, Earrings – Revolve, Necklace – Revolve
Feathers are definitely one of the more out-there trends of Spring 2019, but they can still be wearable for everyday, depending on how you style them.
Also, while this trend (for now) can be found mostly in the stores of high-end designers, such as Marc Jacobs, Oscar de la Renta, and Gucci, I'm really hoping that it starts to become more mainstream amongst affordable brands as well, since it's not a trend we've seen a lot of lately.
For this outfit, I was inspired to put together a wearable look that could be worn for day or night. With that in mind, I paired a super-cute feather-trimmed t-shirt with an uneven-hem denim mini for a girly-meets-edgy aesthetic.
Since white ankle boots are still very much on-trend for Spring, I decided to throw in a pair of them as well, along with an equally trendy, '80s-inspired neon lime green cross-body bag.
Lastly, because every look could use some extra sparkle and shine, I added a cute bracelet set, a pair of rocker-chic star drop earrings, and a dainty necklace to round everything out.
Outfit #3: Tie Dye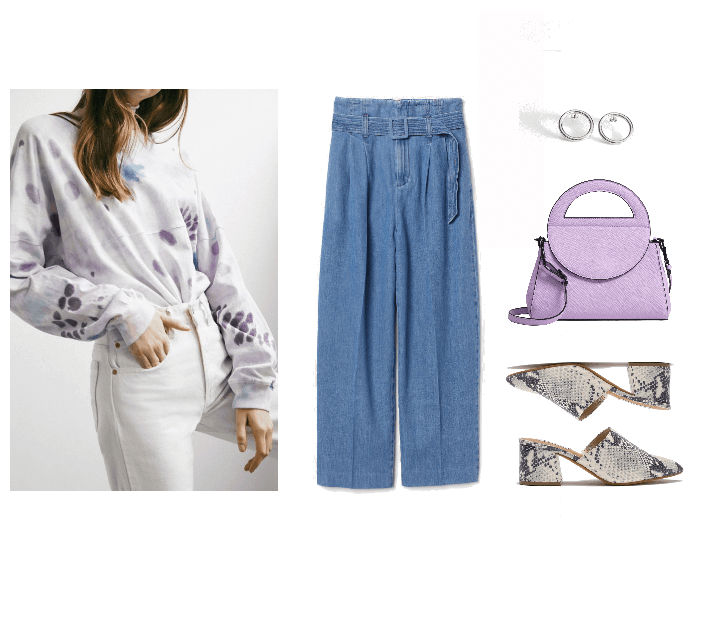 Products: T-Shirt – Urban Outfitters, Pants – H&M, Earrings – & Other Stories, Bag – Nordstrom, Mules – Nordstrom Rack
Tie dye is one of those trends that will probably never fully go away; however, this Spring, it's definitely making a big comeback, as demonstrated by the looks sent down the runways of Prabal Gurung, Proenza Schouler, and Stella McCartney.
The tie dye trend is also quite wearable, especially if you go for a softer iteration, like the t-shirt featured in this ensemble.
To get this look, I first paired the t-shirt with flowy, high-rise belted denim pants; next, I added some subtle silver hoop-shaped stud earrings, as I wanted to keep things modern rather than hippie-ish (although you could totally do the hippie look too, if your style leans more boho!).
A lavender satchel really brings out the colors of the t-shirt without being too matchy; I also think that these of-the-moment snakeskin-print mules are the perfect way to complete the look in a way that is on-trend but still very easy to wear for daytime.
Outfit #4: Bike Shorts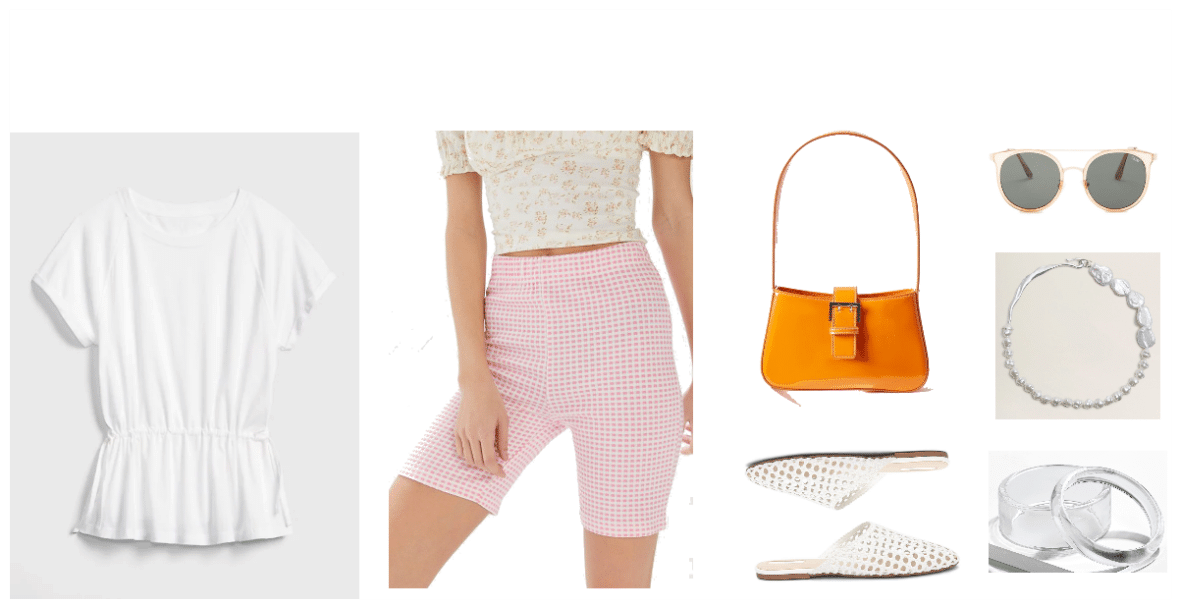 Products: T-Shirt – Gap, Shorts – Urban Outfitters, Bag – Urban Outfitters, Mules – Forever 21, Sunglasses – Nordstrom Rack, Necklace – Mango, Bangle Set – BaubleBar
I chose to save the most controversial trend — bike shorts — for last. Whether you love them or hate them, these fitted, athletic-inspired shorts are showing up in a major way for Spring 2019, as demonstrated by designers such as Chanel, Fendi, and Acne. Even celebrities such as Kim Kardashian, Bella Hadid, and Kaia Gerber have all been spotted wearing the trend in recent months, so you know it's going to be big!
Admittedly, I wasn't really on board with the trend myself until I caught a glimpse of this super-cute gingham pair from Urban Outfitters. It is made from a thicker fabric than your typical spandex styles, meaning that it not only provides more coverage, but also is much easier to style, since you don't have to worry about looking like you just came from the gym –something that can be a bit tricky to do when wearing this trend, at least as far as I'm concerned.
Here, I decided to style the shorts with a white peplum t-shirt for a look that skews girly rather than sporty. The t-shirt's looser fit is also another reason I chose it, because it balances out the tightness of the shorts.
I couldn't resist this fun bright orange shoulder bag — which looks exactly like the mini bags of the 2000s in the best way possible — for a pop of bright color.
Flat woven mules keep with the outfit's lighthearted vibe, as do these cool sunglasses.
Since you can't go wrong with a bangle or two, I decided to include this clear lucite set; finally, I also picked out this quirky necklace, which features irregularly-shaped pearls for a fashion-forward spin on the classic prim jewelry style.
What do you think?
Which of these Spring 2019 trends are you most excited for? How do you plan to style it? Is there another trend not mentioned here that you can't wait to wear?
Let me know in the comments!