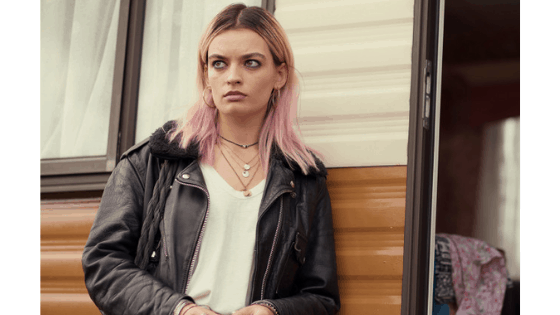 In the new hit Netflix series "Sex Education," a group of British teens learn about the intricacies of sexuality, romantic relationships, and friendships.
Maeve, the resident bad girl of the town, is the show's main female protagonist. She is rough around the edges and avoids relationships at all costs. As the show progresses, she learns to let her guard down and engage in healthier relationships.
Maeve is the bad girl with a hidden heart of gold. And she is one of the highlights of the entire series, for her both character development and her style.
Maeve is tough and mysterious which comes out through her fashion choices. She wears a mix of '90s grunge and '80s punk style clothing, a style that gives her the edgy look she needs to scare off any unwanted suitors. Her staples are black leather jackets, combat boots, and ripped tights.
Apart from black, the only color Maeve wears is pink. Her hair features pink tips and her clothes often have pink details to them. However, she most certainly sticks to black, even when it comes to attending a party or school dance.
Want to get her look? Below are three looks inspired by Maeve's awesome grunge aesthetic.
Maeve Sex Education Style – Outfit #1: The Bad Girl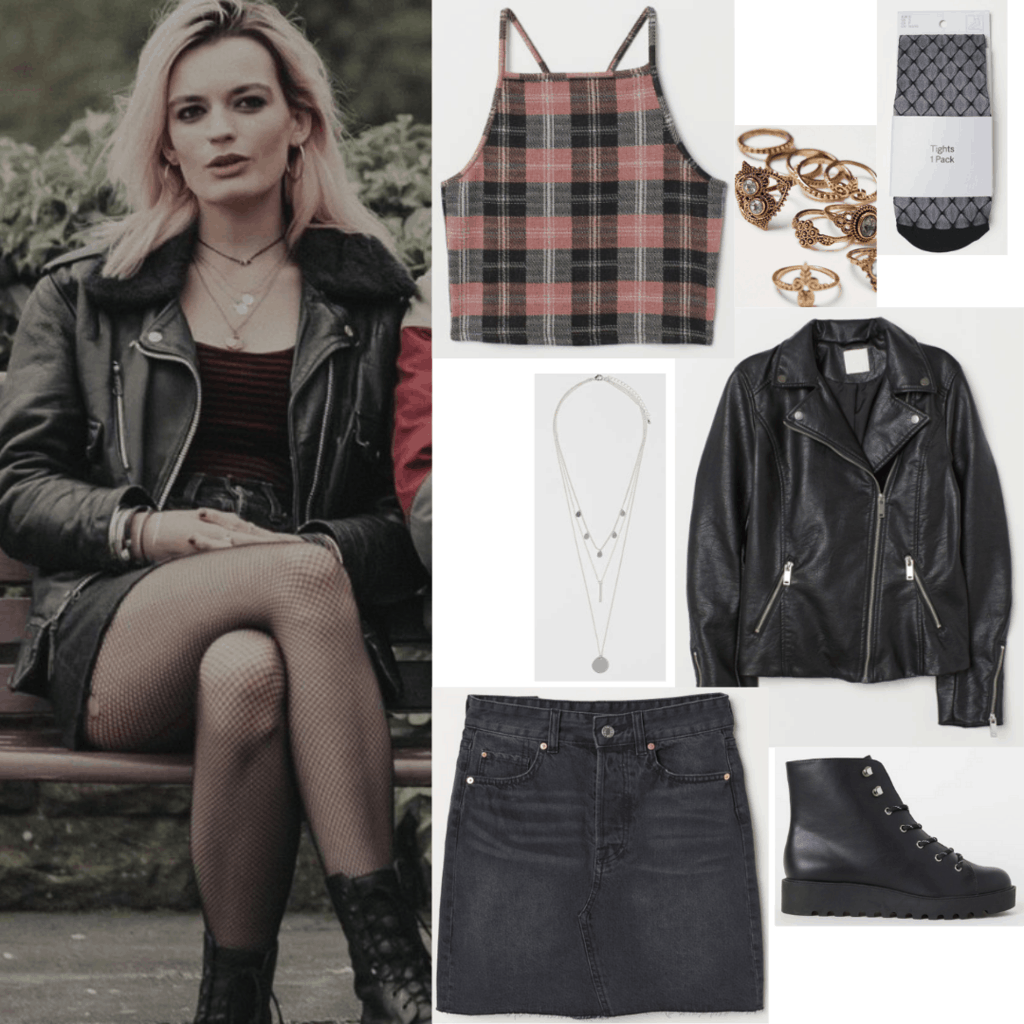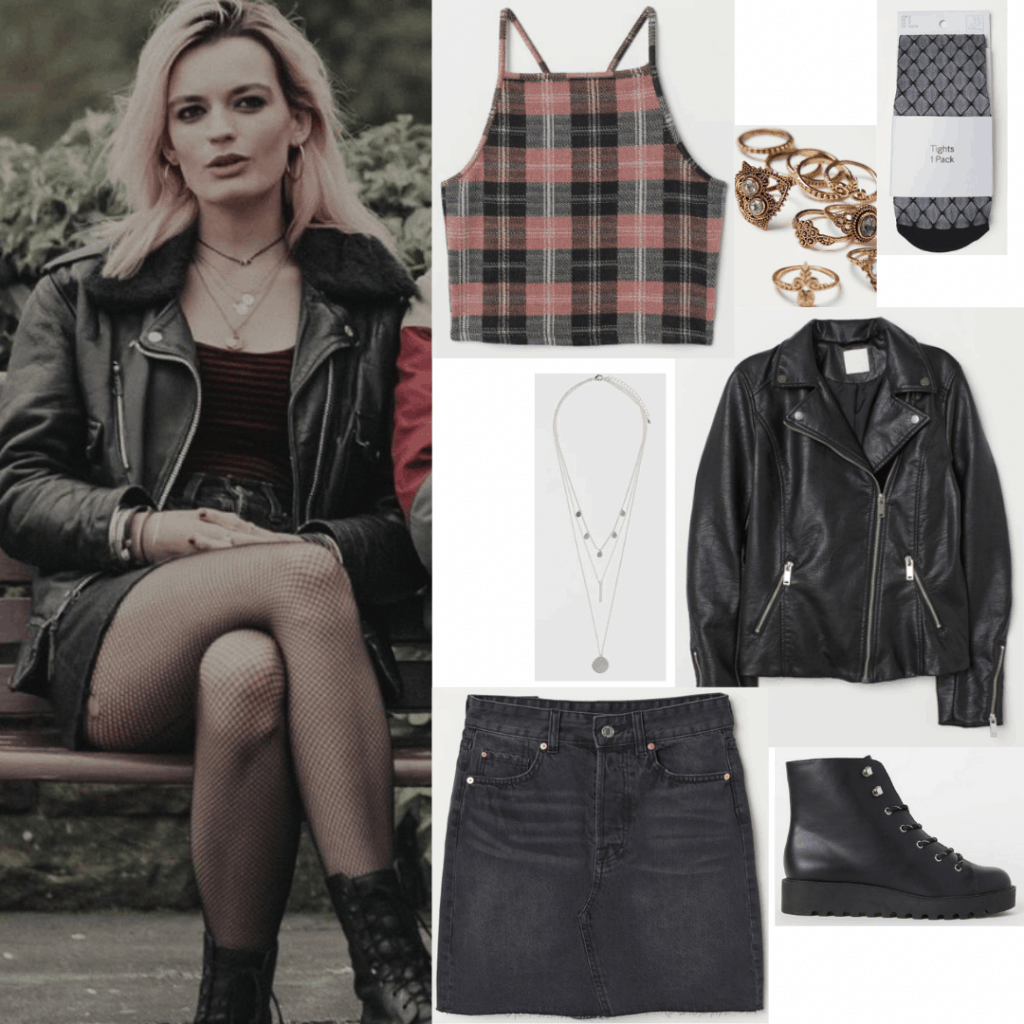 Products: Top – H&M, Skirt – H&M, Jacket – H&M, Tights – H&M, Boots – H&M, Necklaces – H&M, Rings – H&M
When Maeve is attending school and helping perform sex therapy sessions, she usually rocks her signature look. This consists of a black denim mini skirt or shorts paired with black fishnet tights and a leather jacket.
These wardrobe choices are deliberate: The leather jackets make her seem tough on the exterior so people know not to mess with her. And then there are her casual tank tops and t-shirts, that help remind viewers that she is still just a teenager trying to figure life out.
Maeve Sex Education Style – Outfit #2: Party Girl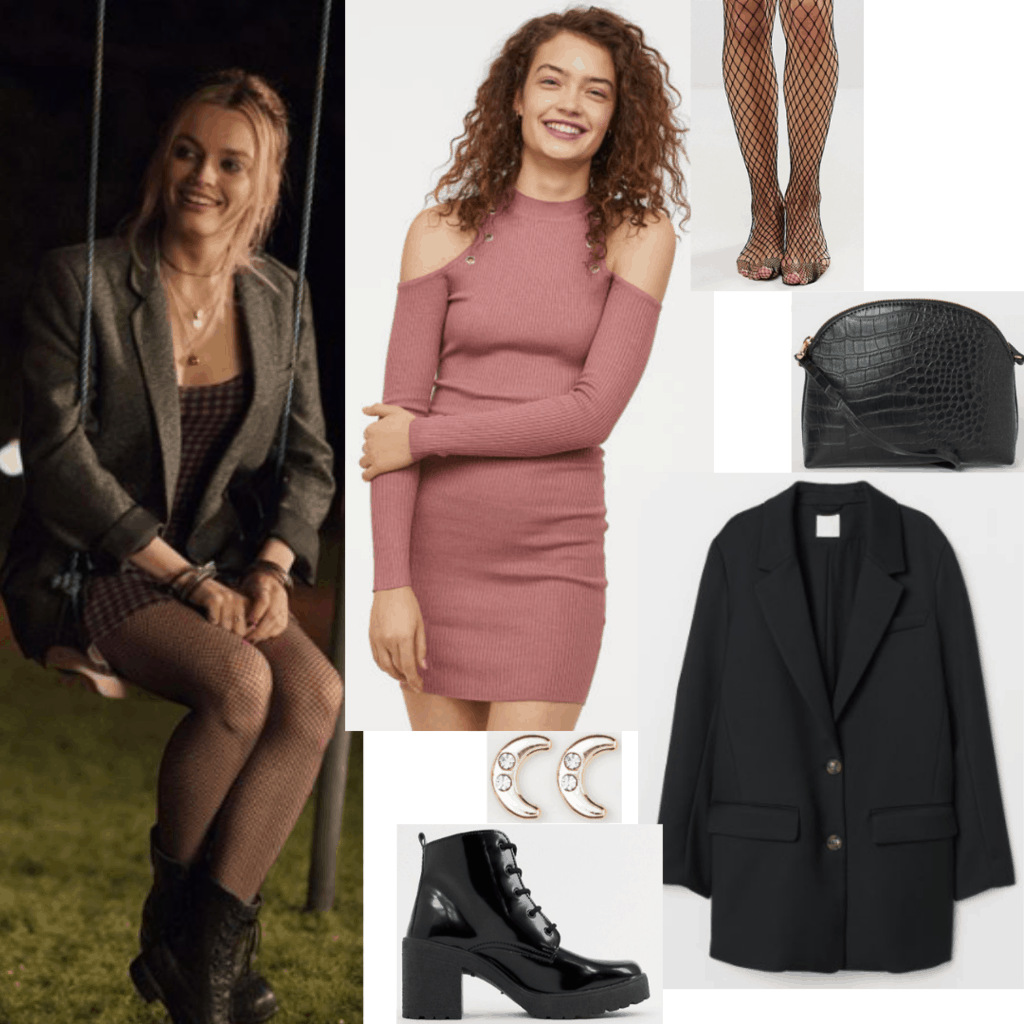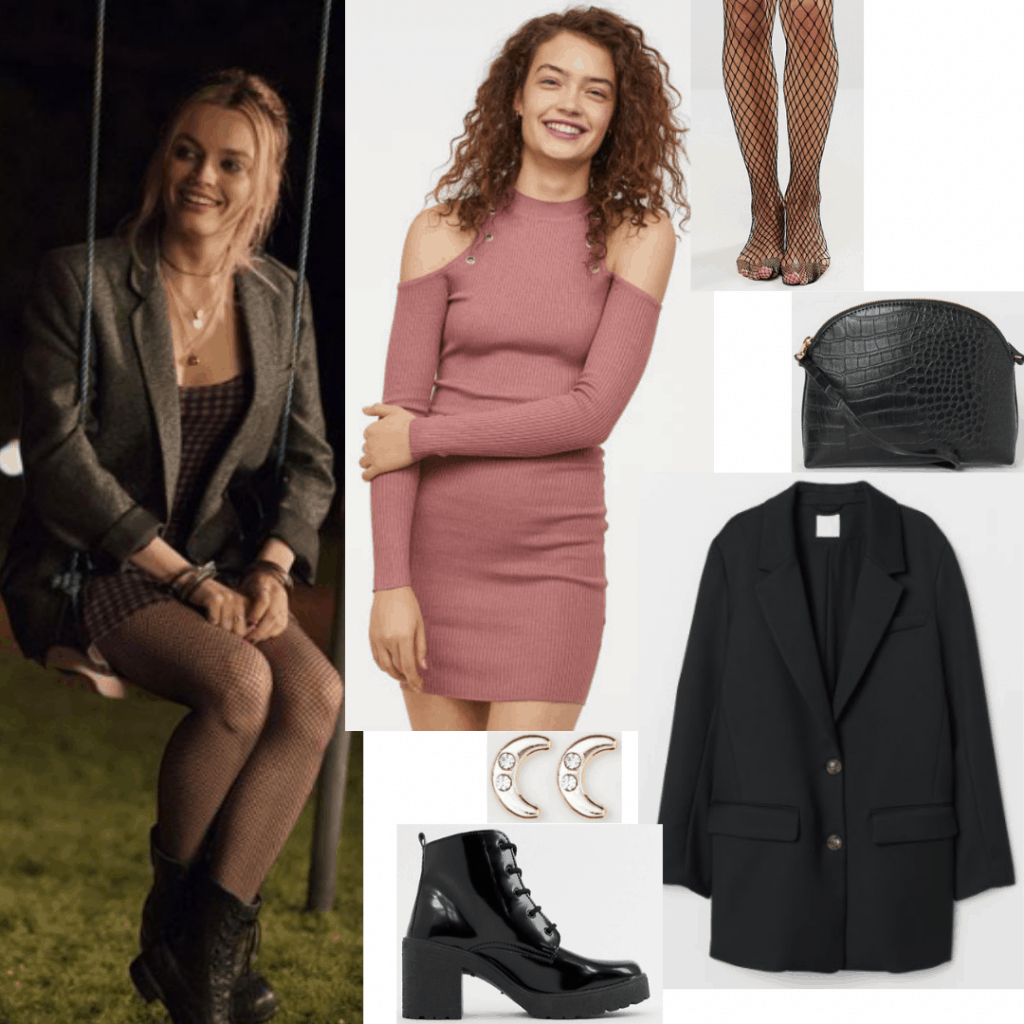 Products: Dress – H&M, Blazer – H&M, Boots – ASOS, Tights – ASOS, Earrings – H&M, Bag – H&M
As with many teen shows, Sex Education features plenty of parties, which serve as the setting for much of the drama the show has to offer.
When Maeve attends the parties, she is viewed as the scary, mysterious girl who appears and disappears without a word. Most of the time she attends parties simply to get information on people… and to find her next one-night stand.
At these parties, Maeve usually wears a fitted mini dress with pink details with either her leather jacket or an oversized blazer. Oh, and don't forget the combat boots — they are a staple.
Also Read: Sex Education Fashion Guide (Maeve, Aimee, Lily, Ola)
Maeve Sex Education Style – Outfit #3: The School Dance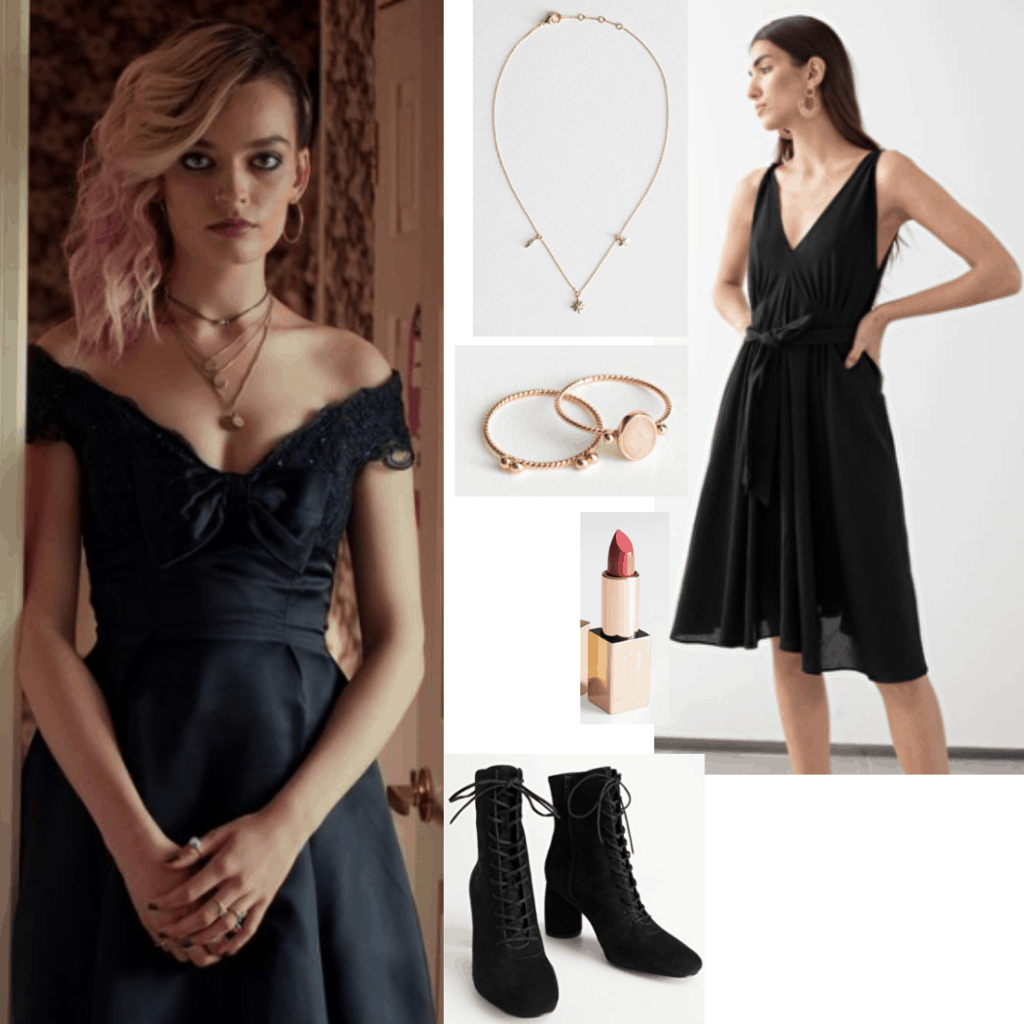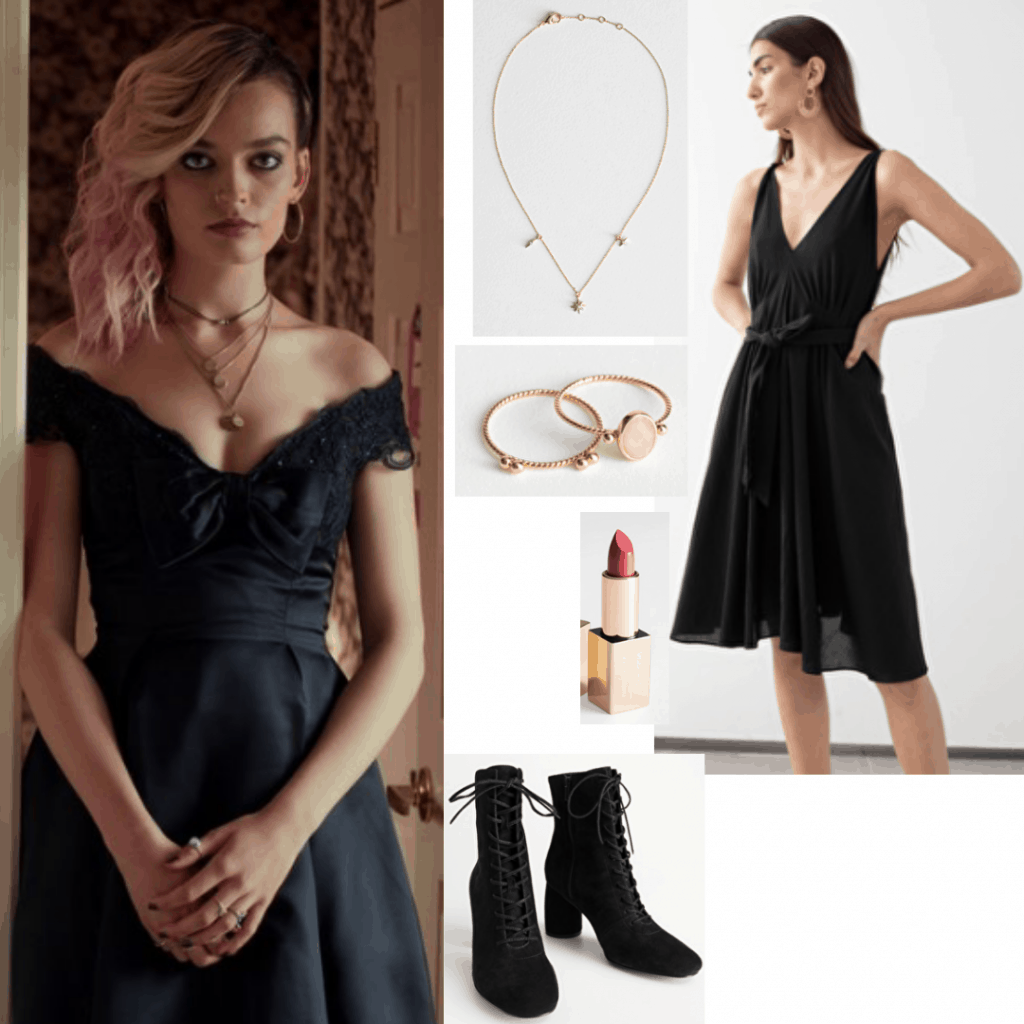 Products: Dress – & Other Stories, Shoes – & Other Stories, Necklace – & Other Stories, Rings – & Other Stories, Lipstick – & Other Stories
One of the final episodes of the first season centers around a school dance. Maeve is obviously reluctant to go. But in the end she does go in order to spend time with the boy she likes.
This is one of the only times we see Maeve let her guard down publicly, and her wardrobe exhibits this. For one night, she abandons her bad girl aesthetic in favor of a more classic look.
At the dance, Maeve wears her dream black dress with chained necklaces and dainty rings. In this moment she is no longer the scary girl everyone avoids, but a darker take on Cinderella attending a ball.
What do you think of Maeve's style?
Have you guys seen Sex Education? What did you think of Maeve's grunge look? What do you think of the outfits I created? Let me know by leaving a comment down below.