This post may contain affiliate links, which means we may receive a commission if you purchase through our links. Please
read our full disclosure here
.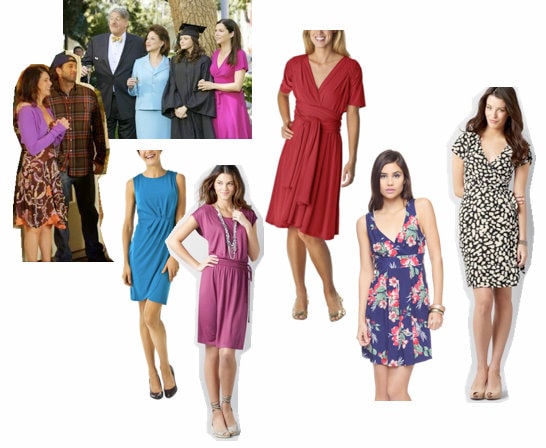 I realize I've already done a post on night-out essentials, but the necessities for going out to a party or bar are completely different than those for a sorority event, school formal, or wedding.
Here are a few essentials that every girl should own for serious events where looking glamorous is the minimum, or when a dress code is listed on the invite.
1. Evening Dress
I say evening dress instead of "gown" because I don't think a dress has to be floor length to be appropriate for most dressy events.
What will you need an evening dress for? Formal events: some weddings (see the invite for the dress code), parties, school, and sorority events. I'm not in a sorority, and my school is too big for a school-wide formal, so I've never really had the need for a formal dress outside of prom. That is why I suggest not spending a ton on a formal dress, at least for now (unless of course, an organization you belong to requires one).
I keep one of my old prom dresses in my closet as an emergency formal dress, but I've also spotted tons of amazing gowns at vintage stores, flea markets, and thrift stores. I've included the evening dress as an essential because there is almost no way to make it through life without attending a formal event (and many of you may attend them regularly), so it's nice to have a go-to gown.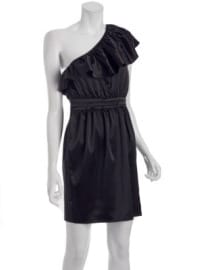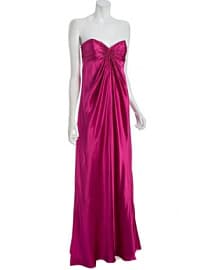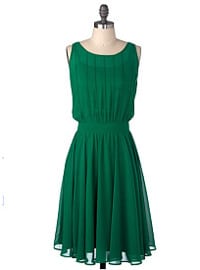 Product Information: Navy one-shoulder – Bluefly, Strapless gown – Bluefly, Green full dress – ModCloth
I chose a variety of styles because not everything works for every body type. The one-shoulder dress with the ruffle-front would add volume to a smaller chest. The green dress from ModCloth can conceal bra straps, so it would be perfect for ladies like me who need a little support. A strapless gown is a great way to show off toned arms and shoulders.
2. Dressy Coat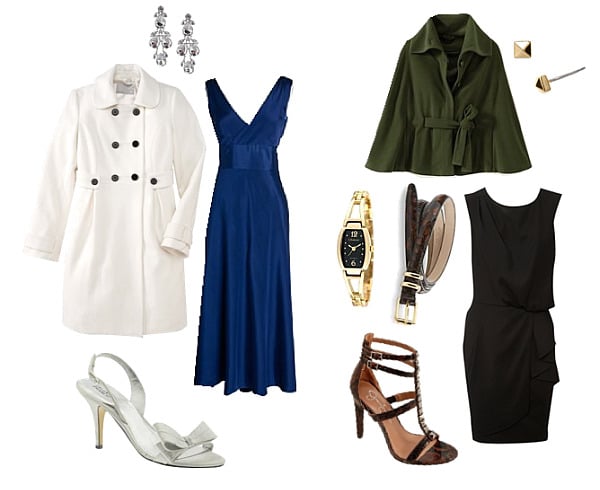 Product Information: Outfit #1: White coat – Old Navy, Blue dress – J. Crew, Bow heels – Piperlime, Jewel earrings – Forever 21 Outfit #2: Cape – Newport News, Black dress – Oasis, Sandals – Love My Shoes, Tortoise belt – Dillards, Watch – Kohls, Pyramid studs – Nordstrom
A dressier coat is a great staple to have in your closet. When shopping for a nice coat, look for longer styles in quality fabrics like wool. I recommend coats with a retro feel, like car coats or wrap coats. You might even want to try a cape, like the one in Outfit #2. (I'm am dying to own that cape! I can't believe the price!).
Overall, a dressy coat doesn't have to be super-glamourous. It can just be a longer coat that you use during the day as well – just make sure you aren't wearing a windbreaker with your formal gown!
3. Appropriate Undergarments
I have shied away from underwear and the like in these features because they seem like obvious essentials. However, when it comes to dressing up, what you wear under your clothes is extremely important! No one wants to see bra straps peeking out or a too-long slip hanging below your hem. Different things work for different people, but the three undergarments I depend on for dressy events are:
A heavy-duty body shaper. This is something you don't want to skimp on. Not everyone needs a body shaper, and not everyone likes them, but when I'm wearing a dress with clingy fabric, I depend on these to keep everything looking smooth and in place. The one shown below (by Spanx, the only brand worth considering, IMO) is excellent because it provides thigh coverage, but also hooks on to your bra, so you don't have to worry about unnecessary straps.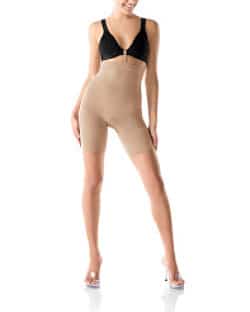 Product Information: Mid-Thigh Body Suit – Spanx
A multi-way bra. You need something that provides coverage, but can still work with absolutely every neckline. This isn't just a dress-up essential: it comes in handy for everyday. My favorite is the Victoria's Secret 100-Way Bra, but department and discount stores offer versions as well. For more options, see our list of the top 5 bras every college girl should own.
A slip. Slips are great if you don't want to wear a body shaper but still want to make sure your dress won't cling to any unflattering areas. The length of the slip you'll need depends on the typical length of your dresses. I have a mid-thigh one that works with everything I own, but if you transition between long and short, you might want to consider purchasing one of each.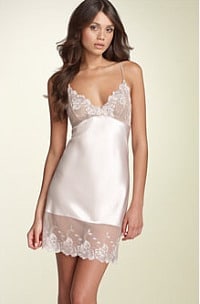 Product Information: Lace slip – Nordstrom
4. Cocktail Ring
A piece of statement jewelry is a perfect way to show off your personal style while dressing up. Bangles and necklaces are great options, but I think a cocktail ring is always the most fabulous choice – it makes an excellent conversation piece. If you are looking for a place to spend money, you could totally go all-out here, but a great cocktail ring doesn't have to be pricey.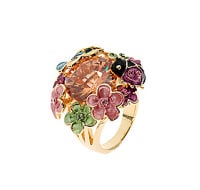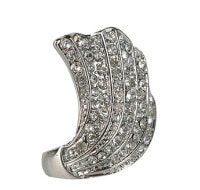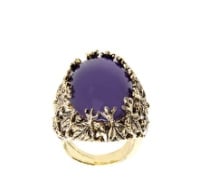 Product Information: Cluster ring – Aldo, Wing ring – Forever 21, Purple ring – ASOS
5. Colorful Heels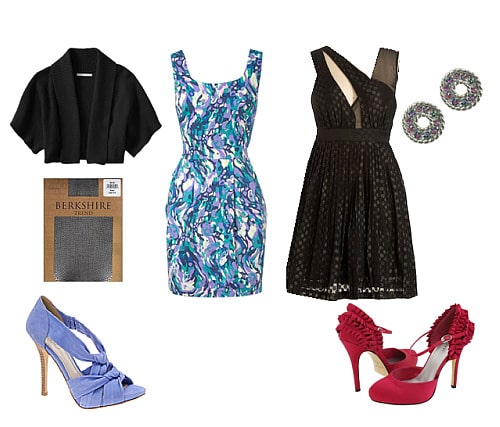 Product Information: Outfit #1: Floral dress – Oasis, Shrug – Old Navy, Fishnet tights – Bare Necessities, Periwinkle heels – AldoOutfit#2: Black dress – ModCloth, Jewel earrings – Rachel Leigh, Ruffled heels – Zappos
Colorful heels are not only the perfect way to punch up your look for formal events, they're also a closet staple that can be worn many ways. I love bright heels because they add an unexpected punch to any outfit. I suggest you pick a color that complements most of the colors in your wardrobe, so you can brighten up your everyday outfits as well.
Your Thoughts?
What are your dress-up essentials? Do you have any undergarment suggestions for formal events? What length of dress do you prefer? Does a specific celebrity inspire your dress-up style? I'd love to hear from you!