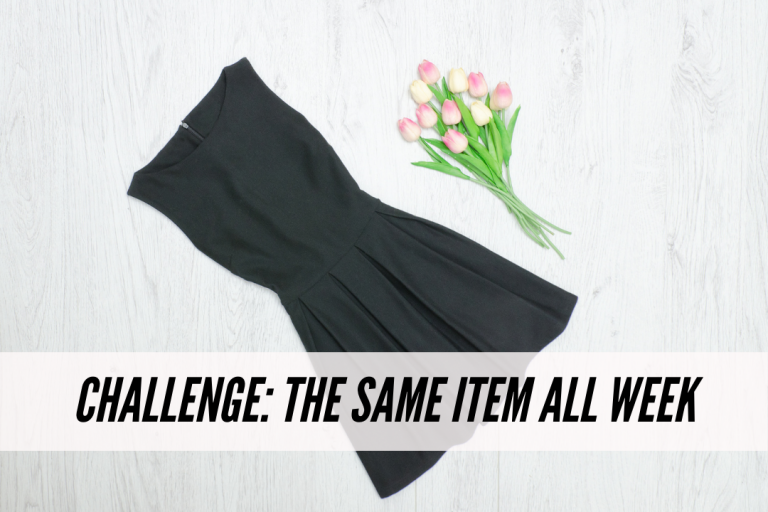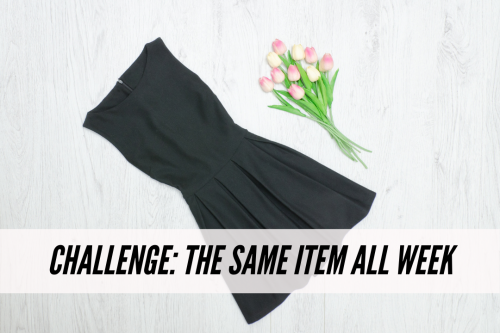 If you're an avid CF reader, you're probably a fan of playing dress up. If so, you're not alone – if I'm in the right mood, there's nothing more fun than taking a pair of shorts or my favorite LBD and figuring out new ways to wear them.
And as we've discussed here in the past, the more time you spend mixing and matching, the more outfit options you'll have — and who can say no to a closet that feels bigger? Not only will this benefit you personally, but it will (in a small way) contribute to the sustainable fashion efforts that are becoming more and more of a hot topic.
In addition to our weekly Fashion Challenges, at the beginning of this year we mentioned a few style challenges popular with bloggers. Some of these (like the Six Items or Less challenge) require a lot of time and dedication, while others are a bit less demanding on one's time. This week, CF challenges you to pick an item in your closet and wear it every day for a week. This is a less-extreme take on The Uniform Project, where a blogger wore the same little black dress for an entire year.
Ready to take the challenge but need a little guidance? Read on!
Tips and Tricks for Wearing the Same Item for a Week
Choose your item wisely. A tie-dyed shirt or your loudest dress probably isn't the wisest option if you don't want people to question your hygiene. Go with something basic that can be dressed up or down, like a simple dress, basic white tee, shorts, cardigan, or pair of pants.
Look to style blogs for inspiration. This is a popular challenge, so you're certain to find ideas for outfits all over the web. Check out The Uniform Project or Flickr's Wardrobe Remix group for photo inspiration!
Vintage CF articles are a great source of inspiration too. Check out our Fabulous Finds posts for several different ways to wear the same adorable (and budget-friendly) piece. See also: How to Wear a Plain White Tee, 5 Ways to Wear a Romper, and 2 Ways to Wear Skinny Cargo Pants.
Layering is key. Add a jacket, a pair of tights, or a solid-colored shirt to your outfit. A strategically placed sweater can turned a dress into a skirt, and a t-shirt can turn a strapless dress into one with sleeves.
Use accessories. Something basic can look completely different if you add a fedora, summer scarf, or statement necklace.
Shoes are another way to completely change the feel of an item. Stilettos can make a pair of shorts perfect for going out on the town, or a pair of sneakers can make a dress look casual.
Consider different styles. If you get stuck, think about how to make your item work with a completely new style. A plain dress can be preppy when paired with a headband and pearls, a little bit bohemian when worn with moccasins and a cross-body bag, or rock and roll if you pair it with combat boots and stacks of jewelry.
Rock this challenge with confidence. If someone calls you out for wearing the same thing a few days in a row, explain to them what you're doing. It's a great conversation starter and might even help you win over a fellow college fashionista!
Took the Challenge? We'll Make You Famous!
Now we want to hear from our fearless readers who took this challenge! So send us your photos and we'll feature your picture and blog (if you have one) here for hundreds of thousands of readers to see.
Just take some snapshots of your outfits throughout the week and send them to fashionchallenge AT collegefashion.net along with your name, school, the URL of your blog if you have one, and some obstacles you faced or lessons you learned while taking the challenge. We'd love to hear about your experience with this, and in exchange, you'll be famous, and you'll get a little bit of free publicity for your blog if you have one. 🙂
We can't wait to hear how it went for you!
Thoughts?
Are you going to take the challenge? What item will you wear for the entire week? What tricks do you use to differentiate one outfit from another? Have you ever done anything like this before? Leave a comment and let us know what you think!