Alright, so I'm going to be honest: This week's Fabulous Find is something that has been sitting in my closet since last summer, with the tag STILL on it. (I know, I know!) However, after coming across this $7 fedora at Walmart and styling a few looks, I'm definitely going to be dusting off my own fedora hat and wearing it CONSTANTLY.
I don't know if it's because of all the boho-chic fashion trends that are going on right now (1970s fashion, anyone?), but I feel like you kind of can't go wrong with adding a fedora to any outfit – it's such a relaxed, fun piece, and it goes with everything. Basically, I had an epiphany about the fedora, and I hope you guys will too after checking out the looks I picked for this week!
The Hat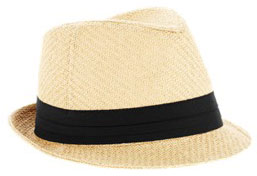 Straw Fedora – $7 at Walmart
Outfit Ideas
Here are three different ways to style this one simple fedora hat.
1. Casual Chic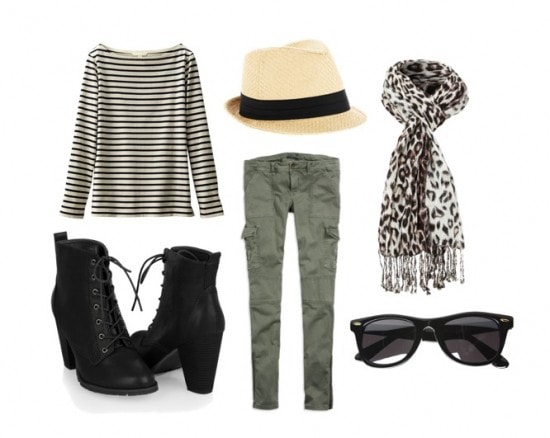 Fedora, Shirt, Jeggings, Booties, Scarf, Sunglasses
This outfit just screams "nice Saturday afternoon" to me – its relaxed yet trendy vibe makes it the perfect thing to wear when shopping, grabbing lunch, or just hanging out with friends.
The fedora looks really cool when paired with these army green skinny cargo pants (I know many of you aren't into the cargo trend – if that's you, feel free to swap the cargos out for dark wash skinnies or another neutral-colored pant) and a classic striped boatneck tee. Accessorize with a leopard scarf and some amazing black lace up booties. Now all you need is a pair of classic black wayfarers to finish off this polished, trendy look.
2. Effortlessly Cool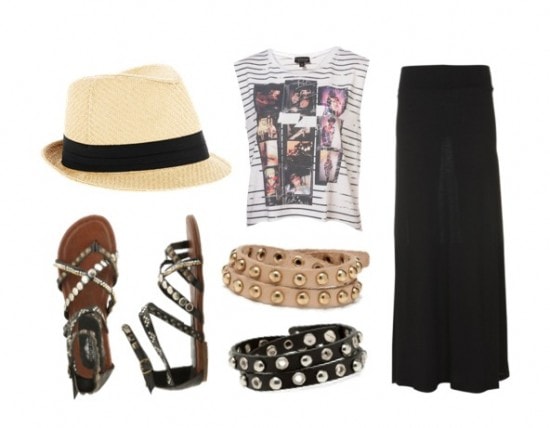 Fedora, Tee, Skirt, Sandals, Bracelets
I'll admit it: I wasn't a fan of maxi skirts until very recently. My feelings changed when I tried on an army green chiffon one at American Apparel and fell desperately in love with it… now all I want to do is wear maxi skirts, style maxi skirts, look at other people wearing and styling maxi skirts… it's almost getting creepy.
That being said, I love this look. The black maxi skirt gives off a boho-chic, it-girl vibe when paired with this rocker-esque tee, studded accessories, and, of course, the fedora. This ensemble is both breezy and tough at the same time, and you really can't get a better combo than that.
3. Warm Weather Option!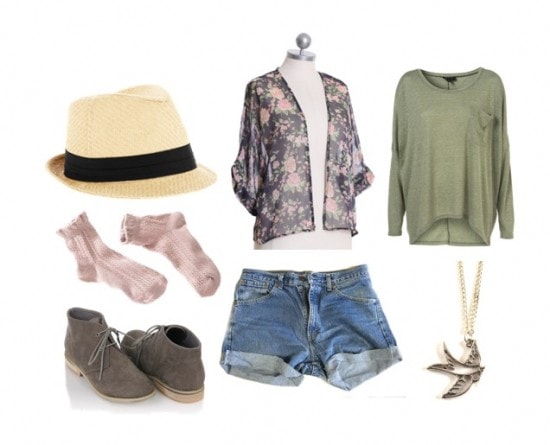 Fedora, Shorts, Cardigan, Tee, Booties, Socks, Necklace
Those of you living in Florida (or a similarly southern location) will know that down here, it's already shorts weather! Here in the Sunshine State, winter is over and the days of dresses and shorts are here. (Editor's note: Try to contain your jealously, fellow Northerners. Spring will come for us eventually…) This last outfit is dedicated to those of you who are experiencing this amazing spring weather like I am!
To start, a pair of high-rise denim cuffed shorts looks amazing with a pretty green slub tee and a sheer floral cardigan. Since I refuse to give up my boots despite the warmer weather, I added a pair of frilly socks and some adorable desert boots. A long pendant necklace (with a bird for spring!) and the amazing fedora add the finishing touches to this cute spring outfit.
Your thoughts?
So there you have it: The rebirth of the fedora. And even if you're not sure about the hat, can you really justify NOT buying something when it's only $7?! Nope, you can't. So just go to Walmart or check it out online, buy the hat, and the possibilities are endless!
Now I want to hear from you guys. How do you feel about the hat? Do you have a fedora in your closet already? How would YOU style it? Which is your favorite look? Let me know – I always love reading your feedback!