This post may contain affiliate links, which means we may receive a commission if you purchase through our links. Please
read our full disclosure here
.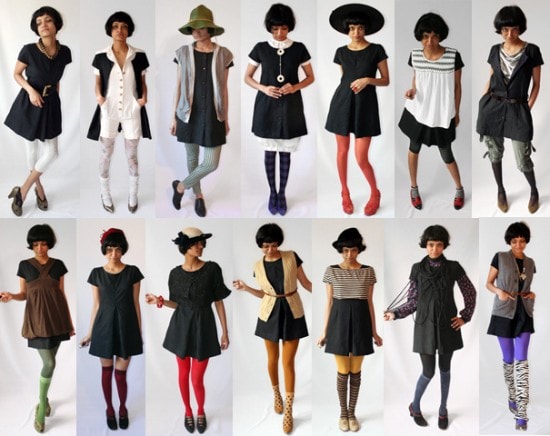 It feels like only yesterday that we welcomed in a new decade, and now here we are again starting off a new year. But no matter how fantastic last year was, we all get to the end of the year with a few things we want to change and anticipation of a new start. And style challenges are a great way to push yourself (and even change your style entirely).
With bloggers inspiring our style just as much as the rich and famous, we are constantly learning great ways to remix our clothes and reinvent our looks without spending a penny. And as poor college students, we all know it's not possible to overhaul your entire wardrobe every year. Therefore, here are 5 great challenges that will help you wear your clothes in new ways, without spending a penny!
1. The Uniform Project
The amazing Sheena wore the same dress for 365 days last year (read an awesome interview with her here) but you don't have to go to such extremes to try her challenge for yourself. How about choosing one item from your wardrobe and trying to wear it in a different way every day for a week? Dresses can be layered over or under, cardigans and sweaters are great for winter and skirts and shirts can be worn with a variety of tops and layers. It's definitely a great way to find new combinations in your existing wardrobe.
2. No jeans for a month
I am a fairly infrequent jeans-wearer, but many girls rock them on a daily basis. Sure, jeans can be worn in a number of different ways and with hundreds of different tops or jackets, but how about a jeans-free month to get more use out of yours skirts, dresses and shorts? You might be surprised what you come up with! Need some extra help? Check out our guide to going jeans-free!
3.  A month dedicated to dresses
A number of bloggers have been involved in Dressember– a month dedicated to wearing only dresses. This challenge may sound hard, but it's a great way to get your creative juices flowing. Add a bandage skirt and your dress becomes a top; add a cozy sweater and it's a skirt. The possibilities are as endless as your imagination.
4. Thirty in Thirty Challenge
The Thirty in Thirty Challenge has also been popular among many bloggers. The idea is simple; choose 30 items from your wardrobe (including shoes and jackets) and remix them in different ways for a month, taking photos every day. This is a real challenge so make sure you plan ahead – you don't want to find out your winter formal falls right in the middle of it! Need some help? The amazing Kendi Everyday wrote a great guide to the challenge, which you can buy for $4, here.
5. Six Items or Less Challenge
Liza wrote about her experience taking this challenge a few weeks ago – the basic premise is that you'll be wearing nothing but the same 6 items for a month – although shoes and jackets can be remixed. This is probably one of the toughest challenges and would really push your remixing skills!
Your thoughts?
Are you going to change your style for the New Year? Are you going to take on any of these challenges? Have you ever done a style challenge before? Let us know in a comment!