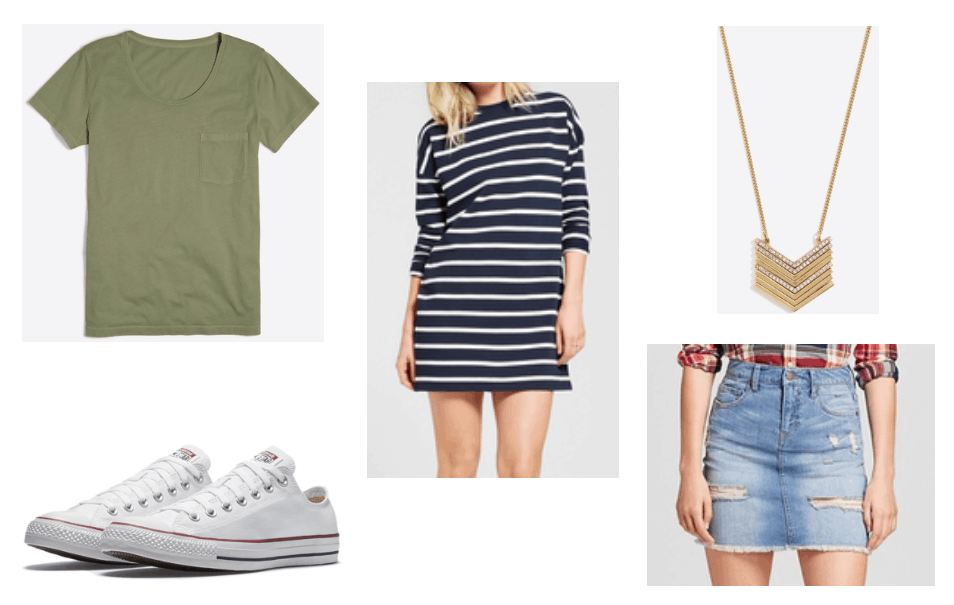 Products: Tee – J.Crew Factory, Sneakers – Converse, Dress – Target, Skirt – Target, Necklace – J.Crew Factory
I think it's great to have versatile basics in your closet and some easy outfit formulas to throw on when you're in a rush. But if you're anything like me, sometimes it's a little too easy to just throw on your favorite outfit instead of creating a new look.
It's always so fun when you find new ways to wear a piece you already own – so this week, I want you to put aside your tried and true pieces and opt for some different looks than you'd usually wear!
I find myself constantly reaching for comfy, casual pieces like knit shift dresses, solid tees, sneakers, denim skirts, and long tassel necklaces. Below are a week's worth of outfits that are still comfy and casual, but without my over-worn basics!
Monday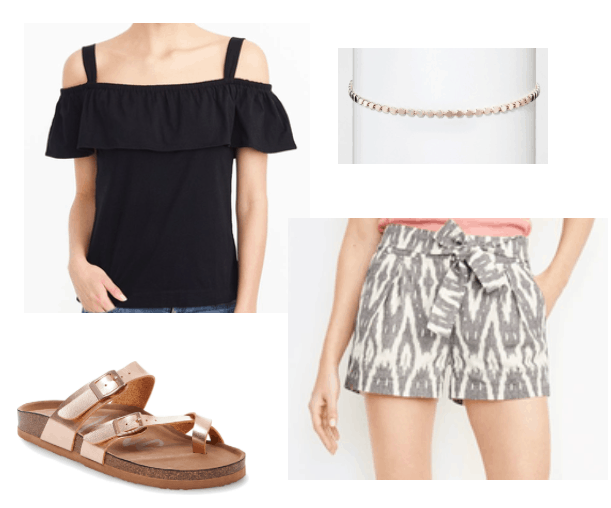 Products: Top – J.Crew Factory, Shorts – J.Crew Factory, Necklace – Target, Sandals – Target
This knit cold-shoulder top is much cuter than a basic tee, but just as comfy! It's knit, so it's still soft and breathable but with a trendy neckline too.
I added some adorable patterned shorts as well instead of going with my usual denim skirt. (I love the bow on these, too!) For shoes, I found these rose-gold sandals that should be just as comfy as sneakers. I also added a choker to stay on-trend.
Tuesday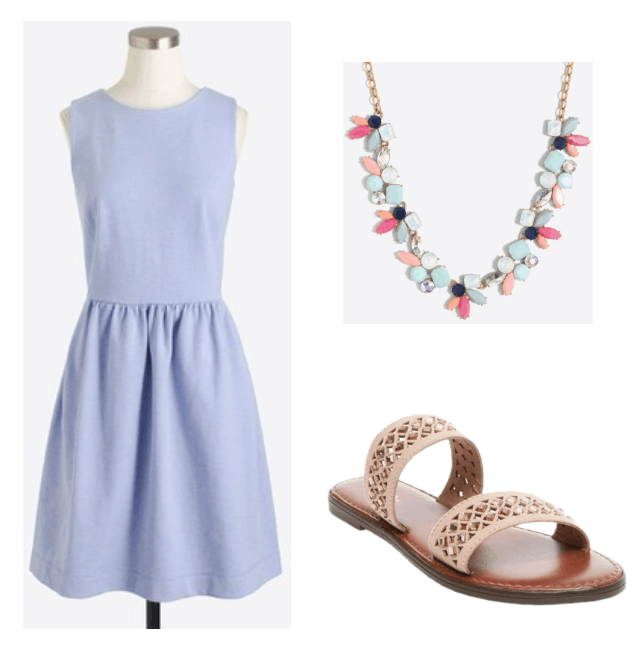 Products: Dress – J.Crew Factory, Necklace – J.Crew Factory, Sandals – Target
Solid fit-and-flare dresses are so classic and cute! I'm obsessed with the blue shade of this dress too (*insert heart eyes emoji*).
I paired the dress with a colorful statement necklace instead of my usual neutral pendant necklace. I also added some versatile nude sandals to finish up the look (and not compete with the bright colors up top!).
Wednesday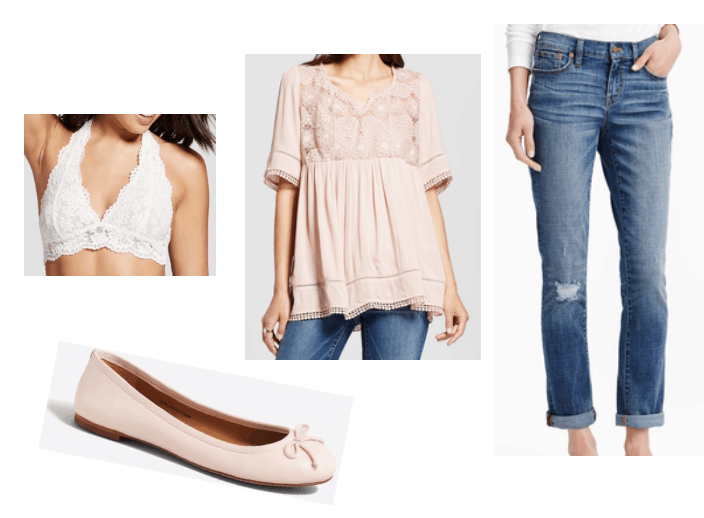 Products: Top – Target, Bralette – Target, Jeans – J.Crew Factory, Shoes – J.Crew Factory
This girly blouse is a great alternative to my favorite plain tees. It's loose, but still super cute! I added a halter bralette to peek out in the front and to add some coverage for the sheer part in the back.
Next, I added some jeans and matching ballet flats for a look that is feminine and classic, while still remaining casual and comfy.
Thursday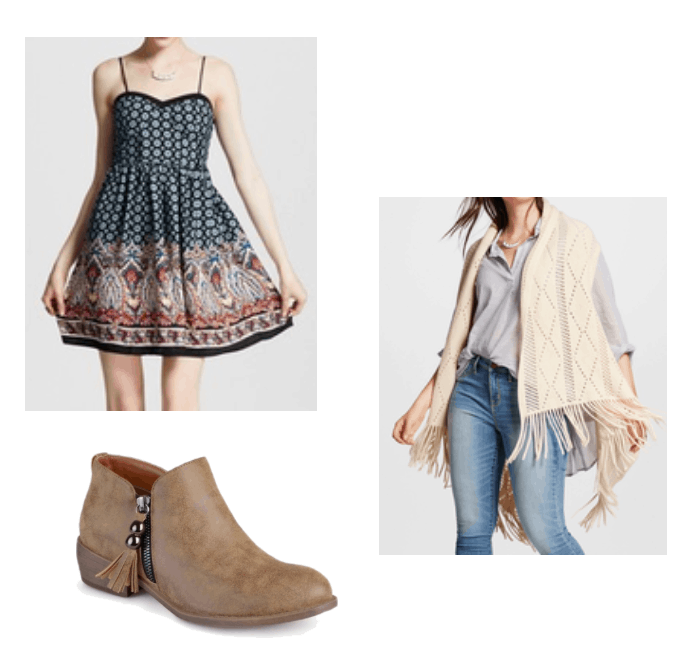 Products: Dress – Target, Vest – Target, Booties – Target
This boho fit-and-flare dress is not something I'd normally wear, but I absolutely love it!
I usually shy away from sleeveless tops, so I added a fringe vest to cover the shoulders a bit more. I think it adds so much to the look!
For comfortable footwear, I went with booties – the closed toe will transition well into the fall and the flat heel makes walking a breeze.
Friday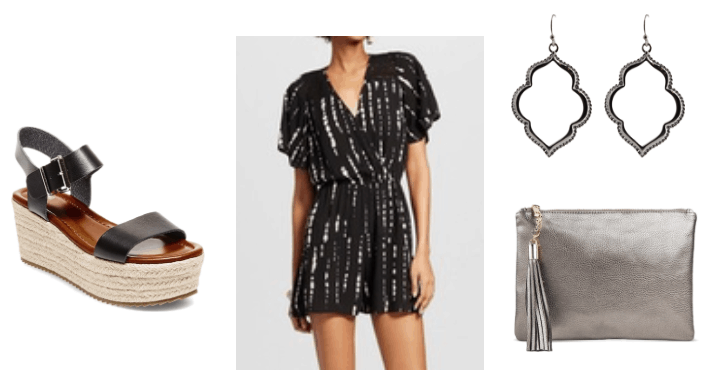 Products: Romper – Target, Wedges – Target, Clutch – Target, Earrings – Target
Rompers are another good alternative to your basic tee-shirt dress. This one features a trendy black and white pattern and a flattering cut.
I paired it with some black platform wedges, some silver earrings, and a metallic clutch. It's an easy outfit, but definitely not basic!
Saturday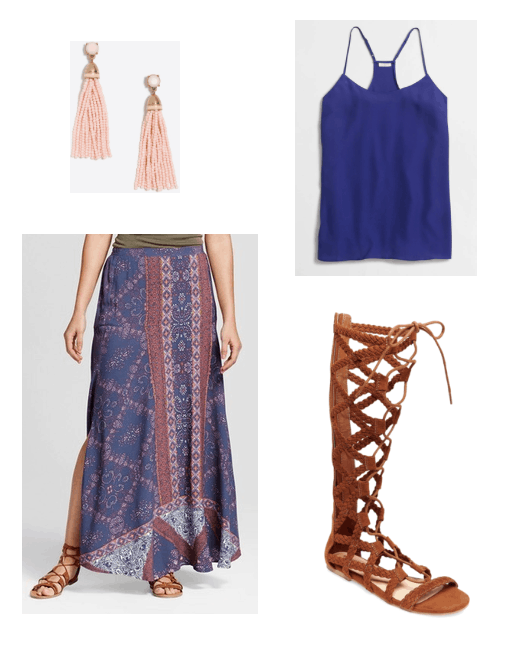 Products: Skirt – Target, Top – J.Crew Factory, Shoes – Target, Earrings – J.Crew Factory
Maxi skirts are SO comfy, and yet I feel like I never wear them! Instead of wearing a denim skirt, I traded it out for this patterned maxi.
I added a bright blue cami (instead of a tee!) and some gladiator sandals to keep a casual vibe. I also threw in some tassel earrings because they're just so fun!
Sunday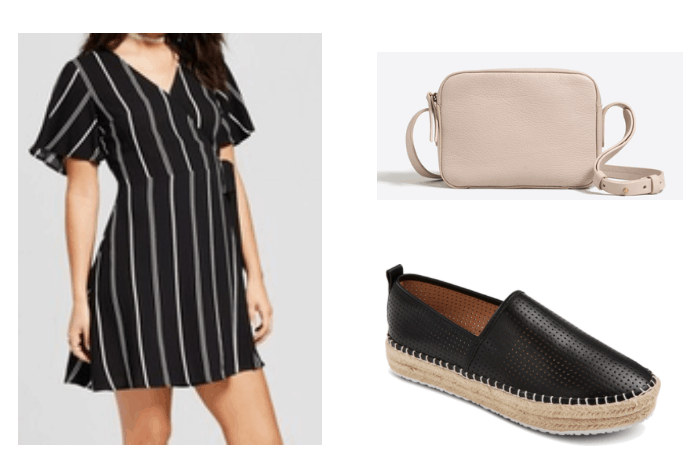 Products: Dress – Target, Espadrilles – Target, Purse – J.Crew Factory
Wrap dresses are pretty trendy right now and they're a good alternative to tee shirt dresses for everyday activities. This one features an adorable vertical stripe pattern in black and white which I love.
I paired it with espadrilles which are a good alternative to my fave sneakers and I added a versatile nude crossbody bag to hold the necessities.
What do you think?
What are your go-to pieces? Which outfit is your favorite? Do you have your own idea for a style challenge? Let us know in the comments below!