Kenzo is a Parisian fashion house that was founded in 1970 by Japanese designer Kenzo Takada. The brand is known for its eclectic, high-energy styles.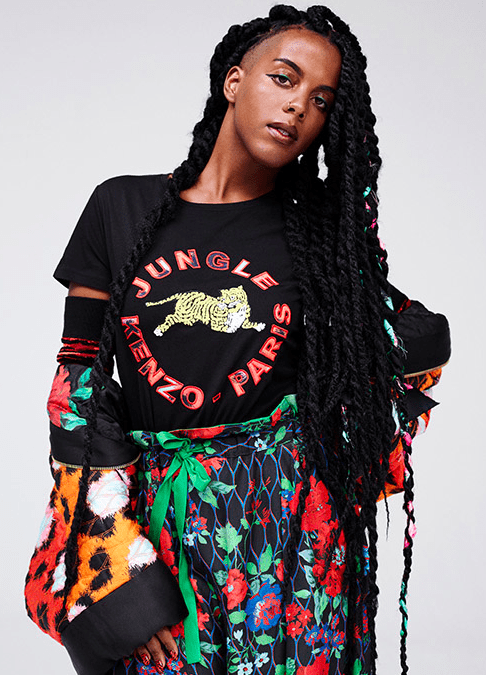 Oh, and its a favorite of celebs as well: Rihanna, Beyoncé, Selena Gomez and Lorde are just a few fans.
After a dreary winter, we can all take a cue from Kenzo's vibrant style. I know I've been guilty of overdoing it with the black-on-black-on-black. By late February, my wardrobe is pretty much lifeless and my outfits desperately need color.
With this spirit in mind, I challenge you to take some fashion cues from Kenzo to spice up your wardrobe. We're going to be mixing prints, throwing together neons and taking fashion risks. Let's get started!
Kenzo Outfit #1: Playing with Color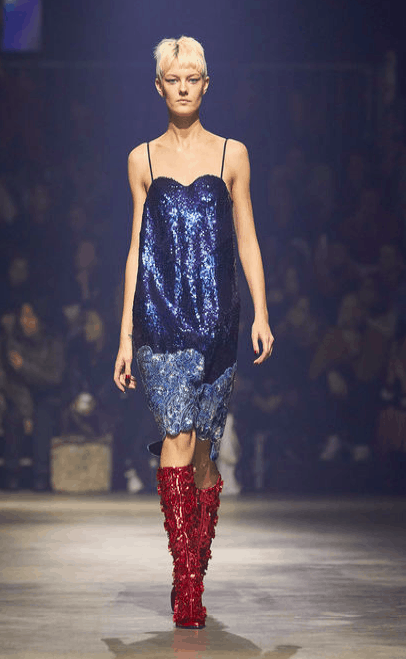 If you're looking at this, thinking, "there's no way I'm gonna wear that class," the good news is… you won't have to. This outfit shows Kenzo's rich use of colors. The brand pairs bold colors in ways that defy all expectations. Somehow, it just works.
And now we're gonna channel it for real life — ready?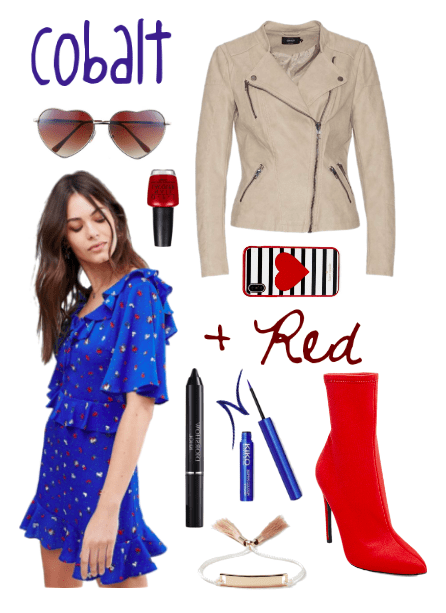 Products: Sunglasses – Nordstrom, Dress – Asos, Nail Polish – OPI, Jacket – Nelly, Phone Case – Lord & Taylor, Black Liner – Dior, Blue Liner – Kiko Milano, Red Boots – Steve Madden, Bracelet – Miss Selfridge
A sequin slip dress paired with knee-high sequin booties is NOT something you'd wear to class. But, if you want to play with colors in your day-to-day look, you CAN pull of these red booties. Cute and playful, these boots add a fun pop of color to any outfit.
The blue dress is an easy pairing, and this suede jacket will go with anything. The heart-shaped glasses and phone case keep the look young and fresh instead of overdramatic. Simple, yet chic, extras, like red polish and a gold bracelet, pull the outfit together.
The model rocks a stunning smoky eye. You don't have to go all the way to false lashes, but a black liner with a swipe of blue is still exciting.
Kenzo Outfit #2: Playing with Texture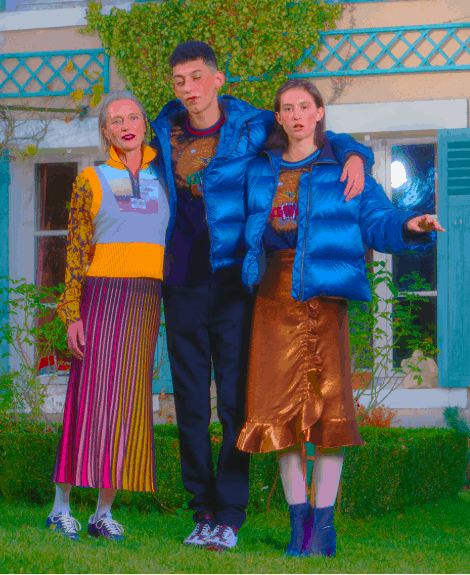 This look was in Kenzo's holiday lookbook, hence the awkward family photo setup. However, this outfit is anything but awkward. Here Kenzo mixes different textures in the puffer jacket, ruffled skirt and holographic booties. To make it work, the outfit sticks to a color scheme of blue and gold.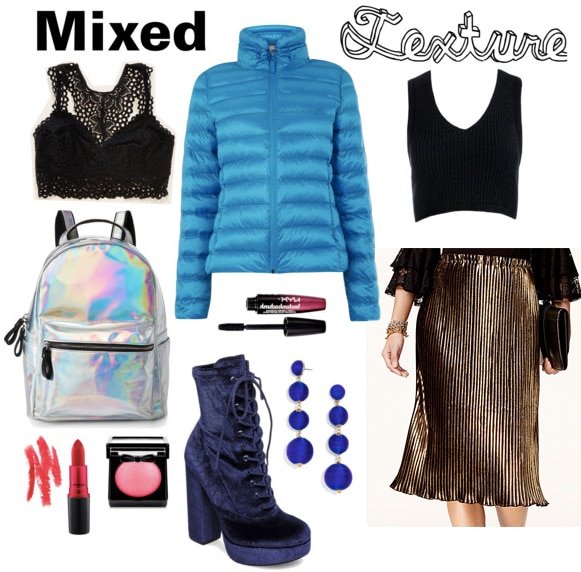 Products: Bralette – American Eagle, Backpack – Century 21, Lipstick – MAC, Blush – NYX, Jacket – House of Fraser, Booties – Steve Madden, Mascara – NYX, Earrings – Bauble Bar, Crop Top – Sans Souci, Skirt – Macy's
To get this show-stopping look, we start with the model's electric blue puffer jacket, metallic midi skirt, and shiny booties. Those are the most dramatic pieces, so the rest of the outfit will be more low-key. A black cropped sweater or bralette is simple and easy enough to layer under this scene-stealing jacket. The holographic backpack complements the metallic skirt, the blue drop earrings work with the blue boots.
The model also sports very intense blush and lipstick. Done with more subtlety, this makeup, along with a swipe of mascara, lets the outfit steal the show.
Kenzo Outfit #3: Playing with Print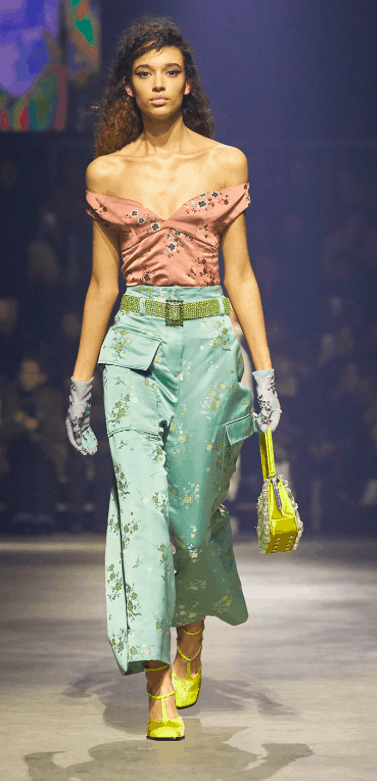 Pastels! Flowers! Brocade! Unless you're going to a garden party, this outfit is probably too posh for real life. But I love how Kenzo fearlessly mixes prints while sticking with a theme (florals), so we're going to do the same.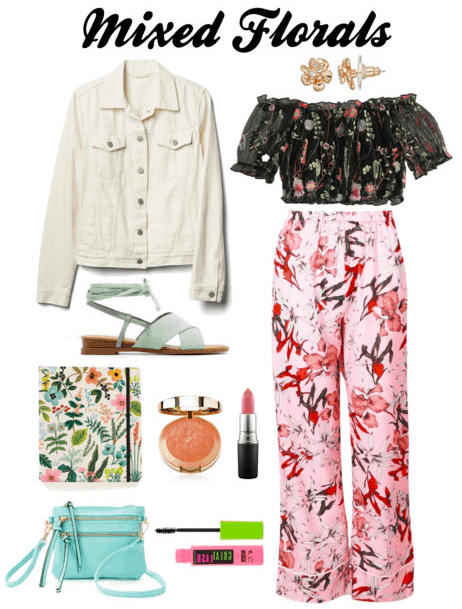 Products: Jacket – Gap, Sandals – Charles & Keith, Planner – Trouva, Blush – Milani, Lipstick – MAC, Bag – Kohl's, Mascara – Maybelline, Earrings – Kohl's, Top – Zaful, Pants – Boohoo
This is the perfect outfit for anyone who can't wait for spring. The off-shoulder top and flared pink pants are feminine and flirty. A white denim jacket is easy to layer, without competing with the florals.
The teal lace-up sandals and bag fit with the overall pastel-floral look, as does this cute planner and these gold earrings. The bronzer, pink lipstick and mascara let the outfit do all the talking (or flirting).
What Do You Think?
Are you ready to revamp your spring wardrobe? Would you try any of these Kenzo outfits?Let us know in the comments!