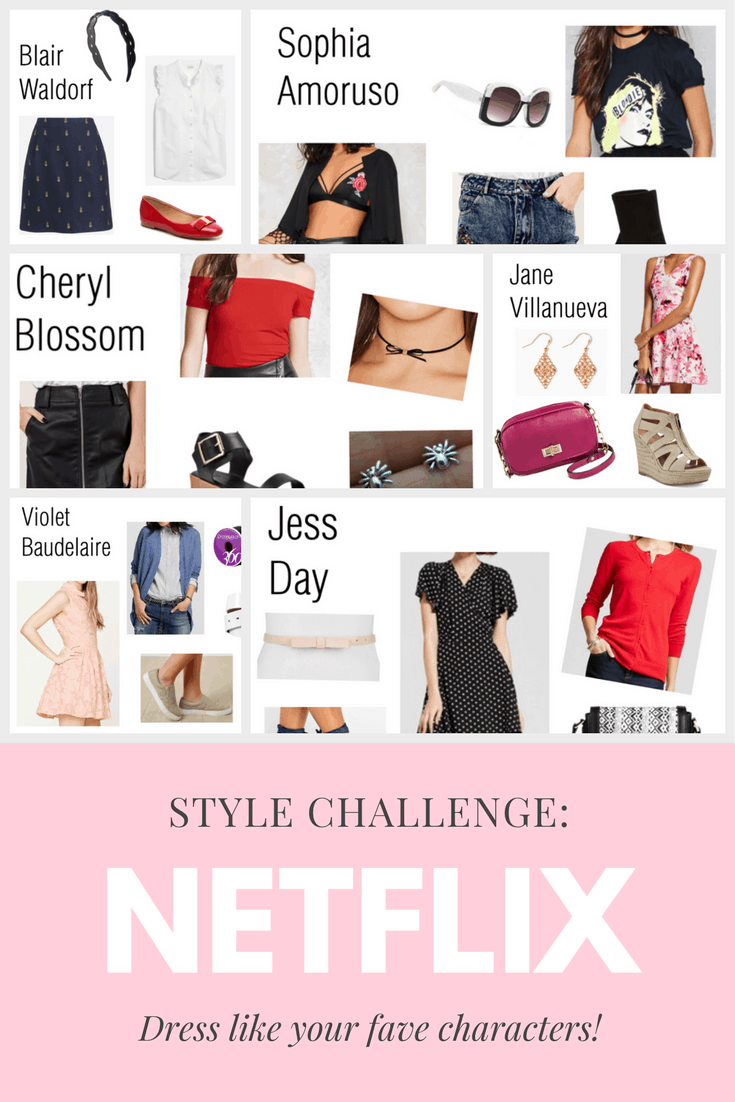 It's summer break, and I'm really hoping I'm not the only one that's started about twenty new shows on Netflix. It's basically a college rite of passage to watch as much TV as humanly possible as soon as finals end.
In an attempt to make my last few days sound more productive, I've been looking for fashion inspiration in all of my fave shows!
I actually learned a lot from this TV character fashion challenge! It was super interesting to make a list of all my fave characters and to see how their styles were similar and different. I learned I'm really drawn to classic and vintage looks, especially with elements like crisp collars, bold colors, and full, feminine skirts!
I hope that you will identify your favorite characters and their style as well! Even if you don't channel them into your outfits (you totally should, though), you can learn a lot about your personal style from analyzing aspects of their looks!
Check out the outfit sets below for some inspiration:
Monday: Violet Baudelaire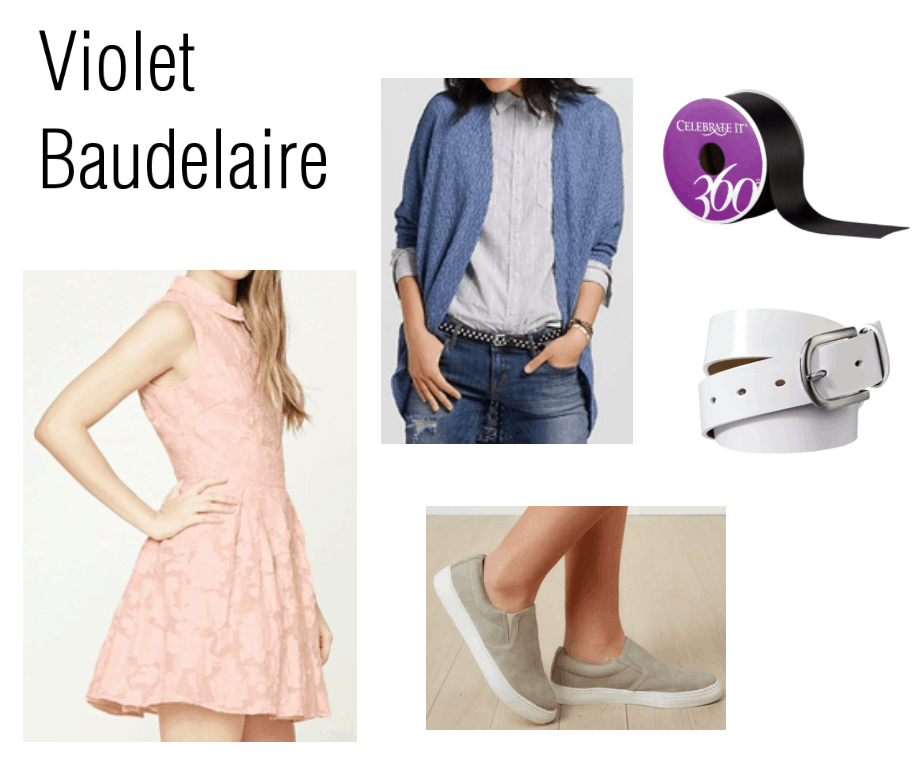 Products: Dress – Forever 21, Sweater – Target, Belt – Target, Shoes – Red Dress Boutique, Ribbon – Michaels
I've loved A Series of Unfortunate Events since I read the books in elementary school, so of course I'm obsessed with the new Netflix series.
Violet's sweet style contrasts with the dark setting of the show and reflects her smart, down-to-earth character perfectly. She wears a lot of collared dresses, practical sneakers, and cozy cardigans. No Violet Baudelaire look would be complete without her signature hair ribbon either!
I've always admired Violet for being a smart, rational character and I love that her style reflects her personality so well.
(More Series of Unfortunate Events Inspiration)
Tuesday: Blair Waldorf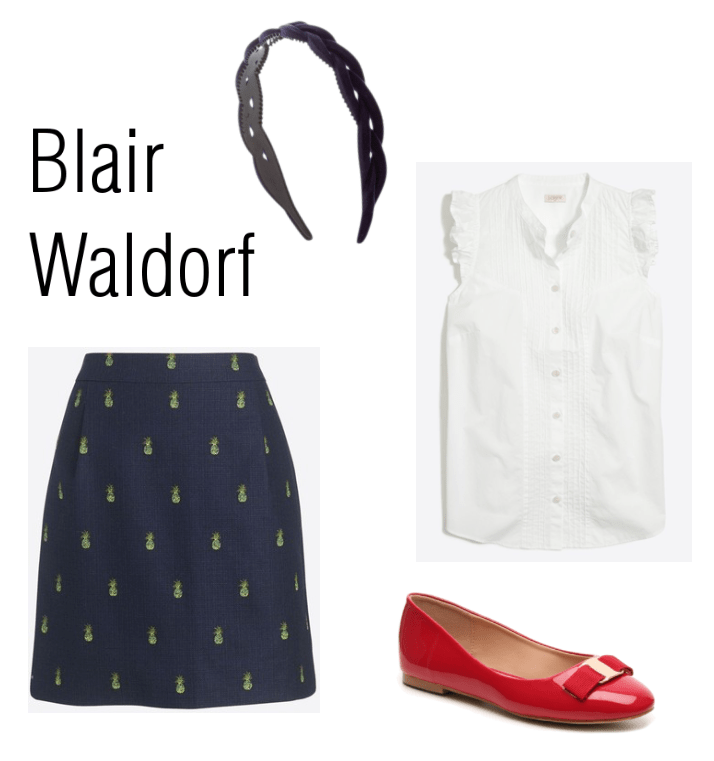 Products: Top – J.Crew Factory, Skirt – J.Crew Factory, Flats – DSW, Headband – Claire's
Blair Waldorf is the original TV style queen! Her signature style is polished and classic – so it won't go out of style any time soon.
I based this outfit on her school uniform look – crisp white shirt, preppy blue skirt, a pop of color with the red ballet flats, and Blair's trademark headband.
The biggest style lesson I learned from Blair is that fashion is an art — and, like Blair, it's something that I really enjoy.
(More Gossip Girl Inspiration)
Wednesday: Jane Villanueva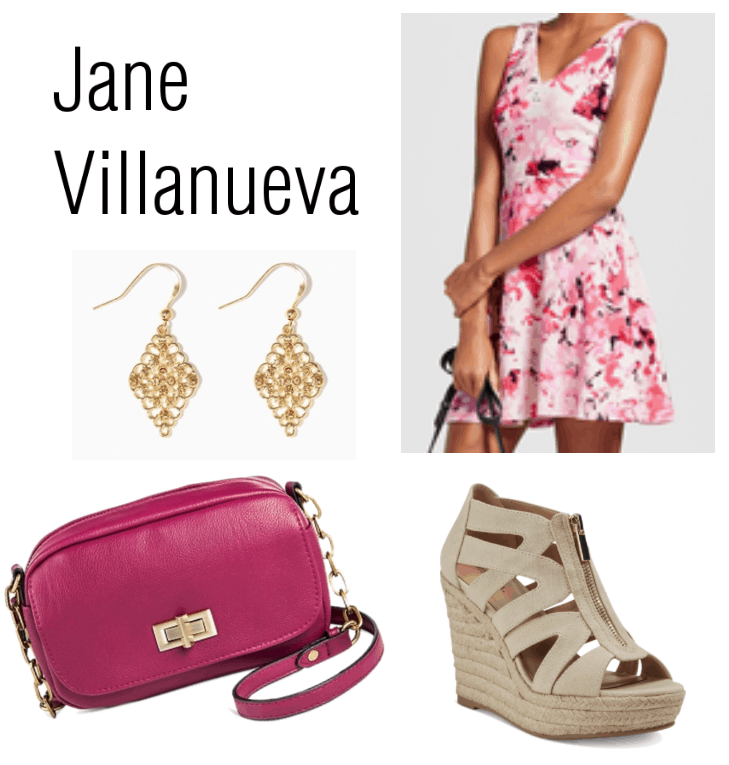 Products: Dress – Target, Bag – Target, Wedges – Target, Earrings – Charming Charlie
Jane the Virgin takes place in Miami and Jane's style is all about bright colors that reflect her Florida home! The show is also sponsored by Target, so it's really easy to recreate looks from the show.
Jane is known for wearing colorful fit-and-flare dresses, drop earrings, and cute wedges, so I based the outfit around those.
I love how playful and feminine Jane's style is despite the challenges she faces in the show. Jane is proof that a sunny outlook (and outfit) can turn any day around!
(More Jane the Virgin Inspiration)
Thursday: Jess Day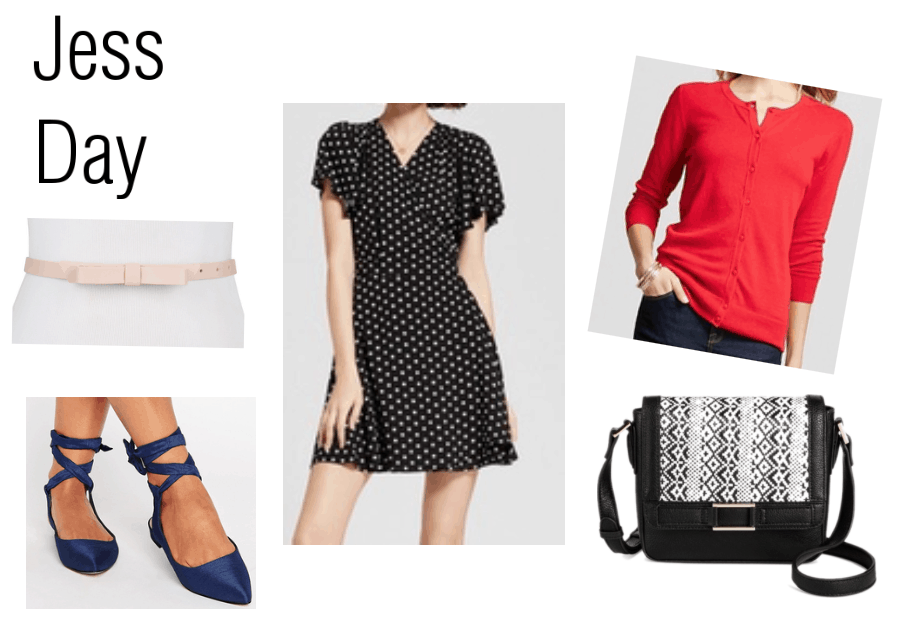 Products: Dress – Target, Cardigan – Target, Flats – Asos, Bag – Target, Belt – Target
Jess Day is the quirky protagonist of New Girl and her style is just as adorable as she is! She's known for patterns, vintage-inspired dresses, and bright colors.
To channel her look, I started with a polka dot dress and added a bright red cardigan. I added a girly bow belt and some contrasting blue ballet flats.
The biggest style lesson I learned from Jess is not to take myself too seriously. Jess doesn't, and her playful style really reflects it!
Friday: Sophia from Girlboss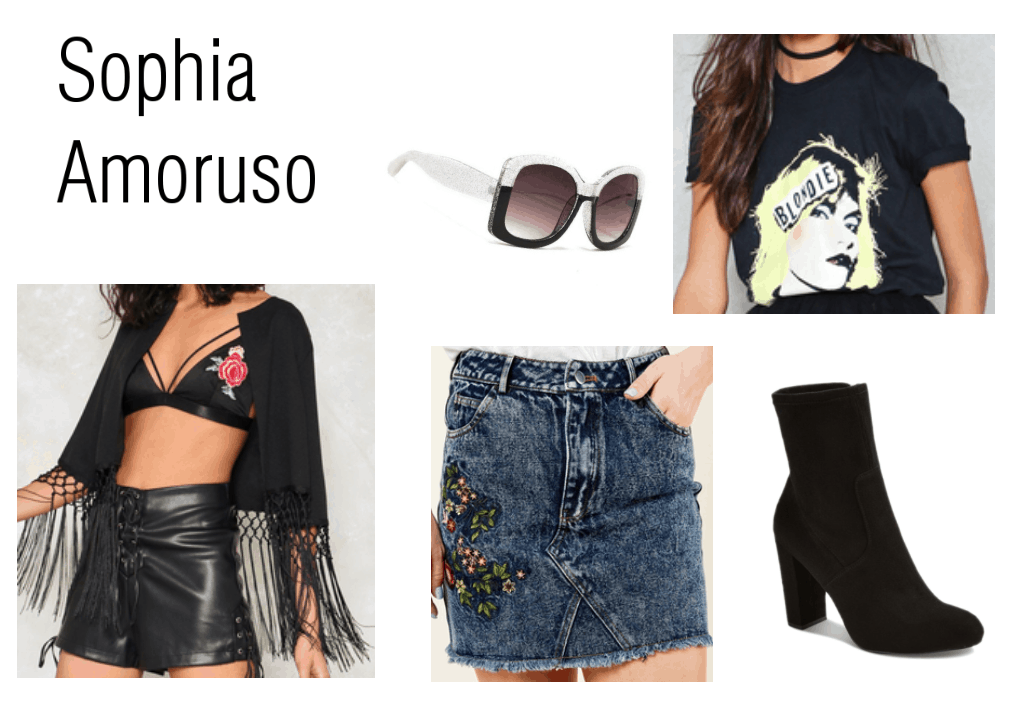 Products: Jacket – Nasty Gal, Skirt – Red Dress Boutique, Shirt – Nasty Gal, Boots – Target, Sunglasses – Nasty Gal
Sophia's style is probably the easiest to imitate because the show centers around how she started the real life fashion site, Nasty Gal! She definitely has the edgiest aesthetic of all the characters on this list.
The biggest thing I learned from channeling Sophia's style is that the details can really make an outfit. She's all about unique pieces that make a statement.
Saturday: Cheryl Blossom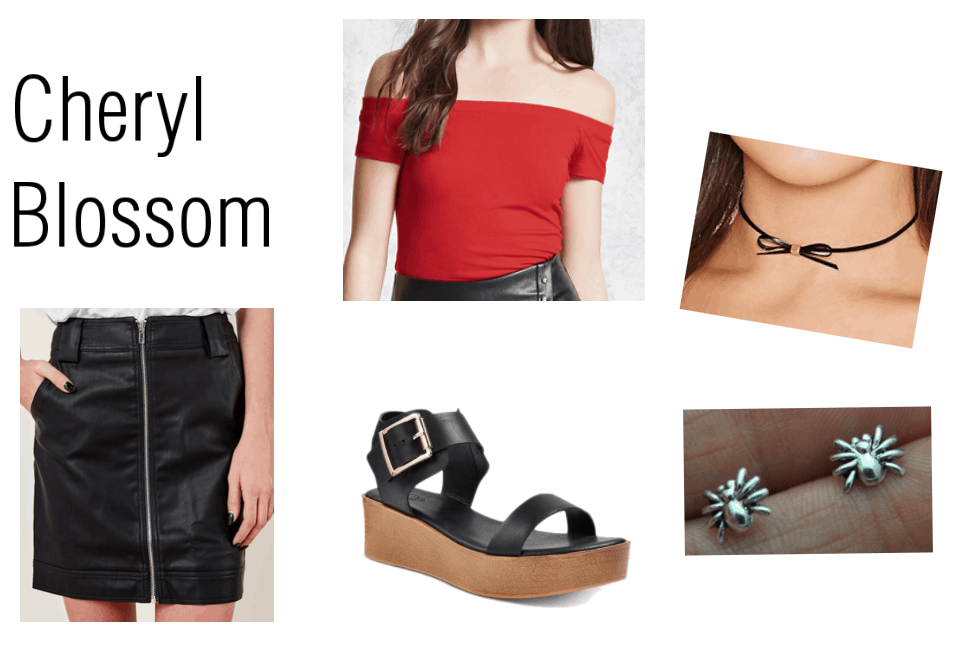 Products: Top – Forever 21, Skirt – Red Dress Boutique, Shoes – Target, Necklace – Forever 21, Earrings – Etsy
I just started watching Riverdale a few days ago and I'm already obsessed. The fashion on the show is amazing, too — it was hard to pick just one character's style!
Cheryl Blossom stuck out to me because her outfits are always fierce and dark, but still feminine and elegant. She always wears red and black (two colors I normally shy away from) and usually adds a gorgeously creepy spider brooch.
To recreate Cheryl's style, I paired an elegant red top with a black leather skirt. I traded Cheryl's heeled boots for more comfortable black wedges. For accessories, I added a dainty bow choker and spider earrings to pay homage to her brooch.
Sunday: Leslie Knope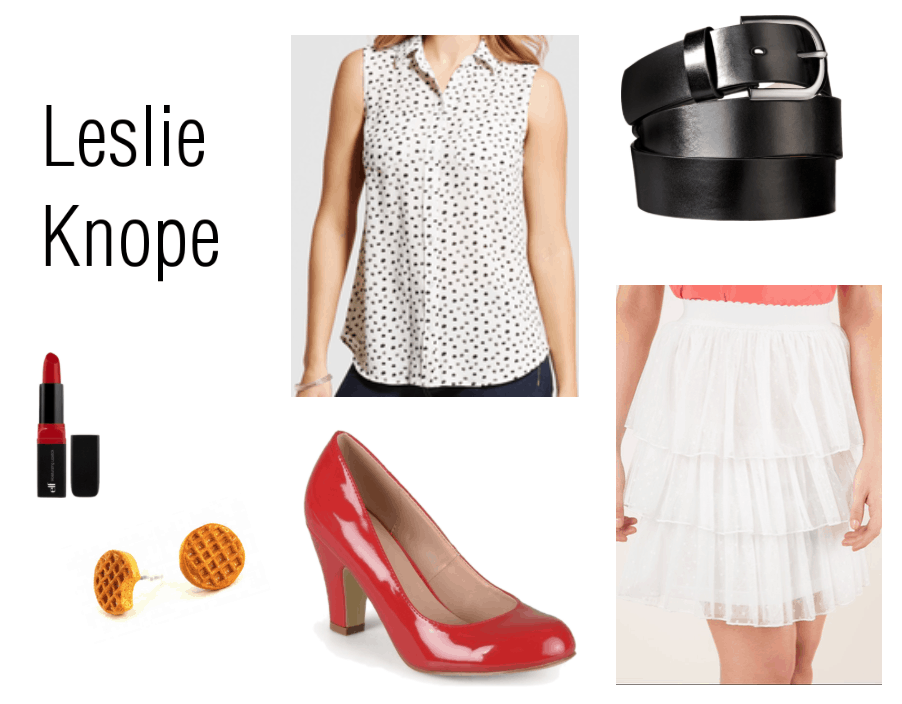 Products: Top – Target, Skirt – Red Dress Boutique, Belt – Target, Heels – Target, Lipstick – Target, Earrings – Etsy
This look was inspired by (spoilers!) Leslie Knope's wedding dress! Her dress featured a tulle/newspaper skirt and elegant top that was totally Leslie!
Even though she normally wears pantsuits and blazers to work, Leslie proved that she knows how to have fun with fashion. I loved that mix for the weekend.
(More Parks and Recreation Inspiration)
What do you think?
Who's your favorite TV character? What elements have you picked up from your fave character's style? Which outfit is your favorite? Do you have an idea for a style challenge? Let us know in the comments below!