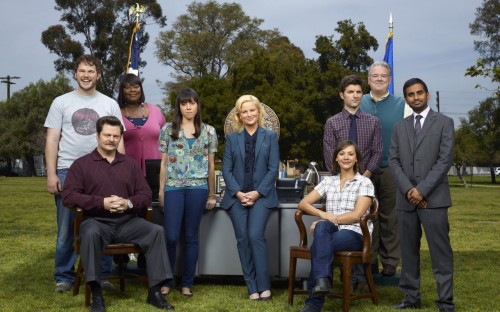 Photo: NBC.
NBC's Parks and Recreation is one seriously underrated comedy. Now in its fifth season, Parks follows the ordinary (yet awesome) adventures of a group of city government employees, and it is consistently one of the funniest shows on TV. (Really, though, with Amy Poehler in the starring role, how could it not be?)
Like HBO's Girls, Parks and Rec is often praised for its authentic styling and diverse characters. From Leslie's Hilary Clinton-esque power suits, to Tom's fashionista flair, to April's surprisingly sweet wardrobe, "Parks", style-wise, has something for everybody.
Want to learn how to recreate your favorite "Parks" character's style? Read on!
Leslie Knope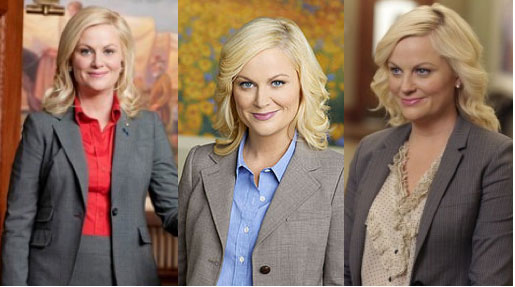 Leslie Knope is a city council member and the deputy director of Pawnee's Parks department, and she loves her job. She is extremely optimistic and works so hard to make sure Pawnee's citizens are taken care of… even if she was born in (gasp!) Eagleton. She also really, really loves waffles.
A champion for women's rights, Leslie's ultimate goal is to become the first female president of the United States. And, let's face it, we'd all probably vote for her. (I know I would!)
Outfit Inspired by Leslie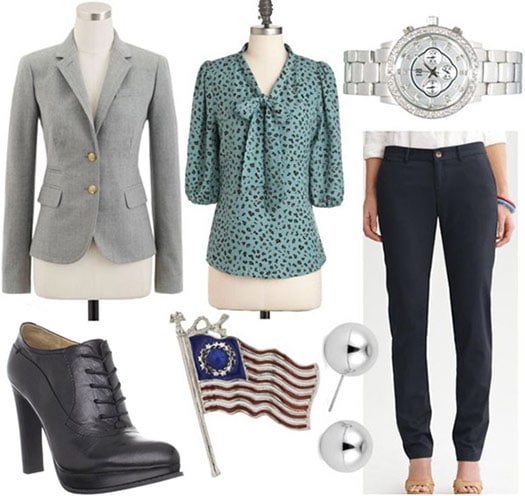 Blazer, Blouse, Pants, Pumps, Earrings, Pin, Watch
Leslie is one powerful lady, and she loves looking feminine and fun while on the job. To channel your inner Knope, pair a pretty printed blouse with a tailored gray blazer, creating a structured, ladylike silhouette that's still relaxed and cute. Next add navy chinos for a professional yet casual look, and get some height with basic oxford pumps.
Complete the look with simple, office-friendly jewelry like silver studs and a subtly sparkly silver watch, and, finally, something every politician needs – an American flag brooch. Now all you need is a waffle-scented necklace!
Ann Perkins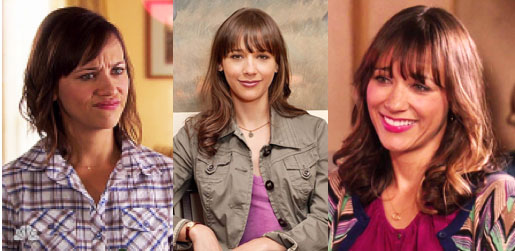 Sweet, beautiful nurseAnn Perkins (Rashida Jones) is Leslie's best friend and the straight man in this comedic show.
Ann's been fairly unlucky in love, having unsuccessfully dated characters Andy, Chris, and Tom, but at least it gives her an excuse to hang around the Parks department. In fact, she spends so much time at City Hall that she's now the Health Department's public relations director. Known for her quick wit and self-deprecating sense of humor, Ann keeps the rest of the crew grounded.
Outfit Inspired by Ann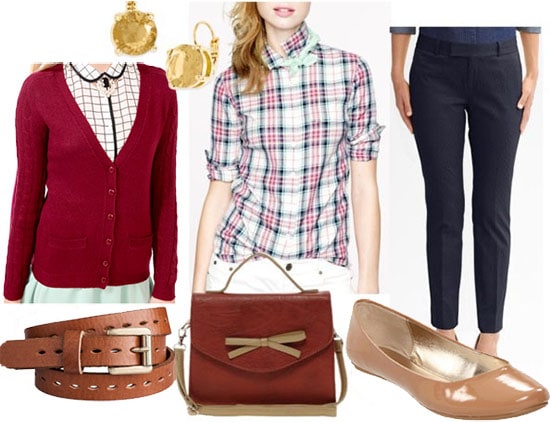 Shirt, Pants, Cardigan, Belt, Flats, Bag, Earrings
To get Ann's polished but casual look, start with a tailored plaid shirt in a feminine color and cinch it at the waist with a classic brown belt. Then add a soft, berry-colored cardigan and navy cropped pants for a pretty, menswear-inspired vibe. Accessorize with low-key but sophisticated pieces in neutral colors, like tan scalloped flats and a structured satchel topped with a bow. Complete the look with a hint of sparkle – gold-tone crystal earrings should do the trick!
Tom Haverford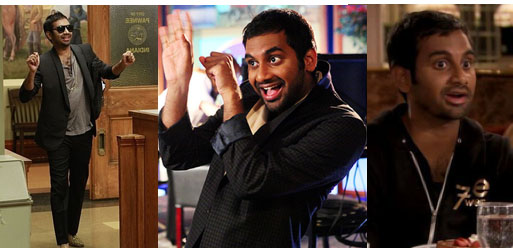 Tom Haverford, played by the legendary Aziz Ansari, left the Parks Department to pursue his entrepreneurial dreams, but that doesn't mean he isn't still Leslie's right hand man. A relentless idea-machine with an eye for trends, Tom once strapped an ipod dock to his vacuum cleaner… and DJ Roomba was born.
Tom, as his friends can attest, can be extremely annoying sometimes, but you can't deny his hilarity. Also, if you don't love '90s R&B music, Tom doesn't love you.
Outfit Inspired by Tom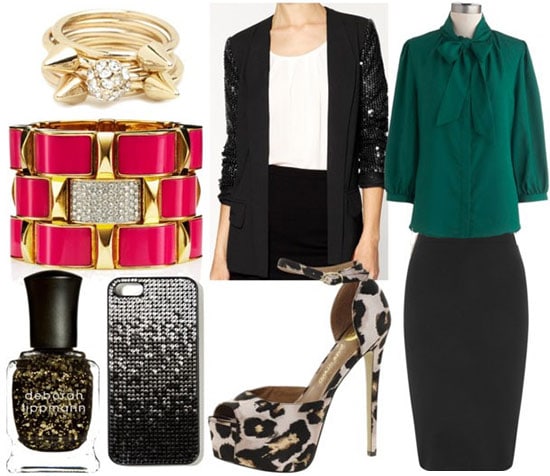 Blazer, Blouse, Skirt, Pumps, Bangles, Phone Case, Rings, Nail Polish
Get your Tommy Timberlake on by stocking up on all the latest trends! Start by pairing an of-the-moment sequined blazer with a pussy bow blouse that incorporates spring's emerald green trend. Add a little bit of balance with a sleek pencil skirt.
Tom wouldn't be caught dead without plenty of swag in his daily look, so go all out with the extras! Accessorize with plenty of sparkle, like bold bangles, stacked spiked rings, and a crystal studded phone case (for browsing Twitter in style, of course). Don't forget to treat yo' self with an on-trend black and gold manicure.
April Ludgate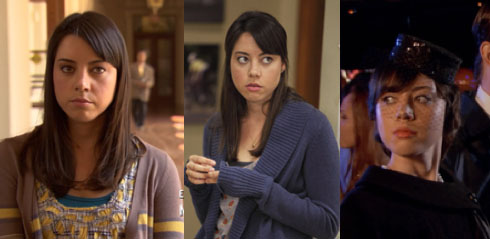 The incomparable April Ludgate (Aubrey Plaza) started out as an intern at the Parks department, but quickly moved up in the ranks, becoming Ron's delightfully apathetic assistant and Leslie's protege. Her icy exterior has melted – slightly – thanks to her husband Andy, but she's still wonderfully weird, with her deadpan sense of humor and insane one-liners making her a fan favorite.
One time, she was in a beauty pageant. It was amazing.
Outfit Inspired by April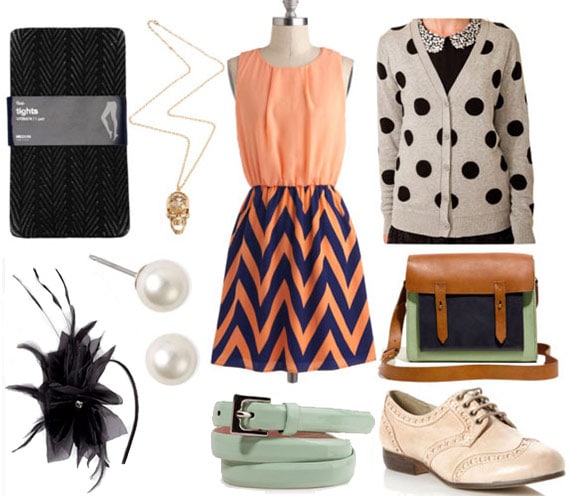 Dress, Cardigan, Belt, Bag, Oxfords, Tights, Necklace, Earrings, Fascinator Headband
Despite her sour personality and terrifying sense of humor, April's style is cute and feminine, with an eclectic, indie vibe. Get her look by pairing a melon and cobalt chevron print dress with a polka-dot cardigan, cinching everything in at the waist with a mint belt. Next, add a vintage-inspired mint and navy shoulder bag.
Now it's time to accessorize! Layer up for late winter with some black chevron tights and ivory oxfords, then add quirky contrast by pairing pearl studs with a skull pendant necklace. Don't forget to keep a fascinator on hand – after all, you never know when you'll need to unleash your inner Janet Snakehole.
Your thoughts?
Which "Parks and Rec" character do you think has the best style? What's your favorite moment from the show? Be sure to leave a comment and let me know what you think, and look out for a post on Ron, Ben, Donna, and Andy soon!