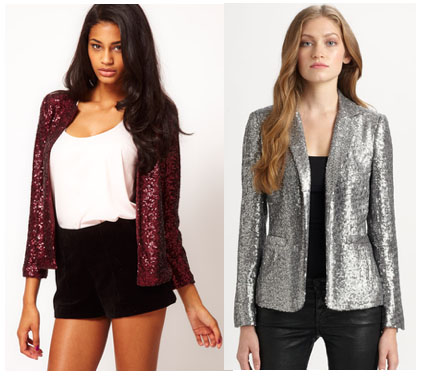 Do you struggle with transforming your outfits from day to night? Don't worry, CF is here to help turn that daily annoyance into a fun challenge. Class to Night Out focuses on one piece per week, and aims to help you take your look from study sessions in the library to dancing the night away.
We're deep into the holiday season and on our way to New Year's Eve, and that means it's time to wear lots of sparkle! This week, I'll be showing how to incorporate a sequined blazer into wardrobe, with looks for both day and night.
If you think you can't pull off a sequin blazer for class, or even a night out on your campus, don't worry – it can totally be toned down for daytime! The day look is perfect for a family holiday party or a day of shopping with the girls, while the night look would suit your most formal holiday gatherings. (Or even a Classy Christmas-themed party!)
Still interested? Let's take a look at the outfits!
Sequin Blazer: Class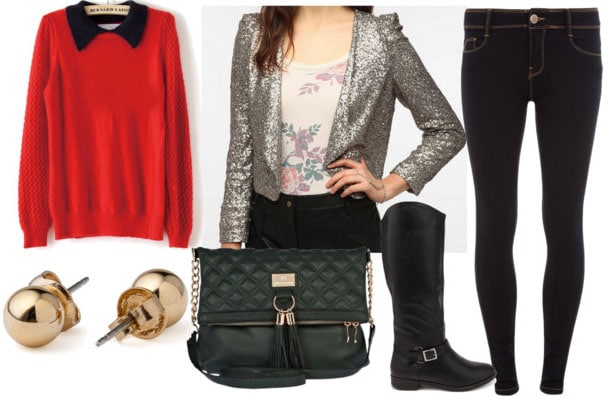 Blazer, Sweater, Jeans, Boots, Bag, Earrings
To dress down your red carpet-worthy blazer, layer it over a collared sweater in a fun, Christmasy color. Next, add a pair of classic dark wash skinny jeans. This keeps the look formal while giving you a distinct casual elegance. Tall black riding boots and a matching quilted messenger bag add some laid-back sophistication, while simple gold studs lend a tiny extra touch of shine to complete the look.
Sequin Blazer: Night Out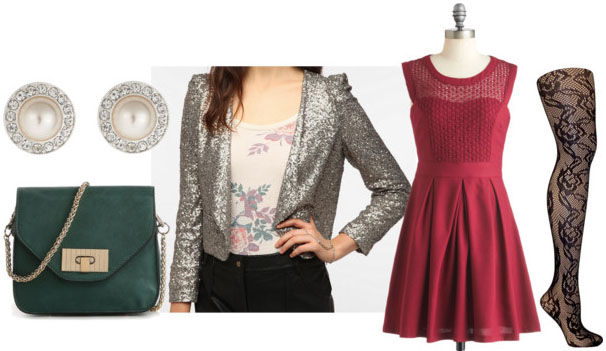 Blazer, Dress, Tights, Bag, Earrings
Sometimes, mixing textures can be tricky, but this look plays it right because all the textures contrast in subtle ways. To get a look that's ready for a holiday party, wear your blazer under a cranberry red dress with sheer detailing for a look that's quintessentially Christmas. Add texture (and warmth!) with a pair of floral tights, and accessorize with a festive deep green cross body bag and rhinestone-embellished pearl earrings.
Your thoughts?
Would you wear a sequin blazer? How would you style it? Be sure to leave me a comment and let me know what you think of the outfits – I'd love to hear your thoughts!