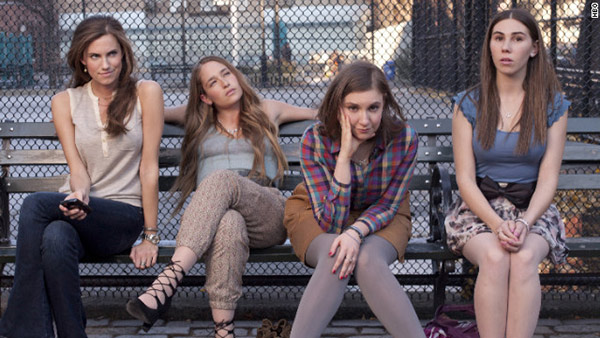 If you've visited planet Earth recently, I'm sure you've heard the endless buzz surrounding Lena Dunham's Emmy-winning comedy show, "Girls." The HBO series, which premiered last year and just began its second season, follows the lives of four 20-somethings, Hannah (Lena Dunham), Marnie (Allison Williams), Jessa (Jemima Kirke), and Shoshanna (Zosia Mamet) as they navigate life post-college in NYC.
Though Girls has received some valid criticism for its lack of minority characters, the show has also been praised for its cringe-worthy humor, despicably lovable characters, and, of course, its realistic take on 20-something fashion. The authentic styling on Girls is a departure from the "aspirational" costumes seen on "Gossip Girl" and "Sex and the City"… and that's a good thing! The characters could actually afford everything they wear. I don't even need to tell you how unheard of/awesome that is.
If you've been inspired by the down-to-earth fashion on "Girls", you're not alone. Below, I'll give you a run-down of the four main characters, including tips on how to steal each girl's signature style.
(Warning! Spoilers through the first episode of season 2).
Hannah Horvath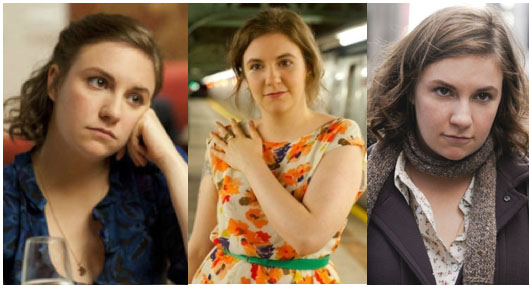 Hannah Horvath is a self-described "voice of a generation." An aspiring writer with questionable taste in everything, Hannah is the poster child for the quarter-life crisis. Despite her natural talent and creativity, she can't hold down a paying job, and now that her parents have cut her off financially, she's in serious need of a safety net.
Burdened with the classic 20-something sense of entitlement and a passion for men who aren't very nice to her (here's looking at you, Adam), "getting it together" has been a lengthy process for Hannah. But that doesn't mean she's not trying! Brutally honest and unbelievably self-absorbed, Hannah is sort of a terrible person, but we love her anyway.
Hannah's Wardrobe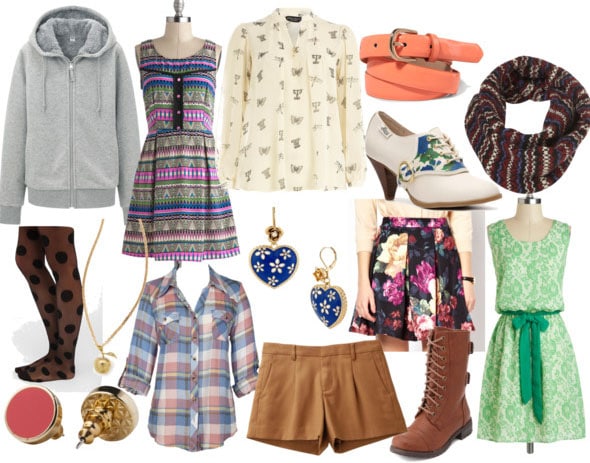 Products:
Hannah doesn't exactly dress for success, but who says she has to? Actually, her wardrobe is kind of a nightmare. In a good way.
Hannah's clothes are the ultimate rebellion from a Midwestern adolescence (believe me, I know what that looks like), featuring a weird mix of old sweats, quirky babydoll dresses and a mixed bag of accessories ranging from grungy boots and giant scarves to surprisingly understated jewelry. Not a fan? That's good – Hannah doesn't want you to be.
Tips for dressing like Hannah
Mix colors & prints – Floral with plaid? Orange and green? Might as well go for it. Hannah's big on experimentation, both in her life and in her closet. Play with your favorite colors and patterns and see what works for you. Personally, I'm a big fan of dark red with bright pink, but the possibilities are endless!
Feminine shapes – As much as she loves lazing around in sweats, Hannah can work an A-Line skirt when she has to. She favors girly prints and retro styles that contrast beautifully with her many tattoos. Get the look by pairing high-waisted skirts with pretty blouses, or try a floral A-line dress, accentuating your waist with a brightly colored belt.
Vintage vibe – Hannah's clothes always look like they were expertly thrifted from Brooklyn's hippest Goodwills, even if they're really from Forever 21. If you have a favorite fashion era (I'm a '20s girl myself), find ways to incorporate it into your daily look. Whether it's a mod-inspired colorblock dress or crazy bright costume jewelry, Hannah would probably approve.
Wear what you love – Out of all the girls, Hannah's style is probably the most easily criticized… but I highly doubt she cares! This girl wears what she loves, and you should, too! If you love a trend but you're worried what other people will think if you try it, it's time to channel your inner Hannah and wear it anyway. After all, confidence looks great on everyone.
Marnie Michaels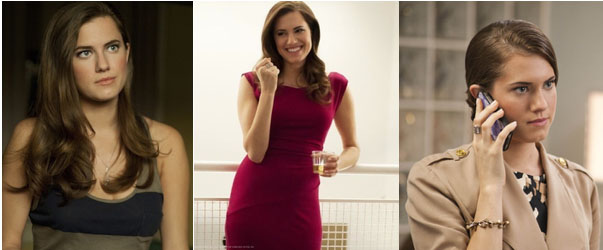 Hannah's best friend and former roommate Marnie Michaels is the most put-together of the girls. A rational and responsible art gallery assistant, she can actually pay her rent (and sometimes Hannah's, too).
Marnie finds her friends' antics immature and exhausting because adulthood is a breeze for her…. at least, that is, until a nasty breakup, distance from Hannah, and the threat of unemployment begin to unravel her cool exterior. Now that she's scrambling to get her life back together, Marnie's learning she might not actually be as grown-up as she thought.
Marnie's Wardrobe
Products:
For someone who deals with art for a living, Marnie's wardrobe is surprisingly toned-down. She's always impeccably dressed, and looks more like a law student than an aspiring gallery owner. Despite being a little boring, her wardrobe is full of classic basics (gorgeous trench coats, tailored blazers, sensible-yet-sexy heels, endlessly versatile dresses, etc.) – smart investments for every college girl.
Tips for dressing like Marnie
Working girl – Unlike the other girls, Marnie can actually hold down a steady job, which means she has to look the part. Conservative, jewel-tone dresses and tasteful, chic accessories are Marnie's wardrobe staples. Even if you aren't working 9-to-5 just yet, you can still channel Marnie's professional look by rocking a blazer with your skinny jeans, or trading in your Sperry's for a pair of polished flats.
Pencil lengths – Marnie can rock a pencil skirt like no one else. Get her look by investing in your own! Then pair it with a blazer and pretty blouse for an on-campus interview, or add a cute graphic tee and a fun belt for a more casual look.
Casual elegance – Even when Marnie is dressed down, she still looks pretty and polished (well, except for that one Facebook stalking session). Her lounging clothes are well-made and have a great fit, so if you're looking to emulate her casual look, don't be afraid to splurge on quality pieces you can keep forever. To channel your inner Marnie, keep your look clean and fresh, even on your laziest days.
Keep it together – "Tightly wound" is a polite way to describe Marnie's personality, but at least she channels some of her Type-A craziness into making sure she always looks amazing. Accessories are key here, as Marnie always has the right belt or piece of jewelry to tie a look together. Invest in basic, well-made pieces like classic bags and scarves to enhance your outfits, but don't be afraid to put your own spin on things, too!
Jessa Johansson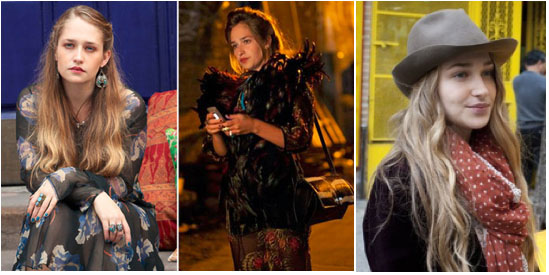 Hannah and Marnie's wild friend Jessa returns to the city in the pilot episode after another bout of trekking across the globe. A gorgeous Brit with unshakable confidence and a serious case of wanderlust, Jessa spends her days working as a nanny and helping her friends (particularly Marnie) let loose.
Always the thrill-seeker, Jessa has difficulty taking life seriously, which perhaps explains her whirlwind marriage to her polar opposite, a wealthy venture capitalist named Thomas-John. Only time will tell if she's just off on another flight of fancy, or if she's finally seeking a little stability.
Jessa's Wardrobe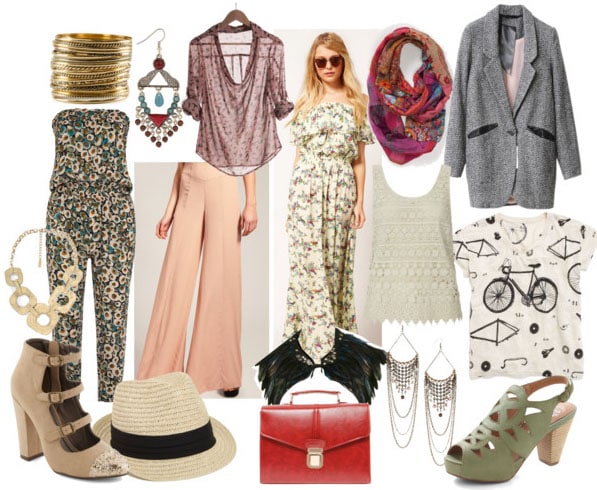 Products:
Jessa's style is eccentric, to say the least. Not one to stay in the same place for long, she's clearly collected plenty of wearable spoils from her travels, which probably makes shopping for the basics seem extremely mundane. Jessa could take pretty much anything and turn it into a gorgeous ensemble, making her effortless, wordly look all the more enviable.
Tips for dressing like Jessa
Thrifting is your friend – I'm willing to bet that nothing Jessa wears is brand new – she wears vintage finds and hand-me-downs like a queen. Hit up your local Goodwill or your grandmother's closet to scout out some unique pieces, but make sure to get your finds properly tailored. The perfect fit can make a pair of $3 trousers look like a million bucks.
Oversized pieces – Jessa loves billowy tops, flowing skirts, and wide-leg trousers. She wears so many layers that I'm not actually sure what her body looks like, but somehow, it all works. Get her look by pairing palazzo pants with a graphic tee, or try out a voluminous printed maxi dress.
Exotic finds – Jessa has clothing from all over the world, but the extent of her travels really shows in her accessories. All of her jewelry looks like it was crafted by the finest artisans from every corner of the globe. To steal her style, dig up some souvenirs from your own travels, or just stock up at your local World Market. Only Jessa would be able to tell the difference.
Play with texture – To most people, wearing a feathered cape to anything but a costume party is total insanity… but for Jessa, it's just another day in the life. Snag her effortless (and daring) style by experimenting with textures. Sheer dresses, silky scarves, and wool sweaters might just equal fashion genius when paired together.
Shoshanna Shapiro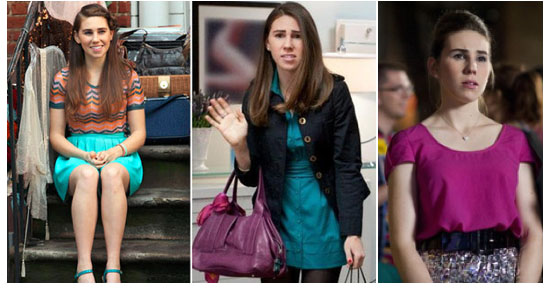 Jessa's cousin Shoshanna moved to the city to attend NYU, expecting her life to be exactly like "Sex and the City." A Carrie Bradshaw wannabe who still thinks Juicy tracksuits are cool, Shoshanna lives for celebrity gossip and inspirational self-help books. Though she's younger and much more innocent than the rest of the girls, she's often an unexpected source of wisdom. Her bubbly, offbeat personality easily makes her the show's most lovable (and hilarious) character.
Shoshanna's Wardrobe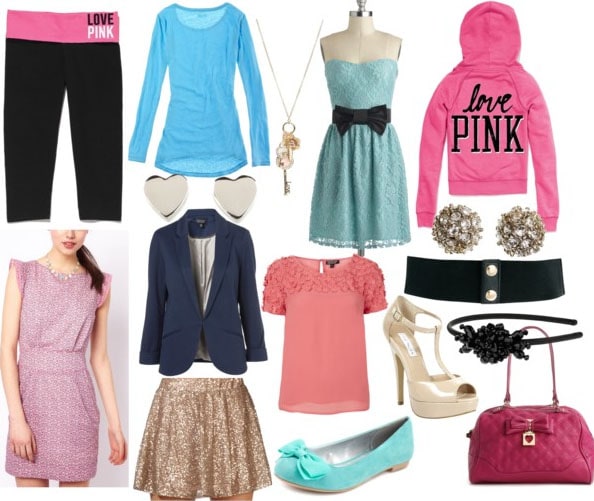 Products:
Shoshanna is so freaking cute, and you can tell just by looking in her closet. Since her parents still pay her rent, she probably has plenty of disposable income for expeditions to H&M and Zara, though that doesn't keep her from living in her fluffy purple bathrobe. Her naivety shines through in her wardrobe choices, but you still can't help but love her look.
Tips for dressing like Shoshanna
Keep up on trends – Shoshanna is always in the know when it comes to… pretty much everything. If college girls are obsessed with something new, Shoshanna probably bought it first. (She loves products, after all.) Luckily, you probably already have a lot of these things in your closet, like quilted bags, yoga pants, embellished headbands, waist belts, nude pumps and sequined dresses.
Sweet & girly – Shoshanna is like a little ball of sunshine in the "Girls" world, and it shows in her outfits. She favors pinks, purples, and feminine blues, and will wear anything that sparkles or has a bow on it. Some might say her wardrobe choices are childish, but Shoshanna does a good job of pairing her girliest pieces with mature staples, like classic blazers and bold tops.
Casual cutie – Shoshanna is a busy college student, which means she needs a lot of lounging time. Bring on the sweatpants, leggings and hoodies – preferably the sparkly kind from Victoria's Secret PINK. If Shoshanna's energy inspires you, throw out your old tees and baggy sweats and stock up on cute but cozy lounging pieces (especially if they're pink). As far as yoga pants go, I predict Shoshanna will rave about how amazing they are at least once this season.
It's all in the details – Since Shoshanna's wardrobe is very "average young college girl," her bubbly personality really shines through in her accessories. Honestly, would this party outfit really scream "Shoshanna!" without that fascinator headband? Take your everyday looks from average to extraordinary by accessorizing with pieces that are uniquely "you."
Your thoughts?
Which "Girls" character do you think has the best style? What's your favorite moment from the show? Are you watching Season 2? Be sure to let me know what you think of the outfits in the comments, I love hearing your thoughts!
Related posts: