This post may contain affiliate links, which means we may receive a commission if you purchase through our links. Please
read our full disclosure here
.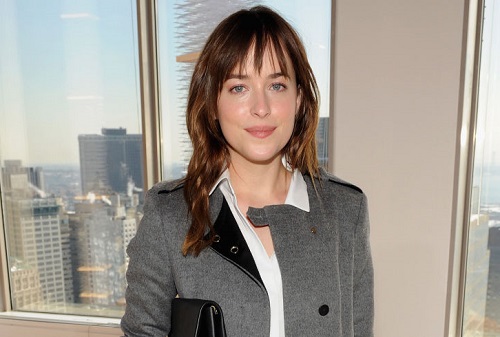 Photo Credit: ELLE
Whether you like it or not, Fifty Shades of Grey is a major franchise that is hard to ignore. A huge franchise always brings along a new breakout star (Shailene Woodley, Jennifer Lawrence, etc) and this time around it is the charming and adorable Dakota Johnson.
In this A Week in Her Style post, we're taking inspiration from Dakota's laid-back and casual street style looks and giving you a week's worth of outfit ideas. Scroll down to see all seven looks:
Monday: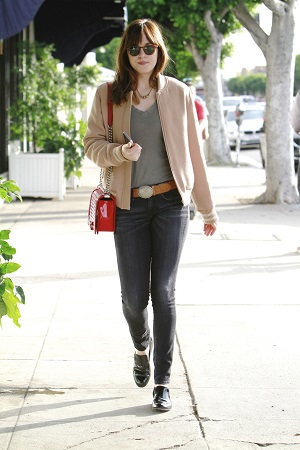 Photo: Pacific Coast News (Click to enlarge.)
For a Monday, elevate a go-to tee and jeans outfit with a polished jacket. Dakota amped up her look with an on-trend, neutral-colored bomber jacket. Add a statement-making belt for interest, as well as a bold bag for a pop of color. Black flats, loafers, or oxfords add the perfect finishing touch. This outfit looks chic and is easy to throw together – perfect for a busy Monday.
Tuesday: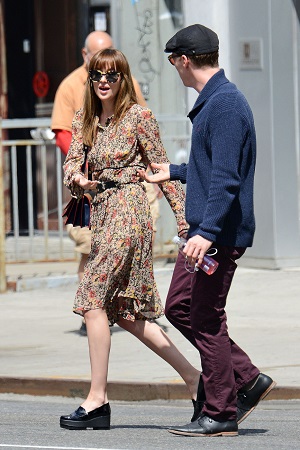 Photo: Pacific Coast News (Click to enlarge.)
I love how effortless dresses are – they make getting dressed in a hurry easy. On those days when you are rushing out of bed and almost late to class, a dress is a quick solution; especially a floral one like Dakota's. The '70s is a huge trend this spring, and Dakota channels it perfectly with her boho-chic dress, platform shoes, and big sunglasses.
You can easily replicate this outfit with flats if you don't have platforms. Also, if it's still cold where you live, try adding tights and/or a cropped jacket. There are so many cute floral dresses available in stores, but I like this one from Boohoo; the color palette is similar to Dakota's dress.
Wednesday: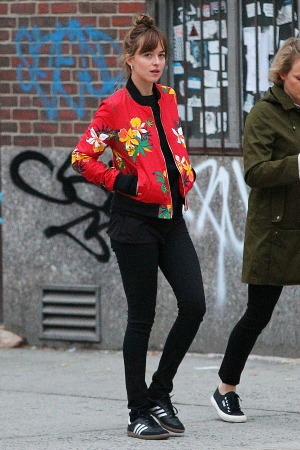 Photo: Pacific Coast News (Click to enlarge.)
For a Wednesday, we suggest pulling out another bomber jacket, but this time make it the star of the show. A floral print jacket, like this one from ASOS, brings a casual outfit up a notch and makes you look like you put effort into your ensemble (even if you didn't!). Dakota's jacket looks super-trendy with its bold flowers and red hue. Simple black jeans and sneakers let the jacket take center stage.
Thursday: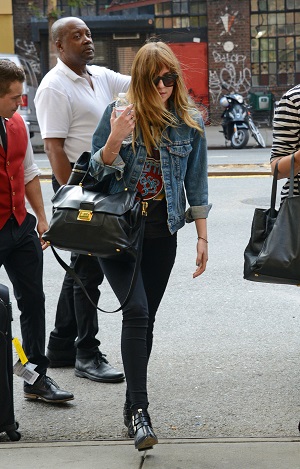 Photo: Pacific Coast News (Click to enlarge.)
Here's a laid-back look that you should all already have in your closet. It's casual but slightly edgy, and the perfect thing to throw on when you don't want to waste time picking out an outfit. Just pair a band tee (you can find good vintage ones at thrift stores) with a denim jacket, black skinny jeans, and edgy boots.
Want to spice up the look? Try an on-trend denim jacket with patches or swap the jeans for faux leather leggings.
Friday: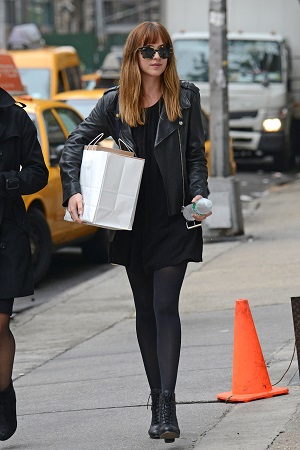 Photo: Pacific Coast News (Click to enlarge.)
Mix things up for a Friday night out in an all-black outfit. A sleek LBD (snag one here for only $18) paired with a faux leather jacket is perfect for dancing in and looking chic. Add some tights so your legs don't freeze. Black, low-heeled booties are comfortable but still dress up the look. Let's call this one Fifty Shades of Black.
Saturday: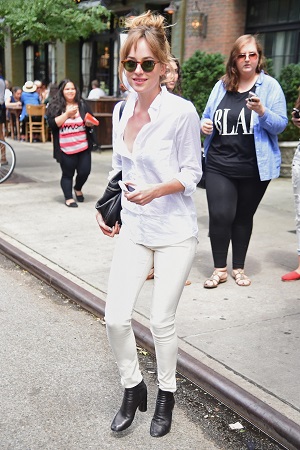 Photo: Pacific Coast News (Click to enlarge.)
On Saturday, lighten things up with some chic white pieces. A white-on-white outfit always looks refreshing, plus it looks so nice for spring. A white oxford and white skinny jeans give you a casual outfit that's perfect for lunch, coffee, studying, shopping, or whatever it is you do on a Saturday. Booties and a matching purse break up the all white with just the right amount of black.
Sunday: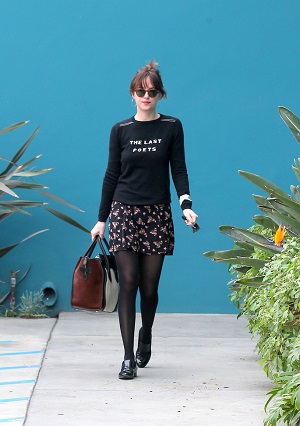 Photo: Pacific Coast News (Click to enlarge.)
I wish I looked this good leaving the gym. For a comfy and casual Sunday, this is the perfect outfit. A floral skirt (here's one for $16) will get you in the mood for spring, while black tights and a printed sweater keep you warm. Black patent flats pull the outfit together.
This look is easy to put-together, but looks chic and trendy. We would wear this to brunch or even to a casual study date. If you want to see an inexpensive version of this entire outfit, be sure to check out this Celebrity Street Style post!
Thoughts?
What do you think of Dakota Johnson's style? Are you going to take any inspiration from these outfits? Who would you like to see next? Let me know in the comments!