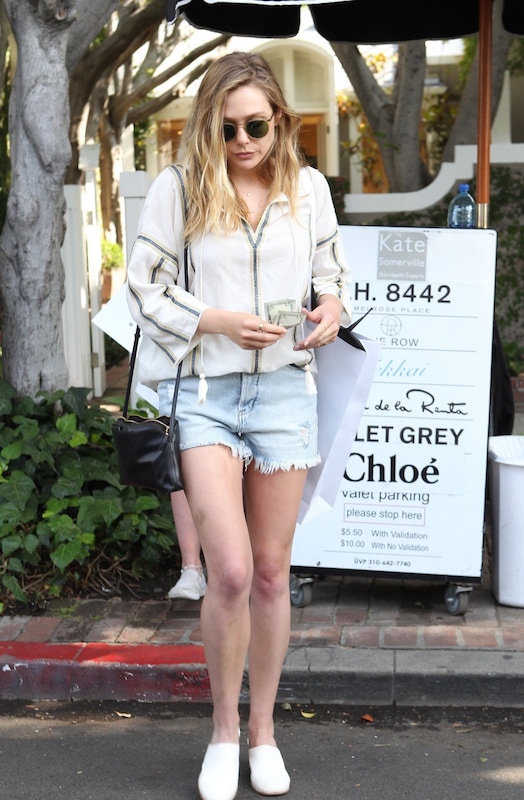 If you are anything like me, you were obsessed with the Olsen twins and wanted to be just like them, especially when it came to fashion. They were the epitome of cool. Well, they're definitely still cool and fashionable, but lately we've been obsessed with another Olsen's style.
Elizabeth Olsen has an innate sense of style like her older sisters, but her outfits are a bit more refined and polished. Her mix of casual, classic, and menswear-inspired pieces makes her a fantastic source of fashion inspiration for hardworking college girls.
Related reading: I Copied the Olsen Twins' Outfits for a Week & Here's What Happened
Here are a week's worth of outfit ideas based on Elizabeth's most fashionable street style looks. Scroll down to see them all:
Monday: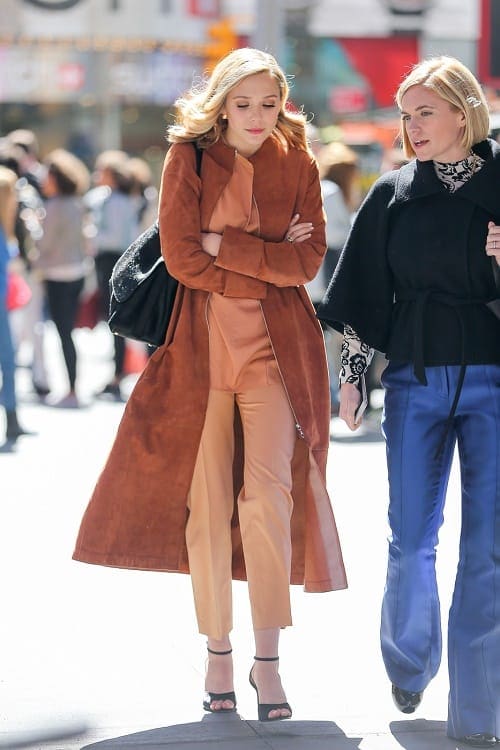 Take inspiration from Elizabeth and try out a monochromatic look. She looks very stylish in her suede jacket, and the burnt orange hue gives the outfit a trendy '70s vibe.
Try Elizabeth's look on your own with a loose-fitting tee and matching cigarette pants. An orange color scheme is a bold move, and a coat or jacket that's slightly darker than the other shades of orange breaks up the look nicely. Throw on some black pumps or flats to center the look and you're good to go.
Tuesday: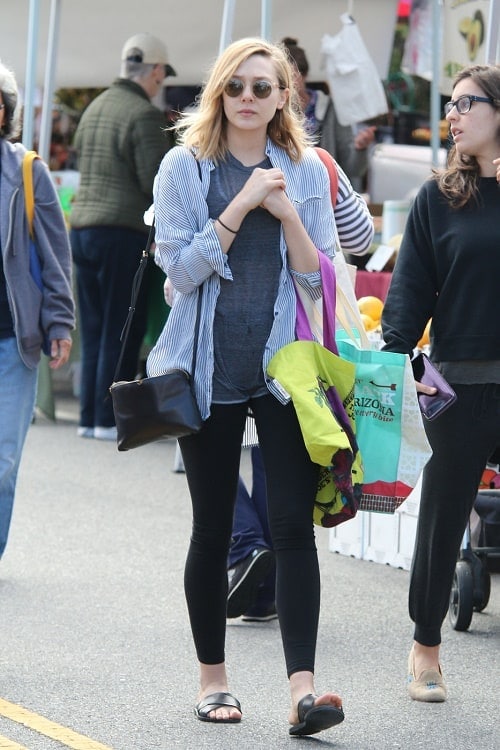 This casual and comfy look is perfect for a Tuesday spent studying in the library. I personally am not in favor of wearing leggings as pants, but Elizabeth makes them look good here by pairing them with a longer tee.
The open button-up top also adds coverage, as well as some polish to the outfit. Black crossover slides are on-trend right now and are just made for walking. For the finishing touch, slip on a pair of circle sunnies.
Wednesday: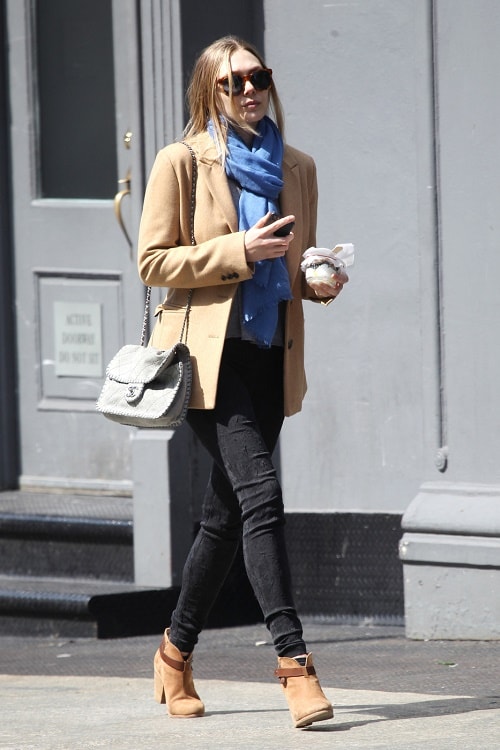 This outfit is my favorite because it looks so polished yet comfy. Blazers are great for spring because they keep you warm from the wind but not too warm like a coat would.
Instead of the typical black blazer go for a tan-colored one to mix things up. Wear it with a neutral shirt and black jeans so that the blazer can take center stage. Camel-colored booties tie the look together, while a blue scarf adds a nice pop of eye-catching color.
Thursday: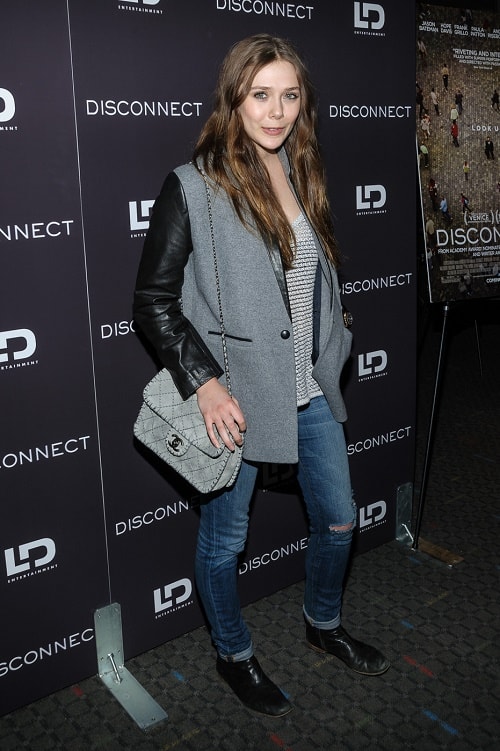 What I like about this outfit is how it gives off a chill rocker girl vibe but in a very classy way. Pairing a structured blazer with a striped shirt was a great idea and it's a very polished combo.
The leather sleeves on the jacket add some edge to the menswear-inspired blazer. Add ripped skinny jeans and black booties and you are jamming in style.
Friday: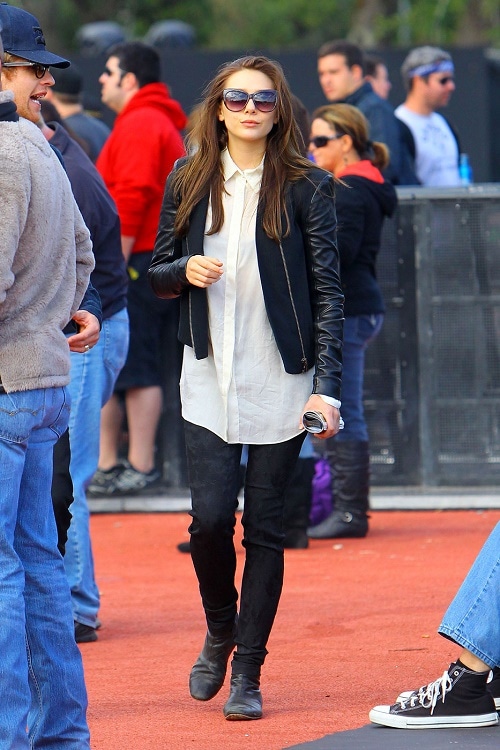 Elizabeth once again nails an edgy yet polished vibe with this outfit. A white button-up can make an all black outfit look old school classic. It makes me think James Dean for some reason.
A leather sleeved bomber jacket gives a fun rocker vibe and looks sleek when paired with black skinniess and matching ankle boots. Polish off the look with fun sunglasses.
Saturday: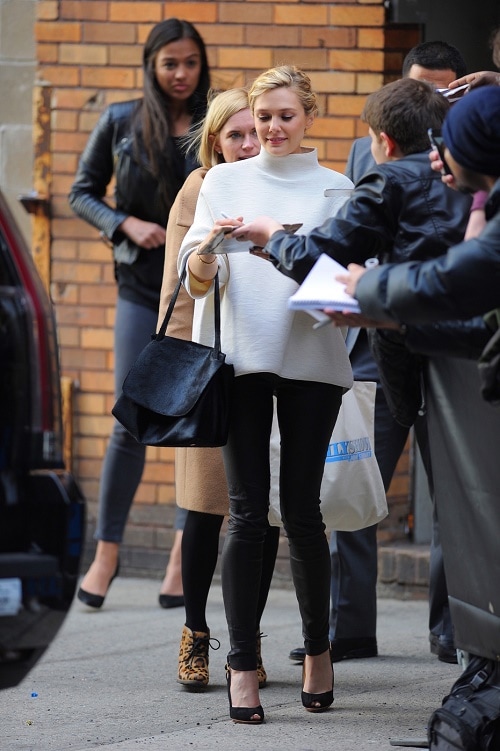 Elizabeth does an awesome job making a casual outfit look put together. For this one, wear faux leather leggings (or even just black skinnies) and an oversized white turtleneck sweater. If it's too warm for a sweater, try a textured white top instead. Black heels or flats and a matching purse complete this visually appealing look.
Sunday: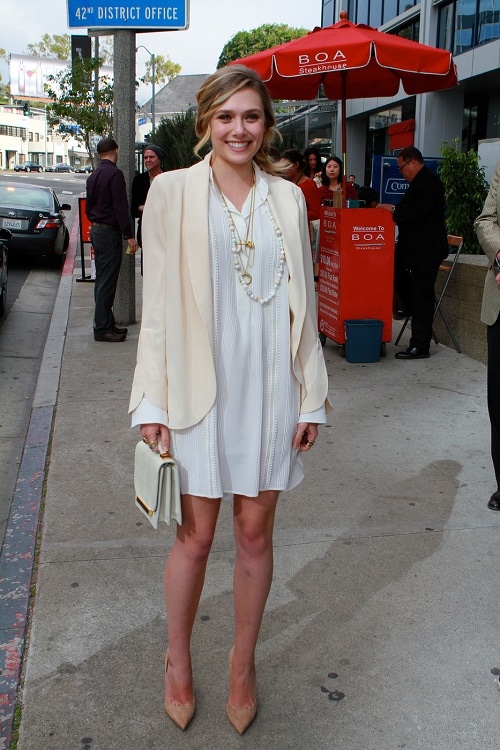 This classy neutral look would be perfect for church or brunch with friends on a Sunday morning. This is another monochrome ensemble that looks fresh and crisp. The trick to pulling it off is by mixing shades that are slightly different to keep the outfit from looking too one-note.
Start with a crisp white shirt dress, then layer a long, cream-colored blazer on top for a preppy vibe. Pearls and gold jewelry complement the clean look. Nude heels continue the neutral vibe and look classy and understated. Grab a white top-handle bag to complete the outfit.
Thoughts?
What did you think of this post? Do you like Elizabeth's style? Which outfit did you like the best? Would you wear any of these looks? Who would you like to see featured next? Let me know in the comments!