This post may contain affiliate links, which means we may receive a commission if you purchase through our links. Please
read our full disclosure here
.

Just like Elle Fanning, this week's Fresh Fashion Icon is the younger sibling of some pretty famous celebs. Yup, Elizabeth "Lizzie" Olsen is Mary-Kate and Ashley's little sister (if you couldn't already tell by the strong family resemblance). Other than being half the namesake of the twins' Elizabeth and James line, Lizzie is also a recent NYU grad delving into the acting world herself.
Lizzie came into the spotlight during this year's Sundance Film Festival, where made her feature film debut in two festival flicks: The Silent House and Martha Marcy May Marlene. People definitely took notice of her acting chops — she recently landed a role starring alongside Robert De Niro and Sigourney Weaver in the upcoming thriller Red Lights.
At Sundance, Lizzie also garnered attention for her relaxed, yet super-stylish wardrobe. With two über-fashionable sisters, it seems like she inherited their knack for fashion, but with her own unique twist. Although Lizzie has a fairly casual approach to fashion, she always puts a signature spin on her outfits.
Interested in learning more about Lizzie's personal style? Read on for the three elements of her style and some ideas on how to recreate her look for yourself:
Classic Meets Quirky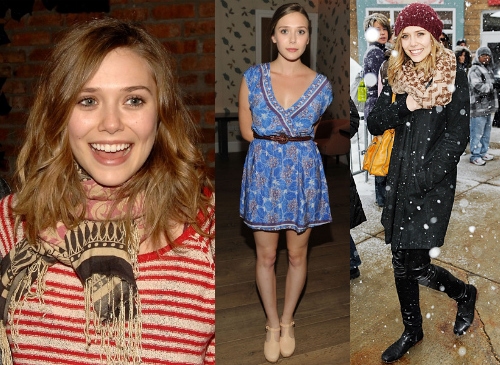 Lizzie's everyday look is pretty laid-back — lots of wardrobe classics, clean lines and a trendy piece here and there. However, she always makes sure to amp up the style by adding one-of-a-kind accessories to her look. Whether it's a bold scarf, unique shoes or a bright pop of color, Lizzie stands out in a crowd with her quirky accessories, putting a new spin on casual.
Outfit for Inspiration: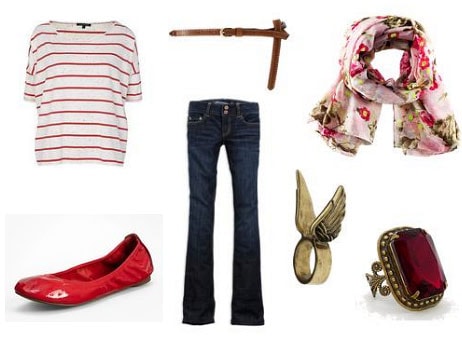 Top, Belt, Scarf, Flats, Jeans, Winged Ring, Stone Ring
Try out Lizzie's casual-meets-quirky style yourself by pairing classic wardrobe staples with unique accessories. For this outfit, I chose a basic striped tee and dark-wash bootleg jeans — two pieces every college girl should have in her closet! Punch up the style factor by adding a floral scarf, a structured belt and some amazing red patent flats. (We're obsessed with Tory Burch's red patent ones right now!) For the finishing touch, add some interesting rings like the ones above.
Menswear-Inspired Prep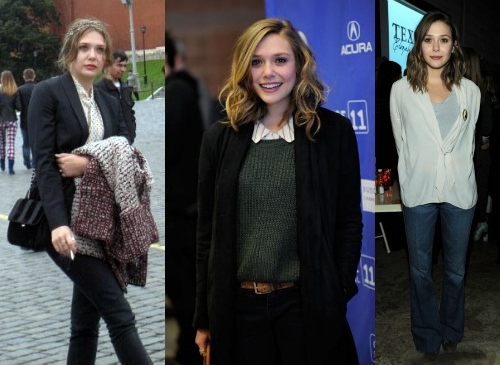 Another signature element of Lizzie's style is her apparent love for menswear-inspired outfits. It seems like Lizzie takes cues from Katharine Hepburn in Bringing Up Baby and Dianne Keaton in Annie Hall when wearing tailored menswear pieces. She always finds that perfect balance between masculine and feminine with preppy staples like blazers, cardigans and button-ups.
Outfit for Inspiration: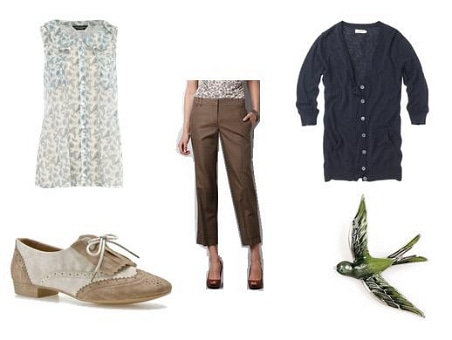 Blouse, Trousers, Cardigan, Oxfords, Brooch
This is a springtime-appropriate outfit that channels Lizzie's menswear-inspired look. Pair a feminine patterned blouse with some tailored, cropped trousers for a preppy look. Layer on a slouchy boyfriend cardigan and add a chic pair of oxfords. Finally, pin a unique brooch to the cardigan to add some extra style and interest.
Understated Boho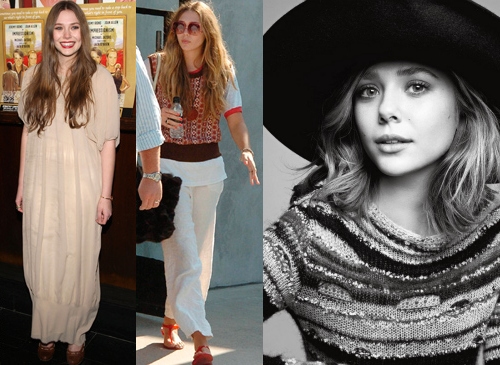 Since Mary-Kate and Ashley practically invented the term "boho-chic," it's only natural that some of their free-spirited fashion sense would have rubbed off on Lizzie. She's been spotted wearing flowy maxi-dresses, wide-brimmed hats and 70s-inspired patterns. However — unlike her sisters — Lizzie strays away from the oversized pieces and excessive layering. She instead has a more subtle and understated approach to boho.
Outfit for Inspiration:
Maxi Dress, Bangles, Headband, Sandals, Clutch
This outfit would be a fashion-forward choice for a fun night out. The maxi dress gives off a boho-chic, yet sophisticated vibe with its subtle print and flowing structure. The heeled sandals and matching clutch make the dress appropriate for nighttime, while stacked bangles add a bright splash of color. Last but not least, a gorgeous braided headband adds a touch of glam to this pretty look inspired by Lizzie's style.
*All images from KiwiOlsen.net
What do you think?
Do you like Lizzie's style? What do you think of the way she dresses? Do you find her style relatable? Is she your new favorite Olsen? Be sure to leave a comment and let me know your thoughts!